Private Flights and Helicopters With BLADE [Booking, Pricing, and Routes]
Helicopter travel is making a comeback in major cities around the world — and it's no longer just for wealthy businesspeople. In fact, the boom in helicopter travel carriers in cities like New York and Los Angeles has made transit cheaper than ever, pushing prices on helicopter transfers to the airport under $200 one-way.
One of the pioneers in this space is BLADE. The company was founded in May 2014 and has grown to be one of the premier helicopter transport companies in the U.S. In recent years, it's expanded its fleet to include private jets and seaplanes, too, offering both charter and scheduled service between popular business and tourist destinations around the country.
But is BLADE a good deal for your travel needs? Good question — and that's just what we're here to answer.
In this article, we'll take you through all of BLADE's offerings, diving deep into each of the carrier's helicopter and jet services, pricing, and booking process. Then, we'll wrap up by taking a look at BLADE's direct competition. By the end of the article, you'll have a good idea as to if BLADE is right for you.
Let's get started!
Promo/coupon code: Save $50 on your first flight by using the promo code "UPGRADED" — this is available for first-time BLADE flyers only!
How BLADE Works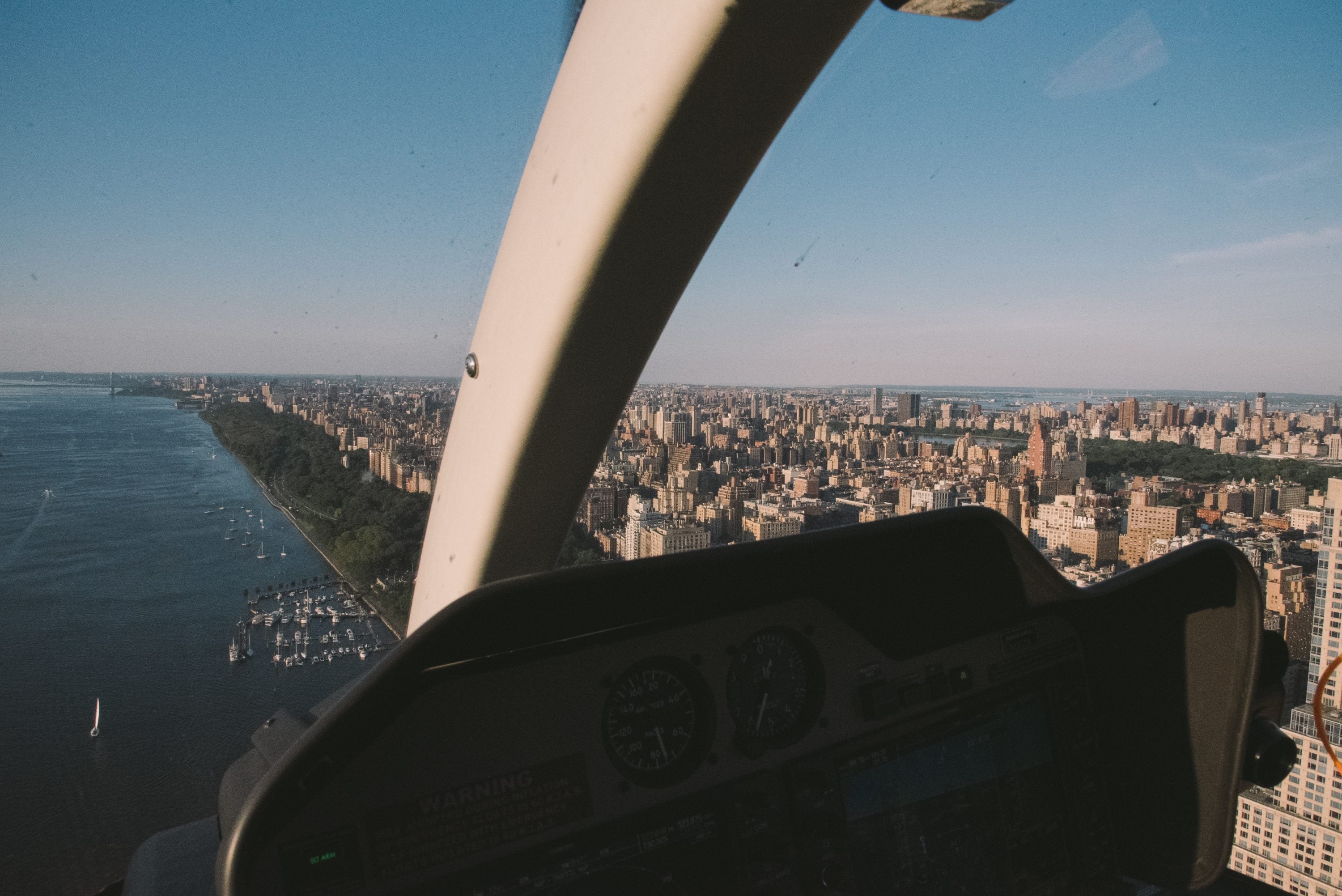 As discussed, BLADE is an air transportation company offering both scheduled and charter service on its vast fleet of airplanes, seaplanes, and helicopters between key U.S. destinations.
All flights are booked through the BLADE app (iOS/Android) or on its website, providing a seamless experience with absolutely no phone calls or back-and-forth emails required. Oh, and better yet, all payments are made online with your credit card of choice — preferably one that earns extra points for travel purchases!
BLADE doesn't require any type of membership to fly on its helicopter or planes — all you have to do is book a flight.
However, the company does offer a few subscription plans that make it cheaper to fly. These plans include the BLADE Airport Pass, Airport Pass PLUS, and flight multi-packs between Manhattan and Nantucket or the Hamptons. There's also a special under-28 plan called BLADE-GX that offers discounted flights to Nantucket and the Hamptons.
BLADE's Fleet
Like many companies in this space, BLADE doesn't own or operate any of its aircraft. Instead, all of its planes and helicopters are operated by accredited third-parties, but many are branded in BLADE liveries.
In other words, think of BLADE like United Express or Delta Connection — BLADE leases its name and markets the flights, but they're actually operated by another carrier.
Because of this, BLADE has a very diverse fleet of aircraft, both on the helicopter and airplane side. This means that it's hard for us to list out all available BLADE aircraft. However, after digging deep into the BLADE website, we've found some of its most common aircraft and have laid them out below, broken down by aircraft type: airplane, helicopter, and seaplane.
BLADE's Airplane Fleet
BLADE's contracted fleet of airplanes includes some of the most well-known business airplanes on the market, including aircraft from Beechjet, Cessna, Dassault, Gulfstream, Learjet, and Pilatus.
Here's a quick look at some of BLADE's most popular aircraft.
Beechjet 400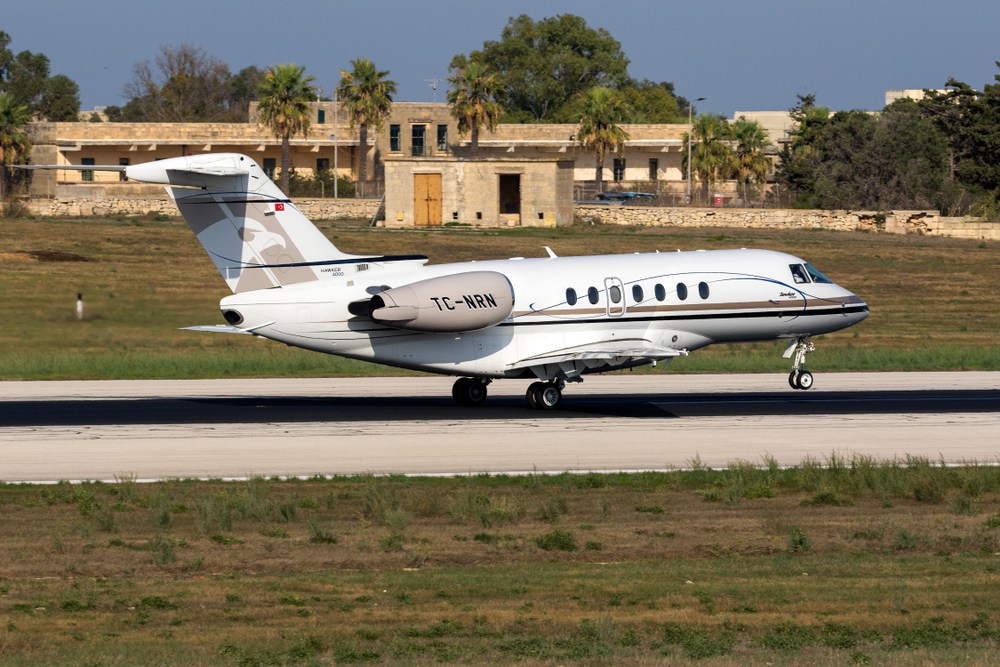 The Beechjet 400 is a 9-seat business jet operated on many of BLADE's West Coast charter routes. The plane has a luxurious interior, so it's perfect for taking a small team on a company outing or to a meeting. The plane is also one of BLADE's more economical jet options on its West Coast flights, making it an easier sell over one of its turboprop options like the Pilatus PC-12 NG.
Cessna Grand Caravan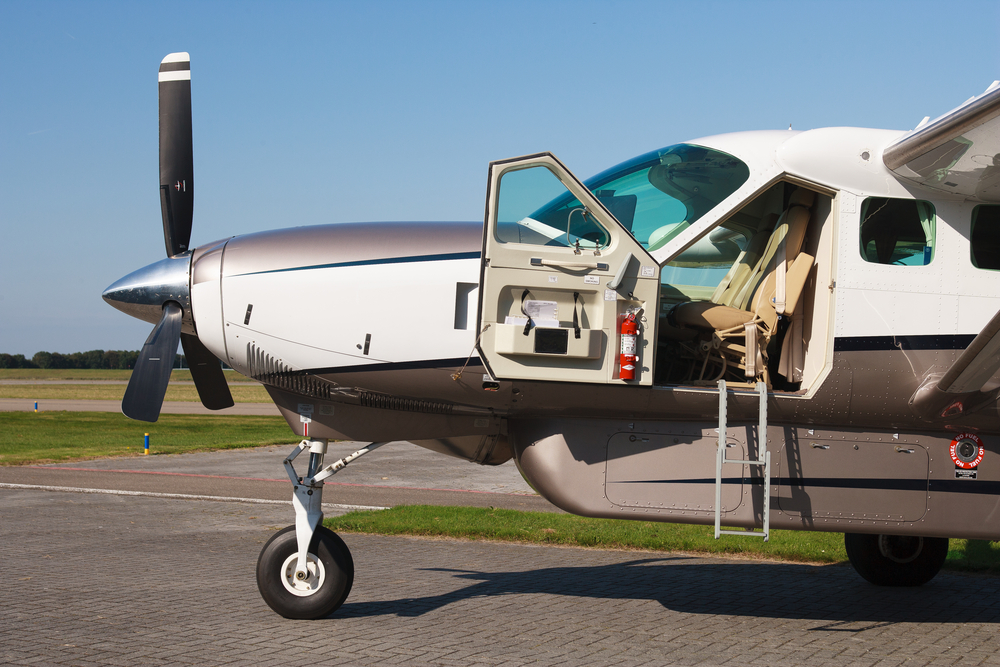 The Cessna Grand Caravan flies exclusively on BLADE's New York City to Montauk routes. This plane is a more basic offering with a standard interior, but the route can be booked for less than $400 per person. More on that later, though.
Dassault Falcon 2000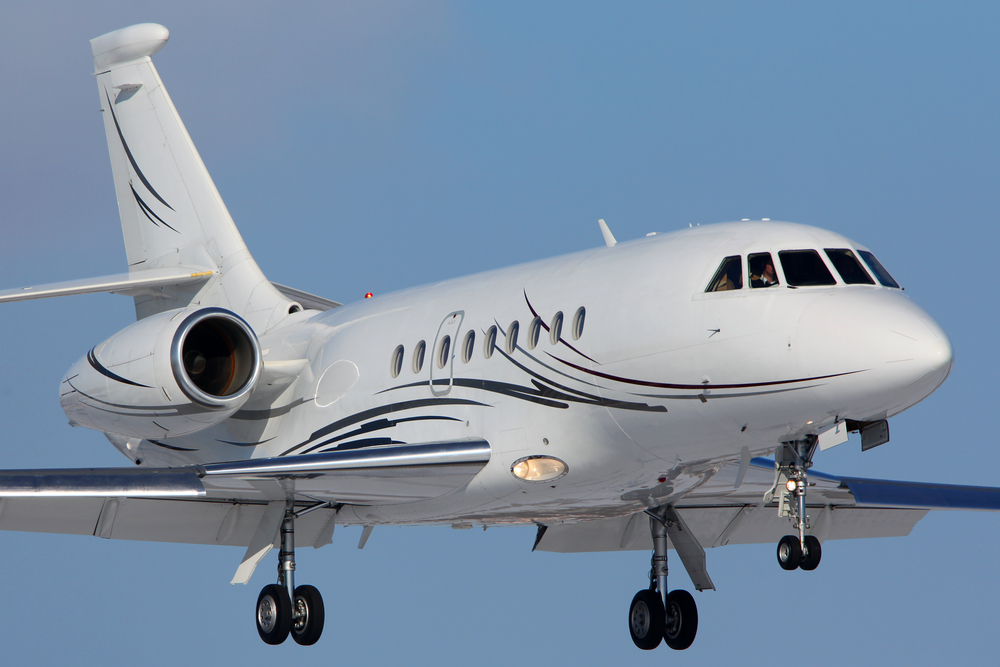 The Dassault Falcon is one of the world's most well-known business jets. BLADE offers the jet on several charter routes, including its featured Los Angeles to Aspen route. BLADE's Dassault Falcon 2000 can transport up to 10 people at once, making it a great option for medium-sized groups.
Gulfstream IVSP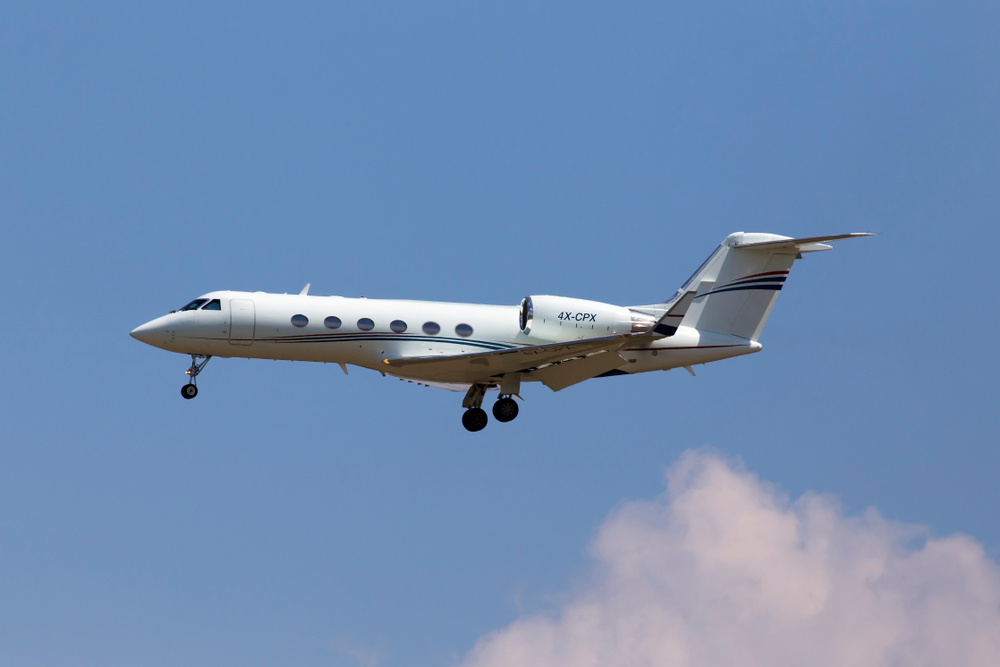 The Gulfstream IVSP is one of BLADE's most premium aircraft options. The plane can transport 12 passengers at once and is often used on the airline's Los Angeles to Las Vegas routes. However, you may be able to charter the jet on other routes, too.
Learjet 45 and 75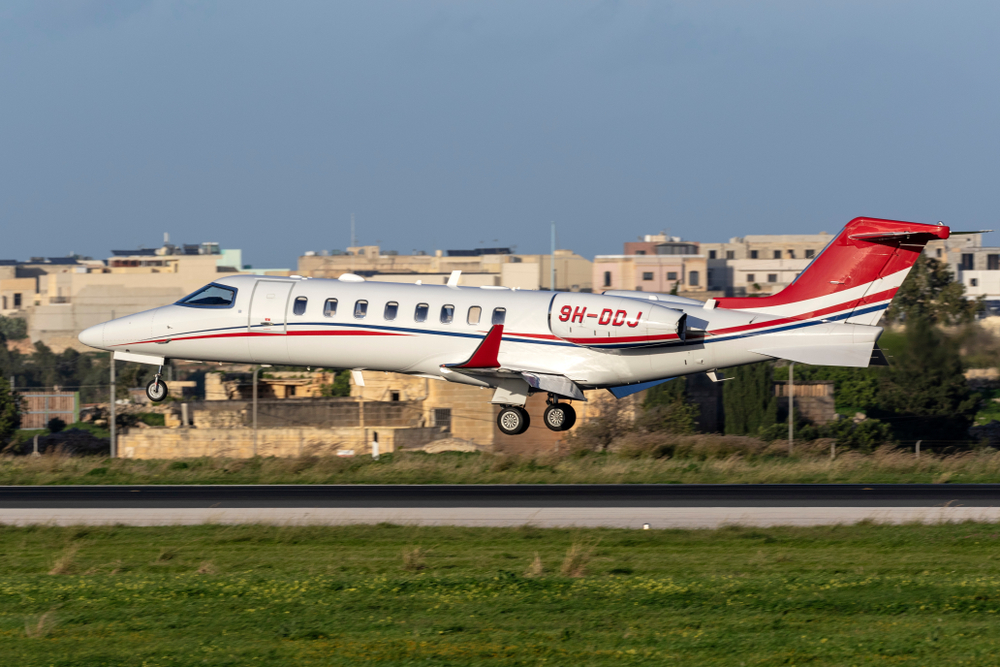 BLADE has 3 variants of Learjet planes available for charter: the Learjet 45, 60, and 75. These planes fly various routes and each has a different passenger capacity, so you can find one that works for your group (or lack thereof). No matter which Learjet plane you choose to fly, you'll find a luxurious interior and have a quick flight wherever work or leisure takes you.
Pilatus PC-12 NG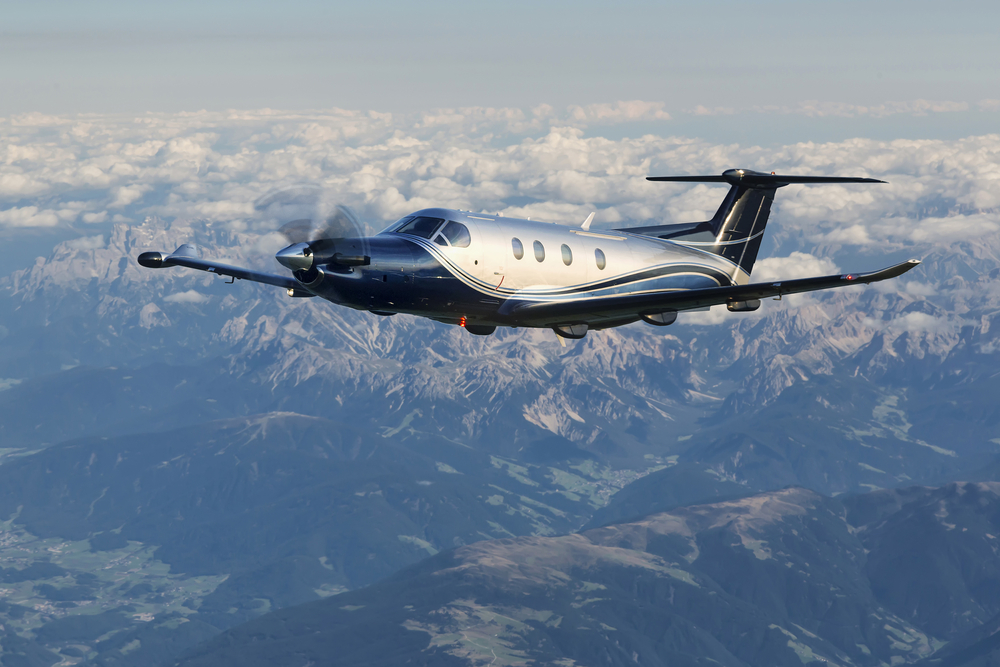 The Pilatus PC-12 NG is one of BLADE's most common aircraft and operates a good chunk of its scheduled service. The plane is also one of BLADE's most economical options, and despite being a turboprop, it still has a jet-style interior. The aircraft can transport up to 8 passengers at once.
BLADE's Helicopter Fleet
Helicopters are the staple of the BLADE fleet, operating charter routes, airport transfers, and more. Because of this, the company operates a wide range of different helicopters, each with different passenger capacity and other features. Here's a quick look at BLADE's current lineup of helicopters.
Bell 407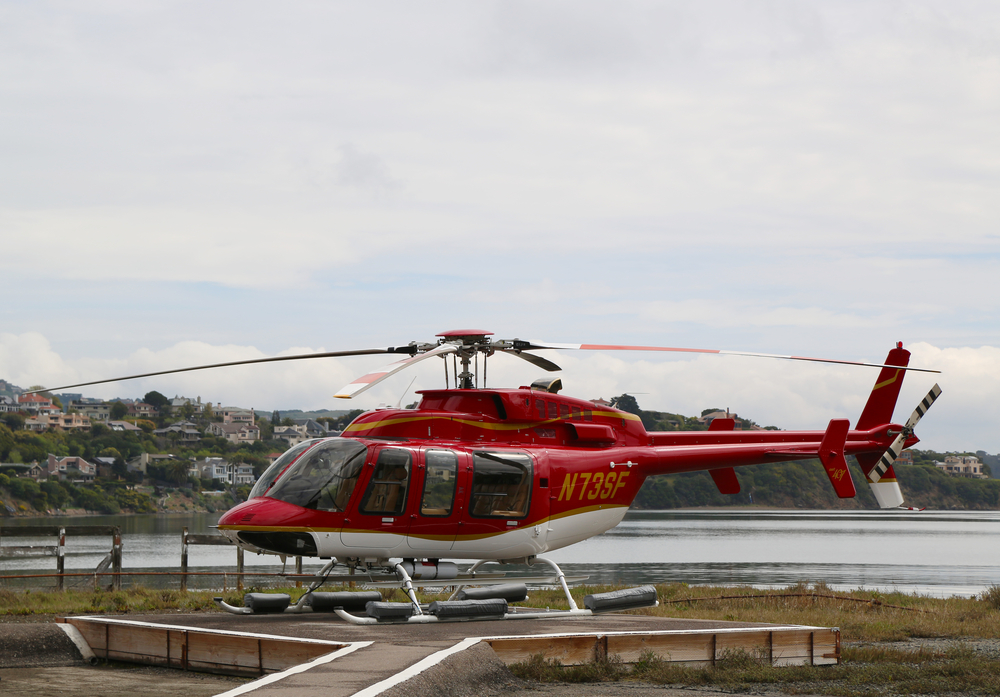 The Bell 407 is one of BLADE's most common helicopters, flying a majority of the company's NYC airport transfers. The helicopter features a cabin-class interior that holds up to 6 passengers with their accompanying luggage.
Sikorsky S-76 C++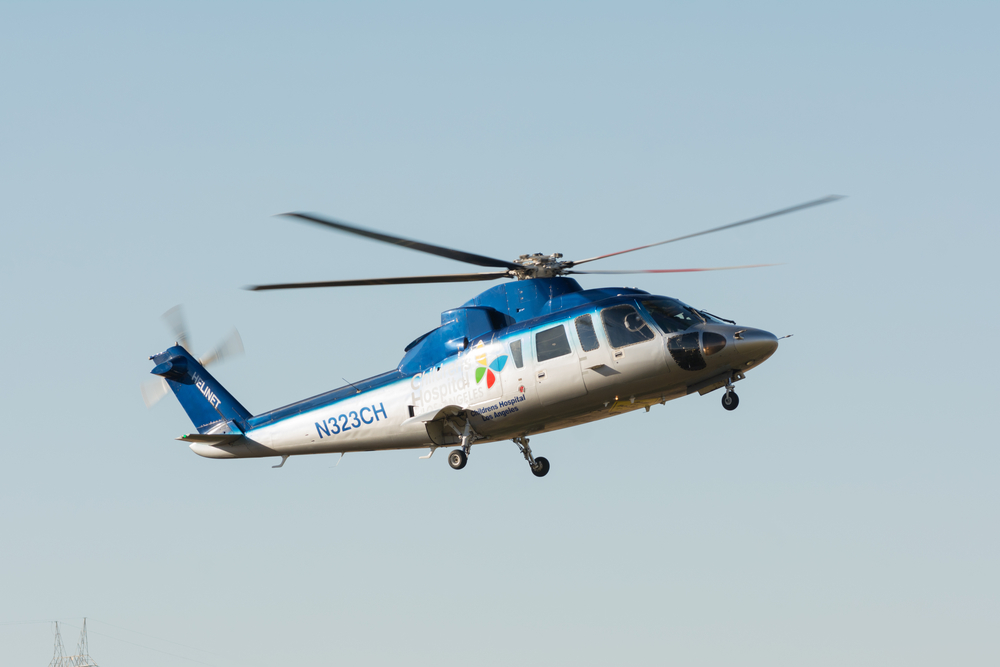 The Sikorsky S-76 C++ is a twin-engine helicopter with 2 pilots and a more premium cabin than the Bell 407. Plus, it has IFR (instrument flight rules) weather capabilities, so it can take off in certain types of inclement weather. Like the Bell 407, however, the helicopter can transport up to 6 passengers.
Augusta 109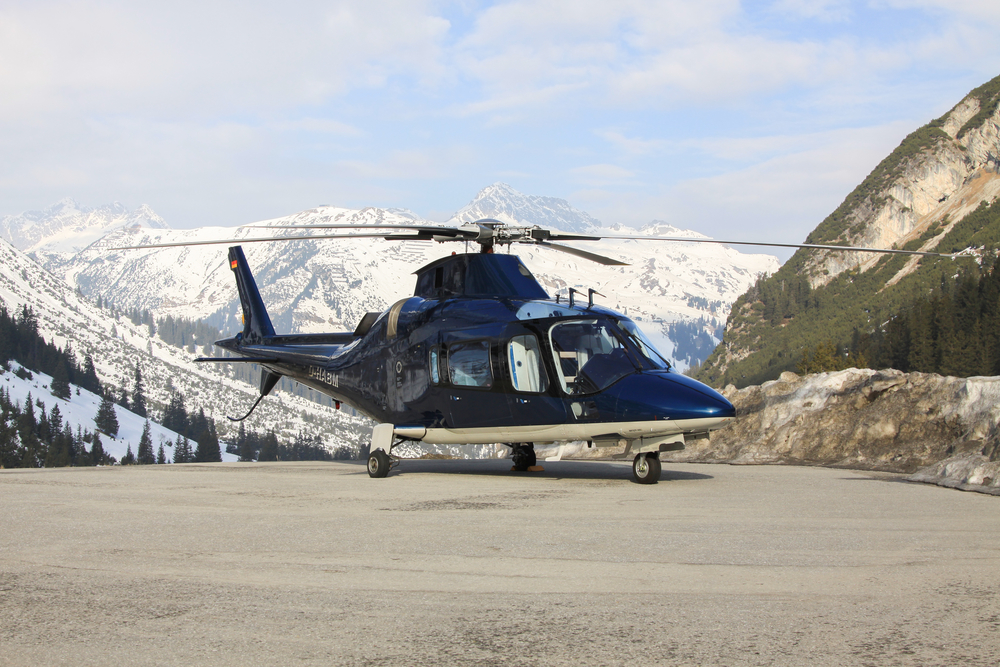 The Augusta 109 is focused on speed. This 6-seat helicopter is dubbed by BLADE as being the "fastest helicopter in the Northeast," bringing you to your destination in record time. We also see this helicopter in use on some NYC airport transfers.
Bell 427 (Twin-Engine)
The Bell 427 is a twin-engine version of the Bell 407 that we highlighted earlier. This means that the helicopter is faster and smoother than its counterpart. Plus, it features a more spacious cabin and extra luggage capacity.
Twin-Star
The Twin-Star is BLADE's largest helicopter in terms of luggage capacity. However, the aircraft only has seating for 5, so only charter this helicopter if you're traveling as a small group.
BLADE's Seaplane Fleet
BLADE's seaplane fleet handles most of the airline's short-haul treks in the New York City area. Think flights from Manhattan to East Hampton, Martha's Vineyard, etc. Here's a look at BLADE's small seaplane fleet.
Aqua Xcel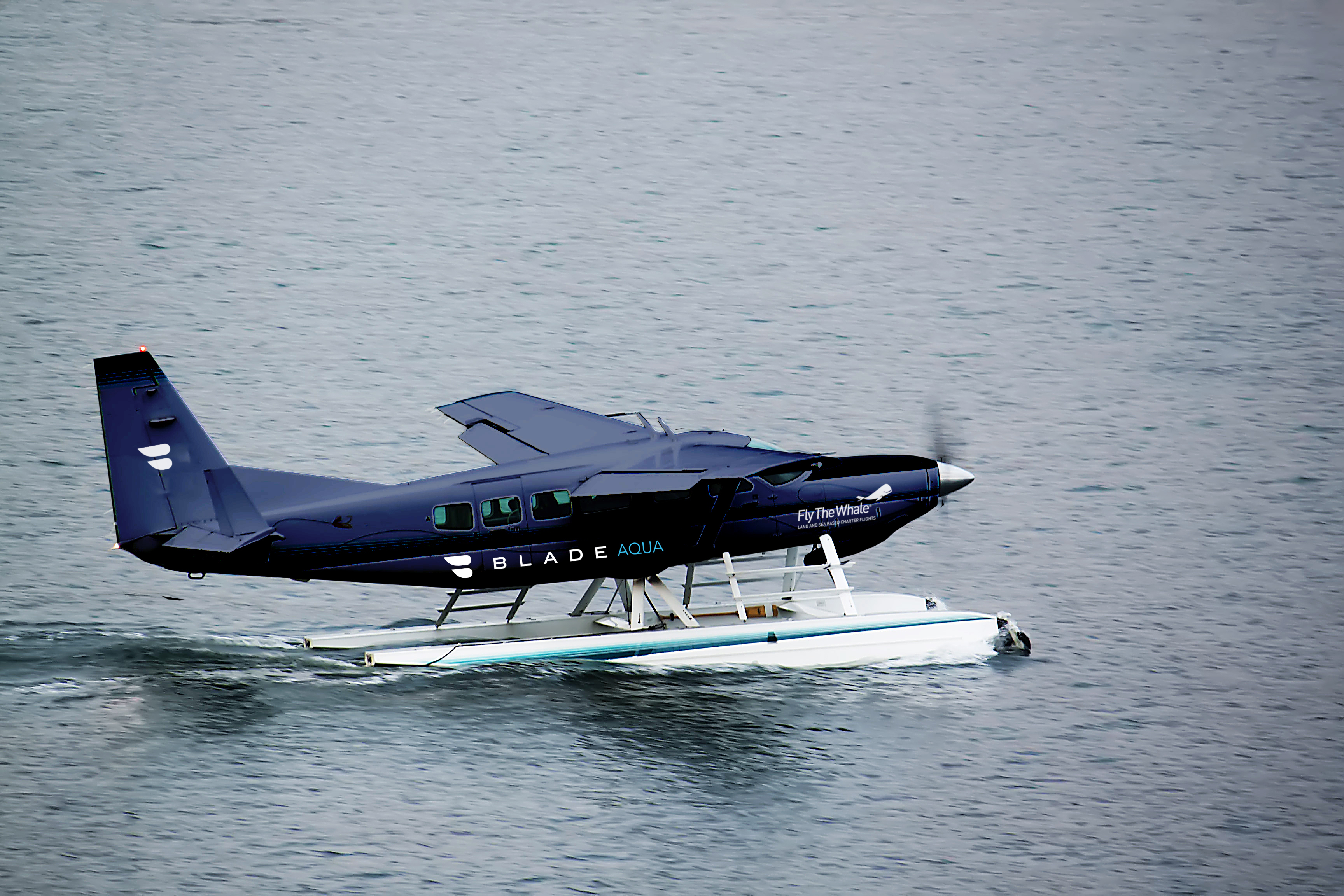 The Aqua Excel is BLADE's seaplane workhorse. The plane operates nearly all of the airline's seaplane flights and features a jet-style interior that makes quick jumps to the Hamptons more comfortable than ever. You can also charter the plane on some of BLADE's East Coast routes.
Current BLADE Routes
When booking a BLADE flight, you can choose between scheduled, chartered, or crowdsourced flights. Each of these has its own merits and, of course, price points. So in the paragraphs below, we'll take you through each of these flight types, so that you can make an informed decision on which is best for your air travel needs.
For your convenience, we've also listed scheduled service underneath each flight type.
BLADE Airport Transfers
Scheduled airport transfers are BLADE's bread-and-butter. The company has been offering scheduled service between Manhattan and New York area airports (EWR, JFK, and LGA) for years.
These flights depart every 15-30 minutes throughout the day and leave from 1 of 3 different NYC heliports: Wall Street, East 34th Street, or West 30th Street. Plus, before your transfer, you can enjoy a drink and a snack at one of BLADE's signature lounges that can be found at all of BLADE's Manhattan locations.
Once you land at your airport of choice, you'll be driven to the terminal to connect to your commercial flight. Just note that you'll still clear TSA at your respective airport, so make sure that you're booking a transfer that gives you enough time to make your connection. Rides to the terminal are shared, but you can choose to upgrade to a private car (with luggage escort) for an extra $125 per person.
You can choose to charter your helicopter or simply reserve a seat on a shared flight. The latter is considerably cheaper, with standard rates of just $195 a seat one-way to each of the 3 New York City airports. On the West Coast, BLADE also operates limited scheduled service from Oakland, Hayward, Palo Alto, and San Carlos to SFO for $195 a seat. You can also book flights between Oakland or Hayward and Palo Alto or San Carlos for the same price.
Hot Tip: BLADE now requires passengers to get a COVID-19 test for all shared flights. Cabin attendants and BLADE lounge employees are also tested.
Here's a look at all of BLADE's scheduled airport transfers, broken down by region:
New York City:
West 30th to JFK
East 34th to JFK
East 34th to EWR
Downtown (Wall Street) to LGA
San Francisco Bay Area:
Morning route: OAK or HWD to Palo Alto or San Carlos to SFO
Evening route: SFO to Palo Alto or San Carlos to OAK or HWD
Note that transfers are also available in Los Angeles, but BLADE does not operate scheduled service on these routes. Instead, you can only charter a private helicopter or crowdsource (more on that soon) a flight, which starts at $1,525 from Downtown L.A. to LAX when booking a month in advance. These prices may be subject to change based on various factors.
BLADE Scheduled Flights
Here's a breakdown of all of BLADE's scheduled flights, both on helicopters and planes. Note that the airport transfers outlined above are not included in this list of flights, but some may be operated by helicopter.
New York City:
Manhattan to East Hampton
Manhattan to Martha's Vineyard
Teterboro to Montauk
San Francisco Bay Area:
San Francisco (SFO) to Napa County
Oakland to Palo Alto
Hayward to San Carlos
Oakland to San Carlos
Hayward to Palo Alto
BLADE Charter (and Crowdsourced) Flights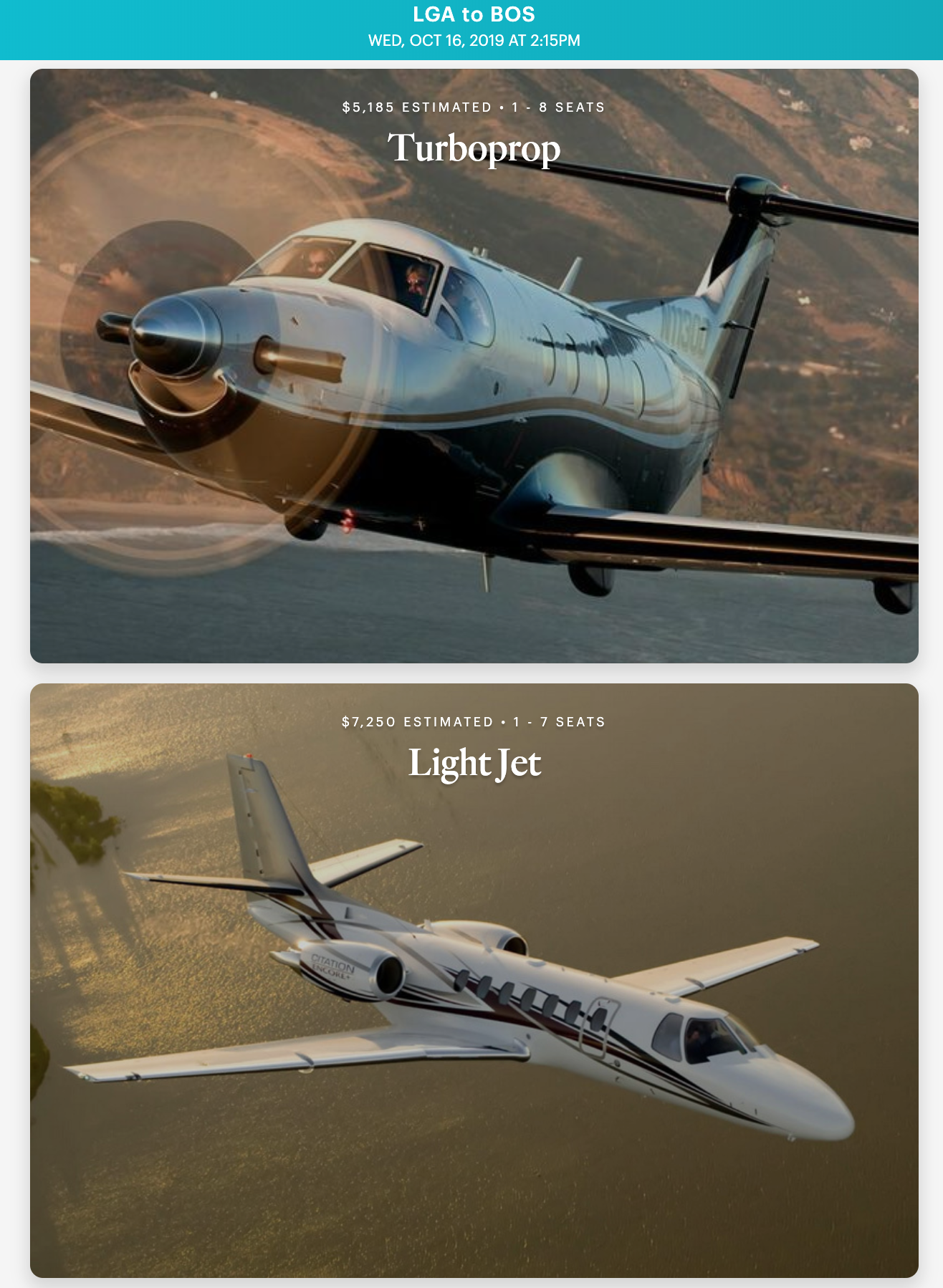 BLADE offers charter flights to just about anywhere in the world on its fleet of contracted airplanes and seaplanes.
Just head over to BLADE's website and enter your origin and destination and the company will indicate your expected costs to fly the route. As you'd expect, though, chartering a private plane, especially on long-distance flights, is anything but cheap. For example, chartering an 8-seat turboprop from New York (LGA) to Boston (BOS) costs a whopping $5,815.
Thankfully, though, there is a way to save a little bit of money on private charters: crowdsourcing. This is when you offer the open seats on your charter flight to other BLADE customers. When they're booked, you'll receive BLADE credit that you can use towards future BLADE flights. In the end, this can make your BLADE experience a little bit cheaper, especially if you're booking long-haul flights. However, you're still liable for the entire cost of the flight (and there's no guarantee your extra seats will be filled).
You can book seats on crowdsourced flights on BLADE's website — just search for a flight, and if a crowdsourced flight is available, it'll show in the search results as a bookable flight. However, you'll have the most luck finding crowdsourced flights on destinations listed under the "featured flights" section of the BLADE site. Click on any one of these destinations, and you can pull up a calendar of available flights.
When you book a charter flight, you have complete control over the times, dates, and aircraft you fly. You can charter any type of BLADE aircraft and service, too — think private airport transfers, seaplane flights to Nantucket, etc. So if you have the funds or are booking corporate travel, this is possibly the most convenient way to fly. Think of chartering as the Uber of the skies.
BLADE Pricing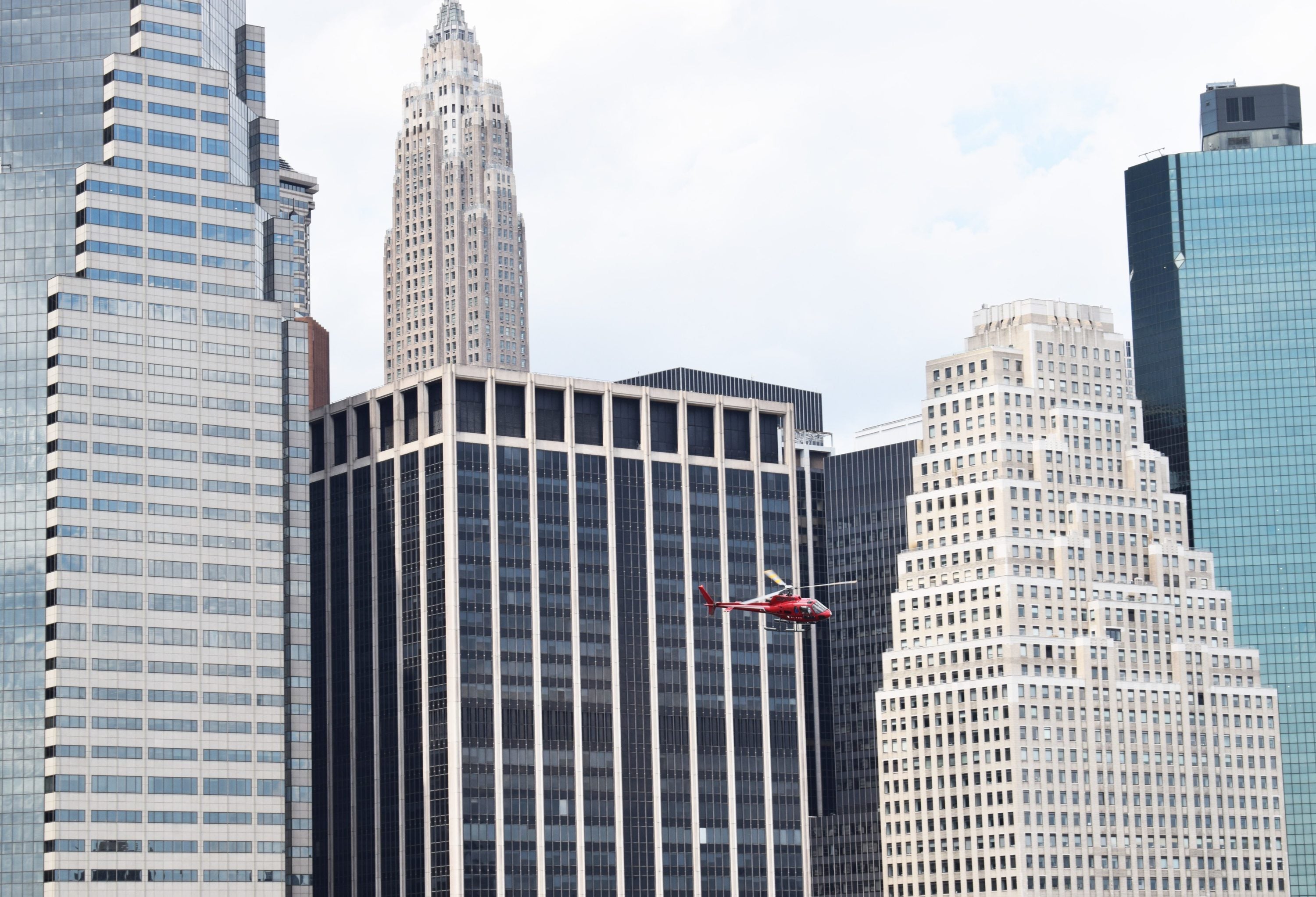 BLADE's pricing largely depends on the type of flight you're taking.
Scheduled airport transfer service is undoubtedly the cheapest option. All scheduled helicopter flights to airports in the New York and San Francisco Bay Area can be booked at a flat-rate of $195 per seat. These scheduled flights are shared with other passengers, though, so you will likely be flying with strangers.
Scheduled service plane to the Hamptons and Martha's Vineyard are also reasonable. A one-way ticket on the carrier's Montauk Sky service from Teterboro (TEB) t0 Montauk Airport (MTP) can be booked for $365 one-way, and the service includes complimentary beer, lobster rolls, and other snacks.
On the other hand, helicopter and seaplane service to the Hamptons can be a bit (OK, a lot) more expensive than other options. For example, a one-way ticket from the East 34th Street heliport in Manhattan to East Hampton airport costs $795 per seat. The same goes for seaplane flights that depart from the East 23rd Street location.
Premium options are also available on selected flights. These are operated by more luxurious helicopters like the Sikorsky S-76 C++ that we mentioned earlier. These flights have 2 pilots, dual-motors, and promise a more comfortable ride. However, they cost a pretty penny at $1,475 per seat.
Likewise, charter planes will be very expensive no matter the route you book. Like we mentioned earlier, chartering an 8-seat turboprop from New York (LGA) to Boston (BOS) costs a huge $5,815. This option is probably not for most people flying that route, but it undoubtedly makes booking a charter plane easier for those who can afford it.
So, Is BLADE a Good Deal?
We think that BLADE can be a good deal when flying its scheduled airport transfer service and other New York City routes. As any New Yorker knows, taking a taxi or Uber to any of the 3 New York area airports can be a mixed bag. UberX can often top $100 during peak times from lower Manhattan to JFK and the more premium Uber Black can price far beyond that.
On top of that, you have the time factor. During rush-hour, it can take well over an hour to get from Lower Manhattan to JFK. BLADE promises that its Manhattan to JFK flights take right around 5 minutes, saving you some serious time as you fly over New York traffic.
Further, you get access to BLADE's lounge before departure. These lounges feature a modern design and offer complimentary snacks and both alcoholic and nonalcoholic beverages from BLADE's signature bar. Lounges are available at all of BLADE's New York City departure locations.
So, if you value your comfort and time enough to spend $195 per seat on a BLADE helicopter transfer, then there's no doubt that you'll find BLADE to be a good deal. On the Hamptons and Martha's Vineyard routes, you'll have to decide if the experience is worth the premium over driving or taking a ferry.
Save Money With a BLADE Promo/Coupon Code
Want to save money on your first BLADE booking? Use promo code "UPGRADED" at checkout to receive $50 off your first BLADE flight. This promo code is only available to first-time BLADE flyers.
The BLADE Booking Process
Booking BLADE flights is a simple and straightforward process and we'll show you how to book scheduled service on the airline's Hamptons/Martha's Vineyard routes or helicopter transfer. These types of flights have nearly identical booking processes.
Further, you can book BLADE flights on both BLADE's website or through its mobile app. In this article, we'll show you how to book through BLADE's iPhone app. Do note, however, that the process is very similar on both platforms, so you'll be able to follow these instructions without issue.
Here's how to book a scheduled BLADE flight: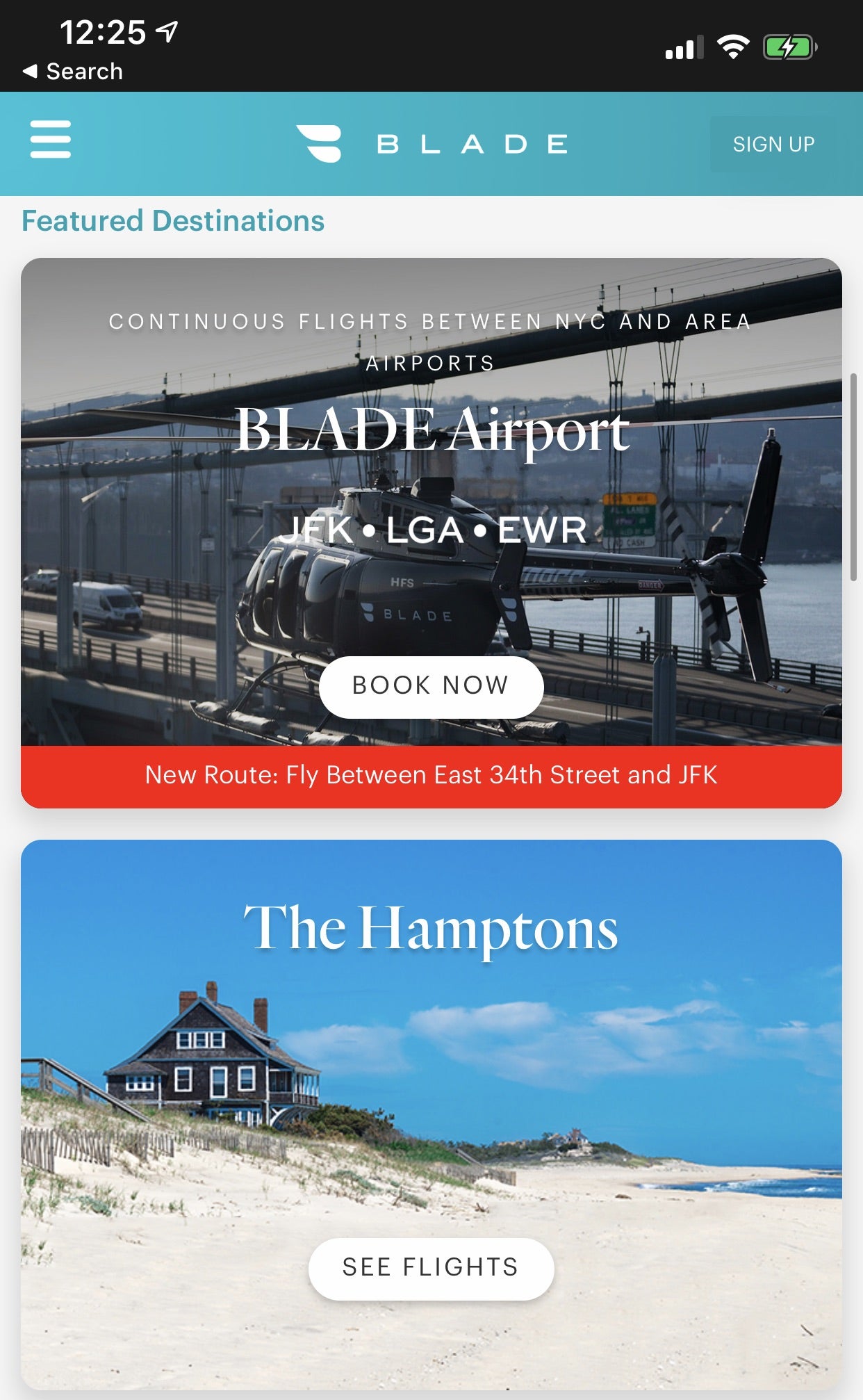 1. Open the BLADE app on your phone and you'll be presented with a list of BLADE's featured destinations. All of the company's scheduled (and some non-scheduled) services live in this area, so find the flight you want to book and tap on it.
2. We've selected a New York airport transfer, for example. If you do the same, you'll be prompted to select which airport you'd like to fly to. Select this, and you'll be prompted to choose which New York-area heliport you'd like to depart from.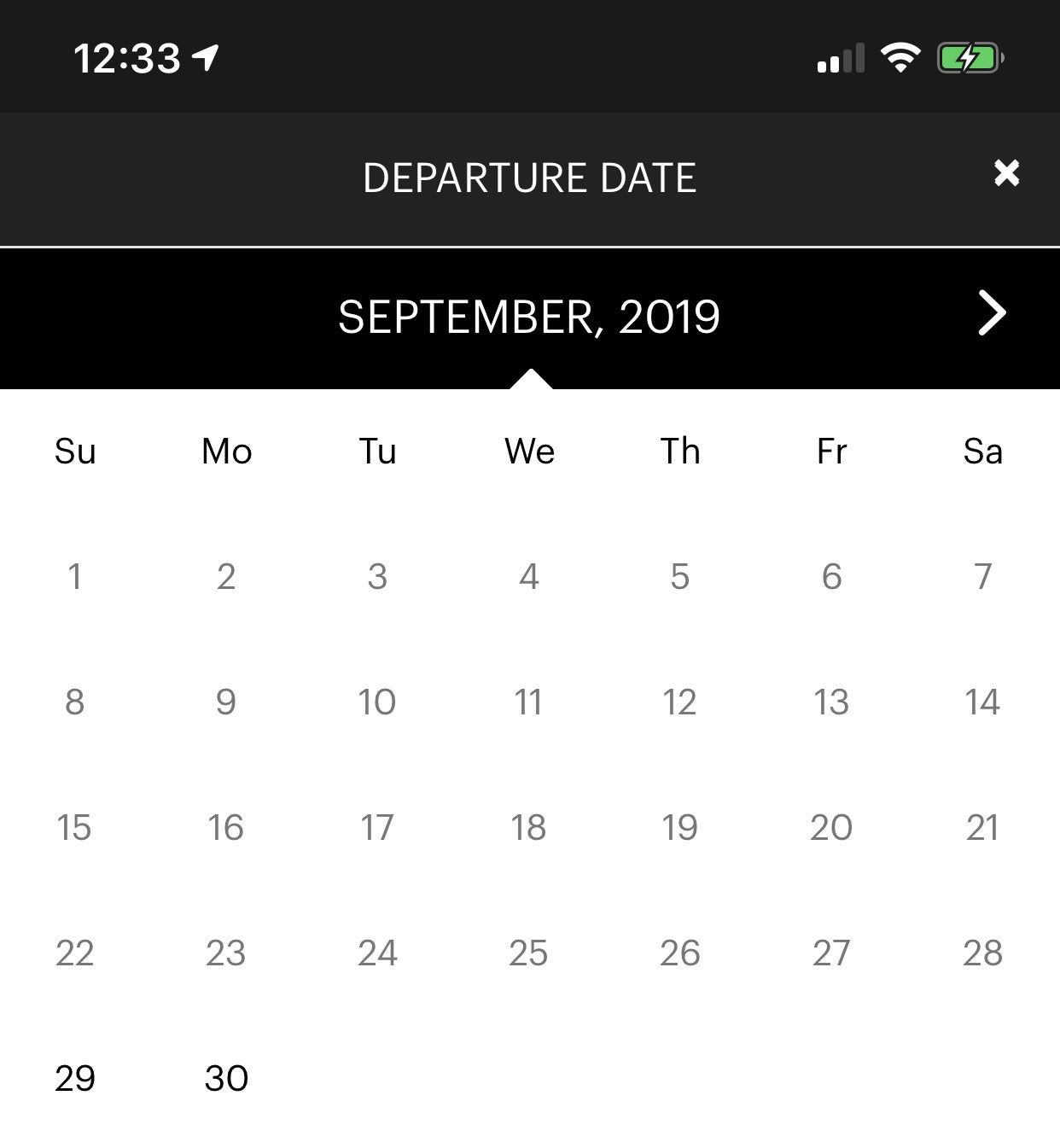 3. Then, select the date you'd like to fly and choose a time. Airport transfer routes run very frequently, so you should be presented with a wide variety of times.
4. Now, you can enter your connecting flight number. BLADE uses this info to help provide a more seamless airport transfer experience. However, adding this flight info is completely optional and you can do it after booking if you'd like.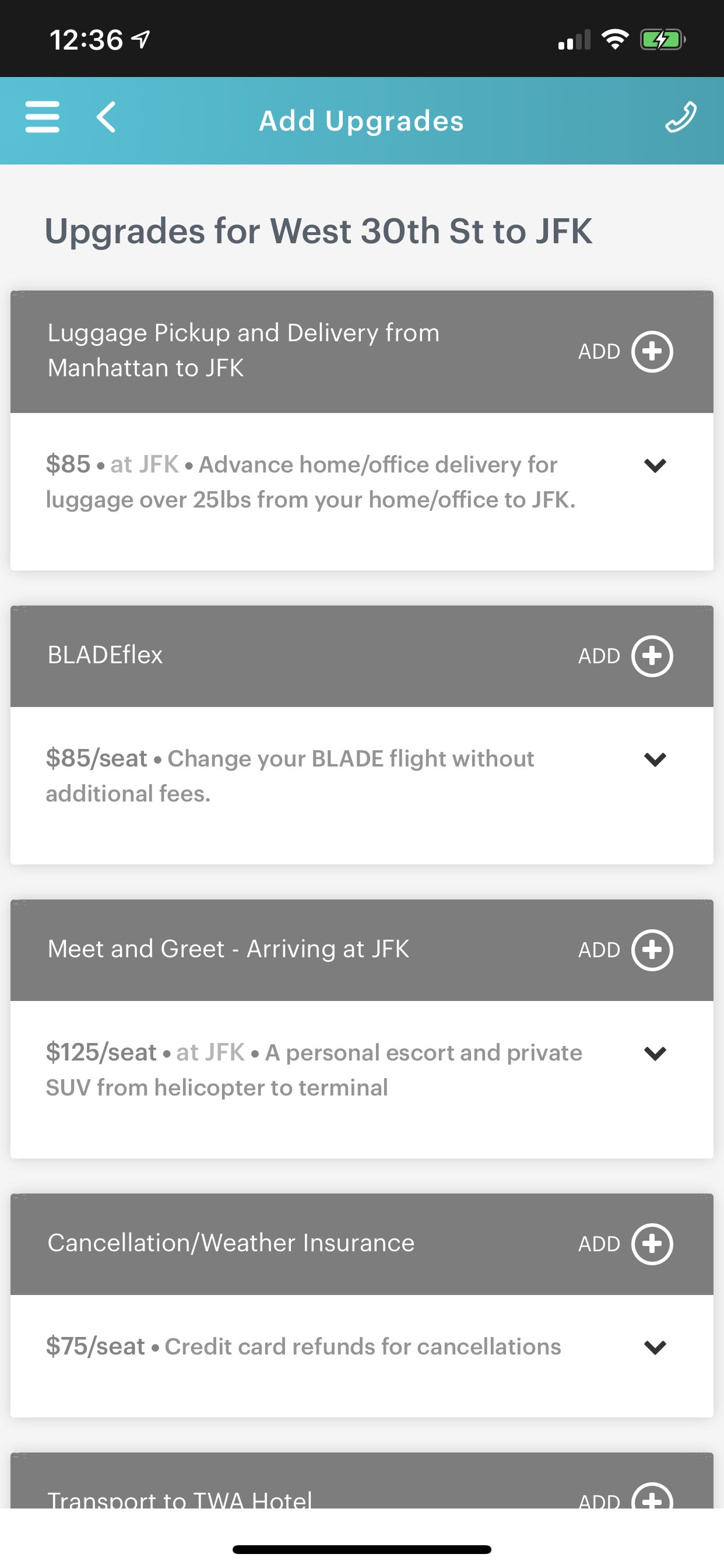 5. You can now add extras to your trip. This includes things like:
Luggage Pickup and Delivery (Airport Transfers Only): BLADE will pick up your luggage (over 25 pounds) from home or office and transfer it to JFK before your BLADE flight.
BLADEFlex: Change your BLADE airport transfer time without additional fees.
Meet and Greet: This includes a personal escort and private SUV ride from the helicopter to the airport terminal.
Cancellation/Weather Insurance: Credit card-issued refunds for canceled flights; not choosing this option will result in a refund in the form of BLADE credit for all cancellations.
Transport to TWA Hotel (Free, JFK Only): Complimentary shared ground transport to JFK's on-site TWA Hotel.
To add any of these to your BLADE transfer, just press the + button to the right of the option's name. Each of these has varying prices at each airport, so please refer to the BLADE app for pricing and further information.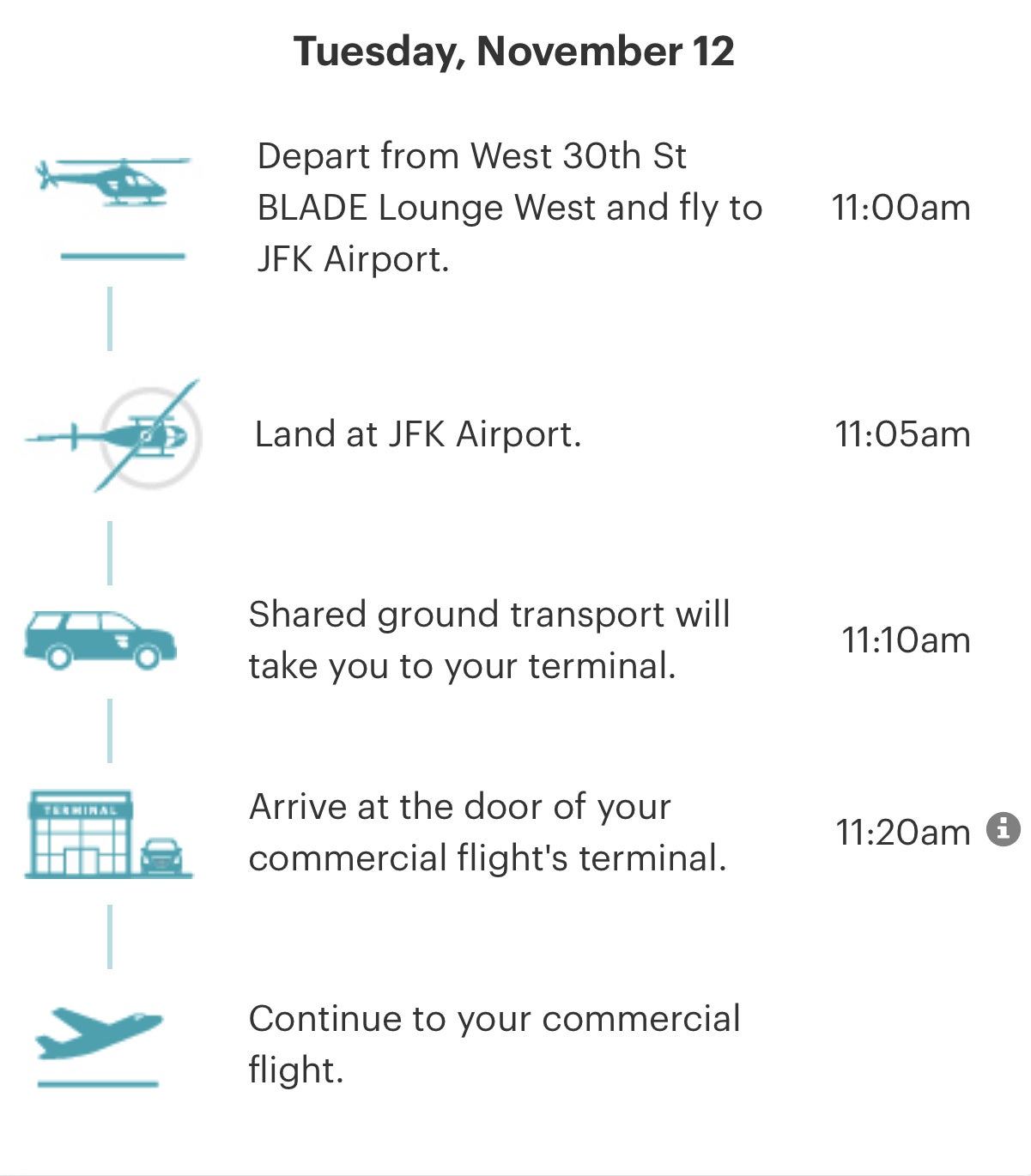 6. You'll now be presented with an overview of your itinerary. If all looks OK, press the Next button at the bottom of the screen to advance through to the passenger selection screen. Here, you can choose how many passengers you're traveling with.
7. Press the Next button and you'll be prompted to add your payment details. Then, click the Purchase button, and you're all set to go!
Now that you're booked, make sure to show up for your BLADE before your departure time. Oh and remember, there's a lounge, so make sure to give yourself time for a glass of BLADE's signature Rosé.
BLADE's Competition
We've evaluated seaplane and helicopter competitors in the New York area. While there's no doubt that BLADE operates more than just these routes, New York is by far the company's biggest target market.
Here's a look:
Foxtrot — More NYC Helicopter Routes
Foxtrot is another New York-based helicopter company that operates routes to all of New York's airports, the Hamptons, Atlantic City, and the Jersey Shore. The company also partners with flyNYON to offer photo expeditions where you fly over New York while snapping pictures.
The main difference between Foxtrot and BLADE is that Foxtrot doesn't sell individual seats on its flights. Instead, you're responsible for chartering an entire helicopter. Surprisingly, though, these flights are reasonably priced, with airport transfers starting at just $895 as of the time of writing this article.
Foxtrot's standard, single-engine helicopters can hold up to 6 passengers. This means that flights cost as little as $150 per seat when you fill-up the entire aircraft. If you don't mind forgoing the BLADE lounge, Foxtrot is a cheaper airport transfer option than BLADE for large groups.
BlackBird — Plane-Focused, Limited NYC Routes
BlackBird is mostly focused on the U.S. West Coast, but recently started scheduled seaplane service from New York City to East Hampton. These flights start at just $199 per person one-way, making it significantly cheaper than taking a BLADE helicopter or seaplane on the same route.
Unlike Blade, however, the airline doesn't offer flat-rate fares on all dates. While some dates may have $199 flights, we've seen other dates start at over $850 one-way. With that in mind, make sure to price compare the East Hampton route between Blade, BlackBird, Foxtrot, and others if you plan to fly the route.
You can also use BlackBird to charter planes on other East Coast routes. But like Blade, this can get very pricey depending on the route you want to fly. For example, a flight on a 3-person plane from New York City to Philadelphia costs $665 per person or $732 to rent the entire plane. However, it should be noted that BlackBird chartered routes are generally cheaper than Blade.
Final Thoughts
All in all, we're big fans of BLADE's scheduled service, especially in the New York area. If you're in a rush and don't mind paying more than an Uber, there's truly no better way to get to EWR, JFK, or LGA from Manhattan. And if you can afford it, flying to the Hamptons or Martha's Vineyard surely beats the long drive.
Have you used Blade? Share your experience with us in the comments.