The Ultimate Guide to Flying Private with Blackbird [Booking, Price, and Routes]
When you think of private jets, you probably think multi-million dollar jets and thousands of dollars per flight hour. While this was once the case, a number of private jet startups that have popped up over the past few years. These companies give the everyday person the chance to fly on a shared private jet for just a few hundred bucks or less.
One of these companies is Blackbird. This private jet company connects private pilots with consumers, letting said pilots offer rides in their jet on scheduled service between major cities on the East and West Coast. Depending on the route you fly, you can book single seats for less than $100.
Sounds good, but is Blackbird right for you? That's a good question. Here is a dive deep into the company, how the app works, which routes Blackbird flies, pricing, and the planes they offer.
Hot Tip: Use the promo code "UP50" to get a cool $50 off your first Blackbird booking!
How Blackbird Works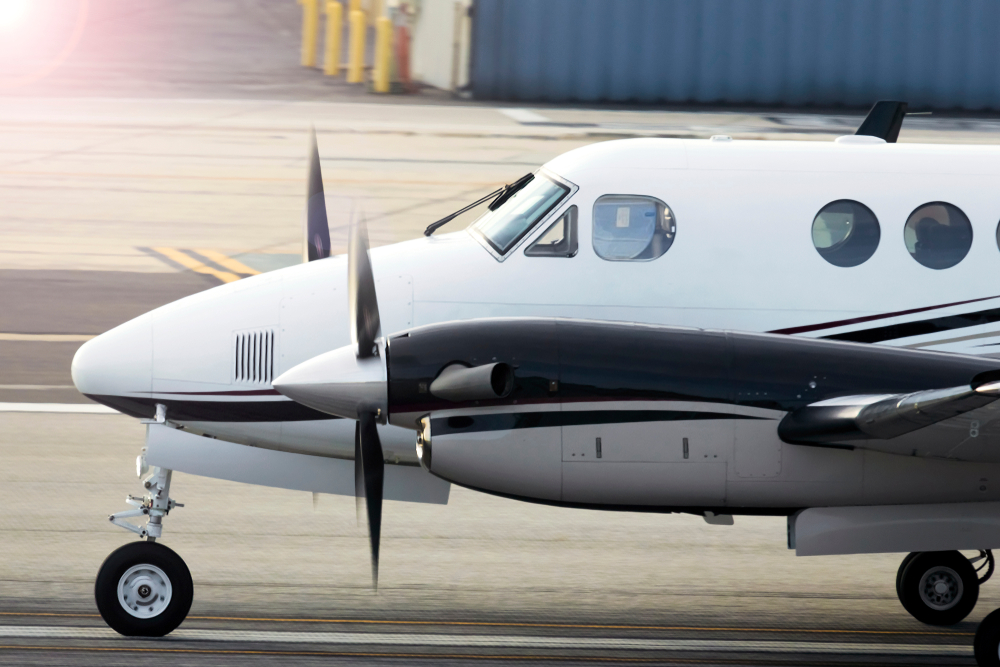 Blackbird takes a very Uber-like approach to private flying. Essentially, pilots offer up their planes and skills for rent on the Blackbird marketplace. When you or another Blackbird member books a flight, you're essentially leasing the plane and route from them for a short period of time.
With this in mind, Blackbird doesn't own or operate any of their own planes. It's essentially a peer-to-peer service that links consumers with licensed pilots for short hops around the world.
The Blackbird app does not require any sort of membership fee or another prerequisite for flying. You can simply download the app, pick a route, and pay with your credit card of choice; preferably one that earns extra points for travel purchases!
A Look At Blackbird's Terms and Conditions
We are not aviation lawyers. The below information is provided for informational purposes. Any legal questions should be directed to an attorney. 
You've likely seen a bit of controversy around the web concerning Blackbird's terms and conditions—namely regarding how users are "leasing" planes. When you lease (book) a plane through the Blackbird app, you essentially become the aircraft's operator—so, you can think of yourself as an airline for the duration of your flight.
While this sounds cool on paper, being an operator comes with responsibility. While you aren't responsible for actually flying the plane—you're essentially hiring the pilot for that—Blackbird isn't responsible for the plane during the flight.
Here's some quick takeaways from Blackbird's Community Flight Agreement:
Members leasing an aircraft via the BlackBird marketplace and allowing members of the BlackBird community to join their flight:

Will not accept compensation from joining BlackBird members
Understand and agree to maintain operational control of the flight
Will not advertise, sell, or otherwise "hold out" their flight
Are responsible for hiring or providing qualified flight crew to operate the flight
This is by no means an exhaustive list of responsibilities, but is just the items that stood out. Prior to booking, review Blackbird's Community Flight Agreement, Terms of Use, and Aircraft Lease documents before using the app.
Private Jet Card Comparisons has an in-depth look at the Blackbird terms on its website too. This may be worth a look for more details.
Bottom Line: Give Blackbird's terms a read before you book—there is some responsibility involved with booking flights.
One quick thing to note: not all Blackbird routes are operated under these conditions. Some of the longer routes are operated by JetSuiteX, which is a JetBlue-backed private aircraft operator. These flights are subject to their own Operator-Participant Agreement and Contract of Carriage.
Current Blackbird Routes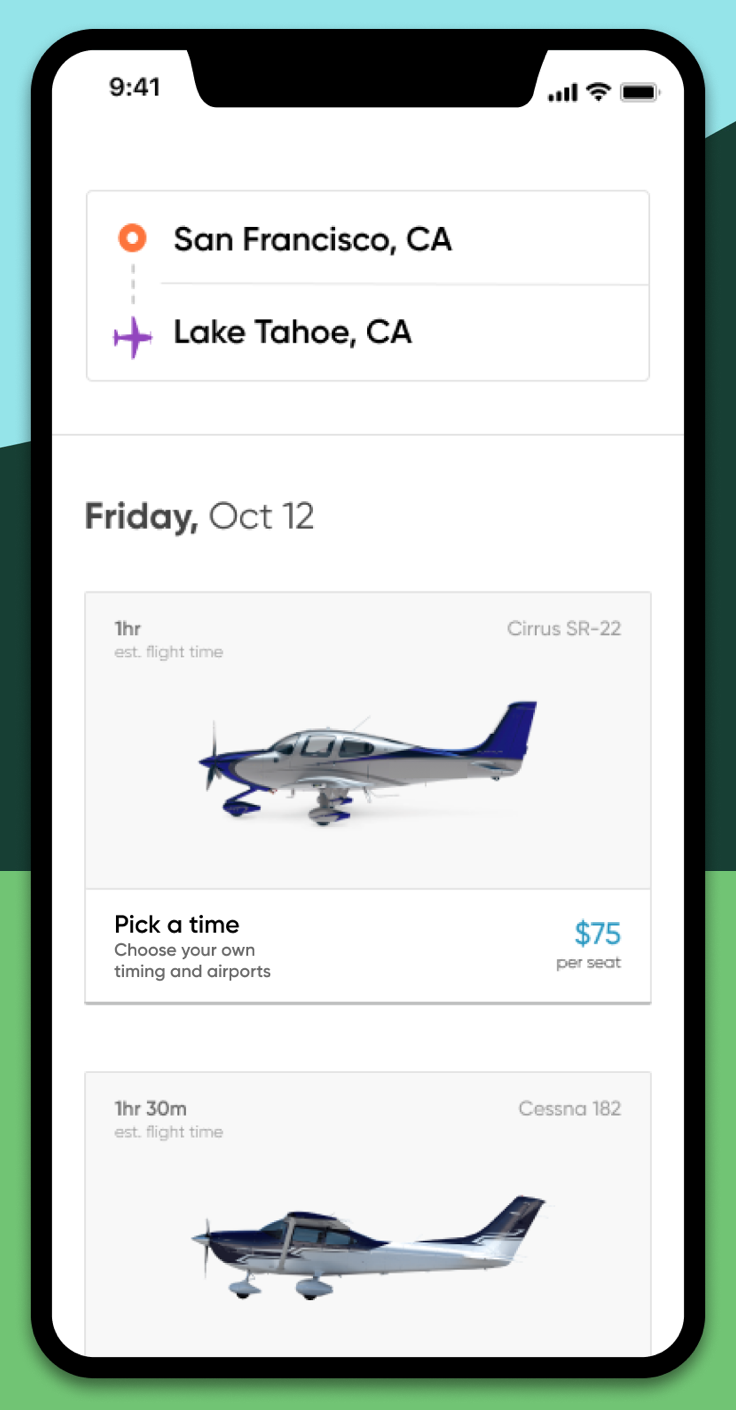 Okay, done with the heavy stuff. Now, here's the fun part: Blackbird's current route network!
Most of Blackbird's routes are focused on the U.S. West Coast. Nearly all of Blackbird's advertised flights are focused around the San Francisco Bay Area and Los Angeles metro area, with flights continuing to tourist destinations like Napa Valley, Santa Barbara, and Mammoth Lakes.
As noted earlier, Blackbird also lets you book JetSuiteX routes in its app. These are generally operated by larger aircraft and have a more commercial feel. However, you can still skip TSA lines and largely feel like you're flying private—more on that later, though.
Keep in mind that you're not limited to booking advertised routes. You can book flights between any U.S. city pair, but flights that aren't advertised in the app are considerably more expensive than the advertised routes.
BlackBird advertises the following routes on the West Coast:
San Francisco, CA to Napa, CA
San Francisco, CA to Monterey, CA
San Francisco, CA to Mammoth Lakes, CA
San Francisco, CA to Sacramento, CA
San Francisco, CA to Santa Barbara, CA
San Francisco, CA to Truckee Tahoe, CA
Los Angeles, CA to Carlsbad, CA
Los Angeles, CA to Palm Springs, CA
Los Angeles, CA to San Diego, CA
Los Angeles, CA to Santa Ana, CA
Blackbird also offers a handful of routes on the U.S. East Coast: Manhattan, NY to East Hampton, Boston, Martha's Vineyard, and more. Some of these routes are operated by standard turboprops or jets, while others—namely the East Hampton route—are operated by a seaplane that departs from the New York Seaplane base.
Many of the East Coast routes—sans the East Hampton route—aren't advertised in the app though. Like discussed earlier, this means that you'll pay more money to charter the plane, making it considerably more expensive than a commercial flight on the East Coast.
Some of the bookable East Coast routes include:
Boston, MA to Philadelphia, PA
Boston, MA to Portland, ME
Boston, MA to Richmond, VA
New York, NY to Boston, MA
New York, NY to Chicago, IL
New York, NY to Washington D.C.
What to Expect on Your Next Blackbird Flight
So, you've found the route you want to book. Now, here's what to expect on your first Blackbird flight.
Since you're flying private, you're likely to leave out of a secondary airport near your departure city. In the case of the San Francisco Bay Area, you'll likely leave out of Concord, CA's Buchanan Field Airport (CCR) or another airport nearby.
Since these airports are usually general aviation airfields—and since you're essentially flying on a general aviation flight—there is no TSA at these airports. This means no security checks, so you can show up just minutes before your flight is scheduled to depart and jump on the plane.
Do note that since these are general aviation airports, the amenities may be limited. You're not likely to find airport lounges, extensive dining options, or gift shops, so make sure to fill up before you head to your Blackbird flight.
Blackbird Flight Types
Blackbird offers private and shared flights. If you choose the former, you'll have an entire plane to yourself (and your travel companions). In other words: this flight type gives you the true private jet experience.
On the other hand, shared flights will match you with other members that have booked a flight, letting you fill the extra seats in their leased plane. These are generally cheaper, and still let you get from A to B with no frills.
Blackbird's Fleet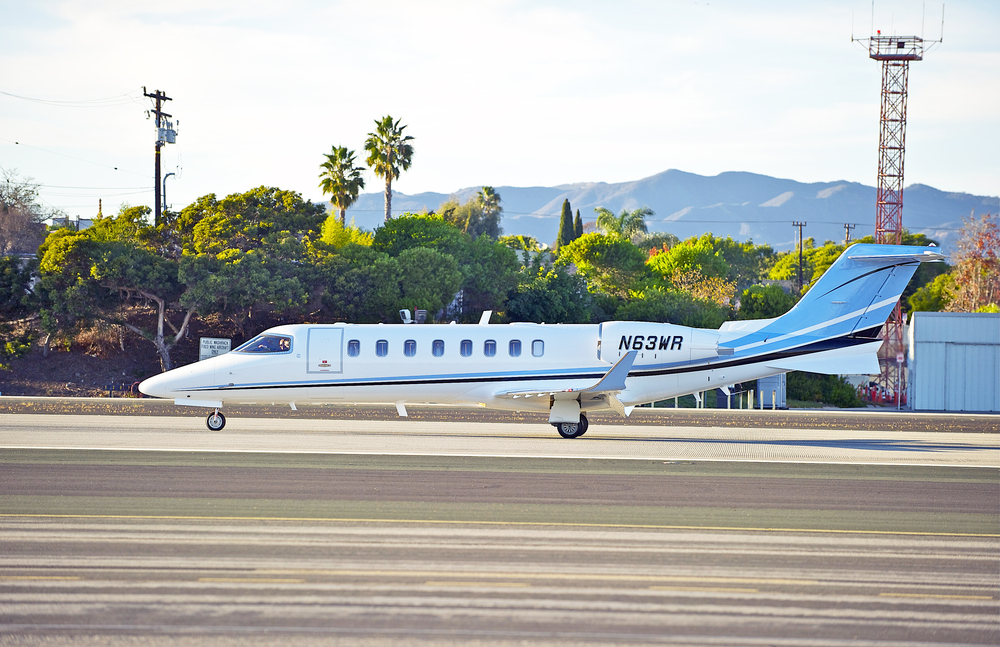 Since the Blackbird fleet is powered by independent pilots and plane owners, it has a super diverse fleet. However—at its core—Blackbird's fleet of planes is broken into 2 types of aircraft: Standard and Premium.
Standard jets are cheaper planes that are meant for getting you safely and comfortably from point A to B. These include aircraft like the Piper Arrow, Cessna Skyhawk, and Beechcraft A36 Bonanza turboprop planes.
On the other hand, Blackbird's premium aircraft are focused on getting you to your destination faster. Some of the aircraft in this class include the Cirrus SR22 G and the Pilatus PC-12 turboprops. The company also notes that premium aircraft are more spacious and quiet, and are equipped with more modern interiors.
On select routes, you can even charter jets like the Beechjet 400A and Learjet 45. However, these tend to be more expensive than the turboprops but can seat more people. This makes it much more attractive for large groups chartering an entire plane.
You can view all aircraft pricing and its price per seat (or entire plane) when searching for flights on the Blackbird app.
Blackbird Pricing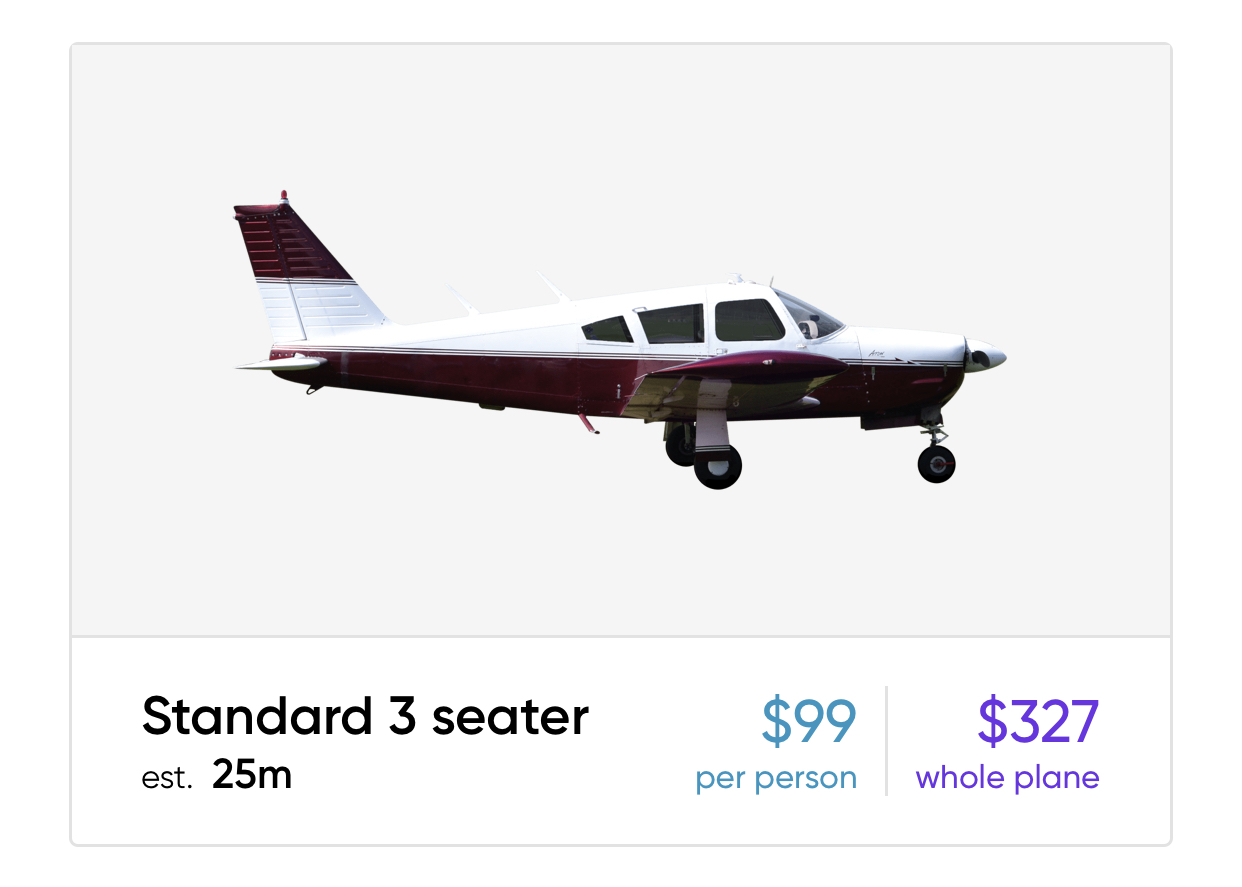 Pricing varies day to day, route by route, and plane by plane. However, a general rule to follow with Blackbird is that the shorter the route, less fancy the plane, and more off-peak the flight is, the cheaper it will be.
For example, a 25-minute flight from San Francisco, CA to Napa, CA costs just $99 per seat on a standard 3-seater aircraft on a Wednesday in mid-September. Even cooler, you can rent the entire plane for just $327, or upgrade to a premium 3-seater for $149 per seat or $490 a plane.
Longer routes are more expensive. While a last-minute flight from San Francisco, CA to Santa Barbara, CA are priced at $275 per seat, booking in advance will set you back a cool $823 per seat on a standard 3-seat turboprop. Oddly enough, though, you can charter the whole plane for $906.
Bottom Line: Shorter routes on standard planes are the most cost effective way to fly Blackbird.
Is BlackBird a Good Deal?
It depends on who you ask and what routes you fly. Many of these routes aren't operated by commercial planes year-round, making Blackbird (or another private jet company) the only way to fly these route. Of course, you could always drive, but this takes more time.
On the routes where you can fly commercial, you may actually save money when booking at the last minute. In the example above, flying from San Francisco, CA to Sacramento, CA on United Airlines costs $188, while a seat on a standard 3-seat aircraft is just $127.
With all this in mind, you may find that Blackbird is a good deal when booking at the last minute or when you consider driving time. However, prices will always vary, so be sure to shop around before making a booking.
Save Money With a Promo Code
Want to give Blackbird a shot? Blackbird gave us a promo code to share with our readers on your first Blackbird booking. The code is UP50 and gives you a cool $50 off your first Blackbird booking. Just enter it on the checkout screen, and it the $50 off will be automatically applied to your purchase.
The Blackbird Booking Process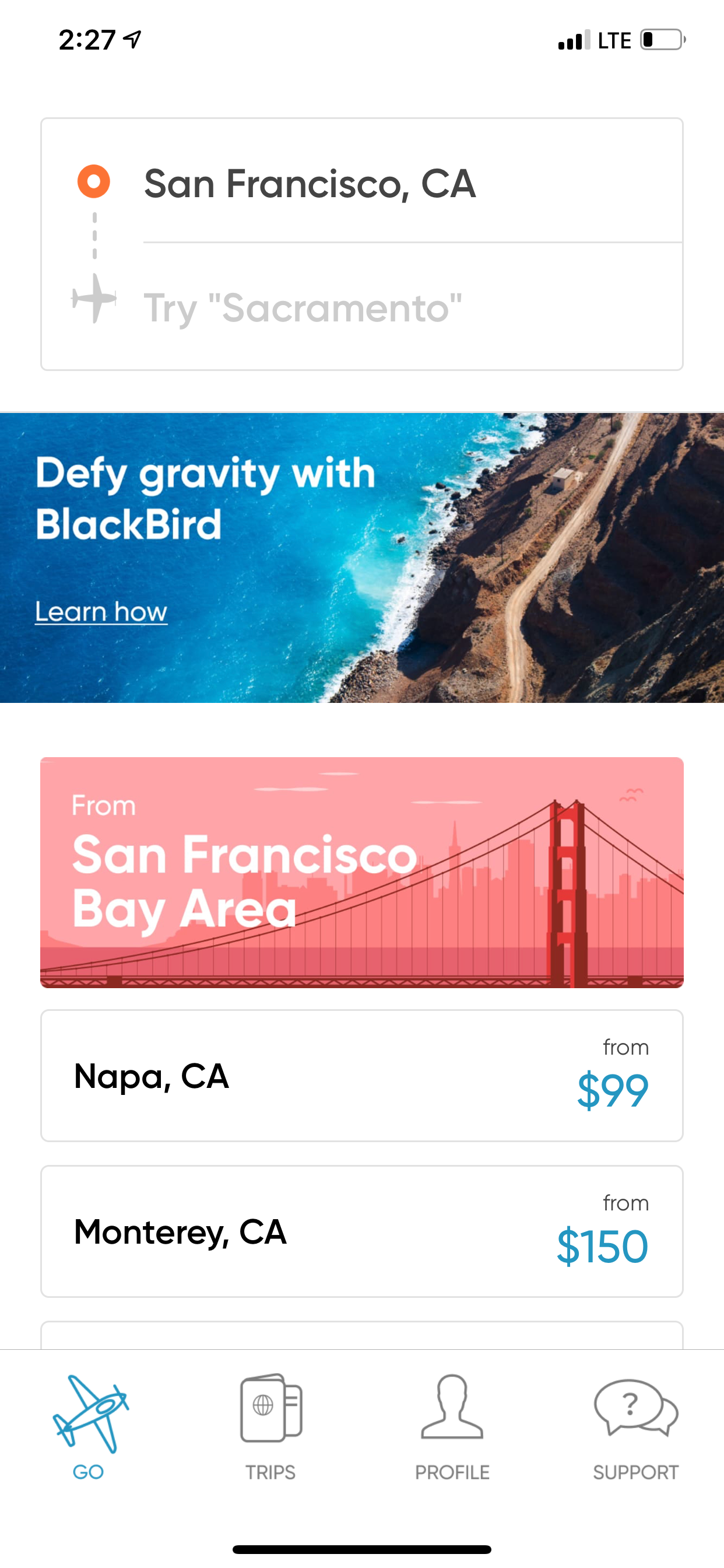 Booking a flight with Blackbird is remarkably easy. First, just download the app, and either search for the route you want to take or select a common route from the app's homepage.
Then, you can choose how many passengers you want to book and choose whether you want to book a one-way or round-trip flight. After you select that, you'll be brought to a calendar page that shows the lowest cost price of a flight on your route.
Tap on the date you want to travel and you'll be presented with different flight times. Tap on the time you want and you'll be brought to the aircraft page. You can view the different aircraft options available to you alongside their prices per seat and per plane.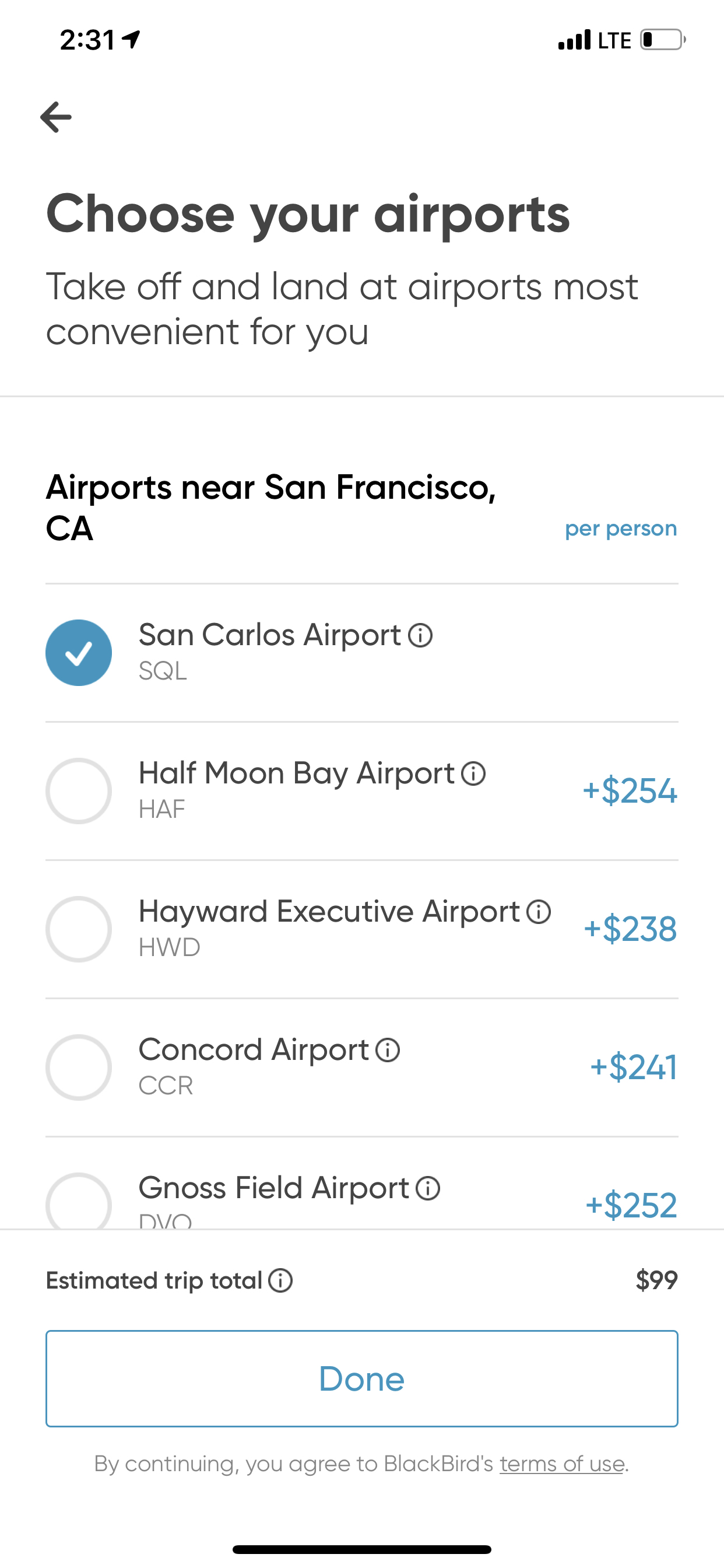 Tap on the plane you want and tap the "Select This Plane" button at the bottom of the screen. From here, you can choose which airport you want to fly from and the pilot you want to fly with. Once all is selected, you can sign up for an account and pay for your flight.
The Competition
Blackbird isn't the only shared private jet company in the market—in fact, it's a booming industry. Because of this, it's only fair to compare Blackbird to a few of its biggest competitors. So below, you'll find quick comparisons with its 2 main competitors: BLADE and JetSuiteX.
Each of these services, and Blackbird, are unique in their own rights, with different prices, pros, and cons.
BLADE — East Coast Focused
BLADE is best known for its helicopter transfers between downtown Manhattan and the New York City area airports. However, the company recently started offering plane service between select locations too. While most scheduled service is East Coast-based, there is now plane service offered on the West Coast, Las Vegas, and near other special events.
BLADE's helicopter cost is relatively cheap, with one-way from Manhattan to John F. Kennedy International (JFK) costing roughly $195. However, a seaplane from Manhattan to the Hamptons will frequently run you more than $700. The same goes for its West Coast service; this can be extremely costly during peak times.
Price: low-cost for helicopter transfers, more expensive than Blackbird for plane trips.
Best for: airports and trips around the U.S. East Coast.
JetSuiteX — A More Commercial Feel
As mentioned earlier, JetSuiteX actually operates some of Blackbird's routes. The airline has a more commercial take on private air travel though—it operates a fleet of 30-seat business jets that are configured similarly to commuter jets, but with far more legroom. You'll also have access to JetSuiteX's lounges and get a free cocktail on-board.
Further, the airline operates as a hybrid between a commercial and private air carrier. There is some security screening before flight, but it isn't operated by the TSA and is—according to the company—less invasive. This will save you time, and the company says you don't need to show up 2 hours pre-flight; just a few minutes.
The cost is almost always a great value too. We've found flights from Oakland (OAK) to Burbank (BUR) for just $109 one-way when searching one week out. This is a comparable price to commercial airliners, and you'll earn JetBlue TrueBlue miles on your flights.
Price: low-cost for all flights.
Best for: not-so-private flights around the West Coast.
Final Thoughts
All in all, Blackbird is a solid option for those seeking private jet travel on the U.S. West Coast. Despite the terms being a bit vague, the service is a solid option as an alternative to commercial travel and car trips, especially if you live close to a regional airport.
We're also big fans of being able to skip the TSA with Blackbird. Instead of showing up hours before your flight, simply show up a half-an-hour before and jump straight on the plane. Since there are no liquid restrictions on baggage, don't sweat bringing back a few bottles of wine back from your trip to Napa.
Have you flown with Blackbird before? We'd love to hear your thoughts in the comments.