The 10 Best Camping Hammocks in 2021 [In-Depth Buyer's Guide]
Hammocks offer the flexibility to literally make your own bed and lie in it, quickly and easily, in a wide range of outdoor locations.
Hammocks have been around for thousands of years, and while modern-day camping hammocks may be a far cry from traditional fishing-style hammocks of old, the premise of swinging yourself to sleep between 2 trees still stands tall.
Types of Camping Hammocks
Today, a wide range of different sizes and styles are available, along with various hanging methods to suit every kind of outdoor adventure. Here are some of the most commonly used hammocks available:
Single Hammocks
Perfect for a little bit of downtime on your own, these lightweight yet sturdy hammocks are designed for just 1 person, while still being spacious enough for a full-sized adult to stretch out in comfort.
Double Hammocks
If you are looking to snuggle up with a friend or loved one, these double-sized hammocks offer even more space for the 2 of you to enjoy together.
Family Hammocks
Large enough for you and the kids to cuddle up in, these hammocks offer the perfect space for you to relax together. These are usually heavier than single or double hammocks, though, and chances are you will need stronger fixing points and some really big trees to keep them off the ground.
Spreader Bar Hammocks
These types of hammocks have a wooden pole that spreads out the material at each end, giving the hammock a flatter profile and sturdier feel. While these types of hammocks can be super comfortable and supportive, they can also be trickier to get in and out of due to the design's taut nature.
Classic Hammocks
These are what most people envisage when they think of taking a nap underneath the stars. Simply tied at both ends, the material falls loosely and envelopes you when you relax into it. Wrap the fabric around you, or turn your hammock into a makeshift chair that lets you sit upright and enjoy the view.
Hammock Tents
Hammock tents offer the practicality of a simple tent combined with the comfort and freedom of a hammock. With a tarp suspended above the hammock to keep the rain away, and usually some kind of mesh protection, you can keep bugs at bay and sleep soundly virtually all year round.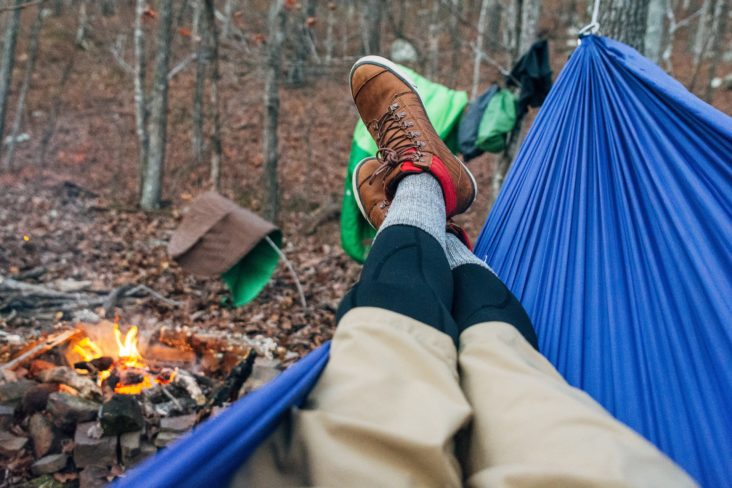 Things to Consider When Buying a Camping Hammock
Because not all hammocks are made equal, there are a lot of things to consider when it comes to choosing the right type of suspended sleeping spot for your next adventure.
Protection
Your hammock is not just there to offer you a comfortable swinging bed. It also should offer some level of protection against the elements. To ensure that your hammock can keep you safe all night long, look for one with strong stitching and a sturdy suspension. Ripstop fabric can also prevent rips and tears in the middle of the night.
Hot Tip: Look at how effective the netting will be at keeping the bugs at bay, as well as how resistant the material or the rainfly is to wind and water.
Material
If you are picturing yourself swaying away in a thick canvas hammock under the leaves of a big palm tree, you are on the wrong kind of vacation. While beach hammocks are beautiful, camping hammocks need to be very different to be practical enough to carry along with you.
Most camping hammocks are made from nylon or polyester fabric to ensure that they are durable enough to withstand harsh conditions while being lightweight enough to carry with you.
Nylon is incredibly durable and creates a soft and comfortable sling, but it can be expensive, and polyester is an affordable but often less comfortable option for adventurers on a budget. Some hammocks offer a blend of both.
Suspension System
There are different types of suspension systems available to keep your hammock swinging safely while you sleep. These include:
Daisy Chain suspensions that are incredibly user-friendly. Made of thick webbing and a series of sewn loops, these types of hammocks are easy to set up as you simply need to pull the straps through the loops to wrap the strap around the tree to tighten.
Daisy Chain suspension systems are perfect for beginners and can handle weight capacities of as much as 400 to 500 pounds. They can be heavier than other suspension systems, though, and are not very compact for carrying.
Whoopie Slings offer an adjustable and lightweight way to hang your hammock using a simple loop and knot system that can easily be adjusted under pressure. These types of slings are great for experienced hammock hangers and are the go-to choice for backpackers.
They are lightweight, compact, and customizable, even though they don't hold quite as much weight as other suspension systems.
Strap systems are simply made up of 2 strong straps with many small loops that wrap around the tree and clip the hammock onto the loops. Sturdy and steadfast, these types of systems are not as light or adjustable as the other alternatives, but they are quick and easy to set up.
Weight
If you are hiking on foot, your hammock's weight should be a major part of your decision-making process. Too light and floaty and you may find that it isn't able to hold your weight when erected; too heavy, and it will be too cumbersome to carry. To strike the right balance, look for a hammock that is sturdy and strong, while still being lightweight.
Look for a hammock that you can comfortably pack into its own little kit bag. Choose a hammock with an ultra-light suspension system if you are trekking over long distances, and save the heavier and larger type hammocks for camping trips where you can park your car close to your sleeping spot.
Capacity
Sleeping solo or as a pair? The space you need in your hammock is also an important consideration when it comes to finding the right one for your next adventure. Double hammocks also offer more space for single sleepers, but if you like to spread out, remember that they may be a little bigger and bulkier to carry with you.
If you are traveling as a group, you can even pick up family-size hammocks for the ultimate in alfresco family time, but be aware, that these will definitely be cumbersome to carry, and you may want to consider saving these for camping trips with the car.
Setup
Whatever type of hammock you decide to invest in, 1 thing is for sure, you will want to be able to have it up and ready in no time at all. While there are different setups and suspension systems available, as a general rule, you want to be able to find a spot where your hammock can hang around head height at a 30-degree angle to the ground.
You should also look to set up your sleeping spot between 2 strong enough trees to hold your weight, as nobody wants to hear a trunk snap in the middle of the night.
Comfort
Your preferred sleeping or chilling position will have a direct effect on the type of hammock that you eventually purchase. You will also need to consider your height and weight as heavier or taller people will usually need longer or wider models, and in the same vein, a very petite person may feel suffocated by a ton of excess fabric.
Your sleep preferences should also be taken into account as it can take some time to learn how to adjust your sleeping position to best suit your hammock.
Hot Tip: For additional comfort, there are also pads and even mattresses that you can buy to fit your hammock to make for a softer, more bed-like feel for longer trips away.
The Best Camping Hammocks
There are lots of great camping hammocks to choose from. To help you find the perfect hammock for your next outdoor adventure, here are some of the very best out there.
Double Hammocks
An Easy to Set up a Hammock for a Festival, Camping and So Much More
Legit Camping Double Hammock for Hiking
This double-size hammock is perfect for trips to the beach, overnight stays at festivals, and even more epic adventures in the great outdoors. With a 400 pound capacity, this double hammock will confidently be able to hold you both, making it the perfect camping companion for sleeping under the stars.
Incredibly portable and easy to set up, this hammock is made from military-grade 210T nylon fabric, making it incredibly durable in any conditions, as well as being lovely and comfortable to sleep on. It is also surprisingly lightweight, and folds up super small to ensure that you can simply chuck it in your backpack and go!
Easy enough to set up, even for first-time hammock users, the included nylon straps safely wrap around most trees, and the steel carabiners are there to ensure that you don't have any nasty midnight surprises. Strong and durable enough to handle almost any situation, this hammock also comes with the Legit Camping Lifetime Warranty.
Cuddle up in a Nest Made Just for 2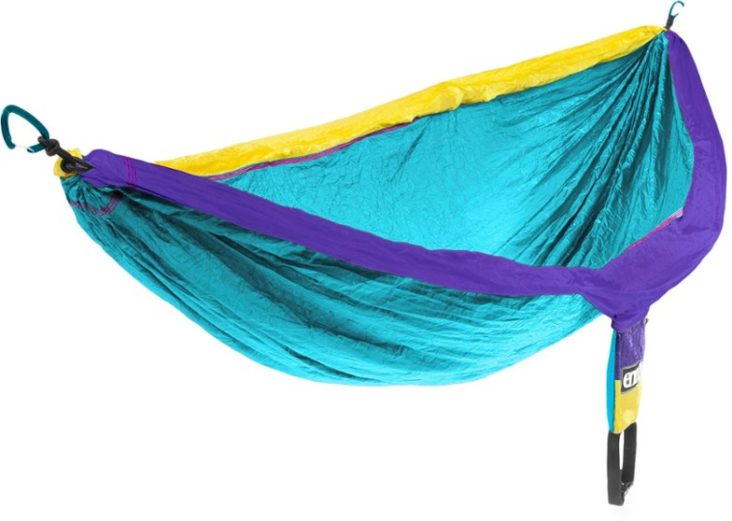 The ENO DoubleNest Hammock is light and compact enough for more extreme excursions while still being robust enough for use on the beach, at festivals, and even in your own backyard. Made of high-strength and incredibly breathable 70-denier nylon taffeta, this hammock also features triple interlocking stitching that can hold up to the rigors of outdoor sleeping.
Easy to set up in just minutes, the lightweight aluminum wire gate carabiners can be clipped to any solid anchor points and are compatible with many of the most common suspension systems. Able to hold a maximum capacity of up to 400 pounds, this is a great choice for outdoor adventures with just the 2 of you.
Complete with its very own stuff sack, this hammock folds up small enough to be carried with ease or thrown into your backpack on longer journeys.
An Incredibly Strong and Durable Hammock for Every Type of Outdoor Adventure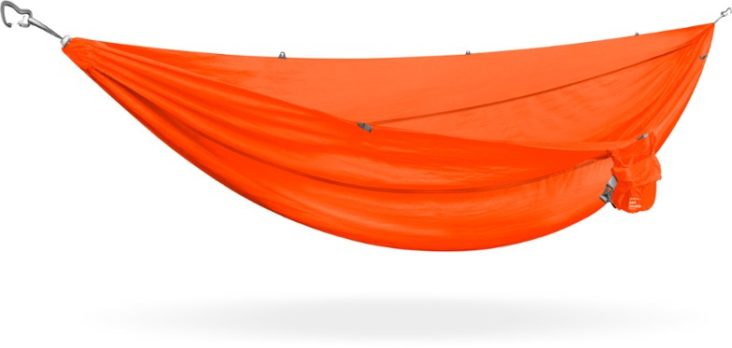 Strong enough to hold up to 2 adults and comfortably able to contend with up to 500 pounds in weight, this double-size hammock is made from 40-denier diamond ripstop nylon for increased abrasion resistance and breathability. The Kammok Roo hammock is also available in a single size when you would prefer a little time to yourself.
Fade-resistant treatment helps to keep the color of your hammock brighter for longer, and the soft seams on the side panels are perfect for hanging your legs over while chilling in the sun. With an attached waterproof, roll-top stuff bag, this lightweight and incredibly portable hammock weighs only 18 ounces and is easy to sling over your shoulder on the go.
For super quick set up, the 23kN Kanga Claw carabiners and 8 integrated gear loops can be attached to any solid surface, and the Dyneema Racer slings create a climbing-strength suspension for a comfortable and supportive sleep every time. Perfect for camping trips and nights under the stars, this is an excellent hammock for 2 people.
A Highly Portable Hammock With Its Very Own Travel Sack
Kootek Camping Hammock Double Size
Made of 210T parachute fabric material, this hammock comes in both single and double sizes and is incredibly durable, comfortable, and oh-so-soft to sleep on. There is a range of bright, bold colorways available, and this double hammock measures 118 inches by 78 inches and can hold up to 500 pounds in weight.
Super lightweight, yet very strong, this hammock can be folded up small enough to fit into its own storage sack, making it easy to take everywhere. Thanks to the excellent anti-fraying, anti-tearing, and moisture and dirt resistance of the nylon material, this is an excellent hammock for almost any kind of outdoor adventure.
Adjustable tree-straps make it easy to set up, with each strap measuring 10 feet long and offering an impressive number of loops and carabiners. This makes it easy to adjust the hammock to find the perfect height and comfort level for you and your fellow traveler.
A Great Range of Hammocks for Single and Dual Sleepers
Single & Double Camping Hammock with Mosquito/Bug Net
This multi-purpose 2 in 1 camping bed is the perfect addition to your outdoor adventure kit. Made of high-quality 210T parachute nylon material, and featuring a specially-designed lightweight and highly portable bug net, this hammock is guaranteed to be long-lasting and strong enough to keep you protected from unwanted flying visitors during the night.
Using the adjustable straps and carabiners, this hammock is incredibly easy to hang up between 2 strong trees, and in less than 5 minutes, you can enjoy a relaxing snooze in the shade. When folded, this hammock is small enough to fit in most backpacks, while still being able to hold up to 400 pounds of weight in the single version and 500 pounds for the double hammock.
Perfect for camping trips, hiking excursion, days on the beach, and so much more, this brand offers both single and double hammocks that are affordable and practical for all kinds of uses.
Impressive 1 and 2 Person Hammocks for Every Type of Adventure
Wise Owl Outfitters Hammock Camping Double and Single With Tree Straps
Made from heavy-duty 210T parachute nylon, this superb hammock offers incredible comfort and impressive durability. Available in a choice of 1- or 2-person options, this is a super-soft, great-value hammock that is perfect for adventures in the great outdoors.
For super-easy setup, this hammock comes with tree straps and carabiners, meaning there is no need to worry about tying any complicated knots. The hammock straps are an impressive 9 feet long and come with 5 separate loops, making it easy to adjust the hammock to the perfect height and comfort level to suit your preference.
The single-size hammock measures 9 feet long by 4 and a half feet wide and weighs just 16 ounces, making it easy enough to carry with you, while the 2-person version measures 10 feet long by 6.5 feet wide and weighs a heavier 26 ounces. Once folded down, it is still perfectly manageable for throwing in your backpack for nights out in the open.
A Multi-Purpose Hammock With a Tree-Friendly Suspension System
Winner Outfitters Double Camping Hammock
This super lightweight double camping hammock is perfect for sharing late nights in the open air. Available in a range of colors and able to hold up to 500 pounds in weight, this hammock measures an impressive 118 by 78 inches and has enough room for couples to cuddle up in together.
With adjustable tree-friendly straps measuring 10 feet long, this hammock can be set up in seconds using the 18+1 loops and easy locking carabiners that can be adjusted to find the perfect height for your sleeping preferences.
Made of 210T parachute fabric material as well as offering excellent anti-fraying, anti-tearing, and dirt resistance, this hammock can also be easily cleaned, and any excess moisture can be quickly wiped away.
Bottom Line: This tough and durable yet incredibly comfortable double-sized hammock is perfect for camping trips away, crashing out at festivals, or even relaxing in a cool breeze in the garden.
Single Hammocks
The Freedom of a Hammock With the Protection of a Tent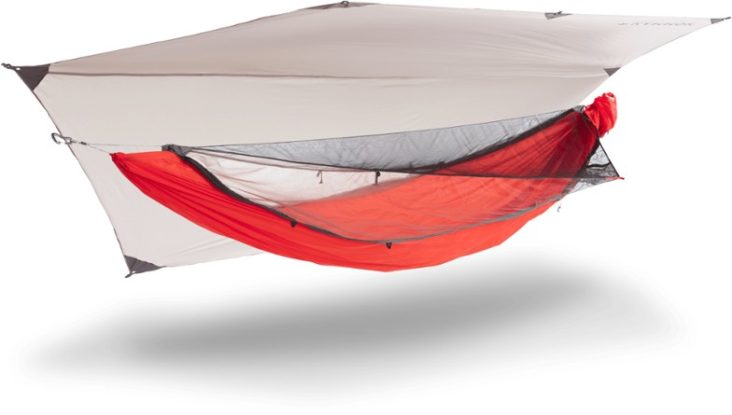 Part tent, but mostly hammock, this brilliant design from Kammok offers a silky soft sleeping compartment combined with a mesh canopy and customizable rainfly. Made from ultralight Levitas 20-denier ripstop nylon, this model offers an incredibly high strength-to-weight ratio, while still being lightweight enough to carry and easy to put up and take down.
Featuring a Dragonet no-see-um mesh canopy, bugs will be kept at bay, and the built-in pockets are perfect for keeping everything you need close at hand. The mesh panel can also be rolled away to let you enjoy the clear night sky using the patented Stargazer panel, which provides exceptional contrast with the night sky.
Set up in less than a minute with the knotless suspension system, and coming complete with its very own carry bag, this is an awesome all-in-1, 3-season hammock for even longer outdoor adventures.
A Protective, Side Entry Hammock for Those Who Like to Travel Light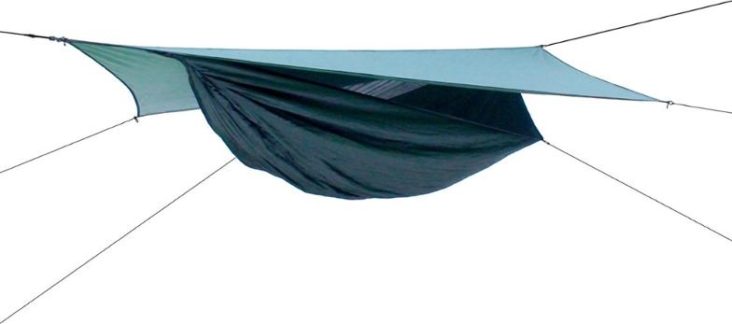 With super-cool side entry, a large and very protective rainfly, and a unique asymmetric design, this is a brilliant, single-size hammock for those who like to travel really light.
Strong enough to hold up to 250 pounds of weight and comfortable enough to house individuals up to 6 feet tall, and the patented integral ridgeline retains the same shape every time and helps to keep your back straight while you sleep.
The waterproof polyester ripstop rainfly can be tilted to any angle to protect you from the elements, as well as being rolled up, removed completely, or used on its own. Highly versatile and incredibly easy to use, this hammock also comes with a no-see-um mesh to prevent bugs from getting to you while you sleep.
The easy-to-use polyester webbing straps are attached to the end of the suspension ropes to provide extra protection to the tree, as well as super-easy setup, and the suspension system includes 10 feet long, 1,500-pound low-stretch polyester core ropes with a polyester cover.
For even more flexibility on the go, this clever little hammock also folds into an open-air lounger or can even be used as a ground tent when used in conjunction with your hiking poles.
Traditional Open-Air Sleeping for Nights Underneath the Stars

This single person hammock offers a simple but highly useful design that can hold up to 250 pounds in weight and is suitable for camping trips and day hikes. Made from tough yet lightweight nylon, this minimalist hammock offers traditional, open-air sleeping for adventurers who like to travel light.
This is a brilliant day hammock that lets you lie back and enjoy your surroundings, and the whoopie sling-style adjustment lets you raise your head up a bit when you are not napping. With a classic end-gathered design, this hammock offers the simplicity and old-world charm of a simple sling between 2 trees, but with the strength and durability of modern-day materials.
Quick and easy to erect, the aluminum spreader bar sets up and breaks down just like a tent pole, and it takes just a few moments to clip the carabiners to your own choice of suspension straps. Complete with a stuff sack that doubles up as an integrated pillow for sleeping under the stars, this is a brilliant hammock for enjoying a bit of time to yourself in the great outdoors.
Final Thoughts
Hammocks offer a safe, secure, and super-fun alternative to tents, and if you love the great outdoors, there is no better feeling than sleeping alfresco.
With a wide range of styles and sizes available, your new sling style sleeper will be a much-loved addition to your camping essentials kit, and one that will see you through many late nights and long adventures in the open air.