The 18 Best Camping Tents [In-Depth Buyer's Guide]
Pack up your family, throw your camping gear in the trunk, and head on out to explore the world around you on your own schedule. From fishing trips to music festivals and everything in between, finding the right tent to suit your outdoor adventure can totally transform your experience.
Things to Consider When Buying a Camping Tent
Before you commit to the perfect tent, there are many things you need to consider. These include:
Weight and Pack Size
You won't always be setting up your tent right next to your vehicle. With this in mind, it is important to consider the sheer weight and size of your tent when it is packed away. While it is true that heavy-duty tents are more durable, they can also be bulky and difficult to carry over long distances.
Ultralight tents are a good choice if you are planning on hiking for longer distances before settling down for the night, but while they are made of tough stuff, cheaper versions can be noticeably more flimsy and offer less protection.
Take time to research the minimum trail weight of any tent that catches your eye. This will equate to the combined weight of the body of the tent, the rainfly, and the poles. You should also consider if the packed weight is noticeably heavier, which can often be the case once you include the stakes, groundsheets, and any other accessories.
Hot Tip: Don't forget to consider the packed size of your tent. Not only will it need to be able to fit inside your vehicle, but it will also need to be compact enough to carry on your shoulders or attach to your backpack.
Capacity and Tent Height
The number of people staying with you in your tent will help determine the size you will need. That said, even if you are planning on camping alone, it can be nice to have extra room should you need it.
If you assume that the average width of a sleeping bag is around 24″, you can multiply that measurement by the number of prospective campers in your group to get a good idea of the overall floor size you will need.
You should also consider how comfortable it will be when you stand up. Most of the smaller 2- or 3-person tents will have limited headroom and peak around the 49″ mark.
This may be acceptable for children, shorter adults, or 1-night stays, but if you want to be completely comfortable standing at full height, look for something akin to a dome tent, some of which can stand up to 80″ tall.
Hot Tip: You may also want to consider a camping air mattress for your tent.
Ease of Setup
Unless you are a camping pro, most of us will struggle to set up a tent at one time or another. Pop-up tents take just a few minutes to get set up, but if you are looking at a more advanced model, you should prepare to take some time to get to know it.
The bigger your tent, the more complicated the set up could be. Some brands make it a little bit easier by supplying color-coded poles and easy directions, but there is still the natural environment, weather conditions, and other potential obstacles to consider.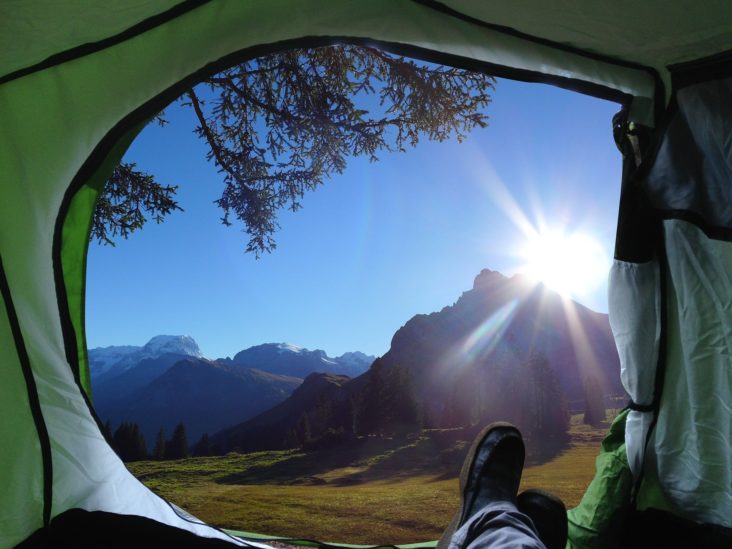 Weather Resistance
Camping outdoors leaves you open to the elements. To ensure your camping trip doesn't get ruined by rain or blown out by high winds, there are useful season ratings to help you choose the right tent for your destination.
1-Season Tents — Thin and basic, these types of tents are only intended for summer use, and while they should be able to withstand the occasional light shower, you should really keep an eye on the weather forecast before you set one up.
2-Season Tents — These are also extremely basic, and while some may come with a rainfly, they won't withstand too much wet weather. Most manufacturers group 1- and 2-season tents together.
3-Season Tents — The most popular and versatile tents on the market, 3-season tents are designed to stand up to rainfall while still offering plenty of ventilation when the weather heats up. Some of these may even be able to withstand a mild snowfall.
4-Season Tents — These aren't actually designed to be used all year round, but they are often double layered and heavily waterproofed, making them suitable for use during harsh winter conditions. The downside to these types of tents is that they can get very hot in the summer, and therefore they are not truly suitable for year-round use.
Doors and Ventilation
It seems obvious, but you have to consider how you'll get in and out of the tent. Smaller 2-person tents may offer a single door opening, while larger tents may have equivalent front and rear exits. Those with more than 1 door usually offer additional vestibules and semi-enclosed spaces that are useful for extra storage.
You should seriously also consider buying a tent that has mesh vents in the upper or lower portions of the walls. These are vital to ensure effective air circulation, which will allow the fresh air in. They will also prevent the build-up of condensation that can leave your bedding and belongings feeling damp and uncomfortable.
Durability and Quality
Because every tent is open to the elements, it is important that it is built to withstand them. The quality of the materials used in its construction, as well as the overall design, are important considerations for any tent that you want to last you for more than a single trip.
Bottom Line: When it comes to buying a tent, you generally get what you pay for. Solid poles, well-manufactured materials, sealed seams, a thick fly, and a good degree of water resistance all increase the longevity of any tent, regardless of its size and seasonality.
The Best Camping Tents
There are lots of great tents out there to choose from to suit a variety of needs and budgets. Here are some of the very best.
Best Camping Tents for 2 People
A Spacious and Affordable Entry-Level Tent
ALPS Mountaineering Lynx 2-Person Tent
With an efficient aluminum pole design, this 2-person freestanding tent can be set up super quickly. Great for festivals, campouts, and other short trips away, this affordable and incredibly portable tent is a must-have for outdoor adventurers. Made from strong, water-resistant fabric, the polyester fly is also able to resist UV damage.
With 2 doors and 2 vestibules, it is easy to enter and exit, and these extra areas also provide awesome storage spaces for keeping your outdoor gear protected from the weather. On the inside, there are also conveniently placed storage pockets, as well as a gear loft to keep your belongings up off of the floor.
Factory-seamed seals on both the fly and the floor help to provide maximum weather protection, and the poly taffeta flooring has a 2000mm water-resistant coating. With around 38 square feet of usable space and a peak height of 46″, there is more than enough space in this tent for just the 2 of you.
The carry bag included has enough room to house the tent, aluminum stakes, and the guy ropes and folds up neatly, measuring no more than 6″ x 20″, making it perfect for taking with you on hiking or fishing trips, too.
A Great Value Tent That Feels Bigger Than It Looks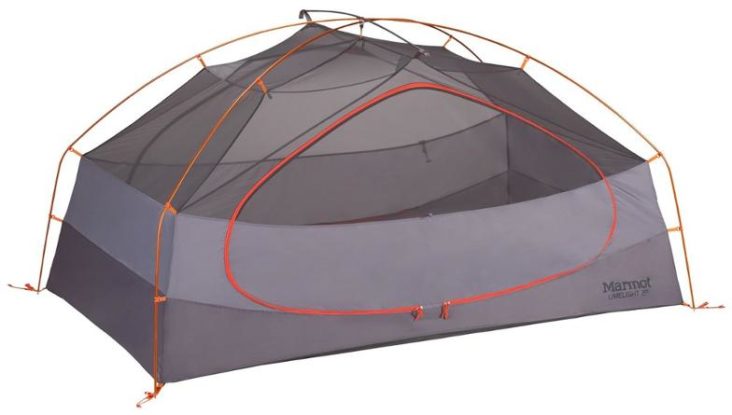 Made from strong and durable polyester mesh and taffeta, this 3-season, 2-person tent is great for quick trips in the great outdoors. With a large double door and a D-shaped rear door that leads to 2 vestibules, there is 33 square feet of living space and additional storage.
The vertical walls help to create a more spacious living area, and with a peak height of 43″, this is a comfortable tent for adult campers. The seam-taped, full-coverage fly will help keep your gear dry in the wet weather, and the interior and exterior vents will help the air circulate to keep you cool and condensation-free.
On the inside, the interior pockets offer plenty of storage space for smaller items, and the lampshade pocket is a great place to hold your torch or headlight. Jingle-free nylon zipper pulls help to prevent sticking, and the pre-bent aluminum poles make for a sturdy construction.
Color-coded, easy-pitch clips and poles are useful for a super-fast setup, and the tent weighs in at just 5 pounds 10 ounces when packed away. With a carry case measuring just 7″ x 18″, this is an incredibly portable 2-person tent that can be taken virtually anywhere with you.
Great Choice for a 3-Season Tent
Marmot Crane Creek Backpacking and Camping Tent
Offering 42 square feet of comfortable sleeping space, this 2-person, freestanding dome tent is great for camping trips and backpacking excursions. Season-wise, this tent is most suitable for use in the summer, late spring and early autumn, making it a great summer season tent for warmer weather.
The 2 mesh doors can be rolled out of the way to allow for easy access, and they will also help you to keep the bugs at bay. The additional vestibule acts as a useful storage space for your gear and can also be used as a windbreaker that could help you cook.
The freestanding structure is lightweight and easy to set up, and once the poles are attached in all 4 corners, the tent becomes really quite secure. Seamed seals and a waterproof fly help add water resistance to this model, and the inner mesh panels and vent help keep the fresh air circulating.
Bottom Line: Weighing just 5 pounds 8 ounces and with its own handy travel bag, this is a practical and incredibly portable 2- or 3-person tent that is great for backpacking trips, hiking, fishing, and even sleepovers.
Great Value With the Features You'd Expect
Kelty Salida Camping and Backpacking Tent
This award-winning, 2-person tent offers advanced 3-season protection and is perfect for hikes out to the backcountry, camping trips, and so much more. With an ultra-light weight of just 4 pounds 9 ounces, and a compact carry bag measuring just 13″ x 15″, you can even attach this tent to your backpack for more remote adventures.
Offering over 10 square feet of vestibule space, there is enough room for a queen-sized mattress or 2 separate sleeping bags and internal storage pockets. Despite its compact size, the generous D-shaped door allows for easy entry and exit, and the backpack-friendly compact folding poles make for quick and easy setup.
With a combination of fabric and mesh walls, this tent offers some protection against inclement summer weather, and the vents will help to keep the air circulating around the tent even when the weather heats up.
Compact to carry, yet large enough to get comfortable in, this backpacking tent is great for those who need to rest somewhere safe and dry.
Hot Tip: To add some additional comfort to your camping trip, you may want to consider bringing a hammock.
Best Camping Tents for 4 People
Truly Instant Tent and Perfect For Families
Coleman Cabin Tent With Instant Setup
Designed for super-fast setup, this tent features pre-assembled poles that allow you to have the entire tent set up in about a minute. This 4-person, 3-season tent offers 56 square feet of usable living space and has a peak height of 59″.
With 150-denier polyester construction and strong, tapered seams, this instant tent features rugged Polyguard double-thick fabric for reliable, long-lasting use and high levels of protection from the elements.
The Coleman WeatherTec system helps to keep floors dry, and the patented corner welds and covered seams have been designed to keep the water out and away from you and your belongings.
Increased ventilation helps to keep the tent cool when the temperature rises, and the integrated rainfly ensures extra weather protection along with better airflow.
One of the other unique features available with this particular model is the darkroom technology that helps to block up to 90% of the sunlight that comes into the tent, ensuring better sleep while helping to reduce temperature build-up. There are also numerous storage pockets, and a mesh inner door to help keeps bugs away.
Perfectly portable, this cabin tent folds back up into an expandable carry pack that weighs under 20 pounds, making it convenient to carry from car to your camping spot. With enough room for a queen size mattress or 4 single sleeping bags, this strong and durable instant tent provides effective protection against the elements for you and your family.
Basic Yet Highly Durable Tent
Coleman Sundome Tent
Also available in 2-, 3-, and 6-person options, this sturdy, 3-season, 4-person dome tent is easy to construct and offers good quality outdoor accommodation that won't put too much of a dent in your wallet.
Ideal for weekend car campers, extended camping trips, scout troops, and even summer camps, the strong and durable construction should keep you well-protected against the weather. Featuring WeatherTec technology, the rain will run straight off of the fly, and the welded corners and covered seams have been designed to keep the water out and your belongings dry.
It's not just in wet conditions that this tent shines through — large windows and ground vents help to push warm air up and out so you stay cool and comfortable at night. The interior also offers lots of mesh pockets that can be used to keep store small essentials within easy reach, as well as an E-Port to pull an electrical extension cable through.
Bottom Line: Offering quick and easy set up with snag-free, continuous pole sleeves, and a compact carry case with room to hold all of your stakes, poles and guy lines, this is an affordable range of dome tents suitable for a multitude of uses.
An Affordable, Simple, and Spacious Option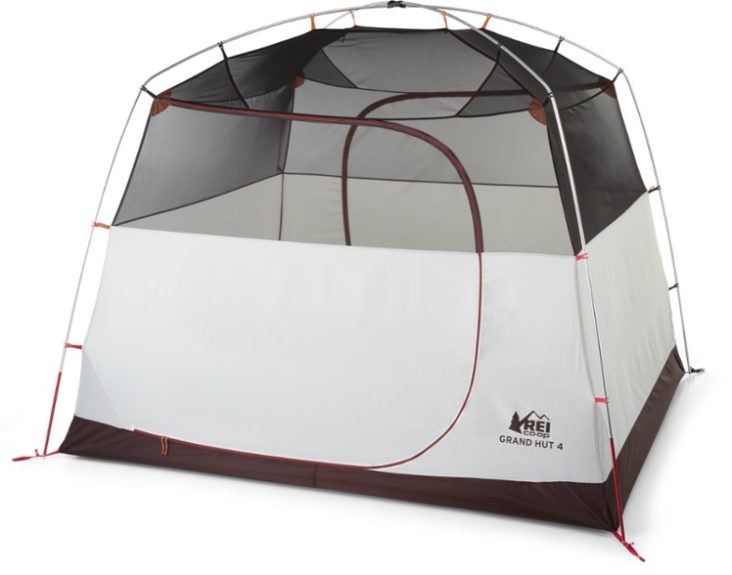 Offering almost 60 square feet of usable floor space, this 4-person tent has a peak height of 75″ and an additional vestibule area that offers 35 square feet of storage space. With a floor made from durable 150-denier coated polyester, and a 75-denier coated polyester rainfly, this is a 3-season tent that should be able to withstand all most any type of weather.
With near-vertical walls to help increase floor space and prevent a reduction in head height, the 2 large, D-shaped doors also offer a super practical way to get in and out. The bug-proof mesh panels act like little windows to help you enjoy the views of your surroundings, while the ripstop panels near the floor offer wind reduction without sacrificing on ventilation and breathability.
Clever design touches such as the twin stake vestibules that offer additional living space, multiple storage pockets, and gear loops for attaching lights make this a really good tent for families or small groups of campers. With an innovative low-vent design, you can also be assured of superior ventilation as the chimney effect helps to circulate the air keeping the tent feeling fresh at all times.
With a packed size of 24″ x 10″ x 10″, and a maximum weight of 14 pounds 2 ounces, this tent is more than manageable for transportation. The additional heavy-duty carry bag keeps your poles, 8 stakes, 6 guy lines with tighteners, and a pole-repair tube neatly together, and all in 1 place.
Not Flashy but Simple and Effective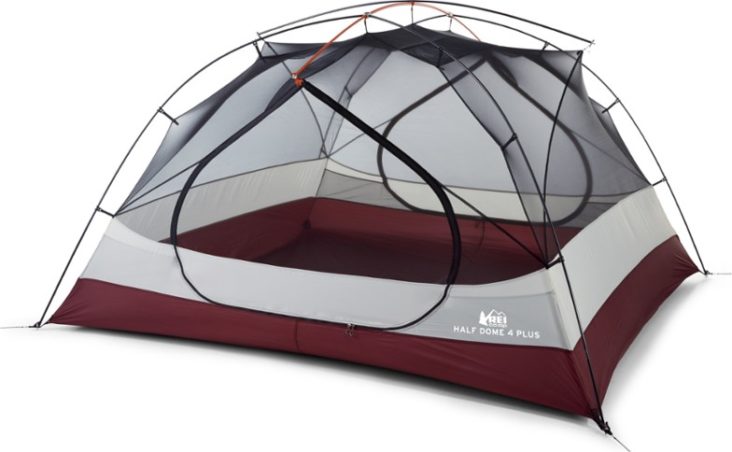 This 4-person, 3-season tent features the exclusive REI tension-truss architecture that guarantees more livable space, with vertical sidewalls that offer ample headroom in every corner of the tent. With 58.7 square feet of living and sleeping space and tough ripstop nylon construction, this tent should be able to keep you and your friends or family well-protected.
Great for use in warmer climates, the mesh panels help to improve ventilation, and the 4 ceiling vents provide perfect airflow to prevent hot, damp conditions inside the tent. The ripstop panels in the tent's lower areas also help prevent dust and dirt from blowing in and messing up your belongings.
For additional storage, the 2 large covered and zippered vestibules are great for keeping bulky outdoor items protected. The pockets and hang loops for lights on the inside help keep your gear well-organized and illuminated. Zippered doors can be tucked into their own pockets when opened, and the mesh panels will help keep bugs at bay.
For ease of use, the hubbed, color-coded pole assembly simplifies setup, and with a packed weight of just 7 pounds 10 ounces and measuring just 7″ x 24″, this is a compact and practical tent that is suitable for a variety of different outdoor excursions. Guy lines with tighteners, pole-repair tube, pole bag, 8 stakes, and a stake bag are also included.
Very Easy to Repack With Great Carry Bag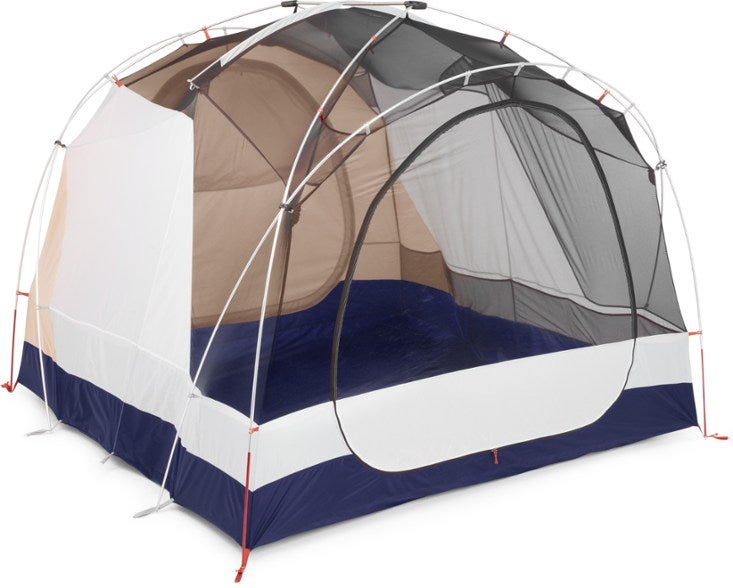 This 3-season, 4-person tent offers 69.4 square feet of floor area and has a peak height of 75″. Featuring a 150-denier coated polyester Oxford floor and a hard-wearing rainfly fabric made from 75-denier coated polyester, this is a strong, durable, and incredibly practical tent for your next camping adventure.
On the inside, the vertical walls and rectangular floor plan create an impressive amount of livable floor space. The single-compartment living area has plenty of room to fit 4 standard sleeping bags and personal accessories, while the vestibule offers 29 square feet of protective storage space for items you want to keep separate from your sleeping area.
To protect you while you sleep, the 2 large doors have 4 zipper sliders, and the bug-proof mesh paneling provides high levels of ventilation. For additional comfort, the seam-sealed waterproof polyester fly can be rolled up from sides or ends of a tent to adjust the amount of privacy or visibility you require, as well as the levels of ventilation.
Setting this family-friendly tent up should be an easy-enough operation, as the strategically color-coded tent, fly, footprint, and poles help simplify setup.
On the move, the tent folds up to a pack size of 25.5″ x 8.5″ x 15″, weighing just 18 pounds 8 ounces, and there is a backpack carry bag included with pockets for poles and stakes, along with 11 stakes, 4 guy lines with tighteners, and a pole-repair tube.
Hot Tip: If you are planning to do some hiking during your trip, be sure to pack these essentials.
Best Camping Tents for 6 People
Great Build Quality That Can Be Put up in a Minute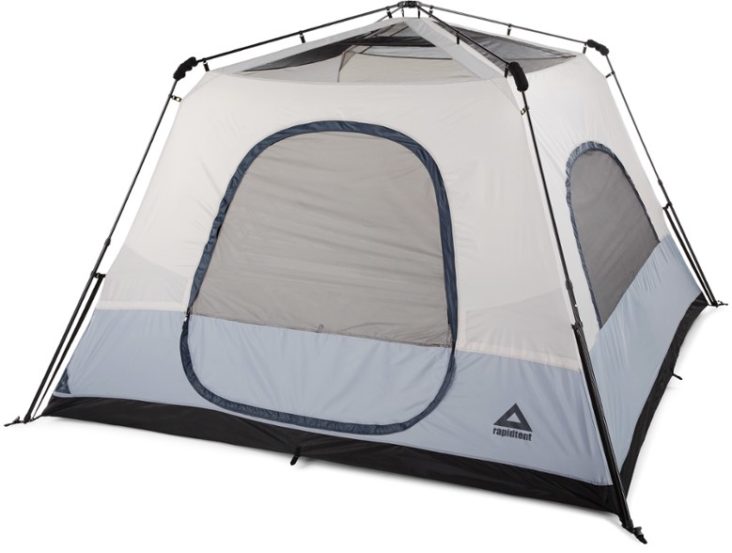 If you need to be under cover in a rush, the innovative frame system used in this model allows for speedy set up wherever you are headed. Claiming to offer an "instant up" in less than 1 minute, this 6-person, 3-season tent offers surprisingly sturdy construction and lots of useable space.
With approximately 100 square feet of living area, but without a vestibule for additional storage, sleeping 6 adults in this tent may be a bit of a squeeze. That said, the integrated gear loft and side storage compartment are useful for tucking personal items away, and the multiple windows and mesh roof panel help to increase ventilation for maximum comfort in warmer conditions.
There is also a useful power port that provides easy access to an extension cord should you need 1.
With a thick polyester taffeta construction, this tent offers excellent levels of weather protection. Despite using aluminum poles with "knee" joints to make it quick and easy to pop the tent up, the additional stakes and guy-lines on all sides help to keep the construction strong and rigid, even in windy conditions.
With a packed weight of 25 pounds 8 ounces and measuring 9″ x 50″, this is not the most compact of 6-person tents on the market. What it is, however, it is a practical option that offers incredibly fast setup, 100 square feet of useable space with a peak height of 80″, as well as excellent protection against inclement weather conditions.
Super Stable and Sturdy From REI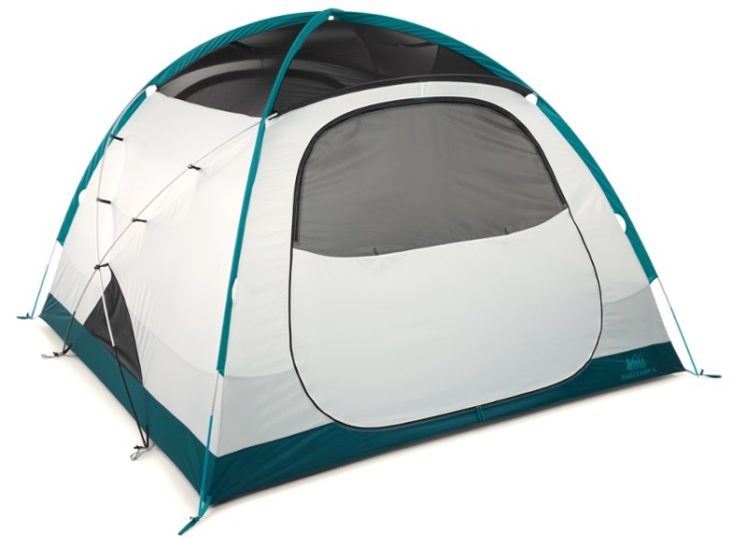 This impressive 6-person dome tent offers 84 square feet of living space, plus an additional 44 square feet of storage space in the vestibule areas. With a peak height of 74″, this is an excellent quality family-sized tent that is good for 3-4 seasons, making it the perfect tent for outdoor adventures almost all year round. 
On the inside, the large main area can house 2 queen-sized inflatable mattresses alongside your personal gear, or 6 standard sleeping bags at a push. Better suited for use by a group or family of 4, the multiple pockets and hanging loops will help you organize your gear and keep them away from the floor. 
With a strong, water-resistant nylon construction and a full-coverage polyester rainfly, this tent should easily keep you protected from harsh weather conditions. The combination of roof and low side vents helps to ventilate the tent, keeping condensation under control, and the 2 wide mouth doors with mesh inners will keep the bugs at bay while also offering impressive views.
The large, pole-supported vestibule and the smaller stake-out vestibule also offer essential storage space for your outdoor equipment when not in use. 
Despite its dimensions, this tent offers a straightforward setup with color-coding on the poles and sleeves. The heavy-duty storage sack comes complete with a shoulder sling making it easy to carry and is big enough to keep your stakes, guy lines, and tighteners all in 1 place.
Bottom Line: Measuring just 11″ x 24″ when packed, but weighing in at a hefty 20 pounds 10 ounces, this is a good choice for trips where you can camp close to your vehicle. 
Family-Friendly With Great Design Features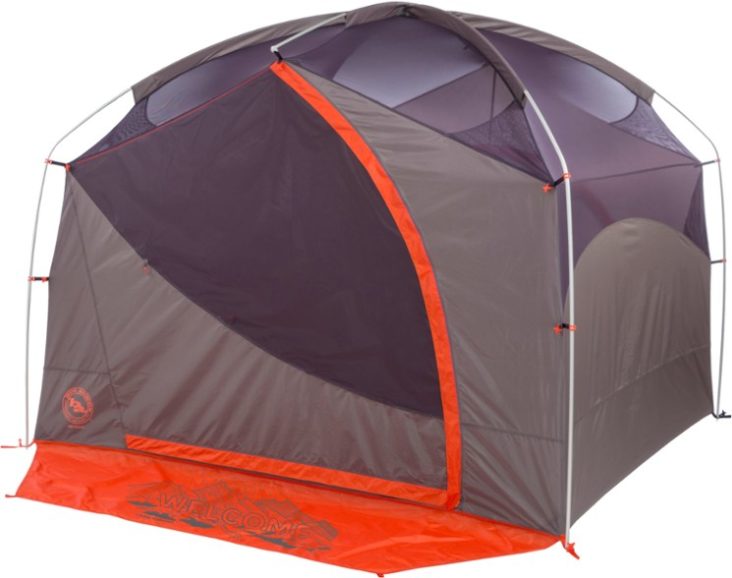 For those looking for bigger adventures, this 6-person, 3-season tent offers plenty of space and lots of innovative features. With a floor size of 83 square feet and a lofty peak height of 83″, this high-volume tent provides a cavernous shelter for car-camping families or other groups of wheel-based adventurers.
Made from breathable polyester and nylon mesh, and with a waterproof polyurethane-coated rainfly, you should feel safe and dry in wet weather conditions. There are also storm flaps on the door zippers to help protect you and your crew from the elements.
An extra-large vestibule offers useful additional storage space, and the welcome mat by the large front door opening is perfect for keeping dirty shoes out of your sleeping area.
On the inside, there are useful touches such as interior mesh pockets, 2 removable corner bin pockets, and 2 media pockets to help organize your gear, and the mesh inner door with windows helps you admire with views while keeping the bugs at bay.
The Big Agnes should be a cinch to set up, despite its impressive size. The color-coded webbing and buckles make for an easy setup, while the pole-securement points on the inside add perfect pitch and extra stability.
Compressible into a packed weight of 16 pounds 7 ounces, this tent fits into a backpack-style carry bag with adjustable shoulder straps measuring 25.5″ x 17″ x 10″, making it effortlessly portable from the car to your camping ground.
Best Camping Tents for 8 or More People
Spacious and Easy to Set Up
Coleman Montana Tent With Easy Setup for Outdoors
Offering 112 square feet of living space and with a peak height of 74″, this tent offers a quick set-up and extra protection against rain and bad weather.
The frame has been tested to withstand winds of up to 35 miles per hour, and the angled windows have been specially designed to keep the rain out while still allowing for that all-important extra circulation in warmer weather.
An extended awning offers extra outdoor space and doubles as a useful storage hatch, while the hinged door opens wide to allow for easy access.
On the inside, there is enough room to comfortably position 2 queen-sized airbeds, and the handy storage pockets help keep your smaller personal items neatly organized and up off the floor. There is also an E-Port which allows you to run an extension cord into the tent.
Coleman's patented WeatherTec system includes a tub floor with patented corner welds, as well as protected seams and a covered zipper to keep water out, while the double-thick material helps to keep the tent well-insulated.
Designed to be fully set up and ready to go in around 15 minutes, the snag-free, continuous pole sleeves, the patented pin-and-ring system, and the snag-free Insta-Clip suspension make this a great choice for those looking for something that offers a little bit more than an instant pop-up tent, but is also not too complicated to set up either.
Exceptional Space and Comfort for the Family
DISCOUNT: 13%
Coleman WeatherMaster 10-Person Outdoor Tent
This 2-room, 10-person, 1- to 2-season tent offers around 153 square feet of living and sleeping space, a peak height of 80″, and has enough space to comfortably house up to 3 queen-size airbeds.
Made from coated polyester fabric combined with anti-wicking thread and webbing, this tent has been designed to keep you dry, while still offering an impressive amount of ventilation.
With a hinged front door and a zippered back door, this cabin-style tent really does offer a home away from home. The leak-free seams and fully-taped rainfly that covers all the windows and doors will help keep the rain out, while the inverted floor seams dramatically increase weather resistance by eliminating needle holes inside the tent. The strong internal frame has also been designed to withstand strong winds.
On the inside, the mesh ceiling and windows allow the Variflo adjustable ventilation system to customize your cooling comfort while reverse-angled windows let in the light and air (but not water) to keep you dry. There are handy storage spaces to keep your belongings safe, as well as an E-Port to push through an electrical cable and a cooler box.
Despite its mighty proportions, this tent is surprisingly easy to set up in a hurry. Thanks to the color-coded poles and continuous pole sleeves, shock-corded fiberglass poles, exclusive pin-and-ring design, and Insta-Clip attachments, you can be up and running in no time. There is also a carry bag, stake bag, and pole bag included, too.
Great Value Warm Weather Tent
Core 9-Person Extended Dome Tent
This huge tent offers an impressive 144 square feet of living space, as well as 72″ of peak height capacity. Made from durable 68D polyester with a 600mm hydrostatic rating, this 1- to 2-season multi-person tent can probably squeeze 9 sleeping bags in but is more likely to offer a comfortable space for 5 adults plus their belongings.
Designed to take 2 people around 15 minutes to set up, this extended dome tent relies on fiberglass poles to keep its shape. The advanced ventilation system draws cool air from adjustable air intake vents on the ground, allowing hot air to escape and a large mesh ceiling to help keep the tent cooler in warmer weather.
H2O Block Technology includes a water-repellent fabric with active bead technology and seamed seals, and the closable e-cable port on the wall allows you to keep your devices charged via an extension cable. There is also a gear loft with lantern hook and pockets to keep items organized and away from the tent floor.
Coming complete with a rainfly, tent stakes, and carry bag that measures 27″ x 9″ x 9″, this is a highly portable and incredibly useful tent for larger families or groups of friends looking to get out there and enjoy the great outdoors.
Best Camping Tents for Dogs
It wouldn't be a real vacation without all of the family there with you, so we have even found tents designed purely for your pet pooch to enjoy.
A Removable Canopy Offers Versatile Protection on the Go
Niubya 48″ XLarge Elevated Dog Cot with Canopy
Made from highly durable Oxford fabric and breathable mesh, this gorgeous little dog tent has been designed to protect your pet from the elements and help them to feel cool and comfortable in warmer weather. Spacious enough to offer shelter for most large breeds, your dog can enjoy a tent of their own when away on vacation or out on a day trip.
With a detachable waterproof canopy, you can choose to use this tent as an elevated dog bed, or keep your dog safe from unwanted UV rays or wet weather. The simple but effective design allows your dog to sleep soundly away from cold, hard floors while the airflow underneath helps them to cool down when the mercury rises.
Made with a super-sturdy paint-coated steel frame and 4 non-skid feet, this dog tent is sturdy enough to hold dogs weighing up to 135 pounds. Super easy to set up with no tools or screws required, and able to fold down small enough to fit in your vehicle, this is the perfect addition to your camping equipment for any pampered pet.
An Individual Pop-Up Tent Perfect for Your Pet
DISCOUNT: 20%
Alcott Pup Tent
As the perfect outdoor accessory for adventurous dogs and their owners, this individual pup tent will keep your pooch cool on the go. Designed to be a pop-up tent for 1 dog, this little beauty will keep your 4-legged friend cool from the sun and protected against harmful UV rays, as well as nice and dry when the weather turns.
Made from lightweight, breathable nylon, the tent comes complete with a waterproof tub floor. Perfect for medium-sized dogs to stretch out in, and larger ones to sit comfortably in, this tent allows your good boy or girl to join in the camping fun with you.
Measuring just 28″ x 45″ x 35″, this tent is able to fold down into compact dimensions and even fits inside its own travel bag. Easy to set up using the 2 poles and tent pegs included, this is an awesome little tent for your best friend.
A Pet House for Pampered Pooches, Both at Home and Away
MyDeal Pop Up Pet House in a Bag
This cute little playpen and pop-up tent is perfect for use at home or away to keep your dog snug and protected. Keep toys and bedding all in 1 place, or let your dog camp out under the stars with you on your next outdoor adventure.
Made from durable nylon with net ventilation and a tie-up door, this tent pops up in just seconds to provide a cozy nest for your doggy. The non-woven material will provide plenty of shade, while the mesh vents help to let the airflow inside the tent. With basic water resistance, too, this will help keep your dog dry in damp conditions.
Super lightweight and easy to use, this is not only perfect for camping trips and outdoor use, but it also folds down to make a useful pet barrier between your car's front seats.
Bottom Line: Portable, practical, and perfect for your pet dog, this pop-up tent can be used in a variety of ways — at home, in the car, and on vacation.
Final Thoughts
Taking the right tent with you, along with other essentials, on your next camping trip really does make all the difference. From instant-up tents that are perfect for bedding down under the stars to family-friendly base camps that offer a home away from home environment, there are tents out there to suit every type of camper.