C. Baldwin, Curio Collection by Hilton in Houston – Full Review
In December 2020 I found myself with a 24-hour layover in Houston before my continuing flight back home to Rio de Janeiro.
Since I was traveling by myself, and not with 2 kids in tow, I had a few options when it came to how and where I wanted to spend my time. Sure, there are airport hotel options at and near George Bush Intercontinental Airport (IAH), but I wanted something with a little bit more character than most of the chains offered.
After a bit of searching, I found C. Baldwin, a Curio Collection by Hilton property in downtown Houston. It is self-described as luxe and sophisticated with high-end dining and rooms with Peloton bikes. Sounds great on paper!
The hotel is named after the "Mother of Houston," Charlotte Baldwin, and won a Landmark Award for best hotel renovation in 2020. Needless to say, I was excited to check out this unique property.
Hotel Location
The C. Baldwin, "Houston's Most Transformative Hotel," is located in downtown Houston and is connected to the Allen Center (a mixed-use skyscraper complex) and Heritage Plaza.
The hotel is just a few blocks from the Hobby Center and the George R. Brown Convention Center is less than 2 miles away, so this is a great location for anyone doing business in downtown Houston. The property is also connected to the underground pedestrian tunnel network and offers a complimentary Tesla house car to downtown attractions (temporarily suspended due to COVID-19).
Being downtown means that you are about a 25-minute drive from the airport or about an hour if you want to take public transportation.
Since I was arriving late (and had to collect my luggage), I didn't want to deal with public transportation, so I rented a car from Hertz.
I considered using Uber, etc. but with an estimated $100 roundtrip cost, plus sharing a car with a stranger, I figured grabbing a rental would be my best. Plus, I like renting cars!
Booking
As you can see, there are many Hilton options to choose from in the greater Houston area. And due to the lack of demand and conventions, rates were very affordable — especially downtown.
Hilton uses variable pricing when it comes to awards, so paying with points was also quite reasonable, starting at just 36,000 Hilton Honors points per night.
I ended up booking using my Hilton Honors American Express Aspire Card Free Weekend Night, which, at the time, was valid on weeknights due to coronavirus policy changes. Normally I would have tried to squeeze some more value out of that certificate, but with no big plans on the horizon, I figured it would be worth it.
As for award prices, here was what the hotel was charging the night I was staying there:
2 Queen Beds Room — 36,000 points per night
1 King Bed Room — 36,000 points per night
1 King Bed High Floor Room — 45,000 points per night
2 Queen Beds High Floor Room — 45,000 points per night
1 King Bed Corner Room — 45,000 points per night
1 King Bed Larger Corner Room — 49,000 points per night
1 King Bed Large Corner High Floor Room — 51,000 points per night
1 King Bed Corner with Peloton Bike Room — 53,000 points per night
1 Bedroom Corner Suite — 98,000 points per night
After a quick call to Hilton (which is unfortunately required to redeem this free night award), I was booked in a 1 King Bed Room that was going for 36,000 points.
Hot Tip: Hotels are constantly updating their policies due to the coronavirus (COVID-19) — check out our guide to stay up to date.
Checking In
After a straight shot down the highway from the airport and a few turns through downtown Houston, you will find yourself at the almost oasis-like C. Baldwin hotel entrance.
The entire façade of the building was covered in greenery, which was a stunning contrast to the towering buildings (including the hotel itself) beside it. The effect was especially impressive at night with the lighted name set against the vegetation.
I arrived at the hotel around 9 p.m. and was greeted by a relatively busy valet who got my car checked in and instructed me where to check-in.
Upon entering through the front door of the hotel you will be facing the living room and fireplace that were cozily decorated for the Christmas season.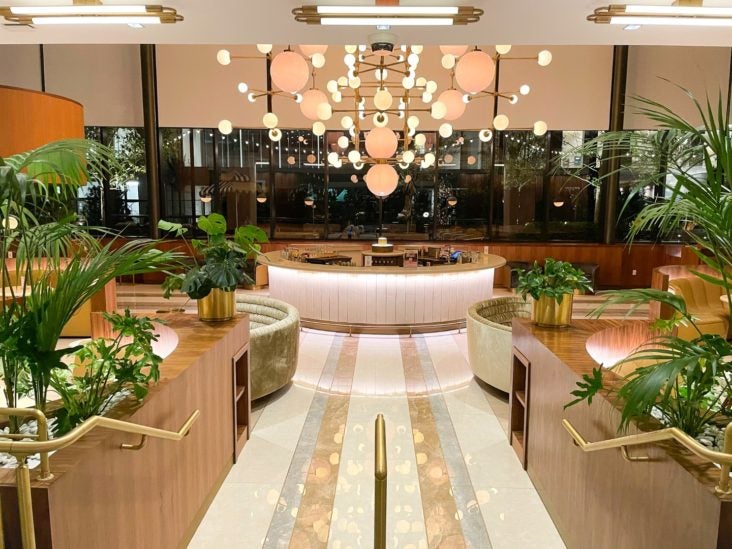 Past the seating areas was the sunken Lobby Bar which was equal parts retro and modern, but undeniably eye-catching.
The best way to describe the hotel upon the first impression was funky and fashionable. It gave off a very cool vibe — I was impressed so far.
The front desk was located to the right of the entrance where the agent was waiting behind a giant plexiglass divider with a mask on as part of the Hilton CleanStay protocols.
The check-in process was quick — the agent acknowledged my Diamond status, and after a quick swipe of my card for incidentals, I was on my way to the room.
Elite Benefits
Unfortunately at Curio properties, elite benefits don't go very far. Here is a quick rundown of what Diamond members can expect at the C. Baldwin.
Room Upgrade
The front desk agent did notice that I was a Diamond member and assigned me a King bedroom on a high floor, which technically was an upgrade from a lower floor, but for all intents and purposes, it was a standard room.
I was traveling alone, for 1 night, so I certainly didn't need anything bigger, but you would think that if anyone was going to be upgraded to a suite in an empty hotel it would be a Diamond member around Christmas time. Not this time, though!
Welcome Amenity
There was no welcome amenity or note, however, I was given 2 bottles of water at check-in to carry up to my room with luggage.
I am not sure if this a cut due to COVID-19, or if welcome amenities are not common practice at this property.
Breakfast
The C. Baldwin hotel in Houston does not have an executive floor or lounge for members to enjoy breakfast, or more importantly, happy hour.
For breakfast, elite members are given a $15 credit to be used at the coffee shop, Good 2 Go, in the lobby.
Late Check-Out
One benefit that I knew I could use was the late checkout. Since my flight wasn't until 8 p.m. the following evening, I requested a 3 p.m. checkout and it was granted, which was much appreciated.
Bottom Line: Overall, my impression of the elite benefits was pretty poor. Except for the $15 coffee credit, I feel like my stay would have been exactly the same had I booked on Expedia and not as a loyal Hilton Honors member. I don't necessarily blame the hotel, because Curio hotels, in general, offer fewer elite benefits in favor of more unique properties, but there was certainly room to make loyal customers feel more valued.
Amenities
Valet Parking
Parking at the hotel was $40 and valet-only, which was obviously more than I wanted to pay, but I didn't feel like trying to find a random garage on my own late at night.
I weighed this cost when I was considering taking an Uber from the airport, but since I still needed to do some last-minute Christmas shopping on my way out of town, it still made sense for me to rent a car and drive.
Wireless Internet
The Wi-Fi in my room and throughout the hotel was fast and easy to connect to. Just input your last name and room number and you will stay connected throughout your stay.
I spent most of the following morning working on my laptop with no service interruptions.
Fitness Center
One of the more impressive amenities of this hotel was the option to book a room with a Peloton bike in it. Pelotons have become all the rage in 2020 and are on a multi-month long backorder, so having one in your guest room is pretty cool.
On top of that, there was a very impressive fitness center with, you guessed it, a Peloton bike.
Besides the fancy bike, treadmills, and ellipticals, guests have plenty of options between free weights and machines.
This was one of the more impressive hotel gyms I have seen, especially in a downtown property.
The Room
The C. Baldwin hotel has 354 rooms, and I was assigned room 1915, a King Bed High Floor Room on the 19th floor.
The room was sanitized and sealed with the Hilton CleanStay sticker on the door jam.
The hotel advertises this room as located between the 15th and 20th floor, 345 square feet with the following amenities:
In-room safe
Beverage cooler
Floor-to-ceiling windows
Non-smoking
High-speed internet access
Work desk
Hairdryer
55-inch flat-panel HDTV
City or acre views
Air conditioning
USB charging
Upgraded bath amenities
Garment steamer
The room itself was gorgeous with a great mix of colors and textures throughout.
Immediately on your left upon entering the room was space to take off your shoes, hang your coat, and drop your bags.
Bathroom
The bathroom was to the right and had a sliding door and a sliding curtain that uncovered a glass wall looking into the rest of the bedroom.
The bathroom was very well-appointed and I personally loved the color and style of the fixtures. I would be very happy to have a bathroom like this at home.
There were plenty of stickers throughout letting me know that my room had been cleaned and housekeeping would not be serving my room during my stay — as I generally prefer anyways.
The handsoap was individually wrapped, however, the rest of the amenities (including shampoo, conditioner, body wash, and body cream) were all from refillable bottles.
The removal of smaller, single-use amenities was a cost-saving move that many travelers frowned upon (think, souvenirs) when it was introduced last year, and it hasn't improved in my eye thanks to the coronavirus pandemic and the thought of having to share anything with strangers.
Oddly enough, if you really loved the used bottle of shampoo, you can bring it home for a small fee of $28.
Although I did love the design of the bathroom, 1 downside was the water pressure, which was very weak in the shower.
Guest Room
Moving on to the rest of the room, there was a very comfortable king-sized bed, a small couch with a table, and a reading chair with a footrest. All of them were made of high-quality (and heavy!) material and really pulled the room together.
I spent many hours working at the table and on the couch and found it just as comfortable and supportive as most hotel desks — except this one looked a lot better.
The extra sitting area was a nice touch.
There was a pullout minibar underneath the TV that was empty due to coronavirus concerns.
I always used to find hotel TV remotes disgusting. Hopefully, sanitized remotes are a trend that doesn't change.
The bed was really comfortable — not too soft but not too firm — and the linens were exceptional. With all of the light switches within reach and USB ports readily available, you can tell that this part of the hotel was very well-designed.
Food and Beverage
Unfortunately, due to my late arrival paired with corona-cuts, my dining options were limited.
I'm not complaining, because I actually had some of the best (American) Chinese food delivered to my room via DoorDash, which is something I don't get to do in Brazil.
Rosalie Italian Soul
During normal, non-pandemic, times there is a charming Italian restaurant run by celebrity chef Chris Cosentino located in the lobby of the hotel.
Unfortunately, Rosalie Italian Soul is temporarily closed.
Lobby Bar
Currently, between 11 a.m. and 8 p.m., you can get drinks and some light bites at the Lobby Bar.
If you enjoy staying at hotels as much as I do, you will probably agree that grabbing a drink at the hotel bar is a must-do after checking in.
The Lobby Bar at the C. Baldwin was one of the most beautiful lobby bars that I have seen, and I can only imagine how fun it would be to see it packed with guests and spend some time there with friends.
Take a look at the limited menu.
Good 2 Go
Fortunately, I did get to try out some form of F&B offering thanks to the $15 credit at the coffee shop, Good 2 Go, located in the lobby.
Open daily from 7 a.m. until 12 p.m., guests have a nice selection of pastries, coffees, teas, and a few hot items to choose from.
I opted for a coffee and a croissant for breakfast and kombucha and a granola bar for a snack for later — the total came out to just over $15.
There was also a seasonal menu.
Service
Despite my interactions with the staff being limited due to my late arrival and general quietness of the hotel due to COVID-19, every interaction I had was excellent.
From the valets to the front desk agents, everyone that I spoke with was friendly, competent, and professional… as they should be.
In general, the vibe of the hotel was funky and laid-back — this was no corporate cookie-cutter Hilton, and the staff reflected that.
Final Thoughts
Overall I really enjoyed my stay at the C. Baldwin and I am glad I decided to make the trek to downtown Houston in order to visit a hotel that had some personality as opposed to staying at an airport hotel.
The room was stylish and comfortable, the public areas are gorgeous, the gym was top-notch, and the food and beverage outlets are doing the best they can despite a global pandemic.
The fact that you can stay at a unique and charming hotel like this using Hilton Honors points was even a bigger plus.
If I find myself in Houston again, especially when the Lobby Bar is open and abuzz, you can be sure I will be staying at the C. Baldwin.