How to Cancel a Hilton Hotel Reservation [Cash or Points Booking]
It's an unfortunate reality that, sometimes, things do not go as planned and we're forced to cancel or make changes to things we are looking forward to. This can be especially rough when canceling a vacation because, not only do you not get to go on the trip, but dealing with the cancellation policy of your hotel can be brutal.
If you made your hotel booking with Hilton and find yourself in a situation where you need to cancel — you're in the right place! Here's all the information you need to navigate the Hilton cancellation policy.
Hilton Cancellation Policy
Cancellation Policies Due to COVID
Currently, due to COVID-19, Hilton is offering free changes and cancellations on all bookings made before April 30, 2020 (see policy).
After April 30, 2020, it will revert back to its standard cancellation policies, which are detailed below. If you booked via a third party, refer to your booking provider for its policies.
With cancellation policies due to COVID being ever-changing, for the most up-to-date policies across all hotels, please refer to our COVID Hotel Cancellations article.
Reservations Made With Cash
In most cases, Hilton requires you to cancel your booking to be canceled 48 to 120 hours (2-4 days) in advance before your check-in, in order to receive a refund. But this can depend heavily on the type of room rate you've booked, and the specific policy of the hotel you're staying at.
There are some rates offered that, as mentioned above, allow you to cancel up to a few days before your arrival and receive a full refund. Other rates might require full prepayment for your stay upfront, and are non-refundable should you need to cancel.
Due to this, it is extremely important that you pay close attention to the cancellation policy associated with the rate you book because once you've completed your booking, you are tied to that cancellation policy.
Hot Tip: Many hotels in the Hilton portfolio are independently operated, and can have their own cancellation policies. For example, some resort-style properties can require up to 30 days advance notice in order to get your money back.
The Cancellation Policy for the Rate
Of course, if you've ever booked a hotel stay before, you know there usually are many different nightly rates to choose from. So how can you easily compare the cancellation policy for different rates in the same way that you can compare prices?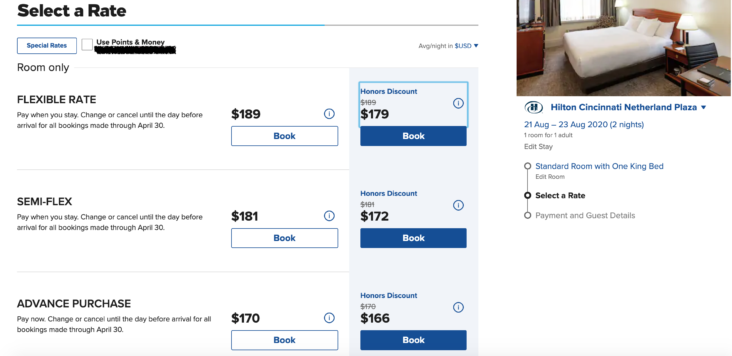 Luckily, Hilton makes it pretty difficult to miss. Once you select a rate you're interested in, you'll see a page like the one above — offering you 3 options with varying degrees of cancellation flexibility.
As you can see, the 3 rates offered are a Flexible rate, which is the most expensive option, Semi-Flex, and Advance Purchase which is the cheapest option.
So how do the respective cancellation rates compare? Flexible rates usually require you to cancel 48 hours (2 days) prior to your check-in date in order to receive a full refund. Semi-Flex rates usually require you to cancel 4 days prior to your check-in date in order to receive a full refund. Finally, Advance Purchase rates require prepayment of the entire stay in full, and are not refundable should you need to cancel.
For Flexible and Semi-Flex rates, you can still cancel after the 48 hour and 4-day windows, but you will likely be charged a fee equal to a 1-night stay for doing so.
This is why checking the respective cancellation policies is very important. If you were to just pick the lowest rate available in an attempt to save money, you might be on the hook for much more money if you end up needing to cancel. Meanwhile, the Semi-Flex rate is just $6 more per night and gives you significantly more flexibility.
This is, of course, just 1 example, though. Prices for each of these rates can vary dramatically based on the hotel, the season, occupancy, and any ongoing promotions. This can make the decision of choosing a cheaper rate to save money or going with something flexible a bit more difficult.
Bottom Line: The importance of knowing the cancellation policy for your rate before you book cannot be underestimated. Just taking a few extra minutes to clarify can end up saving you hundreds of dollars. 
Reservations Made With Points
If you booked an award stay with Hilton using your Hilton Honors points, the cancellation fee will usually depend on the hotel you're staying with. Most properties in the Hilton portfolio allow you can cancel an award booking 48 hours (2 days) before your check-in day.
Never simply assume this to be true if you don't see the cancellation policy clearly stated when booking. If you're unsure of the policy, simply call the hotel you're planning to book with and ask. The extra time will be worth the peace of mind.
How to Cancel a Hilton Reservation
It is easy to cancel your Hilton Reservation online by following these steps:
Step 1 
Sign in with your Hilton Honors account and then click your name to open a dropdown tab. Then click Account to be taken to your account page.

Step 2
From here you can manage any upcoming reservations by clicking the stay you wish to cancel. You can also view your Hilton Honors elite status level, the number of points you have, and the number of nights you've stayed with Hilton this year.
Step 3
Once you've clicked the reservation that you'd like to edit, you then want to click Cancel and then Confirm, and that's it! Your reservation is officially canceled and you should receive an email confirmation.
Hot Tip: If you need extra assistance with your cancellation, or are having trouble with the website, you can contact a Hilton customer service agent at 800-445-8667.
Changing the Reservation Dates
If you don't want to cancel and prefer to change the dates of your booking, follow the exact same steps above, except instead of clicking Cancel, select the new dates you want to switch to and then click the Change button.
Once you do, the updated dates will officially be made, as long as there is availability at the hotel for your new dates. Keep in mind that if you are changing to new dates that are more expensive than the ones you have currently booked, you will need to pay the difference in price.
Final Thoughts
Dealing with canceling a trip can be a massive pain in the neck. But, if you prepare beforehand, it doesn't have to be.
This is why we cannot stress enough the importance of reviewing the cancellation policy for your rate closely before completing your booking. If you're booking a hotel stay with Hilton and think there is a high chance you may need to cancel, we highly recommend paying a bit extra to book a Flexible or Semi-Flex rate. The extra money you pay nightly, if reasonable, is usually worth the added flexibility and peace of mind.