The Ultimate Guide to Visiting & Enjoying Napa Valley, California
Napa Valley is one of the world's premier destinations for lovers of fine wine, warm sunshine, and the laid-back Californian lifestyle. With more than 400 wineries dotted around the area, there are plenty of lavish resorts to choose from, as well as picturesque towns, hot springs, mud baths, and stunning scenery.
Over 3.5 million visitors come to this region from all over the world every year; it's one of the most beloved tourist destinations in California, and it is easy to see why.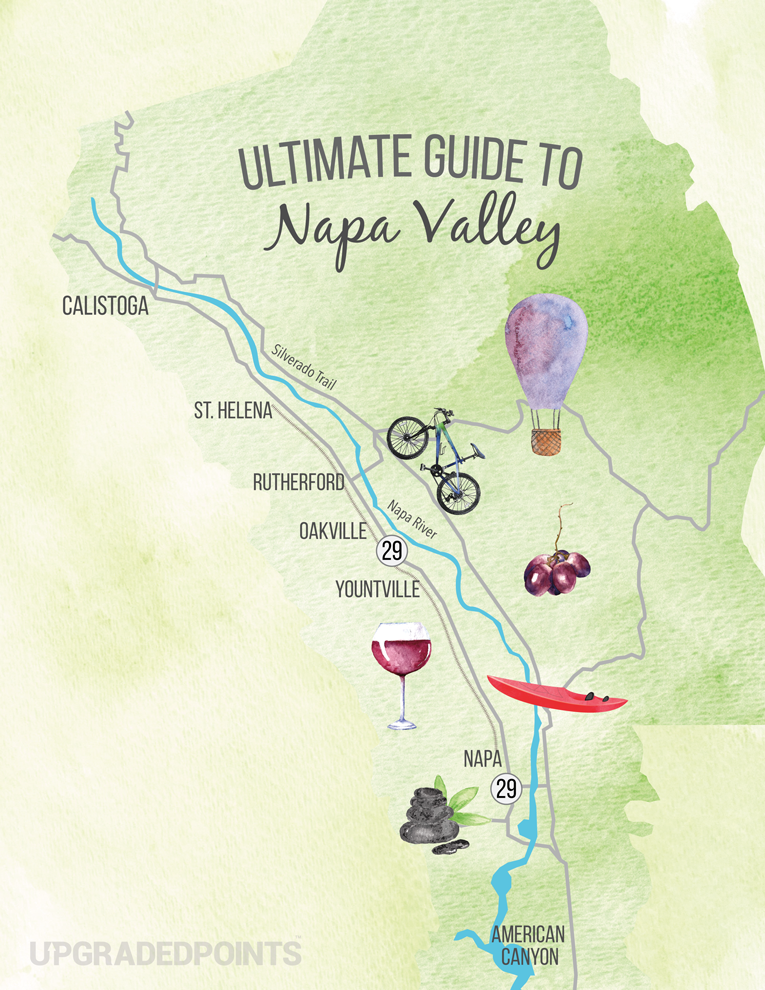 Best Time to Visit Napa Valley
With warm sunshine all year round, any time is a good time to visit Napa Valley. If you're planning to see something in particular during your stay, the different seasons bring a wealth of changing sights and sounds for visitors to enjoy.
In the summer, Napa is bustling with activity as residents and visitors attend world-class events like BottleRock Napa Valley, the 3-day music festival packed with live music, local brewers, vintners, artists, and top chefs.
There is also a highly-regarded Independence Day parade in Calistoga where visitors can sample award-winning food and wine, enjoy rides, and witness the spectacle of the biggest firework show in the region.
As summer fades into fall, the scenery changes color throughout Napa Valley, giving way to some of the most beautiful autumnal landscapes in all of California.
Visit at this time of year to enjoy the taste of crisp white wines as the wineries host their busiest season. Or take in the view from the aerial gondola that travels up to Sterling Vineyards. From here you can capture a unique birds-eye view of the valley's beauty.
For the winter holidays, Napa Valley shimmers with twinkling lights and a wealth of good cheer during the height of the region's Cabernet season. Expect to find plenty of festive ambiance in the pretty towns tucked away in the Valley, as well as first-class Christmas fare and rich red wines.
As the year begins again, Napa Valley readies itself for another great summer ahead.
Spring welcomes new shoots on dormant vines, and the weather (though still mild) can be more variable. This time of year is perfect for those looking to enjoy the spectacular Napa scenery, but without the hustle and bustle high season.
How to Get to Napa Valley
Napa Valley is easily accessible from anywhere in the world. The region is serviced by 5 domestic and international airports.
Sonoma County Airport (STS)
Sonoma County Airport allows you to pretty much fly directly to Wine Country. This single-terminal airport is serviced by Alaska Airlines, American Airlines, United Airlines, and Sun Country Airlines and is the closest airport to Napa Valley that services commercial flights.
Distance to Napa: 47.3 miles
Drive time to Napa: approximately 1 hour (without traffic)
Airlines: Alaska Airlines, American Airlines, United Airlines, and Sun Country Airlines; nonstop flights from 11 destinations including; Denver, Dallas, Minneapolis, Las Vegas, Los Angeles, Orange County, Phoenix, Portland, San Diego, San Francisco and Seattle.
Car rental agencies: Avis, Budget, Enterprise, Hertz, National, and Sixt (off-site)
Other transportation to Napa: Napa Airporter and Evans Transportation both offer shuttle services to and from Sonoma County Airport
San Francisco International Airport (SFO)
San Francisco International airport is a busy domestic and international airport that handles thousands of flights to and from the southern coast. The airport is open 24 hours and offers direct flights to and from destinations all around the world.
Distance to Napa: 58.6 miles
Drive time to Napa: approximately 1 hour 5 minutes
Airlines: SFO services up to 50 airlines and is a hub for United Airlines and United Express
Car rental agencies: Alamo, Avis, Budget, Dollar, Enterprise, National, Thrifty, Hertz, and Fox are all available at SFO
Other transportation to Napa: There are 9 daily Airporter shuttles to and from SFO offered by Evans Transportation. No reservations required for the 2-hour ride to Napa Valley. Fare is $29 one-way ($20 for children 12 and under), cash only.
Oakland International Airport (OAK)
Oakland International Airport (OAK) is a small but busy international airport situated across the bay from San Francisco.
Distance to Napa: 49.5 miles
Drive time to Napa: approximately 55 minutes
Airlines: Most major U.S. airlines service OAK, including Alaska Airlines, Allegiant, Delta, Hawaiian Airlines, JetBlue, Norwegian, Southwest, Spirit, US Airways, and Volaris
Car rental agencies: Alamo, Avis, Budget, Dollar, Enterprise, Firefly, Fox, Hertz, National Car Rental, and Thrifty
Other transportation to Napa: Evans Transportation offers 6 daily Airporter shuttles from OAK to/from Napa. One-way fare is $29 for adults (cash only); no reservations required.
Sacramento International Airport (SMF)
Sacramento International Airport is much smaller than Oakland or SFO and has recently been redesigned to make it easily accessible for visitors to Napa Valley.
Distance to Napa: 63.2 miles
Drive time to Napa: approximately 1 hour
Airlines: American, Delta, JetBlue, United, USAirways, Aeromexico, Alaska Airlines, Hawaiian Airlines, Horizon, Seaport Airlines, Southwest, Volaris
Rental cars: Advantage, Alamo, Avis, Budget, Enterprise, Hertz, National. Car rental shuttles pick up approximately every 10 minutes.
Other transportation to Napa: Napa Airporter offers daily door-to-door shared airport shuttles for $75-$130 for first passenger depending on destination ($10 fee for each extra person). They also offer town car services for 1-4 people for $135-$175 depending on destination.
San Jose International Airport (SJC)
Mineta San José International Airport (SJC) is another small local airport that offers easy access to Napa Valley and beyond.
Distance to Napa: 95.5 miles
Drive time to Napa: approximately 1 hour and 50 minutes
Airlines: American, Alaska Airlines, Delta, JetBlue, Hawaiian Airlines, United, and Frontier
Rental Cars: Alamo, Avis, Budget, Enterprise, Sixt, Hertz, and Thrifty (as well as some smaller local companies)
Other transportation to Napa: Western Eagle Shuttles offer shared ride services and exclusive limo transportation from San Jose to Napa Valley. Given the distance, shared rides can average around $180. Uber may offer a cheaper alternative depending on the time of your arrival.
Getting Around Napa Valley
Driving Napa Valley: Highway 29 vs. Silverado Trail
Highway 29 is a state highway that travels the length of Napa Valley and is the busiest and most popular way to travel to the area. It is also one of the prettiest state highways in the country with plenty to see along the way.
Bothe-Napa Valley State Park, Bale Grist Mill State Historic Park, and Robert Louis Stevenson State Park can all be accessed from Highway 29, as can a wealth of famous wineries including some of the biggest names in the region such as Beringer, Charles Krug, Sterling, and Inglenook.
The Silverado Trail runs 29 miles along the length of Napa Valley from Napa to Calistoga and offers unforgettable views across sprawling vineyards. To reach Calistoga, the drive will only take you about 45 minutes, but there are plenty of places to explore along the way, including popular wineries like the Black Stallion Winery, Stag's Leap Wine Cellars, and Darioush.
Both roads offer stunning views of the enchanting Napa scenery, and both roads will take you the length of the Valley. If you want to experience driving on both and taking in all the stops along the way, why not visit Napa on Highway 29 and return home using the Silverado Trail — problem solved!
Napa Valley Wine Train
The wine train offers a thoroughly luxurious way to explore Napa Valley. This elegant 100-year-old steam train puffs along a 150-year-old rail corridor stopping at celebrated Napa wineries along the way.
This 3-hour, 36-mile round-trip takes visitors through some of the world's best-known wine valleys and out to the quaint village of St. Helena before returning back again. Passengers can also book to eat in the fully restored 1917 Pullman Dining Car or 1952 Vista Dome car.
The Napa Valley Wine Train also gives visitors the option to purchase some of the most educational and enjoyable wine tours available in the region. Those looking to spend a full day touring local wineries could splash out on the Ambassador tour that allows for an hour tour and tasting at both the Charles Krug Winery and Raymond Vineyards, 2 of the finest and best-known wineries in the world.
Or you could choose the Castle Tour that offers a private tour and tasting at the meticulously constructed Castello di Amorosa, a 13th-century medieval Tuscan castle and winery.
For another option, the Famiglia Tour takes passengers to some of the best known Tuscan-style estates in Napa — including an hour tour and tasting at the Silverado Vineyards, Whitehall Lane, and Grgich Hills Winery.
If a half-day tour is more attractive to you, the Wine Train will take you for a 1-hour tour and tasting at Grgich Hills Estate, or a 1.5-hour tour and tasting at the famous Raymond Vineyards.
Throughout the year, the Napa Wine Train also holds special events such as Murder Mystery Rides, a Santa Ride, and a New Years Eve Dinner Party.
All tours include a gourmet lunch on the train itself and are bookable in advance.
Hot Tip: As we are a travel points site it goes without saying that using a travel rewards card when touring Napa Valley is highly recommended! Whether it's purchases at a restaurant, or at a winery or your accommodation — there are many travel rewards cards that'll earn you lots of points.
Napa Valley Cities and Towns
Napa Valley is home to some of the prettiest towns and villages in the country. Every destination has its own distinct character, and no matter where you stay you will never be far away from first-class cuisine or well-bodied wines.
Calistoga
Calistoga is a small but delightful city that lies at the heart of Napa Valley. It's famous for its hot springs, mud baths, and world-class wineries, including the medieval-inspired Tuscan castle and winery Castello di Amorosa.
Visitors to Calistoga will enjoy seeing the Old Faithful Geyser of California that erupts on a regular basis, as well as exploring the Bale Grist Mill State Park that lies just outside the town.
The town has a welcoming ambiance, and a quick stroll down Lincoln Avenue will bring you to some of the town's very best art galleries, winery shops, bookstores, and boutiques, as well as great places to eat and drink during your stay.
Top 5 Restaurants in Calistoga
Solbar at Solage Calistoga
Solbar at Solage Calistoga is one of the best restaurants in town, where Chef Brandon Sharp is incredibly proud of his Michelin star reputation. Serving a choice of both healthy cuisine and hearty fare to discerning diners, Solbar prides itself on transforming farm-fresh seasonal ingredients into unique, flavorful, and surprising dishes that reflect the best Napa Valley has to offer.
Solbar also offers a range of gluten-free, vegan, and vegetarian options, plus a heady mix of local wines to compliment the menu. Located just outside the town on the Silverado trail, diners also get to experience some of the finest views of Napa Valley thrown in for free.
Sam's Social Club
Situated on the Indian Springs Resort, Sam's Social Club offers upscale New American fare in a welcoming and cheerful atmosphere. Named after the resort founder Samuel Brennan, the restaurant stays true to its American roots, serving up farm-fresh food with a twist accompanied by some of the very best wines from the region.
Menu favorites include breakfast Eggs Benedict, grilled octopus, and Kansas City rib-eye steaks, all served up under the watchful eye of Executive Chef Sergio Morales.
Calistoga Inn
Famous for its extensive outdoor patio that stretches out along Napa Valley (as well as great food and an award-winning microbrewery), the Calistoga Inn is a popular dining destination in the town of Calistoga.
Diners can enjoy a casual setting on cedar planked picnic tables, or sit inside the vintage-style dining rooms while they eat. The restaurant is also famous for its extensive buffet dinners that include fresh fare from the local region, alongside fine Napa Valley wines and beers from their very own brewery.
Evangeline
This trendy modern bistro offers a quirky take on traditional French and Creole food. With staples like Coq au Vin, assiette de fromages, and tour de fruit de mer given a completely new interpretation by Chef Rois, the flavors here are big and bold.
Evangeline is also famous for its toe-tapping cocktails, lip-smacking beers, and tantalizing wines. Sommelier and Wine Director Sasan Nayeri has focused his choice of exquisite wines on the flavors of Burgundy, Rhone, and Italy in the Old World category, and the New World selection pays homage to the wines of Napa Valley.
Lovina
A team of talented Bay Area chefs teamed up to open this locally focused New American diner that has a special place in the heart of Calistoga. Awesome weekend brunches served in intimate downtown surroundings make this upscale cafe a popular spot for breakfast, lunch, and dinner.
Diners can eat outdoors when the weather is warm, or get cozy under the patio heaters on chilly Napa evenings. Menu favorites include warm duck confit kale salad, salmon and mushroom risotto, and chicken and dumplings.
Top 5 Wineries in Calistoga
Frank Family Vineyards
This historic landmark winery is home to hand-crafted reserve and sparkling wines that are only available from the winery (and a few select restaurant wine lists). A visit here is an opportunity to sample the wines in their original yellow Craftsmen's house, which has been voted "Best Napa Winery" by the Bay Area A-List for 8 years in a row.
At one of the most sought-after wineries in Napa Valley, visitors will have the privilege of tasting Winemaker Todd Graff's carefully sourced flavors from approximately 380 acres of estate vineyards in the Frank Family's portfolio.
Bennett Lane Winery
Home of 50 wines earning 90+ points, Bennett Lane Winery is situated just outside the town of Calistoga and framed by the rugged Palisades and Mount St. Helena. Visitors will be welcomed at the door with a glass before going on a tour of the vineyards.
Lead by a knowledgeable guide, you will see behind the scenes operations of one of the highest rated small family wineries in the region. Owners Randy and Lisa Lynch are eager to share their love of fine wine with everyone who visits, and their very own brand red, Maximus, is designed to complement any meal.
Chateau Montelena Winery
Napa's Chateau Montelena is most famous for winning the white wine section of the historic "Judgment of Paris" wine competition. A must for wine lovers seeking first-class excellence, the Chateau is set in one of the most peaceful locations in Napa Valley.
This enchanting stone castle is carved into a hillside overlooking a Chinese garden, as well as the lake and vineyards reaching out to the base of Mount St. Helena. Privileged visitors will be able to tour the winery and taste some of their finest vintages in the Library or the Cellar Master Tasting Room.
Castello di Amorosa
Castello di Amorosa is one of the most authentic and unique wineries in all of Napa Valley. At over 136,000 square feet, the 13th-century Tuscan-style castle and winery offers a variety of tour options including Reserve wine tours, food and wine pairing tours, as well as the very popular cheese and wine tour.
Home to many award-winning wines, Castello di Amorosa is famous for a few varieties:
"Il Barone" Cabernet

Sauvignon

, rated 94 Robert Parker points
Smooth and crisp Pinot Grigio
Late Harvest Gewurztraminer, the top dessert wine at the San Francisco Chronicle Wine Competition for 2 consecutive years.
Visitors can sample a variety of wines in the main tasting bar or in the Knight's Hall hidden away underground.
Dutch Henry Winery
Dutch Henry is a small family-owned winery situated just off the Silverado Trail. Set in incredibly peaceful and relaxing surroundings, their wine selection includes Chardonnay, Pinot Noir, and several red wines including Argos, and their estate grown Cabernet Sauvignon and Syrah.
Visitors can tour the estate, enjoy a barrel sample, visit the cave tour, and attend a private seated reserve tasting in the underground Cave Dining Room. Bottles can also be purchased to take home, so you can enjoy the taste of the Napa Valley even when your trip has ended.
Top 5 Hotels in Calistoga
Set on the Silverado Trail with easy access to dozens of wineries, the Solage offers understated luxury, an 8-time Michelin star-rated restaurant, and a spa with its very own thermal soaking pools. The bedrooms and cottage-style suites are contemporary and chic with an upscale feel, while the staff are cheerful and helpful.
The Solbar restaurant serves first-class breakfast, lunch, and dinner, and the hotel is designed with an outdoor lifestyle in mind. Visitors are encouraged to ride bikes, play bocce ball, or simply sunbathe by the pool under the glorious California sunshine.
Within easy reach of many of the wine tasting rooms and restaurants in downtown Calistoga, this hotel offers an old-school Californian atmosphere in deluxe surroundings. All bedrooms have direct access to the outside, and most are situated around the pool area, with its grapevine covered trellises and Mediterranean ambiance.
The onsite spa offers a volcanic ash mud bath and mineral bath area. While there is no restaurant on site, this hotel is situated close to some of the best eateries in downtown Calistoga.
Located in the heart of downtown Calistoga, the Mount View Hotel & Spa is within walking distance of wine tasting rooms, shops, and restaurants. Listed on the National Register of Historic Places, the hotel has a wonderful Art Deco feel and historical aura about it.
Deep red walls add a touch of romance in the bedrooms and lobby area, while the backyard is home to an outdoor heated pool and mineral whirlpool filled with geothermal water from the property's own spring. Yoga mats and workout videos are available on request, and Johnny's Restaurant & Bar serves healthy breakfast, lunch, and dinner daily.
This elegant and upscale boutique hotel is perfect for a romantic getaway in the heart of Napa Valley. All the bedrooms are beautifully appointed with cozy fireplaces and private balconies, while the garden courtyard is the perfect place to relax and unwind with a glass of Napa wine.
The Bergson is within easy reach of some of the finest restaurants, shops, wineries, and tasting rooms in downtown Calistoga, and close to the Calistoga Depot, the Sharpsteen Museum, Calistoga Speedway, and the Old Faithful Geyser. The Bergson offers intimate and chic boutique accommodations in the beautiful Napa Valley.
Calistoga Ranch, an Auberge Resort
Set among the trees next to a stream and private lake, the Calistoga Ranch offers lodge-style accommodations that blend perfectly into the stunning natural setting. The standalone lodges are cozy and comfortable with private decks and roaring fireplaces.
The Ranch has its very own spa, as well as a swimming pool, bocce ball courts, and a fitness center. There are also 3 hiking trails across the 157-acre grounds. The Lakehouse restaurant is open to resort guests and owners only, and offers a seasonal menu of fresh produce for breakfast, lunch, and dinner.
St. Helena
Tucked away in the vine-draped Valley hills, St. Helena is a charming town set at the heart of Napa Valley. Home to elegant hotels, a selection of world-class wineries, and a Michelin-starred restaurant, St. Helena is one of the finest places to visit in the region.
With winemaking roots stretching back as far as the 1800s, St. Helena is deeply entrenched in Napa Valley winemaking history. Its pretty gabled buildings, quaint shops, and fantastic eateries are sure to draw visitors here for many more years to come.
Top 5 Restaurants in St. Helena
Meadowood
Situated within a private estate, Meadowood is a Michelin-starred establishment that offers a casual but elegant dining experience. The menu features a modern approach to Napa Valley cuisine, and the restaurant is run by renowned Chef Christopher Kostow.
Modern American fare is served in beautiful surroundings, and the restaurant focuses on building relationships with local artisans, growers, and winemakers to ensure diners are always treated to a first-class menu. Many of the dishes are created using ingredients grown in Meadowood's very own 2.5-acre culinary farm.
PRESS
As one of the top-rated restaurants in Napa Valley, the menu at PRESS St. Helena features seasonal produce and high-quality cuts of meat, seafood, and poultry. Dishes are cooked over a custom-built wood-fired grill, and fresh vegetables and fruits are culled from the restaurant's own gardens or the local farmers market.
Serving up hearty classic dishes and mouthwatering desserts, PRESS is the perfect place to enjoy a cozy meal after a day exploring some of the finest wineries in the region. Menu favorites include the grand seafood platter, American wagyu steaks, and the cookie platter.
Gatehouse Restaurant
Gatehouse Restaurant is part of the Culinary Institute of America, where aspiring chefs study to become world-class at their craft. These culinary students run the restaurant, cook the food, and even serve the fruits of their labor to an always-busy restaurant full of supportive diners.
The student chefs also offer a wine pairing service. Some of their most popular dishes include the Gatehouse Charcuterie, Cured Mt. Lassen Trout, Niman Ranch Pork Tenderloin, 5 Dot Ranch Flat Iron Steak, and just about all of the desserts.
Archetype
Archetype offers first-class cuisine in rustic, French-style surroundings. The inspiring menu is a wonderful combination of local, seasonal, and sustainable ingredients along with ethically sourced meat and fish.
Executive Chef Anthony Paone has designed a menu that is fresh, clean, and green, packed full of the type of nutrient-dense dishes that would usually be found on a spa menu. Archetype offers an ever-popular brunch and breakfast menu, as well as a healthy children's menu, a carefully curated wine list, and a happy hour.
Brasswood Bar & Kitchen
Brasswood Bar + Bakery + Kitchen is an uber-cool eating experience within the Brasswood Estate. Executive Chef David Nuno oversees the Brasswood Bar + Kitchen and has created a menu based around the beautiful, high-quality produce that is grown locally, all served up in cozy surroundings.
Banquette seating upholstered in traditional woven Welsh blankets provides the perfect place for laid-back gatherings enjoying this farm-to-table wine country comfort food. Menu favorites include the homemade mozzarella and four cheese risotto.
Top 5 Wineries in St. Helena
V. Sattui Winery
Founded in 1885, this family-owned winery now produces more than 60 different wines with dozens of 90+ point stars among its current vintages. V. Sattui Winery offers a variety of different tasting packages as well as an extensive tour of the grounds, which also have an impressively robust cheese shop, an excellent deli, and a salumeria directed by Stefano Masanti.
Visitors can take a moment to savor the impressive scenery from any of the picnic tables nestled beneath the ancient Napa Valley oak trees or terraces that overlook gardens and vineyards.
Beringer Vineyards
Beringer is the region's oldest continuously operating winery — it has been making wine for more than 140 years. Guests are invited to visit the iconic Rhine House, taste the celebrated Beringer wines in the Old Stone Winery, or take a tour of the winery to learn more about their world-famous wines and rich history.
The extensive Beringer Estate is the perfect place to take a stroll and breathe in the stunning Napa Valley scenery. Stop for a tasting of their Private Reserve Chardonnay, Private Reserve Cabernet Sauvignon, and Nightingale — all perfectly paired with artisan cheeses and a sweet treat.
Markham Vineyards
Markham Vineyards is the fourth oldest operating winery in Napa Valley; it began producing incredible wine as far back as 1874. The Markham Vineyards Visitor Center is a great place to stop during your wine country adventure — it was even featured on the public television series Vintage, Napa Valley 2012!
Guests can enjoy tasting sessions of both their estate and winery-only wines while viewing exhibits in the finely curated art gallery. You can also take part in specialized pairings featuring culinary treats from some of the region's most celebrated chefs in the historic stone cellar or out on the patio.
Louis M. Martini Winery
The Louis M. Martini Winery has been producing first-class Cabernet Sauvignon for more than 80 years and was one of the first wineries in the region to open its doors after Prohibition. Visitors can enjoy daily wine tastings of the estate's award-winning wines, many of which are exclusively available through the winery.
Located in the heart of Napa Valley, the Martini tasting room showcases at least 10 different wines. These include their:
Award-winning Cabernet Sauvignon
Small-lot Petite Sirah and Cabernet Rosé
Unique Moscato Amabile
Legendary Lot 1 Cabernet Sauvignon
Raymond Vineyard and Cellar
Since 1970, the Raymond Estate has been producing elegant wines with a beautiful balance of finesse and flavor. Comprising of over 300 acres of vineyards, the Raymond Vineyard is now a destination for wine lovers who like to mix great wine with upscale surroundings.
The tasting rooms are whimsical and creative, and wouldn't look out of place in a 5-star hotel, while the wines are smooth and cater to the most sophisticated palate. In keeping with the vineyard's forward-thinking ethos, the estate is certified organic and biodynamic, and 100% of the winery's power comes from renewable solar energy.
Top 5 Hotels in St. Helena
Meadowood is located a short distance from the Silverado Trail nestled in a 250-acre private estate. This utterly luxurious country wine retreat has a relaxed but exclusive feel with all rooms offering private decks and stunning woodland views.
The hotel is loaded with luxury amenities including 2 croquet lawns, 7 tennis courts, a 9-hole walking golf course, 2 swimming pools, a fitness center, and a spa. If that isn't impressive enough, the Estate is also home to a Michelin-starred restaurant that often operates a 2-3 month waiting list. Meadowood offers uncompromising, all-American luxury in the heart of Napa Valley.
Wine Country Inn has the feel of a large country estate, with beautifully landscaped gardens and quaint country-style interiors. With uninterrupted views out across the vineyards, the Inn is big enough to offer useful amenities like a heated pool and spa treatments, while retaining the look and feel of a large, luxurious private home.
Situated just outside of St. Helena, many of the region's most popular and celebrated vineyards are just a short drive away.
This upscale wine country hotel is centrally located among the shops, galleries, and restaurants of St. Helena. Guests will love the beautiful bedrooms with vaulted ceilings and cozy fireplaces as much as the many amenities on offer, including a lap pool, steam room, spa, and fitness center.
While there is no restaurant onsite, guests can enjoy the complimentary continental breakfasts or take advantage of the car service to the restaurant at Southbridge's nearby sister hotel. With balconies offering stunning views out across the town and vineyards, Southbridge is a stylish Napa hotel that won't disappoint.
Located on Main Street, Las Alcobas offers some of the very best vineyard views in all of Napa Valley. This hotel has the air of a country estate and offers laid-back luxury close to the shops, galleries, and restaurants in downtown St. Helena. Guests can relax and unwind in the comfortable bar area or enjoy fine wine on the wrap-around porch.
The Acacia Restaurant serves up dishes made from fresh local produce, while the Atrio spa offers 4 treatment rooms, a yoga studio, and a fitness center. Enjoy an outdoor heated pool just a few meters from the neighboring vineyard, or take in those awesome views from the cozy fire pit.
This beautiful boutique hotel on Main Street offers just 12 well-appointed bedrooms close to all major attractions in St. Helena. With a lobby that feels like the living room of an upscale apartment plus cozy bedrooms with artistic touches, a stay at the Wydown is like your very own home away from home.
There is no restaurant onsite, but many first-class eateries are within walking distance. The hotel's own complimentary continental breakfast is served daily, along with afternoon tea and coffee complete with delicious chocolate treats.
Oakville and Rutherford
These towns may be small in size, but they have a hugely important winemaking heritage. Situated along Highway 29, both Oakville and Rutherford are home to some of the finest wineries in Napa Valley.
There is a wide selection of elegant hotels and spa facilities to choose from in Oakville and Rutherford, as well as relaxed restaurants and fine dining establishments. This part of the valley is famous for its superb Cabernet Sauvignon and Sauvignon Blanc, so a visit here is a must for any California wine lover.
Top Restaurants in Oakville and Rutherford
Auberge du Soleil
The restaurant at Auberge du Soleil offers a true fine dining experience with extensive views across the valley. With 12 consecutive Michelin stars, Executive Chef Robert Curry's Mediterranean-inspired cuisine is created using the rich seasonal produce that is always available in the Napa Valley.
Auberge du Soleil also offers one of the most extensive wine cellars in the valley, boasting more than 15,000 bottles of domestic and international hand-selected wines. With its rich interiors and panoramic views, diners can enjoy eating in the main restaurant or on the outside terrace. Menu favorites include Sonoma Chicken, day boat scallops, and Japanese wagyu beef.
Oakville Grocery
Oakville Grocery has been an integral part of Napa Valley since 1881 and is still a popular gathering place for visitors to the area. Offering locally sourced food and wine, this restaurant and general store is at the heart of the Napa and Sonoma artisan food community.
This venue is famous for its fresh hearty sandwiches that are perfect for refueling after a busy day exploring the nearby vineyards. Some of their most popular offerings include the Oakville Club, mozzarella Caprese salad, and cold fried chicken, as well as breakfast burritos and the famous Rutherford breakfast sandwich.
La Luna Market & Taqueria
La Luna offers high-quality Mexican food at affordable prices in the heart of Rutherford. Diners can choose from a selection of burritos, tacos, nachos, and quesadillas that can all be enjoyed on the outside picnic tables with stunning views across the wine country.
This market and taqueria has been a Napa Valley staple since the DeLuna family opened the doors in 1968 (they still run it). Offering delicious fresh Mexican food served up by friendly staff in laid-back surroundings, La Luna is the perfect place to stop for a quick break during your wine country tour.
Rutherford Grill
Situated at the crossroads of Highway 29 and Rutherford Road, the Rutherford Grill is surrounded by some of the finest wineries in the Valley, including Beaulieu and Inglenook. The Grill serves up all-American fare crafted using fresh ingredients from the local area.
With a seasonal menu, all of the dishes are intended to perfectly complement the wide selection of wine available in the region, and diners come from miles away to enjoy classic burgers, tender steaks, and hearty salads. Menu favorites include the Hawaiian grilled steak, prime rib and cornbread, and freshly made burgers.
Top 5 Wineries in Oakville and Rutherford
Peju Province Winery
This family-owned winery first opened its doors in 1983 and has been producing fine wine ever since. The owners are dedicated to offering sustainable and environmentally sound production processes, and visitors are invited to taste their award-winning wines, learn about food and wine pairings, or get hands-on in the Peju kitchen.
Wine tastings are overseen by the vineyard's knowledgeable ambassadors, and can be enjoyed in the wine tasting room or outside in the garden. Cheese and wine pairings are also available, as are culinary experiences in the Peju kitchen — designed for those who want to learn more about cooking techniques, wine pairings, and working with farm-to-table ingredients.
Beaulieu Vineyard
Beaulieu Vineyard (BV) is one of Napa Valley's most iconic and historic wineries. First founded in 1900 by Georges de Latour, their Georges de Latour Private Reserve Cabernet Sauvignon has set the benchmark for California Cabernet for decades. Visitors can enjoy a tour of the historic Rutherford winery, followed by a choice of tastings held either in the tasting room or outside on the patio.
Premium tastings are also available for visitors who would like to sample the Beaulieu Maestro wines inspired by the "the Maestro," their famed and beloved BV Winemaker André Tchelistcheff. As one of the most prestigious winemakers in the region, tours can get booked up very quickly.
Miner Family Winery
The Miner Family Winery is above the valley, affording fantastic views out across the vineyards and the Mayacamas mountain range. This winery is famous for its Benedetto Signature Series Cabernet Sauvignon, which has an extremely limited production, as well as Emily's Cuvee, which provides a portion of the sales to The V Foundation for Cancer Research.
Wine tastings offer samples of 4-5 current release wines and can be held either in the tasting room or at the specially designed tasting bar. Visitors are also welcome to relax on the veranda and enjoy the stunning views while enjoying a selection of Miner Family wines.
Robert Mondavi Winery
This grand California mission-style winery offers stunning architecture, fine wine, and one of the most comprehensive tours available anywhere in Napa Valley. Programs are available for those looking to gain a deeper understanding of the art of wine tasting, as well as those who simply wish to sample the Robert Mondavi vintage collection.
The Mondavi Wine Educators are some of the best in the Valley, and they welcome guests to enjoy wine tasting or artisanal cheese and wine pairings around the fireside in the Spotlight Lounge. Guests can also book full culinary experiences, such as the Four Decades Dinner that unlocks the treasured library of older vintages followed by 4-course wine pairing dinner in the exclusive Vineyard Room.
Opus One
Opus One is a joint collaboration between Robert Mondavi and Baron Philippe de Rothschild that produces some of the world's finest Cabernet Sauvignon, Cabernet Franc, Merlot, Malbec, and Petit Verdot. Opus One is one of California's most high-profile wineries and one of the area's best.
A visit here is a chance to discover the history behind the brand, as well as learning about vineyard and winemaking practices. All visits are by appointment only, and this is considered one of the most exclusive tours in the valley. Wine tastings are held in the Partners Room, where guests can enjoy a 4-ounce pour of a current vintage.
Top Hotels in Oakville and Rutherford
This beautiful chateau is the epitome of Napa luxury. Offering beautiful bedrooms, a spa, and a Michelin-starred restaurant, guests can relax here in sumptuous surroundings. Situated within a 33-acre olive grove in the heart of Napa Valley, Auberge du Soliel offers discreet luxury with panoramic views across the beautiful Napa countryside.
There is also a chic pool area with canopied day beds for 2, tennis courts, a separate fitness center, and miles of walking and hiking trails located within the extensive grounds. The hotel also has private wine classes run by the on-site wine director, as well as off-site classes in cheese and bread-making and complimentary art supplies.
This Spanish hacienda-style hotel is small enough to feel intimate but large enough to offer all the facilities you would expect at a Napa Valley hotel. The Rancho Caymus Inn is a boutique hotel with 19th-century interiors, colorful tiles, and Guillermo Wagner Granizo artwork that overlooks the pool.
Bedrooms are spacious with private balconies or patios, and the pool area is also home to a hot tub. There are fire pits for cozy evenings in and a separate courtyard with a stone fireplace. Decorated with strings of fairy lights and brightly colored cushions, the outdoor areas are designed to encourage guests to linger and unwind in this traditional California inn.
Yountville
Yountville is a small town with a big heart that is home to 2 Michelin-starred restaurants, elegant hotels, destination resort spas, and its very own market and organic garden.
There is always something to see and do in this Napa Valley town, including the Yountville Art Walk, which features a varied collection of artwork and sculptures sold to raise funds for further community collaborations.
Top 5 Restaurants in Yountville
Bouchon Bistro
One of 3 Thomas Keller eateries in town, the Bouchon Bistro is a charming French bistro that serves up traditional fare in elegant old-world surroundings. The menu focuses on timeless French dishes; favorites include the Rosy Foie Gras Torchon with seasonal orange preserves and golden-brown toasted brioche, or the braised lamb set over polenta with grilled young leeks and carrots.
Reservations will definitely need to be made well in advance if you want to sample the stunning cuisine at this Michelin-starred restaurant, where fellow guests are known to enjoy the local wine on offer and leave in high spirits.
The French Laundry
The French Laundry is another great Thomas Keller restaurant in the heart of Napa Valley — and possibly his most famous. This destination establishment is now one of the finest in the region and is a Michelin-starred restaurant with a long waiting list. Diners lucky enough to get a reservation can enjoy first-class cuisine in a renovated rustic 2-story cottage.
Using carefully selected local suppliers, Keller and his team are able to create delicious fresh food that is complemented by an extensive wine list, with bottles not just from Napa but all of the world's major grape-growing regions.
Ad Hoc
As the third Thomas Keller eatery in Yountville, Ad Hoc offers a more laid-back atmosphere and hearty American fare for visitors to savor. A comfortable place for the community and families to dine, Ad Hoc offers a 4-course family-style menu that changes daily, accompanied by a small, accessible wine list and the restaurant's own contemporary twist on classic cocktails.
Menu favorites include buttermilk fried chicken, Alaskan king crab mac 'n cheese, and broccolini salad. Desserts are also very delicious, with the cinnamon blondie and its butterscotch being one of the most sought-after.
Bistro Jeanty
Bistro Jeanty offers fabulous French food with a twist, as well as lighter California-style dishes for the calorie-conscious. The traditional bistro interior has yellow walls and retro posters, while the restaurant itself has a family feel.
Whether you come to enjoy the coq au vin, Boeuf Bourguignon, or veal chop with chanterelle mushrooms — or would rather have one of the salads, like smoked trout or warm goat cheese — there is something for everyone to savor in this cozy French bistro.
Addendum
Addendum by Thomas Keller is exactly that — an addition to the Ad Hoc restaurant that serves up boxed lunches to go from Thursday to Saturday between 11:00 am and 2:00 pm. Hungry diners can choose from their famous buttermilk fried chicken, barbecue pork ribs, or pulled pork sandwich, each accompanied by 2 house-made sides.
These delicious offerings can be enjoyed to go, or you can take advantage of the picnic tables to savor your sandwiches while taking in the scenery and the fresh Napa Valley air.
Top 5 Wineries in Yountville
Domaine Chandon
Domaine Chandon was established in 1973 by the world-famous champagne owner Moët et Chandon and businessman John Wright. It is the first French-owned sparkling wine producer in Napa Valley, and still produces some of the finest wines in the region including Chardonnay, Pinot Noir, and Pinot Meunier (made using the traditional grapes used in the production of champagne).
Visitors can enjoy tours of the vineyard, learn about the history of the Chandon brand, and sample a selection of premium wines in the tasting room, the terrace, the lounge, the patio, or out on the lawn. Visitors also have the option to pair their tasting with the vineyard's menu of light fare.
Priest Ranch
First established as a ranch in 1869 by gold rush prospector James Joshua Priest, this vineyard began producing premium wines in 2006. The elevated position of their vineyard gives a distinct fruity flavor that needs very little processing, and the Priest Ranch Cabernet Sauvignon, Chardonnay, Brut Rose, and Petit Sirah are some of this establishment's most sought-after.
Guests can enjoy samples of the current release wines and winery exclusives in the Tasting Room, as well as their Library, Large Format, and limited production wines — or enjoy a wine pairing experience with artisan cheese and charcuterie.
Cornerstone Cellars
Cornerstone Cellars is one of the hidden gems of Napa Valley, offering some fantastic Cabernet wines that should not be missed. Originally founded by 2 Memphis musicians, Michael Dragutsky and David Sloas, Cornerstone Cellars is famous for its small selection of "Spotlight" wines.
Guests can have a sample of these rich reds and crisp whites in any of the 9 tasting rooms, enjoy savory selections from the on-site kitchen, or just pop by for a glass of wine. Regular visitors can also pick up premium wines as part of the members club, or join in at special events such as the monthly artisan market and regular music concerts.
Cosentino Winery
With deep roots in the heritage of California winemaking, the Cosentino Winery has over 40 years of experience crafting and sharing truly beautiful wines. Guests are welcome to enjoy a tasting on the scenic sun-drenched patio or at the casual bar — or reserve a private experience in the exclusive Lounge area.
Tastings can be booked for a customizable flight of 5 current release and featured wines, and guests also get the option of enjoying luxury Woodhouse Chocolates with their wine (freshly made by the premier chocolatier in Napa Valley).
JCB Collection
The JCB Tasting Salon offers a captivating and luxurious wine experience surrounded by sumptuous decor and first-class cuisine. This experience is a one-of-a-kind tasting room and retail store that encompasses the unique JCB approach, uniting exclusive Napa Valley wines, luxury, style, and retail items curated and created by Jean-Charles Boisset.
This vineyard is famous for its forward-thinking approach to winemaking and presentation, and guests are encouraged to enjoy all aspects of the luxury lifestyle on offer. The Surrealist Room is the perfect place for small groups to enjoy wine with a JCB wine educator, while seated at a glass-top table and bar that doubles as a merchandise display showcasing the JCB collection of jewelry.
Top 5 Hotels in Yountville
Vintage House is a boutique hotel located just off Highway 29 within easy reach of some famous restaurants in Napa Valley, including The French Laundry, Bistro Jeanty, and Bouchon Bakery. The hotel has a luxe vibe, and comes complete with a shiny glass elevator and a contemporary feel throughout.
The lavish landscaped gardens are dotted with meandering paths and pretty fountains. Guests are welcome to enjoy the outdoor heated lap pool and hot tub, as well as fitness and spa facilities shared with the property's sister hotel, the Villagio Inn.
Moments away from the vineyards of Napa Valley, Bardessono combines upscale accommodations with eco-friendly practices. This hotel is one of only 3 Platinum LEED Certified hotels in the United States that offers ecologically sound choices without compromising on luxury amenities.
The Bardessono has a beautiful heated rooftop pool and whirlpool tub, a small private gym, and yoga classes twice a week. The onsite Lucy Restaurant & Bar serves a fine menu of well-crafted local cuisine, with an extensive wine list (as you would expect from any hotel in the region).
Hotel Yountville is the jewel in the crown of the town that shares its name. Luxurious throughout, the hotel is within walking distance of Thomas Keller's world-famous eateries The French Laundry and the Bouchon Bistro.
The hotel has a European feel about it, offering a heated pool and whirlpool tub, plus a 6-room Spa AcQua that also features couples rooms. Hungry visitors can enjoy homely American fare at the Heritage Oak Café, or sip cocktails and fine regional wines at the Y Bar Terrace complete with fireplace, water feature, and comfy seating.
As one of the newest luxury hotels in the Napa Valley region, the Hotel Villagio has a sophisticated vibe. The effortlessly styled interiors make for comfortable and contemporary lodgings, all tucked away amid the lush vineyards of Yountville.
The Villagio is within easy walking distance of some of the finest restaurants in town, and visitors who wish to remain onsite can enjoy the pool area at the nearby Vintage House Hotel. Set in the grounds of the Estate, guests also have access to shared fitness facilities and a spa.
The North Block Hotel is within easy reach of Yountville's famous 5-star restaurants and the vineyards beyond. This hotel has a relaxed atmosphere and a stunning central courtyard, complete with fountain and outdoor seating with a Tuscan feel. A fireplace and heat lamps keep the area toasty at night, and on weekends the hotel is a popular destination for locals and visitors alike.
North Block's Redd Wood restaurant is a casual eatery with a wood-burning pizza oven and other Italian favorites. The hotel's heated pool and hot tub are open daily until 10:00 pm, making them the perfect place for socializing and finding new friends.
Napa
The city of Napa is a world-class destination in its own right. Home to a wealth of wine tasting bars, visitors can also enjoy fine dining at the Michelin-starred La Toque and Chef Masaharu Morimoto's highly-acclaimed Morimoto, among many others.
The Oxbow Market has plenty of artisanal produce, and art lovers will enjoy the sculpture gardens of the Di Rose Gallery. For those seeking ultimate pampering and relaxation, there are also several amazing spa resorts in and around the city.
Top 5 Restaurants in Napa
La Toque
As the landmark restaurant for top chef Ken Frank, La Toque is a Michelin-starred destination eatery serving New French cuisine in refined surroundings within the Westin Verasa hotel. With classy interiors including leather-topped tables and a roaring fireplace, well-versed diners can enjoy 4- or 5-course à la carte cuisine.
There is also an extensive wine list comprising local and world wines, all of which are displayed on an iPad. Menu favorites include beef loin carpaccio with creamy tuna sauce, sautéed wild mushroom, and dried tomato; braised squid with dates, almond, cauliflower, and a spoonful of Greek yogurt; and delicious desserts like the triple-baked butter-crunch cake with apple.
Kenzo Napa
Kenzo Tsujimoto may have made his fortune developing thrilling video games like Resident Evil and Street Fighter, but there is nothing scary about his Michelin-starred Japanese restaurant, Kenzo. Offering just a handful of tables, discerning diners can also eat at the exclusive bar, enjoying traditional Japanese cuisine with a twist cooked up by acclaimed chef Eiji Onoyama.
Diners have a choice of 2 menus, one of which focuses on elegant Kaiseki dishes like sea urchin chawanmushi and poached blue shrimp, while the other is all about fish dishes made using nigiri sourced directly from Tokyo's Tsukiji Fish Market.
Sake is the traditional tipple here, but diners can also enjoy the fruits of Kenzo's very own California-grown estate wines, which are available by the flight.
Morimoto Napa
Morimoto Restaurant, Bar, and Lounge has an open-plan feel to it, dotted with trendy furniture and accessories reflecting the Morimoto lifestyle. Home to Napa's only Sake and Japanese Whiskey bar, diners can enjoy a totally new experience comprising an extensive sushi bar, an open kitchen, and a selection of menus.
The Morimoto Omakase menu, for example, is a multi-course tasting menu designed to allow you to experience the essence of Morimoto's cuisine, paired with beverages that compliment the flavor of the food. Morimoto is an exclusive and unique find in Napa.
La Taberna
La Taberna offers a look and taste inspired by the pintxo bars of northern Spain. Offering a totally modern take on the classic Spanish tavernas, La Taberna embraces the wide array of natural produce available in Napa Valley to create a menu packed full of Latin-infused flavor.
Laid back and friendly, La Taberna is the perfect place to enjoy good food and drinks. Grab a quick bite with friends, a cocktail at the bar, or stick around to enjoy a full meal perfectly paired with a bottle of wine.
Oenotri
This artisanal pizza house serves up stunning Southern Italian fare in industrial-chic surroundings. The menu changes daily and is made up of rustic dishes created using the freshest local produce available. Oenotri also offers an extensive wine list, featuring a huge selection of the most sought-after Italian wines and an exceptional list of Napa Valley favorites.
Offering 20 different types of house-made salumi, an array of handmade fresh and dry pasta, exclusive olive oil sourced from Napa Valley, and breads made in-house daily, Oenotri's hearty, comforting Italian food is popular with visitors and locals alike.
Top 5 Wineries in Napa
Etude
Established in 1982, the superior Etude grapes enable this winemaker to craft wines of exceptional expression and finesse. Famous for their exemplary Pinot Noir, Etude also specializes in Cabernet Sauvignon, Burgundy, and Bordeaux wines that provide a rich and elegant structure.
Visitors can enjoy the exclusive Collectors Tasting that includes a flight of 5 signature red wines and a special library selection, held in the beautiful tasting room or out on the patio if the weather permits.
Luna Vineyards
As the very first winery on the Silverado Trail, Luna Vineyards welcomes guests daily to their exclusive Napa Estate. Guests can enjoy a tasting experience that demonstrates Luna's dedication to Italian varietals and old world wine styles. With a forward-thinking approach to winemaking, Luna practices eco-friendly processes and is committed to finding interesting and exciting ways to harness the flavor of Napa Valley.
Guests are invited to experience Luna's dedication to demonstrating how amazing wines made from non-mainstream Napa Valley varietals can be. Tasting experiences at Luna are an intimate affair and only available by prior reservation.
Domaine Carneros
The chateau at Domaine Carneros is considered one of the most beautiful wineries in North America. Designed after the Chateau de la Marquetterie in Epernay, France, the Domaine Carneros Chateau is an iconic landmark in the heart of Napa Valley.
Visitors enter the chateau via the grand staircase, where knowledgeable wine ambassadors offer tableside service of Domaine Carneros wines either in the elegant Louis XV-style salon or outside on the terrace.
Domaine Carneros wines are sold as a tasting flight, by the glass, or by the bottle, and visitors can enjoy cheese plates paired with sparkling wine or Pinot Noir, or caviar served at the table to celebrate special occasions.
William Hill Estate Winery
William Hill Estate Winery crafts Chardonnay and Bordeaux varietals from the vineyards of California's most celebrated regions. At the 140-acre benchmark estate, the William Hill winemakers create a fascinating collection of rich, expressive wines.
Guests are welcome to explore a variety of their premier wines during an appointment-only tasting in their elegant tasting room. William Hill believes that from exceptional vineyards come exceptional wines, and their Napa Valley Collection is designed to celebrate and demonstrate the legendary terroir of Napa Valley.
The Hess Collection Winery
The Hess Collection Winery is part of a historic site where wine has been produced as far back as the 1860s. The original stone building is now joined by The Hess Art Collection that offers a world-class showcase of contemporary art.
Fine art and fine wine combine effortlessly in this highly-acclaimed winery that is famous for its artfully crafted Mount Veeder wines. Visitors are welcome to tour the museum and appreciate The Hess Collection for themselves, as well as experience the true flavor of Napa Valley at the standing tasting bar to enjoy Current Release Tastings.
Top 5 Hotels and Resorts in Napa
The Carneros Resort and Spa is surrounded by vineyards and meadows, and offers totally luxurious relaxation in the heart of wine country. Home-like cottages make it feel more like a well-kept private estate than a hotel, and prim gardens and front porches give it an upscale neighborhood feel.
There are also plenty of first-class amenities here, including a fitness center, an infinity family lap pool, a children's pool, a spa with 9 indoor treatment rooms, and the hotel's biggest draw: the adults-only Hilltop Pool and infinity-edged hot tub — both with amazing views out across the Napa Valley.
The Westin Verasa Napa offers well-appointed rooms, top-notch facilities, and a wonderful restaurant on the banks of the Napa River. Contemporary interiors and a refined atmosphere deliver everything you would expect from a Westin hotel, while the outdoor heated saltwater pool and hot tub, Bocce ball courts, and 24-hour fitness studio provide some of the finest facilities in the area.
Hungry visitors can book a table at the Michelin-starred La Toque, or enjoy a more laid-back dining experience at the BANK Café and Bar in the lobby. Guests can also enjoy a complimentary wine tasting held daily from 5-7 pm in the lobby.
Tucked away on the Napa River in a wooded stretch along Silverado Trail, Milliken Creek Inn and Spa feels like a country escape just minutes away from downtown Napa. This former stagecoach stop has a rich, historical feel with plenty of wooden floors and leather armchairs, as well as lots of luxury touches throughout.
Pure escapism is the name of the game at the Milliken Creek Inn and Spa, and staff are on hand to make you feel welcome. There is no restaurant onsite, but you can have breakfast delivered to anywhere on the property, and you're only 5 minutes away from the eateries and winemakers of downtown Napa.
The Napa River Inn is located within the historic Napa Mill, a National Registered Landmark built in 1884. With a mixture of rooms spread across the original warehouse, the Plaza Building, and the Embarcadero Building, the historic feel blends perfectly with modern-day convenience and luxury.
This downtown hotel is centrally located for exploring the very best of Napa, including gourmet cuisine at Celadon and Angèle, as well as sweets by the dozen at the Vintage Sweet Shoppe or Sweetie Pies Bakery. Guests can also enjoy a big night out with live music at Silo's Jazz Club, or pamper themselves at the hotel's own spa.
The Meritage Resort and Spa offers all the highlights of a Napa Valley holiday in a single luxurious location. With its own 9-acre vineyard complete with extensive hiking trails, a cave with a dedicated wine tasting room, a relaxing swimming pool, and an underground spa, this Tuscan-inspired property is a truly beautiful place to stay.
This resort is also home to 3 restaurants (including the highly-renowned Siena) and 2 bars, meaning that you'll never be far from first-class cuisine and an extensive selection of fine wines. The hotel also has its very own 6-lane bowling alley perfect for those laid-back memorable moments in the heart of the wine country.
American Canyon
The town of American Canyon is a great base for exploring Napa Valley and the Carneros wine-growing region. At the southern tip of the region, it offers plenty of opportunities for outdoor adventurers, and it's within easy reach of San Francisco and some of the other California attractions in the South Bay Area.
Top 5 Restaurants in American Canyon
Ristorantii La Strada
This classic Italian restaurant offers comforting homemade cuisine in relaxing yet elegant surroundings. La Strada prides itself on offering affordable top-quality food (which can be hard to find in the wine country!).
Tuscan specialties include crab ravioli, Lasagne di Carne, and Linguine con Gamberetti. The restaurant also offers a cozy bar area where you can sample some of the stunning local and Italian wines, or catch up with friends over an Italian beer or 2.
Thai Kitchen American Canyon
This little gem is located at the heart of American Canyon, the gateway to Napa Valley wine country. As one of the best Thai restaurants in the region, the Thai American Kitchen offers fuss-free, high-quality Thai cuisine in comfortable surroundings.
Visitors enjoy the clever combination of flavors available in the freshly made Thai dishes, as well as the fast friendly service and takeout. Menu favorites include eggplant with tofu, pumpkin curry, salmon param, BBQ garlic pork, and stuffed chicken wings.
Junction Brewery & Grill
This family-friendly restaurant is named after the Napa Junction railway station that was built in the 1800s, and it offers carefully crafted American comfort food in relaxed surroundings. Executive chef and owner Chris Tang demonstrates his passion for simple food with complex flavors by serving an enticing menu featuring delicious gourmet burgers made using fresh ground Black Angus beef, house cured bacon, and pork belly, along with homemade pasta sauces and sandwiches.
With family gatherings very much in mind, the Junction Brewery & Grill holds regular events including Sunday Football Brunch, Taco Tuesday, Thirsty Thursdays Happy Hour, and seasonal parties.
Canyon Cafe
This traditional diner-style cafe offers hearty food in lively surroundings. Serving up some of the finest breakfasts and brunches in Napa Valley, the Canyon Cafe offers simple food designed to impress. Fast and friendly service combines with a laid-back California vibe to make this a place to hang out and enjoy a lazy start to your day before heading out to explore the winemaking region.
Menu favorites include the Denver omelet, chicken fried steak and eggs, country fried steak with gravy, eggs and country potatoes, sausage patties, grits, and endless cups of steaming hot coffee.
Mi Zacatecas
Mi Zacatecas serves up delicious authentic Mexican food to locals and visitors in American Canyon. Guests are welcomed with freshly made chips and salsa, while the chef and his team set about cooking up delicious Mexican recipes that are guaranteed to impress.
Using only the highest-quality ingredients, guests come back time and time again to enjoy house favorites such as Chicken or Beef Flautas, Chile Relleno Burrito, or the Filete Ala Veracruzanda (catfish dish), as well as a wide variety of homestyle breakfasts that make a filling start to any day.
Table 29 Bistro & Bar
Located inside the DoubleTree by Hilton Hotel and Spa Napa Valley – American Canyon, Table 29 offers a finely curated menu with dishes made from fully organic, locally gathered foods, as well as an extensive wine list. Diners can enjoy a wide array of local flavors and dishes for breakfast, lunch and dinner at this eco-friendly restaurant in a fabulous Napa Valley location.
Dining is available in the main restaurant or outside on the terrace with views across local vineyards. The Table 29 Bar offers more than 100 Napa Valley wines and an extensive cocktail selection, making this a great place to enjoy an evening meal or a few drinks with friends.
Top Wineries in American Canyon
Jamieson Ranch Vineyards
The Jamieson Ranch Vineyards is home of the famous "Double Lariat" Cabernet, and is the southernmost winery in Napa Valley. Set within 300 acres of rolling hillside and stunning scenic vineyards, Jamieson Ranch offers award-winning wine tasting experiences with views out across Napa Valley and San Pablo Bay.
Guests are welcome to tour the vineyard and learn more about the winemaking process as well as enjoy Signature or Reserve tastings. You can also soak up the laid-back California vibe with a Bottle and a Blanket tasting, where you can enjoy the flavors of the wine while nestled away in the vineyards themselves.
Top Hotels and Resorts in American Canyon
DoubleTree by Hilton Hotel & Spa Napa Valley
DoubleTree by Hilton Hotel & Spa Napa Valley – American Canyon is a tranquil retreat at the world's first Gold LEED-certified hotel. The hotel offers luxurious interiors and a full range of modern conveniences, all in stunning surroundings at the gateway to the Napa Valley wine region.
Home to the highly revered Table 29 Bistro & Bar, guests can also take advantage of the outdoor pool and whirlpool spa, 24-hour fitness room with modern workout equipment, 24-hour complimentary business center, hotel bar area, concierge desk, room service, and free parking. The outdoor deck is the perfect place to unwind after a busy day exploring the region's wineries while enjoying a wide selection of local wines.
Just 12 miles from Napa Valley and its famous wineries, the Fairfield Inn & Suites offers comfortable, modern accommodations that are perfect for visitors looking to enjoy the wine region and other nearby California attractions (including Six Flags Marine World and the Sonoma Raceway).
The beautiful outdoor pool is perfect for catching some rays on a sunny day, and guests enjoy concierge service and free Wi-Fi throughout the hotel. There are also barbecue facilities onsite, and guests are provided with a daily continental breakfast.
Off of Highway 29, the Holiday Inn Express & Suites – American Canyon is just 9 miles from the Napa Valley Wine Train, and it makes a great base from which to explore the world-famous wineries of the region.
Bedrooms are fully air-conditioned and include an iPod docking station; the hotel also features an outdoor swimming pool and hot tub as well as an onsite fitness center. Six Flags Discovery Kingdom and the Chardonnay Golf Club are both just a 10-minute drive from the hotel, and there are a wealth of wineries within 20 miles of the hotel entrance.
Courtyard by Marriott Vallejo Napa Valley
Although not technically situated within American Canyon itself, the Vallejo Napa Valley is one of the highest-rated hotels in the North Northern California Bay Area and is within easy driving distance of the wine country.
The perfect base for travelers looking to explore everything the region has to offer, this hotel is close to Six Flags Discovery Kingdom, the Solano Country Fairground, and the California Maritime Academy, as well as the vibrant city of San Francisco. With an onsite fitness room and a choice of hearty American-style breakfasts, the Vallejo Napa Valley is just across from the 1-80 freeway that takes you straight to the heart of Napa Valley in no time at all.
Top 10 Best Things to Do in Napa Valley
There is a whole lot more to see and do in Napa Valley than just eating fine cuisine, tasting great wine, and relaxing at first-class spa facilities. Whatever time of year you visit, there is always something happening in Napa!
From the Napa music festival in July to the Napa Lighted Art Festival in January, Napa Valley is a year-round destination full of California spirit.
Ballooning
Take to the skies to enjoy an exhilarating sunrise balloon flight over the beautiful Napa Valley. An amazing way to celebrate a special occasion or surprise your loved one with the perfect proposal, ballooning in Napa gives you a birds-eye view of some of the most stunning scenery the region has to offer.
Since this is wine country, why not pair your flight with a champagne breakfast to make your airborne experience truly memorable?
Golf
Napa Valley is a paradise for golf lovers, with plenty of lush resort courses to enjoy. From easy 9-hole fairways to challenging 18-hole tracks, there is a course for golfers of every experience level and dedication to be found here.
The Safeway Open is held every October at the Silverado Resort and Spa, bringing some of the world's top golfers to Napa Valley right in the middle of the harvest and offering the perfect blend of world-class golfing and fine wine. Some of the region's best golf courses include Napa, Chardonnay, and Vintners.
Shopping
As you would expect from a region that's home to some of the most illustrious wineries in the world, there are plenty of opportunities to experience first-class shopping outlets that cater to the finer things in life.
St. Helena and Napa both offer elegant shops selling art, antiques, jewelry, luxury home goods, and clothing, while the Napa Premium Outlets offer well-known labels at discounted prices (including Coach, Kate Spade, Gap, Guess, Levi's, Ralph Lauren Polo, Michael Kors, and more). There are also plenty of independent outlets selling bottles of local wine, as well as port, champagne, and other locally produced beverages.
Art Walk in Yountville
The Yountville Art Walk is an easy and fun way to take in some of the town's most impressive artworks and statues. Dotting the length of the town, visitors can view the interactive map on their smartphone, or download and print a copy to guide them.
With a large number of artworks located upon the Washington Street area, it is also an activity that's easy to dip in and out of while shopping, dining, or drinking Napa wine. Most of the artworks on display are also for sale, with a portion of the proceeds going toward arts-related activities and events in the community.
Hiking
The Napa region is full of rugged mountain ranges, redwood-covered creeks, and beautiful lakes all waiting to be explored on foot. There are plenty of country parks with dedicated hiking trails scattered throughout wine country, which all offer a chance to take in the natural beauty of the region at your own pace.
Robert Louis Stevenson State Park just north of Calistoga has an excellent 5-mile hike to take in the views at the top of Mt. St. Helena, while Bothe-Napa Valley State Park has more than 10 miles of hiking trails that cover the coastal forests with their impressive redwoods.
Skyline Park in Napa has over 25 miles of trials, including a gentle hike to Lake Marie and a more challenging ridge trail that affords amazing views of San Francisco Bay. For a simpler hike, Westwood Hills in Napa has easy 3-mile trails throughout the oak trees that lead to picnic benches and tables in a grassy clearing.
Museums
In addition to smaller museums attached to some of the region's wineries, Napa also has some impressive art galleries and museums for visitors to enjoy. The Hess Collection showcases a world-class collection of contemporary art, while the Di Rose is a quirky contemporary gallery full of interesting sculptures.
The Napa Valley Museum in Yountville is home to a permanent collection of art and artifacts that chronicles the history of the region, its people, and geology — along with the wine industry that put Napa Valley on the map. For families with children, the Charles M. Schultz Museum is a homage to the famous illustrator's legendary Snoopy and Peanuts characters, while the Children's Museum of Sonoma County offers hours of fun for kids of all ages.
Bike Tours
As you would expect here in wine country, a bike tour wouldn't be complete without a visit to at least 1 of the world-class vineyards. Visitors can enjoy a Sip-N-Cycle tour that takes group riders through the flatter terrain of Calistoga visiting some of the quaint family-owned wineries along the way.
If you want to concentrate on cycling without the wine, the newly built Napa Valley Bike Trial connects Calistoga to the Vallejo Ferry via a 48-mile cycling and hiking trail that offers some areas of challenging terrain and fantastic views.
There are also plenty of half- or full-day cycling tours through the vineyards available, which are led by knowledgeable local guides who will show you some of the finest views, scenery, and (of course) vineyards in the region.
Markets
For those who love the hustle of a marketplace, the Oxbow Public Market in Napa is a bustling daily food market, while the V Marketplace in Yountville offers charming stalls selling clothes and crafts.
There is also a good selection of farmers markets held throughout the region; these are some of the best:
Napa Farmers Market — Tuesdays and Saturdays
St. Helena Farmers' Market — Fridays
Long Meadow Ranch Farmers Market — Saturdays and Sundays
All of these sell lots of local produce and wine, as well as handmade crafts, clothes, gifts, and much more.
Music Festivals
Napa is home to some incredible music festivals that take place throughout the year. In March, Yountville Live offers live music and great food, while the famous BottleRock Napa Valley presents well-known artists from all around the world across 3 days in May.
For more niche music aficionados, the Napa Valley Jazz Getaway in June is packed with top jazz musicians, and the Robert Mondavi Concert Series in July is a popular classical music event. The Festival Napa Valley in July offers music, food, wine, and attractions for the whole family.
Kayak Napa River
The Napa River is one of the largest on the California Central Coast Range, and it passes through many of the landmark towns of Napa Valley. What better way to see the beauty of the region than from a kayak on the water!
Visitors can enjoy a relaxed solo outing, or join up with fellow kayakers for a guided tour of the region. Tours are available throughout the Valley, but the town of Napa itself acts as a hub for most of them. Listen to your tour guide tell you about the history of the region, or sit back and enjoy the various marine and estuary wildlife that calls Napa Valley its home.
Top 10 Best Spas in Napa Valley
Spa resorts offer luxurious facilities in relaxing surroundings dedicated to the overall wellbeing of their patrons. From superior treatments, pools, and hot tubs to clean cuisine, these spa resorts scattered across Napa Valley are destinations in their own right.
Golden Haven Hot Springs
Located in Calistoga, the Golden Haven Spa uses pure natural hot spring water from the geothermal aquifer that runs underneath the spa itself. Guests can feel the stress float away as they relax in the hot spring mineral pools, or enjoy an edifying mud bath that promises to remove toxins from the skin to set your skin aglow.
Massages and Herbal Facials are also on offer here, as are beautiful bedrooms with individual hot spring Jacuzzis. Luxurious and well-appointed, Golden Haven Spa will help you feel human again!
The Spa at the Estate
As one of the newest spa destinations in Napa Valley, The Spa at the Estate is a peaceful haven of soothing fountains, cascading waterfalls and luxurious creature comforts. The 7 treatments rooms and 5 luxurious private suites are set amid this quiet oasis that includes relaxation lounges, fireplaces, Swiss showers, saunas, and outdoor soaking baths.
Guests can enjoy a wide array of treatments, many of which feature ESPA holistic products that use a unique combination of plant and marine actives and essential oils for beautiful skin and inner calm. An in-spa menu is also available for guests who want to experience the amazing flavors of the region.
Spa Solage
Ecologically conscious yet still utterly luxurious, the Napa Valley Spa Solage offers retreat experiences that relax and invigorate the soul. Using the renowned Calistoga mud and mineral water therapies, guests can enjoy a modern twist on a mud bath in the Bathhouse and Mud Bar that feature healing geothermal pools and mineral-rich mud therapy.
There are also massage and treatment packages on offer, as well as luncheon specials from the Michelin-starred Solbar restaurant within the hotel. The hotel's stunning location makes it the perfect place for some meditation overlooking the vineyards below, or a weekend of spa therapies to restore the spirit and relax the mind.
Meadowood Spa
Situated on a private estate, the Meadowood Spa offers an unrivaled wellness experience in the heart of Napa Valley. Having won the hospitality industry's highest honor of Five Stars from the Forbes Travel Guide just 15 months after opening its doors, this spa resort destination is renowned for its private suite experience, complete with a personal Spa Therapist and a carefully curated treatment plan.
There are also 2 relaxation gardens at the Meadowood (one for men, one for women) where guests can wind down before or after their treatments and make use of the sitting areas, steam room, and sauna and mineral soaking pool — or enjoy a bite from the specially curated Spa Culinary Menu.
The Meritage Resort and Spa
The Meritage is a beautiful Tuscan-style spa resort offering some of the finest spa facilities in Napa Valley. The Spa Terra offers a tranquil environment unlike any other in the region — it's situated in a 22,000-square foot Estate Cave.
This award-winning spa is housed 40 feet underground, and visitors will see a mix of natural stone and old world Florentine architecture and furnishings tucked away beneath the vineyards. The spa provides traditional treatments and massages as well as yoga and meditation classes. There is also a Serenity Lounge, rain showers, a steam room, and private Jacuzzi.
The Auberge Spa
Tucked into a private canyon in the Upper Napa Valley, The Auberge Spa offers the ultimate blend of natural living with luxurious amenities. The Spa is exclusively for the use of resort guests, who will be lucky enough to experience the Auberge signature purification ritual. This treatment clears the pores and the mind using herbal steam, a cold plunge pool, and long soaks in a valley-view infinity pool heated to body temperature.
Guests can enjoy attunement rituals with cold and warm stones, classic Swedish massage, and the Auberge Facial complete with enzyme peels, collagen serums, and hydrating masks. All this and more is delivered in beautiful surroundings (designed by a Zen Master), in a building perfectly aligned with a distant mountaintop in the Mount Veeder Appellation.
Calistoga Motor Lodge Spa
Taking its cues from the classic bathhouse format, the Moonacre Spa & Baths at the Calistoga Motor Lodge takes traditional spa treatments and flips them on their head. Designed to be social and welcoming, visitors can enjoy the serenity of geothermal mineral water-fed pools, mix their own mud at the mud bar, or try any of the quirky but satisfying treatments on offer (like The Wine Country Scrub with a crushed grape poultice, or the Hot Himalayan body massage).
If you just want to lie back and take it easy, guests are welcome to enjoy a traditional lavender and mustard seed bath soak in the claw-foot tubs, or soak up the California sunshine in the thermal pools.
Silverado Resort and Spa
The Silverado Resort and Spa is an enchanting retreat in the heart of Napa Valley that offers guests the chance to unwind and refocus. Set within 1,200 acres of oak groves and vineyards, this stately spa is the perfect place to relax both the body and the mind.
Indulge yourself with luxurious pampering packages including soufflé body wraps and organic facials, or enjoy a couples body massage topped off with a rose mud wrap or a Meyer Lemon Salt Glow body scrub. Guests are also welcome to relax around the plunge pool and soak up the California sunshine, while enjoying one of the many superb Napa Valley wines on offer at Silverado.
Bardessono
The B Spa Therapy Center situated within the stunning Bardessono eco-friendly hotel sits just moments away from the vineyards of Napa Valley. This smaller spa offers a sleek rooftop pool area with cabanas for unwinding under the California sun, as well as an infrared sauna to detoxify and warm your muscles.
A wide range of treatments are available here including massages and facials, all undertaken by experienced staff using top quality all-natural products. There is also a Jacuzzi for easing away aches and pains, or simply sitting back and letting the bubbles relax you.
Carneros Resort and Spa
The Spa at Carneros has been completely renovated and now offers a newly re-imagined space in an elevated position above the vineyards. Guests can enjoy treatments together in the couples suite with an outdoor soaking tub and shower, or relax in the specialty studio complete with a private infrared sauna and shower.
All of the treatment rooms have been refreshed to offer premium tables for maximum comfort, and there is a brand-new indoor relaxation lounge and outdoor relaxation deck as well as outdoor showers and 2 new steam rooms. Guests can also enjoy sampling the fresh new spa menu and a wealth of signature treatments.
Napa Valley Tips
Want some top tips for visiting Napa Valley? Try these on for size.
Save money with a Wine Tasting Card
Save money on wine tasting with the Taste Napa Downtown Card. For a one-time fee of just $15 per year, you can enjoy the opportunity to visit 10 tasting rooms for up to half price, saving as much as $150 in all. The card is good for 12 months.
Book your visit in advance
To help promote more sustainable wine tourism, many of the wineries in Napa Valley are open by appointment only. Don't be disappointed; book your tour and tasting before you visit.
Don't rush yourself
Just like a fine wine, the Napa region is to be savored; 3-4 winery visits a day is more than enough to ensure you really get to enjoy them. Also, don't forget to account for the travel time between appointments.
Start with a tour
Get a wine country education before you start tucking into the wine. Start with a tour, then book tasting only appointments for the rest of the day.
Bring your wine home safely
You are most likely going to buy at least a bottle or 2, but don't waste your haul by not protecting the bottle for the journey home. Wrap them well in styrofoam, or invest in wine travel bags that will keep bottles safe and potential spills contained in your suitcase.
Designate your driver
It goes without saying that as you will be visiting wineries, alcohol will be everywhere. Don't drink and drive — ever! Take turns being the designated driver to keep the roads safe. The sheriff's departments are constantly patrolling Napa Valley.
Pace yourself
Napa is about tasting the fine wine on offer, but it can quickly get the better of you if you go too fast. Take breaks for lunch and spread your visits out across the day.
Go against the flow
The roads to the wineries can get very busy during the high season. Instead of following the standard tourist route that begins in Napa and travels north, begin your day in Calistoga and head south to beat the crowds on Highway 29.
Final Thoughts
Napa Valley is not just a winemaking region — it's also home to some of the most beautiful scenery in America, as well as some of the most prestigious restaurants, spa resorts, and hotels in the world.
However you plan to spend your time in the Napa Valley, you can be assured that fine wine and luxury will be available everywhere you look.