How to Find the $150 (Or Even $200) Welcome Bonus Offer for the American Express Cash Magnet Card [2020]
The American Express Cash Magnet® card is a great credit card option for those who value earning cash-back on every purchase that they make. It's a no-fuss card that is incredibly easy to use and lets you redeem your cash-back as a statement credit each and every month.
Of course, if you're interested in the Amex Cash Magnet card, you're going to want to try to get the best bonus possible when you apply, so here are a few ways to help you do just that!
Benefits of the Amex Cash Magnet Card
First, it's worth examining all of the benefits that the Amex Cash Magnet card has to offer, to see if the card would be a good fit for you. Here are some of the highlights of the card.
Rewards Card
Benefits & Info
American Express Cash Magnet® Card


Apply Now

(at Amex's secure site)

Earn a $150 statement credit after you spend $1,000 on the card within your first 3 months.
Unlimited 1.5% Cash Back, received in the form of Reward Dollars that can be redeemed for statement credits.
Low Intro APR of 0% on purchases for 15 months; after that, 13.99%-23.99% variable.
Annual Fee: $0
For rates and fees of the American Express Cash Magnet card, click here
Other Key Benefits 
Uncapped Cash-Back: Earn an unlimited 1.5% cash-back per $1 on every purchase that you make.
Pay It Plan It®: Pay small purchases (purchase amounts under $100) immediately to reduce your overall balance, or split up large purchases (qualifying purchases of $100 or more) for a fixed monthly fee.
Car Rental Loss and Damage Insurance: The cardholder is provided with secondary insurance coverage in the event of an accident to their rental car.
How to Find the $150 or $200 Amex Cash Magnet Bonus Offer
If you're hoping to get a higher bonus than the standard offer, luckily, there are a few options that can help you track 1 down.
Increased Public Welcome Offer
American Express will periodically run increased welcome offer promotions on its cards and, when it does so, this can make for a perfect time to apply for a new card you've been wanting.
However, there usually is no way to know for sure when then next bonus offer will take place, so it could leave you waiting for a while.
Utilizing CardMatch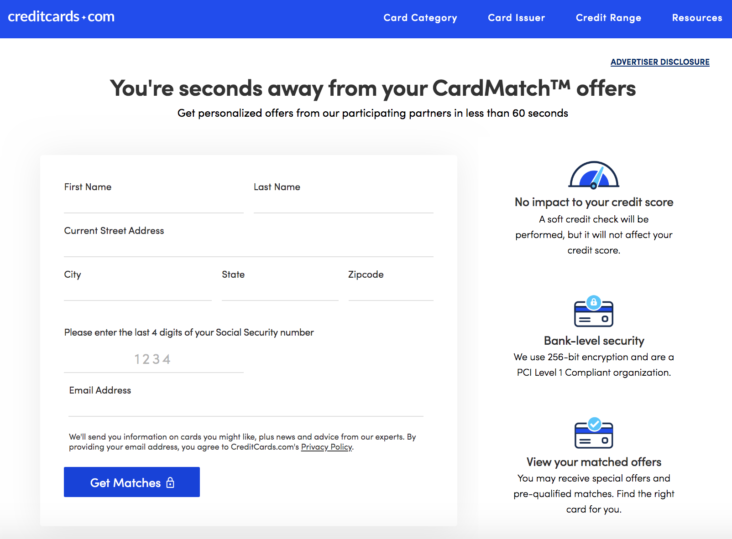 CardMatch, from CreditCards.com, is an immensely helpful tool for tracking down the great credit card bonus offers. The entire tool is designed to match with credit card offers that you're eligible for from most major credit card issuers.
With CardMatch, depending on your eligibility, you could see offers up to $200 for the Amex Cash Magnet card. You should keep in mind that there is no guarantee that you'll see a better offer than what is offered publicly. Regardless, we feel it is worth spending a few minutes to check since the service is free and can only benefit you.
Here is how it works. Simply enter your full name, address, and the last four digits of your Social Security number. Then, CardMatch will show you any offers that you're eligible for.
If you're concerned about entering the last 4 digits of your SSN, we understand, but CardMatch does not perform a hard pull to your credit and is secured using 256-bit encryption, so your information is safe.
Hot Tip: For a step-by-step guide on how to get personalized offers through CardMatch, explore our detailed guide on using the CardMatch tool.
Targeted Mailings From American Express
Targeted mailings are a great way to find out about increased bonus offer opportunities for virtually no work from you. All you have to do is head to the communications preferences in your American Express account and enable communication via mail and email.
Then, anytime you're targeted for a special offer on an American Express card, Amex will contact you directly via mail or email. Keep in mind that American Express can only contact you if you opt-in first.
Check for Pre-Qualified Offers With American Express

American Express pre-qualified offers will occasionally offer an increased welcome offer as well. Conveniently, American Express makes it very easy to check for these offers.
All you need to do is visit the American Express website, click Cards, then click Check for Pre-Qualified Credit Card Offers. This will allow you to see all the cards you have pre-qualified offers for across the entire suite of American Express personal cards.
Reasons You May Not Be Able to Get a Higher Welcome Offer
The Current Public Offer Is Not an Increased Offer
If the current public offer from American Express is not an increased offer, then you'll need to put in a big of leg work to find a better offer. In this case, you could check CardMatch, wait until you receive a targeted offer, or wait for American Express to bring back a higher welcome offer.
American Express Credit Card Maximum Rule
American Express limits customers to a maximum of 5 credit cards, not including charge cards, at any given time. So if you already have 5 credit cards with American Express, you'll likely need to close a card before you can get approved for a new Amex card.
Low Credit
If your credit score is not high enough to get approved for the Amex Cash Magnet card, then it makes no difference how large of a bonus offer you're able to find. Focus on improving your credit score first by paying down any current credit card debt you might have and making sure to pay your credit card statements on time and in full each and every month.
You've Opted out of Marketing Offers
If you don't take it upon yourself to opt-in to marketing offers from American Express, then you are not going to receive any and could be missing out on targeted offers. If you want to make sure you receive these targeted offers, then you need to opt-in!
Final Thoughts
The Amex Cash Magnet card is an excellent option for a cash-back credit card. If you're looking for a card with no annual fee, an uncomplicated bonus structure, and no limits on the amount of cash-back you can earn, you'll definitely want to consider the Amex Cash Magnet card.
If you do decide that the Amex Cash Magnet card is right for you, make sure you follow the steps in this guide so that you can get the best welcome offer possible!
---
For rates and fees of the American Express Cash Magnet® Card, click here