The Ultimate Guide to Using Booking.com [Will You Save Money?]
Booking.com is an Online Travel Agency (OTA) that offers flights, vacation packages, car rentals, and airport taxis, but their strength is in booking multiple types of accommodations.
In addition to traditional hotels, they offer access to book almost any type of accommodation you could ask for including apartments, hostels, homestays, bed and breakfasts, and villas!
I'll take you through this website to show you what you need to know to get the best deal, and we'll discuss how Booking.com's prices stack up to other OTAs.
Booking.com – Accommodations
Booking.com's strength is in booking unique accommodations for your next trip. In addition to traditional hotels, you can also search for apartments, B&B's, hostels, villas, home stays, and even boats! You will be able to see everything that's available through the main search box.
However, I found this site to be inconsistent when searching for accommodations — the results screens showed up in a few different formats.
I couldn't quite find any rhyme or reason to it either. I'll walk you through the basic features of searching for accommodations, but keep in mind your screen might have a different layout than the screenshots below.


How to Search for Accommodations on Booking.com
1. Booking.com defaults to the search box for accommodations, so all you need to do is enter your basic search criteria: destination, dates, and number of people. Then click the blue Search button.

Hot Tip: Once you start typing your destination, you might get a drop-down box with suggestions — when you click one of these, your results might automatically show on a map. If you don't see the map but would like to view it, just click the map icon on the left side of your screen. If you prefer a traditional list view, just click Close Map in the upper right corner.
2. After inputting your basic search criteria, you will see the main results page. This will look pretty familiar if you have ever searched for a flight on an OTA previously.
The main search results are in the middle of the screen with sorting options shown right above. You will be able to sort your results by:
"Best properties for…"
Lowest price
Review score and price
Stars
Top reviewed
To the left (or at the top) of your screen you will see a map icon — click this to see all of the properties marked on a map. You can hover over each marker to see which hotel it is. This is a really helpful tool, since location tends to be an important criteria for most accommodation choices.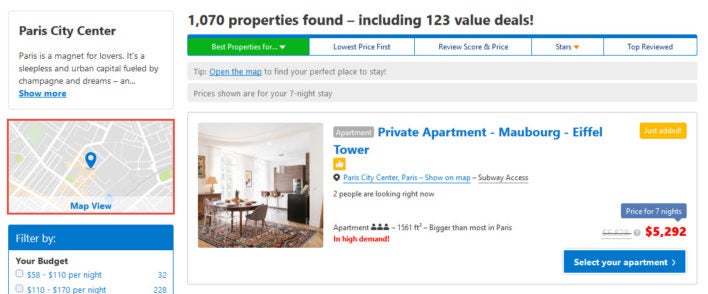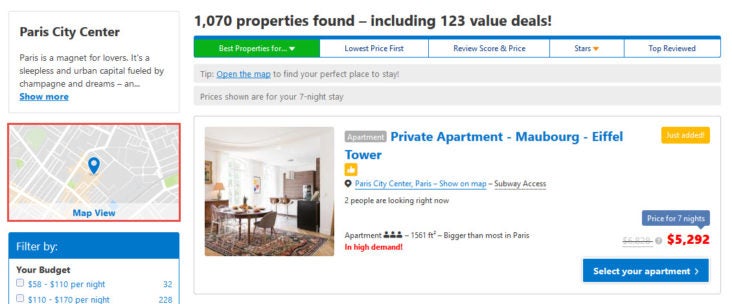 Under the map icon (or the search box) at the left are the amazing filtering options offered by Booking.com. You will be able to filter your search by just about any criteria you could think of, including:
Budget
Popular filters
Star ratings
Fun things to do
Availability
Deals and discounts
24-hour front desk
Free cancellation
Meals
Property type (here is where you will find apartments, B&B's, guesthouses, etc.)
Landmarks
Bed preference
Review score
Facility (property amenities)
Room facility (room amenities)
Facilities for disabled guests
Chain
Room accessibility
A note about search results ranking: When you do a search and don't sort the options (or if you are looking at Booking.com's Top Picks), these are sorted based on an algorithm which gives a higher position to providers that pay a higher commission to Booking.com.
While this isn't unusual,  it's good to know that the search results aren't necessarily ranked by quality of property.
Hot Tip: If you are a member of a hotel's loyalty program, you will most likely NOT earn points if you book a room through Booking.com. Any elite status you may have will also likely not be recognized. If earning points and holding elite status are important to you, it's best to book directly through the hotel's website.
Map View
The map view is one of my favorite tools on Booking.com, since location is such an important factor when choosing a place to stay. However, just as with the results page layout, I found it to be a tad quirky.
Sometimes the map showed up alone, and sometimes it had the accommodation list and filtering options with it on the screen. Either way, the map still works the same, and all the accommodation lists and filtering options are always available on the search results page.
Each marker on the map represents a different hotel (or apartment, B&B, etc.). You can hover over each one to get more information about the actual accommodation available at that location.
You might notice that some markers have white dots and some have red dots. The red dots indicate a property that is sold out for your chosen dates. You can zoom in or out on the map with the +/- buttons on the lower right side of the map.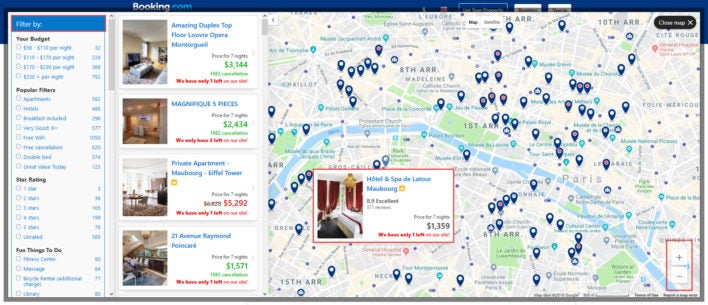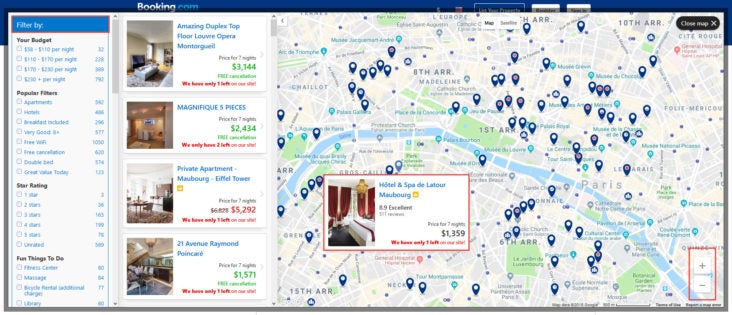 When you get the full map view, you will be able to see a list of all available accommodations in the middle of the screen. (If you hover over your selection, you will be able to see where it is located on the map — just look for the bouncing pinpoint). All filtering options are on the right side of the screen.
Choosing Your Accommodation
The main search results list can be quite overwhelming if you aren't sure what you're looking for. Be sure to use as many filtering options as you can to narrow your results.
Each listing gives you a lot of information including price, location, and rating. Some property types will be easily identifiable, but unfortunately they aren't all labeled. I found that apartments, vacation homes, and villas were labeled clearly — but there was no label in the listing for other property types.
So if you're absolutely sure you want a hotel, be sure to mark that in your filtering options so you don't end up with a hostel or bed and breakfast by mistake! While these are usually pretty obvious, it's good to be sure since Booking.com offers such a wide variety of accommodation choices.

How to Book Your Accommodation
Once you've selected the property you want to book, you will need to complete your transaction.
Cancellation Policy
Booking.com does not have a blanket cancellation policy; each booking comes with its own rules and regulations.
Be sure to check your booking before submitting payment so you are aware of the cancellation policy. Some special prices require upfront payment and do not offer free cancellation.
Price Match Guarantee
Booking.com's price match guarantee only applies to accommodations on the site — it can't be used for other services like flights or vacation packages.
One nice thing about Booking.com's policy is that you have up until 24 hours before your check-in to submit a claim. Most other OTAs only price match within 24 hours of booking.
To be valid, the lower-priced accommodation must be online and available when checked by Booking.com. The lower price needs to be for the exact same booking in every way: same property and accommodation type, same check-in and check-out dates, and the same cancellation policy.
The lower price will not be honored in the case of an opaque booking (where the exact property isn't revealed until the booking is complete), if it's part of a loyalty or rewards program, or if it's a special promotion or deal.
To submit a claim, look for Found this room cheaper somewhere else? on your confirmation page, or go to View all bookings in your account. If you don't have a Booking.com account, you can log in with your booking number and PIN. Or just contact customer service to submit your claim.
Bottom Line: Booking.com's Price Match Guarantee is generous — you can submit a claim up to 24 hours before check-in! All details of the reservation must be identical, and the lower fare must be online and available when Booking.com checks.
Booking.com – Flights
The Booking.com flight search functionality is through a website called Vayama. Up until very recently, it was through Kayak, so things might look different now if you've used Booking.com to book flights in the past.
Click on Flights in the main menu of Booking.com. You will be transferred to an OTA called Vayama.
Fill out your basic search criteria — origin, destination, dates, and number of travelers. Then click the orange Search for flights button.
The search results page looks like many other OTAs. You will find the main results in the middle of the page with filtering options to the left. You can also sort your results by price or trip duration using the drop-down at the top right of the page.
Each search result will display the flight times and price, as usual. One thing that is different about Vayama is that you can see options for flight times that have the same price right in the search box. Click on More flight times to display your options; then click on Book flight to continue.
Input your passenger info and click Next. You will be prompted to decide on Flight Delay Compensation, which offers up to $700 in refunds if your flight is delayed, canceled, or overbooked.Generally, this type of Travel insurance is unnecessary. If your flight is canceled, you would be entitled to a refund anyway, and there are lots of great credit cards that include flight delay and baggage insurance. After you decline the insurance, they will prompt you again — just decline again and move on.
Then you will be prompted to look at a different type of insurance plus a "service package." Again, 99% of the time the coverage that comes with your credit card is plenty.If you choose to purchase the insurance, be sure to read the fine print. The insurance they offer is not applicable for residents of CT, ID, HI, MA, NY, OH, PA, VT, and WA. I live in Ohio but was still able to add it to my reservation — they will not warn you that you are purchasing something useless!

Image courtesy of Vayama.

When you go to pay, notice the fine print. Vayama doesn't advertise booking fees, but they do charge fees. In this example, Vayama is charging an extra $8 over the cost of the flight, but you would only know if you read the fine print. Plus this particular flight is $8.72 more expensive than booking directly through the airline.

In this example, the total cost was $257.12 — $8 more than Vayama is paying to the airline! This is essentially a booking fee, which is not being clearly advertised. Image courtesy of Vayama.
Hot Tip: When booking through an OTA, keep an eye out for booking fees. Sites like Booking.com and CheapOair charge booking fees on top of your flight price.
Search For Flexible Dates
You can often save money by shifting your flights backward or forward a day or 2, so it's great when you can easily see the prices for a week at a time.
If your dates are flexible, click on the +/- 3 days tab in the upper right corner of the search results page. This will show you prices for your dates plus 3 days before and after. Click on any of the prices and use the orange Search flights button to see flight times for that day.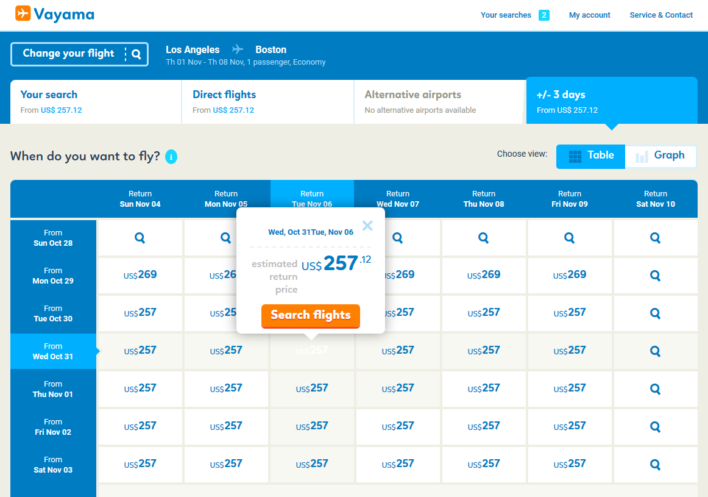 Bottom Line: Vayama charges booking fees, but they aren't clearly advertised. If you choose to purchase a ticket through Vayama, double-check the price against booking through the airline directly — it's usually cheaper to book direct.
Booking.com – Flight + Hotel
In all the research I have done on finding great deals on OTAs, I have consistently found that travel packages offered by these sites are usually a good deal as advertised.
Choose a Flight
From the home page, click on Flight + Hotel in the top menu bar. You might notice that this immediately links to a Priceline.com interface. Booking.com and Priceline are owned by the same parent company, so when you search for a flight + hotel package on Booking.com, you will just be transferred to Priceline.
From this Priceline screen, enter your basic flight details including your origin city, destination, number of passengers, and dates of travel. Click the green Search button to continue.
The search results page should look pretty familiar — the results are in the center of the page with filtering options to the left. You can sort your results by price, airline, trip duration, number of stops, and departure time using the drop-down box in the upper right corner of your search results.
To get more information about a specific flight, click the Flight Details drop-down at the bottom of the box. Then click the blue Select button once you have made your flight selection.
Add A Hotel
From here you can add a hotel to your flight. Click Choose A Hotel to continue.
Fill out your basic search criteria — destination, dates, and number of guests. Then click Search.
Filter your results using the options at the left side of your screen. Sort your results using the drop-down right above the list of hotels.
Priceline also has a map feature like Booking.com, which you can find in the upper left side of your screen. Click on the map icon to bring up a larger map showing the number of hotels in each area of the city. This map does not work as well as the Booking.com version, where you can instantly see where each hotel is located.
For each search result, you will see the total price for the hotel and flight displayed. To choose a room, click on View Available Rooms then Add to Cart.
Click on Continue Shopping if you want to add a rental car as well, or View My Cart to check out.
Bundled Rate
After adding a hotel and flight and clicking on View My Cart, I got a message that said I could save 25% by booking a "Bundled Rate" hotel. I was a little confused, because I thought I was already booking a bundled deal.
After looking into this further, it turns out that simply going through Booking.com's Flight + Hotel tab does not guarantee a bundled rate deal!!
If you want a bundled rate deal, make sure to only select hotels labeled with the green "Bundled Rate" indicator.

Also, be sure to select the room that qualifies for a bundled rate. In this example, only the very first room labeled Bundled Rate will get you a discount.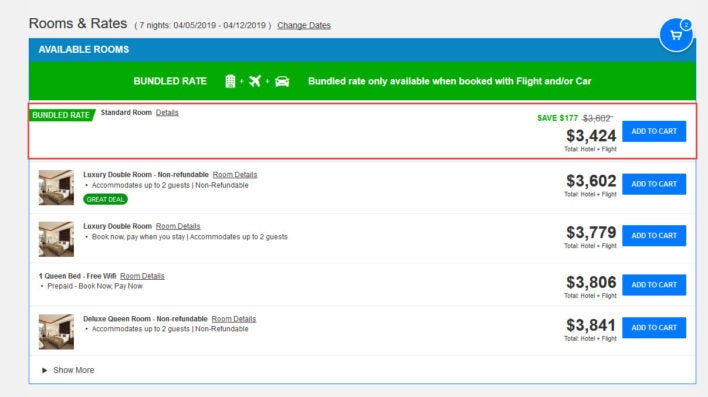 When I went back through my search and chose a hotel that was labeled Bundled Rate, my package price showed I was saving $177.87 over booking my hotel and flight separately. However, once I did the math, I found that I was only saving $87.98. So while there was still a savings, it was not as great as what was advertised.
Bottom Line: Be careful when selecting Booking.com package deals. Unlike many other OTAs, not all packages booked through the Flight + Hotel tab will save you money! To get a "deal" you need to select a "Bundled Rate" hotel. And even then, I found that the advertised savings didn't always match up with the actual savings.
Booking.com – Car Rentals
Car rentals booked through Booking.com are handled by another partner, Rentalcars.com. You will still see Booking.com displayed on your screen, but any transaction will show as rentalcars.com on your credit card statement.
Most cars rented through Booking.com offer free cancellation, but not all. Be sure you know the terms of your rental before you complete the reservation.
To search for a rental car through Booking.com, select Car Rentals in the main menu at the top of your screen.
Fill in your basic search criteria (including pick-up location, dates, and times), and then click the green Search button. Note: if you would like to drop off the car in a different location, uncheck the box right underneath the pick-up location field.
Once you see your search results, you can select the type of car you want (economy, compact, standard, full size, SUV, etc.) across the top of the screen. To the left of the screen you will see options to filter by car rental company and car specifications, like air conditioning or automatic transmission.If price is your main concern, you can sort the list by price using the drop-down menu at the top right side of the search results.
Each search result box will show you a lot of information about the car, including rental agency, type of car, amenities (like A/C), terms and conditions, and price.You might notice there are 2 prices listed — price per day or week, and total price. The total price is what you want to pay attention to. This is the price you will actually pay with all taxes and fees included. Click the blue Select Car button to make your selection.
Next, just fill in your driver details. If you need any extras like a child car seat or GPS, those can be added at the left side of your screen. The price breakdown is visible at the top left side of your screen — you will be able to see the price plus taxes and fees, and if there is any deposit required. Click the blue Reserve My Rental Car button to finish the reservation.
Hot Tip: When searching for a rental car on Booking.com, pay attention to the prices listed in the search results. The advertised price does not include taxes and fees. The total price, which is displayed under the advertised price, is the actual price you will pay for your rental with taxes and fees included.
Car Rental Insurance
Right before you click the final button to complete your reservation, you will see the car rental insurance information box. This defaults to declining coverage, so if you do nothing, you will not be charged extra. If you do want insurance, this is where you would select it. However, there is usually a better way!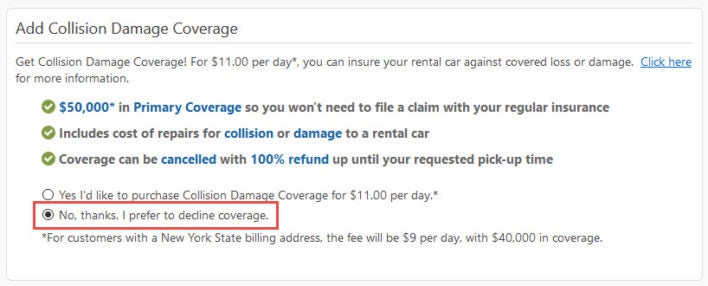 Many credit cards come with excellent car rental insurance coverage. They usually require you to decline coverage from the rental agency and pay for the entire rental with the card.
There are tons of cards out there that offer varying levels of coverage, but a couple of our favorites are the Chase Sapphire Preferred® and Chase Sapphire Reserve® cards, which come with primary car rental coverage.
Recommended Chase Cards (Personal)
Chase Sapphire Preferred® Card - This is our favorite beginners travel rewards card which has a 60,000 point bonus (highest ever) after you spend $4,000 on purchases in the first 3 months from account opening.

This sign up bonus is worth $750 in travel purchases (flights, hotels, car rentals etc) when you redeem your points through Chase's travel portal, which works like Expedia. The bonus alone could get you multiple round-trip flights or hotel stays.
Chase Sapphire Reserve® - Consider this premium card if you want to get into a lot of airport lounges. The current sign up bonus is 50,000 points after you spend $4,000 on purchases in the first 3 months from account opening. You'll also get a $300 travel credit per year which wipes away a big chunk of the $550 annual fee.
Chase Freedom Unlimited® - A simple, no annual fee card that earns you a $150 bonus after you spend $500 in your first 3 months. Earn 1.5% cash-back on all purchases, but you won't get any travel benefits or the ability to earn bonus points with this card.
Recommended Chase Cards (Business)
Ink Business Preferred® Credit Card - This is our #1 recommended business card and right now comes with a 100,000 sign up bonus after you spend $15,000 on purchases in the first 3 months after account opening. This bonus is worth $1,250 when you redeem through Chase Ultimate Rewards for travel purchases (flights, hotels etc). Pay your cell phone bill with this card to receive up to $600 in cell phone insurance coverage per year.
Ink Business Cash℠ Credit Card - earn $500 bonus cash back after you spend $3,000 on purchases in the first 3 months after account opening. This no annual fee business card earns up to 5% cash back on a range of business expenses such as office supply stores, internet, cable, and phone services.
Hot Tip: For more information about ALL the cards that offer car rental insurance, check out our Complete Guide To Credit Card Insurance.
Booking.com – Airport Taxis
If you are particular about the type of ride you have to and from the airport, you might want to check out the airport taxis section of Booking.com. It's powered by Rideways and offers access to airport transfers, taxis, and executive cars across the globe.
One thing I really appreciated about this service is that all taxes, service charges, and gratuities are included in the price you see.
Price Comparisons – Hotels
Ok, so now let's get to the important part: how Booking.com's prices compare to other sites!
As a test, I priced out a week-long stay at the JW Marriott Camelback resort in Scottsdale, AZ and compared prices head to head. Here is what I found:
In this example, you could save $91.65 by booking a member rate through Marriott's own website. Priceline was the next cheapest, saving $32.24 over Booking.com.
Another important note is that if you purchased this hotel stay through Orbitz, you would be earning $102.29 in Orbucks (Orbitz's Rewards Program currency).
One thing to keep in mind is if you belong to any hotel loyalty program, you likely will not earn hotel rewards when you book through Booking.com. In this example, any Marriott member would be better off booking directly.
Now let's take a look at a smaller, independent hotel. I priced out a 7-night stay at Hotel 140 in Boston.
| | |
| --- | --- |
| Website | Price for a 7-Night Stay (Incl. Taxes & Fees) |
| Booking.com | $2,341.32 |
| Hotel's website | $2,601.45 |
| Priceline | $2,341.32 |
| Hotels.com | $2,341.32 |
| Expedia | $2,341.32 |
| Orbitz | $2,341.32 |
In this example, the hotel's website was actually $260.13 higher than Booking.com or any of the other OTAs, which all offered the same price.
However, Expedia, Hotels.com, and Orbitz all offer their own rewards programs, so booking on one of those sites might be a better option in this scenario.
Hot Tip: Booking.com offers a loyalty program called Genius. This program kicks in after your second booking and offers 10%-15% off select properties worldwide.
Price Comparisons – Flights
Here's how Booking.com stands up to other websites in terms of flight prices.
| | |
| --- | --- |
| Website | Total Price For Round-Trip Flight |
| Booking.com (through Vayama) | $251.66 |
| Airline's Website | $236.39 |
| Priceline | $236.40 |
| Expedia | $236.39 |
| Orbitz | $236.40 |
| Hotwire | $236.39 |
As you can see, for my sample search, Booking.com/Vayama was over $15 more expensive than going directly through the airline's website or using any of the other major online travel agencies. I did a couple of other searches, and found Booking.com/Vayama was always the most expensive.
Price Comparisons – Rental Cars
| | |
| --- | --- |
| Website | Total Cost For 1-Week Economy Rental |
| Booking.com/Rentalcars.com | $310.07 |
| Car Rental Company's Website | $284.24 |
| Priceline | $270.89* |
| Expedia | $306.00 |
| Orbitz | $306.00 |
| Hotwire | $277.83* |
For the lowest prices listed above, the cars available through Hotwire and Priceline are opaque bookings — meaning you won't know the actual rental company until the reservation is complete.
These types of bookings are great to save some money on your rental car if you aren't particular about the car rental company.
As you can see, Booking.com again came out with the highest price.
Final Thoughts
Overall, I wasn't super impressed with what Booking.com has to offer, except when it comes to unique accommodations. If you are looking for a bed and breakfast, apartment, villa, or guest house, Booking.com offers lots of variety.
If you are in search of a flight, I would advise you to look elsewhere. Now that Booking.com is using Vayama, they are consistently priced higher than most other websites, and they don't offer any benefits that might make up for the higher price.
As I have learned from researching a lot of OTAs, there is no one perfect website that always has the best prices, so it's always a good idea to shop around.
---
Featured Image Credit: Chris Dorney/Shutterstock