Brex Business Charge Cards and Brex Rewards: The Ultimate Guide
Brex entered the business card scene in 2017, branding itself as an alternative to traditional business credit cards. The card has long had a focus on startups by offering high limits, no personal credit guarantees, and a sleek dashboard for both business owners and their employees
However, there's 1 place that Brex has historically lacked: travel rewards. In fact, up until recently, the card's rewards currency—Brex Rewards—could only be used for statement credits. But thankfully, that's all changed.
Over the past year or so, Brex has added a slew of new travel benefits, like airline transfer partners for Brex Rewards and access to Brex Travel, an in-house corporate travel agency. This has renewed interest in the card for startups with employees that travel frequently, and finally makes the card an attractive alternative to business offerings from American Express and Chase.
But while that sounds great on paper, is Brex right for your company? And further, does it make sense to use this card over another business card? Here's what you need to know about the Brex platform, application, card options, and rewards.
Applying for a Brex Card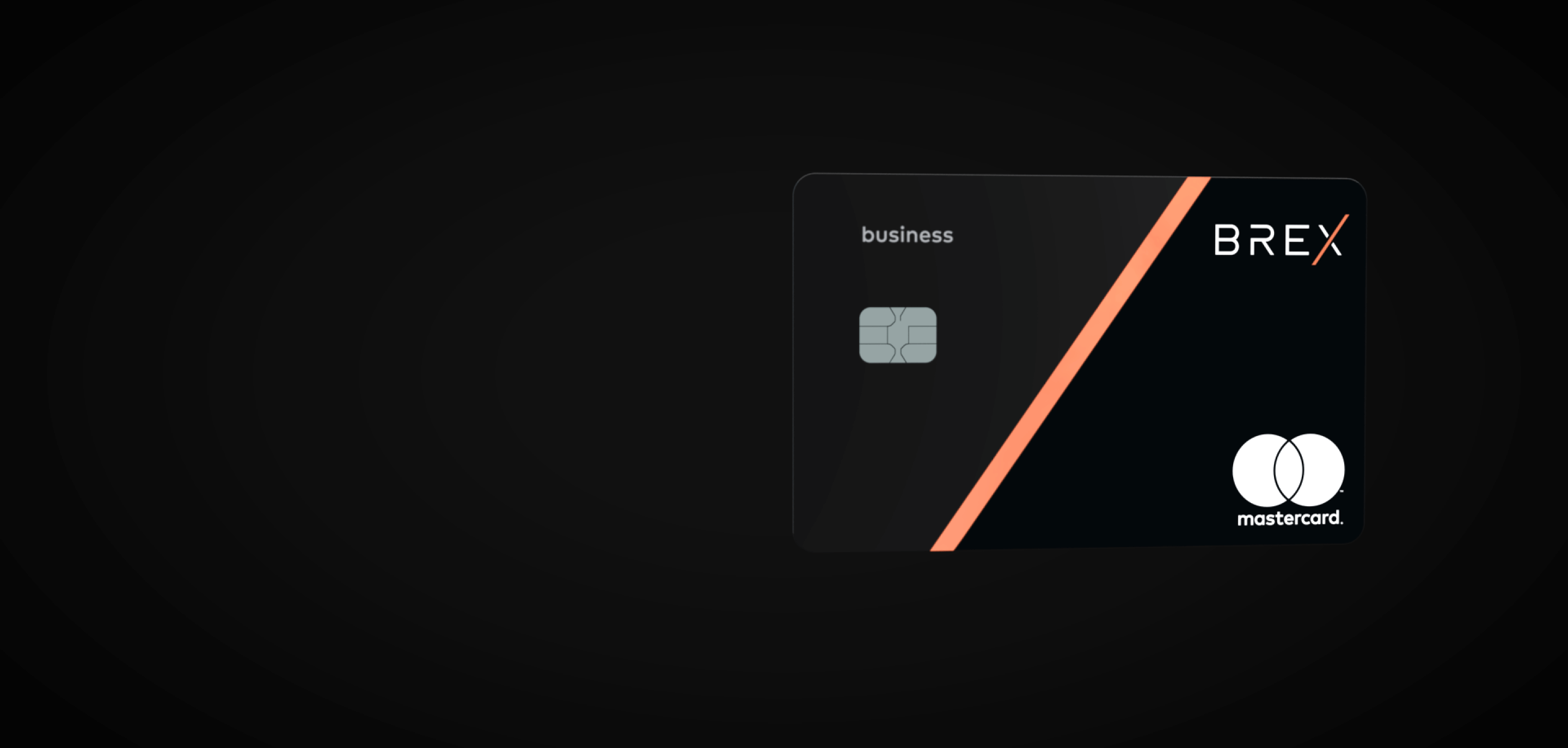 Like discussed, Brex has a different take on the business credit card.
For starters, it isn't actually a credit card, like some American Express cards, Brex cards are actually charge cards. This means that all charges must be paid back every 30 days, so your company can never carry a balance from month-to-month.
This is both good and bad for businesses. The good is that you'll never pay an interest fee, but the bad is that you're limited in terms of payment flexibility if your business ever runs into cashflow problems. So before applying for a Brex card, make sure that you carefully examine your business' credit needs and see if a charge card fits your budgeting style.
General Brex Application Requirements
There are pretty rigorous application requirements that must be met in order to be approved for a Brex card. In fact, when applying, you're required to link your business' bank account to the Brex website. Each type of Brex card has a different cashflow requirement, but all require at least $100,000 in a bank account, or in monthly sales, to open. Application specifics relative to each card will be provided in the applicable card section.
Further, consumers, sole proprietors, and unincorporated partnerships aren't eligible for Brex cards. Instead, all business applying for a Brex card must be registered as a C-corp, S-corp, LLC, or LLP in order to be approved.
There's no doubt that these requirements make Brex cards significantly more difficult to be approved for than other business cards. But there's a good reason for this: unlike the competition, with Brex cards, there's no personal guarantee required. This means that founders are not required to link their personal credit to a Brex card.
This results in Brex cards having zero effect on the founder's personal credit; even if you default on your card, it won't damage your personal credit or assets. Further, you may be assigned higher-than-average limits, and founders with thin personal credit profiles are more likely to be approved for a Brex card than the competition.
Brex's Dashboard and Mobile App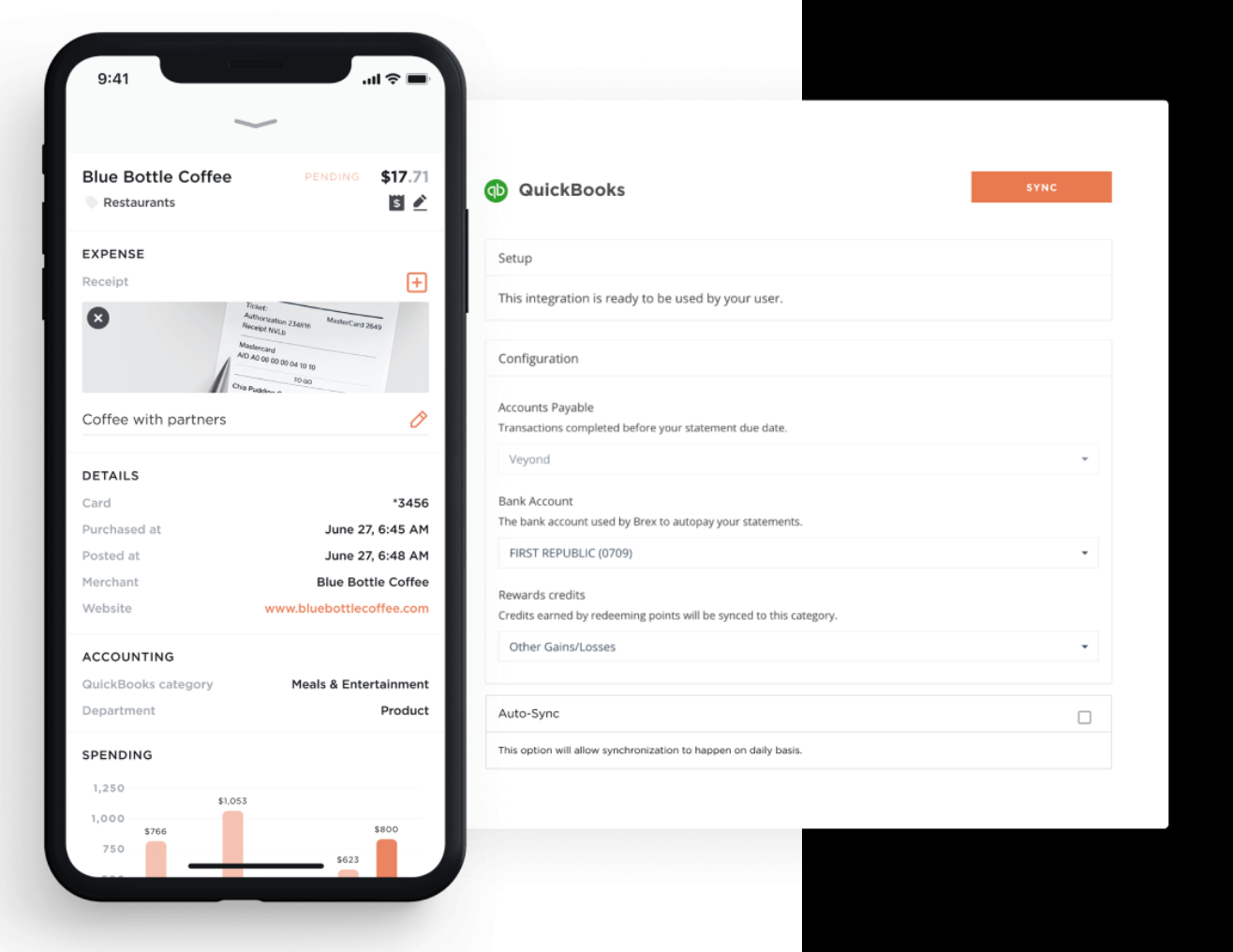 Beyond the lack of a personal guarantee requirement, another huge benefit to using Brex is its advanced mobile app and online dashboard.
Using these tools, business owners can quickly and easily manage employee cards. You can request new physical and virtual cards on the fly, impose spending limits, manage rewards, and analyze current spend from a centralized hub. You can also set spending limits per employee, letting you cater your budget for each employee's specific needs.
This impressive technology is good for employees too as the Brex app makes expense reporting easy. Employees can submit receipts through the app, and they'll be automatically matched to purchases on their Brex statement. Plus, you can link Brex's in-house expense reporting to Quickbooks, Expensify, Xero, and other existing expense reporting tools that your business may already use.
Brex's 3 Plans: Startups, Ecommerce, and Life Sciences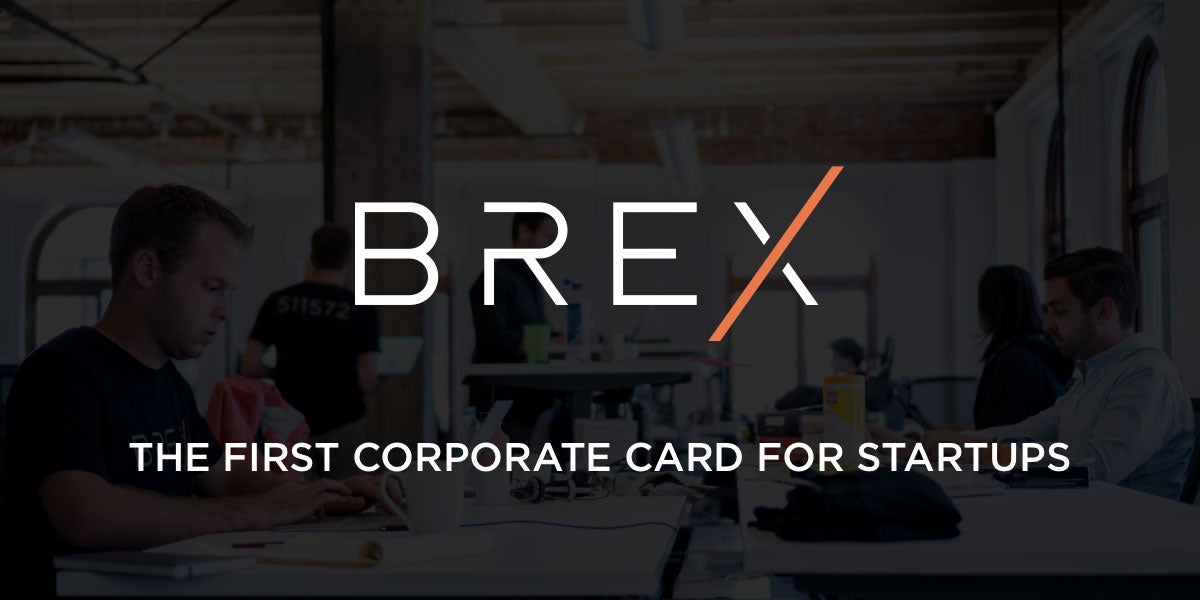 Brex offers 3 different types of Brex cards for different types of companies. These 3 cards are:
Startups — for a majority of technology companies and other brands
Ecommerce — for e-commerce companies that need low-fees and net 60 payment terms
Life Sciences — for research teams that have significant lab supply expenses
Each of these cards has different benefits and bonus Brex Rewards point-earning opportunities. To help you find which Brex card is best for your company, we've outlined each of the card's benefits and included each of the card's specific application requirements.
Hot Tip: All of Brex's cards are World Elite Mastercards. This gives you special benefits like rental car status and discounts with Lyft, amongst other various benefits. Brex also notes that Visa-issued cards may be available upon special request.
Brex Corporate Card for Startups

30,000 in Brex Rewards points upon signup and waived card fees for life (equal to $300+ value)*
No personal guarantee needed - we do not ask for a personal credit check or security deposit during the application.
Credit limits 10-20x higher than traditional small business corporate cards.
Brex's Startup card is the most common of the 3 Brex cards. With a strong focus on technology startups, it offers special earning rates for things like software and rideshare. Here's a look at the card's various bonus earning categories:
| Bonus Category | Brex Rewards Earning Rate | Notes |
| --- | --- | --- |
| Rideshare | 7x | Includes purchases from Uber, Lyft, taxi companies, and urban scooter operators like Lime and Bird. |
| Brex Travel | 4x | You can book hotels, flights, and more with Brex Travel. |
| Restaurants | 3x | A broad category that can be used at fine dining, fast food, coffee shops, and more. |
| Recurring Software Subscriptions | 2x | This includes things like Slack, Trello, Github, and other recurring software subscriptions. |
| Everything Else | 1x | All other purchases. |
These bonus earning categories make the Brex Startup card very attractive for companies with lots of travel spend—especially on rideshare. This card also earns an attractive 4x points on travel booked through Brex Travel—the company's in-house travel agency—meaning that flights, hotels, and even Airbnbs are eligible for 4x points.
Further, 2x points on recurring software subscriptions is a bonus category unique to the Brex Startup card. Depending on how much your company spends on software each month, you can earn some serious bonus points.
Hot Tip: You must enroll in Brex Exclusive to earn the bonus point earning. Otherwise, you'll earn 1x points on all purchases. You can enroll in Brex Exclusive by using Brex for all business purchases. All companies are automatically enrolled in Brex Exclusive for their first 2-months of membership, so you'll have time to transition employees from other corporate cards.
As of March 31, 2020, Brex now offers separate bonus point categories for business owners who primarily work remotely, and might not be able to regularly benefit from the standard categories like rideshares or restaurants.
Here are the bonus categories for remote workplaces:
| Bonus Category | Brex Rewards Earning Rate | Notes |
| --- | --- | --- |
| Collaboration Tools | 7x | Includes tools like Zoom, Slack, GoToMeeting, Gong, Monday.com. |
| Food Delivery | 3x | Food delivery includes Caviar, DoorDash, Uber Eats, Grubhub, and Seamless. |
| Recurring Software | 2x | This includes things like Slack, Trello, Github, and other recurring software subscriptions. |
| Everything Else | 1x | All other purchases. |
Keep in mind that you cannot get these bonus categories in addition to the standard categories. You must select one set or the other.  So you should examine which options would serve your business needs better and decide from there.
Application Requirements
Brex requires that you have at least $100,000 in your business' bank account in order to be approved for the Startup card. This is verified by giving Brex access to your business' bank account through a secure form on the Brex dashboard. Further, you must be able to commit to paying your balance in full each month as all Brex cards are charge cards.
Other Special Perks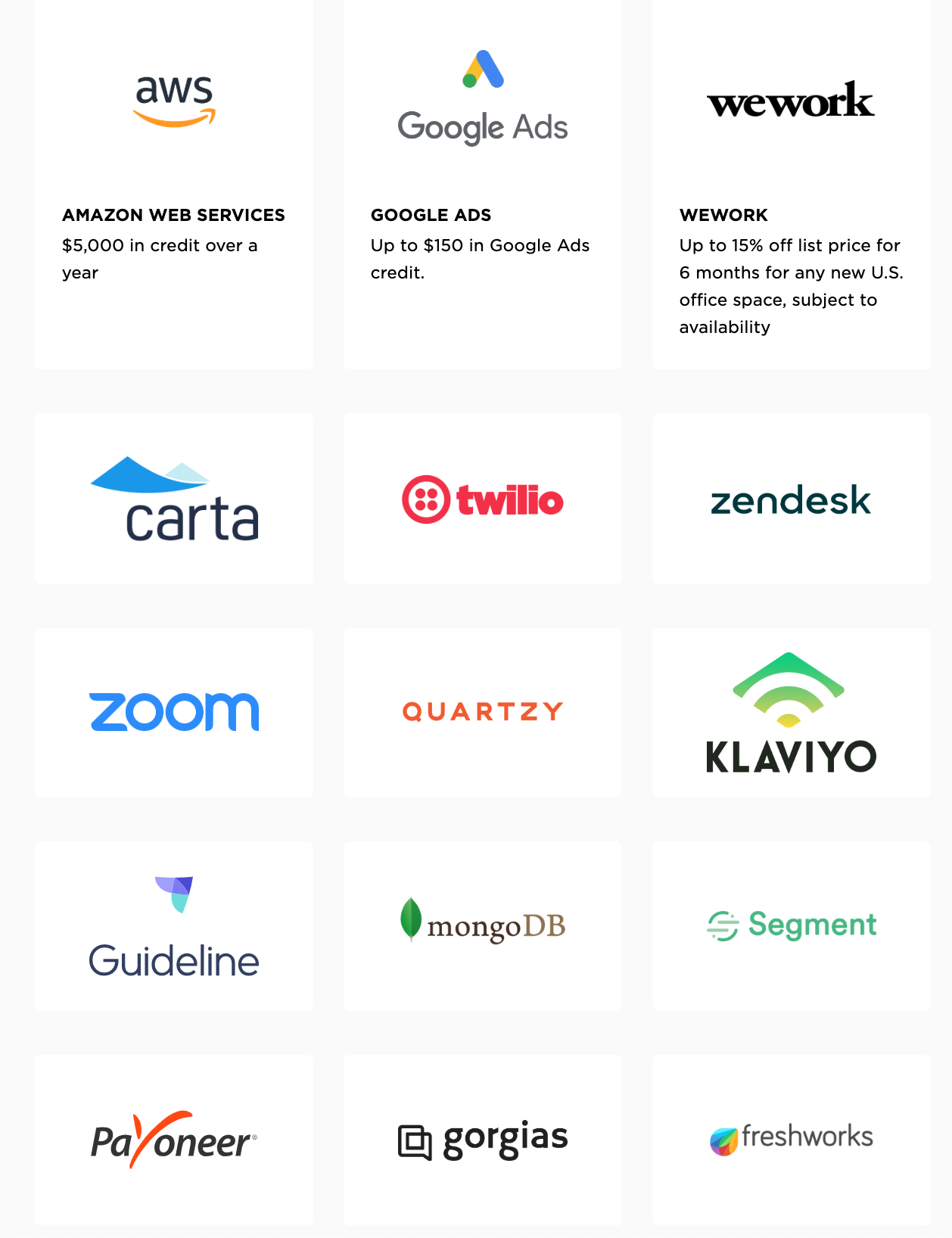 The card includes a variety of welcome perks that are useful for technology companies. These include credits to commonly used software and marketing tools like Amazon Web Services (AWS), Twillo, and Zoom. Some of these perks are one-time discounts while others are distributed on an ongoing monthly basis. According to Brex, the combined value of these perks is a huge $50,000!
There are currently freebies from 32 different companies offered to Brex for Startups users. Some of the most lucrative perks include:
AWS — $5,000 in credit distributed over the course of a year
Freshworks — $1,000 in credit
Hubspot — 30% off of your first year's subscription, then 15% off ongoing
Zendesk — $436 per month in credit for 1 year
Take a look at the view the full list of partner perks on Brex's website. If your business is already using these tools, you may be able to save some serious cash by switching to Brex just from these partner benefits.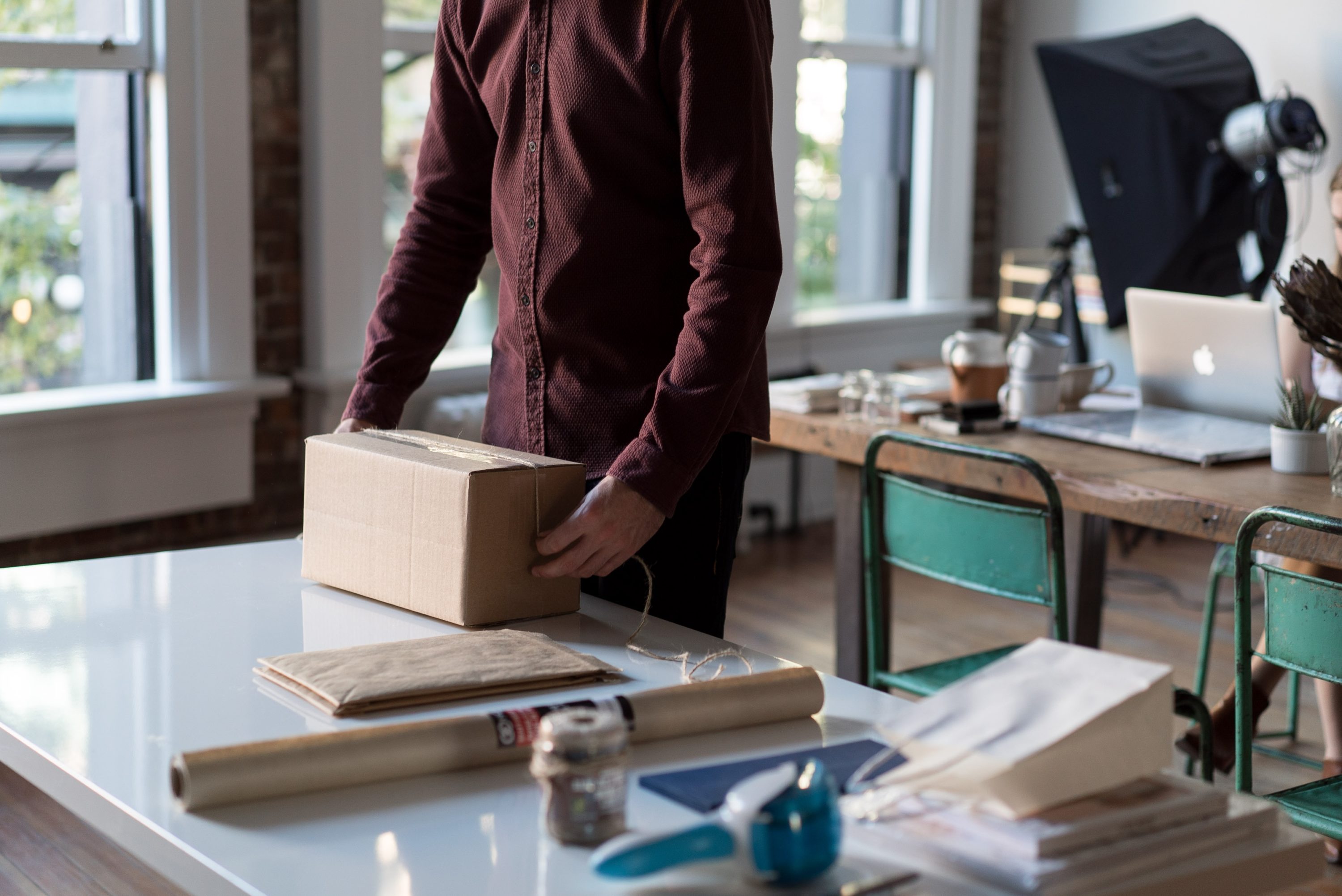 Brex's second credit card offering is Brex for Ecommerce. This card is focused on businesses that sell products on the web and may need a bit of extra time to pay off inventory and advertising purchases.
Brex Corporate Card for Ecommerce Startup Card

30,000 in Brex Rewards points upon signup and waived card fees for life ($300+ value in the first year)*
60-day interest-free non-revolving credit for e-commerce businesses. Pay for your inventory today and you'll have 60 days to pay Brex back.
Credit card limit is up to 75% of your business's monthly sales (with maximum credit limit of $5 million).
$500,000 in monthly sales required to qualify for Brex.
No personal guarantee needed - we do not ask for a personal credit check or security deposit during the application.
Instant approvals and access a virtual card immediately for online and recurring transactions. Seamlessly add new users, issue new cards, and set specific spending limits.
Enjoy worldwide acceptance with no foreign transaction fees.
Make employee expenses seamless - automated receipt-capture and expense matching and reconciliation via text and email.
Simplify reconciliation with built-in integrations with Quickbooks, Xero and more.
Never liable for unauthorized transactions. Your account stays secure with 24/7 real-time fraud monitoring.
The card offers net 60 payment terms, meaning that e-commerce companies have 60 days to pay off all of their purchases without any interest. However, like the Startup card, all purchases must be paid by the end of this payment period as the card is still a charge card.
Note that this payment flexibility does come at a cost though. The card doesn't earn any points on purchases, but the money saved over holding a balance with a traditional small business credit card will likely outweigh any rewards you'd potentially earn, so it may still make sense for your e-commerce company.
Application Requirements
The application requirements for the Brex Ecommerce card vary from the Startup card. To be approved for this card, you must prove that you have at least $500,000 in monthly sales and have been in business for at least 1 year.
Like with all other Brex cards, sole proprietors are not eligible to apply for the Brex Ecommerce card.
Other Special Perks
The Brex Ecommerce card includes all of the software perks that are included with the Brex Startup card. Some of the most lucrative perks for Brex Ecommerce cardholding companies include:
Google Ads — up to a $150 Google Ads credit
Payoneer — an additional 2% back on international payments made through Payoneer
Stitch Labs — free 2-month subscription to Stitch Labs' inventory management tool
Brex for Life Sciences
Brex for Life Sciences is the newest addition to the Brex family. This card is focused on lab research teams that spend money on lab supplies, travel, and conference tickets, and has bonus earning categories to match. Here's a look at the card's bonus-earning categories and how many Brex Rewards points each one earns:
| Bonus Category | Brex Rewards Earning Rate | Notes |
| --- | --- | --- |
| Conference tickets | 7x | All conference ticket purchases are eligible for this bonus. |
| Brex Travel | 4x | You can book hotels, flights, and more with Brex Travel. |
| Lab supplies | 3x | Purchases from major lab supply vendors earn this spend bonus. |
| Everything else | 1x | All other purchases. |
Application Requirements
The Brex for Life Sciences card has different and less rigid application requirements than the Startup and Ecommerce cards. Like the rest of the Brex cards, you must have a registered company to apply for the Life Sciences variant of the card, and sole proprietors are not eligible.
According to the Brex website though, there is no strict bank account or revenue requirement. Instead, your credit limit will be determined based on the cash you've raised, grants you've received, current equity in your company, and your company's spending patterns.
Other Special Perks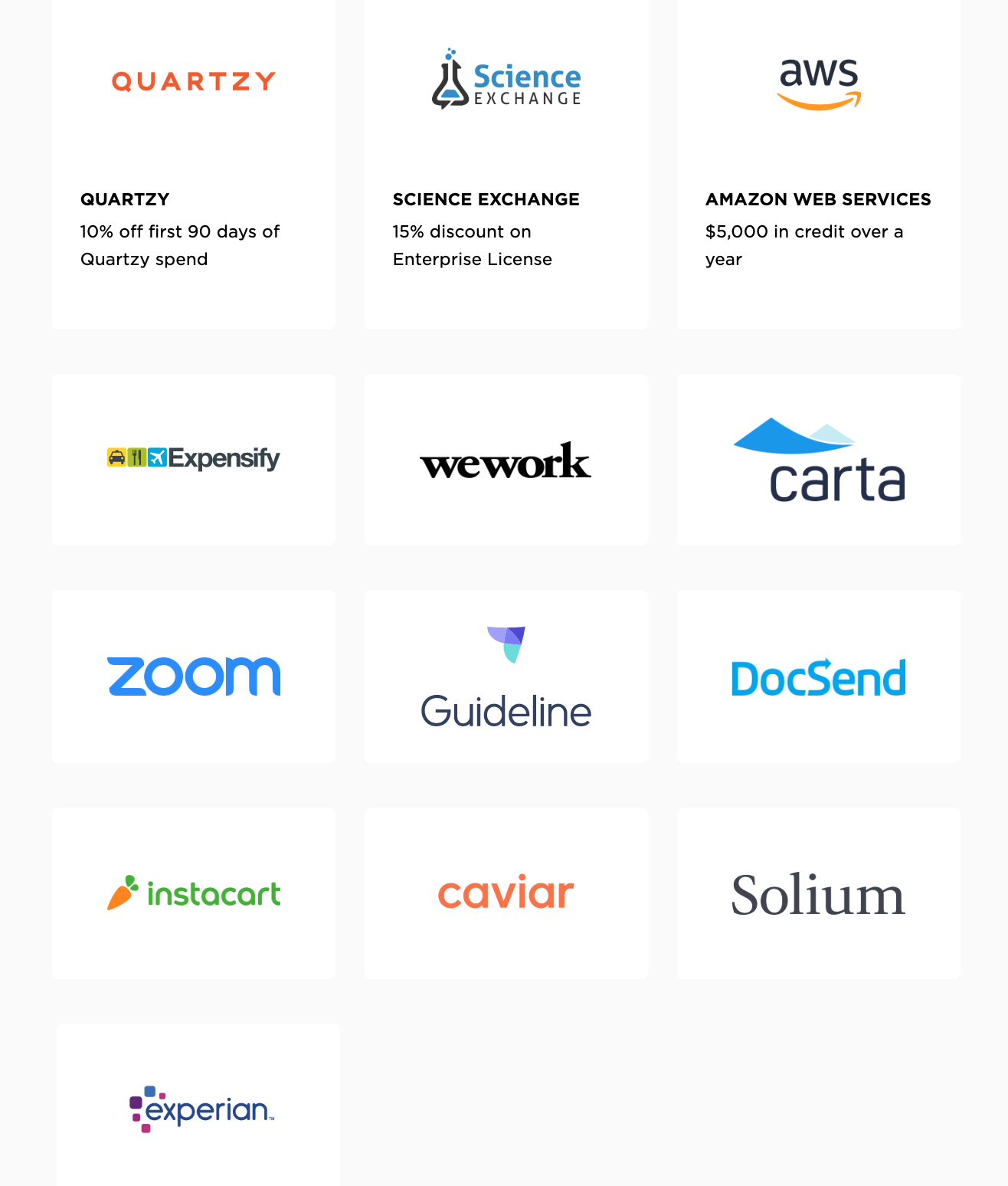 The Brex for Life Sciences card includes a number of awesome perks catered to research companies. You can see the full list on the Brex website, but some of the most valuable perks for research companies include:
DocuSend — free 3-month subscription to DocSend Finance
Quartzy — 10% off your first 90 days of purchases from Quartzy
Science Exchange — 15% off of an Enterprise License
Brex Pricing and Fees
Brex has one of the most attractive pricing structures for business credit cards on the market. The card charges a low monthly fee for employee cards, but has no annual fee for the company. And since it's a charge card that automatically deducts payments from your business checking account, you'll never pay interest on purchases or have to deal with late fees.
Here's a look at Brex's pricing structure. This is the same for all 3 variants of the Brex card.
| Number of Cards | Price Per Month Per Card |
| --- | --- |
| 1-5 | $0 |
| 5+ | $5 |
Additionally, Brex doesn't charge foreign transaction fees, so you can make purchases abroad without worrying about incurring a 1-3% fee. This is especially helpful when paying foreign vendors as you can now pay them in their local currency without penalty.
Brex Travel
Brex for Startups and Brex for Life Sciences both earn 4x points per dollar spent on Brex Travel purchases. Brex Travel is the company's in-house travel agency that's powered by TravelBank.
You can book flights, hotel rooms, and Airbnbs through the Brex Travel portal or by calling the Brex Travel offices. After booking, you'll receive 24/7/365 support from Brex Travel's agents that can help rebook you in case of delays and other assistance.
One of the special perks of Brex Travel is access to corporate rates at thousands of hotels around the world. Brex notes that its clients save an average of 30% on hotel bookings, but notes that clients have saved as much as 60% on some bookings.
Plus, all employee frequent flyer numbers and seat preferences are saved in the Brex Travel portal, making it seamless for employees or travel managers to book flights.
Brex Rewards Program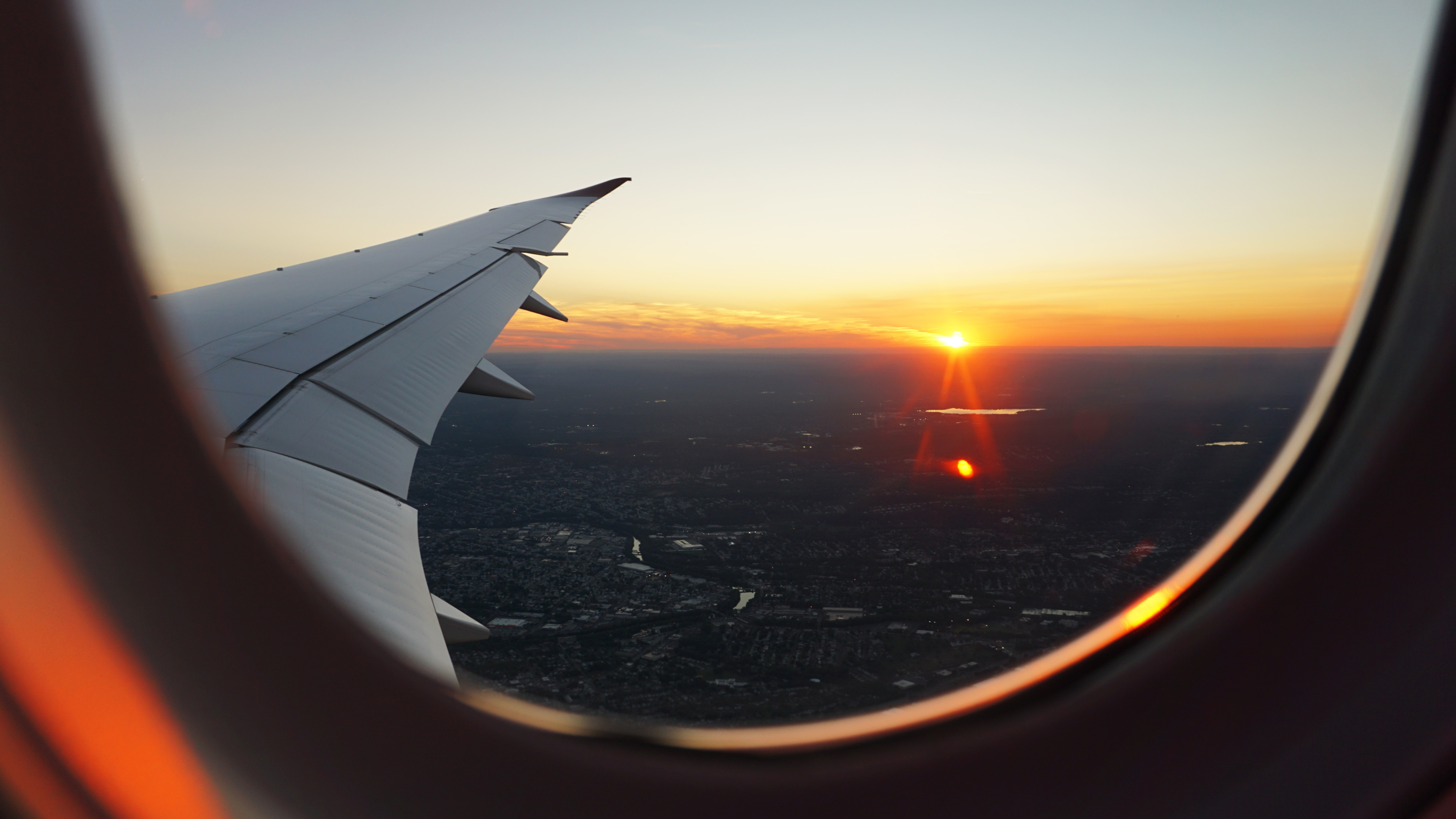 Brex Rewards points have become a proper flexible points currency over the past year or so. In the beginning, they could only be used for statement credit, but over the past year, Brex has added transfer partners and the ability to redeem Brex Rewards for paid travel through the Brex Travel portal.
Here are the different ways that you can use your Brex rewards points:
Book Hotels, Flights, and Airbnbs Through Brex Travel
When you book travel through Brex Travel, you'll have the option to pay for your plane tickets and hotel rooms with points. Brex Rewards points are worth 1.0 cents per point when redeemed towards paid travel, meaning that a $500 flight would cost 50,000 points.
Since these are still paid flights, you or your employee will still earn frequent flyer miles on all flights booked through Brex Travel even when covered with points.
Transfer Points to Brex's Airline Partners
In 2019, Brex added 7 different airline transfer partners. These transfer partners span all 3 of the major airline alliances—Oneworld, SkyTeam, and Star Alliance—so you have plenty of options for redeeming Brex Rewards points for free travel.
Further, Brex Rewards added JetBlue TrueBlue as a transfer partner on September 24, 2019. Brex is one of the few JetBlue credit card partners that offer a 1:1 transfer to JetBlue, meaning that if you transfer 10,000 Brex Rewards to JetBlue, you'll end up with 10,000 TrueBlue points.
Points transfers will often yield better value than redeeming points through Brex Travel as you can use airline partners' sweet-spots to book luxurious business and first-class travel for fewer points than if you covered a paid ticket through Brex Travel.
For example, a Lufthansa first-class ticket from New York (JFK) to Prague (PRG) costs 87,000 points one-way using Brex's Star Alliance transfer partner, Avianca LifeMiles. Alternatively, this ticket usually costs around $7,900 when booked cash, so you'd pay 790,000 points if redeeming points through the Brex Travel portal at 1.0 cents per point.
Brex's full list of transfer partners includes:
While this list of transfer partners isn't as extensive as those offered by American Express Membership Rewards or Chase Ultimate Rewards, Brex's partners give business owners more value and flexibility in how they can redeem points.
Bottom Line: If you have a Brex card for your business, use your points to book travel through transfer partners whenever possible.
Cash Out Points to Cover Individual Purchases
Finally, you can use Brex Rewards to cover individual transactions made with your Brex card at a rate of 1 cent per point. This isn't a particularly good deal when compared to utilizing Brex's travel partners, but gives you added flexibility to cover large purchases that might otherwise hurt your business' bottom line.
Final Thoughts
All in all, Brex's credit card offerings and rewards program is solid. If your company qualifies for the card and can maximize its bonus categories, it may be worth migrating your business spend to a Brex charge card.
Unfortunately though, a majority of small businesses are ineligible for Brex due to the cash requirement on the Startup card. So if you fall into this category—or want a credit card instead of a charge card—check out our list of the best business credit cards for a potentially better fit.