The Definitive Guide to Credit Card Fees [and How to Avoid Them]
Credit cards offer a convenient method of paying for items and services we need and want.
These awesome little pieces of plastic can open up a whole new world of opportunity to purchase things like computers, televisions, luxury vacations, and a whole host of other things you may not have the cash for up front.
Having a credit card also means you don't have to walk around with a pocket full of cash, which can make it much easier to conduct business with merchants. It can also make it less likely that your money will be lost or stolen.
But is using your credit card hurting you financially?
Along with the ease and convenience of credit cards can come some tradeoffs. For example, if you carry a balance on your credit card, it will cost you in interest — and if you're late making your credit card payments, it could end up having a negative effect on your credit score.
In fact, even just applying for a credit card can ding your credit score, since the creditor will make an inquiry of your credit report to determine your creditworthiness.
And if you apply for too much credit in a short period of time, you could really see your credit score drop, meaning you'll pay higher interest rates on loans and credit cards.
There are other potential "dangers" that lurk if you're not careful with your credit card usage. For instance, if you don't pay off the balance and let the interest rack up month after month, you could end up paying a whole lot more for an item than it originally cost.
Depending on how you use your card, there could be a long list of other possible charges and fees too. Here's our guide on what some of those fees are, and how you can avoid paying them.
A Tutorial on Credit Card Fees
Although most people are aware that credit cards charge interest on any unpaid balance, this is just one potential cost of using a credit card. In fact, depending on the specific card and how you use it, there is a long list of possible charges and fees you could be subject to.
These could include:
Application/Processing Fee
Right off the bat, there are some credit cards that impose an application and/or "administrative" charge. This fee is typically used for the credit card issuer to evaluate your application for approval. Although more cards have been doing away with this type of fee, some still use it.
In most cases, this fee will usually run from $35-$40 up to a few hundred dollars. The cards that charge the higher processing fees may also offer some attractive rewards or point systems.
Bottom Line: Given any out-of-pocket charges for acquiring or using a credit card, it's important to weigh the cost with any potential rewards you may gain before you move forward with applying for any credit card — especially those that charge an application or processing fee.
Finance Charge
If you don't pay off your credit card balance in full each month, your remaining balance will be charged interest.
Credit cards typically have set interest rates, which can vary as high as 20% or more. As of September 2018, the average credit card interest rate across the board was 16.92%.
For each month that you don't pay back the balance in full by the due date, the issuing bank charges you interest on the remaining amount in your balance — including on the previous month's interest charges.
Let's take a look at how much you will really pay for an item you buy on credit if you don't pay off the balance right away, and only make the minimum payment each month.
Here is an example:
You purchase a new laptop that costs $1,000.
You charge the purchase on your credit card, because you don't have the cash readily available.
When the bill comes in, you only make the minimum payment of $20.
In fact, you decide to only make the minimum payment of $20 until the balance is entirely paid off.
Your card charges 20% interest on unpaid balances carried over from month to month.
In this scenario, guess how long it will take you to pay off the balance by only making the minimum payment?
109 months! That's 9 years.
What's worse is that because you were paying 20% interest on your credit card's balance, that $1,000 laptop actually ended up costing you $2,168 – more than double its actual price! Even though you only paid $20 per month, you paid it for so long that it REALLY added up.
Hot Tip: While credit cards can definitely make purchases easier, be sure you have a plan in place for paying off the balance sooner rather than later. Otherwise, it could cost you!
APR/Annual Percentage Rate
The APR, or Annual Percentage Rate, is the cost to borrow money on a yearly basis. If the APR is 18%, that means the credit card company is charging you 18% of the total balance in interest each time you don't pay off the entire balance.
Also, if you are late with your payment, the credit card company could increase the APR even higher to something like 28%.
Always read the fine print in your credit card agreement, including 0% intro APR cards, and ask questions if you aren't sure about something before using your card to make purchases.
Bottom Line: That is why it is important to pay off your credit cards on time each and every month. If you do that, then you don't get charged any interest, and you won't get hit with a penalty APR.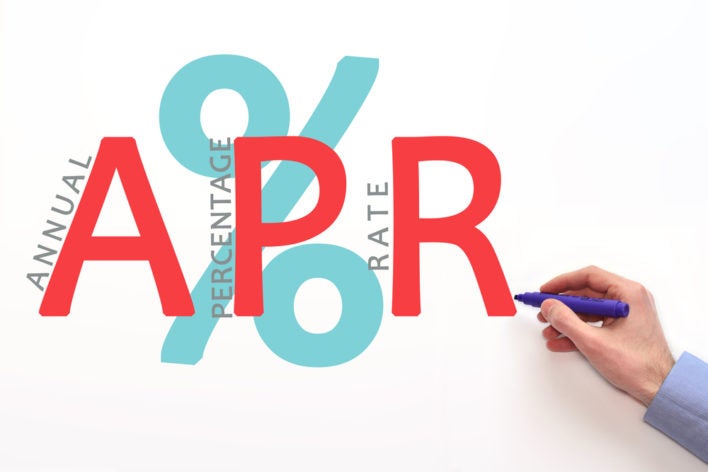 Annual Fee
Certain credit cards come with a yearly fee just for the privilege of using them. This fee could be $50 to $100 per year, or sometimes even more. Many cards these days don't come with an annual fee, so shop around to see if you can find a good card for you that avoids this charge.
Late Fee
If you don't make your credit card payments on time, you can be charged a late fee that could be roughly $30 or $40. This fee is on top of any interest charges that you will have. So always make sure to pay your credit card bill on time (even if you are only making the minimum payment).
Cash Advance Fee
Credit card companies don't mind if you want to withdraw cash from an ATM using your credit card. In fact, they usually love it! That's because they charge you a cash advance fee of $20-$25 (or more), or a percentage fee based on how much cash you take out.
When you see those fees, this point becomes obvious: don't take cash advances from credit cards.
If you really need cash, you are much better off using your ATM card to withdraw money from your bank account. And if you don't have the money in your bank account, then don't buy the item.
Over Limit Fee
Credit card companies always put a limit on how much credit you can use. If your limit is $5,000 but your balance goes higher than that, the company will charge you a fee.
And here's the kicker: if you're accumulating interest on an unpaid balance, the amount of that interest will be added to your overall balance.
If you're approaching the limit on your card, be sure to keep this in mind — even if you don't make any additional purchases, your balance could increase due to interest.
It's easy to see that if you aren't careful with a credit card, you can rack up thousands of dollars per year in interest and fees. This is why it's extremely important to read over your credit card's terms and rules and do your homework before you open a credit card account.
Bottom Line: Having a credit card can be great because they are convenient, and there may be times when you need one in an emergency. But you also have to be careful to make sure a card is helping you out rather than costing you a lot of money.
Balance Transfer Fee
Many credit cards advertise low or no interest for a certain period of time if you transfer your balance over from another card. While this might sound enticing, be aware that you will likely have to pay a fee to transfer the balance.
This will sometimes be a flat fee, but typically will be a percentage of the balance amount that you are transferring over.
If you're considering a balance transfer, be sure to factor in the amount of this balance transfer fee into the total cost of the transaction.
Even if the new card is offering you an attractive introductory rate, the balance transfer fee could end up costing more than if you just left your current balance where it is.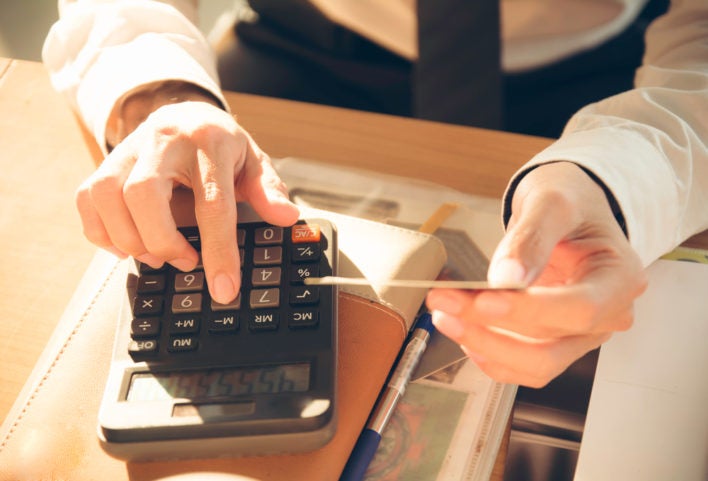 Foreign Transaction Fee
If you make any purchases on your credit card that pass through a foreign bank or use a currency besides U.S. dollars, then you may incur a foreign transaction fee. This is also sometimes referred to as an FX fee.
This fee can differ depending on the card you use, but typical foreign transaction fees run in the range of 1%-3% of the amount you spend in the transaction.
There are many credit cards that have no foreign transaction fee's. If you travel often, this type of credit card is a must.
Expedited Payment Fee
According to the Credit CARD Act, creditors are not allowed to charge a fee for simply making a payment. However, fees can be charged if you make a payment using an expedited service by a customer service rep of the creditor.
Returned Payment Fee
If you do not have enough money in your bank or checking account to cover a payment you sent to the credit card company, you may be assessed a returned payment fee. You may also be charged a late fee if you re-send the payment and it arrives after the due date.
Credit Limit Increase Fee
On occasion, you may request that your credit card company raise your credit limit. If you're approved for an increase, you may have to pay a credit limit increase fee. This is usually the case for those who may have a low credit score and/or other factors that could make them riskier to the credit card issuer.
Card Replacement Fee
If your credit card is lost or stolen, most card companies will provide you at least 1 replacement card at no charge. However, if you require any subsequent replacement cards, you may be charged a fee for them.
Credit Card Life Insurance Fee
You may have noticed that your credit card company offers a type of life insurance coverage to its cardholders. But before you commit to this coverage thinking that it will provide a benefit to your loved ones, be sure to read all of the "fine print."
That's because this coverage will only pay off your credit card balance if you pass away and still owe the card company money. The "premium" for this insurance is typically a percentage of your unpaid balance each month.
Fraud Insurance Fee
If you're a business owner who accepts credit cards, you may be charged a fraud insurance fee.
Many companies today are concerned about credit card fraud because the responsibility for the cost of unauthorized transactions can fall to the merchant (as opposed to the credit card company). With that in mind, many credit card issuers now offer fraud insurance coverage.
Customer Service Fee
Even though most credit card companies simply add the cost of their customer service staff into their other fees, there are some that will charge you a separate fee for each phone call you make to them. Customer service fees tend to be most prevalent with prepaid cards.
Paper Statement Fee
Today, companies in a variety of industries are trying to be more environmentally friendly by reducing their "footprint." One way to do so is to reduce the use of paper.
Because most credit cards will allow you to check your balance, make payments, and conduct a number of other transactions online, you may be charged a fee if you opt to receive paper statements. This fee also goes toward the additional cost to the credit card company of mailing this information to you.
How to Avoid Paying Credit Card Fees
Many of the fees charged by credit card companies are simply added to your overall balance. This means that the amount of these fees could end up accruing interest if you do not pay your balance in full every month.
In order to help yourself avoid credit card fees, it is important that you know exactly where these fees may come from and how much they could be.
One of the best ways to do that is to carefully read over all of the fine print that comes with your credit card — both initially, as well as any updates you may receive from the card company.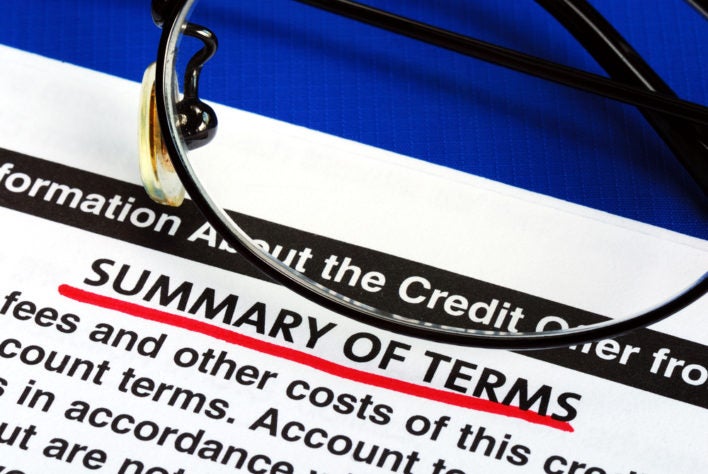 Hot Tip: There are several strategies you can use in avoiding the payment of credit card fees. Certainly, the best method is to pay off your balance every month. You could even set up automatic payments from your checking account to make your card payment(s) regularly.
If you go this route, though, make sure you'll have enough in your checking account to cover the payment. Otherwise, you could be charged a "returned check" fee.
Some of the other ways to avoid various credit card fees include:
Checking your credit card balance online instead of receiving a paper statement.
Making your credit card payment on time each month. (This will also help you to keep your credit score in check!)
Using credit cards that do not charge an annual fee or application fee.
Not taking cash advances from your credit card.
Final Thoughts
While most credit cards charge at least some fees, if you're aware of the charges you could incur and you make a point to pay off your balance on time every month, you'll be in a much better position to avoid or manage these added costs. This can end up saving you a substantial amount of money over time!
---
Featured image credit: Shutterstock