American Express By Invitation Only – Is It Worth It? [U.S. Open Experience Review]
American Express offers a By Invitation Only (BIO) program for those who hold The Platinum Card® from American Express, The Business Platinum Card® from American Express, and the Centurion Card® from American Express. These one-of-a-kind, exclusive experiences are available for many major musical performances, sporting events, dining outings, and more.
While not cheap, the perks you'll experience with the By Invitation Only program are certainly luxurious and probably unlike anything else you've seen before.
In this post, we're going to take a look at what the program is and what you can experience when purchasing a By Invitation Only package at the U.S. Open Tennis Championships in Flushing, New York.
What Is By Invitation Only?
By Invitation Only is a collection of experiences that American Express offers its top-tier cardmembers. They can't really be purchased elsewhere — think things like dining out with a famous celebrity chef, having front row seats at the biggest concert of the year, or, in this case, having a private suite overlooking the biggest stadium at the U.S. Open.
By Invitation Only comes as a benefit on your Amex Platinum card, Amex Business Platinum card, or Centurion card. You can access the program simply by calling the number on the back of your card and speaking to the concierge team.
Types of By Invitation Only Events
There are lots of BIO events that Amex has on offer, not just for the U.S. Open.
Here are some other packages available for booking in 2022:
Other Amex Platinum and Centurion Cardmember Experiences
In addition to By Invitation Only, Amex Platinum and Centurion cardmembers have access to a number of other exclusive experiences, including:
By Invitation Only U.S. Open Experience
Booking
Several years ago, I was invited to the U.S. Open as a guest of Starwood Preferred Guest, the loyalty program of then Starwood Hotels. As a member of the media attending the matches, Starwood wined and dined us in a private suite overlooking the court at Arthur Ashe Stadium in the center of the U.S. Open, and it was truly one of my favorite experiences ever. The drinks were free-flowing, there was enough food to feed an army, and I had great seats to look at the action below.
Wanting to replicate that similar experience, I called American Express to see what I could purchase this year and stumbled on their By Invitation Only packages. After speaking with the concierge team, we came up with a few options to attend the U.S. Open:
Purchasing grounds passes or nosebleed-type seats for approximately $100 a ticket
Purchase courtside or near-courtside seats for approximately $250 a ticket
Purchase a By Invitation Only package to gain access to a private suite for $400 a ticket
Taking into consideration the experience, and the overall cost of the U.S. Open, I asked to book one of the BIO packages.
For the U.S. Open, BIO packages are sold in pairs, so you can't just purchase 1 ticket. For me, booking 2 seats was a total cost of about $800.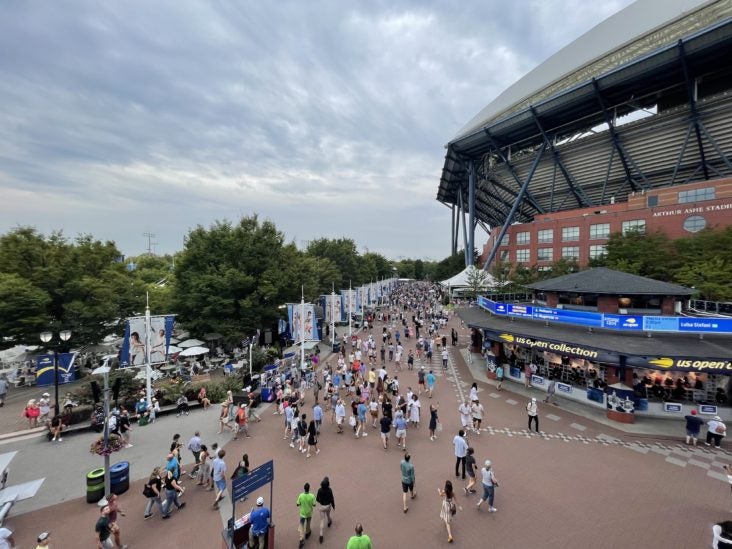 Here's what the U.S. Open BIO package included:
Dayside access to the entire U.S. Open, including grounds courts, the side stadiums, and assigned seats in Arthur Ashe Stadium
Complimentary food throughout the stay, in the form of a lunch buffet, dessert, and snacks
Unlimited non-alcoholic and alcoholic drinks
An assigned personal host in the suite
Expedited access onto the U.S. Open grounds via a hospitality lane and security checkpoint
Complimentary programs and day-of-play match booklets, which normally come at a fee for the general public
Hot Tip: Hold times to speak to an American Express By Invitation Only agent were extremely long when I tried to call. Sometimes I would be put on hold for several hours, and it took several days to actually get ahold of someone. Keep this in mind when calling.
A friendly representative helped me book my experience, and these were the details provided to me after booking so you can see how the program is structured:
Event name: 2021 U.S. Open – Men's & Women's 1st Round – Session 3
Venue name: USTA Billie Jean King National Tennis Center – Arthur Ashe Stadium
Venue address: Flushing Meadow – Corona Park, Flushing, NY 11368
Event date and time: Tuesday, August 31, 2021 at 11:00 AM
Number of tickets: 2
Seat location: BIO – Suite 113, Row 3 (Stool), Seats 13 through 14
Cost per package: $800.00
Service fee: Inclusive
Convenience charge: Inclusive
Delivery fee: None, courtesy of American Express for being a loyal Card Member
Total: $800.00
Confirmation number: XXXXX
Delivery information:
Mobile tickets: Your tickets will be transferred to you via Ticketmaster email. If you have not received this transfer email within 48 hours of the event, please give us a call.
Charge on your statement will appear from: Cendyn
It's very worth noting that By Invitation Only packages are nonrefundable, and there are no changes allowed after booking. These are very pricey packages, so you want to make sure you're not making any errors when booking.
You can search all BIO events here, as well as calling the number on the back of your card.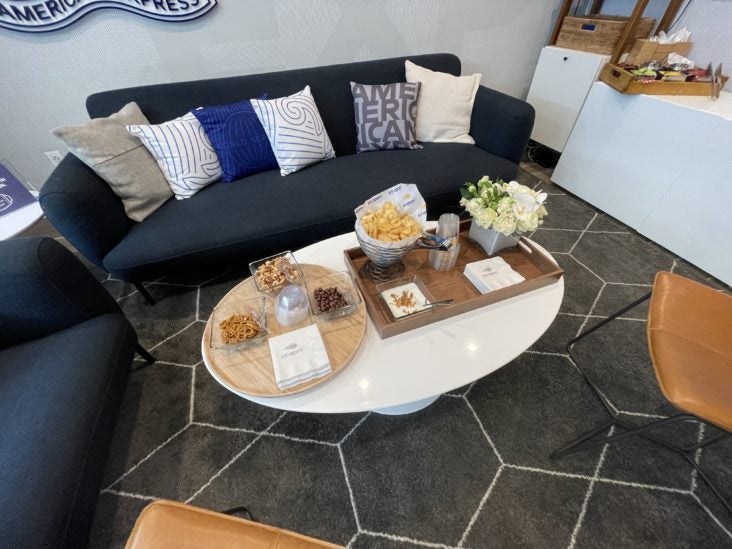 Comparing the Costs
While the By Invitation Only program is expensive, and it's certainly not for everyone, it's important to realize the costs of everything that way you can make an informed decision on whether to buy or not.
Depending on the tickets you purchase to see the U.S Open itself, you're looking at around $200 for decent seats — seats that aren't in the upper sections, but aren't courtside either
A famous Honey Deuce cocktail is $20 — add in multiple drinks across the day and you're at least around $50
Food at the U.S. Open isn't cheap — a lunch will set you back around $30, and when you add in some snacks, you'll drop around $50 over the course of a day
In the end, purchasing the basic items à la carte will run you around $300 — including your seat, food, and drinks. Depending on how much you consume, it could be well north of this number. So, when you factor in the fact that the package itself runs about $100 more per person and includes unlimited food, unlimited drinks, private seats, air conditioning, and more, you're actually getting quite a deal using the By Invitation Only packages.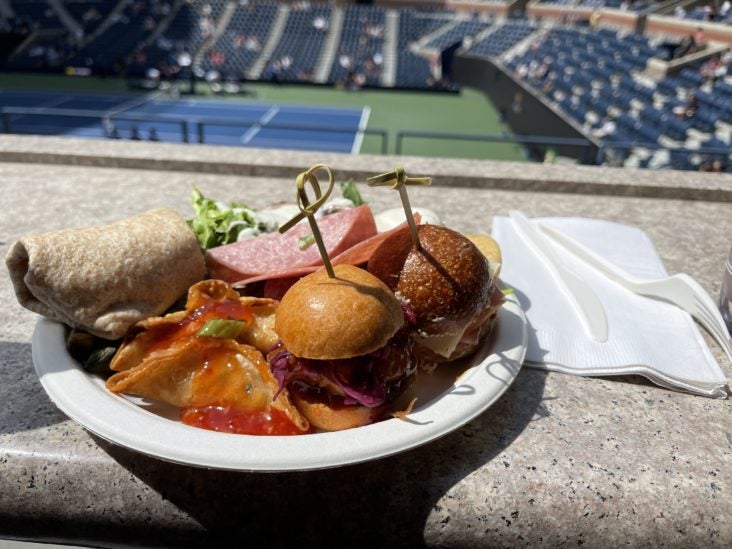 The Experience
Arriving at the U.S. Open, you're allowed to use security lanes that are expedited. Simply look for the lanes marked "hospitality" and you'll be able to have your tickets scanned quickly and then be able to proceed through the metal detectors. When I was there, the regular lanes weren't too terribly wrong, so this expedited lane may have saved a minute or 2 of waiting, but nothing more.
After you pass through the security control, you're off on your own to explore the U.S. Open — from the grounds to the shops to the stadiums, everything is included with your suite ticket.
My suite ticket allowed entry into the suite as early as 10:30 a.m., though the first match in that stadium didn't start until noon. So, you could have the first hour and a half to relax and get acclimated and settled.
To find the suites, proceed directly down the main pathway from the main entrance and you'll run right into Arthur Ashe Stadium. There are plenty of ushers staged throughout the outside, so the best plan of action is to show them your ticket in order for them to point you into which door you need to go to. While not really signed, there are so many volunteers helping you where to go — navigating isn't a problem at all.
The American Express suite I was assigned to was Suite 113. It's worth noting that Amex owns several suites throughout the stadium, each being in a different location and having a different view. While I wasn't shown a diagram of where things were, based on how it was explained to me was that there were 2 suite offerings. One was a "double" suite on the corner of the stadium, which essentially was 2 suites combined together to create 1 larger viewing area. The other one, 113, was a smaller, individual suite, with a more centered view of the court.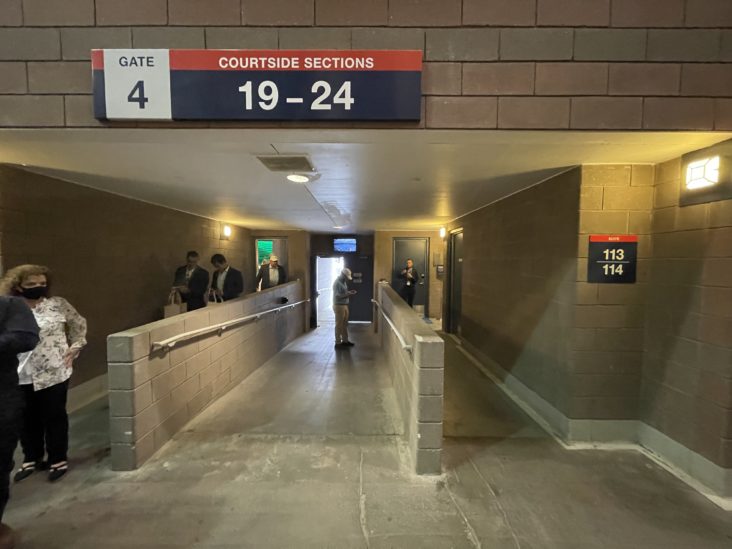 As I entered the suite, I was checked in by the friendly representative inside. Unfortunately, there was a minor snafu in the process where the rep didn't have my name listed correctly. I had tickets to the suite, which were properly checked up until this point, but the rep's documentation didn't show me. After they made a few calls, I was told I was in the right place, and we chalked it up to a clerical snafu, though it certainly was an awkward way to start off the U.S. Open suite experience.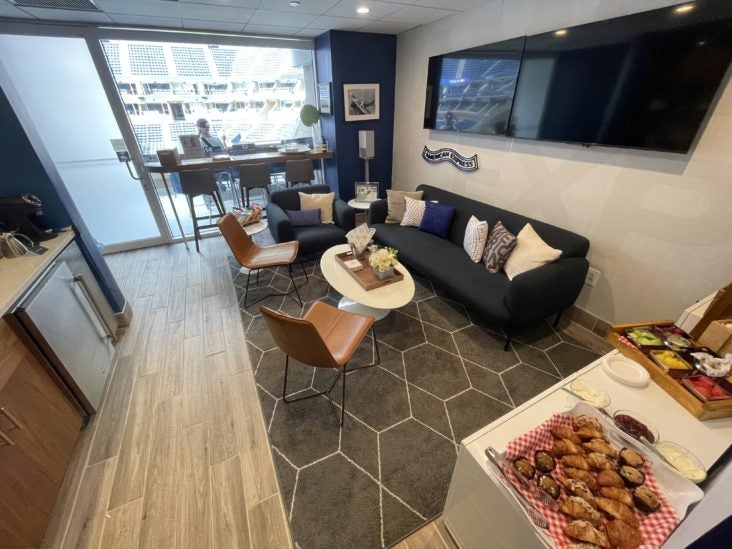 Seats
Each suite features a section of private seats directly outside of the air-conditioned suite itself. There were 2 rows of traditional stadium-style seats, and then a row of stools in the back. The stadium-style seats, while technically more comfortable, didn't have anywhere to place your food or drinks. The stools directly behind had a long table where you could eat your meal and place your drinks on during the matches. Interestingly, the stools tend to be lower priced than the actual seats, but I far preferred being able to sit and have a table in front of me than not.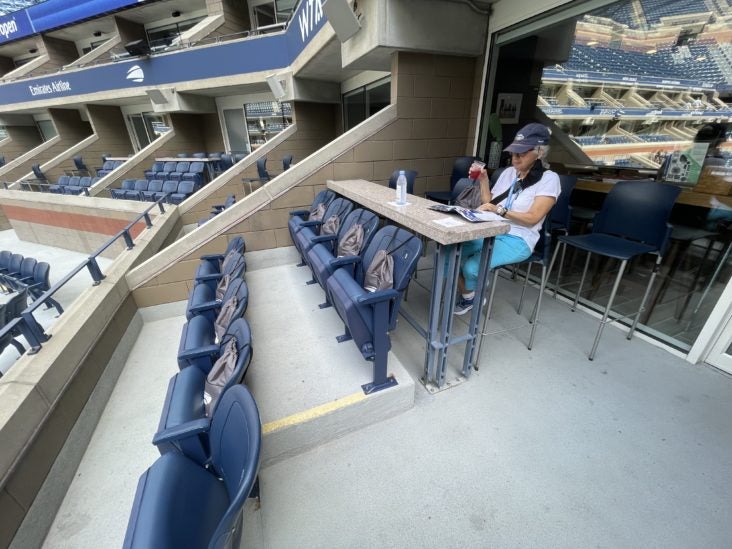 As we arrived, at each seat was a small drawstring backpack filled with a hat, water bottle, fan, and other sundries. These were a wonderful little touch that truly made the experience feel premium!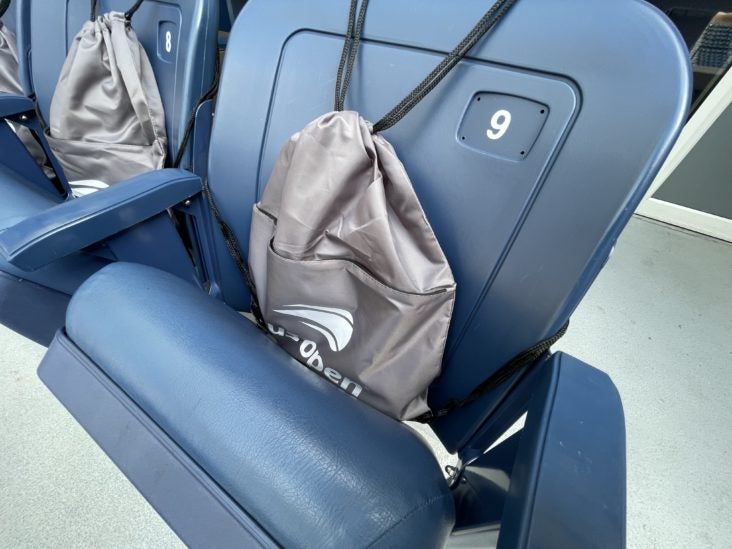 Hot Tip: Since you'll be provided a backpack and water bottle on-site, there's no need to bring your own into the event. Save having to carry these through security, and just proceed right to the suite to collect your backpack which you can use throughout the day.
Catering
To say there was enough food to feed an army would be an understatement. The suite was very well-catered, featuring anything you could possibly want, including:
Asian dumplings with dipping sauce
Fresh cooked salmon
Arancini balls with red sauce
Fresh vegetables with dip
Charcuterie meats and cheeses
Assorted wraps
Steak salad
Pasta salads
Cookies and cakes
In the morning, a breakfast service was offered, though I didn't partake. There was a nice fruit place, plenty of pastries, bagels, and other assorted carbohydrates.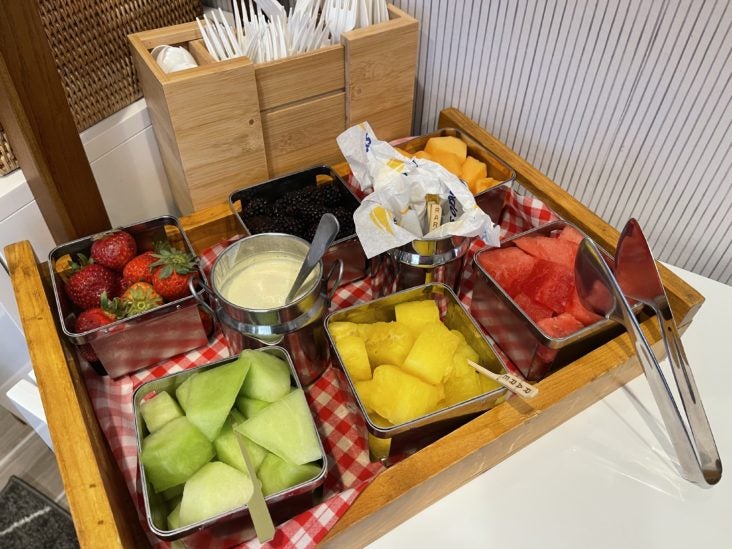 The lunch service then followed.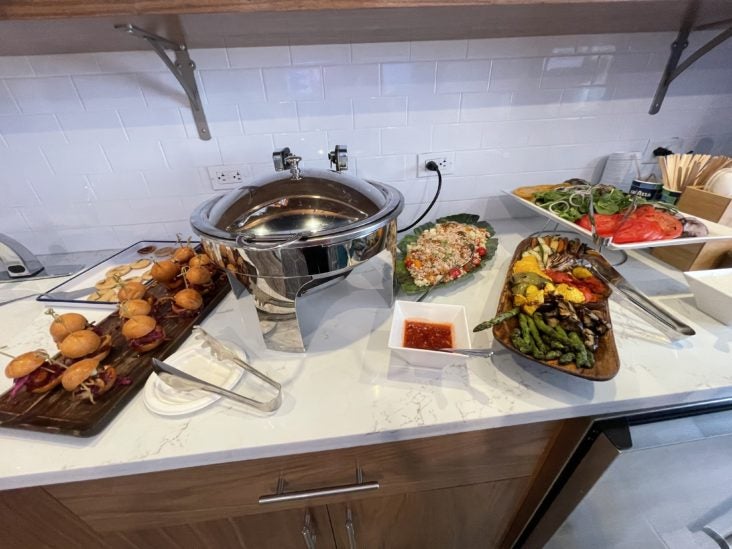 When the lunch service began around noon, I grabbed a plate of food and made several more trips to the serving line, but even among the 8 people in the suite, we barely made a dent. For the afternoon session, we were appropriately served lunch, though if you're booked for the evening sessions you'll have a dinner service instead.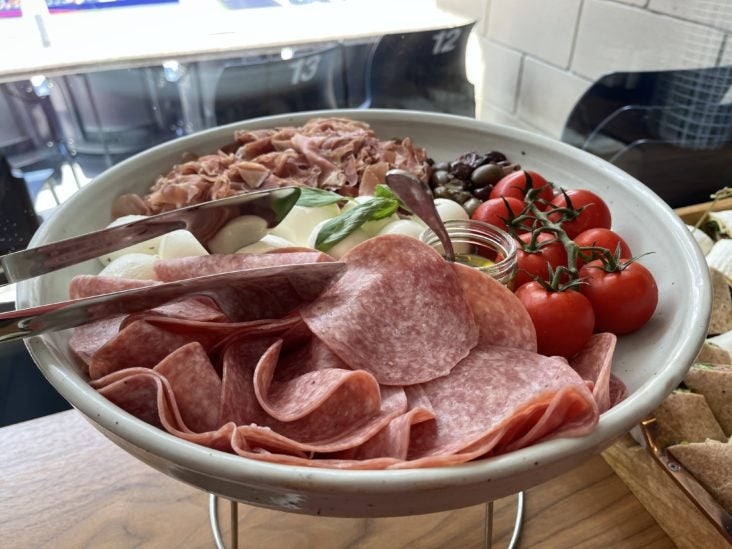 Self-Serve Bar
The suite featured a self-serve bar, with all the major mixers and spirits. Also on offer was wine and beer. While everything was self serve, an attendant was on hand if you wanted them to prepare a drink or needed assistance. The famous U.S. Open Honey Deuce was also on offer, and they served these in the traditional plastic "keeper cups" that you could take with you to remember your experience at the Open.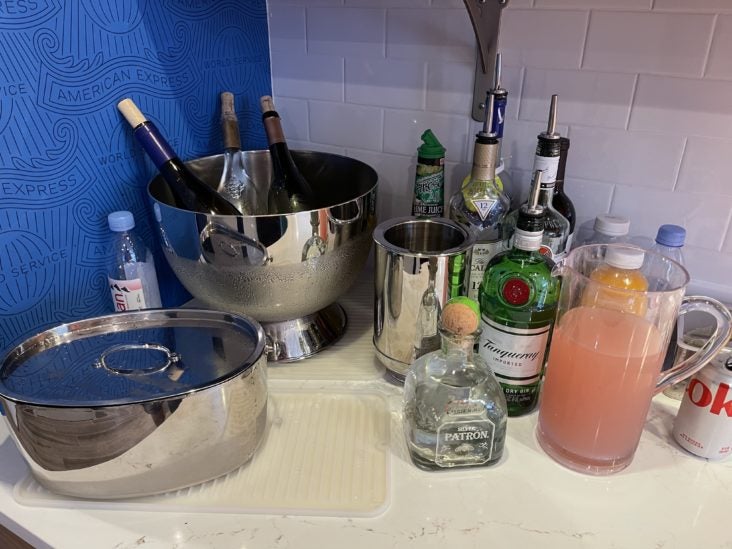 Hot Tip: The signature Honey Deuce cocktail comes in a takeaway cup. If you ask your bar attendant, they'll wash the cup for you so you can take it away clean.
Access
Aside from having access to the suite itself, your suite ticket gives you full access to the U.S. Open, but it's important to note that much of what you'll see includes unreserved seating. Here's where you can get in:
Arthur Ashe Stadium, in your assigned suite and seats
Louis Armstrong Stadium, unassigned seats
Grandstand, unassigned seats
Lower courts ("outside courts"), unassigned seats
If you decide to visit anything other than Arthur Ashe Stadium and you want to leave the suite, you're essentially hoping you can find a seat in the other courts since nothing is reserved for you. One thing I wish that could be improved upon for the experience is including assigned seats for all stadiums. With the hefty price tag of a suite, I think having assigned seats everywhere would be a nice perk.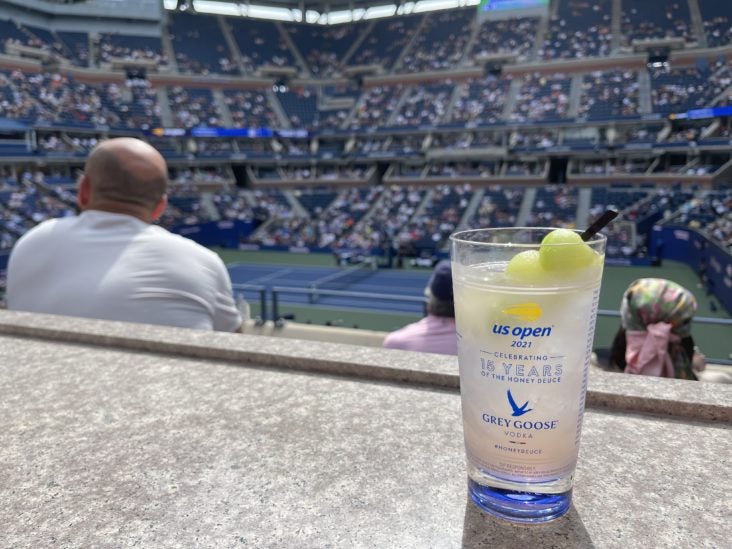 Bottom Line: Your BIO suite only includes reserved seating there — if you wish to go to a lower court, you'll be responsible for finding your own seat.
Pros and Cons
It's important to note the pros and cons of booking the experience, as this will weigh into your decision as to whether it's worth it or not.
Pros
On a hot day, the air conditioning in the suite is appreciated. If you really get hot, you can continue watching the matches on the TVs inside.
For those that tend to drink a lot, you can certainly get more of your money's worth by indulging in a few cocktails, making the sting of the high price tag hurt a lot less.
Not having to wait in line for drinks or food was a huge time-saver. Lines can be incredibly long throughout the grounds.
If you're seated at a stool seat, you can use the table in front of you to eat at or lean on, making these seats one of the best in the house.
Cons
The hold times trying to get ahold of the By Invitation Only department were abysmal. It took nearly a week to book tickets, after calling probably no less than 20 times. Hold times were extreme, and there were several times where I was just hung up on, presumably due to the high call volume. Knowing this, it's actually incredibly difficult to book these tickets since you can't do so online.
Arriving into the suite, there was an issue where the representative couldn't find my name on their roster. While I didn't mind and brushed it off making friendly small talk with the host, I could certainly see some patrons become angry, considering the expense of the day.
Your passes do not allow you any assigned seating in any lower court under Arthur Ashe Stadium. If you want to spend time in these other courts, you'll need to pick from the available seats you see open as you arrive.
Hot Tip: Amex also offered a number of on-site benefits to cardholders, including complimentary bag check, free radio earpieces, statement credits, and 3 areas to relax — the Amex Patio, Centurion Suite, and American Express Card Member Lounge.
Final Thoughts
The By Invitation Only experience was so well worth it, and it was truly a memorable day for me. While the price is a bit steep, the amenities that are included definitely help round out the day and genuinely provide a one-of-a-kind experience that allows you to truly enjoy the day, rather than trying to constantly stay cool or find your next bottle of water.
---
The information regarding the Centurion Card® from American Express was independently collected by Upgraded Points and not provided nor reviewed by the issuer.