The Amex Platinum Card's Concierge Service – All You Need To Know
The Platinum Card® from American Express is a well-known luxury card with a high-end price. While the high annual fee may be steep, The Amex Platinum Card offers lots of benefits to justify the cost.
Many of the benefits of The Amex Platinum Card are well known like the $200 annual airline fee credit, up to $200 annual Uber credit, 5x points earning on flights booked directly with airlines and select hotel stays, and $100 Global Entry credit.
However, this premium card also offers entertainment and event benefits that can sometimes fall under the radar. The concierge service from The Amex Platinum Card is one of those benefits.
Using the Amex Platinum Card concierge is like having an assistant. They can make reservations for you, send a last-minute gift, or research an upcoming travel destination.
Benefits Of The Amex Platinum Card
Before focusing on the concierge service, here's a quick peek at some of the other benefits that come with this card.
Amex Card
Benefits & Info

The Platinum Card® from American Express


Apply Now

(at Amex's secure site)

Earn 60,000 75,000 Membership Rewards® points after you use your new Card to make $5,000 in purchases in your first 6 months of Card Membership.
Earn 10x points on eligible purchases, in your first 6 months of Card Membership, on your new Card at U.S. Gas Stations and U.S. Supermarkets (on up to $15,000 in combined purchases).
Earn 5X Membership Rewards points on flights booked directly with airlines or with American Express Travel (up to $500,000 on these purchases per calendar year) plus earn 5X Membership Rewards points on prepaid hotels booked with American Express Travel.
Access 1,300+ airport lounges across 140 countries, including the amazing Centurion lounges. (This is our favorite lounge access card.)
Up to $200 Uber Savings Annually.
Up to $200 Airline Fee Credit.
Up to $100 fee credit for Global Entry or TSA PreCheck.
Up to $100 annual Saks Fifth Avenue credit.
Good to Excellent Credit Recommended (670-850)
Annual Fee: $550.
Terms Apply. For rates and fees of the Amex Platinum Card, click here.
$1,650


Must Reads: For more info on the Amex Platinum, see our thoughts on its benefits & perks, travel insurance coverage, and unbeatable airport lounge access. Take a look here for our full review. If you're a business owner, see our review of The Business Platinum Card from American Express.
Other Key Benefits:
Hot Tip: For more information about everything this card has to offer, check out our full review of the Amex Platinum Card.
The Amex Platinum Card Concierge Service
The Amex Platinum Card Concierge promises to be a resource, day or night, for almost anything you can think of. Whether it's tickets to a concert, reservations at an exclusive restaurant, or just flowers for your significant other, they are ready to assist.
What Can The Amex Platinum Concierge Service Do For You?
The Amex Platinum Concierge service is there for you to help you with whatever you may need:
Use the concierge to book theater tickets to avoid Ticketmaster fees
Book tickets to a sold-out show
Reserve tables in otherwise booked restaurants
Request travel guides for any location
Send a last-minute gift or flowers to someone special
Get help planning an event
Research specific requests: restaurant with a patio, vegan restaurant in Toronto, wedding venue that can hold 1,000+ people
Search for a specialist: a contractor with great ratings, a pet groomer that will come to your home, a caterer that only uses organic food
While there is no cost to you for the Concierge Services, you are responsible for any purchases, fees and/or shipping charges you authorize to be charged.
After making a request, you will get all of the requested information emailed to you, usually within 48 hours.
Hot Tip: Since you can only earn a welcome bonus on an American Express card once per lifetime, make sure it's a good one! Check out our tips on how to land the coveted 100,000 point welcome bonus for The Amex Platinum Card.
Don't Confuse Platinum Concierge With Amex Travel
American Express Travel and Platinum Concierge are separate entities. So, if you need to book a flight, hotel, or rental car, contact American Express Travel. Otherwise, try out the Platinum Concierge.
It can get a little confusing when you are following the prompts on the phone. However, if you end up in the wrong place, they can easily transfer you to the correct department.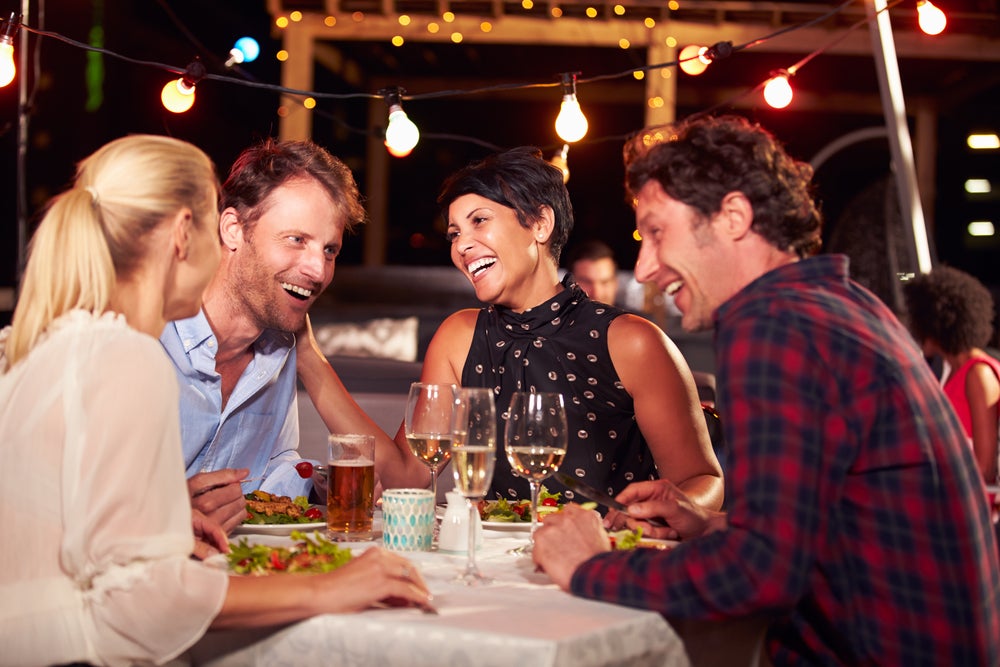 Platinum Concierge Contact Information
Phone
In the U.S., call 1-800-525-3355
Event tickets: Option 1
Dining: Option 2
Gifts and Flowers: Option 3
Travel: Option 4
Card Services: Option 5
You can also dial the number on the back of your Platinum Card and select Concierge.
For international, collect calls, dial 617-622-6756.
Email
If you have previously used American Express Concierge before you can also email your requests to: [email protected]
Online
You can find more information about your Amex Platinum Card Concierge benefits online. After logging into your Amex Platinum Card account, click on Benefits in the main menu at the top. Then scroll down until you see the box labeled as Platinum Service.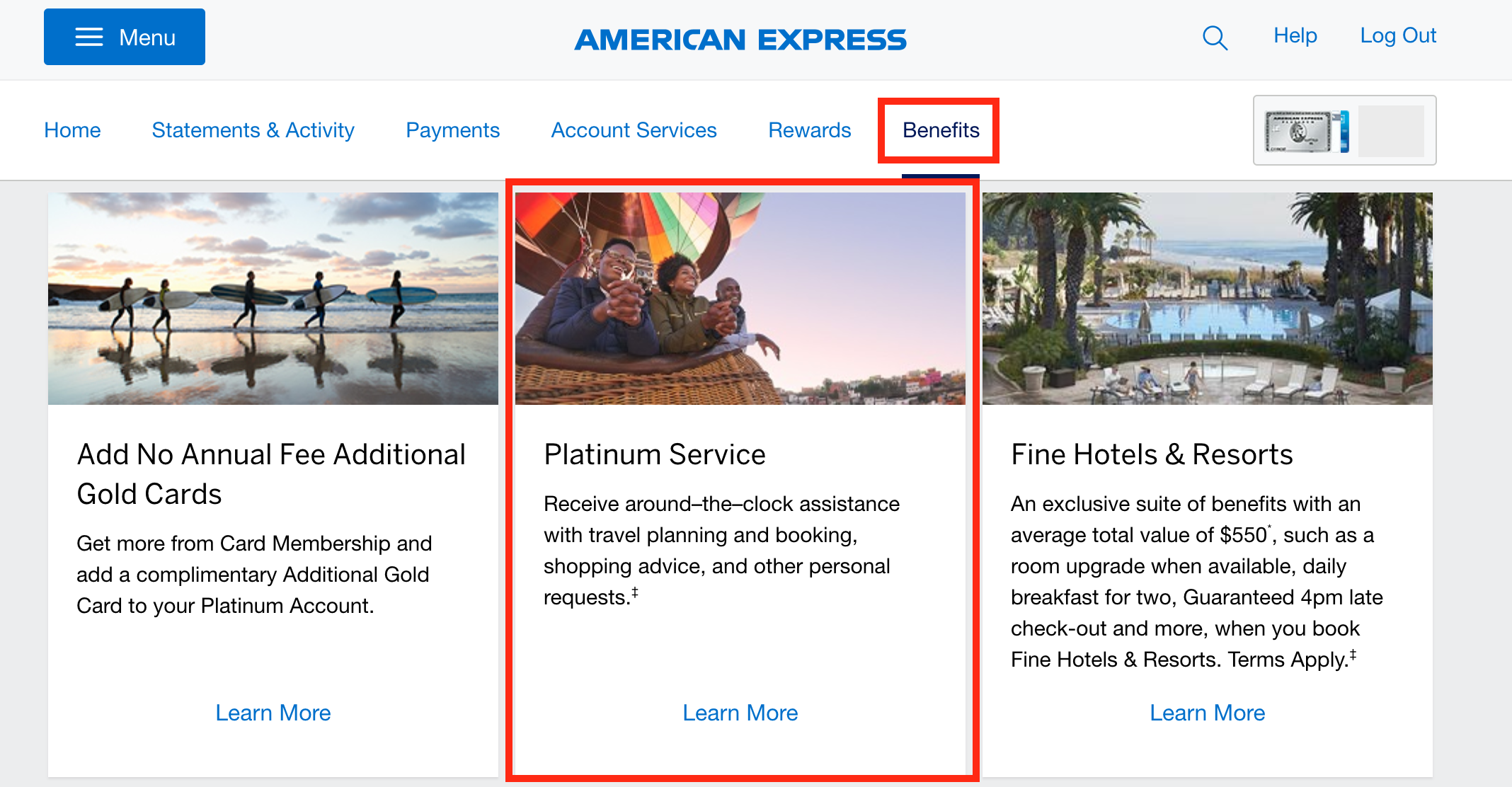 Bottom Line: You can contact the American Express Platinum Concierge by calling 1-800-525-3355.
Final Thoughts
There's no question that the Amex Platinum offers lots of perks and benefits. The concierge service is one of the benefits that can often be overlooked.
This service offers you access to a concierge staff that can help you with a variety of different tasks like purchasing event tickets, sending flowers, or even researching travel destinations.
If you haven't tried out the Platinum concierge, you may be missing out on a valuable benefit that comes with your Amex Platinum Card.
---
For rates and fees of the Platinum Card® from American Express, click here.