How To Get the Chase Private Client $2,000 Bonus Offer [2021]
Chase Private Client is one of the bank's most premier account offerings, seeking to provide a banking experience that offers personalized service and exceptional benefits to those that have a large number of holdings with Chase.
Qualifying is no easy matter as doing so is by invitation only and requires you to have a daily average of $150,000 across Chase investments and bank accounts. But those who do qualify receive a large number of benefits for doing so, including banking, credit card, business, investment, and loan benefits.
Chase doesn't always offer a welcome bonus to those invited to open a Chase Private Client account, but when it does, we've seen bonus offers as high as $2,000! So how can you increase your odds of receiving such an offer? Let's find out!
Chase Private Client Benefits

First, let's answer the question, "Do I even want a Chase Private Client account?" To do so, let's outline some of the best benefits offered to Chase Private Clients to help you decide if the account is a good fit for you.
Remember, qualifying for Chase Private Client requires you to have a daily average of $150,000 across Chase investments and bank accounts, so in order to outweigh the opportunity cost of holding/investing these funds elsewhere, you'll want to make certain that the benefits are worthwhile to you.
Banking Benefits
No ATM fees worldwide
No incoming or outgoing wire transfer fees
No fees on the first 4 overdrafts during the current and prior 12 statement periods
Increased Chase QuickDeposit℠ limits
Increased limits for Chase QuickPay with Zelle®
Higher daily ATM withdrawal limit
Loan Benefits
Discounted home loan rates (when you purchase and refinance) and personalized guidance from a home lending specialist
Discounted rates on auto purchase loans and discounts on select Jaguar and Land Rover vehicles
Discounted rates for home equity lines of credit
Investment Benefits
A dedicated J.P. Morgan Private Client advisor
Personalized investment strategy and retirement planning
Free online stock and ETF trades with You Invest by J.P. Morgan
Business Benefits
Access to a Chase Small Business Specialist
No monthly service fee on a Chase Business Complete Checking account when linked to a Chase Private Client Checking account and no fees for electronic deposits
No monthly service fee on your Chase Private Client Checking account when linked to your Chase Platinum Business Checking account
Reduced minimum balance requirement for your Chase Platinum Business Checking account when linked to your Chase Private Client Checking account
Hot Tip: Want more information on all the benefits that Chase Private Client provides? Check out our ultimate guide to Chase Private Client.
How To Find the $2,000 Bonus Offer
If you've determined that a Chase Private Client account is a good fit for you, and you meet the qualification standards, here is how you can try to locate the best bonus offer possible. Make note that the anyone can upgrade to Chase Privet Client, but the $2,000 bonus offer is by invitation only so it's only for targeted customers.
Public Offer
As with its credit cards, Chase will periodically run limited-time promotional offers for many of its banking products — including Chase Private Client.
So if you were hoping to become a Chase Private Client, or are interested in opening any of Chase's other bank accounts, waiting until there is a promotional offer would be a great strategy to score yourself some extra cash.
Targeted Mailings
If you're like most people, you probably throw away or delete most of the marketing information you receive from companies in your mailbox or email inbox. While it is easy to write these things off as snail mail and not worthy of your time, you'd be surprised to find that there can be some very lucrative offers at times. In fact, if you've been targeted for a promotional bank account offer from Chase, the way you will be communicated to will be via email or a physical mailer.
However, if you don't ever receive any sort of promotional mailings from Chase, then it is likely that you have never opted in to receive promotional offers. Luckily there is an easy fix if you'd like to start receiving these offers. All you need to do is log into your Chase account, click Profile, then Settings. Once there you'll want to click Marketing Preferences and then click Yes to receive special offers from Chase.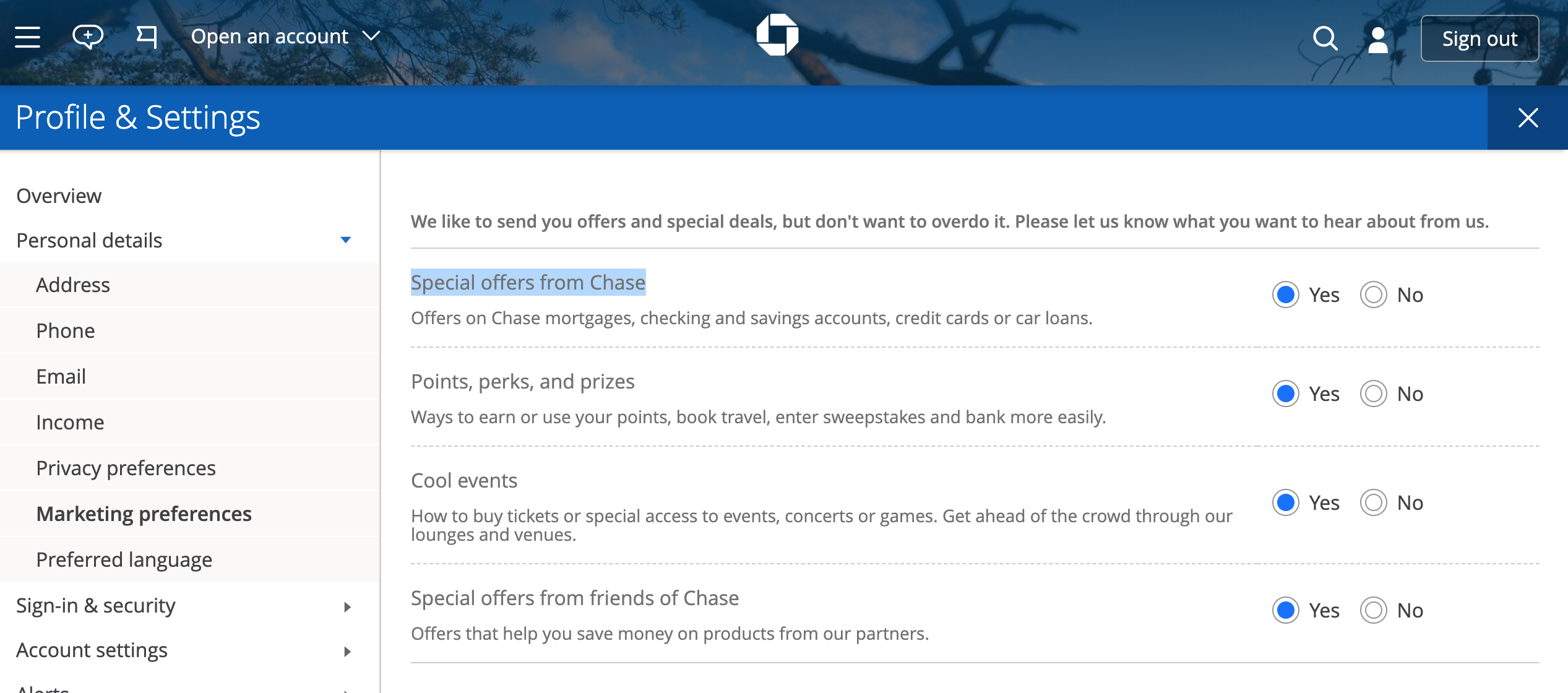 Meet With a Private Client Banker at a Chase Branch
Visiting a Chase branch to meet with a Private Client Banker would be a great option for those who are on the fence about Chase Private Client, or are hoping to upgrade from their current Chase bank account. If you're in luck, a Private Client Banker might even be able to help get you matched with a targeted welcome offer for a Private Client account.
Keep in mind that not all Chase branches offer Chase Private Client services, so make sure your local branch offers this service before stopping by. To do so, you can utilize the Find a Branch tool.
Reasons You May Not Be Able To Get a Bonus Offer
You Haven't Opted-In to Marketing Offers
The easiest way for you to find out that you've been targeted for a promotional offer from Chase is for the bank to contact you and tell you itself. But if you haven't allowed it to do so then you might never know! So if you want to make sure you're notified about any offers you're eligible for, you need to make sure you've opted-in.
You're Already a Chase Private Client
Bonus offers for Chase Private Client are not eligible for existing account holders. So if you're already a Chase Private Client then you're out of luck.
You Don't Qualify for a Chase Private Client Account
This last one goes without saying, but if you don't meet the qualifications standards for the Chase Private Client program, then you will not be eligible to receive a Private Client bonus offer.
Final Thoughts
Chase Private Client might be the perfect program for you if you're considering parking a large number of funds with Chase. But before doing so, make sure you find the benefits that the program offers to be worthwhile, and, if possible, try to land yourself a bonus offer before signing up to sweeten the deal even more.
---
The information regarding the Chase Private Client was independently collected by Upgraded Points and was not provided nor reviewed by the issuer.