How to Get a Business Credit Card (Regardless of Your Company's Size)
If you own or run a company, it's likely that you have at least some business-related expenses. Rather than paying these costs outright with a check or cash, though, there could be some definite advantages to using a business credit card.
But before you sign up for just any card, follow a few key steps to determine how to get a business credit card and which card would be best for your particular objectives.
If you're wondering how you can get a business credit card, the good news is that in many cases, it's easier than you might think! Using a company credit card can also come with a number of nice perks, like cash-back, travel benefits, or other rewards.
In addition to simply paying your expenses, a business credit card can be used for a number of other financial-related needs, too. These can include alternate financing strategies in lieu of taking on business loans.
So, how exactly do you go about securing a business credit card?
5 Simple Steps for Choosing & Getting the Right Business Credit Card
Narrowing down the right business credit card can be quick and easy if you work through the following 5 steps:
1) How much does your company spend each month?
The first step is to determine approximately how much your company spends on a monthly basis. In some cases, it may just be the cost of your internet service and a few new ink cartridges.
In other cases, though, you could have high overhead expenses, along with the cost of inventory, supplies, and marketing materials. And don't forget to factor in travel if you're on the move — this can really add up!
Hot Tip: As a part of your business credit card decision, ensure that you don't let large balances roll over if you aren't able to pay off the statement in full every month. Otherwise, you could find that you're stuck with escalating interest charges over time.
2) What type of expenses does your company primarily have?
Having an approximate expense figure is key to pointing you in the right direction in terms of the perfect card, but so are the types of expenses you have.
Savvy business owners will ascertain their "categories of spend" and look to sign up for a business card that rewards you in those categories. For example, if you spend a lot on online advertising (such as Facebook or Google Ads) then a card like the Chase Ink Business Preferred will earn you 3pts for every $1 spent on that type of purchase.
This can make a significant difference over the course of a year vs putting that spend on a card that just earns you 1pt per $1 spent on advertising. So, it's critical to determine where you're spending your money and allocate that spend to cards that reward you for doing so. This is one of the reasons that Alex earns so many points because he rotates the use of 4-5 business cards to ensure that each $1 he spends in his business is earning 1.5 – 5pts.
Some of his favorite business cards are as follows:
CHASE CARD
BENEFITS & INFO
Ink Business Preferred® Credit Card



Earn 100,000 bonus points after you spend $15,000 on purchases in the first 3 months.
Earn 3 points per $1 on the first $150,000 spent in combined purchases on travel, shipping purchases, internet, cable and phone services, advertising purchases made with social media sites and search engines each account anniversary year
Earn 1 point per $1 on all other purchases—with no limit to the amount you can earn
25% more value when redeeming points through Ultimate Rewards® travel
Annual Fee: $95
CREDIT CARD
BENEFITS
The Business Platinum Card® from American Express



Earn 75,000 Membership Rewards® Points after you spend $15,000 within your first 3 months of Card Membership.
Get 5X Membership Rewards® points on flights and prepaid hotels on amextravel.com.
Access more than 1,200 airport lounges across 130 countries and counting, including the amazing Centurion® lounges.
Up to $200 Airline Fee Credit.
Terms Apply
Annual Fee: $595
For rates and fees of The Business Platinum, please click here.
And for straight up cash-back earnings:
CREDIT CARD
BENEFITS & INFO
Ink Business Cash℠ Credit Card



Earn $500 bonus cash back after spending $3,000 within the first 3 months of account opening.
Earn 5% cash-back on the first $25,000 spent in combined purchases at office supply stores and on internet, cable and phone services each account anniversary year
Earn 2% cash-back on the first $25,000 spent in combined purchases at gas stations and restaurants each account anniversary year
0% introductory APR for 12 months on purchases, then a variable APR of 13.24% - 19.24%
Annual Fee: $0
3) Is a credit card or a charge card better for your business?
As you go through the process of getting a business card, you should determine whether or not a credit card or a charge card will best fit your needs. Although the 2 types of cards have some similarities, there are also some distinct differences.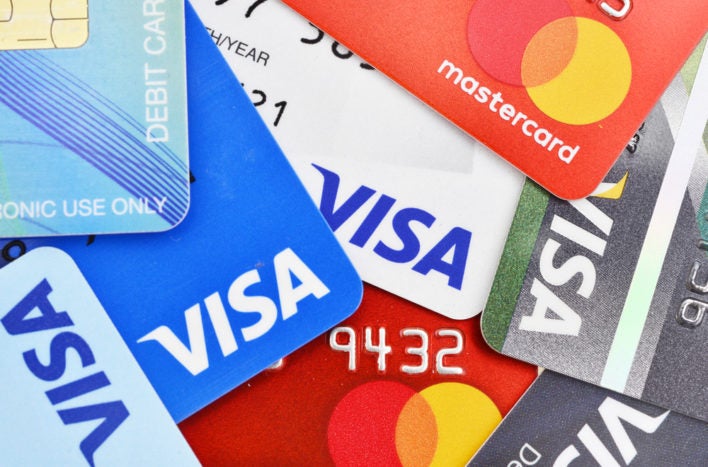 One primary difference is that there is typically no pre-set spending limit on a charge card. Also, there is no interest charged to charge cardholders — because you're required to pay back the entire balance in full every month.
If your payment is late, you may be dinged with a sizeable late fee…or possibly even a suspension of your charge card.
In addition, many charge cards are only accepted at certain locations like retail stores or gas stations (typically referred to as "branded" cards), while credit cards like Visa and Mastercard are generally accepted anywhere.
4) Do you want a business credit card with a rewards program?
Having a rewards program associated with your business card can be a nice incentive. However, the rewards may come at a price.
For example, many rewards credit cards charge an annual fee. So, before you apply for a card, make sure that the potential rewards will meet or exceed any yearly fee you're charged.
Put another way – you don't want to sign up to a high annual fee travel card that offers luxury lounge access, like the Business Platinum Card® from American Express, if you hardly ever travel. Instead, it might make more sense to sign up to a lower annual fee card like the Ink Business Cash if you're not a big traveler, but you're looking to get cash-back on your business spend.
5) Which business credit card will you qualify for?
Even if you're found the ideal business credit card, you will still have to qualify before you are issued a card to use.
Similar to when you apply for a personal credit card, the card issuer will typically check your credit report so they can determine your payment history, as well as your credit utilization ratio and the average length of your other credit accounts.
Hot Tip: If you have trouble qualifying for a particular business credit card, you could try applying for a card that's affiliated with your current bank or other financial institution where you already have a financial relationship built.
How to Apply for a Business Credit Card
Applying for a business credit card is pretty similar to applying for a personal credit card. The card application will ask you for personal and financial information, but there will be some additional information fields, too:
Name of the business
Type of business
Your role in the business (i.e., owner, founder, etc.)
Tax ID number or Employer Identification Number (EIN)
Years in business
Number of employees (if applicable)
Annual revenue
Estimated monthly expenses
Final Thoughts
Because all businesses and financial needs are different, there is no single "best" business credit card across the board. To determine the card that is right for you, review several potential options — including spending limits, rewards offered (if any), annual fee, and qualification factors.
Lastly, if you've decided on a business credit card, don't miss our piece on How to Maximize Rewards from Your Business Purchases.
---
Featured Image: Courtesy of Shutterstock.com