The JCPenney Credit Cards & Rewards Program – Everything You Need to Know
JCPenney department stores have been around for over 100 years (seriously!). For many people, their storefronts are viewed as a cornerstone of the American shopping mall, and almost everyone recognizes the brand or has flipped through a JCPenney catalog at some point.
So what about their credit card — does it stand up to the store-branded cards offered by other retailers?
In this review, we'll cover everything from benefits, fees, and drawbacks, to the application process, online account management, and more.
Plus, we list a couple alternative credit cards that are worth some serious consideration if you're thinking about adding the JCPenney card to your wallet.
The JCPenney Credit Cards at a Glance
JCPenney Credit Card

JCPenney Mastercard®
Main Benefits

🛍 Double Member Reward points




(1 point per $1 spent at JCPenney)




💰 Receive $10 certificate per 200 points earned




📆 Special financing offers




🎉 Exclusive coupons & special savings days




👏 First purchase discount




🎂 Birthday offer

💳 Use anywhere Mastercard is accepted.
🤔 Otherwise officially undisclosed; we can assume the same as the basic card 

(see details below). 

Annual Fee
$0
$0
APR
27.99% (fixed)
27.99% (fixed)
Late Fee
Up to $38
Up to $38
JCPenney has 2 store-branded cards issued by Synchrony Bank: a basic credit card and a Mastercard.
Potential cardholders do not get to choose which card they apply for; the initial application is submitted for a basic JCPenney credit card. When/if a current cardholder meets certain criteria, they may then be upgraded to the JCPenney Mastercard (at the card issuer's discretion).
JCPenney Credit Card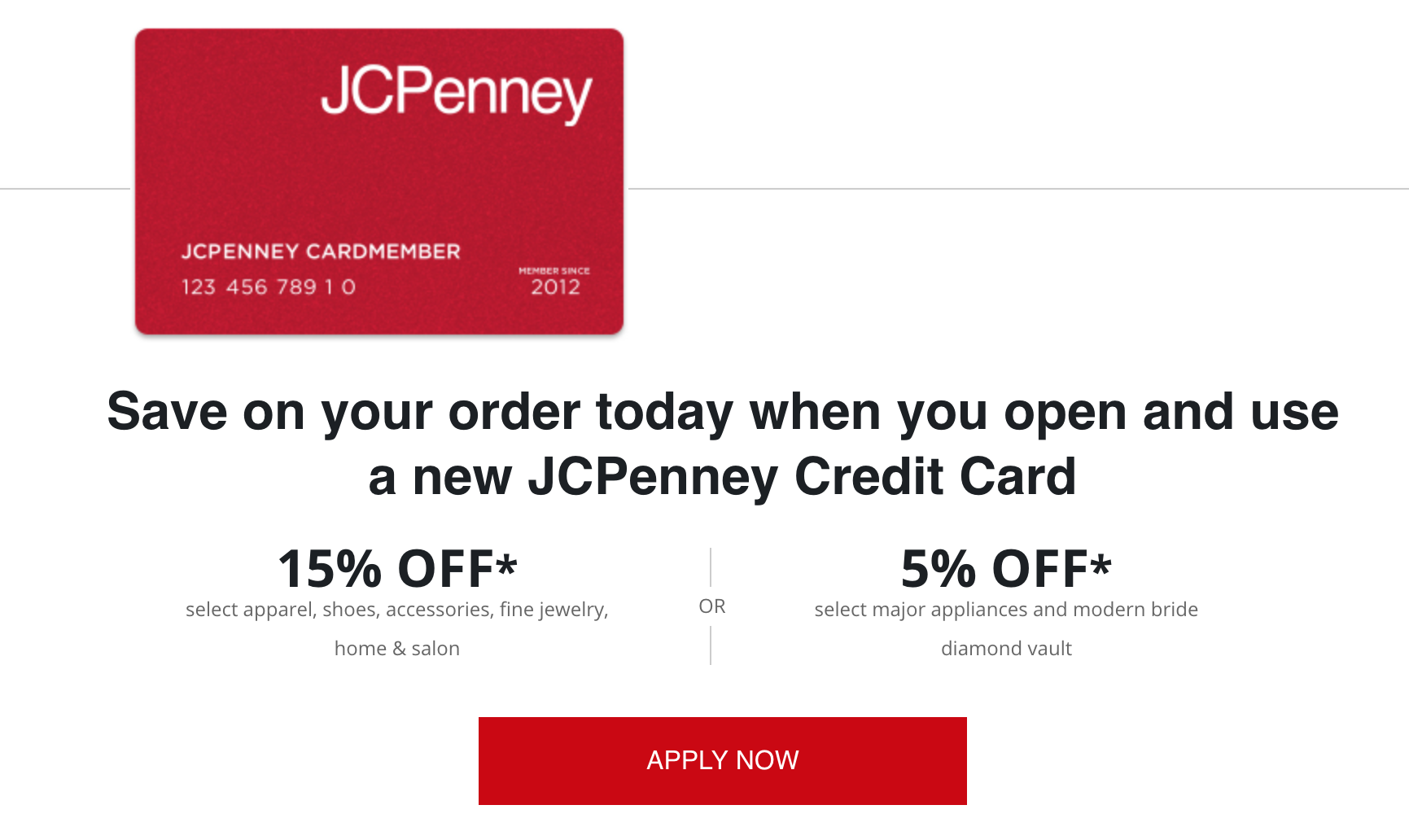 Where Can I Use My JCPenney Card?
Currently, the JCPenney credit card can be used for purchases at JCPenney, JCPenney.com, Sephora stores inside JCPenney stores, Sephora.com, Rite Aid, and Riteaid.com.
At this time, the card cannot be used for purchases at stand-alone Sephora stores.
What Are the Perks?
🛍 Double member reward points (1 point per $1 spent at JCPenney)
Basic JCPenney Rewards members who do not hold a JCPenney credit card receive 1 point for every $2 spent, so cardholders are essentially earning double rewards at the 1:1 ratio.
We discuss points earning in detail in the in-depth rewards section below.
💰 Receive $10 certificate for every 200 points earned
This one's pretty self-explanatory, but we go into more detail on earning/redeeming rewards in the in-depth rewards section below.
📆 Special financing offers
Certain purchases (major appliances, furniture, mattresses, fine jewelry, etc.) may qualify for special financing offers.
Offers may include special financing for 6, 12, 24, 36, 48, or 60 months.
Cardholders should absolutely differentiate between "No Interest" and "No Interest If Paid In Full Within" in the terms and conditions. (More on this in the Fees & Drawbacks section below.)
🎉 Exclusive coupons & special savings days
Cardholders will receive even deeper discounts than regular rewards members on Special Savings Days.
👏 First purchase discount
Currently, the online application offer allows approved cardholders to save 15% on select apparel, shoes, accessories, fine jewelry, salon products, furniture and mattresses, and home purchases.
Plus, save 5% on electronics (including TV's), Modern Bride® Design Your Dream Ring, and smart watches.
In U.S. stores only, save 15% on custom blinds and shades, and 5% on major appliances.
Current terms state that applicants who do not receive a credit decision right when they apply (but are later approved) will receive a $10 coupon in their credit card package.
🎂 Birthday offer
Cardholders will receive a special birthday offer if they meet certain conditions: their birth date is on file, they have used their card for at least 1 purchase in the last 12 months, and their account is in good standing.
JCPenney Mastercard®
Information related to the JCPenney Mastercard® is very difficult to find online.
We can assume the basic main benefits are the same as the JCPenney Credit Card including:
🛍 Double member reward points
(1 point per $1 spent at JCPenney)
💰 Receive $10 certificate per 200 points earned
📆 Special financing offers
🎉 Exclusive coupons & special savings days
👏 First purchase discount
🎂 Birthday offer
As for additional perks other than being able to utilize the card anywhere Mastercard is accepted? It's pretty tough to tell if there are any…
Mainly, we're wondering if cardholders earn 1 point/$1 spent anywhere, or just at JCPenney (and associated stores)? If not, do they at least earn 1 point per $2 spent anywhere, or is it simply a card to use outside of JCPenney without earning points?
Hot Tip: If you're a JCPenney Mastercard user and can weigh-in on the above confusion — leave us a message in the comments below. We'd be grateful for the clarification! 
When researching for this review, there was such a lack of information about this card that we weren't even completely sure the Mastercard upgrade was still available.
However, when calling JCPenney Credit Services customer service on August 14, 2018, they verbally confirmed that the company/Synchrony Bank does still provide upgrades to the JCPenney Mastercard if a cardholder meets specific criteria/qualifications…which they were not allowed to disclose.
The customer service rep was also unable to provide any additional information on the terms and conditions of the JCPenney Mastercard over the phone, including added benefits or additional fees (such as cash advance APR/fees and foreign transaction fees).
The rep also responded that there is currently no PDF or online file that relates this information; cardholders are simply mailed the information once they are upgraded to the Mastercard.
Synchrony Bank Credit Card chat services also confirmed on August 14, 2018 that if an account qualifies, it can still be upgraded to a JCPenney Mastercard.
This representative stated he was able to access the terms and conditions within the employee portal, but could not send us the full file over chat at this time. He also reported that the full terms are included when the Mastercard is mailed out to new cardholders.
He was, however, able to relate some fees and penalties over chat, which have been included in the "At A Glance" table above and the "Fees & Drawbacks" section below.
Previous Card Options
Previously, JCPenney gave cardholders an avenue to achieve gold/platinum card status (with additional benefits) by hitting certain spending levels.
However, as of 2014, the gold and platinum programs were discontinued. 
JCPenney Rewards (In-Depth)
Earning Your Points
JCPenney credit card holders are automatically enrolled in the JCPenney Rewards program upon approval.
As we mentioned above, JCPenney credit card holders technically earn rewards twice as fast as regular rewards members.
When using your JCPenney card for purchases at JCPenney or jcp.com, you'll automatically earn 1 point for every $1 spent (while non-cardholders earn 1 point for every $2 spent) up to the "Point Maximum" of 2,000 points in a single transaction.
Of note: if you're making an online purchase, the points are alotted once the item has shipped. 
Points are earned on the dollar amount after all discounts and coupons have been applied. Of course, if you return a purchase the points are revoked.
JCPenney's terms and conditions state that the following are not qualifying purchases:
"Sephora products that are not purchased from Sephora in JCPenney Stores or at jcp.com, gift cards, Sephora gift cards, international purchases, and dollars spent on sales tax, state fees, and charges and fees (e.g. shipping, delivery or installation charges, and restocking or recycling fees). Qualifying purchases made on a JCPenney Home Services Credit Card include Home Service purchases, e.g. HVAC, bath remodeling, hot water heaters and related services purchased through JCPenney." 
Rewards points don't expire as long as the member's account stays active — meaning the cardholder must make a purchase/earn points at least once in a 12-month period.
Hot Tip: Do not confuse non-expiring points with rewards certificates — your rewards certificate will have a clearly printed expiration date. 
How Rewards Are Issued
Once a rewards member reaches 200 points, a $10 rewards certificate is issued. There is no limit to the number of $10 rewards certificates that an individual can earn.
In-store: A reward certificate is available almost immediately after earning it, and it can be used toward the next transaction anytime thereafter.
Online: If you have a valid email address linked to your rewards program account, you will receive your certificate via email. You can also access your certificate in your online rewards account portal or through the mobile app. They usually take about 24 hours to appear.
By Mail: If there is not a valid email address on file with your rewards account, the certificate will be sent by U.S. mail, which usually takes about 3-4 weeks after the reward is earned.
Additionally, for JCPenney cardholders, rewards are included on their respective billing statement.
Using Your Rewards
Shoppers can only use JCPenney rewards certificates on eligible JCPenney purchases.
In-store, rewards members can present a printed rewards certificate or show the certificate on their mobile app to redeem. If a member does not have either option available, they can give their linked phone number or email address at checkout.
During the transaction, the rewards certificate will be applied first before any other discounts or coupons.
Online, shoppers will want to be sure they are logged into their account prior to making a purchase; this will ensure the rewards certificate is listed as an available option for payment at checkout.
Managing Your Rewards
You can view and manage your rewards through your online JCPenney Rewards account or through the mobile app.
We'll go into this in more detail in the Login & Account Management section below.
Fees & Drawbacks of the JCPenney Card
Every single credit card on the market comes with pros and cons. In terms of fees and drawbacks, the JCPenney credit cards have some big ones.
Fees at a Glance
| | | |
| --- | --- | --- |
| | JCPenney Credit Card | JCPenney Mastercard® ** |
| Annual Fee | $0 | $0 |
| Purchase APR | 27.99% (fixed) | 27.99% (fixed) |
| Cash Advance APR | n/a | 27.99% (fixed) |
| Cash Advance Fee | n/a | 5% of the transaction or $10.00 (whichever is higher) |
| Foreign Transaction Fee | n/a | 3% of each transaction |
| Minimum Interest Charge | $2 | $2 |
| Late Fee | Up to $38 | Up to $38 |
**As mentioned earlier, there is no file accessible/available online for the terms and conditions of this card. The information included above is what was reported via a customer service representative through Synchrony Bank's Credit Card chat services at the time of researching this piece. Customers receive the most up-to-date terms and conditions in the mail when they receive their upgraded card and welcome packet. 
The biggest monster you're battling here is the ridiculously high APR. At 27.99%, carrying a balance on this card can get you into trouble FAST.
The best way to avoid fees and penalties? Always act as a responsible cardholder. 
This means monitoring your finances closely, spending wisely, and paying off your balance on time, in full, each month.  If you can't pay the balance in full, you should pay as much as you possibly can on time and pay off the rest as soon as possible.
Note: If you are looking for rewards cards with a 0% Intro APR, we have reviewed several of them.
Other Drawbacks
If you have a basic JCPenney card, you can't use it anywhere besides JCPenney, jcp.com, Rite Aid, the Sephora stores inside JCPenney, and (most recently) online at Sephora.
So unless you're an avid JCPenney shopper, you're unlikely to rack up points quickly. Especially since 1:1 is not the best earnings ratio, when you consider many other rewards based credit cards offer bonus points in everyday spending categories like gas, dining, travel, etc. (We'll have more about alternative cards in the next section.)
Lastly, it has been widely noted that JCPenney places a pretty high markup (as much as 30% by some reports) on their inventory in order to make sales more appealing to the consumer. These "SALE" prices are likely what you'll find as baseline prices for the same item elsewhere.
So if you're not buying a sale item, are you really saving by earning rewards on that overpriced bedding set?
A Note on "Special Financing"
Any time you take advantage of a special financing offer, you should be explicitly aware of the terms and conditions.
There is a HUGE difference between the phrase "no interest for 6 months" and "no interest if paid in full within 6 months." The latter indicates you'll be subject to deferred interest.
So what is deferred interest, and how could it get me in trouble?
With deferred interest, if you pay off your purchase in full within the promotional period, no interest will be applied — hooray, you've successfully taken advantage of the benefit!
However, if you don't pay off your balance in full within the promotional period, interest charges will be imposed on the starting balance at the APR for regular purchases retroactively from the date of purchase.
Alternative Rewards Credit Cards (Our Recommendations)
There are a number of other excellent rewards-based cash-back credit cards out there that would likely earn you more in value than the cards offered by JCPenney, and certainly with lower APR's initially.
Rewards Card
Benefits & Info
Chase Freedom Unlimited®



Earn $200 bonus after you spend $500 on purchases in your first 3 months. Unlimited 1.5% cash back on all purchases.
0% Intro APR for 15 months from account opening on purchases, then a variable APR of 14.99% - 23.74%.
Annual Fee: $0
For those of you who love to travel (or simply want to travel more than you do now), consider one of the most popular travel cards out there — the Chase Sapphire Preferred® Card.
The sign up bonus alone is worth $625 when used for travel expenses (flights, hotels, car rentals etc) through Chase's travel portal, where you can practically book any flight that you want.
Credit Card
Benefits & Info
Chase Sapphire Preferred® Card



LIMITED TIME OFFER! Earn 80,000 bonus points after spending $4,000 within the first 3 months (highest ever bonus!)
Earn 2x points on travel and dining at restaurants worldwide, eligible delivery services, takeout and dining out
Earn 1 point per dollar spent on all other purchases.
Get unlimited DoorDash deliveries with a $0 delivery fee and reduced service fees on orders over $12 for a minimum of one year on qualifying food purchases with DashPass, DoorDash's subscription service. Activate by 12/31/21.
Good to Excellent Credit Recommended (670-850)
Annual Fee: $95
With this card, earn 1pt/$1 spent at JCPenney stores and outside of JCPenney, you'll earn 2pts/$1 spent on ALL dining and travel purchases.
Lastly, don't forget that the Chase points you'll collect are very valuable when used for maximum value!
Applying for the JCPenney Card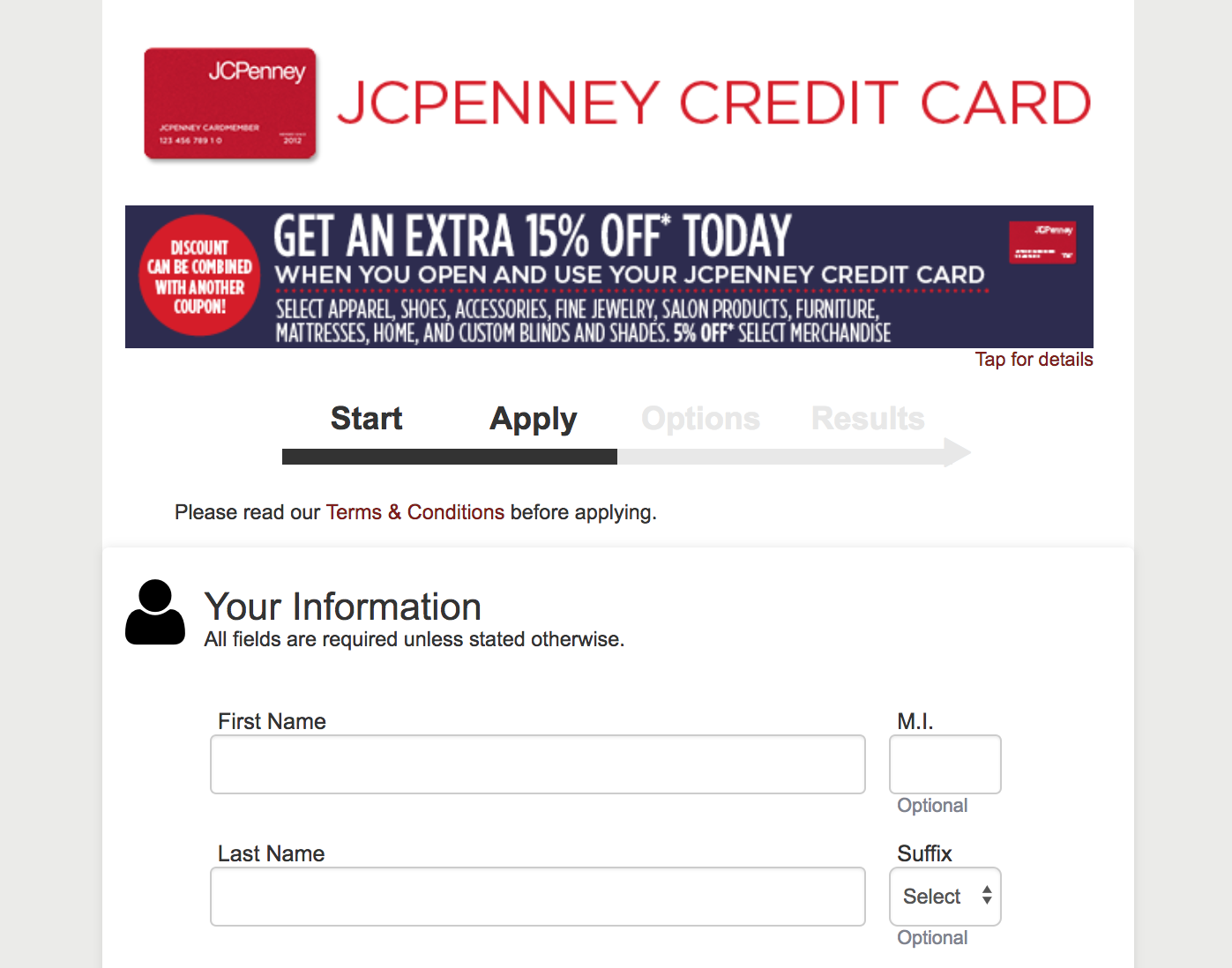 Individuals who want to apply for a JCPenney credit card can do so in 2 ways:
Remember, you cannot apply outright for the JCPenney Mastercard.  Shoppers initially apply for the basic card and may be upgraded to the Mastercard if they qualify. Neither JCPenney nor Synchrony bank currently list the requirements for achieving this upgrade.
The JCPenney card can be approved instantly, but in some cases the application may require further review. At this point, applicants are usually notified of approval/denial within 7-10 days.
While JCPenney and Synchrony don't list the credit requirement for this card, most review websites report that applicants should be approved if they have a credit score of "fair" or better.
Online (Or App-Based) Login & Account Management
JCPenney provides cardholders with 2 different platforms for managing their account: online and via their mobile app.
Online Management
If it's your first time logging in to manage your account online, you'll need to register and link your credit card. Once you have done so, you can simply log in with your username and password.
The platform allows users to
View account activity
View billing statements
Make payments
Set up paperless billing
Set up alerts
Track your points earnings
Access your rewards certificates
…and more
App Management
The free JCPenney mobile app (for Apple and Android) provides cardholders with a quick and easy way to manage their account, and it's actually rated really well in the iTunes app store: 4.7 stars from over 224,000 ratings.
Users can perform all the same tasks within the app that they would in the desktop/web platform:
View account activity
View billing statements
Make payments
Set up paperless billing
Set up alerts
Track your points earnings
Access your rewards certificates
…and more
Final Thoughts
If you're an avid JCPenney shopper, you could benefit from having this card in your wallet. This is especially true if you utilize bonus shopping days make sure you're spending on the right products (watch out for inflated prices to make sales seem more lucrative!).
But there are some serious drawbacks to consider.
Remember, you can only use this card at JCPenney (jcp.com, Sephora inside JCPenney, Sephora.com, and Rite Aid) unless you have the Mastercard version — which you can't actually apply for, only be upgraded to. Also, when you receive your rewards certificates, they can only be utilized at JCPenney.
It's also important to note that there's a massive APR on this card, so be sure to you pay your statement balance in full, on time, every month. And if you choose to use a special financing option, make sure you know what you're getting yourself into.
So, if you don't stick strictly to JCPenney for shopping and/or you want some flexibility with the rewards you earn, this isn't the right card for you.
There are a number of other quality cash-back rewards cards available. A lot of them have excellent reviews and can earn you some big returns in everyday spending categories like groceries, gas, dining, travel, and even some department stores. Plus, with a true cash-back card, you can use your earnings any way you want!
---
Featured image credit: Shutterstock.com