American Airlines & IndiGo Codeshare Agreement on Select Flights
American Airlines and IndiGo, one of the largest low-cost airlines in India, have formed a partnership to increase connectivity throughout India. The new codeshare agreement, expected to begin in October 2021, will allow American Airlines to put its flight number on a number of intra-India flights so that consumers will have a more seamless travel experience traveling to or from the U.S.
Why American Is Partnering With IndiGo
American has recently introduced service from New York (JFK) to New Delhi (DEL) and Seattle (SEA) to Bengaluru (BLR), but beyond these points, passengers have had limited opportunities for connections. With Air India already being in the Star Alliance, IndiGo was the next obvious airline opportunity for American to partner with.
The new partnership will allow you to fly to New Delhi or Bengaluru and then beyond into local, smaller markets. If you're flying into New Delhi, IndiGo can take you to 14 destinations beyond, and if you're flying into Bengaluru, expect to be able to choose from 16 destinations.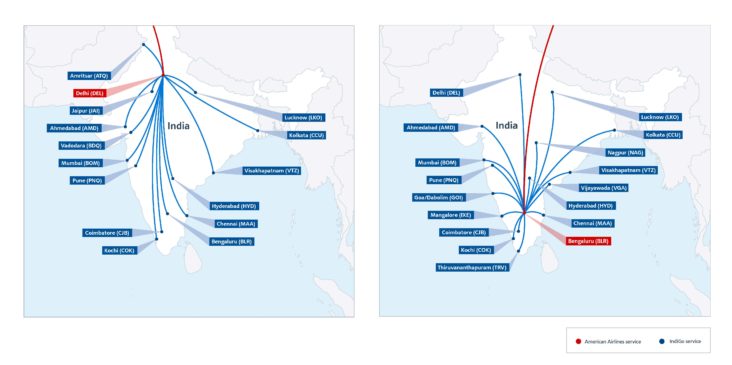 What This Means for American Airlines Flyers
With American placing its flight numbers on IndiGo flights, you'll soon start to be able to earn AAdvantage miles on all IndiGo flights, in addition to the long-haul flights from the U.S. At a later date, we may see opportunities for AAdvantage members to redeem miles on IndiGo flights, though this is something that has not been announced at this time.
Once the codeshare agreement goes into effect — which will happen once American officially launches its flights to India (late October 2021 for JFK-DEL and January 2022 for SEA-BLR) — customers will be able to go to aa.com or call American and book a flight itinerary starting in the U.S. and ending up in one of 19 cities beyond Bengaluru or Delhi.
Bottom Line: This seamless booking process will definitely improve the overall traveler experience, as customers can now book their flights as a one-stop-shop itinerary, making it perfect for business or leisure travelers alike.
Final Thoughts
When an airline codeshares with another airline (as we recently saw announced between American and GOL), it is almost always good news since it provides additional flights for travelers to book and makes the travel experience run much more smoothly from start to finish.
With this partnership between American Airlines and IndiGo, travelers will be able to fly to major cities in India and then onward to their family and friends without booking separate tickets.