17 Best Ways to Earn Lots of GOL Smiles Miles
GOL, which is short for GOL Linhas Aéreas Inteligentes, is a low-cost carrier based in Brazil. GOL is known for offering dirt-cheap fares, even on point-to-point routes within the Western Hemisphere.
Without a doubt, GOL is one of the essential airlines in South America, capturing a whopping 35.7% of domestic and 9.6% of international market share in Brazil, according to the most recent statistics.
GOL's frequent flyer program is called Smiles, and its frequent flyer miles are called Smiles miles. GOL has opted to strike up individual partnerships with various airlines instead of joining an established airline alliance like Star Alliance or Oneworld. Let's look into all the different ways you can earn Smiles miles quickly.
Sign up for a Smiles Account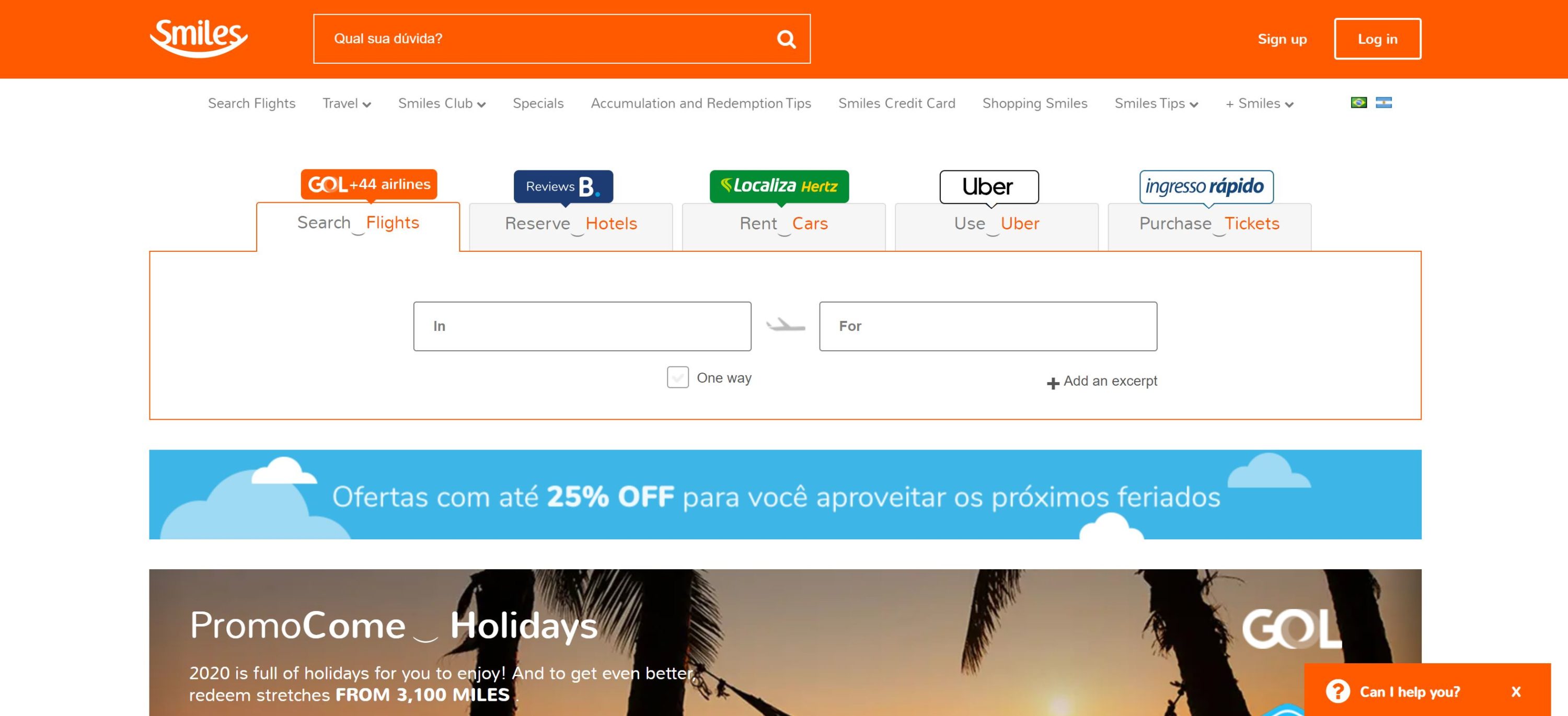 Smiles is as an independent entity that administers and operates GOL's frequent flyer program. As a result, you will need to visit the Smiles website, not the GOL website, to create a frequent flyer account.
Unfortunately, this is further complicated by the fact that Smiles' website will be in Portuguese.
Here are the steps you can follow to sign up for Smiles:
Visit Smiles' homepage.
From your browser, you'll be asked to translate the page. Unless you understand Portuguese, you'll definitely want to have Google Translate assist you.
After the page is translated, navigate to the top ribbon next to the search bar and click Sign up.
You'll be asked to "Enter your CPF." Click on the button that says Registration without CPF (foreigners) just above the Continue button.
You'll be asked to provide an identification document. Select Passport and enter your passport number.
Enter your personal information, contact information, and create your account.
You may be prompted to confirm your account information via email.
Write down and use your Smiles account number whenever you try to earn miles.
Earn Smiles Miles With Credit Cards
One of the easiest ways to earn Smiles miles is to leverage the right credit cards for your existing spending. That way, you don't need to plan crazy mileage runs or other unnecessary trips just to earn some miles.
Let's look at the cards you can use to earn GOL miles.
Non-U.S. Based Credit Cards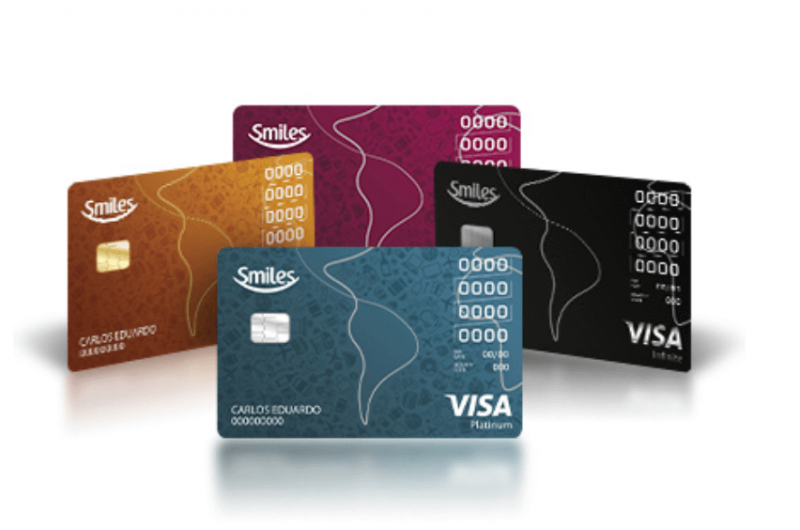 Unfortunately, while GOL was previously transfer partners with Marriott Bonvoy, this is no longer the case.
There are 4 co-branded credit cards that earn Smiles miles directly:
Smiles International Visa Credit Card
Smiles Visa Gold Credit Card
Smiles Visa Infinite Credit Card
Smiles Visa Platinum Credit Card
These credit cards are open only to Brazilian residents and are administered by 1 of 3 banks: Banco do Brasil, Banco Bradesco, and Santander.
Learn more about each credit card here.
Other Financial Partners
Smiles has a ton of transfer partners, but none of them are accessible for U.S. residents. This includes American Express Membership Rewards, which maintains unique transfer partners depending on which country your card is issued in.
Here are all the partners:
| | | | |
| --- | --- | --- | --- |
| Smiles Transfer Partner | Transfer Ratio | Smiles Transfer Partner | Transfer Ratio |
| Ailos Sistema de Cooperativas de Credito | 1:1 (minimum transfer is 10,000 points) | Caixa Econômica Federal | 10:10 (minimum transfer is 4,000 points) |
| American Express – Brazil | 1:1 (minimum transfer is 10,000 points) | Credicard | 1:1 (minimum transfer is 100 points) |
| Banco do Nordeste | 1:1 | Esfera | 1:1 |
| Banco PAN Mais | 1-2.5:1 (minimum transfer is 15,000 miles) | Itau Bank | 1:1 (minimum transfer is 100 points) |
| Banco Safra | 1:1 | Livelo | 1:1 (minimum transfer is 10,000 points) |
| Banestes SA – Banco do Estado do Espirito Santo | 1:1 (minimum transfer is 7,000 points) | Nubank | 4:1 |
| Banpará | 1:1 | Sicoobcard | 1:1 (minimum transfer is 10,000 points) |
| Banrisul | 1.25:1 (minimum transfer is 15,000 points) | Sonda Supermarkets | 2:1 (minimum transfer is 10,000 points) |
| Bradesco Cartões | 1:1 (minimum transfer is 10,000 points) | Unicred Pontue Mais | 1:1 (minimum transfer is 10,000 points) |
| BRB Card | 1:1-2 (minimum transfer is 8,000 points) | Uniprime Central | 1:1 |
| BV | 1:1-1.75 (minimum transfer is 15,000 points) | Zaffari/Bourbon Card | 1:30 (minimum transfer is 150 points) |
| C6 Bank | 1:1 (minimum transfer is 1,000 points) | | |
Earn Miles Through Shopping
If you're looking to earn bonus miles by taking advantage of shopping deals or you're just making some ordinary but necessary purchases, there are lots of ways to maximize your Smiles miles balance.
Shopping Smiles Partners
Smiles has an internal shopping portal called Shopping Smiles. The products offered in Shopping Smiles range from iPhones to shoes to televisions. With such a diverse offering of consumer goods, you'll definitely have tons of opportunities to accumulate Smiles miles.
Here are all of Smiles' shopping partners:
Earn Miles Through Travel
There are countless different ways to earn Smiles miles from travel spending. Traveling makes up a significant portion of your overall spending, so you're going to want to extract as much value as you possibly can.
Airfare and Airline Purchases
GOL has 3 sets of accrual structures governing GOL operated or codeshare flights. These are split up into:
National flights (domestic)
International flights
Codeshare flights marketed by GOL but operated by select partners
GOL's domestic flights have 4 classes as follows:
Promotional — earns 1 mile per R$1 spent
Light — earns 1 mile per R$1 spent
Plus — earns 2 miles per R$1 spent
Max — earns 3 miles per R$1 spent
For example, if you purchase a flight from Rio de Janeiro (GIG) to Brasilia (BSB) on a Max fare for $80, excluding taxes and fees, you'll earn a total of 240 Smiles miles.
For international flights, you'll earn based on the following structure:
Promotional — 50% of distance flown
Light — 100% of distance flown
Plus — 150% of distance flown
GOL Premium – –200% of distance flown
For example, if you purchased a Plus fare round-trip between Miami (MIA) and Brasilia (BSB), you'd earn a total of 10,797 miles, which is 150% of the total distance flown (7,198 miles).
Additionally, the minimum miles you'll accrue are:
North America — 5,000 Smiles miles
Central America/Caribbean — 3,000 Smiles miles
South America — 1,000 Smiles miles
The last portion is codeshare flights. These are flights that are sold by GOL but are operated by other airlines, such as Air France. GOL currently has codeshare agreements with these airlines:
GOL Codeshare Airline Partners
Aerolineas Argentinas
Delta Air Lines
Air France
Etihad Airways
Copa Airlines
KLM
Depending on your booking class, you'll earn bonus miles for flights operated by these airlines with a GOL flight number.
Crediting Partner Airlines to Smiles
GOL, although not in any airline alliance, is partners with tons of different airlines. At the moment, you can earn Smiles miles when you fly on any of these airlines:
These are notably distinct from codeshare flights because GOL codeshare flights are usually more expensive than flights purchased directly from the operating carrier.
As a result, you might find discrepancies in the accrual rates for codeshare flights versus the accrual rates for flights sold directly by the operating airline.
To learn more about the accrual structure for specific fare classes on each airline, click the desired airline link above.
Use Elite Status to Earn More Miles
If you have Smiles elite status, you'll be able to earn even more bonus miles. Here are the key attributes of each Smiles elite status:
Benefit
Smiles 
Smiles Silver
Smiles Gold
Smiles Diamond
Bonus miles
0%
25%
50%
100%
Expiration of miles
6 years for miles via GOL flights, 3 years otherwise
8 years for miles via GOL flights, 4 years otherwise
20 years for miles via GOL flights, 10 years otherwise
Minimum accrual on domestic GOL flights
None
500 miles
1,000 miles
Let's take the example flight above: a round-trip ticket between Miami (MIA) and Brasilia (BSB) on a Plus fare, which earns 150% of the total distance flown.
We calculated above that the total return for base-level Smiles members would be 10,797 miles. However, if you are a Smiles Diamond member, that number would double, netting you a whopping 21,594 miles for a single flight!
There are several different benefits associated with having each elite status tier that weren't illuminated above, which you can learn more about here.
Create a Family Account to Consolidate Miles
By combining miles for up to 6 people into 1 account (known as Conta Familia, or Family Account), you'll be able to rack up miles up to 6 times faster than normally possible!
Keep in mind that this is only possible for Smiles Club members and Diamond elite members, so you'll need to qualify through that threshold.
Smiles Club subscribers must have had their subscription active for 30 days before attempting to set up a family account. Once you're ready to go, follow these steps:
Create a Family Account
Nominate/invite up to 5 people
Each guest must accept the invitation within 3 business days.
All miles will be transferred to the host account.
Make Hotel Reservations Through Smiles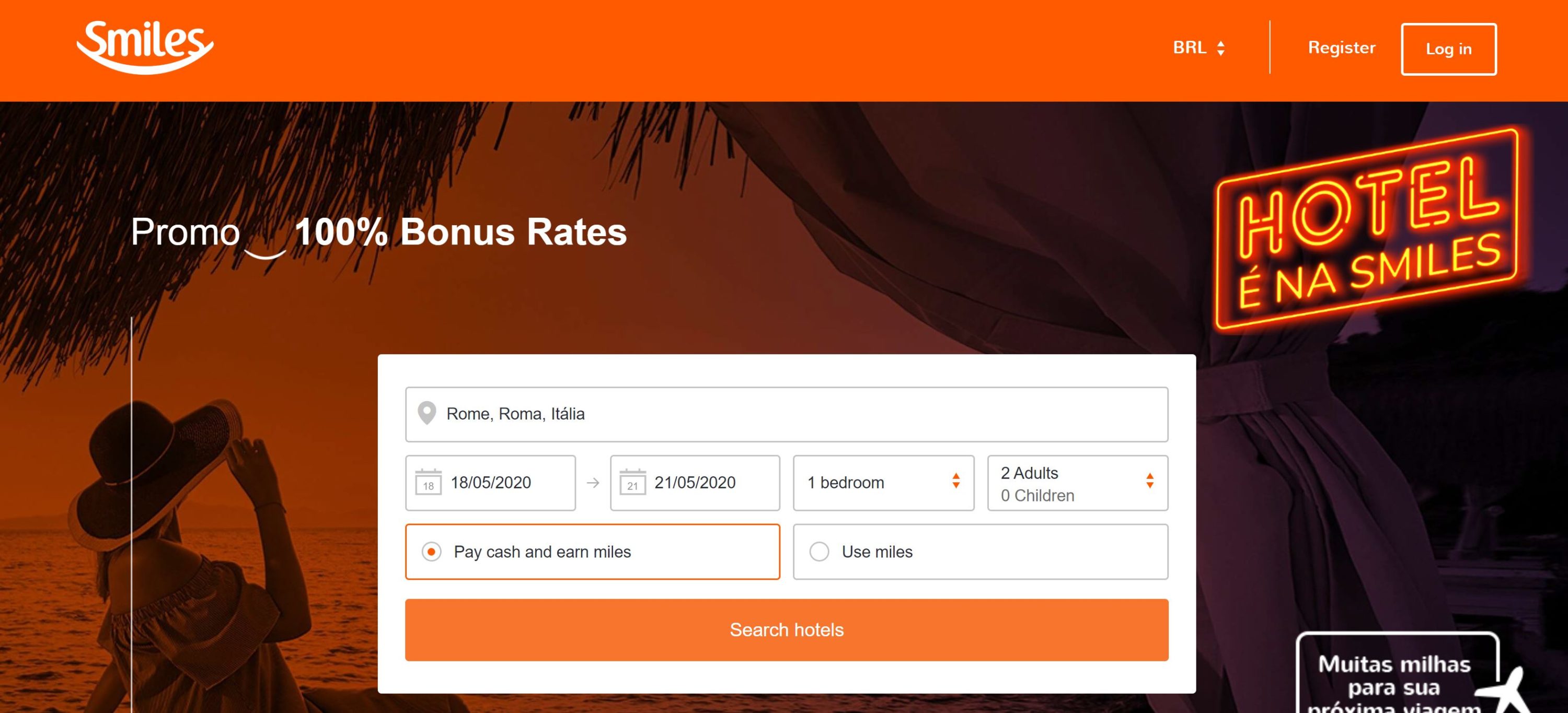 Smiles partnered with Booking.com to offer a hotel search engine directly on Smiles' website.
To access bonus miles, follow these steps:
Visit Smiles hotel booking page.
Enter the destination city, dates of travel, number of rooms, number of guests, and select Pay cash and earn miles.
Click Search hotels.
After the search results are populated, select the hotel that you wish to book.
When you get to the reservation page, you'll see the number of miles you'll earn. It may show as "+15.000 

milhas," for example. You'll also notice that Smiles Club members earn bonus points. 

Complete the booking and the miles should be credited to your account within 45 days of completing your stay.
The accumulation rate will depend on the actual hotel, rate type, and duration of your stay.
Book Car Rentals Through Hertz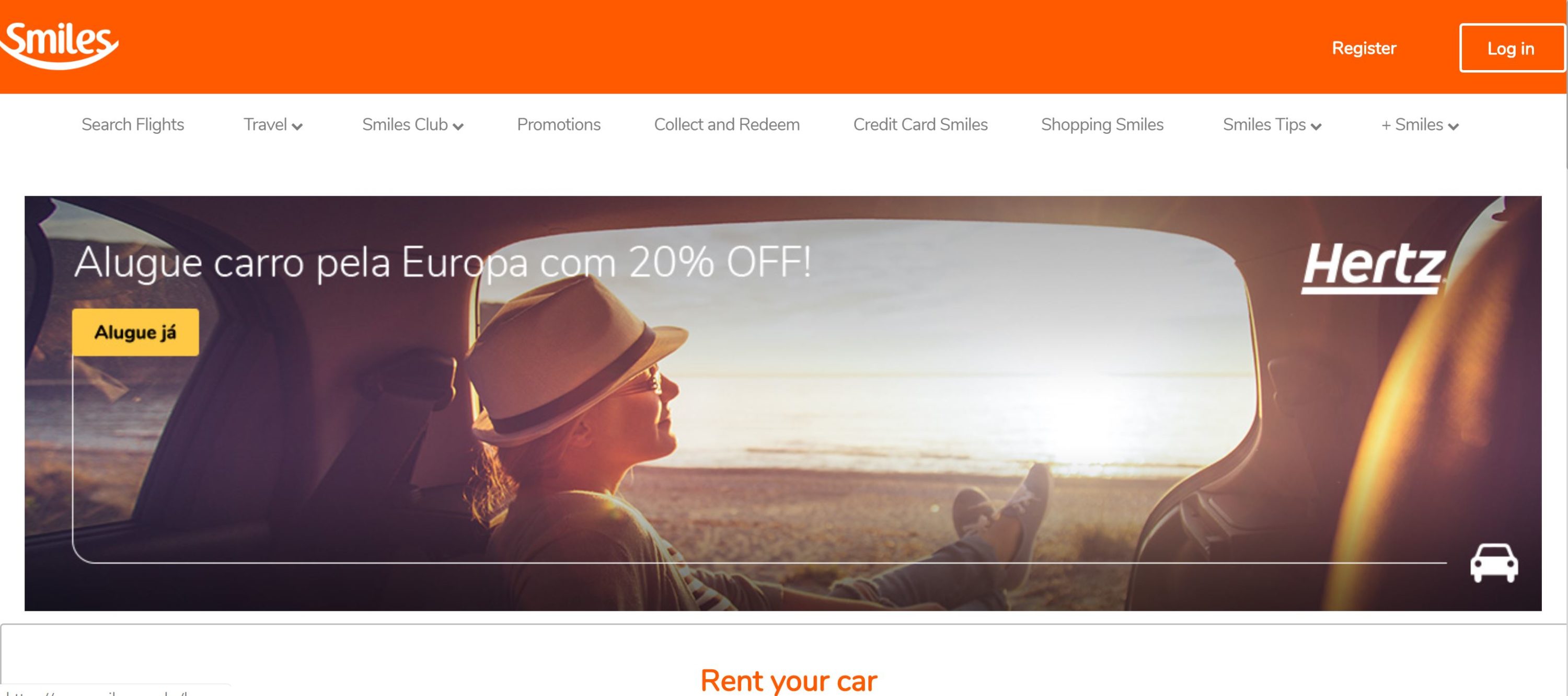 Smiles' exclusive car rental partner is Hertz, known locally as Localiza Hertz. You'll earn miles depending on the exact rental details.
Here are the steps you can follow to book your rental car and earn Smiles miles:
Visit Smiles' car rental page.
Enter your booking information.
Make sure that the toggle button is switched to Earn miles instead of Use miles.
Click Search car.
Book your reservation and earn miles!
Hot Tip: If you find that your car rental is significantly more expensive than the cheapest available rate, it might not be worth it to book directly through Smiles. Check out our complete guide on how to save money on car rentals.
Earn Miles Riding With Uber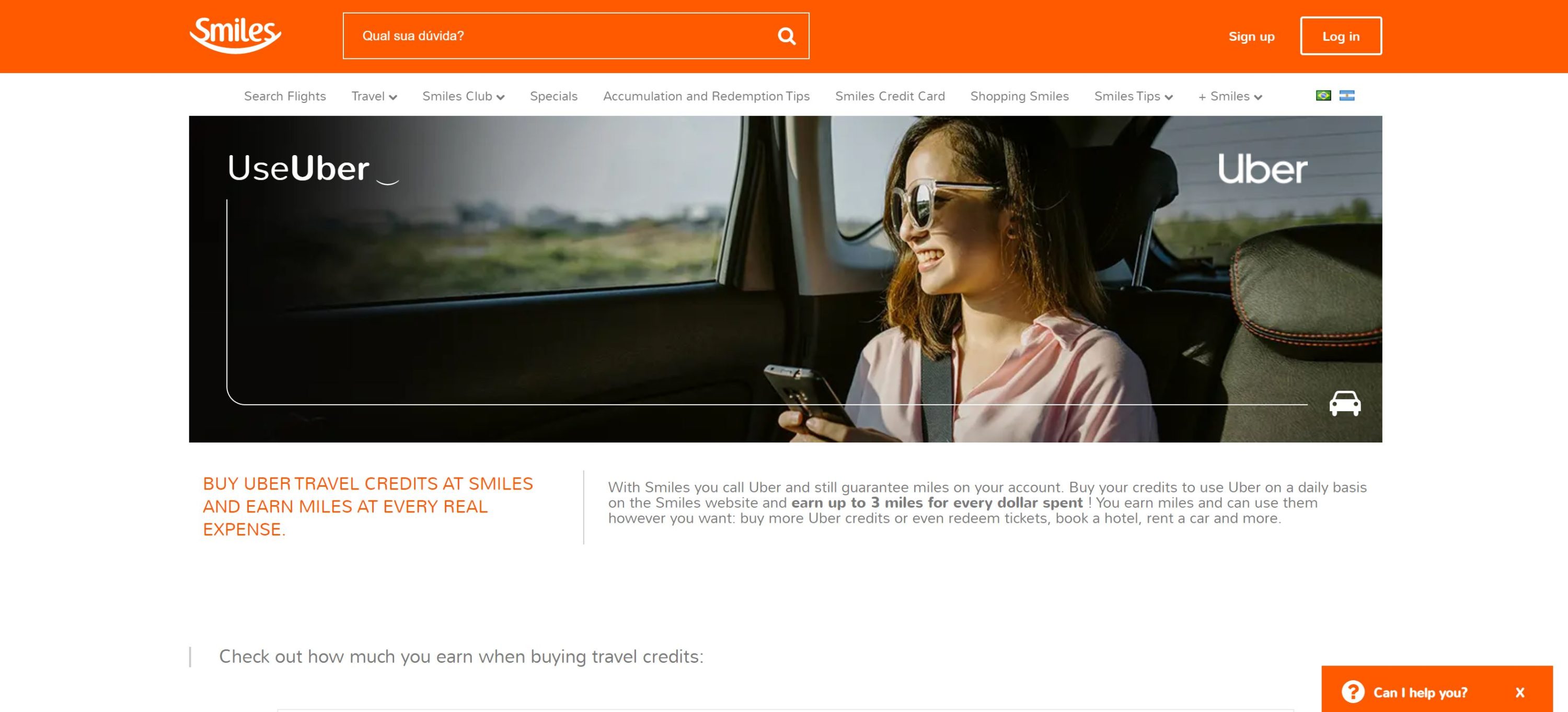 Uber has become the generic trademark for rideshare services. While some airlines allow you to earn miles directly on rideshare services, such as Delta with Lyft, Smiles doesn't have this agreement.
The way it works is:
Purchase prepaid credits on Uber while providing your Smiles number.
Activate the prepaid credits on the Uber app.
Use the prepaid credits on Uber to book rideshare services.
As you can see, there are a few more steps than it would normally take; however, it's still a lucrative partnership, which will enable you to earn miles as follows:
| | | |
| --- | --- | --- |
| Uber Credit Amount | Smiles Member | Smiles Club/Diamond Member |
| R$30 (~$7) Uber credit | 60 miles | 90 miles |
| R$70 (~$16) Uber credit | 140 miles | 210 miles |
| R$100 (~$23) Uber credit | 200 miles | 300 miles |
The best-case scenario is you'll earn 3 miles per R$1 spent, which is equivalent to earning 13 miles per $1 spent! This is a fantastic deal, and it's extraordinarily useful if you plan on using Uber's rideshare services.
Book a Cruise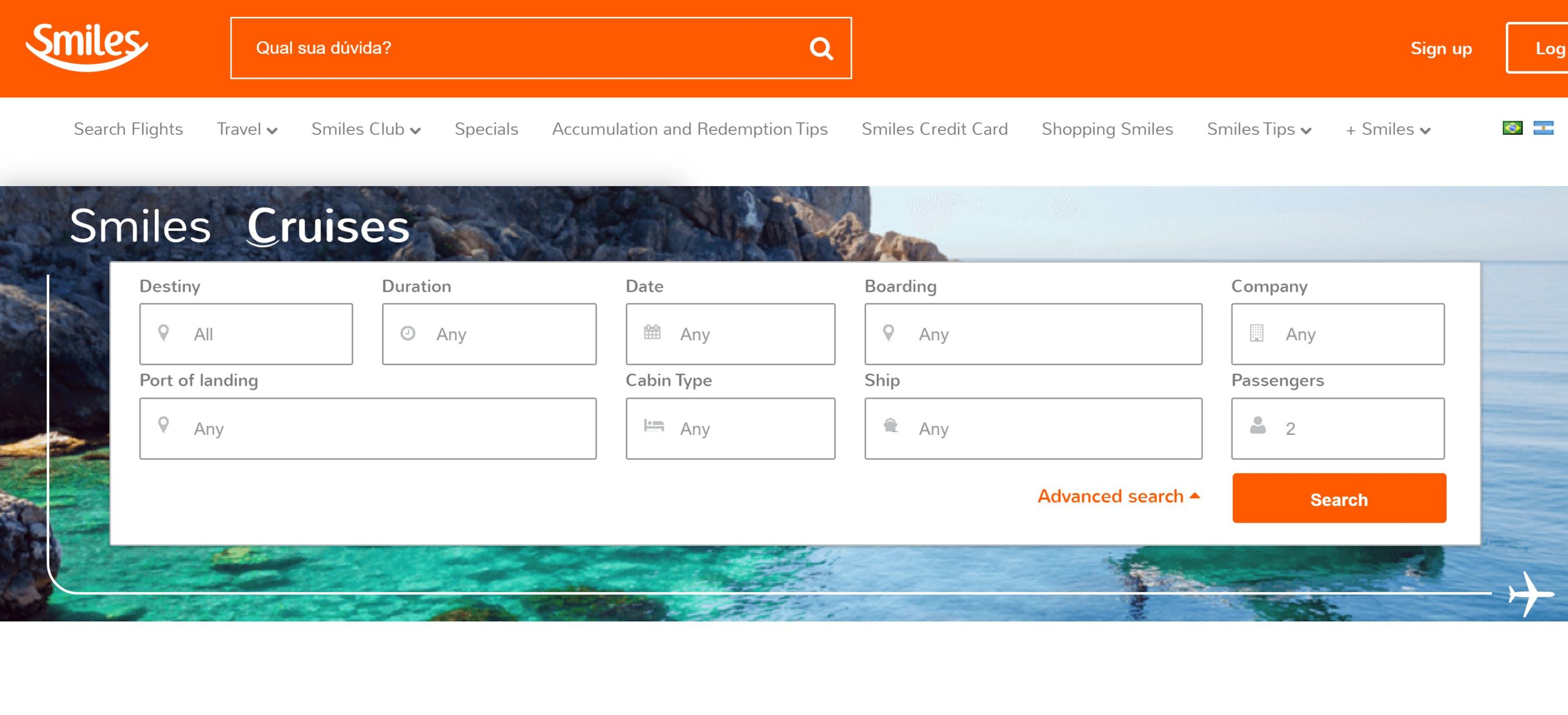 Yet another great way to top off your Smiles balance is to book cruises through the Smiles booking engine.
If you're booking a cruise soon and want to earn Smiles miles, follow these steps:
Visit Smiles' cruise portal.
Enter your cruise travel information.
Click Search.
The cruise results will be displayed. You'll also see the mileage accrual amount under each cruise option.
You'll get your miles deposited into your Smiles account up to 45 days after the completion of the cruise.
Add Gas at Shell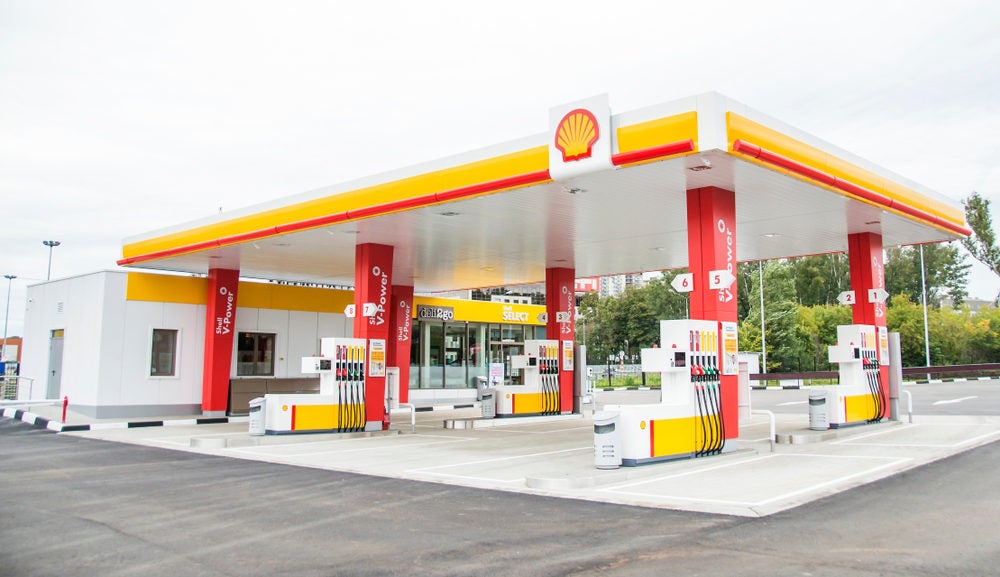 If you're in Brazil and want to earn miles, you can even do so when filling up your gas tank. Specifically, you'll want to fill up using the Shell Box app.
You'll earn 1 Shell point per liter of common fuel, which can then be transferred at a 1:1 ratio. You'll earn 2 Shell points per liter of V-Power fuel, which is equivalent to 2 miles per liter.
Follow these steps to earn miles on Shell gas:
Download the Shell Box app.
Find participating service stations through the app and pay with the app.
Earn Smiles miles.
For more information, visit the Smiles Shell Box page or the Shell Box app page.
Buy Tickets for Events, Attractions, and Theme Parks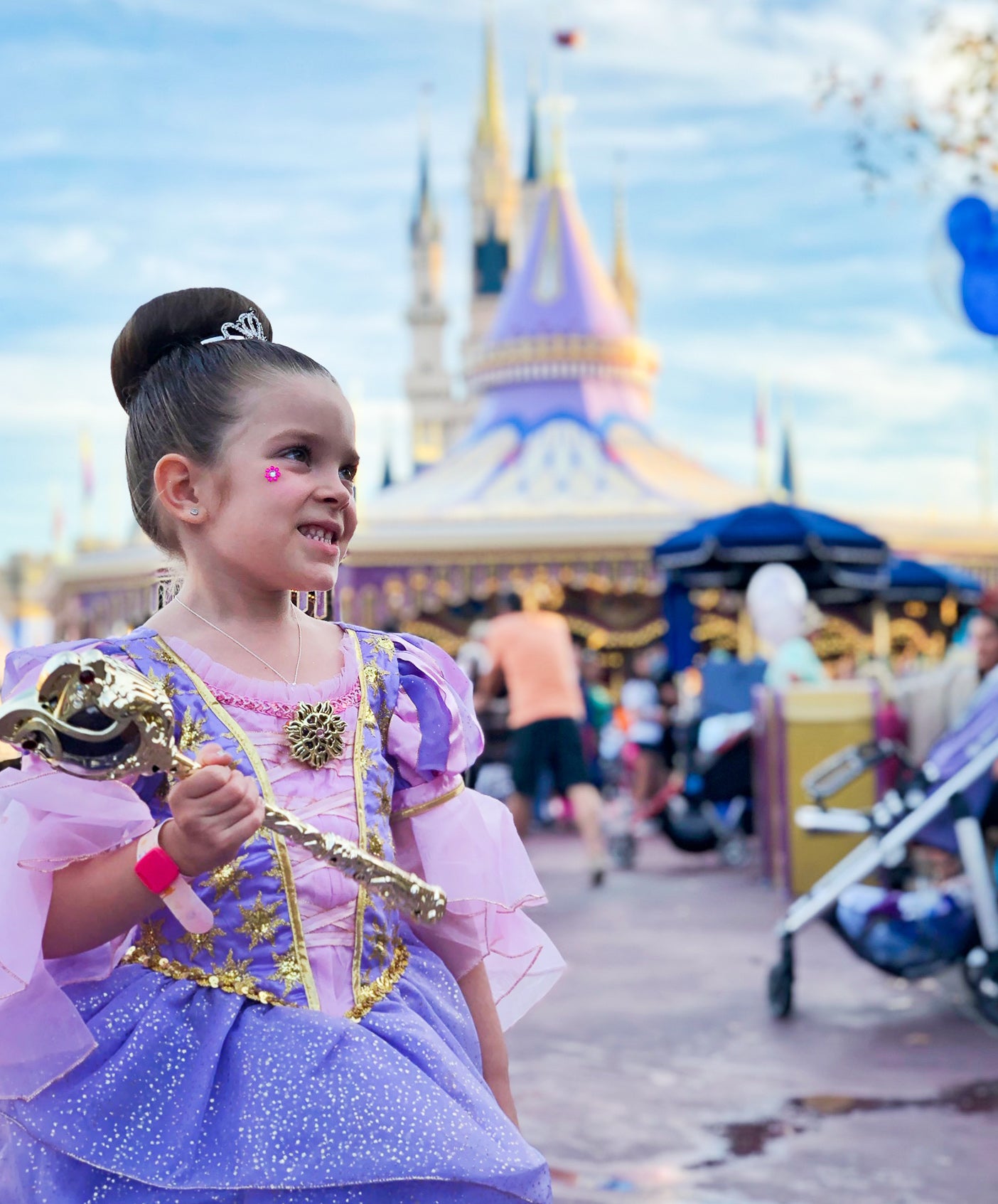 Smiles has partnered with 2 key companies to offer tickets to various shows, attractions, and theme parks. These are:
Ingresso Rápido for shows and events
Seu Ingressos for attractions and parks
When you book through Ingresso Rapido, you'll only see the mileage accrual after logging in and on the check-out page.
On the other hand, Seu Ingressos shows your mileage accrual in a user-friendly fashion, and you can see the various accrual standards while browsing for different events.
As usual, you'll earn 50% more miles when you're a Smiles Club or Diamond member.
Book Tours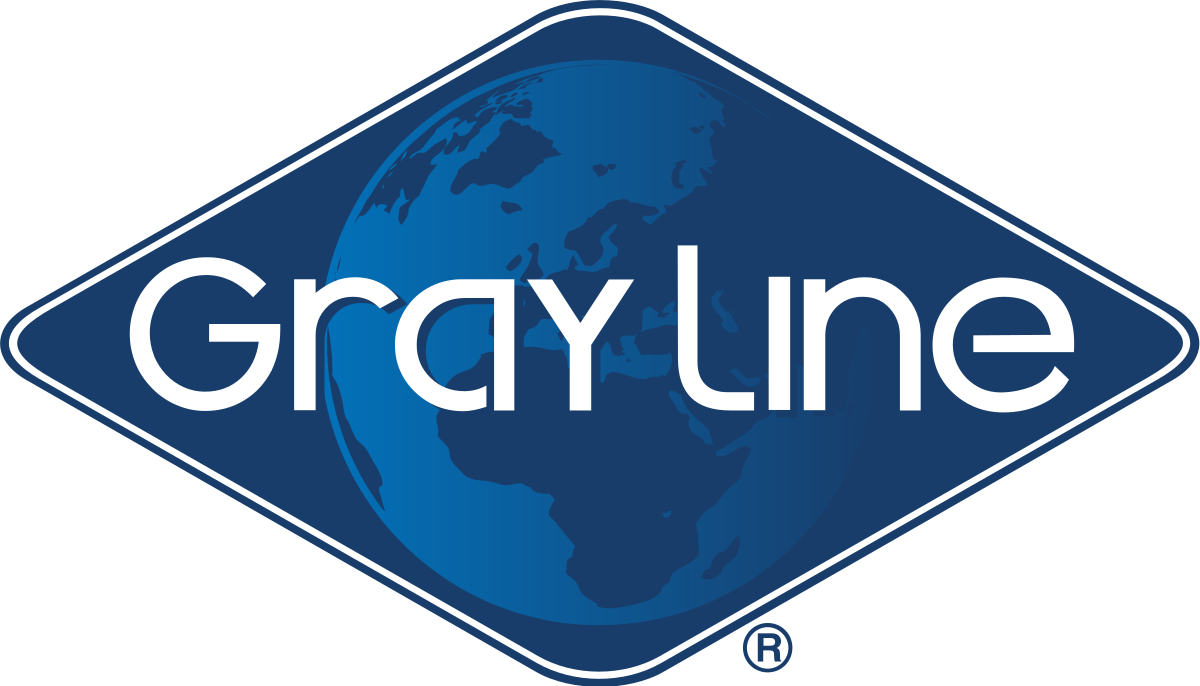 Gray Line has a massive library of tour packages throughout the world. They operate tours on 6 continents in more than 700 destinations, so they are pretty much going to have any tour experience you can think of.
To get started earning miles from booking tours, follow these instructions:
Visit the Smiles Tours website.
Ensure that the slider is toggled to Earn miles.
Type in your destination and click Search.
Select and book your tour package to earn miles.
Join the Wine Club by Smiles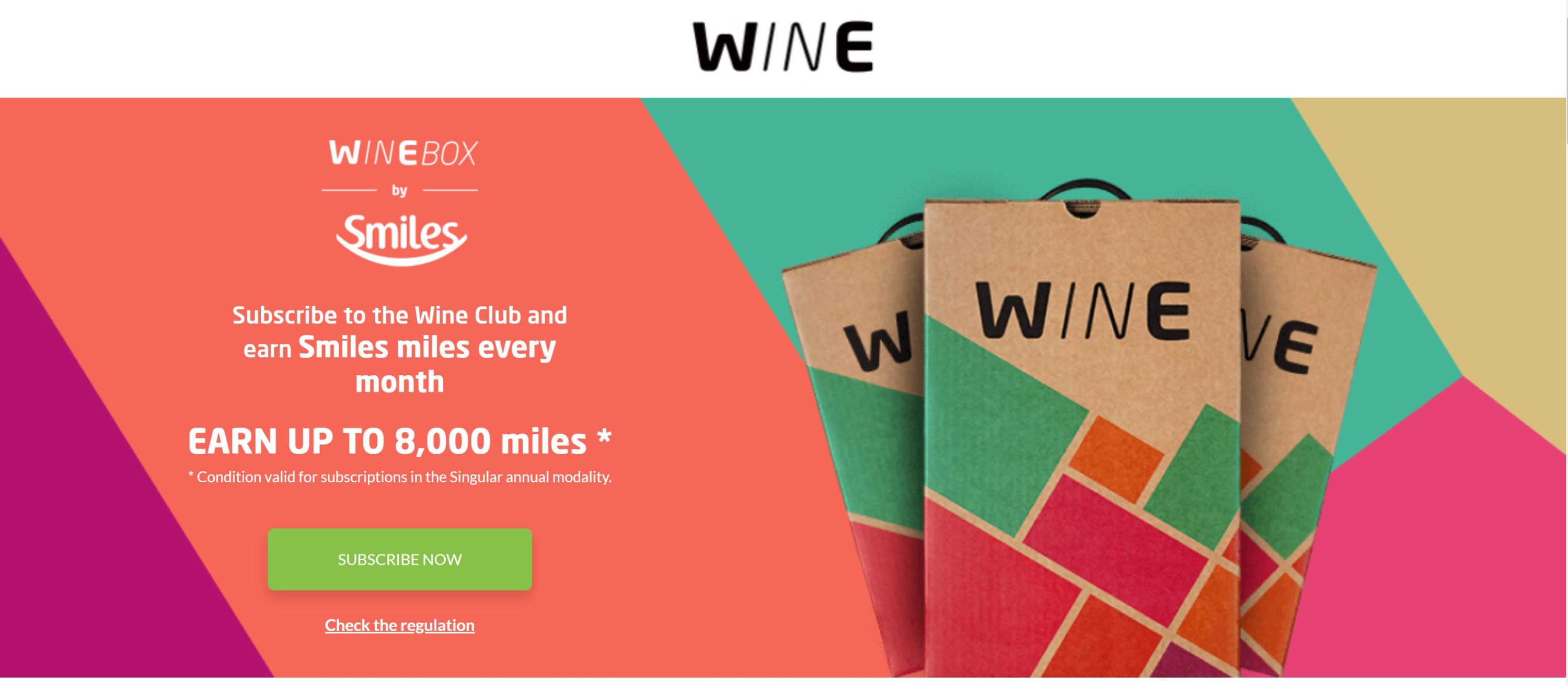 If you subscribe to a Wine by Smiles Club membership, you can earn miles every month. Plus, if you're a wine enthusiast, you'll get different wines every month!
The best part of this is that there are subscriptions that fit different personas, so there's a level of customization on memberships.
The number of miles you'll earn will depend on the actual tier you subscribe to. Plus, you'll get lots of bonus miles by being a Smiles Club or Diamond member. Find out more information here.
Hot Tip: Once you've got a boatload of Gol Smiles Miles, you'll want to check out these great ways to redeem them.
Other Ways to Earn Miles
Join Smiles Club
Smiles Club is a monthly membership service that gives you bonus miles every month, along with discount tickets, products at Shopping Smiles, and much more. There are 6 plans available, paid in monthly or annual installments or in cash.
| | | | |
| --- | --- | --- | --- |
| Plan Name (and Miles Earned per Month) | Monthly Price | Annual Installment Price | Annual Cash Price |
| Plan 1,000 | R$42 (~$10) | R$478.80 (~$110) | R$453.60 (~$104) |
| Plan 2,000 | R$78 (~$18) | R$889.20 (~$205) | R$842.40 (~$194) |
| Plan 5,000 | R$162 (~$37) | R$1,846.80 (~$425) | R$1,749.60 (~$402) |
| Plan 7,000 | R$219 (~$50) | R$2,496.60 (~$574) | R$2,365.20 (~$544) |
| Plan 10,000 | R$299 (~$69) | R$3,408.60 (~$784) | R$3,229.20 (~$743) |
| Plan 20,000 | N/A | R$9,336 (~$2147) | R$8,845 (~$2034) |
When you join Smiles Club, you'll pay as little as 0.69-0.92 cents per mile, depending on which plan you subscribe to. Plan 20,000 is one of the most expensive on a per-mile basis because you also get Smiles Diamond status when you subscribe to Plan 20,000. So, you're getting extra benefits in addition to the miles.
The most cost-effective way to subscribe is to opt for Plan 10,000 and pay monthly. That way, you'll get miles for 0.69 cents per mile.
In addition to the miles you get, the validity period is extended to 10 years. There are several other benefits you'll reap, which you can find out about here.
Buy Miles
One other way to earn lots of Smiles miles is to buy miles directly — generally a bad idea because the purchase price is R$0.07 (~1.6 cents) per mile. You can buy anywhere between 1,000 to 40,000 miles per transaction with a yearly maximum of 40,000 miles per year.
Once the miles are purchased, they will be made available to your Smiles account within 3 business days after the payment. Furthermore, purchased Smiles miles are valid for 12 months from the date in which they were credited to the loyalty account.
Smiles has offered a mileage bonus sale of up to 200% bonus miles in the past, which brings down your total cost to R$0.023 (~0.53 cents) per mile, which is a fantastic deal, assuming you know how to redeem them.
To find out more information, click here.
Final Thoughts
There are a surprising number of fantastic ways you can earn Smiles miles very quickly. These range from non-U.S. co-branded Smiles credit cards to booking hotel rooms and even buying event tickets through Smiles.
While there is no obvious way for U.S. residents to earn Smiles miles from credit card spending alone, you'll definitely still have tons of options you can leverage to earn Smiles miles.