Lufthansa Boarding Process & Groups — Everything You Need to Know
Lufthansa is Germany's largest airline and has its base of operations and main hub in Frankfurt, Germany.
As one of the founding members of the Star Alliance, Lufthansa has long been an innovator in the airline world. Lately, they have taken to working to improve the airplane boarding process.
Adding turnstiles that allow passengers to scan their own boarding passes at some airports, and facial recognition systems that don't even require passengers to have a boarding pass at others — has allowed Lufthansa to speed up a process that has been largely stagnant for many years.
With these advancements in boarding, it's not surprising that Lufthansa can load all of the passengers on even their largest planes in well under half an hour. That's right — Lufthansa can actually put over 350 people on a plane in about 20 minutes.
What does that mean for you? It means that when it comes time to board a Lufthansa flight, things are going to move very quickly, and you'll be much more comfortable if you know how the process works ahead of time.
Luckily, that's what we are here for. Let's take a look at the details of Lufthansa's boarding process so you won't be left behind.
Lufthansa Boarding Process
Lufthansa somehow manages to make their boarding process both quite simple and fairly complex at the same time.
Rather than just skip boarding first class passengers when the plane doesn't have a first class cabin, Lufthansa moves a couple of other groups of passengers around and provides a separate boarding procedure for their short-haul flights.
Lufthansa uses the same pre-boarding groups that you usually see on most airlines and then offers priority boarding to several groups of premium cabin passengers, Miles & More elite members, and Star Alliance elite members.
Once priority boarding is complete, whether you are on a long-haul or a short-haul flight, general boarding is done in just 1 group.
Lufthansa does not split their general boarding into any smaller groups or zones. Instead, they have implemented procedures that will speed up the boarding process like Quick Boarding turnstiles and biometric boarding.
Although the lines may look long, you will be surprised by how quickly Lufthansa can get all of their passengers on board!
Long-Haul Lufthansa Flights
For the purposes of boarding, Lufthansa seems to be defining long-haul flights as any flights that extend beyond continental Europe. These flights will be flown with larger planes that have first class, business class, and economy class cabins.
Pre-Boarding
Passengers with reduced mobility
Passengers with disabilities
Families traveling with small children
Priority Boarding
First class passengers
Business class passengers
Miles & More HON Circle members
Miles & More Senator members
Star Alliance Gold members
General Boarding
Premium economy passengers
Economy passengers
All passengers who are not eligible for pre-boarding or priority boarding
Continental (Europe) Lufthansa Flights
Continental Europe flights are just what the name sounds like — flights that do not extend beyond the European region.
These flights are typically flown on smaller planes that do not have a first class cabin. Because of this, the boarding process needs to be adjusted slightly, as you will see below.
Hot Tip: On most flights, the continental European business class seats are simply economy seats with the middle seats blocked off. Passengers will have a little more elbow room and upgraded service, but the experience is a far cry from long-haul premium classes. Make sure you are aware of this when paying more or using more miles for a "business class" experience within Europe!
Pre-Boarding
Passengers with reduced mobility
Passengers with disabilities
Families traveling with small children
Priority Boarding
Business class passengers
Miles & More HON Circle members
Miles & More Senator members
Star Alliance Gold members
Economy class passengers traveling on a Flex ticket
General Boarding
Economy passengers
All passengers who are not eligible for pre-boarding or priority boarding
Boarding Notes
Depending on the number of passengers, the priority boarding group may be split into multiple smaller groups.
If this is the case, typically first class passengers, business class passengers, and Miles & More HON Circle Members will be allowed to board the plane first. Miles & More Senator Members and Star Alliance Gold Members will be allowed to board shortly after.
Lufthansa does not provide a specific age limit for which small children are allowed to pre-board, but you can be sure that they will enforce limits if you try to board with children that are too old.
Make sure that you are only taking advantage of family boarding if you have younger children and really do need the extra time to board the plane and get settled in.
Although premium economy passengers on Lufthansa will have upgraded seats and service and are allowed to check an extra bag, it does not appear that they receive any priority boarding benefits.
Instead, premium economy passengers will be a part of general boarding along with all of the other economy passengers.
Quick Boarding
Lufthansa uses what they call Quick Boarding turnstiles at gates in Frankfurt, Munich, and several other airports around the world. Instead of gate agents needing to scan each passenger's boarding pass, a gate can have several of these Quick Boarding turnstiles all working at once.
Passengers simply step up to the turnstile, scan their boarding passes face down, and wait for approval. Once a passenger is approved, the gate will open and allow the passenger to pass through to board the plane.
These scanners work even more quickly than the gate agents could scan passengers, and there are often more of them, so the boarding speed is increased even further.
In the rare cases where a passenger has had a change in seat assignment due to an upgrade or any other reason, the Quick Boarding turnstile will print out a new paper boarding pass before opening the gate.
Lufthansa gate agents are still present during the boarding process, but they are freed up to help passengers who have problems or need to make last-minute changes.
Biometric Boarding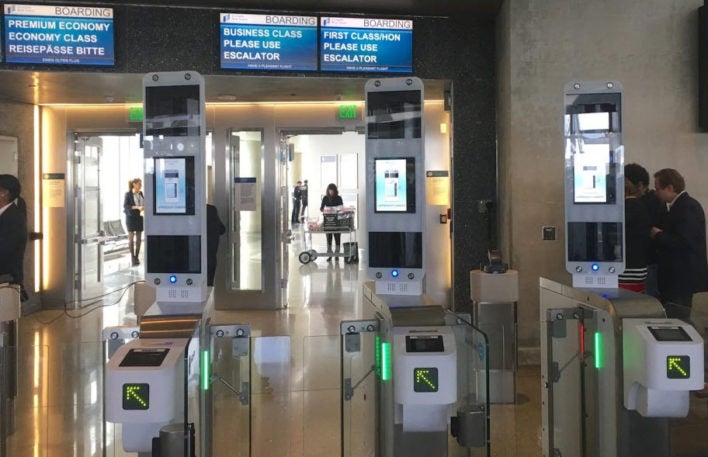 Imagine boarding a plane without having to show a boarding pass, a passport, or even a regular ID.
Well, you don't have to image that anymore! Lufthansa is currently using their new biometric boarding gates at LAX and looking to expand to other airports across the United States.
These biometric gates use facial recognition to identify each passenger and approve them to board the plane. As you walk up to the gate, the cameras scan your face and immediately begin to communicate with U.S. Customs and Border Protection databases. Once you are approved (taking only a few seconds), you are given the ok to board the plane.
Facial recognition gates at LAX have allowed boarding speeds to increase greatly, with Lufthansa being able to board 350 people on to an A-380 in about 20 minutes during testing.
Other airlines like American and Delta are also starting to take advantage of facial recognition, so it won't be long before you'll be seeing these new gates in use at airports across the country.
Final Thoughts
If you travel to Europe or between countries in Europe and like to use Star Alliance airlines, it won't be too long before you find yourself waiting to board a Lufthansa flight.
Lufthansa has made some advances to the boarding process over the past couple of years, and the first time you see their process, it may feel very unfamiliar.
At LAX, for example, you may not even need a boarding pass or ID to get on the plane! That's not something you see with most airlines.
If you've read through the details of the Lufthansa boarding procedures here, you'll be ready for whatever technology they are using at your specific gate. You will know just what to do when that rapid boarding process starts up, and you won't miss your turn to get on the plane.
---
Featured Image courtesy of Lufthansa