easyJet Boarding Groups & Process — A Complete Guide
EasyJet is a British airline with their main base at London Luton Airport and several smaller hubs across Europe.
Known as an ultra-low-cost carrier, easyJet is one of those airlines that lots of people love to complain about — but at the same time, they also love those super low fares.
Yes, you will pay for absolutely everything extra on easyJet (and not just their baggage fees)…but if you know what you're getting into, you can avoid almost all of those fees and end up with a really cheap flight.
EasyJet flies to over 130 destinations, and by passenger count, they fall just behind Ryanair as one of the largest airlines in Europe. Not surprisingly, their route network is almost entirely within Europe, but they also fly to Africa (Morocco) and a couple locations in the Middle East (Israel and Jordan).
With so many flights and so many passengers, it's only a matter of time until you find yourself choosing easyJet for a short hop between European nations.
When that time comes, you'll want to know what to do. EasyJet does boarding differently than most other airlines you would fly with, so let's take a bit of time and go over their process to see how it will work for you.
easyJet Boarding Groups
Airline boarding procedures can be a confusing thing. Luckily, easyJet has provided us with the lovely video above that sums up how their boarding process works.
Unfortunately, it seems that passengers aren't the only ones who can get confused —  sometimes it's the airlines themselves.
In this specific case, that video appears on the easyJet site on a page titled "Boarding and On Board Services." This makes sense until you watch the video…and notice that the text directly below it on that same page contains different information.
We reached out to easyJet, and they confirmed that the information in the video is correct, so below you will find their correct detailed boarding groups.
Now we just have to hope that the gate agents working our flights didn't skip the video in their training!
The easyJet boarding procedure begins with pre-boarding for certain passengers who need extra assistance followed by 3 numbered boarding groups. Groups 1 and 2 are fairly restrictive, so the majority of passengers will be in group 3 general boarding.
Pre-Boarding
Customers with reduced mobility
Customers needing special assistance
Boarding Group 1
Speedy Boarding
Customers who paid for Up Front or Extra Legroom Seats
easyJet Plus members
Boarding Group 2
Families traveling with children under 5 years old
Boarding Group 3
Boarding Notes
Although it was in the past, Speedy Boarding is no longer available as a separate purchase. If you are a member of easyJet Plus, you will automatically receive Speedy Boarding on all flights that your Plus number is attached to.
Otherwise, the only way for a passenger to get Speedy Boarding is to purchase a seat assignment in one of the seat categories that qualifies (either Up Front or Extra Legroom).
Boarding Timing — Don't Be Late!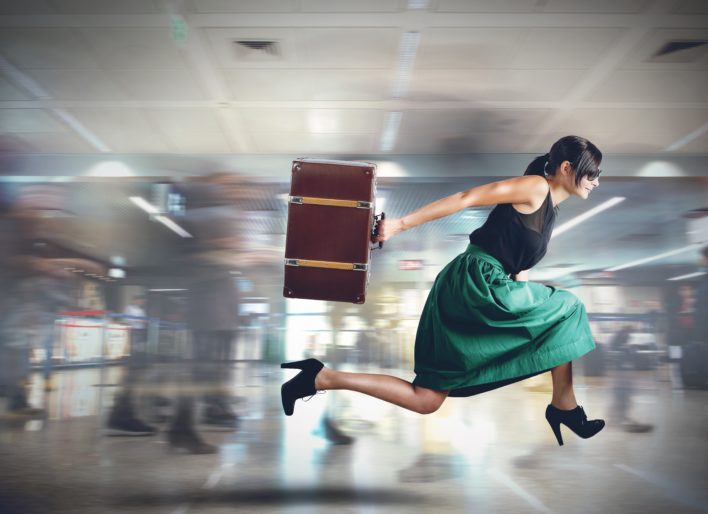 EasyJet uses a different boarding process than most of us are used to. They scan boarding passes and stage passengers in holding areas well before they will actually get on the plane to speed up the boarding process.
As soon as the aircraft is ready, since all passengers have already had their boarding passes scanned, they can immediately proceed to board.
To board in this way, easyJet starts the process much earlier than other airlines. As a result of the expedited timing, boarding also ends earlier than you might expect. For easyJet flights, boarding doors will close 30 minutes prior to the departure time.
The pre-boarding, group 1, and group 2 boarding groups do not have that many passengers in them. It is pretty easy to figure out what that means: boarding group 3 will be huge.
Most of the passengers on the flight will be boarding with Group 3, and that means there will be a very long line. If you don't want to be at the end of that line, make sure you arrive at the gate with plenty of time to spare — the line will almost always start forming well before boarding is announced.
To further speed up the boarding process, easyJet boards most of their planes through both the front and the rear doors. The proper door for you to use should be listed on your boarding pass. If it isn't, look for signs listing row numbers for the front and rear doors.
Passengers needing special assistance with boarding and deplaning should contact easyJet at least 48 hours prior to their flight. This will give easyJet plenty of time to set up the necessary staff to provide the requested assistance.
Bottom Line: Many airlines put an earlier boarding time on their boarding passes just to make sure passengers arrive at the gate on time. This isn't the case with easyJet — they will begin boarding at the time listed, and have all passengers scanned and the boarding doors closed by the time they reach the 30-minute mark. If you walk up to the gate after that's completed, you will not be allowed to board and will miss your flight (even if there are still 29 minutes until departure).
easyJet Plus and easyJet Flight Club

easyJet Plus
If you fly several times with easyJet throughout the year, it may be worth purchasing an easyJet Plus membership.
Membership costs a hefty 199 GBP per year, but the included benefits can really add up if you take multiple easyJet flights and plan to purchase things like bags and assigned seats.
Hot Tip: An easyJet Plus membership is also a great way to be sure you always have Speedy Boarding in group 1!
Here are the main benefits that come with an easyJet Plus membership:
Free Seat Assignment – Choose any available seat on the plane at booking, including Up Front and Extra Legroom seats.
Dedicated Bag Drop Desks – Shorter lines and faster service.
Fast Track Security – Quicker security at certain airports.
Speedy Boarding – Board in group 1 on every easyJet flight you take.
Additional Cabin Bag – Bring both an overhead full-sized carry-on and a personal item on board for no extra charge.
Price Promise – If your ticket cost drops, receive the difference as a credit toward your next flight.
Earlier Flight Changes – Make same-day changes to an earlier flight at no additional cost.
easyJet Flight Club
The easyJet Flight Club is their version of a frequent flyer or loyalty program.
The Flight Club is invitation-only, which means you must be personally asked by easyJet to join. Memberships are good for 1 year from the date of joining, and easyJet will evaluate each customer on an individual basis to determine if they will allow their membership to renew.
EasyJet does not publish a list of requirements that passengers must have to get an invitation to the Flight Club. However, we can be confident that it's only offered to those passengers who travel with them quite regularly — and spend a lot of money both on flights and ancillary fees.
Flight Club benefits include the following:
Flight Price Guarantee – If a lower price is found on another airline for the same flight, easyJet will refund the difference and issue a flight voucher for 10% of the difference.
Price Promise – If an easyJet flight you have booked drops in price, you can claim a flight voucher for the difference in price.
Name Changes – You can change the name on a booking up to 5 times per year at no charge.
Flight Changes – You can change the date or routing of any booking without paying any change fees. Any difference in fares still applies.
Final Thoughts
Like Ryanair, easyJet is an ultra-low-cost carrier with a bit of a different boarding procedure. In this case, easyJet gets the process started earlier, closes the boarding doors 30 minutes prior to takeoff, and loads their planes from both the front and the back.
Other than those oddities, the easyJet boarding process isn't too complex. If you want to be in one of the groups that boards prior to general boarding, you are going to have to pay for it, either with an advanced seat assignment or a yearly easyJet Plus membership.
If you don't want to pay, that's fine — just be prepared for a crowded general boarding group 3 and a really long line to match.
With such a wide European route network and such low prices, many of us are going to end up flying with easyJet every now and then. Now that you understand how their boarding process works, you should be ready to go.
Just relax, remember to get to the gate early, and enjoy the ride across the sky!