easyJet Review – Seats, Amenities, Customer Service, Baggage Fees, & More
easyJet partners with international airlines such as Cathay Pacific, Virgin Atlantic, and Singapore Airlines for flight connections to its vast European network.
If you're planning on a trip to Europe (from the UK), it's likely you've considered flying this low-cost airline — so we've written this article with everything you need to know. Baggage allowances, optional and mandatory fees, seat specs, customer satisfaction, and more…it's all here.
Basic Info
Airline: easyJet
Alliance: Worldwide by easyJet
Category: Low-cost airline
Frequent Flyer Programs: easyJet Flight Club and easyJet Plus
Tagline: "Imagine where we can take you"
About/Mission Statement: "We use our cost advantage and number one and number two network positions in strong markets to deliver low fares and operational efficiency on point-to-point routes, with our people making the difference by offering friendly service for our customers." (source)
Daily Flights: 1,416
Fleet: 279
Main Hub: London Gatwick Airport (LGW)
Destinations: 138 destinations across Europe, the Middle East, and North Africa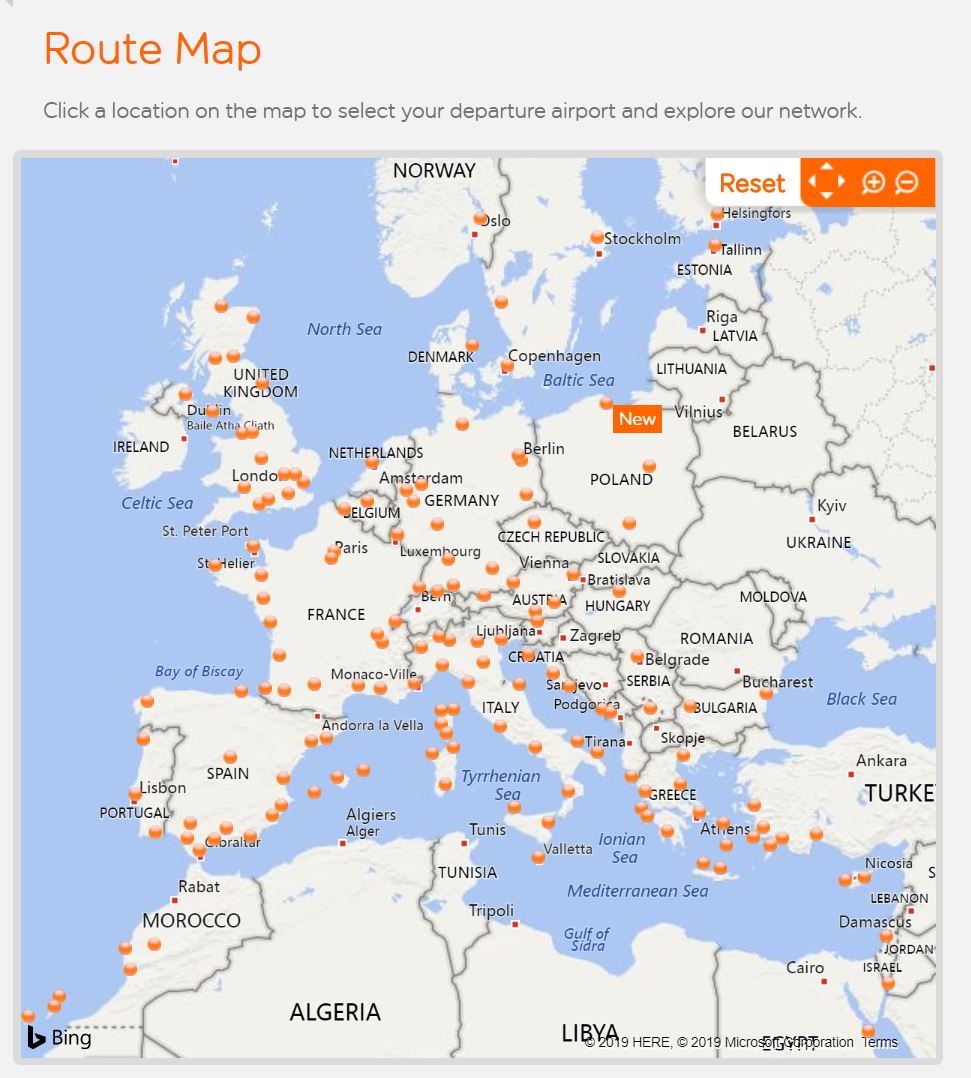 Frequent Flyer Programs
easyJet keeps their Flight Club program on the down-low, and members can only join by invitation. Customers must meet one of the following criteria within the last 12 months to qualify:
Booked and flown on 20+ flights
Booked and flown on 10+ flights with a minimum spend of £1,500 (or equivalent local currency)
Booked and flown on at least 1 flight each year for the last 10 years
Flight Club members benefit from easyJet's price promise scheme, where the airline will refund or provide credit vouchers to members who find their flight cheaper with another airline.
Flight changes can be made for free (excluding Flexi fares), and members can perform a name change for free up to 5 times a year.
Additionally, these benefits apply to all passengers made on a booking under the member's name. To maintain your membership, you must meet the above criteria each year.

easyJet also has a non-exclusive membership program called easyJet Plus, which any customer can purchase for £199 per year per passenger. Members enjoy these benefits:
Seat selection (saving up to £29.99 per flight)
Fast track security at some airports
Dedicated bag drop desks at some airports
Speedy boarding
2nd carry-on bag
Swap to an earlier flight on the return leg of your journey
Hot Tip: These benefits can all be purchased separately — but if you fly frequently enough with easyJet, you'll definitely save some money with the membership!
Ticketing Options
easyJet has 2 fare types: Standard and Flexi. Similar to other low-cost airlines, there are no separate cabins, only different standards of seating.
The airline's fare pricing changes regularly according to demand (and more often goes up than down), so its best to purchase your flights as soon as possible to avoid higher fares.
Standard Fare
easyJet's Standard fare only includes your seat and 1 under seat cabin bag. Any checked luggage, reserved seats, or additional cabin baggage must be purchased separately.
Flexi Fare
Flexi fares allow passengers to make free flight changes (restrictions may apply), and include the following benefits:
1 piece of checked baggage (23kg)
Speedy Boarding
Fast track security (selected airports)
Free reserved seat selection near the front of the plane
1 additional personal carry-on item allowed
£7 Bistro voucher to spend on food or drink onboard
Hot Tip: For information on the boarding process, check out our detailed article for easyJet boarding groups & process.
easyJet Baggage & Other Fees/Add-Ons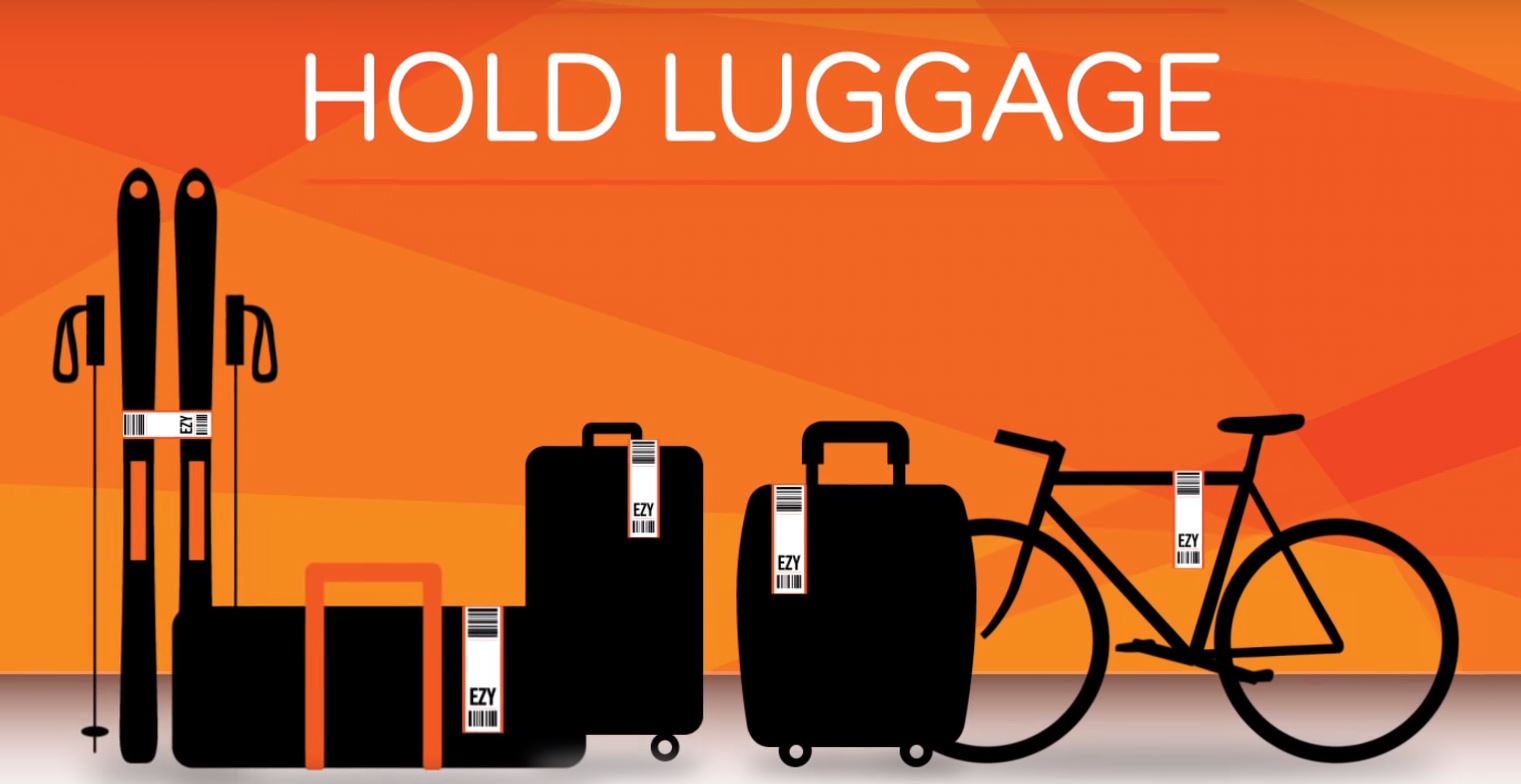 easyJet Carry-On Allowance
All passengers are allowed 1 under seat cabin bag (45 x 36 x 20 cm) for free. An additional standard carry-on (56 x 45 x 25 cm) to go in the overhead locker is free for Flexi fares, Up Front or Extra Legroom Seats, and easyJet Plus members.
Lap Infant Carry-On Policy: An additional personal item is permitted if traveling with a lap infant under 2 years old.
Stroller Check Policy: Strollers or a car seat/travel cot (up to 2 items) will be transported free of charge. These items can be checked at the gate and collected from baggage reclaim.
easyJet Checked Baggage Allowance
Individual checked bags must not exceed max linear dimensions of 275cm and either 15kg or 23kg, depending on your booking option (see below).
Checked bag up to 15kg
Online only: £6.99 – £33.49 per bag
Checked bag 15kg – 23kg
Online: £9.49 – £35.99 per bag
At the bag drop desk: £40 per bag
At the departure gate: £50 per bag
A maximum of 3 checked bags are available to purchase per passenger, and 1 piece of checked luggage (23kg) is included for Flexi fare ticket holders.
Additional/Excess Baggage Fees
Additional weight: A standard checked bag is up to 23 kg, but passengers can purchase additional weight up to 32kg in 3kg increments. This can be added at time of booking or online before the departure date, and costs £12 per 3kg.
Overweight baggage: If no extra weight is purchased online and a bag is over the standard weight allowance, then a fee of £12 per kg will be charged at the airport.
Weight allowance can be pooled between your travel companions on the same booking.
For information and fees regarding transporting special luggage such as sports equipment or musical instruments, please read easyJet's policy here. 
Hot Tip: For more information, check out our detailed article on easyJet Baggage Fees & Tips to Cover the Expenses.
Other Fees & Add-Ons
Change/Cancellation Fees (Cash Tickets)
Cancellation within 24 hours of booking: £20 (online), £35 (call center)

Swap to earlier flight return: £25
Rescue fee: £90 (moving to the next available flight after arriving up to 2 hours late for your flight)
Flight change (>60 days before departure): fare difference + £17 (online), £22 (call center)
Flight change (<60 days before departure off-peak*): fare difference + £32 (online), £37 (call center)
Flight change (<60 days before departure peak season*): fare difference + £47 (online), £52 (call center)
* Off-Peak: September 3-June 14
*Peak: June 15-September 2
Name spelling mistakes & title changes: FREE
Name change (>60 days before departure): £20 (online), £25 (call center)
Name change (<60 days before departure): £47 (online), £52 (call center)
Seat Selection
Standard seats: £1.99-£8.99
Up Front/Overwing Extra Legroom seats: £8.99-£24.99
First Row seats: £12.99-£29.99
Infant charge: £25
Group booking: £10
Pet in cabin: Not permitted
Refreshments Onboard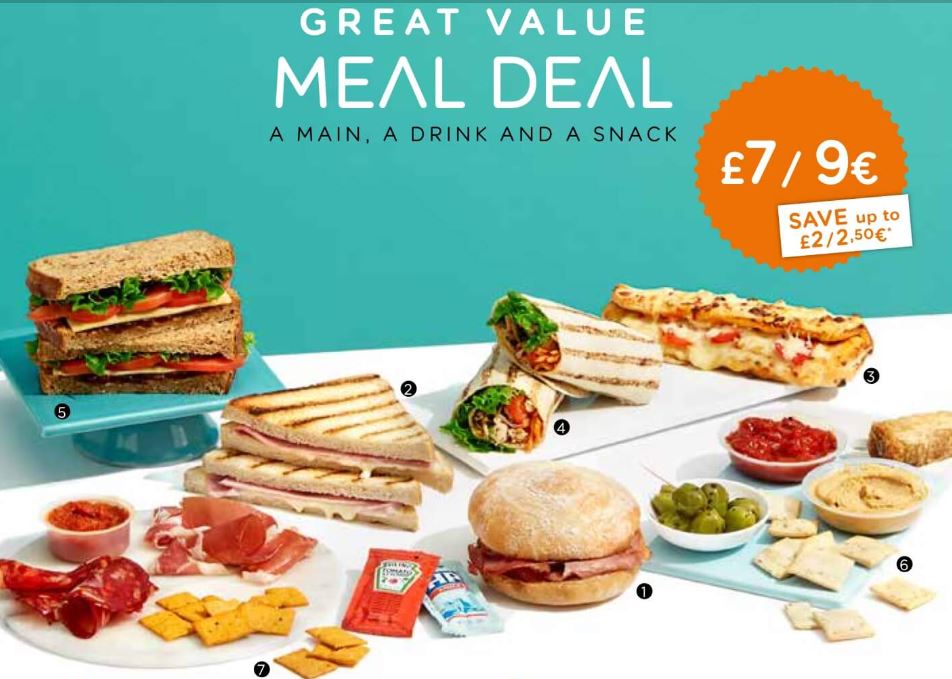 easyJet flights do not offer any complimentary food or drink, but you can make purchases from the Bistro Onboard menu. Flexi fare holders receive a £7 credit to use on the menu within their ticket price.
Fresh food, light meals, snacks, and  beverages are available; here are some example prices:
Meal deal (main, snack and drink): from £7
Light meals: from £2.50
Snacks: from £1.50
Fresh food: from £4.50
Beer: £4.50
Wine: from £4.50
Spirits: from £4.50
Soft drinks: from £2
How to Avoid Paying Excess Fees & Travel Expenses
There are several cards that will reimburse you for excess fees and general travel expenses. Just use your points to pay off your travel expenses when your credit card statement comes.
Obviously it depends on how many points you have, but you could have hundreds of dollars (or more) in value to use!
Capital One VentureOne Rewards Credit Card - This no annual fee card comes with a 20,000 bonus mile offer after spending $500 in the first 3 months. When you use your card for travel purchases (e.g. baggage fees), use your miles to pay off all, or part of, your statement balance! We've highlighted 30+ benefits of the card.
Capital One Venture Rewards Credit Card - The "big brother" card to the VentureOne with 60,000 miles if you spend $3,000 on purchases in the first 3 months. This card is full of benefits and perks and you can redeem your miles on travel or transfer your miles to over 10+ travel loyalty programs.
Inflight Inclusions, Amenities, & Seat Specs
easyJet only offers 1 cabin type — due to the short duration of its flight routes, there are limited inflight amenities. Standard services of a short-haul carrier are available, such as refreshments and gift items to purchase from their Bistro & Boutique magazine.
Although there are no separate cabins, you can choose from preferred seating options that offer some extra perks.
Seating Options
If you select a Standard fare ticket, then you have the option to select seating for a fee (detailed in the extra fees section) in the following categories:
Standard seats: Choose your seat toward the middle and back of plane
Up Front seats: Choose a seat in rows 2-6 (or 2-5 on some aircraft). Includes an additional personal item, dedicated bag drop, and Speedy Boarding. (This seat selection is free for Flexi fares and easyJet Plus members.)
Extra Legroom seats: Includes all benefits of Up Front seats, but at a seat located in the middle or at the front of the plane with extra legroom.
Seat Specs
easyJet currently has 2 types of aircraft: the Airbus A319 and the Airbus A320.
Airbus 319: 156 passengers
Airbus A320 (version 1): 180 passengers
Airbus A320 (version 2): 186 passengers
easyJet does not specify seat width or pitch for individual aircraft and seating types, but it does state that seats have a minimum pitch of 29"/72.5cm and a minimum width of 17.5"/44cm.

easyJet Customer Satisfaction
Unlike its rival Ryanair, easyJet is focused on improving customer satisfaction as one of its main corporate initiatives. In their 2018 Annual Report (see page 28), easyJet states they improved customer satisfaction from 71% to 71.2%.
This is based on the results of their customer satisfaction survey — although the change is minimal, at least it's going in the right direction!
Having said that, customer service seems to be the biggest gripe passengers have with the airline, especially dealing with the call center. easyJet seems to be trying to embrace online chat to take the pressure off their long call waiting times, but many customers report that this service is an automated system that makes it difficult to get some answers.
That said, Tripadvisor features some great reviews from happy easyJet customers, with a traveler rating of 66% "Excellent" or "Very Good," 16% "Average," and 18% "Poor" or "Awful."
Complaints
No official statistics can be found on the UK's Civil Aviation Authority website.
Consumer Rankings, Ratings, Etc.
There are many different rating and review sites out there, so we've highlighted a few of the most popular.
Skytrax Ranking: 3 Star Airline (out of 5)
Skytrax Customer Rating: 6/10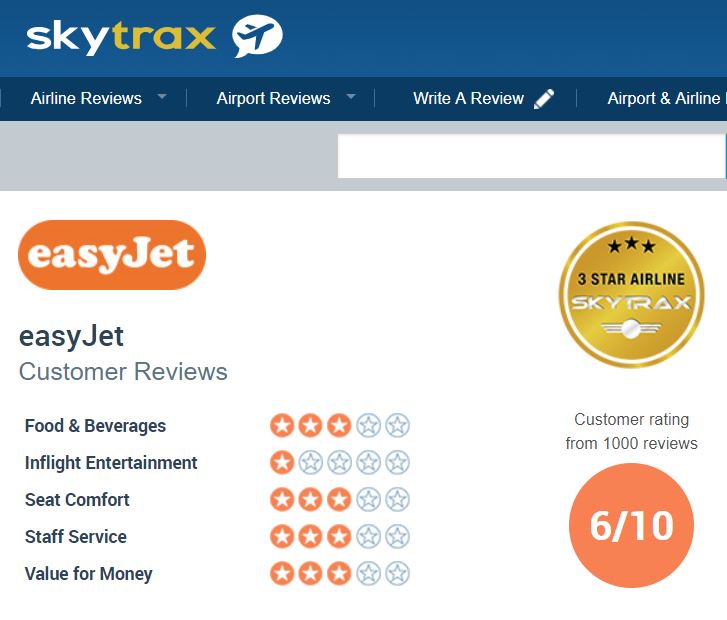 Tripadvisor Airline Review Rating: 3.5/5 (average from 40,710 reviews)
Kayak Customer Rating: 6.6/10 (average from 6,932 reviews)
AirHelp.com Overall Rating:  5.66/10 (Assesses on-time arrivals, quality of amenities, and how well an airline resolves compensation claims)
Safety and Performance
easyJets has a 4/7 safety record as awarded by AirlineRatings.com. This assesses whether the airline has an IATA Operational Safety Audit Certification, combined with information from the world's aviation governing bodies plus government and crash records.
easyJet does not have an IATA Operational Safety Audit Certification, which brings down their score according to AirlineRatings.com. However, the airline has had no fatalities in its flight history and hardly any accidents.
Awards and Notable Mentions
Business Traveller Awards 2018: Best Low-Cost Airline
Buying Business Travel Awards 2017: Best Short Haul airline
Charity Partnership

easyJet has partnered with the children's charity Unicef since 2012 and has raised over £10 million. Donations are encouraged from customers onboard through spare change initiatives, which are used to support Unicef's global vaccination efforts.
Local donations are also made to charities nominated by employees, including cash donations and flight vouchers. easyJet also supports emergency appeals through onboard collections for tragic incidents, such as the Manchester terror attack and Grenfell Tower fire.
Final Thoughts
You've never going to get glitz and glamour flying easyJet, but what you will get are reasonably priced flights, flexibility with seating and baggage options (great if you're traveling light), and generally punctual arrivals and departures.
easyJet has a diverse route offering, serving some of the bigger and busier international airports (unlike its rival Ryanair, which is known for flying into smaller regional airports).
If you fly regularly with easyJet, then it's worth investing in their easyJet Plus membership. With seat selection fees up to £29.99 per way, you would nearly cover your membership fee in 3 return flights.