Ryanair Review – Seats, Amenities, Customer Service, Baggage Fees, & More
Ryanair carries more passengers than any other airline in Europe, so you may have flown with them already — or maybe you're planning a trip in the near future.
If that's the case, then this article will tell you everything you need to know about Ryanair's fare structure, controversial baggage policy (which has changed a number of times in recent years), extra fees, seating options, and customer satisfaction rankings.
Basic Info
Airline: Ryanair
Alliance: Not part of an alliance
Category: Low-cost airline
Loyalty Program: MyRyanair
Tagline: "Low fares, Made simple"
About/Mission Statement: "Ryanair believes that any worthwhile passenger service commitment should involve commitments to low prices and high punctuality. " (source)
Daily Flights: Over 2,000
Fleet: 400
Main Hub: London Stansted Airport (STN) & Dublin Airport (DUB)
Destinations: 216 destinations across 37 countries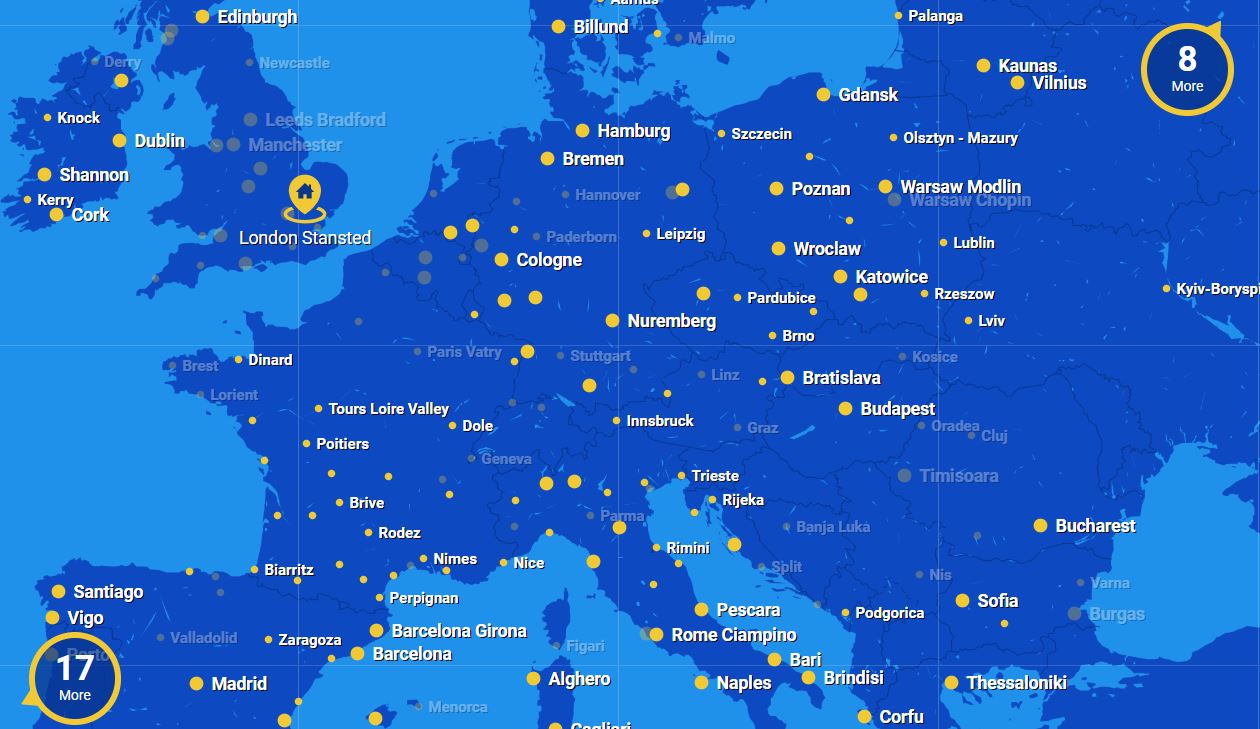 Loyalty Program
Ryanair doesn't offer a standard frequent flyer program.
Its loyalty program, called MyRyanair, is based around an enhanced booking experience with members being able to save and quickly access passport and payment details for future use.
Once registered, offers and information in a member's account will be personalized, and they can also earn credit to use on international flights by making a Ryanair Rooms booking.
Customers are automatically signed up to MyRyanair when making a booking.
Ryanair also offers the annual membership program called Ryanair Choice for €/£199. Passengers who pay to join will benefit from:
Free standard seat selection
Priority boarding
A 10kg carry-on bag
Fast-track security
Ticketing Options
Ryanair offers 4 different fare types with varying inclusions and benefits.
Standard Fare
This is the cheapest and most basic ticket you'll find with Ryanair; it does not include any checked baggage, and only comes with 1 personal item for carry-on. A fee will be charged to select your seat.
Hot Tip: For more baggage options, you can choose to upgrade to Ryanair's "Priority + 2 cabin bag" option when booking your carry-on baggage (this will also give you priority boarding). 
Plus
This bundle includes 1 piece of checked baggage (20kg), 1 standard carry-on bag plus a personal item, priority boarding, and reserved standard seating.
Flexi Plus
A Flexi Plus fare includes 1 standard carry-on bag plus a personal item, priority boarding, any reserved seat (Standard, Front Seat, or Extra Legroom), dedicated Flexi Plus check-in, fast track security, and the flexibility to change your ticket by 1 day in either direction.
Family Plus
This bundle for families includes 2 checked bags (20kg each), priority boarding, 1 standard carry-on bag and a personal item, and reserved seating together.
Hot Tip: Read about Ryanair's boarding process so you know when it's your turn to board the plane — don't miss out on getting your carry-on in the cabin!
Ryanair Baggage & Other Fees/Add-Ons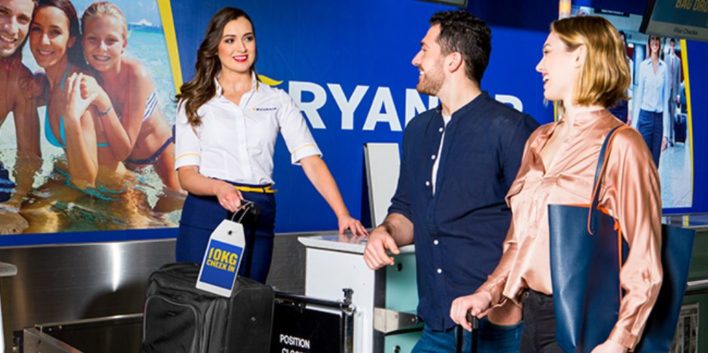 Ryanair changed its baggage policy twice in 2018, which caused some controversy with confused customers. Hopefully there won't be any further changes for a while!
Ryanair Carry-on Allowance:
All Ryanair passengers can bring 1 personal item into the cabin. Standard carry-on allowance depends on the fare booked:
Plus: 1 carry-on bag
Flexi Plus: 1 carry-on bag
Family Plus: 1 carry-on bag
Standard Fare: No carry-on bag (can purchase from £/€6-10)
Personal items must not exceed 40cm x 20cm x 25cm, and a standard carry-on must be smaller than 55cm x 40cm x 20cm (up to 10kg). If your carry-on bag exceeds the restrictions, it will be placed in the hold and a fee of £/€50 will be charged.
Lap Infant Carry-on Policy
For infants aged 8 days to 23 months traveling on an adult's lap, a 5kg baby bag can be carried by the adult in addition to their carry-on allowance.
Stroller Check Policy
A stroller plus an additional item (such as a car seat or travel cot) is permitted free of charge when traveling with a child. Your stroller can be taken up to the aircraft steps and will be available there upon landing.
Ryanair Checked Baggage Allowance
Standard Fare and Flexi Plus passengers will need to book baggage separately, as this is not included in their checked baggage allowance. Passengers can book up to 3 checked bags.
There are 2 size options for checked luggage: up to 10kg, or up to 20kg. Here are fees for each:
At time of booking: €/£10-12 for up to 10kg, and €/£25 for a bag up to 20kg
Post-booking/at bag drop: €/£10-12 for up to 10kg, or €/£40 for a bag up to 20kg
At the gate: €/£20-25 for a 10kg bag
Checked Baggage Included for Certain Fare Types
Plus: 1 checked bag (20kg)
Family Plus: 2 checked bags (20kg each)
All checked bags must not exceed 20kg with max linear dimensions of 158cm.
Purchase your baggage allowance online to save money: a €10 supplement per bag, per flight sector will be applied for bags purchased via a call center or at the airport.
During peak travel periods, Ryanair also enforces a €10 supplement on the price of a checked bag.
Hot Tip: To find out more about baggage, read our article Ryanair Baggage Fees & Tips to Cover the Expenses.
Excess Baggage
Excess baggage can only be purchased at the airport kiosk and is charged at €/£10 per Kilo. Ryanair does not specify oversized fees.
See Ryanair's policy here for information relating to special luggage (musical instruments, sporting equipment, etc.)
Other Fees & Add-Ons
Change/Cancellation Fees (Cash Tickets)
Flight Changes: €/£35-65 (online), €/£50-95 (phone/airport)
Missed Departure Fee: €/£100 (change to next available flight for passengers arriving at check-in up to 1 hour after flight departs)
Cancellations: N/A; Ryanair flights are nonrefundable
These fees apply to each passenger, per way. A return flight leg can still be used even if the outbound flight isn't; this does not require notification to Ryanair.
Name Change: €/£115 (at time of booking), €/£160 (post-booking or at airport)
Booking Fee: €/£20 at the airport
Hold Fare Fee: €/£3
Payment Fee: 0.5%-1.2% debit/credit card fees for non-EEA customers
Government Tax Refund Administration Fee: €20/£17
Airport Check-in: €/£55 (Flexi Plus passengers not charged)
Boarding Card Re-issue: €/£25
Compulsory Family Seat: €/£4 (Adults traveling with children under 12 must reserve a seat. Child receives a free reserved seat.)
Seat selection:
Standard: €/£3
Front Seats: €/£7
Extra legroom Seats: €/£7
Note: Some routes may incur a higher charge.
Infant fee: €/£25
Child/Infant Travel Cot or Car Seat/Booster (exceeding the 2 free items allowance): €/£15 (at time of booking), €/£25 (post-booking/airport)
Pet in cabin: Not permitted (assistance dogs only)
Refreshments Onboard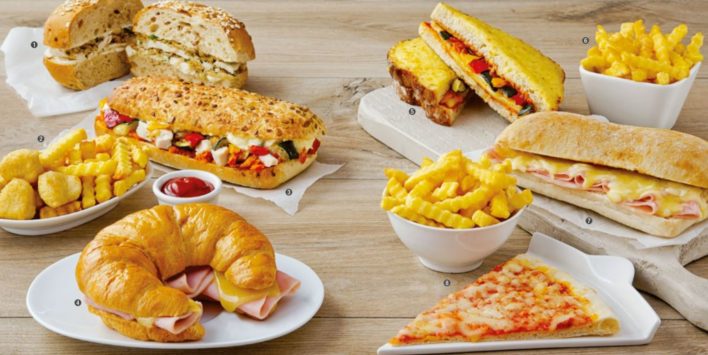 Ryanair passengers can purchase meals, snacks, and refreshments (including Lavazza coffee) from the Getaway Cafe menu featured in their inflight magazine.
Meal deals: €/£9-12 (includes a drink, main meal, and snack)
Soft drinks: from €/£2.50
Beer: from €/£5
Wine: from €/£6
Premium Spirits: from €/£8
Hot meals: from €/£6
Fresh food: from €/£4.50
Snacks: from €/£1.50
How to Avoid Paying Excess Fees & Travel Expenses
There are several cards that will reimburse you for excess fees and general travel expenses.
This can be done by either using points to erase your travel expenses at the time of paying off your statement, or by using an annual travel/airline credit that comes with your card.
Capital One VentureOne Rewards Credit Card - This no annual fee card comes with a 20,000 bonus mile offer after spending $500 in the first 3 months. When you use your card for travel purchases (e.g. baggage fees), use your miles to pay off all, or part of, your statement balance! We've highlighted 30+ benefits of the card.
Capital One Venture Rewards Credit Card - The "big brother" card to the VentureOne with 60,000 miles if you spend $3,000 on purchases in the first 3 months. This card is full of benefits and perks and you can redeem your miles on travel or transfer your miles to over 10+ travel loyalty programs.
Inflight Inclusions, Amenities, & Seat Specs
Ryanair's cabin structure is pretty simple: there's only 1! Even though they sell a Plus fare that is aimed at business travelers, there is no separate cabin; passengers will simply be able to reserve premium seating.
Ryanair is a no-frills airline, so you won't find any seatback entertainment or amenity kits.

Seating Options
Standard: Leather seating, 17″ wide with a pitch of 30″. It's worth noting that no seats on Ryanair recline.
Front Seats: The same seats as Standard, but located in rows 2-5 so you can quickly disembark the plane.
Extra Legroom Seats: Leather seating, 17″ wide with a pitch of 32″-34″. (Available at seats 1A, 1B, 1C, 2D, 2E, 2F, and rows 16-17.
Seat Specs
Ryanair currently has just 1 type of aircraft: the Boeing 737-800, with an average fleet age of 6.5 years.
That said, Ryanair currently has an order in for another 115 brand new Boeing 737s, as well as 110 Boeing 737 MAX 200s.
The airline's Boeing 737 MAX 200s will be fitted with ergonomic slimline seats boasting an extra inch of pitch for Standard seating, as well as more cushioning.

Boeing 737-800
Total passengers: 189
Standard seats: 138
Premium seats: 51
Ryanair Customer Satisfaction
When an airline's CEO openly admits that price is a priority over customer service, it's not surprising that customer satisfaction isn't exactly at its highest.
Poor customer service is one of the most prominent complaints about Ryanair across review sites and social media. Unhelpful and sometimes rude call center representatives and cabin crew have been reported by customers.
Some passengers are also caught off-guard by unexpected fees such as boarding card printing and check-in charges, since you would expect these free of charge from a full-service airline.
However, Ryanair's unique quirks and restrictions are usually stated throughout the booking process — so customers who read the ins-and-outs of this information appreciate the cheap fares that are possible while avoiding the extra add-ons.
Complaints
No official statistics can be found on the Irish Aviation Authority's website.
Consumer Rankings, Ratings, Etc.
Skytrax Ranking: 3 Star Airline (out of 5)
Skytrax Customer Rating: 5/10
Tripadvisor Airline Review Rating: 3/5 (average from 58,180 reviews)
Kayak Customer Rating: 6.1/10 (average from 15,163 reviews)
AirHelp.com Overall Rating: 6.3/10 (quality of amenities, on-time arrivals, and how well an airline resolves flight delay compensation claims)
Safety and Performance
Ryanair has a 4/7 safety record as awarded by AirlineRatings.com. This takes into consideration whether the airline has an IATA Operational Safety Audit Certification (which Ryanair does not), combined with information from the world's aviation governing body, plus government and crash records.
Although this rating is only 4/7 on paper, Ryanair has never had a fatality involving one of its flights and is considered a safe airline to fly with. The 3-star deduction is due to the lack of audit certification, which is not mandatory for airlines.
Ryanair publishes its own punctuality report, and the airline declared that it achieved an 88% success rate for on-time arrivals for its flights in 2017 (arriving within 15 minutes of its scheduled arrival time). For 2018, figures have only been posted up to April (so aren't that comprehensive yet).
Charity Partnership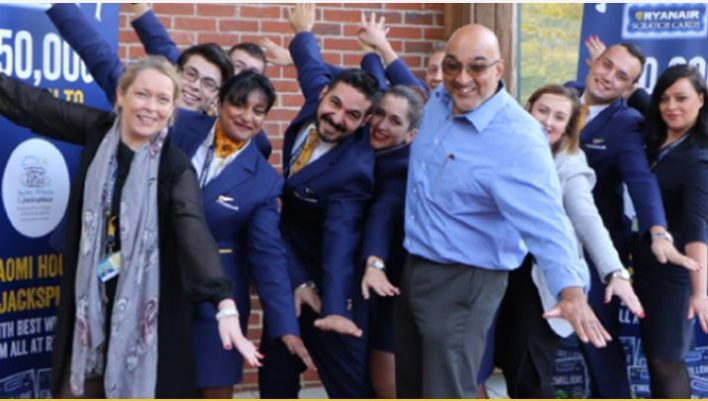 Ryanair has supported ISPCC Childline for nearly 3 years, and donated over €200,000 back in March 2018 when it renewed its partnership.
The airline also sells "Fly to win" scratchcards onboard its flights and sends the proceeds to some of their charity partners, including Jack & Jill Children's Foundation, Meyer Children's Hospital, and Naomi House & Jacksplace Children's Hospice.
Final Thoughts
Overall, Ryanair is a "love 'em or hate 'em" kind of airline. Some passengers have sworn off flying with them due to a bad customer service experience, while others see Ryanair as a great value, no frills airline.
Ryanair is never going to command the respect of British Airways, and it's in a constant price war with easyJet. But it carries the most passengers of any European airline — so it must be doing something right to win customer loyalty!
Though Ryanair does have a penny-pinching attitude, you could bag a bargain flight if you do your research and plan ahead.