Norwegian Air Review — Seats, Amenities, Customer Service, Baggage Fees, & More
In this general review of Norwegian Air, we'll break down specific categories of interest to the average customer.
Where does Norwegian fly? How much does Norwegian charge for baggage? Does Norwegian Air have business class? Will I get food on my Norwegian flight?
Continue reading for an in-depth report of ticketing/fare options, added costs (like baggage fees, change fees, etc.), onboard seat specs, inflight amenities, consumer satisfaction (including recent awards), and much more.
Update: As of January 15, 2021, Norwegian Air has discontinued its international long-haul service.
Basic Info
Airline: Norwegian Air
Alliance: none
Category: Low-Cost Airline (third largest low-cost airline in Europe)
Frequent Flyer Program: Norwegian Air Rewards
Tag Line: Affordable Fares For All
About/Mission Statement: "Affordable fares for all… To realise this vision, we offer quality flights at a low fare based on operational excellence and helpful, friendly service." (source)
Fleet: 170 (average fleet age 3.8 yrs; one of the youngest in the world)
Main Hub: Oslo Airport, Gardermoen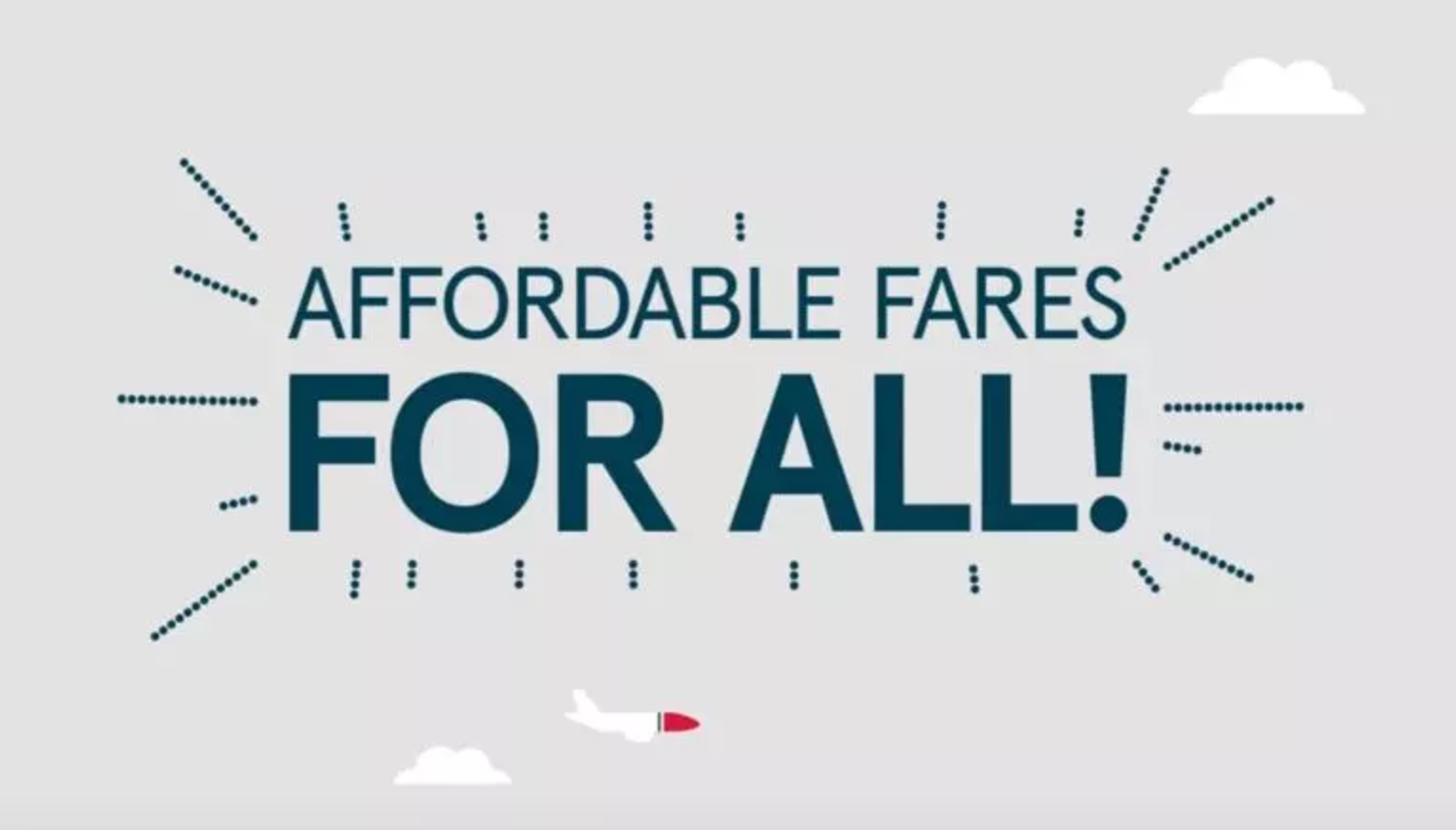 Ticketing Options
Norwegian Air has 3 basic fare options for most flights:
As you can see in the photo below, your fare option clearly designates your included benefits, with more allocated as prices rise.
With LowFare, you're allowed a personal item only and will be charged for extras.
With LowFare+ you have a bit more wiggle room: you can bring a standard carry-on bag, a checked bag, and choose your seat.
With Flex, you have considerably more perks included, with the ability to change and refund flights at no extra cost.
You'll notice a great general perk of Norwegian Air is the free Wi-Fi on most flights regardless of your fare tier.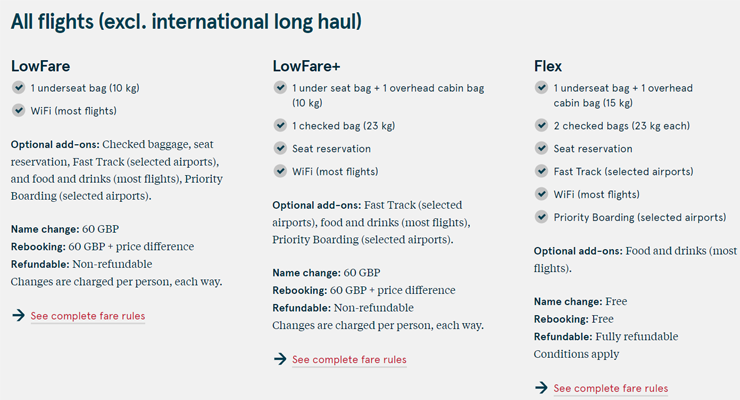 Special Note: Passengers should note that there is an extra fee for itineraries with connecting flights. This fee comes to $10 per person, per leg.
Norwegian Baggage & Other Fees/Add-Ons
Since Norwegian is a low-cost airline, they do offer some very basic fares while advertising extras that can be selected for additional fees.
Baggage Fees
Carry-on Allowance
1 Personal Item: FREE for all fares (10 kg maximum)
1 Carry-on Item:
LowFare: No standard carry-on (available to purchase from $5.50-$10)
LowFare+: 1 standard carry-on (10 kg combined with personal item)
Flex, Premium, and PremiumFlex: 1 standard carry-on (15 kg combined with personal item)
Size Restrictions: 
Personal: 15 x 11.8 x 7.9 inches (38 x 30 x 20 cm)
Carry-on: 21.6 x 15.7 x 9 inches (55 x 40 x 23 cm)
Checked Baggage Allowance
The bag should not exceed a max linear dimension of 118 inches (300 cm) L + W + H, but one side can measure up to 98.4 inches (250 cm).
All flights
LowFare: 0 bags included
Lowfare+: 1 bag included (50 pounds/23 kg)
Flex: 2 bags included (50 pounds/23 kg each)
Infant: 1 bag (11 pounds/5 kg)
Additional Baggage
Purchased online
Purchased at the airport
Direct flights: 1st bag from $18.50 – $60, 2nd bag from $33 – $93
Direct domestic: $54
Direct international: $98
Connecting domestic: $110
Connecting domestic – international: $153


Connecting international – international: $196

Connecting flights: 1st bag from $37 – $120, 2nd bag from $65.50 – $185
The cost of pre-paid additional baggage depends on the specific route. Please see Norwegian's City Pair List and pricing table to calculate the fees for your journey.
Excess Baggage 
Overweight: $13 per kg, per leg. Total weight must not exceed 70 pounds (32 kg) per bag and must not exceed 141 pounds (64 kg) combined total
Oversized: 98 x 31 x 44 inches (250 x 79 x 112 cm) L x W x H
Hot Tip: For more information on Norwegian's baggage fees, see our separate article dedicated to the topic. 
Other Fees & Add-Ons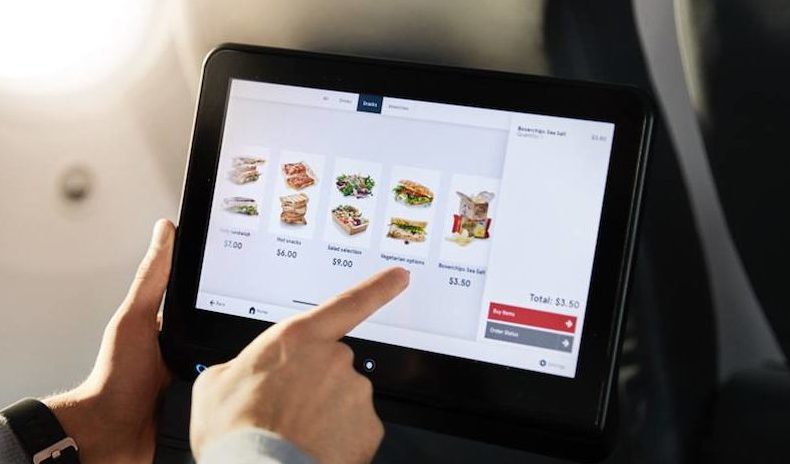 Rebooking Basic: $78 (all non-Flex fares) + price difference, per person, each way
Refund: all non-Flex fares are nonrefundable, per person, each way
Name Change: $78 (all non-Flex fares) per person, each way
Cancellation Protection: $12 per person, per booking; *explicit coverage policies apply
Upgrade to Premium Cabin: price difference at the time of upgrade, per person, each way
Phone/Airport Booking Service Charge: $26 per person, each way
Connecting Flights: $10 per person, per leg; $18 per person per leg through London Gatwick
Seat Reservation Basic: $12-$59 per person, each way
Fast Track: $16 per person; select European airports only
Unaccompanied Minor: $59 per child, each way
Meals/Refreshments Onboard:
Passengers can order a hot meal on selected flights over 2.5 hours (orders can be placed up to 72 hours prior to departure): $12
Snacks and Refreshments:
Non-alcoholic drinks: $2-$3
Alcoholic drinks: $5-$20
Snacks: $1-$7
Fresh food: $5-$13
How to Avoid Paying Excess Fees & Travel Expenses
You don't necessarily have to shell out cash to pay for extra travel fees and expenses you incur along the way.
Experienced travelers use rewards credit cards offering "airline credits" that will cover the cost of baggage fees, travel purchases, and inflight splurges!
See the table below for more details:
Capital One VentureOne Rewards Credit Card - This no annual fee card comes with a 20,000 bonus mile offer after spending $500 in the first 3 months. When you use your card for travel purchases (e.g. baggage fees), use your miles to pay off all, or part of, your statement balance! We've highlighted 30+ benefits of the card.
Capital One® Venture® Rewards Credit Card - The "big brother" card to the VentureOne with a 60,000 bonus miles when you spend $3,000 on purchases in the first 3 months. This card is full of benefits and perks and you can redeem your miles on travel (flights, hotels, even paying for baggage fees etc) or transfer your miles to over 10+ travel loyalty programs.
Norwegian Seat Specs & Inflight Amenities
What will your flight onboard a Norwegian Air plane look like? We're breaking down seat specs & amenities for you here.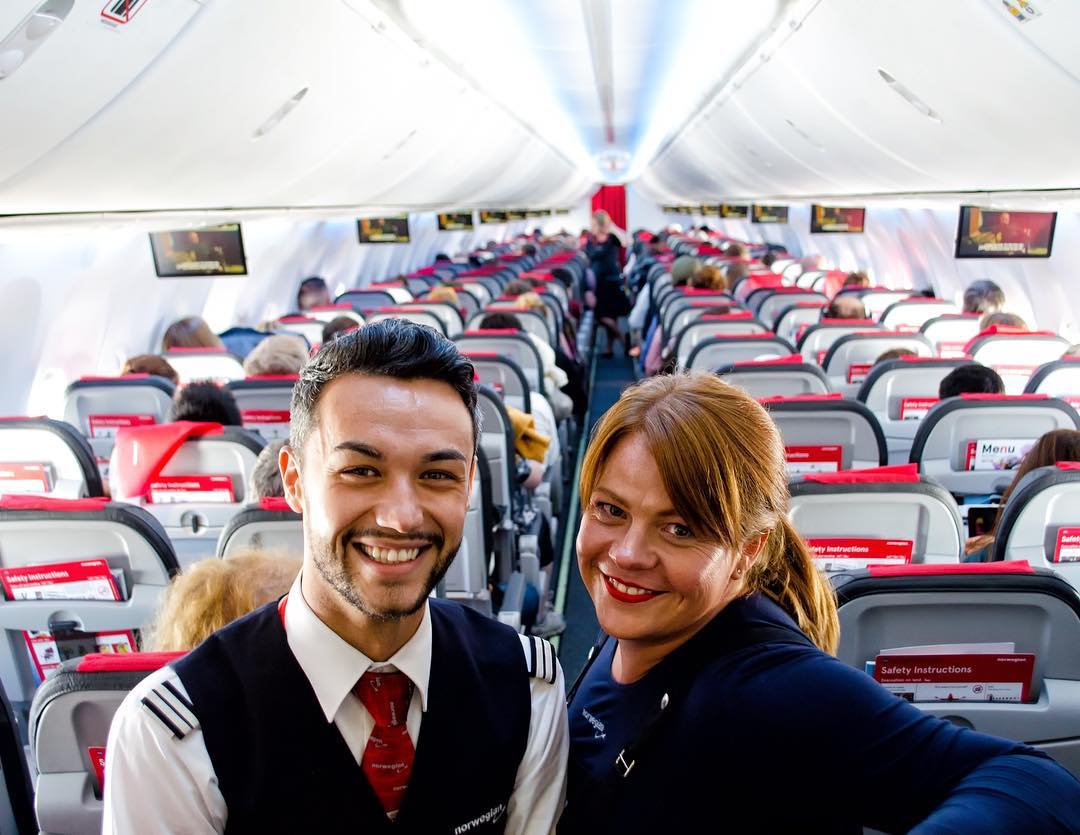 Seat Specs: Norwegian Air has 2 separate seat types: economy and premium cabin.
Economy 737-800: 29″-31″ pitch, 17.2″ width
Economy 737 MAX 8: 29″-30″ pitch, 17.2″ width
Premium: 46″ pitch, 19″ width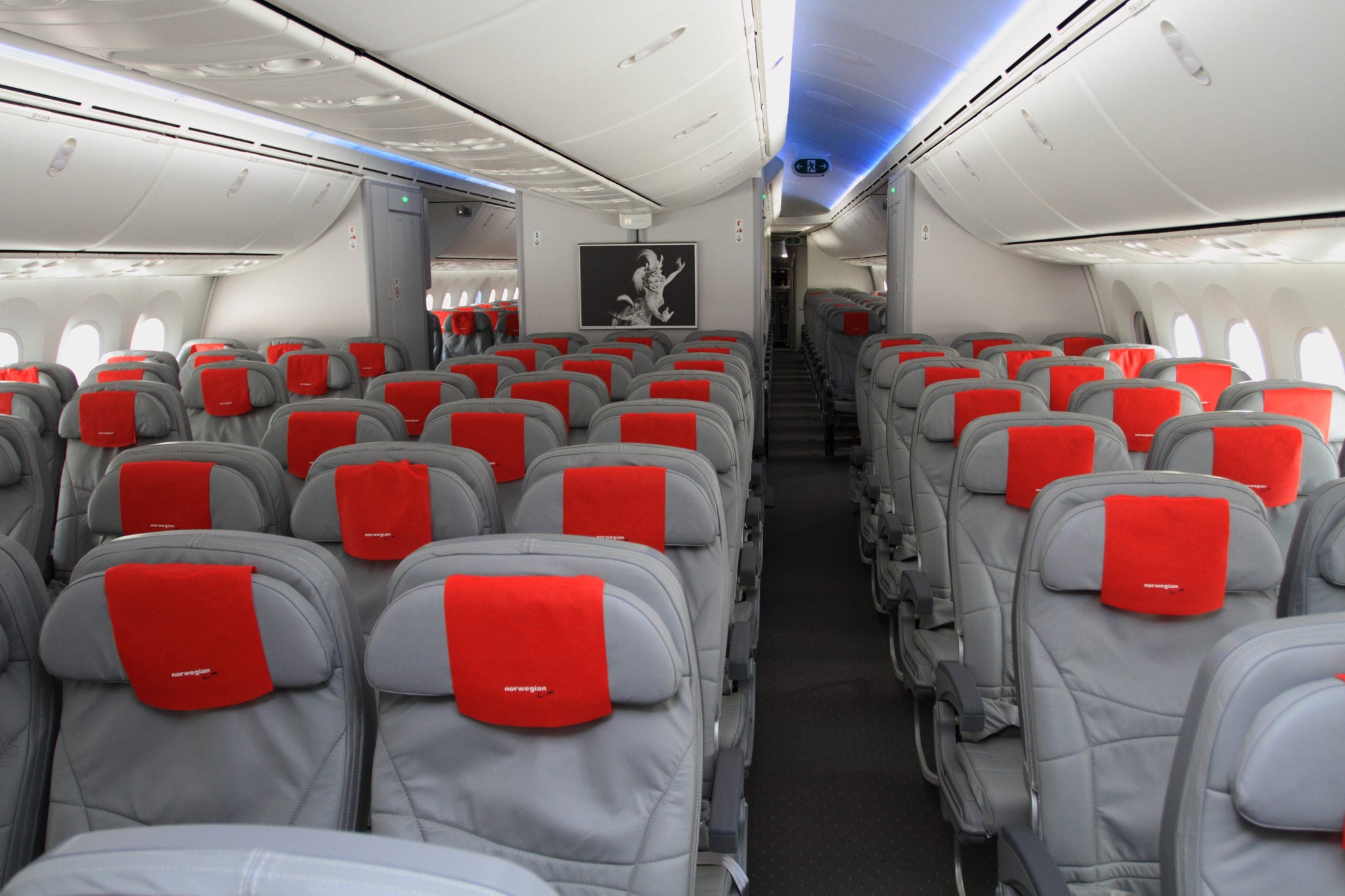 *The table below does not take into account extra legroom seats for exit rows and bulkhead seats.
| | | | |
| --- | --- | --- | --- |
| Aircraft | Total Seats | Economy Seats | Premium Cabin Seats |
| Boeing 737-800 | 186 / 189 | ALL | n/a |
| Boeing 737 MAX 8 | 189 | ALL | n/a |
| Boeing 787-8 Dreamliner | 291 | 259 | 32 |
| Boeing 787-9 Dreamliner | 344 | 309 | 35 |
If you want to find the best seat in the house, so to speak, head over to our friends at SeatGuru.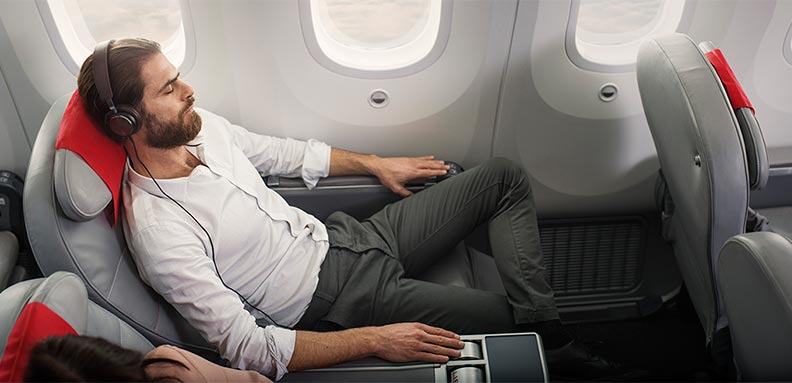 Premium cabin seats are essentially Norwegian's business class, so they'll be a bit more upscale with extra legroom and increased recline.
Inflight Amenities: As for amenities onboard during the flight, Norwegian Air goes above and beyond other low-cost carriers by offering some perks free of charge.
Free Wi-Fi (on most European flights) on your smartphone, tablet, or laptop
Free live TV (on most European flights) on your smartphone, tablet, or laptop
Note that refreshment service is limited to paid beverages and snacks only.
Norwegian Customer Satisfaction
Norwegian gets mixed reviews when it comes to customer satisfaction. Of course, since it is a low-cost airline, you'll get the average Joe who doesn't do his research and is therefore unaware of the basic low-cost structure: you get what you pay for.
This means a lot of people complain about added fees, extra costs, etc. There are some other issues to consider as well, and we'll break those down below.
That being said, Norwegian Air gets above average overall scores from many popular review sites. Also, Norwegian has been winning quite a few awards over the last few years, so be sure to check out that list too.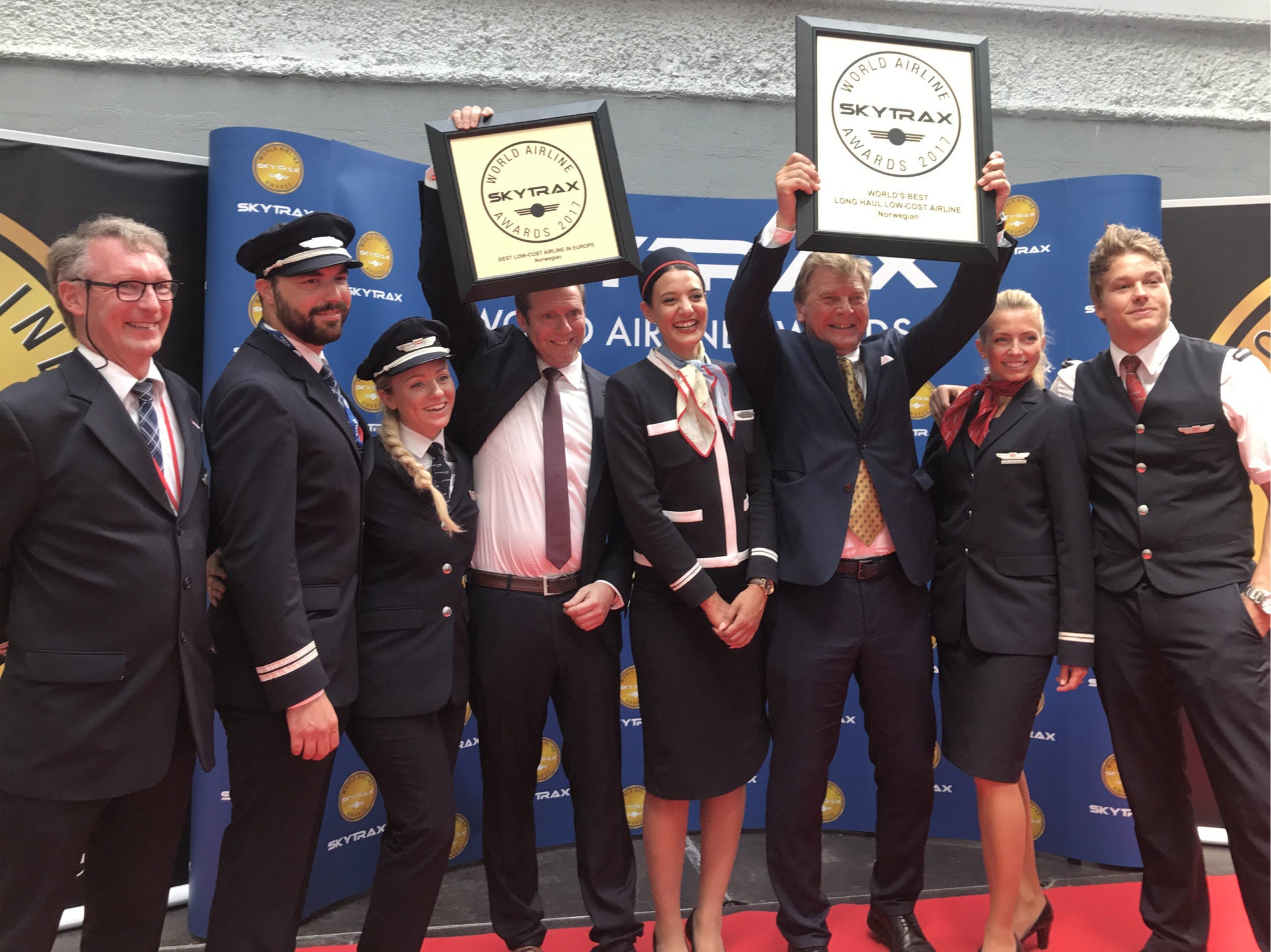 Most Common Complaints
What are the most common Norwegian Air complaints? This technically depends on where you're getting your information. On social media outlets like Facebook and Twitter, most customers seem to complain more about general customer service interactions and a low transparency when it comes to ticket prices.
That being said, the August 2017 Air Travel Consumer Report filed by Transportation.gov breaks down a total of 57 complaints against Norwegian Air for January 2017 through June 2017:
Flight Problems (cancellation, delay, or misconnection): 12 / 21.1%
Reservation, Ticketing, Boarding: 12 / 21.1%
Baggage: 9 / 15.8%
Refunds: 7 / 12.3%
Fares: 6 / 10.5%
Customer Service: 5 / 8.8%
Disability: 4 / 7.0%
Over-Sales: 1 / 1.8%
Other: 1 / 1.8%
Consumer Rankings
Here's a list of some of the more popular rankings systems/review websites, and where Norwegian falls on their radars.
Skytrax Ranking: 3 Star Airline
Skytrax Customer Rating: 5/10 (average of 1281 reviews)
TripAdvisor Airline Review Rating: 3.5/5 (average of 27,532 reviews)
Kayak Customer Rating: 6.8/10 (average of 4,407 reviews)
Performance
As represented on various performance tables, Norwegian ranks pretty high across the board when it comes to On Time Performance (OTP).
OAG Top Airlines by On Time Performance – January 2020: Ranked 59th for global airlines at 84.6%
Flight Stats On Time Performace Rating 2019: Ranked 10th for European airlines at 77.4%
Recent Awards
Norwegian Air has been receiving some prestigious awards in top categories for multiple years running.
Skytrax World Airline Awards 2019 – World's Best Low-Cost, Long Haul Airline
World Travel Awards 2019 – Europe's Leading Low-Cost Airline
Passenger Choice Awards 2019 – Best Low-Cost Carrier in Europe
Final Thoughts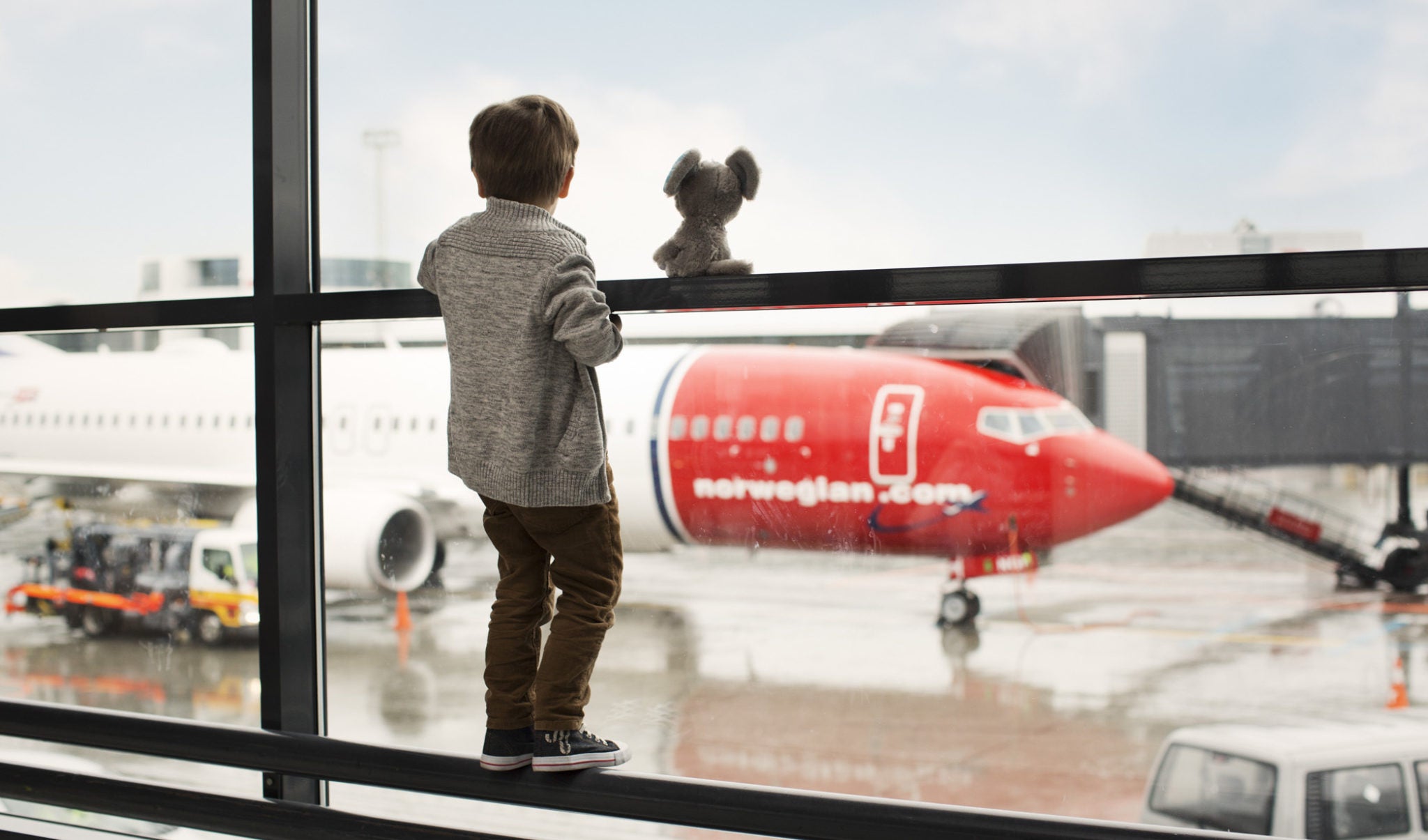 From a low-cost airline perspective, Norwegian sits near the top of the list in our book.
Keep in mind they operate a "pay for you, not for everyone else" type of concept, and basic ticket prices reflect this with extras tacked on accordingly.
Norwegian does sneak in a couple of low blows (like fees for connecting flights), but all in all their prices are what you'd expect for extras and onboard amenities. Plus, most domestic flights come with free Wi-Fi — that's pretty unique!
When it comes to customer satisfaction and performance, Norwegian holds its own. On average, you can expect to see more positive reviews for them than competing low-cost carriers.
Our take? If you have the opportunity to fly Norwegian Air and think you've found a great price, there's a good chance you'll be pleased.