Review: SWISS Air First Class Lounge Terminal E at Zurich Airport
Over the years, I have been fortunate to fly some of the world's premium air products, which in turn have provided me access to the most exclusive airline lounges.
The one that really stands out though, is the SWISS Air First Class Lounge in Terminal E at Zurich Airport (ZRH), SWISS Air's principal hub.
Unlike other first class lounges like Singapore Airlines' The Private Room and Air France's La Premiere Lounge which lack certain features, the SWISS Air First Class Lounge offers an all encompassing experience – capacious lounge facilities, fine dining, excellent drink selection, extensive tarmac views from a 3,800 square foot terrace and 2 upscale day rooms with en suite bathrooms and a HÄSTENS bed package.
SWISS Air First Class
Before I dive into the entire lounge experience, let me step back and give you a bit of background on how I went out about it.
Booking SWISS Air First Class
Flying SWISS Air in first class can turn out to be an expensive affair. SWISS Air does not release first class award space to partners and only allows one to redeem miles for the first class ride if you are a Senator or HON Circle member.
Time to time, Lufthansa and SWISS Air release companion fares that are affordable. However, since I mostly travel solo, that option is wasted on me.
I don't hold Miles and More elite status, so I went about searching for the most "affordable" fare. After months of searching online, I finally found a fare acceptable to my palette: a mixed cabin first-business return fare from Paris-Charles De Gaulle (CDG) to Suvarnabhumi Airport (BKK) in Bangkok via Zurich Airport (ZRH) and vice-versa for $2,813.91.
Who Can Access the Lounge?
You can access the SWISS Air First Class Lounge if you are flying SWISS first class, Lufthansa first class, or are a HON Circle member, which is notoriously difficult to achieve. You need a minimum of 600,000 HON Circle miles in 2 consecutive calendar years.
Additionally, guests who are using a connecting flight with their first class flight can access the First Class Lounges, provided the whole journey is booked in first class.
Arriving at Zurich Airport
My connection time at Zurich airport was 6hrs 45mins. This gave me at least 6 hours at the SWISS First Class Lounge, after taking away 45 minutes for the formalities and transfer from Terminal A to Terminal E.
I landed from Paris at 11:15 a.m. at Terminal A, which is where the intra-Schengen flights operate from, and made my way to the SWISS First Class Lounge. I had visited this lounge before, which is similar to the one at Terminal E, but sans the terrace that offers expansive tarmac views.
I requested the attendant to transfer me to the SWISS First Class Lounge at Terminal E, out of which international flights operate. There were another 5 passengers along with me who were transferring to Terminal E.
As you exit Terminal A, you need to clear immigration, as you are effectively leaving the Schengen area. There is a private immigration counter where this is done. Once you clear immigration you are driven in either a Mercedes S-Class or a Mercedes minivan for the 5-minute hop across to Terminal E. Since we were 6 of us, SWISS Air opted to use the Mercedes minivan to transfer us.
We arrived at Terminal E around 12:05 p.m., and I then took an elevator up 3 levels, which opened up at the lounge reception.
SWISS Air First Class Lounge
Reception
At the reception, I was greeted by 2 attendants, who checked and scanned my boarding pass. They were as welcoming as the "WELCOME" sign posted on the wall behind them, which is in German, French, Italian, and Romansh.
Hot Tip: Romansh is a language that has official status in Switzerland, alongside German and Italian, and is predominantly spoken in the southeastern Swiss canton of Grisons.
An attendant then inquired if I needed a day room and a Wi-Fi password, to which I responded in the affirmative for both. I was given the key to one of the 2 day rooms and a printed Wi-Fi password was handed out. The lounge does not have a common Wi-Fi password. Each passenger gets their own customized password that is generated using a randomizer.
I did not want to lug my luggage around in the lounge, so I decided to drop my bags in the day room I had secured before proceeding to the lounge. The attendant escorted me to the room, and whoa! did it exceed all my expectations!
After dropping my stuff off in the day room, I made my way towards the lounge entrance.
First Impressions
The right side wall leading to the entrance lounge is adorned with a giant Breitling neon sign along with 3 timepieces on display.
As of 2016, Breitling has entered into an official partnership with SWISS Air as its official timekeeper. There are 2 special edition SWISS-Breitling watches manufactured that also come with a personalized Captain's Certificate, noting the precise altitude at the time of purchase. Pretty neat, huh!
The lounge is spread over 8,000 square feet, can seat up to 80 passengers, and is open from 6:00 a.m. to 10:30 p.m. daily.
As you enter the lounge through the double sliding door, you notice a massive wine humidor on the left, which can hold up to 1,000 bottles of wine.
Straight ahead is a counter, which acts as a Champagne bar, with 4 premium varieties of bubbly on ice.
The day's selection was Piper-Heidsieck Cuvée Brut, Piper-Heidsieck Rosé Sauvage, Claude Baron Cuvée Saphir Brut, Claude Baron Perle Rosé Brut, R&L Le Gras Brut, and a bottle of sparkling wine — Ca' del Bosco Franciacorta Brut.
To the right of the entrance is a magazine shelf rack embedded in a wall with a red SWISS sign emblazoned on it. A small tray of nibbles and pastries was also available.
The lounge is divided into 3 sections — the main bar area, the à la carte dining area on the left and the seating area that opens up to the terrace, from where you can enjoy some excellent tarmac views with a glass of champers.
The lounge was empty with only 3 of us passengers — a couple, myself, and 9 lounge staff. I poured myself a glass of Piper-Heidsieck Cuvée Brut and continued to explore the lounge facilities. The decor is chic with an understated elegance as with all things Swiss. The mix of wooden panels and partitions with leather upholstered seats and high ceilings give the lounge a modern and roomy feel and the sun rays lighten up the lounge through the floor-to-ceiling doors and windows.
Hot Tip: This lounge made our list of the best first class lounges in the world!
The Bar and Dining Areas
Further ahead from the Champagne bar is the main bar with seating on either side. The bar housed an excellent selection of alcoholic beverages.
To the left of the bar are 4 open dining booths.
On the other side of the wooden partition is the main dining area.
You could either grab a table by the partition or by the window to enjoy some excellent AvGeek views as you gorge on their excellent cuisine.
Seating
On the opposite side is the main seating area which has a variety of seating options that are cordoned off with partitions. Seating ranges from armchairs to sofas and ottomans.
Some of the seating was designed for families complete with a television set and plug points.
Conference Room and Washrooms
At the back of the lounge area, is a conference room named "Lucerne" and the washrooms. You can use the shower facilities if you do not manage to book one of the day rooms.
The washrooms were kept immaculately clean and come with a view.
Terrace
I then walked back to the main lounge area and headed out to the 3,800-square-foot terrace which encloses the lounge. It was a pleasant sunny day to venture out and enjoy the sight of aircraft movements with a glass of bubbly in hand. It was breathtaking! I could spend all day here.
The terrace has plenty of seating arrangements from benches to patio furniture.
I spent about 30 minutes on the terrace, enjoying the views with refills of the Piper-Heidsieck. It was 1:30 p.m. by now, which meant it was lunchtime.
Food and Service
I headed to the dining section and sat myself down at a table by the window to enjoy the expansive views while I lunch.
The first class lounge does not have a buffet option, only à la carte dining. I was presented a wine list and an all-day dining menu by the lounge attendant. The wine list and dining menu were presented in elegant folders with a SWISS aircraft embossed on the cover.
The wine list was impressive, with the likes of Villa Huesgen Riesling and Chateau Argadens on offer. However, the one that really caught my fancy was the Argentinian wine — Amalaya Malbec. I have always been a fan of Malbecs, so I was pleasantly surprised that it was on offer.
Other than the regular breakfast and à la carte dining menu, there was also a "Special Menu" with dishes from the Canton of Vaud.
The special menu didn't quite get me excited, so I chose from the regular à la carte dining menu.
For starters, I went with the beef tartare with rocket salad emulsion, Sbrinz cheese, sesame, capers, and toast. It was absolutely delightful. The meat was excellent and the Sbrinz cheese and capers created a delightful complexity of flavors in my mouth.
For the mains, I chose the roasted lamb chops with chimichurri, potato spirals, artichoke, and spinach. The lamb chops were cooked to perfection and were decadently succulent.
Both the meat dishes paired excellently with the Amalaya Malbec.
I followed this up with a dessert of blackberry cake with baiser, yogurt ice cream, jelly, and meringues, which was excellent.
By now, I was well fed and it was time to freshen up and catch a snooze before my 5:55 p.m. departure to Bangkok. Though the food was excellent, the service was tepid. They would serve the dish and then disappear, so if you wanted a refill, you really had to look for them and get their attention.
St. Moritz Day Room
There are 2 day rooms, rather I would call them hotel rooms, provided for first class passengers to freshen up. They are named Montreux and St. Moritz after 2 of Switzerland's famous tourist towns. I secured the St. Moritz day room.
The day rooms are available on a first-come-first-served basis and cannot be booked in advance, so I highly recommend that you secure one as soon as you get there, drop your stuff, and then proceed to the lounge. You are not required to return the keys until you have decided you no longer have any use of the day room.
Each room comes with a double bed, an en-suite bathroom and expansive views of the tarmac. It is on par with an upscale hotel room, especially considering that the HÄSTENS bedding ranges from $25,000 to $150,000. This particular one was from their 'Maranga' collection in case you intend to buy one. There is also still and sparkling water provided along with multiple charging points and USB ports.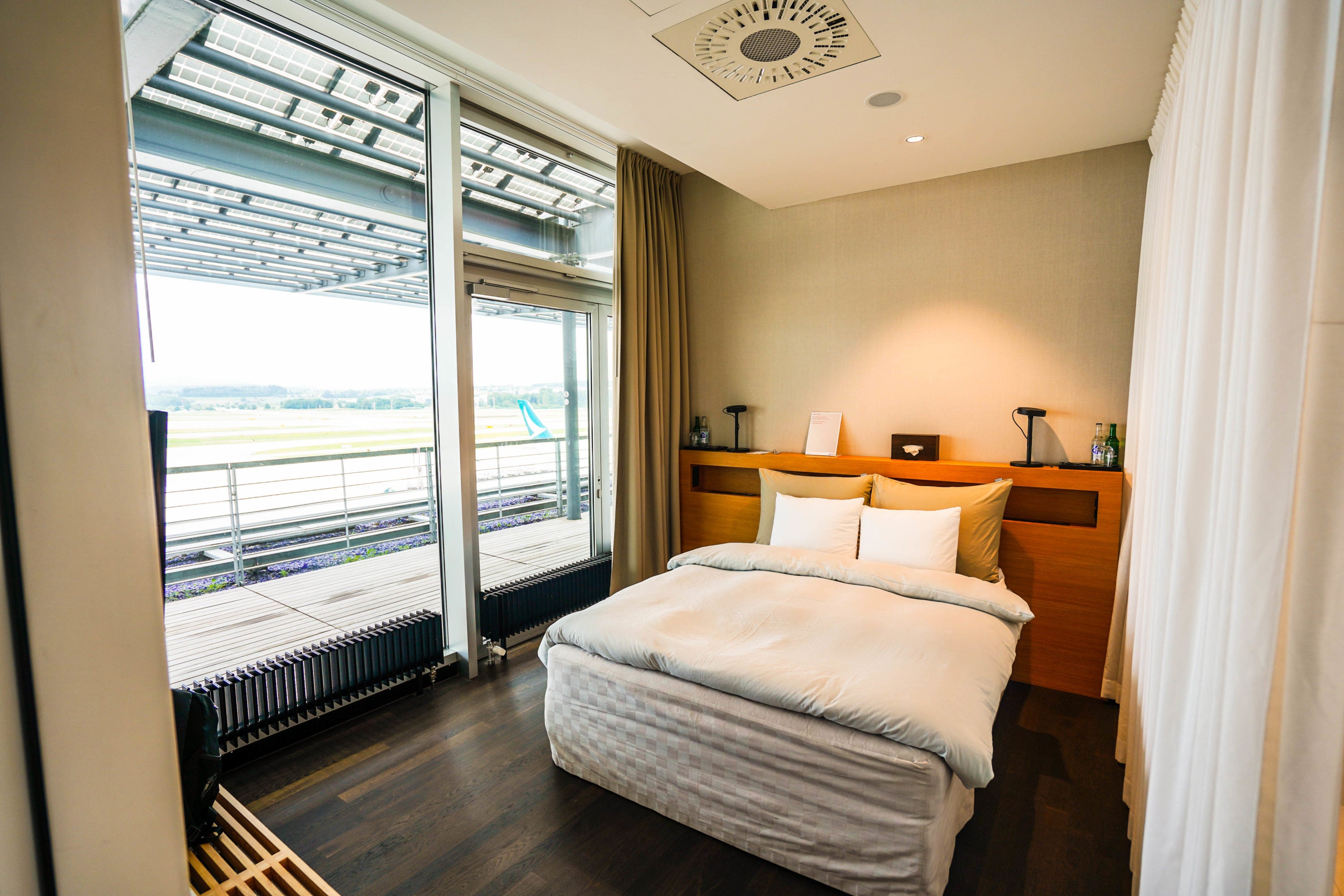 A TV is provided, as well, but who wants to turn that on when you can enjoy the sublime views outside?
Then comes the en-suite bathroom, which was kept spotlessly clean. Before you hop in for a shower, draw the blinds. The glass is see-through from the outside and your modesty could end up being a public spectacle 😉.
The bathroom is stocked with amenities such as dental kits, shaving kits, bathrobes, slippers, etc.
I had a quick shower and then excitedly jumped on to the bed to figure out what it meant to sleep on the "Rolls Royce" of luxury mattress. I can tell you this, it was worth every cent (albeit a lot of cents) of that price tag! It was plush, soft, and comfortable. If I had supplementary cash like that around, I would definitely get myself one at home.
So why is this bedding astronomically expensive? The Swedish company manufactures the bedding and mattresses by hand, using natural materials such as wool, flax, cotton, and horsehair. And not just any horsehair…. the horsehair that fills HÄSTENS bedding or mattresses is from horses that are groomed and bred specially for the manufacturer.
With the excitement and the adrenaline pumping inside me, it took me about 30 minutes to fall asleep. What's not to be excited about? Sleeping on an expensive plush bed and watching airplanes roll by!
I slept for 2 hours and then packed my stuff and headed back out to the lounge at 5:00 p.m. I poured myself another glass of Piper-Heidsieck Champagne and headed out to the terrace. By now the lounge was slowly filling up for the evening departures.
Rather reluctantly, I finally left the lounge at 5:30 p.m. towards gate E44 for the 5:55 p.m. departure to Bangkok.
Unfortunately, unlike the parent company and Star Alliance peer Lufthansa, SWISS does not provide private ground transfer directly to the aircraft for first class passengers unless you are changing terminals, so I had to leg it to the gate.
Final Thoughts
I'll keep this short. If you are an AvGeek, then this is what paradise feels like.
Sleeping on a HÄSTENS bed meant for royalty and high society and watching planes roll by — can't beat that, nothing can!
The lounge may not be huge, but it is very tastefully done up, the food is delicious, and the drinks selection is excellent, though the service was disappointing.
There is no doubt that it is worthy of the Skytrax award for the World's Best First Class Lounge.
This definitely is my favorite lounge, and I can't wait to spend more time in this lounge later in the year. I have a 13hr 35min connection on my way from London-Heathrow to Dubai and a 9hr 5min connection on the way back.
So until then, auf wiesdersehen, au revoir, arrivederci, and a revair.