Detailed Review of Brightline Train Service [Miami to Ft. Lauderdale to West Palm Beach]
Brightline is the only privately owned intercity rail system in the U.S., currently running trains between West Palm Beach, Fort Lauderdale, and Miami. The service opened in 2018 to much fanfare and is much different than other train lines in the U.S. Brightline offers multiple classes of services, modern stations, and hourly departures, making it one of the best transportation systems in North America.
In this post, we'll look at:
What Brightline is, and where it serves
What the different classes of service are onboard
What the Brightline experience is like
What is Brightline?
With Brightline being the only private rail system in the U.S., it is in the unique situation of gathering investors to support the brand. One of the biggest investors is Virgin, the same group that created Virgin America and Virgin Atlantic. With Virgin backing the brand, Brightline has been able to create a modern, well-equipped train to serve customers.
Currently, the train only runs from West Palm Beach to Miami, via Fort Lauderdale, though expansion plans are well underway to include Orlando and intermediate stops, including several airport locations.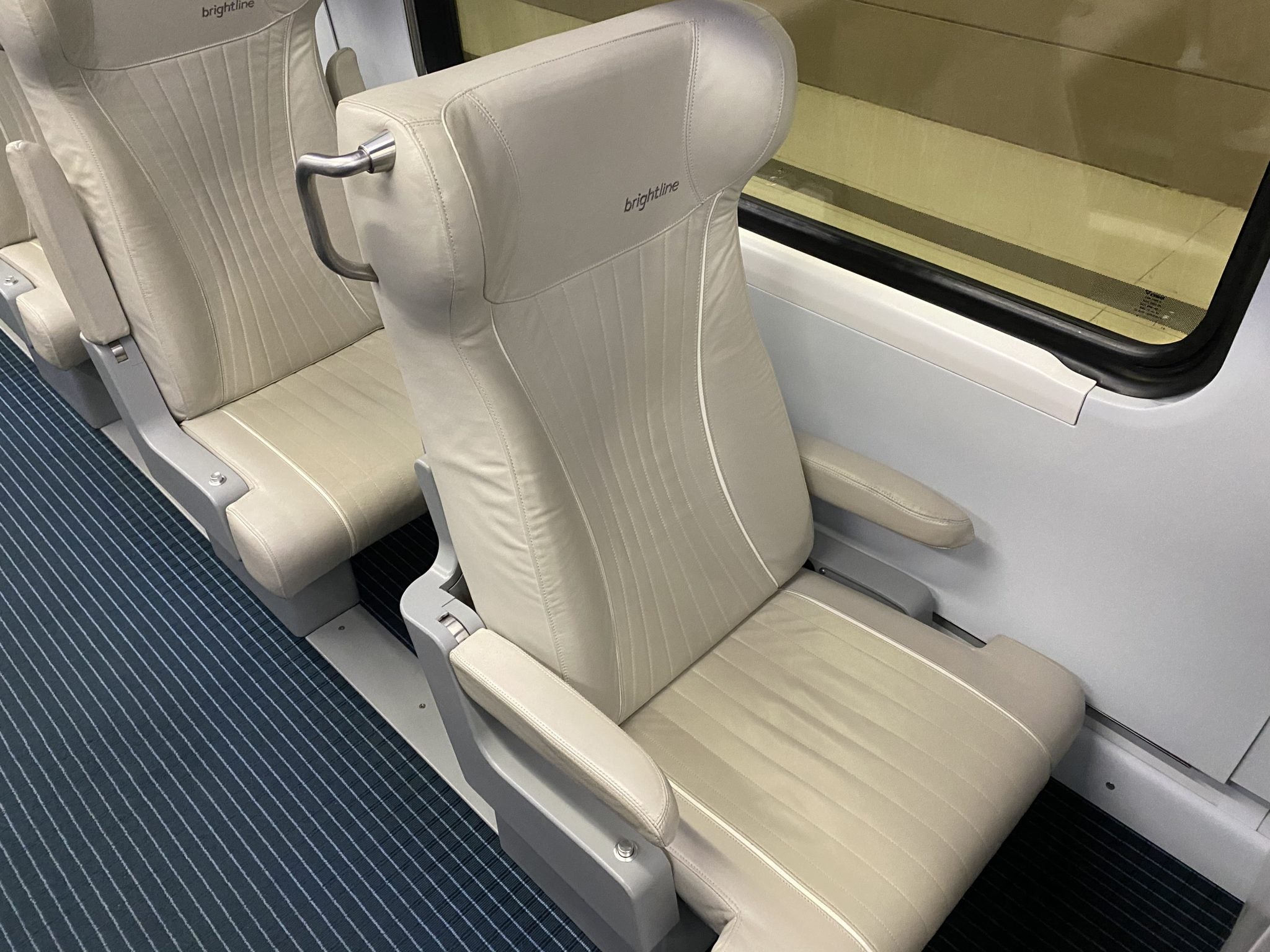 Brightline Stations
There are 3 Brightline stations:
Miami — 600 NW 1st Ave., Miami, FL 33136
Fort Lauderdale — 101 NW 2nd Ave., Fort Lauderdale, FL 33311
West Palm Beach — 501 Evernia St., West Palm Beach, FL 33401
Purchasing Tickets on Brightline
Brightline has a website and app where you can purchase tickets, and fares are very reasonable for the 1 hour and 10-minute journey from end to end.
In SMART (business class), tickets start at around $15 each direction, and the upgraded fare to move into SELECT (first class) is an additional $15. Even with last-minute fares and during peak times, fares never really go above $35 or so in each direction.
All tickets come with assigned seating, which is great for sitting next to friends or colleagues, selecting seats facing each other if you want to meet, or choosing seats that come with an adjoining table.
SMART vs. SELECT
There are 2 classes of service onboard — SMART and SELECT — both of which include different amenities and services.
Brightline has a very good comparison chart showing the details of each:
Amenities
SMART
SELECT†
Complimentary onboard WiFi
X
X
Multiple power and USB outlets at each seat
X
X

Adapters and chargers upon request

Snacks available
For purchase only
ALL-INCLUSIVE
Non-alcoholic beverages available
For purchase only
ALL-INCLUSIVE
Alcoholic beverages available
For purchase only
ALL-INCLUSIVE
Hand-stitched leather seats; sit 2 or 4 together at a table
19-inch seats
21-inch seats + individual seats available
Low hourly and daily rates in Brightline's garages
For purchase only
1 day of complimentary parking
Relax pre-departure in the first-class SELECT lounge with an ever-changing lineup of enticing bites and beverages
—
X
Lounge business services including iPads, a scanner and printer, and access to conference rooms at the station (a $50/hour value)
—
X
Board first with a signature pre-boarding experience
—
X
 *Subject to Terms of Service, view Tickets & Reservations for details.
 †Subject to Terms of Service, view Tickets & Reservations for parking details and SELECT lounge conditions and restrictions. View Cancellation Policy for SELECT ticket holders.
West Palm Beach to Miami: SMART Business Class
The West Palm Beach station is situated very close to downtown attractions — all of the high-end shopping and restaurants you expect from West Palm Beach are within a few blocks away, making this station very convenient for commuters and those who want a night out on the town.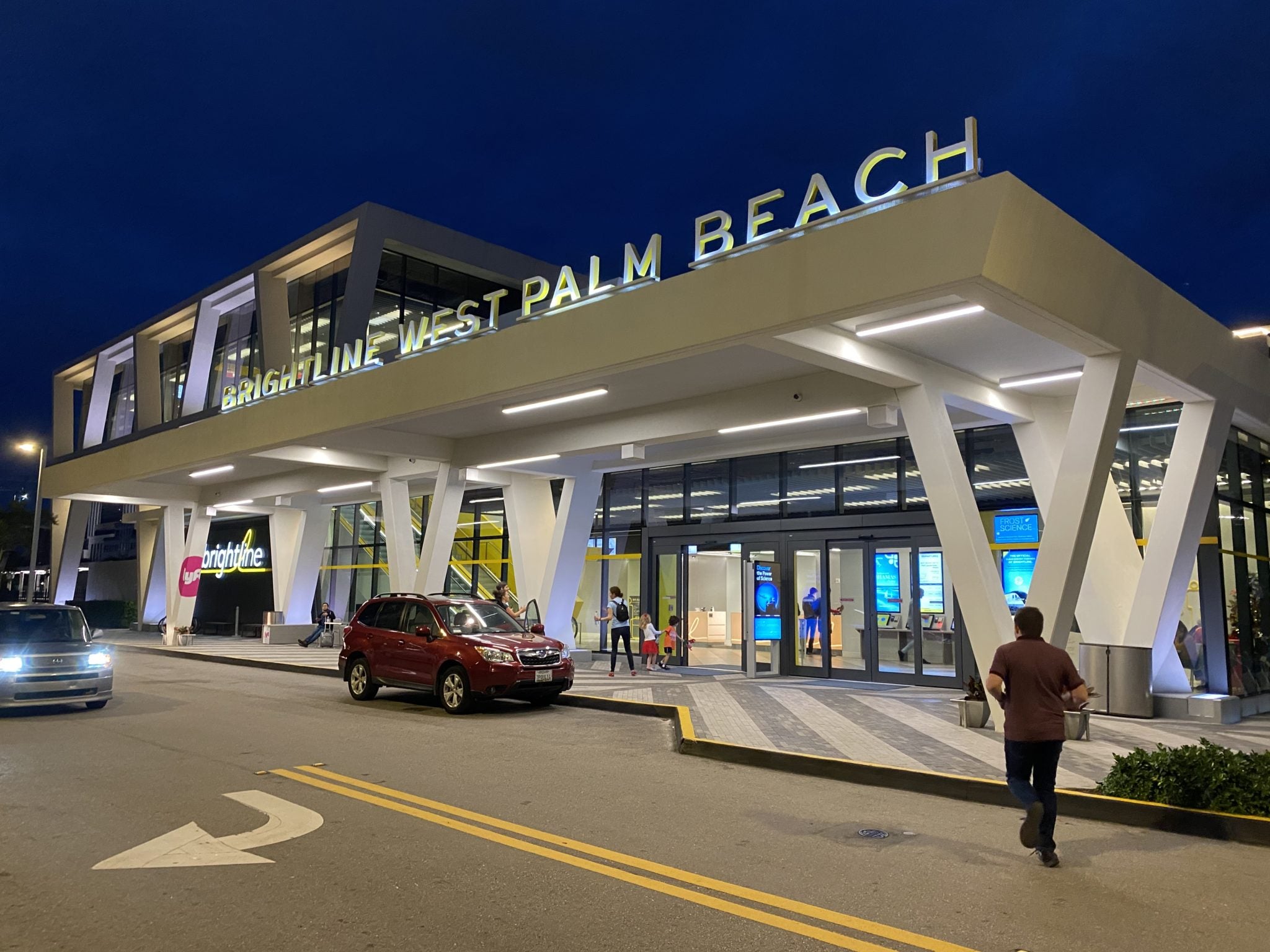 As you enter the station, there are kiosks where you can print your ticket, as well as counters where you can check your luggage, if you desire.
As you head up the escalators to the train platforms, you proceed through a security checkpoint which doesn't take but a few moments. You put your bags through an x-ray machine and you simply pick them up on the other end — much less hassle than an airport. In the station itself is a waiting area with couches and charging ports for those seated in SMART, and on the other end of the hall is the first class lounge for those seated in SELECT first class.
Boarding is done via the escalator, so you take that up to the platform and then simply find your train car and seat number. Car numbers are very clearly labeled, so there should be no difficulty in finding your seat.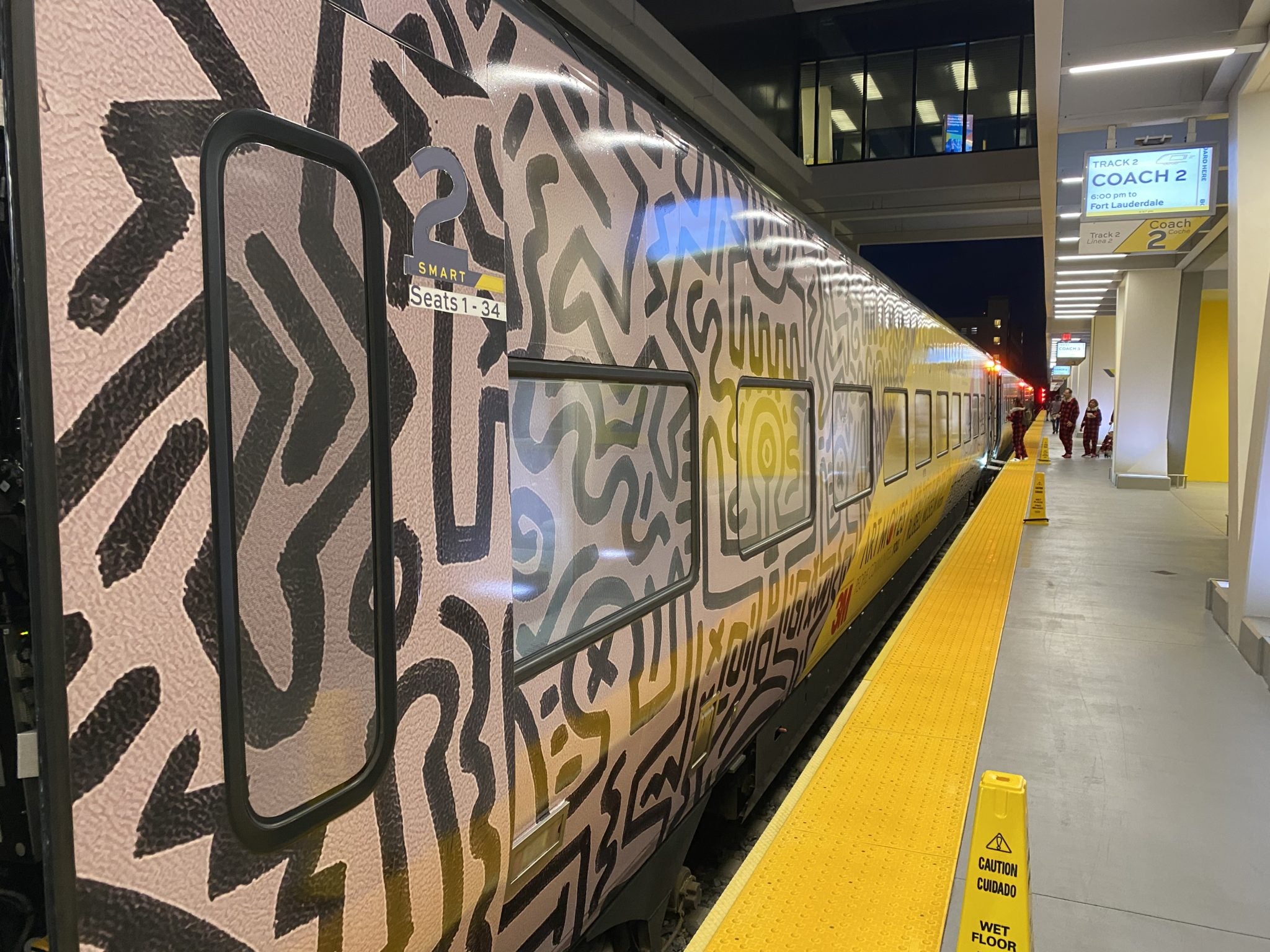 Once inside the train car, you'll find that business class is laid out in a 2×2 configuration, with most seats in pairs facing forward. There are some seats where 4 seats are facing each other with a table in the middle for those who wish to meet or dine.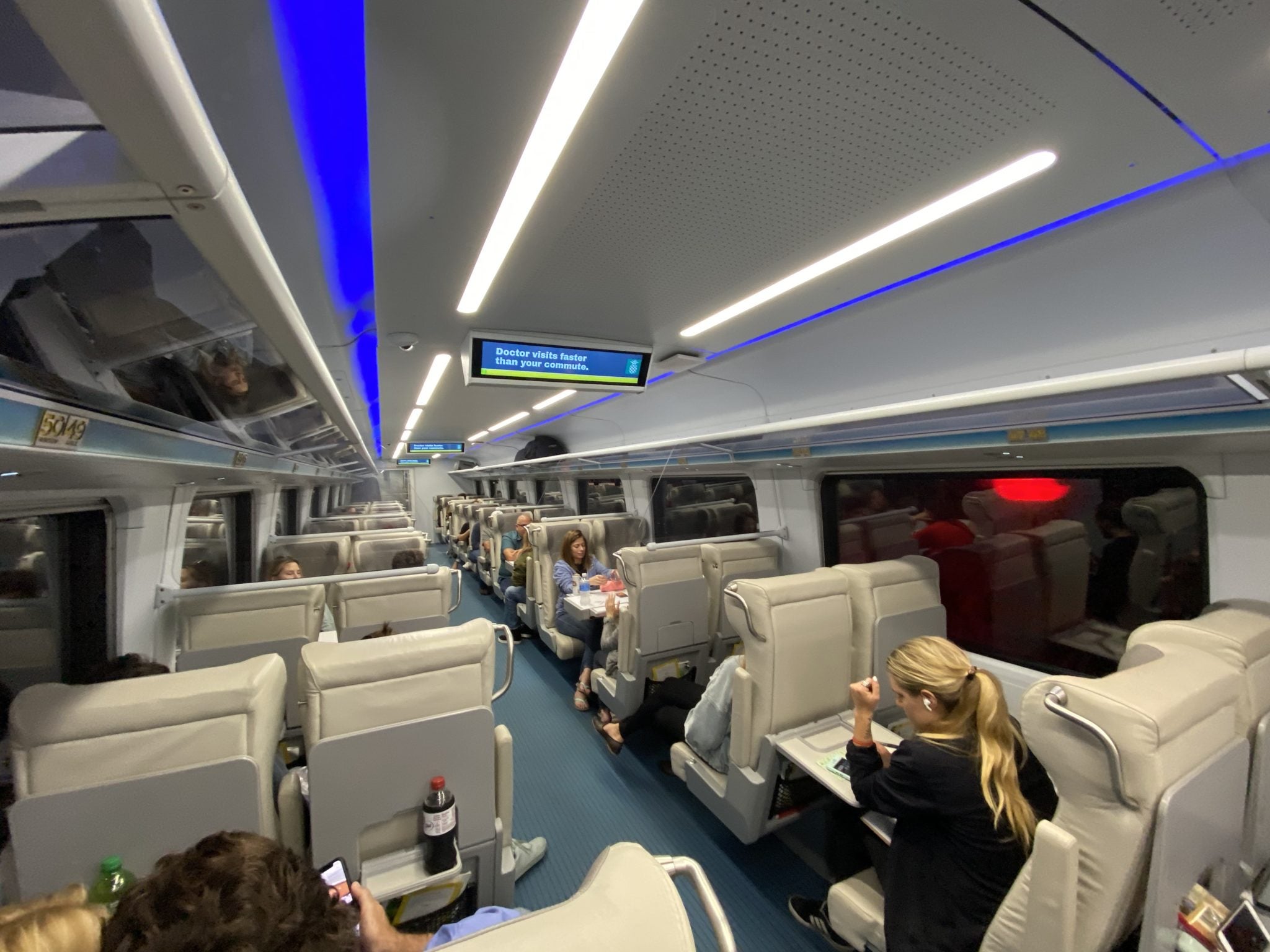 Each seat reclines using an "effective" recline method, where the bottom slides forward, and the back moves back, helping to save space. For the 1 hour or so ride, it's a perfect position for a quick nap. Each seat also comes with 2 tray tables built into 1 — a smaller table, perfect for holding your phone or a drink, and a larger table that is perfect for working on your laptop or eating.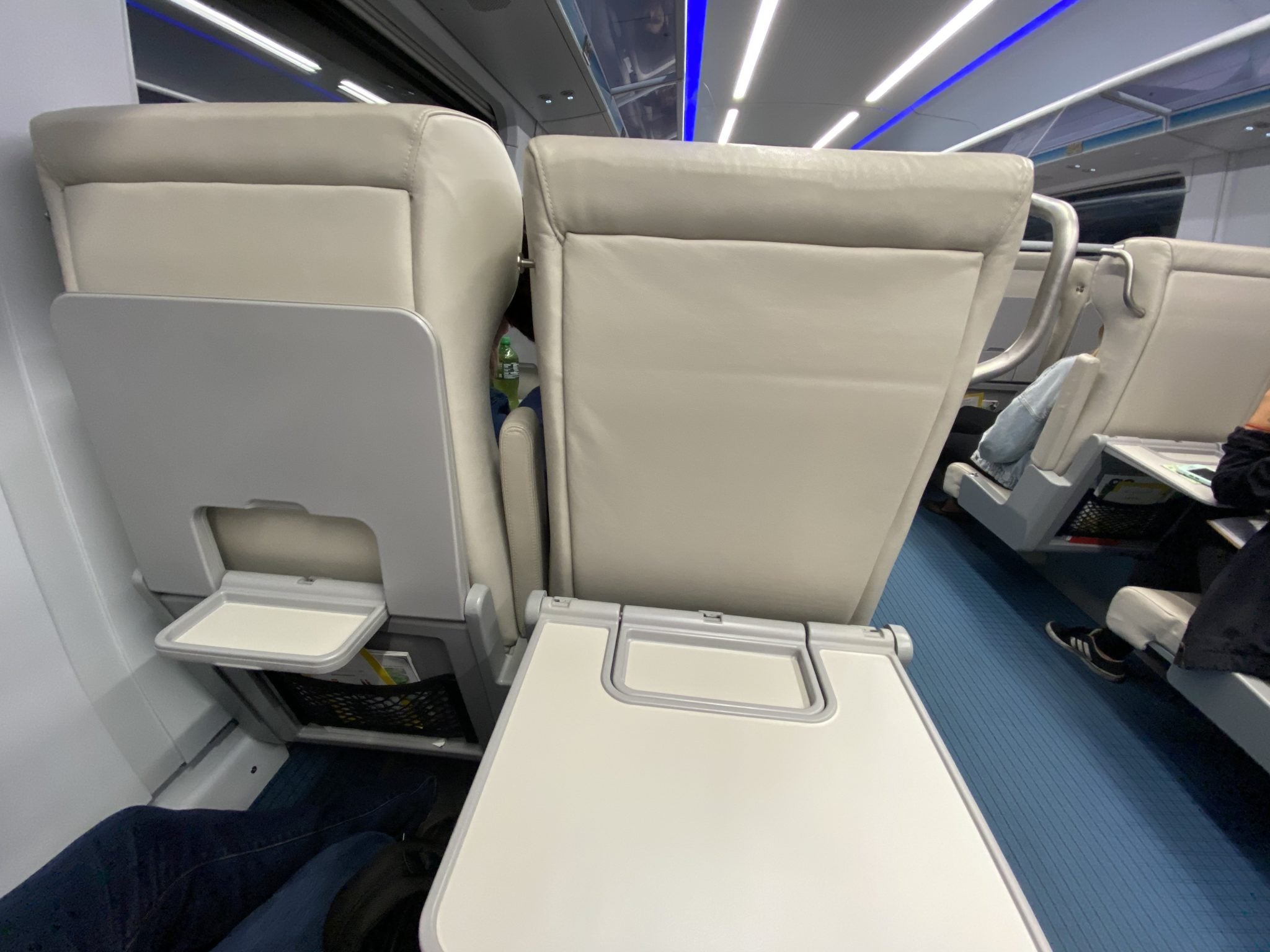 The car has a bathroom at 1 end, which is spacious and available for handicapped passengers.
Brightline trains tend to depart on-time and the doors to the train close 4 minutes before departure, so you'll find these trains similar to European services that are very punctual.
Just after departing, 2 attendants wheel a cart down the aisle offering for-purchase beverages and snacks. While these are complimentary in first class, those in business class must purchase all refreshments. Just before approaching Fort Lauderdale, the same attendants wheel a trash cart down the aisle picking up any service items. After Fort Lauderdale, the process repeats itself with a refreshment cart being offered first, followed by a trash cart second.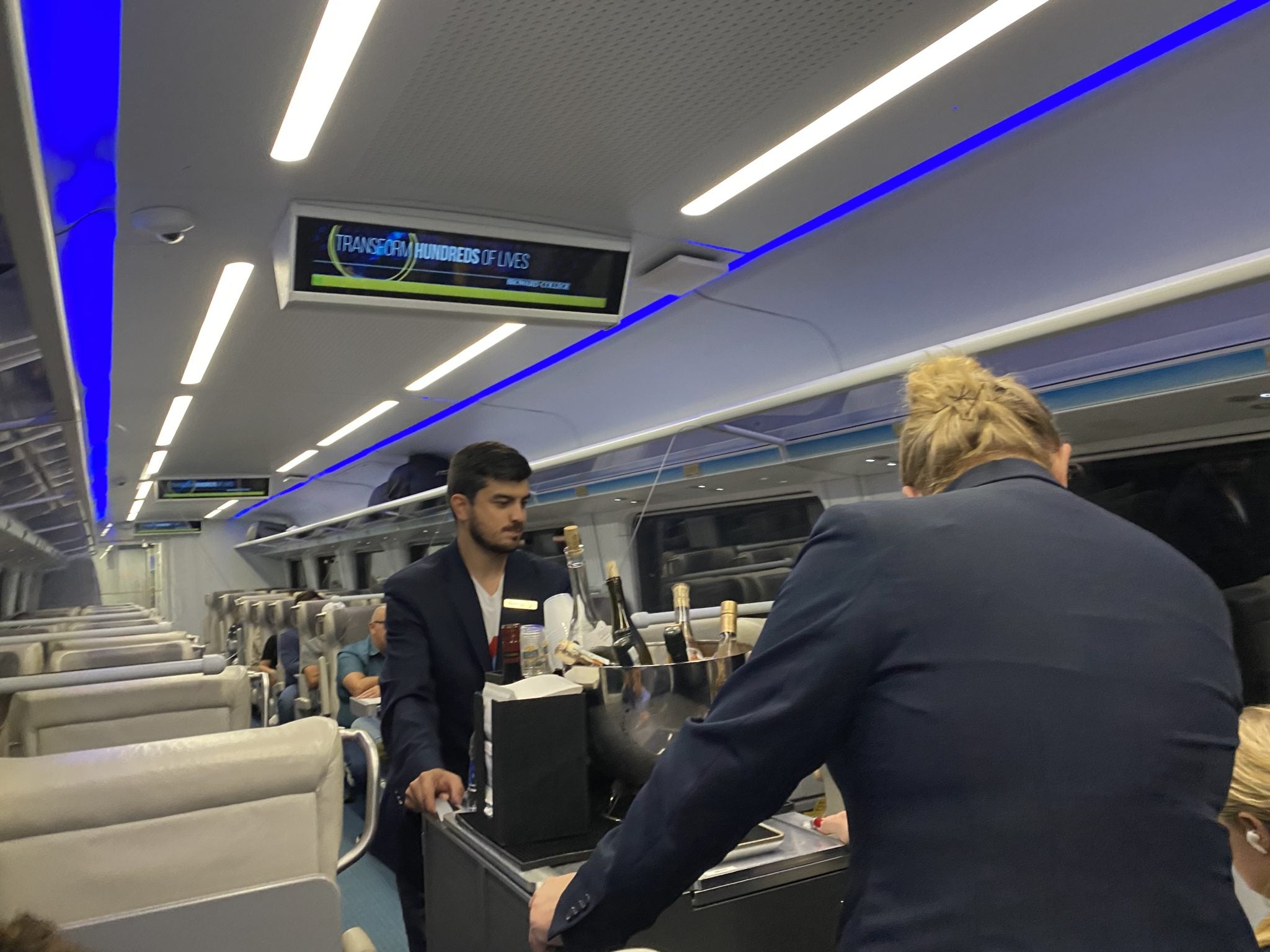 Here are the drinks available for purchase:
Wines by the glass, $8
Wines by the half bottle, $14 or $17
Beer, $8
On the Rocks Mixed Cocktails, $9
Spirits, $10
Bigelow Coffee and Tea, $2
Assorted Iced Tea, $4
Soft Drinks, $2
Juices, $3
Premium Water, $3.50
Here are the snacks available for purchase:
Clif Bar, $2
Haribo Gummy Bears, $2
Kind Bar, $2
Luna Bar, $2
Kettle Brand Potato Chips, $3
Hot Tip: Remember, the upgrade price into SELECT first class is $15, so if you intend on purchasing more than $15 worth of snacks and drinks, you may want to consider upgrading to enjoy these items for free. 
Miami to West Palm Beach: SELECT First Class
The Miami train station is located downtown near the Brickell neighborhood, perfectly situated for access to restaurants and shops and a short Uber ride away from South Beach.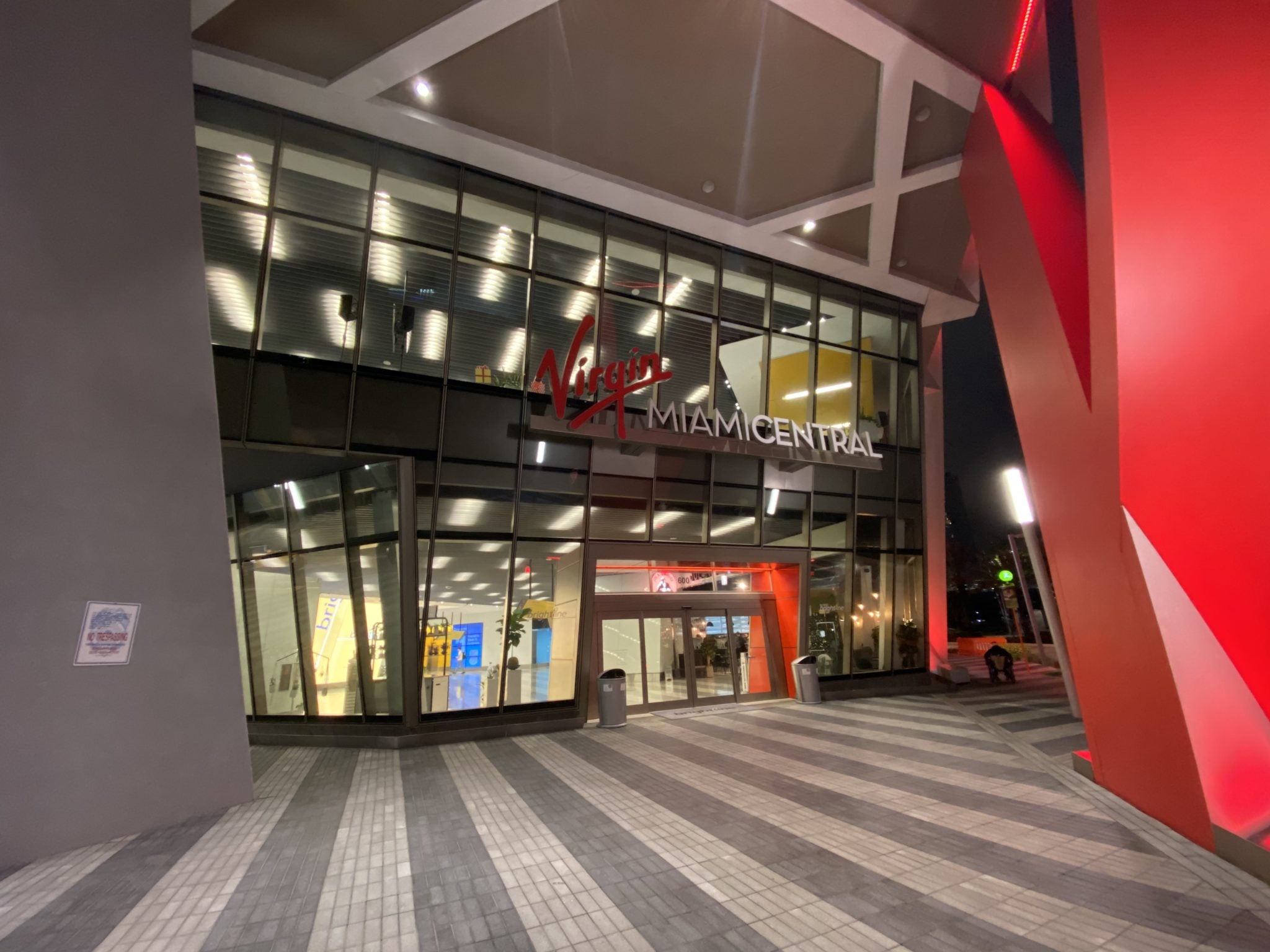 The Miami station is much larger than the stations in Fort Lauderdale and West Palm Beach, though rightfully so since this is the "flagship" station. As you enter, there's seating on the ground floor where you can wait if you're picking someone up or if you don't want to head upstairs to the tracks yet. There are also ticket machines where you can print your reservation and counters where you can check your bags.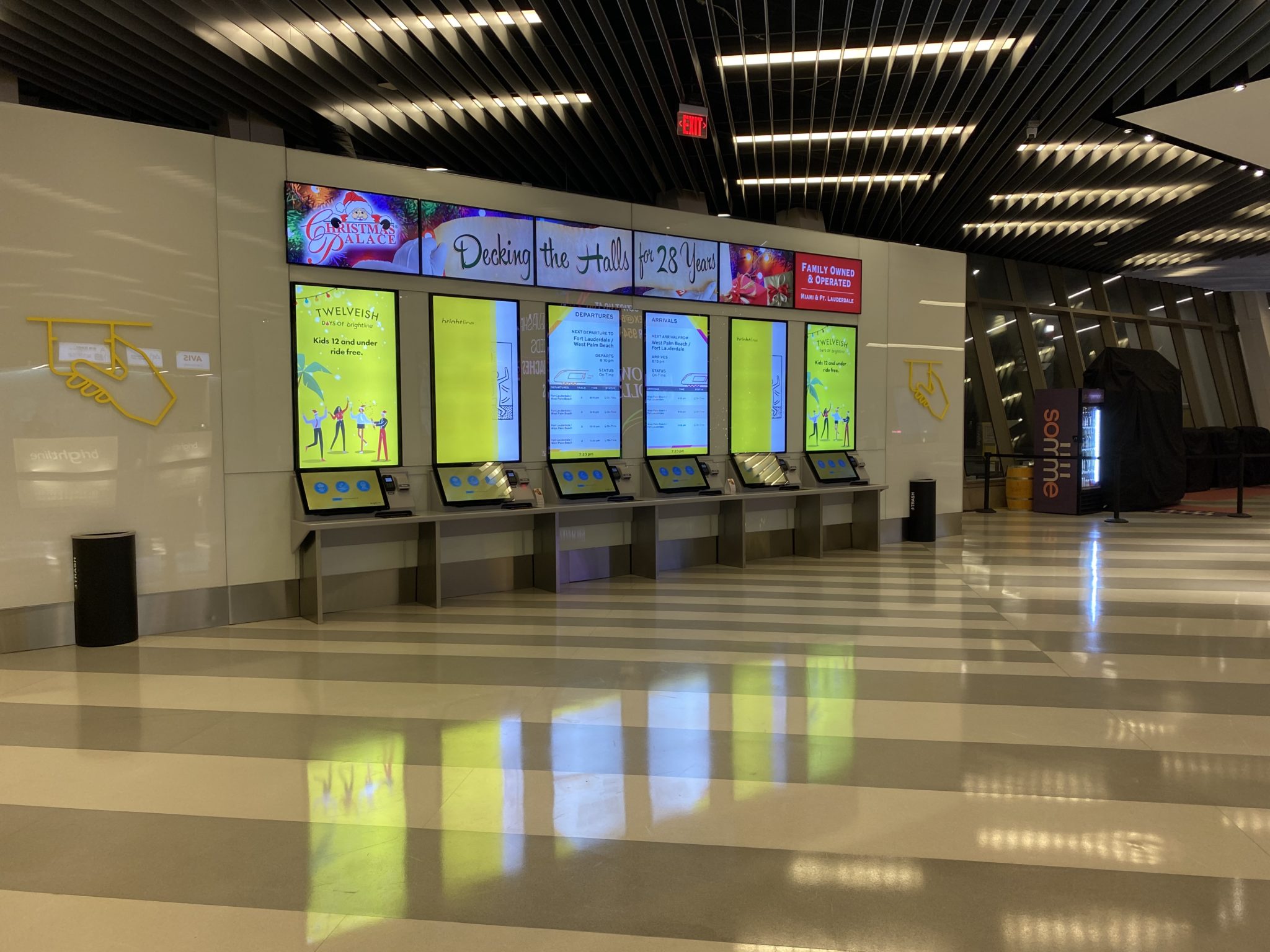 Upstairs, you'll proceed through a small security check, similar to those in West Palm Beach and Fort Lauderdale. Once through, there are open seating areas for SMART business class customers and a lounge at the end of the hall accessible with SELECT first class tickets.
At the entrance to the lounge are electronic gates, so all you need to do is scan your ticket and the gate will open and let you in — so long as you're on a SELECT first class fare. This is a theme throughout the Brightline service — there's very little human interaction.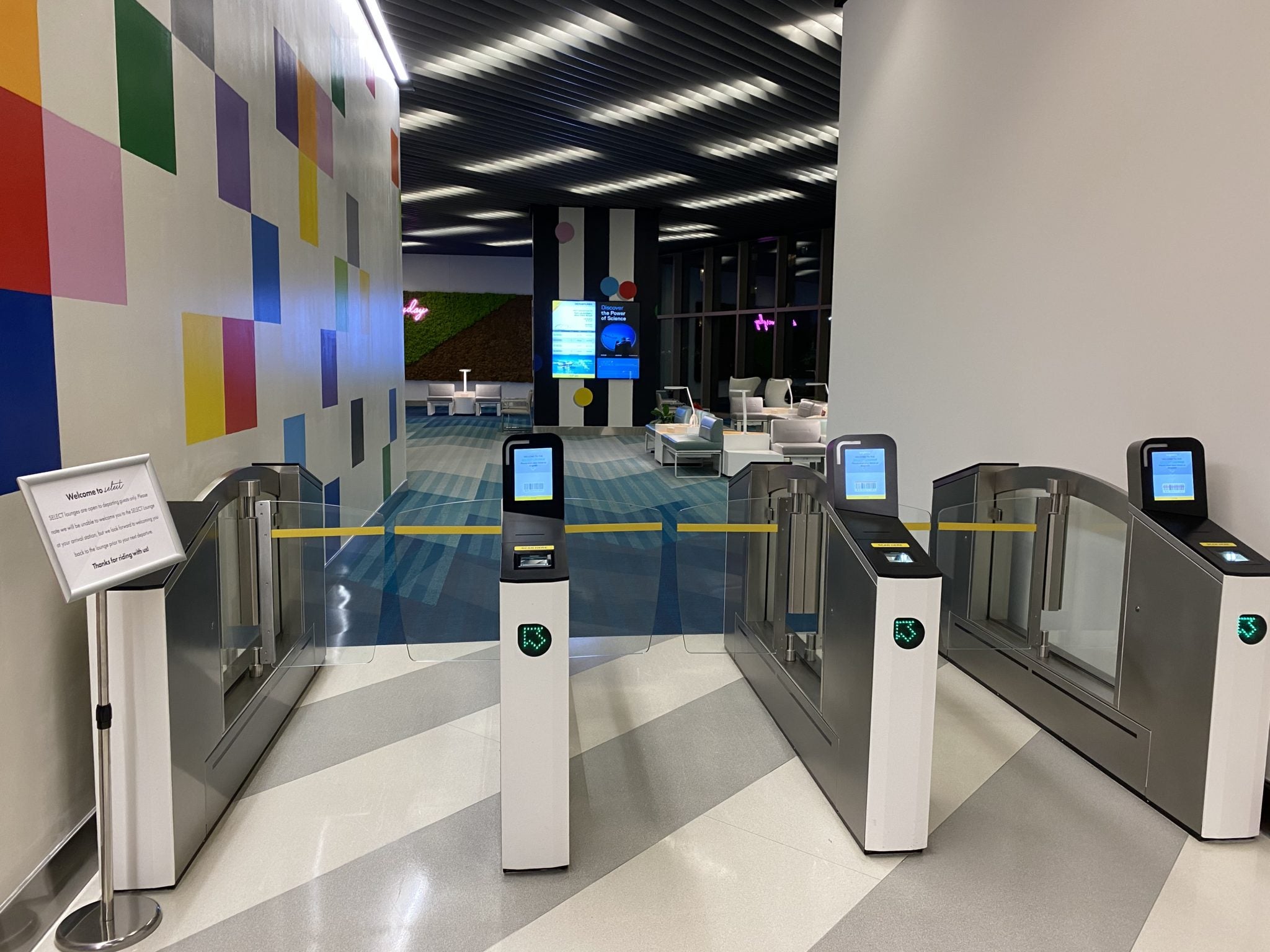 Once in the lounge, you'll find similar seating options like out in the business class waiting area, but in a more private setting. There are televisions broadcasting major news networks, as well as private, individual seats where you can get work done. There are also several large desks with a printer and basic office supplies, perfect for business folks taking the train who still need to be productive.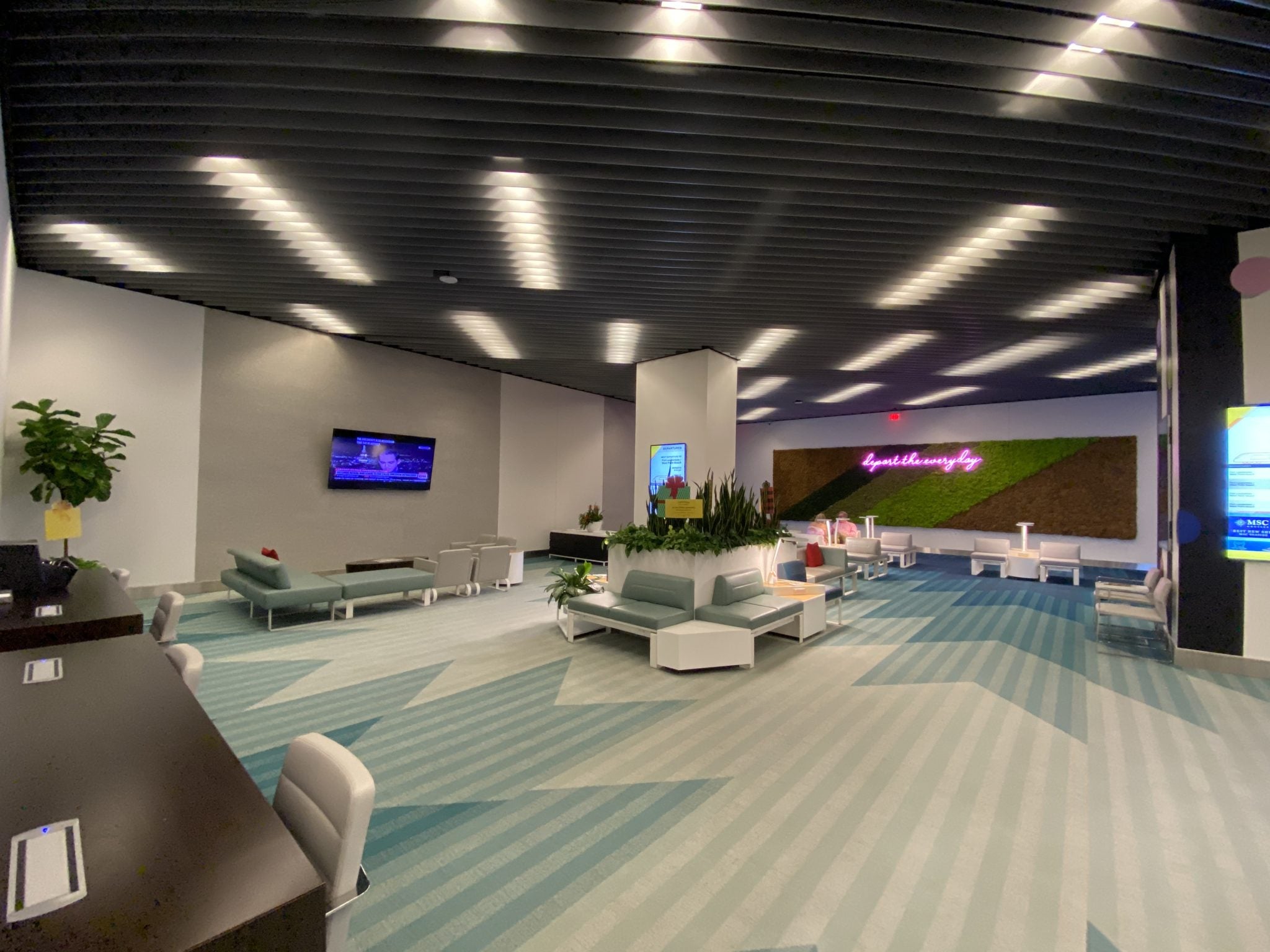 Near the entrance is a refreshment station, stocked with soft drinks, beer, and wine, as well as an assortment of food items. On a typical day, you'll find cheeses, meats, bread, olives, and other charcuterie-like items. These are all included with your lounge access, so take as much as you'd like. In the corner, there's also a coffee and tea station.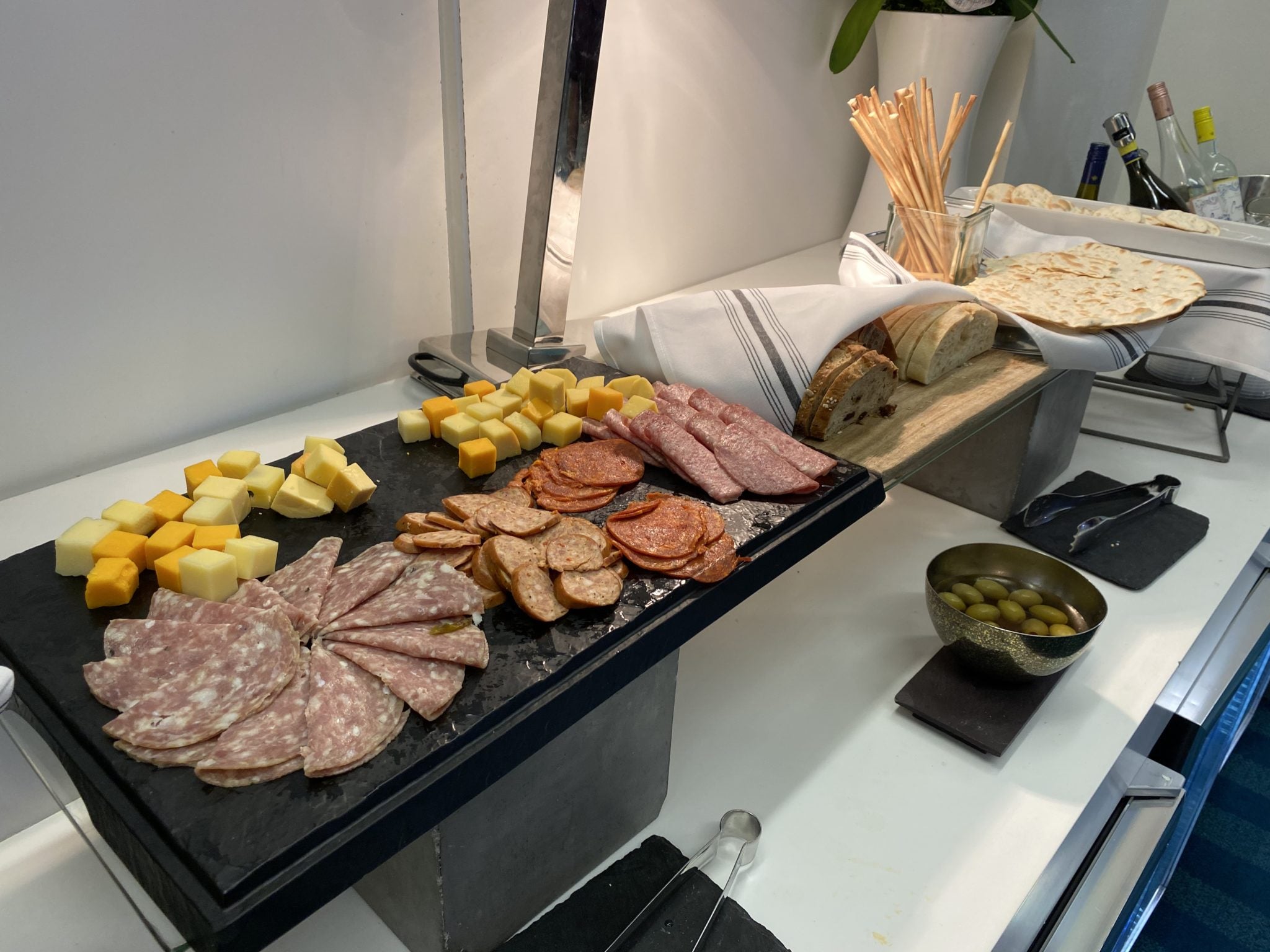 Restrooms for the lounge are located outside of the entrance gates, but you can easily swipe your boarding pass to come back in.
Boarding begins about 10 minutes or so before departure, and you exit the lounge and walk up the escalator to the train platforms. Once up top, you'll see signs for SELECT first class boarding and the train car is clearly labeled.
Onboard, you'll find a 2×1 seating layout, with single seats on 1 side, and doubles on the other. Some seats feature conference tables, while others feature drop-down tables similar to the ones found in business class. These seats are roomier than the business class counterparts, and you'll find that there are fewer people in this car, so less chance for any loud conversation or annoyances.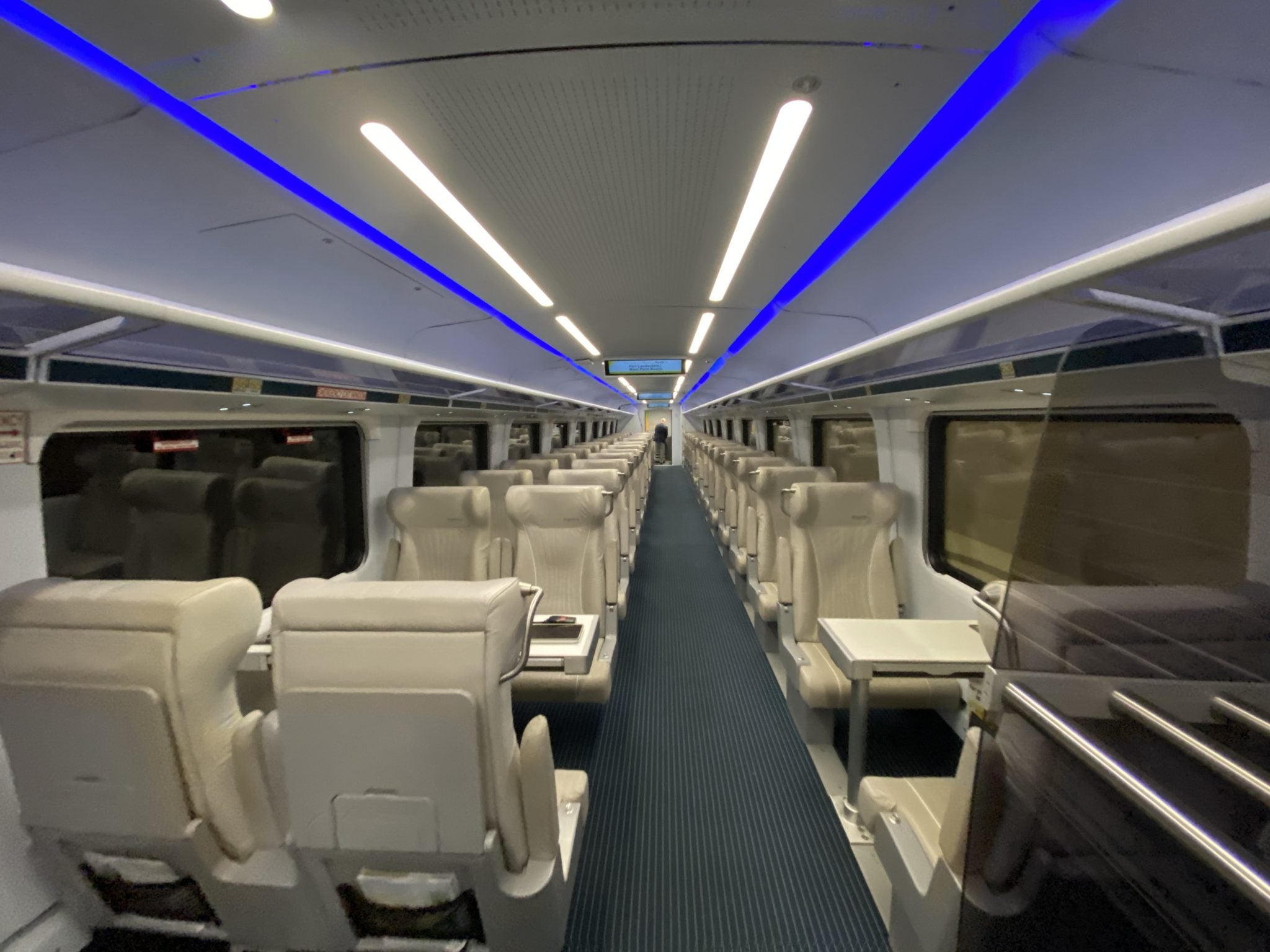 After the train departs, the steward comes around to offer a cold towel, something that can be very refreshing after a hot day in any of the departure cities. Shortly after, a pass of the snack basket is made, featuring tons of goodies:
Kettle potato chips
Terra vegetable chips
Popcorn
Clif bars, Kind bars, and Luna bars
Bear Naked granola bites
David's chocolate chip cookies
After the snack basket is passed, the attendant comes around with the first drink service offering a selection of these beverages:
Hot Bigelow Tea (chamomile, earl gray, or green)
Illy Coffee (regular or decaf)
Aquafina or Evian water
Badoit sparkling water
Pepsi (diet and regular)
Sierra Mist
Ginger Ale
Schweppes tonic or soda water
Pure Leaf Tea (assorted varieties)
Tropicana (apple, cranberry, or orange)
Horizon organic milk (whole or chocolate)
Signature wines (assorted and rotated)
Aviation Gin
Bacardi Superior Rum
Dewar's White Label Scotch Whiskey
Hornitos Anejo Tequila
Tito's Handmade Vodka
Wild Turkey Bourbon
Concrete Beach beer
Peroni beer
Yuengling beer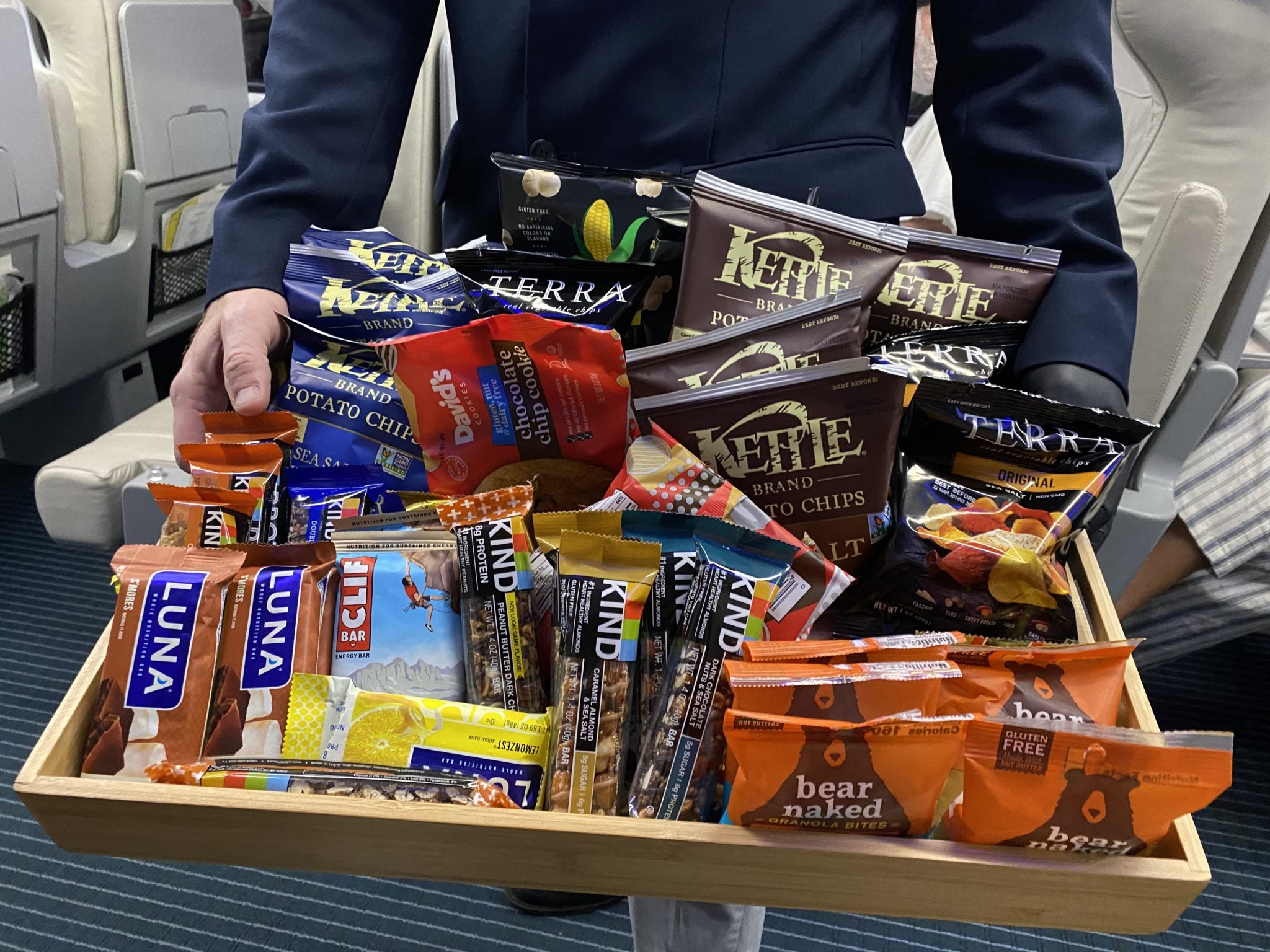 Following the initial beverage service is a light meal service, as described on the train:
Morning Provisions: Enjoy a delicious breakfast spread featuring freshly squeezed orange juice and a selection of freshly baked pastries, Greek yogurt, snack basket, and fresh fruits
Afternoon Provisions: Indulge in a refreshing selection of savory bites — the perfect accompaniment to the extended premium wine list and lineup of seasonal craft beers, spirits, and cocktails.
As a reminder, all beverages, snacks, and light meals on Brightline in SELECT first class are complimentary, making the $15 upgrade well worth it, if nothing else than just for the refreshments.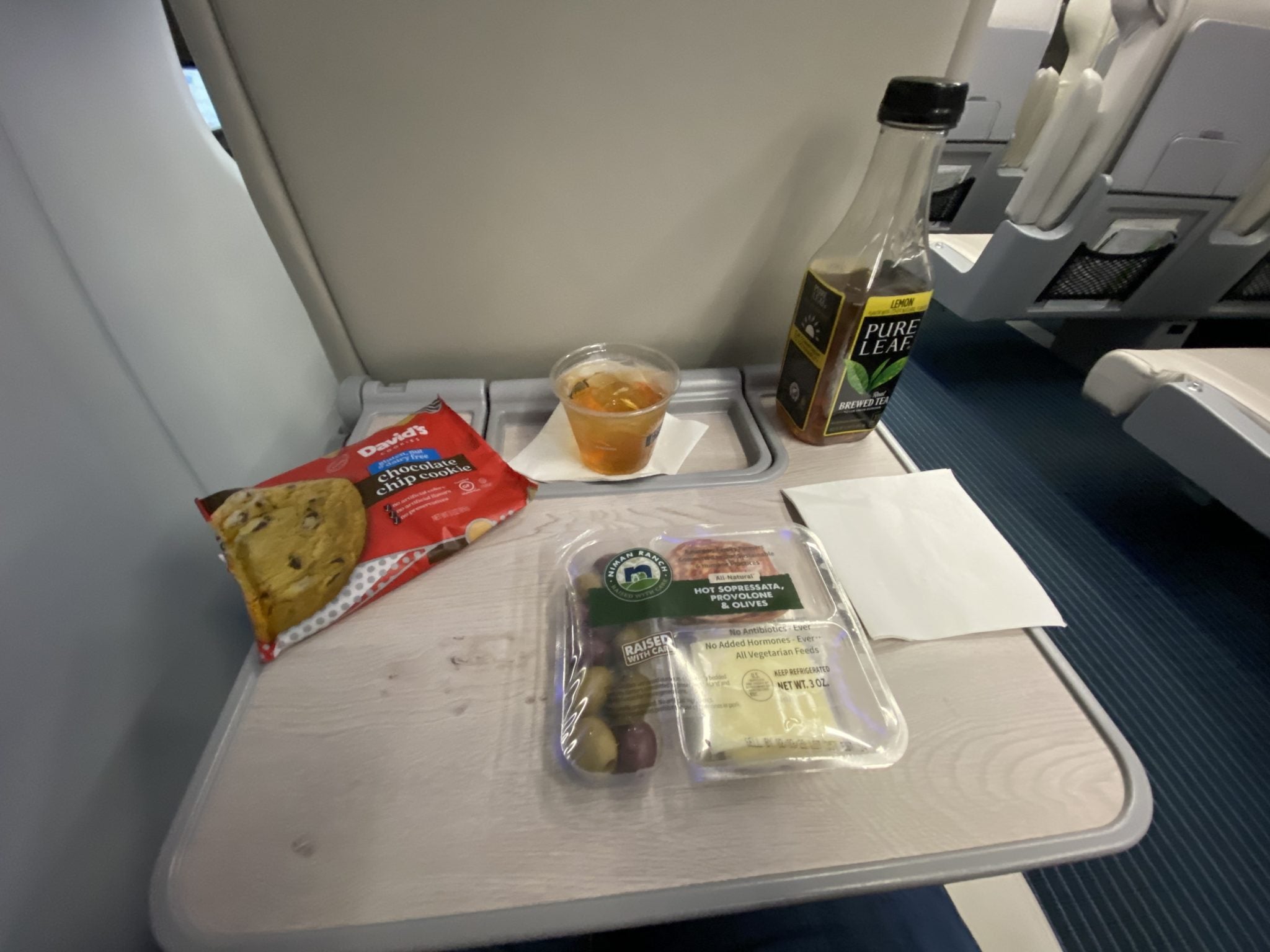 This process is repeated after the Fort Lauderdale stop, and there are repeated trash receptacle runs, too, so you can dispose of any trash.
If you've got to use the bathroom during the journey, head to the end of the car. It's a huge, spacious restroom, with automated doors. This bathroom is bigger than many hotel bathrooms! It's definitely a step up from what you'll see on most planes and other trains. If someone is inside, there's even a convenient bench where you can wait!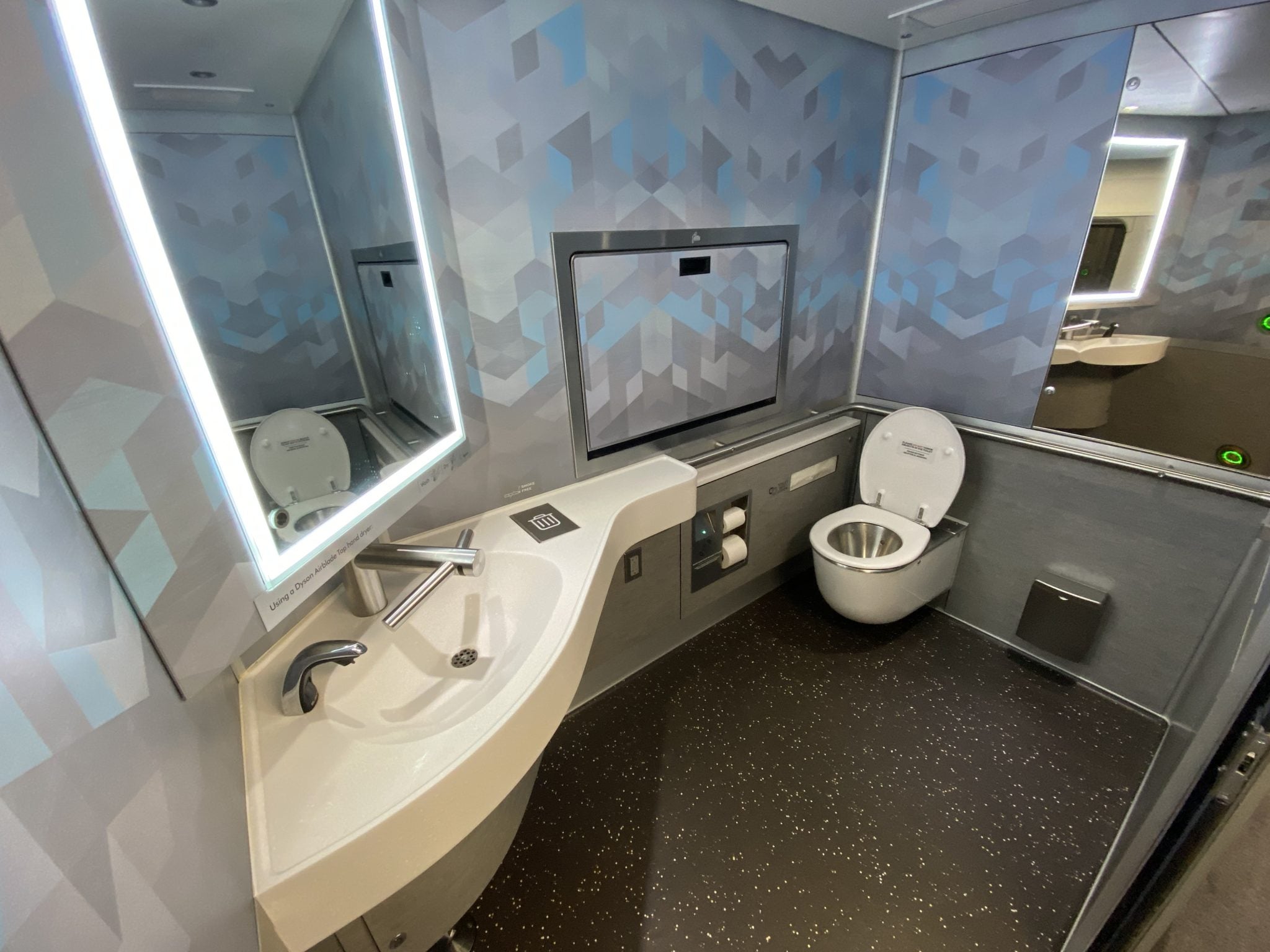 Hot Tip: In both classes of service, there is complimentary Wi-Fi, though you'll probably find speeds on your phone much faster. If you're using your laptop, tether it to your phone for faster speeds than what the train can provide.
When you arrive in West Palm Beach, you'll see the exits clearly marked and can make your way outside in a matter of seconds. Conveniently, Brightline provides a $5 Lyft coupon for departing or arriving passengers, so as you exit the train, you can call a Lyft and receive $5 off your ride — a benefit of both classes of service onboard.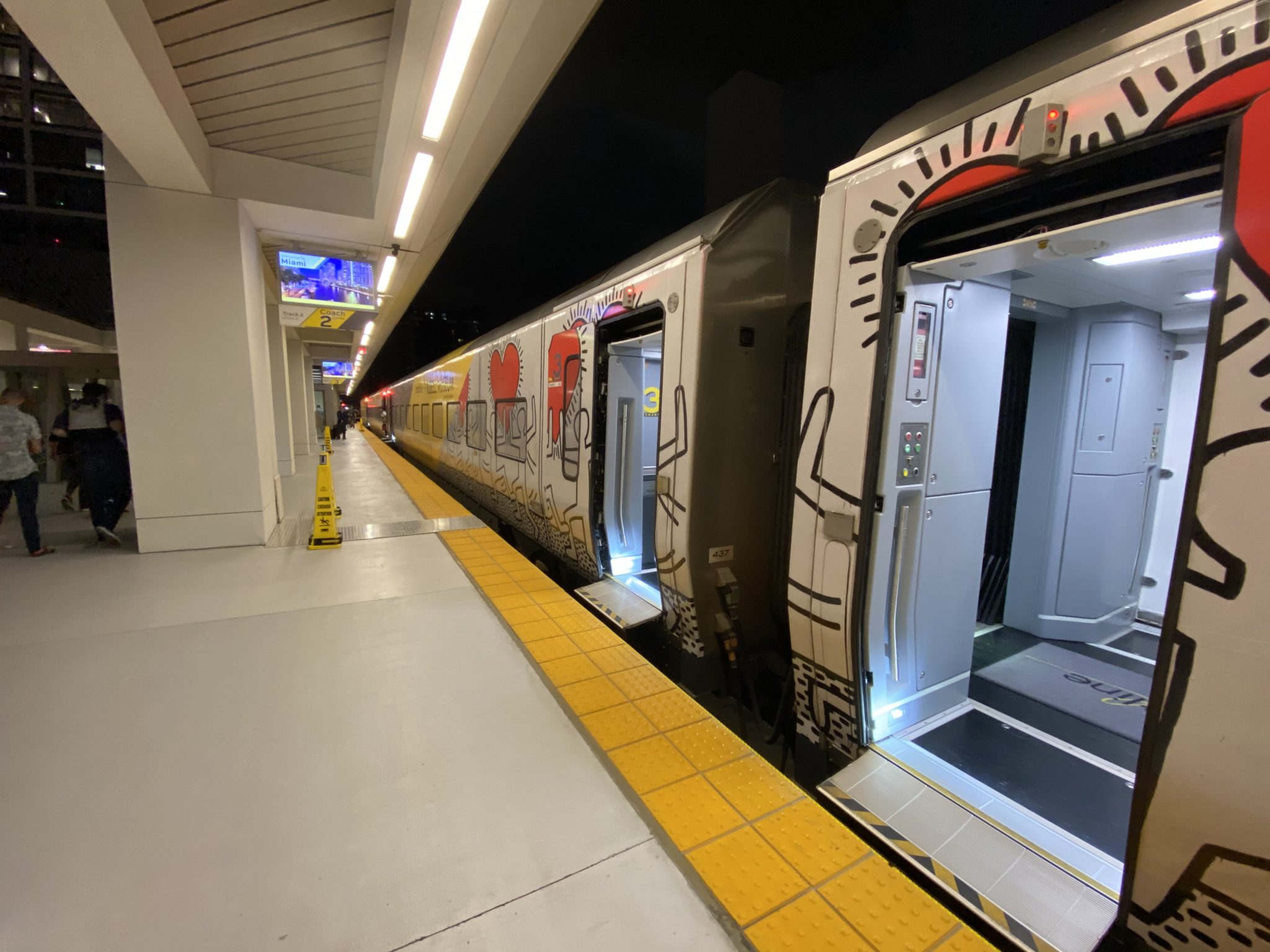 How Does Brightline Compare to Driving?
Driving between Miami and West Palm Beach can be over 1.5 hours, not including traffic, and taking the local Tri-Rail commuter train is over 2 hours, so Brightline beats both in the time it takes to get between both cities since it takes just over 1 hour.
Bottom Line
There's no doubt that Brightline is better than most trains out there and is the future of privatized rail in the U.S.
If you need to get between Miami and West Palm Beach, Brightline is a convenient, clean, and efficient mode of transportation, and if you can spend the $15 each way to upgrade, it's an absolute no-brainer to receive a much higher level of service.