How Business Owners Can Fly Singapore Suites with Points — Using Just ONE Rewards Card [Copy Me]
I'm Alex Miller, the founder of this travel website…which is of course puts me as a small business owner! Yay!
As a small business owner, I decided that I didn't want to earn cash-back on business expenses like most others do. Nope.
Instead, I accrue extremely valuable rewards points for (practically) every business expense that I have.
Then, I use those points on unforgettable, luxurious flights that I could never afford in cash.
Just so you know – I don't have any fancy airline status, and in fact – I earn about 0.5% of my points and miles from flying.
That's because I actually don't fly that much, certainly not domestically and many of my flights are award flights (and airlines only credit miles to your frequent flyer account if you've paid cash for your flight).
In a nutshell: One of the ways that I earn a LOT of points is by charging my everyday business expenses to a high rewarding credit card. In this short post, I focus on my absolute favorite business credit card which allows me to travel like a rockstar, using points (and minimal cash).
How I Like To Spend My Points
Just recently, I met up with one of my best friends in Frankfurt (Germany) at the airport — and we flew together in Singapore Suites from Frankfurt to Singapore, and then onto Sydney, Australia.
It was a blast.
We flew out to a) enjoy an incredible First Class experience and b) to meet with one of our college friends who lives out there in Australia.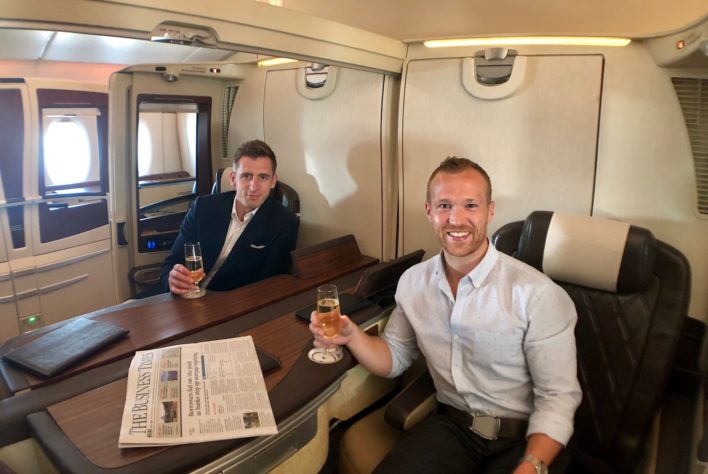 Bottom Line: I paid for these two tickets with the points that I earned from using the Ink Business Preferred® Credit Card for my everyday business expenses. The total cost out-of-pocket was $78 USD per person. Seriously. 
You can read about it all here if you like (how many miles it cost me, how I booked the tickets etc)
Below is a separate trip that I took last year with my wife, Erin when we flew around the world in Singapore Suites (below), Emirates First Class and Etihad's Apartment's.
And just recently, I flew Singapore Suites' NEW product (review coming soon) which was quite frankly, jaw-dropping. I couldn't believe how much room there was!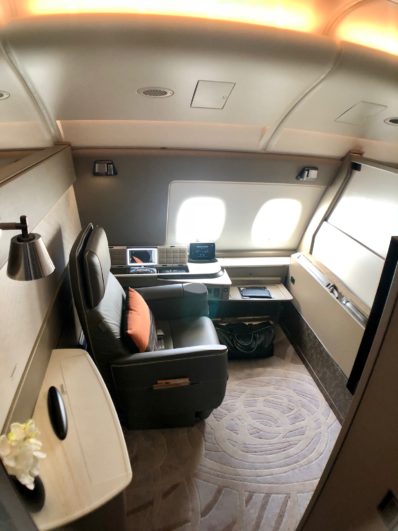 The Exact Points I'm Earning To Book These Trips
I put the bulk of my business expenses on the Ink Business Preferred Credit Card which earns me valuable Chase Ultimate Rewards points on every business transaction.
These points can be used in so many different ways for insane value, and flying Singapore Suites is just one of those ways.
Credit Card
Key Benefits & Info
Ink Business Preferred® Credit Card


Learn More

(at Chase's secure site)

Earn 100,000 bonus points after you spend $15,000 on purchases in the first 3 months.
Earn 3 points per $1 on the first $150,000 spent in combined purchases on travel, shipping purchases, internet, cable and phone services, advertising purchases made with social media sites and search engines each account anniversary year
Earn 1 point per $1 on all other purchases—with no limit to the amount you can earn
25% more value when redeeming points through Ultimate Rewards® travel
Good to Excellent Credit Recommended (670-850)
Annual Fee: $95


$2,000

Must Reads: For more info on the Ink Business Preferred, see our guides on its benefits, 7 things to do as a new cardholder, and our full review. This is our favorite Chase business credit card.
If you're a business owner, and you want to fly in business and first class using points (not cash), I'd strongly recommend picking up the Ink Business Preferred.
Here on the blog, you'll find everything you need to use those points for maximum value. For Singapore Suites, we walk you through it step-by-step.
Speaking of "steps", the 1st one is getting a card that earns points you can actually do something with!
Happy Flying!