Crystal Cruises Review — Ships, Destinations, Dining, and More
Crystal Cruises has been offering luxury cruise vacations since 1990. This all-inclusive cruise line doesn't have a large fleet, but what they do have focuses on total luxury and intimate, small ship sailings.
With Crystal Cruises you won't find mega-ships like Royal Caribbean or discount party ships like Carnival. What you will find are luxury ocean and river ships along with a yacht and an expedition ship.
Let's explore what makes Crystal Cruises a unique experience.
Basic Information
Name: Crystal Ltd.
Parent Company: Genting Hong Kong
Number of Ships: 8
Destinations: 800+
Loyalty Program: Crystal Society
Credit Card: None
Ships
Crystal Cruises operates 2 ocean ships, 4 river ships, 1 yacht, and 1 expedition ship.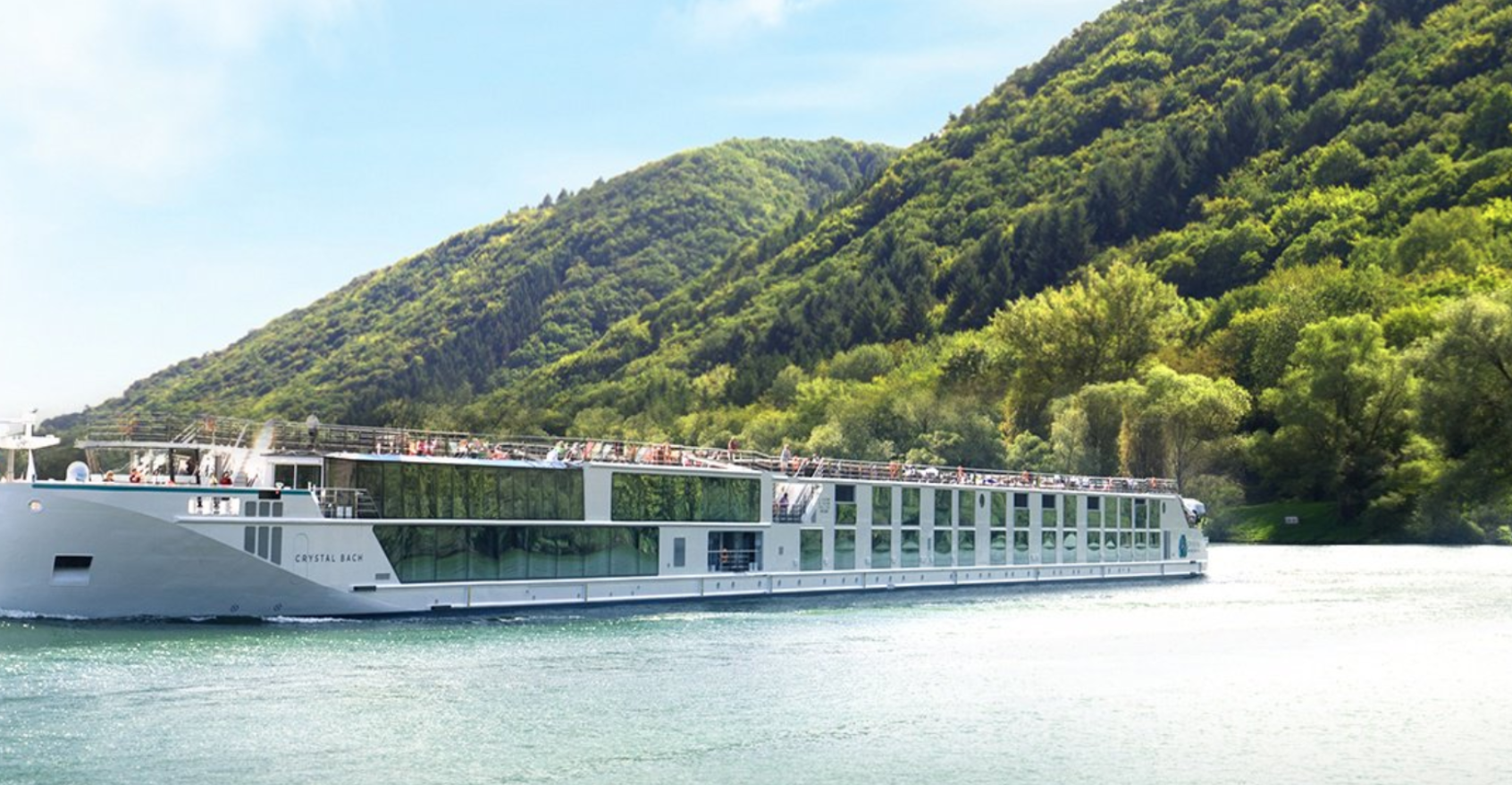 Crystal Cruises Ocean Ships
Crystal Serenity
Crystal Symphony
Crystal Cruises River Ships
Crystal Bach
Crystal Debussy
Crystal Mahler
Crystal Ravel
Crystal Cruises Yacht
Crystal Cruises Expedition Ship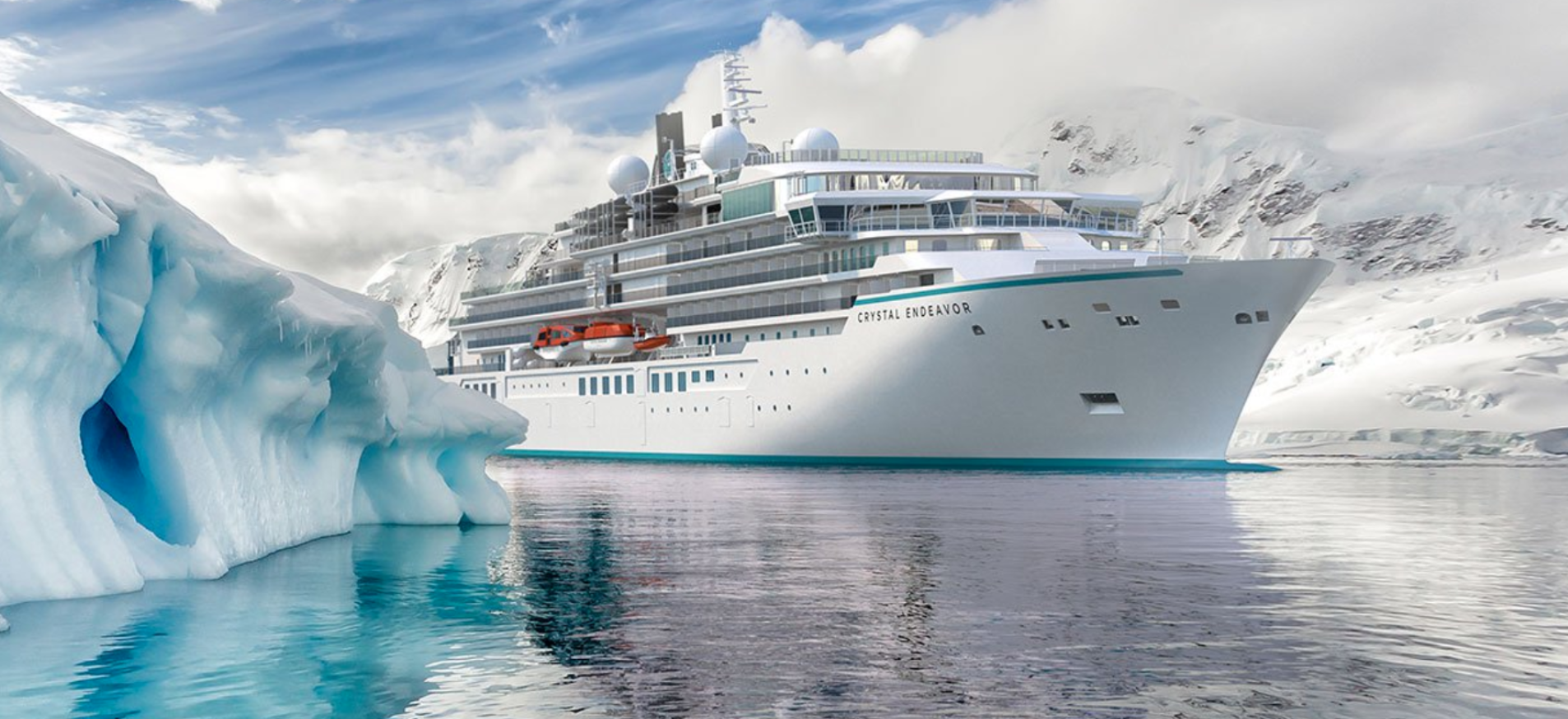 Departure Ports
Crystal Cruises sails to over 800 destinations on all 7 continents from 84 departure ports.
Departure Ports
North America and the Caribbean
Anchorage, Alaska
Los Angeles, CA
Miami, FL
Montreal, Quebec, Canada
New York, NY
Panama City, Panama
Puerto Caldera, Costa Rica
Quebec City, Quebec, Canada
San Juan, Puerto Rico
Vancouver, British Columbia, Canada
West Palm Beach, FL
Europe
Amsterdam, Netherlands
Athens (Piraeus), Greece
Barcelona, Spain
Basel (Sexton), Switzerland
Belfast, U.K.
Bordeaux, France
Budapest, Hungary
Civitavecchia (Rome), Italy
Copenhagen, Denmark
Dover (London), U.K.
Dubrovnik, Croatia
Giurgiu, Romania
Greenwich, U.K.
Istanbul, Turkey
Kangerlussuaq, Greenland
Larnaca, Cyprus
Leith, U.K.
Limassol, Cyprus
Lisbon, Portugal
Livorno (Florence), Italy
Malaga, Spain
Marseille, France
Monte Carlo, Monaco
Nice, France
Palma de Mallorca, Spain
Passau, Germany
Regensburg, Germany
Reykjavik, Iceland
Rhodes, Greece
Sorrento, Italy
Southampton, U.K.
Stockholm, Sweden
Tromsø, Norway
Venice, Italy
Vilshofen, Germany
Asia
Anadyr, Russia
Antalya, Turkey
Bangkok (Laem Chabang), Thailand
Benoa (Bali), Indonesia
Columbo, Sri Lanka
Ho Chi Minh City, Vietnam
Hong Kong, Hong Kong
Keelung (Taipei), Taiwan
Kusadasi (Ephesus), Turkey
Mumbai, India
Osaka, Japan
Otaru, Japan
Shanghai, China
Singapore, Singapore
Tokyo, Japan
Yokohama, Japan
Middle East
Abu Dhabi, United Arab Emirates
Aqaba (Petra), Jordan
Dubai, United Arab Emirates
Africa
Cape Town, South Africa
Dakar, Senegal
Mahe, Seychelles
Mombassa, Kenya
Tema, Ghana
Victoria, Seychelles
South America


Buenos Aires, Argentina
Callao, Peru
Puerto Montt, Chile
Rio de Janeiro, Brazil
Ushuaia, Argentina
Australia and New Zealand


Auckland, New Zealand
Brisbane, Australia
Cairns, Australia
Fremantle, Australia
Hobart, Australia
Lyttleton, New Zealand
Melbourne, Australia
Sydney, Australia
Private Ships/Islands
Crystal Cruises does not have a private island or port.
Onboard Activities
Here are some of the activities you may experience on a Crystal Cruises ship (not all activities are available on every ship).
360 Degree promenade deck
Afternoon tea
Computer [email protected]
Crystal Life Sauna
Crystal Life Spa & Salon
Dancing
Fitness center
Golf driving nets
Junior activities program (seasonal)
Kayaking
Lectures
Paddle tennis courts
Personal training
Photography workshops
Pool
Resorts World at Sea Casino
Yoga
Zodiacs
Dress Code
You'll be able to find the dress code for your ocean or expedition voyage, either Crystal Casual or black tie optional, for each day at sea in your Personal Cruise Calendar.
Crystal River Ships Dress Code
Comfortable and casual attire is appropriate during the day, however, swimsuits, cover-ups, and baseball hats are not permitted in the dining rooms.
Crystal Casual attire is appropriate for evenings on board. This is a slightly dressed up version of daytime wear.
Crystal Esprit (Yacht) Dress Code
Tasteful swimwear, sandals, shorts, casual short sleeves, and cover-ups are appropriate during the day.
Stylish resort wear should be worn for nights on board. This includes capri pants, blouses, sundresses, and sandals for women. Men should wear khakis, Bermuda shorts, short-sleeve button-down shirts, or golf shirts.
Hot Tip: Be prepared for your cruise's action-packed days and fun-filled nights — check out our printable cruise packing list!
Dining and Beverages
Dining is a little different on Crystal Cruises because everything is included. There are 3 specialty restaurants across the fleet and each guest is entitled to dine at each of these once or twice per cruise (depending on cruise length) at no extra cost. All beverages in the restaurants, including alcohol, are included as well.
Complimentary Dining
Look out for these restaurants on your next cruise; not all locations are available on every ship.
24-hour room service
Bistro Bach
Bistro Debussy
Bistro Endeavor
Bistro Mahler
Bistro Ravel
Churrascaria
Marketplace
Palm Court
Patio Cafe
Prego*
Scoops Ice Cream Bar
Silk Kitchen & Bar
Sunset Grill
The Bistro
The Pantry
The Vintage Room*
Trident Grill
Umi Uma & Sushi Bar*
Waterside
Yacht Club
*Denotes a specialty restaurant that requires reservations.
All locations with the exception of specialty restaurants Umi Uma, Prego, and The Vintage Room have open seating. That means you can dine anytime (usually between the hours of 6 p.m. and 9:30 p.m. for dinner) you wish without reservations.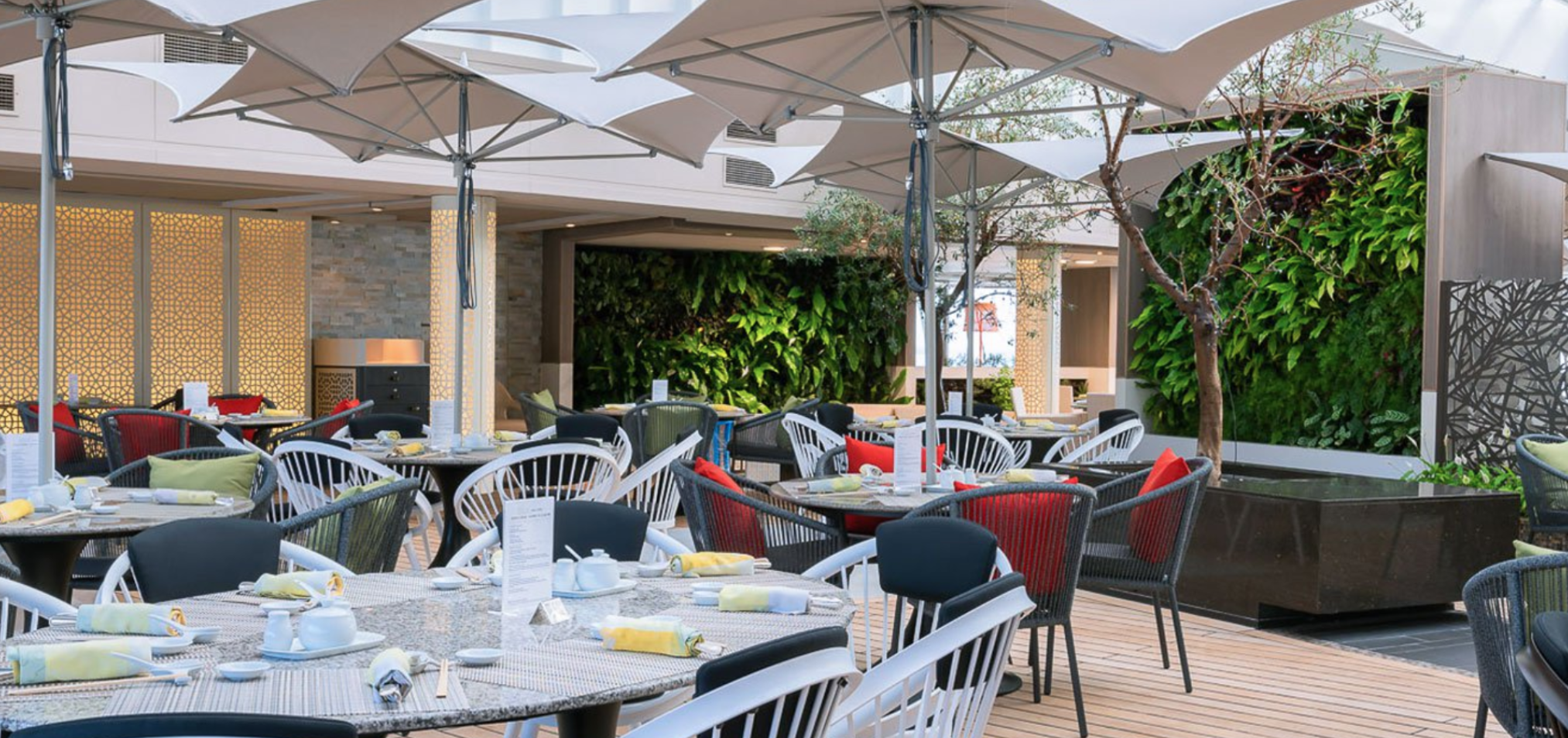 Specialty Restaurants
Umi Uma & Sushi Bar, Prego, and The Vintage Room are considered specialty restaurants and require reservations. You can dine at each of the specialty restaurants once per cruise for free. Each additional reservation you make at a specialty restaurant will incur a $30 per person fee.
For any cruise that is 14 days or longer, each guest is allowed 2 complimentary visits to each specialty restaurant before the $30 fee is charged. The Vintage Room wine pairing dining experience is also subject to additional charges.
Bars and Beverages
All beverages are included on your Crystal cruise. Wine, Champagne, premium spirits, and specialty coffees? Yes, they're all included!
Look out for these bars and lounges on your next cruise; not all locations are available on every ship.
Avenue Saloon
Connoisseur Club
Crystal Cove
Galaxy Lounge
Palm Court
Starlite Club
Sunset Bar
The Cove
Vista Bar
Bottom Line: Crystal Cruises goes the all-inclusive route. Beverages (including wines, Champagne, and specialty coffees), specialty restaurants, Wi-Fi, and gratuities are all included.
Accommodations
No matter which room type you choose or what type of ship you're sailing on, you'll find luxury accommodations across the Crystal Cruises fleet.
Crystal Ocean Cruises
Every stateroom on a Crystal ocean cruise comes with standard amenities including:
Sitting area
Double-vanity bathroom
Full bathtub/shower
Bathrobes, kimonos, and slippers for onboard use
Luxury bath products
Twice-daily housekeeping
Evening turndown service
Here are some of the highlights:
The Seabreeze Penthouse with Verandah features butler service, a walk-in closet, private verandah, in-suite tea or cocktails, plus canapés and dining from specialty restaurants Umi Uma and Prego.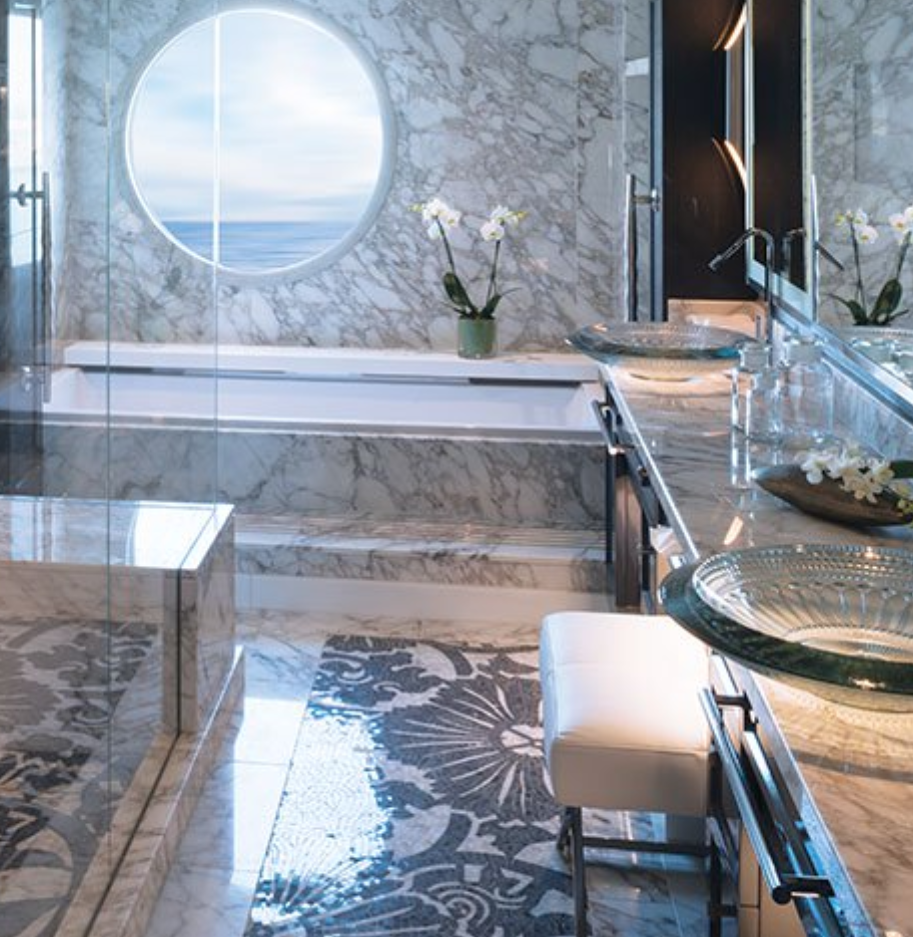 For the ultimate in luxury, choose the Crystal Penthouse with Verandah. This amazing room features over 1,300 square feet of living space. You'll find a separate living and dining area featuring a custom entertainment center. The master bathroom includes a Jacuzzi tub, flat-screen TV, heated floor, and bidet. There's also a guest bathroom with a shower.
Crystal River Cruises
Sailing on a river cruise is so different than a more traditional ocean cruise. Crystal river cruises are a great way to travel if you're looking for luxury because every room on each river ship is a suite!
Here are some of the highlights:
The "basic" room on a Crystal river cruise is anything but basic. The Petite Suite with Panoramic Balcony-Window features a king-size bed with Egyptian cotton linens, glass shower with 2 shower heads, single vanity with halo-lit mirror, and a huge panoramic window so you won't miss the spectacular views.
The Two-Bedroom Crystal Suite with Panoramic Balcony-Window sleeps up to 5 guests and comes with butler service. This elegant room features 2 bedrooms with en suite bathrooms, a fireplace with ambient lighting, a separate dining area, and an extra powder room.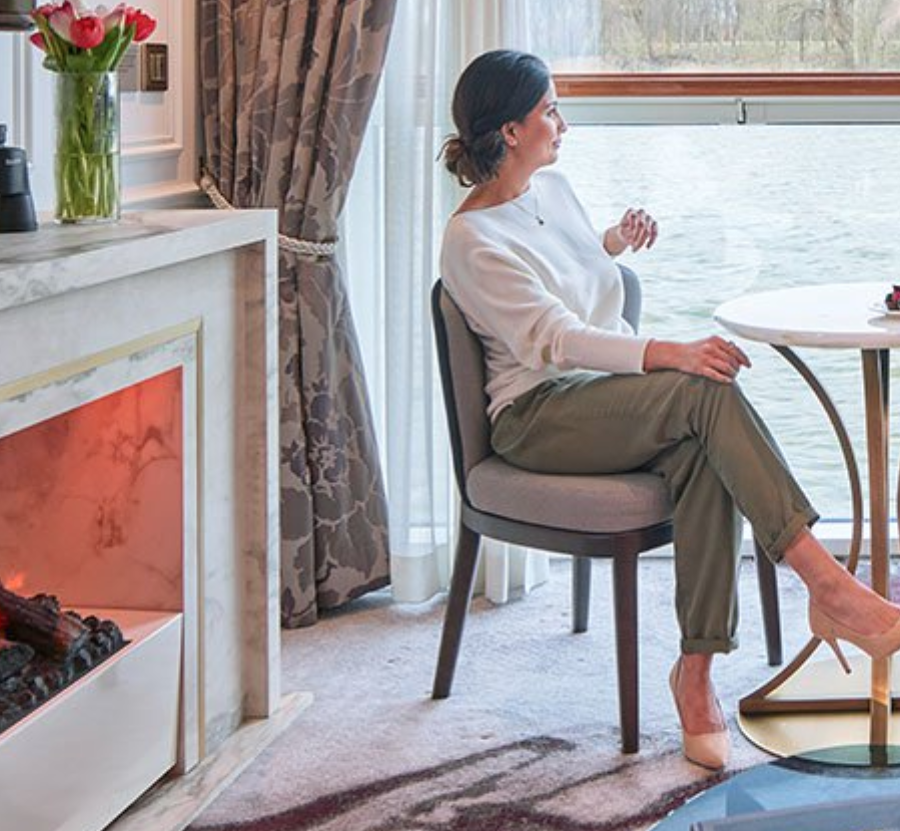 Crystal Yacht Cruises
Cruising on a yacht is a special treat. Crystal Cruise's yacht, Crystal Esprit, accommodates only 62 guests, so you'll enjoy personalized service along with deluxe accommodations.
Here are some of the highlights:
The Yacht Suite features a king-size bed, bed-side iPads, and large picture window. The bathroom has a glass-enclosed shower, double sink, and a natural stone floor. Personalized butler service and twice-daily housekeeping will round out your luxurious experience.
The 500+ square foot Owner's Suite features a living area with sofa and chairs, flat-screen TV, and dining table. The bathroom includes a glass-enclosed rain shower and double vanity with a backlit mirror and integrated TV.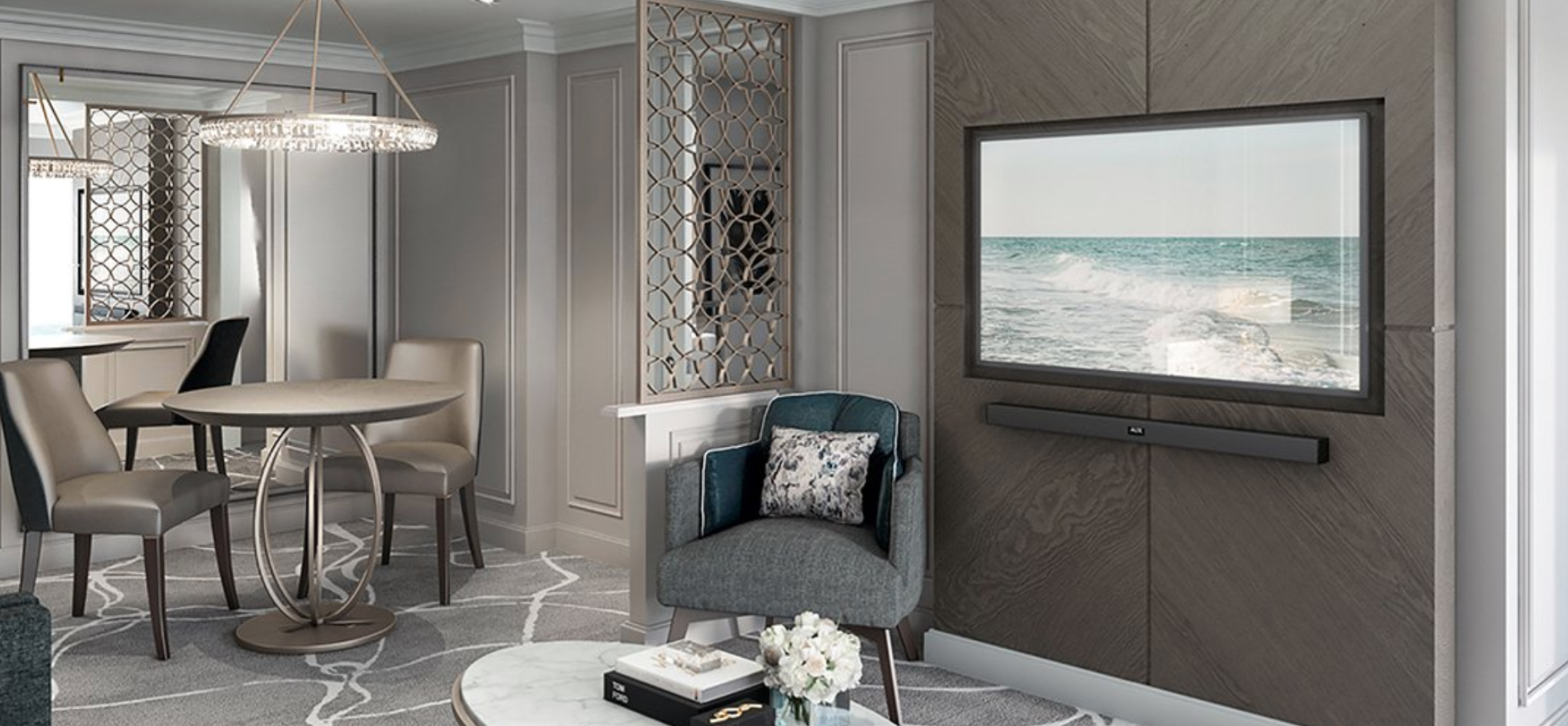 Crystal Expedition Cruises
On the Crystal Endeavor Expedition ship, all rooms are suites and every suite has a private verandah.
Here are some of the highlights:
The Penthouse Suite with Verandah features a king-size bed, living area, and a heated storage closet for expedition gear. The bathroom features a glass-enclosed shower with dual shower heads, double vanity, and a separate water closet.
For even more space and luxury, check out the Expedition Suite with Verandah. This expansive suite features 2 bedrooms in over 1,200 square feet of space. Each bedroom features a king-size bed, bedside iPads, and interactive TVs. Each bedroom has an en suite bathroom with dual sinks, heated floors, Jacuzzis, and separate water closets.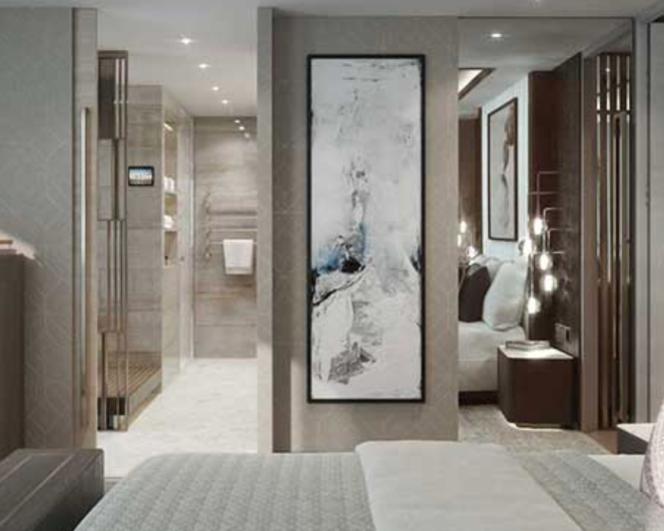 Crystal Society
The Crystal Society is Crystal Cruise's loyalty program. It's free to join, and you'll be automatically enrolled after you complete your first full-revenue cruise. As a member, you'll receive special offers, upgrades, onboard credits, special events, and savings on future cruises.
Every member receives benefits including:
2.5% savings on all voyages
2.5% onboard booking savings when you book your next cruise on board
Exclusive onboard cocktail party
Plus, you'll earn cruise credits each time you sail. Each time you hit a new milestone, you'll be eligible for even more benefits like unlimited free reservations at specialty restaurants, credits towards future sailings, and recognition pins.
Hot Tip: Not sure which credit card to use to get the most bang for your cruise buck? Check out our guide to the best credit cards to book cruises for some guidance.
Final Thoughts
Crystal Cruises is a luxury cruise line offering ocean, river, yacht, and expedition cruises. Each of its 8 ships is designed for the luxury traveler and includes elegant accommodations and exquisite cuisine.
On Crystal Cruises, everything is included. You won't pay extra for specialty restaurants, beverages, gratuities, or Wi-Fi.
If you're looking for mega-ships with endless activities, check out other lines like Disney Cruises, Norwegian, or Princess. However, if you prefer smaller ships or the intimacy of a river or yacht cruise, Crystal Cruises has a lot to offer.