Disney Cruise Line Review – Ships, Destinations, Dining, and More
A Disney cruise is a fantasy vacation for so many families. It combines the magic of Walt Disney World with the excitement of a cruise.
Disney Cruise Line has been around since 1998 and has come to be a fan favorite with a loyal following. Some travelers swear by Disney cruises!
While Disney Cruise Line isn't huge (it only has 4 ships), it offers experiences you won't find anywhere else. On each ship, you'll have ample opportunities to meet and mingle with your favorite Disney characters plus you'll enjoy Disney themed dining and entertainment.
You can also combine your Disney cruise with a trip to Disney World for a truly unforgettable vacation.
Basic Information
Name: Disney Cruise Line
Parent Company: The Walt Disney Company
Number of Ships: 4 (1 more coming in 2022)
Destinations: 60+
Loyalty Program: Castaway Club
Credit Card: Disney® Premier Visa® Card, Disney® Visa® Card
Ships
Disney Cruise Line doesn't have a huge fleet, but the 4 ships it does operate don't skimp on amenities or luxury.
Disney Dream
Disney Fantasy
Disney Magic
Disney Wonder
Disney's newest ship, Disney Wish, will set sail in the summer of 2022.
Departure Ports
Disney Cruise Line sails to over 60 destinations from 13 departure ports across North America and Europe.
Departure Ports
North America and the Caribbean
Galveston, Texas
Honolulu, Hawaii
Miami, FL
New Orleans, LA
New York, NY
Orlando (Port Canaveral), FL
San Diego, CA
San Juan, Puerto Rico
Vancouver, Canada
Europe
Barcelona, Spain
Copenhagen, Denmark
Dover, England
Rome (Civitavecchia), Italy
Private Ports/Islands
You won't be bored while on Castaway Cay, Disney Cruise Line's private island in the Bahamas! There are tons of activities and adventures waiting for you on this private family-friendly resort.

Castaway Family Beach: Enjoy sailing, kayaking, or swimming on this pristine beach. Enjoy a feast at Cookie's BBQ and music and dancing at the gazebo.
Snorkeling Lagoon: Snorkelers of all ages can view the underwater world. Beginners can follow the Discovery Trail while experienced snorkelers can try the Explorer Trail. Whichever one you choose, keep an eye out for the hidden Mickey!
Serenity Bay: This adults-only area is perfect for relaxation. Get an open-air cabana massage, and then treat yourself to a frozen specialty drink.
Pelican Plunge: This water play area is a 2,400 floating platform that is home to 2 water slides and a giant "bucket dump" that sprays hundreds of gallons of water on those brave enough to stand beneath it.
Spring-a-Leak: This water play area is geared towards kids. It's full of "broken" pipes and plumbing that drip, spray, and mist water.
Teen Hideout: This space is a space for cruisers ages 14-17 to enjoy on their own.
Scuttle's Cove: This sandy play area, supervised by the Disney counselors from the ship, is just for kids and features a 1,200 square foot water play area.
In Da Shade Game Pavilion: Located near Castaway Family Beach, this area features a variety of games including table tennis, foosball, billiards, and basketball.
Sports Beach: This area features games like tetherball, volleyball, and soccer.
Character Greetings: Throughout your day at Castaway Cay you'll find Disney friends ready to meet you throughout Castaway Cay.
Castaway Cay 5K: Start your day off with a 5K run around Disney Castaway Cay. This event is open to guests 10 years old and up and must be booked online before your cruise.
She Sells Sea Shells: This is the island's souvenir shop that carries a variety of Castaway Cay branded merchandise.
Olaf's Summertime Freeze: Here, you'll find specialty frozen drinks in souvenir cups.
Gil's Fins and Boats: This is your place to rent snorkel gear and other water equipment like kayaks, paddleboats, aqua trikes, and stand up paddleboards.
Flippers and Floats: This location has snorkel gear and inner tubes for rent.
Shore Excursions
There are several shore excursions that you can book for your day at Disney Castaway Cay. Choose from activities like fishing, banana boat rides, parasailing, stingray adventure, glass-bottom boat rides, bicycle rentals, and more.
Hot Tip: Curious about which credit card you should use? Check out our guide to the best credit cards for booking cruise trips to see which one will get you the most bang for your buck!
Onboard Activities
Disney Cruise Line isn't just for kids. It offers activities geared to both kids and adults, plus plenty of entertainment for the whole family. You can check out one of the many pools onboard or take in a Disney-themed Broadway-style show like Beauty and the Beast, Aladdin, Frozen, Disney Dreams — An Enchanted Classic, or Disney's Believe.
You can also check out some of these activities on your next Disney cruise (not all activities are available on every ship):
AquaDuck waterslide
AquaDunk waterslide
AquaLab
Basketball
Bibbidi Bobbidi Boutique
Chill Spa
Disney's Oceaneer Club and Lab
Funnel Puddle
Donald's Pool
Edge tween club
Fitness center
Goofy's Pool
Goofy's Sports Deck
It's a Small World nursery
Mickey's Pool
Midship Detective Agency
Nemo's Reef
Nightclubs
Ping pong
Quiet Cove Pool
Satellite Falls
Senses Spa & Salon
Shuffleboard
Vibe teen club
Hot Tip: The one thing you won't find on a Disney cruise that is common on other cruise lines is a casino. The only gambling you'll find on a Disney cruise ship is bingo.
Character Experiences
One of the reasons many people choose Disney for their cruise vacation is for the chance to meet and mingle with their favorite Disney characters. On every Disney cruise, you'll have the opportunity to meet some of your favorite characters throughout the ship.
Character greetings will happen in the lobby atrium, gangway, Disney's Oceaneer Lab, and Disney's Oceaneer Club. On select ships, character meetings will also be available around the pools and on deck 4.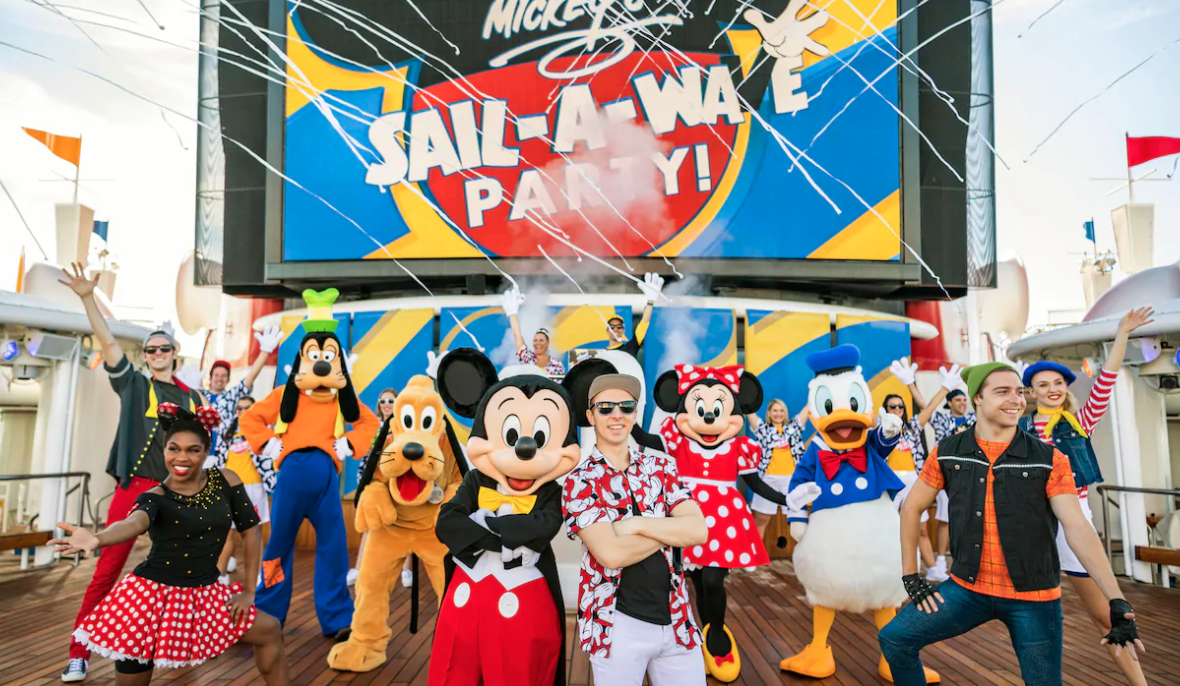 In addition to regular character meet and greets, keep an eye out for these character experiences on your next Disney cruise (not all experiences are offered on every ship or every cruise):
Frozen Deck Party
Marvel Day at Sea
Mickey's Sail-A-Wave Party
Pirate Night
Pixar Pals Party
Royal Court Royal Tea
Star Wars Day at Sea
Dress Code
Disney Cruise Line doesn't have any mandatory formal nights, however, it does offer optional "dress-up nights."  Most dining locations are "cruise casual," which can include shorts and t-shirts. Swimsuits and coverups, however, are not permitted at most dining locations.
There are 2 restaurants, Palo and Remy, with a dress code. Both of these locations also come with additional charges.
Palo Dress Code
Tank tops, swimsuits, shorts, hats, capris, torn clothing, t-shirts with offensive language or graphics, flip-flops, and tennis shoes are never allowed.
Men: Dress pants, slacks, or jeans in good condition (no holes) and a collared shirt are recommended.
Women: A dress, skirt, pants, or jeans in good condition (no holes) and a blouse are recommended.
Remy Dress Code
Jeans, shorts, capris, sandals, flip-flops, and tennis shoes are never allowed. The following requirements are also enforced:
Dinner:
Men: A jacket (such as a sports, suit, or tuxedo jacket), a dress shirt, dress pants, and shoes are required. Ties are optional.
Women: Cocktail dress, evening dress, pantsuit, or skirt/blouse are required.
Brunch and Dessert:
Men: Dress pants, a collared shirt or polo shirt, and shoes are required. A jacket is optional.
Women: A dress or pantsuit is required.
Bottom Line: You don't have to dress up on a Disney cruise unless you want to. While some restaurants have a dress code and there are optional formal nights, you can sport shorts and a t-shirt for the duration of your cruise if that's what you'd prefer.
Specialty Cruises
Disney is known for its themed and holiday cruises. If you're looking for something a little special, check out these specialty cruises:
Marvel Day at Sea: This all-day Marvel-themed event includes special meet and greets, a superhero stunt show, a movie marathon, a costume celebration, and more. It's available on select 5-night cruises departing from Miami in 2021.
Star Wars Day at Sea: This day-long Star Wars adventure includes character experiences, a Star Wars-themed show, Jedi training, movies, and games. It's available on select 7-night Caribbean cruises leaving from Port Canaveral in 2021.
Halloween Cruises: Celebrate Halloween with Mickey and his pals on most cruises leaving late September through Halloween. You'll get to experience Mickey's Mouse-querade Party, Tim Burton's The Nightmare Before Christmas Sing and Scream, haunted stories, an adults-only costume party, and more. Be sure to check out these great Disney Halloween products before you sail.
Holiday Cruises: Spend the holidays at sea with fun activities including Mickey's Tree Lighting Magic Ceremony, Santa's Winter Wonderland Ball, a life-sized gingerbread house, story time with Mrs. Claus, crafts, a Santa Claus meet and greet, and more. Very Merrytime holiday cruises are available each year starting in November. Be sure to check out these great Disney Christmas products before you sail.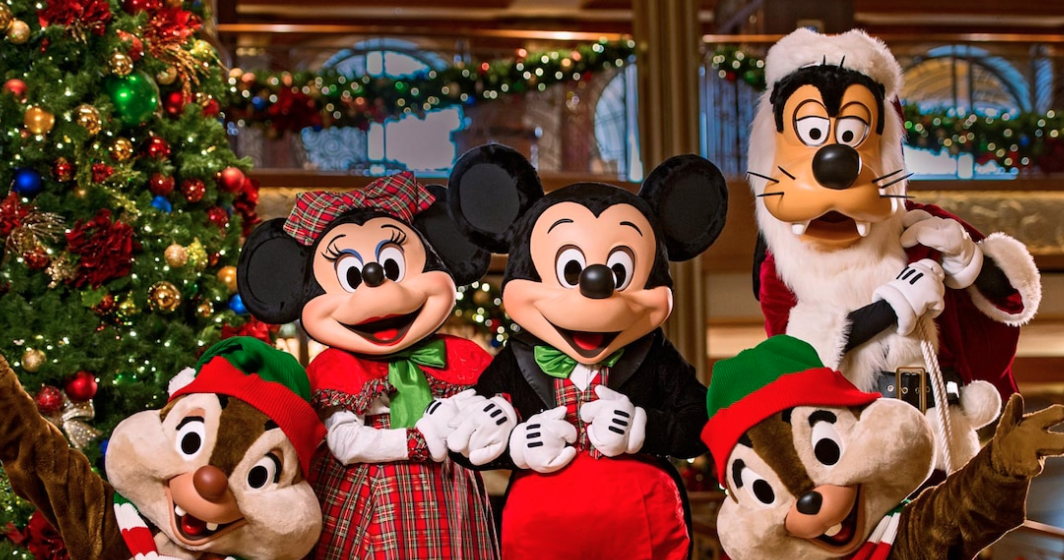 Dining and Beverages
Dining and beverages are handled a little differently than other common cruise lines like Royal Caribbean or Princess. Disney Cruise Line offers fewer specialty dining options, a rotational dining structure with 2 set dining times, and no all-inclusive beverage packages.
Here's everything you need to know about eating and drinking on a Disney cruise:
Complimentary Dining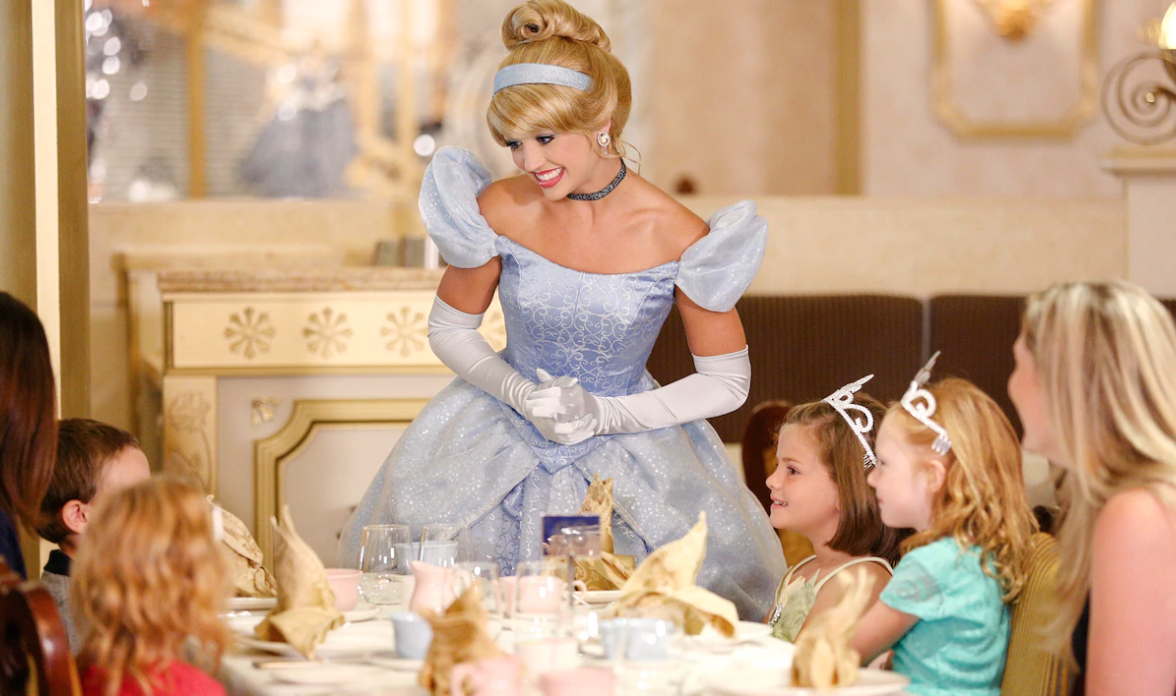 Look for these complimentary dining locations on your next cruise (please note not all locations are available on every ship):
Animator's Palate*
Cabanas
Daisy's De-Lites
Duck-In Diner
Enchanted Garden*
Eye Scream Treats
Flo's Cafe
Frozone Treats
Lumiere's*
Pete's Boiler Bites
Pinocchio's Pizzeria
Rapunzel's Royal Table*
Room service
Royal Court
Royal Court Royal Tea
Royal Palace*
Sweet On You
Tiana's Place*
Triton's*
*Denotes a Rotational Dining location.
Specialty Dining
These dining options may come with additional fees (not all locations available on every ship):
Palo
Preludes
Remy
Senses Juice Bar
Vanellope's Sweets & Treats
Rotational Dining
Dinner on a Disney cruise is a little different than some other cruise lines. When you cruise with Disney, you'll take part in the Rotational Dining experience. That means you and your waitstaff will rotate between 3 distinct restaurants nightly.
Dinner is served at 2 separate seatings, usually around 5:45 p.m. and 8:15 p.m. Once onboard your ship, you'll be able to see your dining time, restaurant schedule, and assigned table number. You'll have the opportunity to indicate your dining time preference when you book your cruise.
Bars and Beverages
Even though Disney caters to families, you'll be able to find plenty of adults-only locations, including these bars and lounges (not all locations offered on every ship):
Cadillac Lounge
Cove Cafe
Crown & Fin English Pub
Currents
Fathoms
French Quarter Lounge
La Piazza
Skyline
Hot Tip: Unlike other cruise lines, there are no drink packages available on Disney cruise ships. You'll have to pay for your drinks individually. In addition to alcoholic beverages, other drinks that may come with a charge are non-alcoholic specialty drinks, smoothies, specialty coffee, and bottled water. However, soda fans can rejoice — it's included at the buffets and on the pool deck
You also have the option of bringing wine or beer onboard with you. Each guest who is at least 21 years old can bring 2 bottles of unopened wine or Champagne (no larger than 750 ml) or 6 beers (no larger than 12 ounces) onboard at the beginning of the cruise and at each port of call.
These must be packed in your carry-on bags. Any alcohol packed in your checked luggage will be removed and held until the end of the cruise.
Accommodations
The staterooms on a Disney Cruise Line ship are designed with families in mind, with options to sleep up to 7 guests in 1 room. On all Disney ships, you'll find 4 main categories of rooms and 10 unique room types.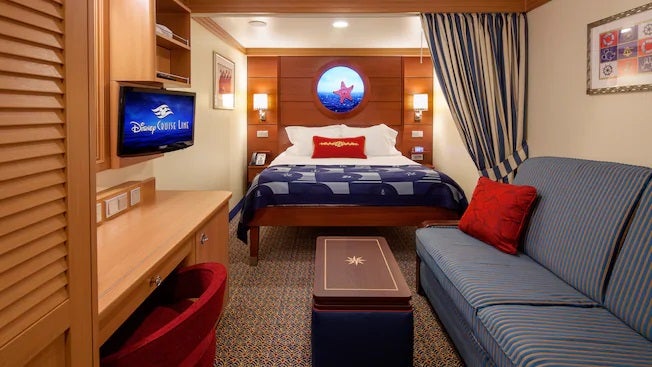 All of the staterooms on a Disney cruise ship come with some basic amenities:
Plush Euro-top mattress
22-inch LCD flat-screen TV with remote control
Full-length mirror
Refrigerator
In-room safe
Hairdryer
Phone with voicemail messaging
Individual climate control
Shower and tub
Here are some of the highlights:
Inside Staterooms on Disney Fantasy and Disney Dream come with a Magical Porthole. This LCD screen, disguised as a porthole, broadcasts a real-time view of the ship's exterior as it would appear if there was a real porthole in your room. Keep your eyes peeled for any surprises that might float by on your screen, too!
Deluxe Inside Staterooms sleep 3-4 people and come with a few added benefits, including a privacy curtain to separate the bed from the living area and a "split bath" — a vanity, sink, shower, and tub plus an additional half bathroom with a vanity, sink and toilet.
If you want a little more room and a private balcony, check out the Deluxe Family Oceanview Stateroom with Verandah. This type of room sleeps 5 people and includes a private balcony with childproof locks.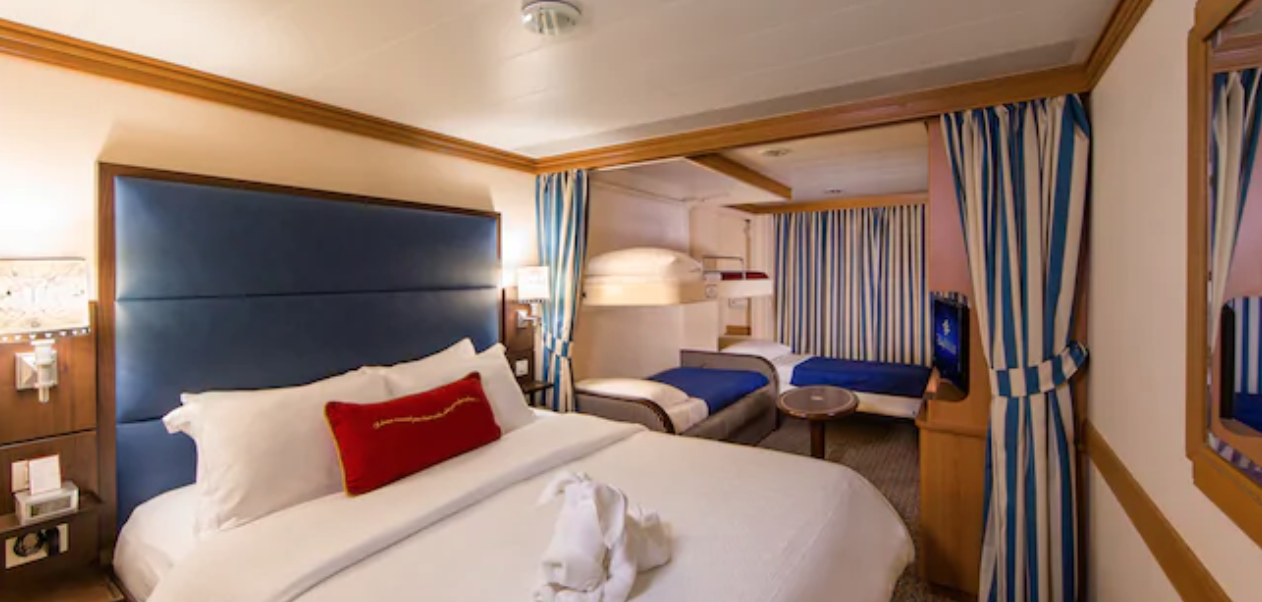 If you're looking for total luxury on your cruise, why not opt for the Concierge Royal Suite with Verandah. This spacious stateroom is over 1,700 square feet including the verandah and sleeps 5 people.
Royal Suites come with 2 separate bathrooms including a master with double sinks, rain-style shower, and whirlpool tub. Plus you'll enjoy the private verandah with whirlpool tub and exclusive concierge services.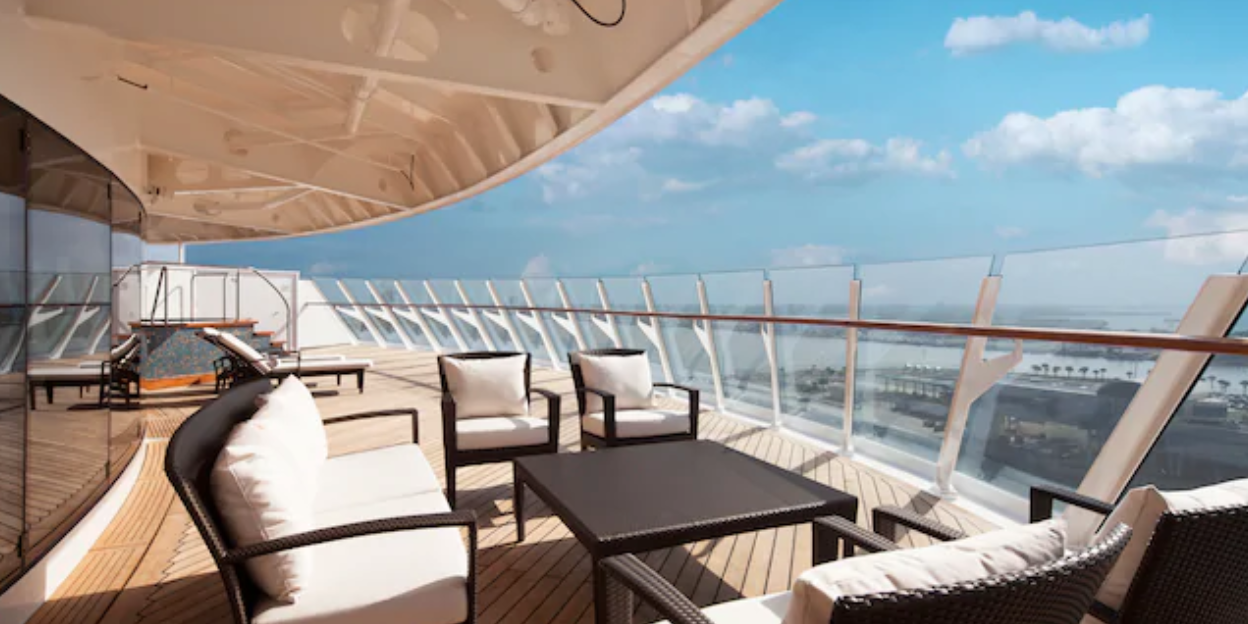 Hot Tip: Curious about award travel on cruises? Check out our detailed guide to booking cruises with points and miles for more information.
Castaway Club

Disney Cruise Line offers a loyalty program called Castaway Club. Once you've sailed with Disney once, you're automatically a member. There are 3 levels of membership with varying benefits.
Silver Castaway
You'll be a Silver Castaway member after you complete your first Disney cruise. Benefits at this level include:
Early access to booking new itineraries
Early access to online activity planning
Members-only cruise terminal check-in area
Welcome aboard gift on each cruise
Gold Castaway
To become a Gold Castaway member, you need to cruise with Disney 5 times. Once at this level, you'll get all of the Silver Castaway benefits plus these extra perks:
Early access to select port arrival times
Exclusive onboard reception on cruises of 8 nights or longer
Onboard discounts
Platinum Castaway
You'll be a Platinum Castaway member after you complete your tenth Disney cruise. This is the highest level of status you can achieve and it comes with lots of benefits in addition to all of the Silver and Gold level perks:
Platinum priority check-in at the cruise terminal
Complimentary dinner at Palo
The Disney Cruise Line Navigator app is essential to help plan your cruise at home and comes in handy onboard as well.

With this app, you can manage all aspects of your cruise reservation both before and during your cruise.
Plan activities including shore excursions, dining reservations, spa reservations, and more
View deck plans
Modify your stateroom
Make payments
Complete online check-in
Use onboard chat to stay connected with family and friends
Manage special requests
Final Thoughts
A Disney cruise can be a magical way to spend your vacation. The family-friendly atmosphere is geared towards traveling with kids, and there are plenty of onboard activities to entertain the whole family.
You'll be able to visit fantastic destinations in places like the Caribbean and even Europe! Plus, your time spent on the ship will be filled with unforgettable character experiences, entertainment including Disney-themed Broadway-style shows, themed dining, and family-friendly activities like swimming and waterslides. There are even adults-only areas for you to relax and renew in style.
If you've been on a Disney cruise previously, as a member of the Castaway Club you'll receive perks and benefits on every Disney cruise you take in the future.
Disney Cruise Line caters towards families more than other cruise lines. You'll find plenty of staterooms that can accommodate 3, 4, or more people (unlike the traditional 2-person maximum in most cruise line staterooms).
Going on a Disney cruise is a great way to spend your family vacation. Before you set sail, be sure to check out our printable cruise packing list and cruise tips to help make your vacation as memorable and stress-free as possible.