Princess Cruises Review – Ships, Destinations, Dining, and More
Princess Cruises began in 1965 with a single ship sailing to Mexico. Since then, it has grown to become one of the largest luxury cruise lines in the world with ships sailing across the globe.
Princess even helped the modern cruise vacation gain popularity through the hit TV show, "The Love Boat." This classic show, which ran from 1977 to 1987, featured several Princess ships including the original Sun Princess, Pacific Princess, and Island Princess.
Today, Princess Cruises offers luxury sailings to over 380 destinations in over 100 countries on all 7 continents. Let's take a close up look at everything Princess Cruises has to offer, including destinations, ships, dining, onboard activities, and more!
Basic Information
Name: Princess Cruises
Parent Company: Carnival Corporation (which also owns Carnival Cruise Line, Carnival Australia, Holland America Line, Cunard Line, AIDA Cruises, Seabourn, Costa Cruises, and P&O Cruises)
Number of Ships: 14 (2 more will be added by 2021)
Destinations: 380+
Loyalty Program: Captain's Circle
Credit Card: Princess Cruises® Rewards Visa® Card
Ships
Princess Cruises operates 14 ships with 2 more that will be added by 2021.
Caribbean Princess
Coral Princess
Crown Princess
Diamond Princess
Emerald Princess
Grand Princess
Island Princess
Majestic Princess
Pacific Princess
Regal Princess
Royal Princess
Ruby Princess
Sapphire Princess
Sky Princess
2 additional ships will be added soon: Enchanted Princess will debut in 2021 (originally scheduled for 2020) and Discovery Princess will arrive in November 2021.
In 2020, the Sun Princess and Sea Princess were sold, and Golden Princess and Star Princess were transferred to sister company, P&O Cruises Australia.

Departure Ports
Princess sails to over 380 cruise destinations on all 7 continents from 32 departure ports.
Departure Ports
North America and the Caribbean
Anchorage (Whittier), AK
Ft. Lauderdale, FL
Honolulu, HI
Los Angeles (San Pedro), CA
New York City, NY
Quebec City, Quebec, Canada
San Francisco, CA
San Juan, Puerto Rico
Seattle, WA
Vancouver, British Columbia, Canada
Asia 
 
Bangkok (Laem Chabang), Thailand
Beijing (Tianjin), China
Kobe, Japan
Otaru, Japan
Shanghai, China
Singapore
Yokohama, Japan
Europe
 
Athens (Piraeus), Greece
Barcelona, Spain
Copenhagen, Denmark
London (Dover), England
Rome (Civitavecchia), Italy
Venice, Italy
Australia and the Pacific
 
Auckland, New Zealand
Brisbane, Australia
Melbourne, Australia
Perth (Fremantle), Australia
Sydney, Australia
Tahiti (Papeete), French Polynesia
South America
Buenos Aires, Argentina
Rio de Janeiro, Brazil
Santiago (Valsparaiso), Chile
Private Ports/Islands
While on a Princess Cruise, you may stop at Princess Cays, a private resort on the island of Eleuthera in the Bahamas. This resort is situated on over 40 acres with a 1/2 mile of beautiful shoreline.
While in port at Princess Cays, you'll be able to enjoy lots of activities including volleyball, snorkeling, kayaking, banana boats, fishing, aqua chairs, and more. You'll also be able to browse shops at the local craft market or take in the views on the observation tower.
Hot Tip: Want to make sure you're getting the best price on your cruise? Check out our list of the best websites to book your cruise at the lowest price to get started.
Onboard Activities
Princess Cruises offers everything you would expect onboard a cruise ship and then some. You'll find cruise staples like pools, a casino, Broadway-inspired shows, art auctions, and kid's events, plus a host of activities unique to Princess.
You may notice that Princess doesn't offer many of the "thrill" type activities offered on other large cruise lines like waterslides or zip-lining. That's because the activities you'll find on a Princess ship are focused more on cultural and destination-specific experiences (think hula lessons in Hawaii and Brazilian samba dancers in South America). Don't worry — there's still plenty to do on a Princess cruise!
Keep an eye out for some of these unique offerings from Princess (some activities may have an additional charge):
Animal Planet meet-and-greets
Basketball
Camp Discovery
Culinary demonstrations
Dancing classes
Destination-themed activities
Discovery at SEA
Escape room
Festivals of the World
Golf driving range
Lotus Spa and fitness center
Mini golf
Outdoor movies
Ping pong
Princess book club
Reef Family Splash Zone
Shuffleboard
Tai chi
Wine tasting
Yoga
Zumba
Formal Nights
The number of formal nights on a Princess Cruise varies by the length of the cruise.
| | |
| --- | --- |
| Length of Cruise | Number of Formal Nights |
| 1-4 days | 0 |
| 5-6 days | 1 |
| 7-13 days | 2 |
| 14-20 days | 3 |
| 21-28 days | 4 |
| 29+ days | 5 or more |
On formal nights, formal attire is required in both the Anytime Dining and Traditional Dining locations. Appropriate attire includes evening gowns, cocktail dresses, tuxedos, dinner jackets, or a suit and tie.
Princess MedallionClass
Princess MedallionClass cruises are the next level in cruising and available on select ships and itineraries. On these cruises, you'll receive an OceanMedallion, a wearable device about the size of a quarter that will make your cruise a breeze.

This handy little medallion will unlock your stateroom door, help with expedited embarkation, and it can order drinks, food and other services on demand. It will steer you in the right direction with turn-by-turn navigation, or it can even help you locate your travel companions. You can even use it to play games like bingo, slots, and poker throughout the ship.
Your OceanMedallion is waterproof and heat, sand, and salt-resistant, so you can wear it anywhere your cruise will take you. It comes with a lanyard, or you can order from a choice of stylish accessories including sport bands, clips, pendants, and bracelets.
Hot Tip: Curious about award travel on cruises? Check out our guide to booking your cruise with points and miles.
Dining and Beverages
You will not go hungry on a Princess cruise! There are so many different options to choose from, including complimentary dining as well as specialty locations that require an additional fee.
Complimentary Dining
As is standard on cruises, Princess offers a ton of dining choices that are included in your cruise fare. Look for these restaurants on your next cruise; not all locations are offered on every ship.
Alfredo's Pizzeria
Burger & Hot Dog Grill
Gelato
Horizon Court Buffet
International Cafe
Main Dining Room (offering Anytime Dining or Traditional Dining)
Movies & Munchies (snacks and pizza during outside movies)
Room service (some charges may apply)
Soft Serve on Deck
The Pastry Shop at Horizon Court
Vines
Hot Tip: The main dining room on a Princess Cruise offers 2 types of dining — Anytime or Traditional. Anytime Dining allows you to eat anytime you wish between 5:30 p.m. — 10:00 p.m. and you can choose to sit at a private table or with other guests. Traditional Dining offers an "old school" cruise experience with 2 seatings (early or late) each night. You'll eat at the same table with the same people and the same waitstaff each night of your cruise.
Specialty Dining
Princess also offers plenty of specialty restaurants that come with an additional charge; not all locations are available on every ship.
Bayou Cafe
Bistro Sur La Mer
Chef's Table
Crown Grill
Curtis Stone SHARE
Harmony
Kai Sushi
Sterling Steakhouse
Sabatini's Italian Trattoria
The Salty Dog Gastropub
Ultimate balcony dining (private)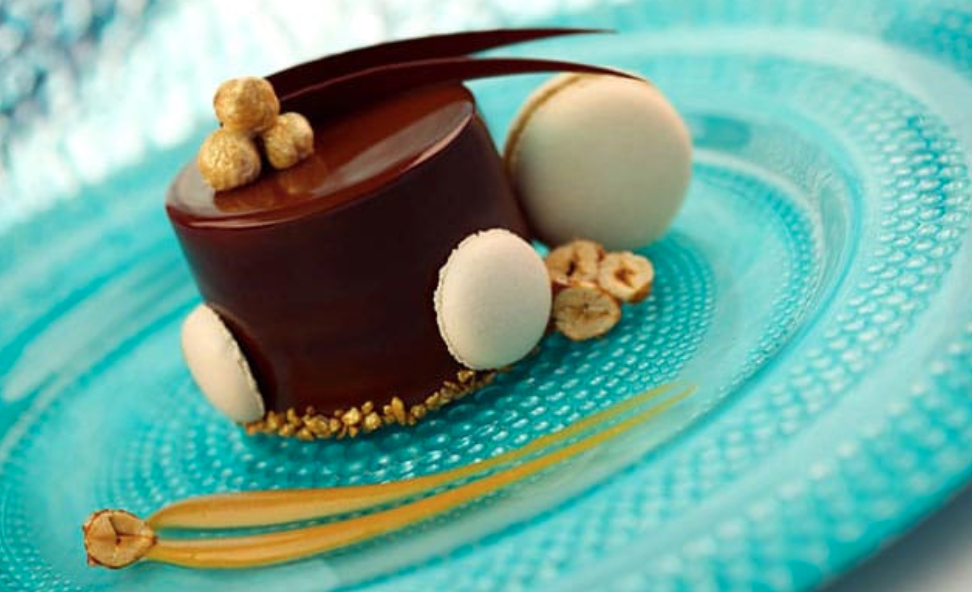 Bars and Beverages
There are plenty of bars located throughout every Princess ship. Most beverages come with an additional charge. If you would prefer to pay for drinks upfront, you can purchase one of 3 beverage packages:
Premier Beverage Package includes everything — beer, wine, cocktails, soda, specialty coffees, and more — and is available for $59.99 per person per day.
Premier Coffee and Soda Package includes premier coffee and teas, soda, juices, hot chocolate, and mocktails for $19.99 per person per day.
Classic Soda Package includes fountain sodas, fruit juices, mocktails and smoothies for $9.99 per person per day.
Hot Tip: Each guest over 21 years old can bring 1 bottle of wine or Champagne (750 milliliters maximum) onboard which won't incur a corkage fee as long as it's consumed in a stateroom. Additional bottles of wine or Champagne can be brought onboard but will incur a $15 per bottle corkage fee regardless of where they are consumed.
Accommodations
Princess Cruises offers a variety of staterooms to fit your needs, whether you're looking for a romantic getaway for 2 or you're planning to bring the whole family.
Here are some of the highlights:
Oceanview Staterooms come with all the amenities offered by Interior Staterooms, but these also offer a porthole or window. Upgrade to a Premium Oceanview room for dramatic floor-to-ceiling windows.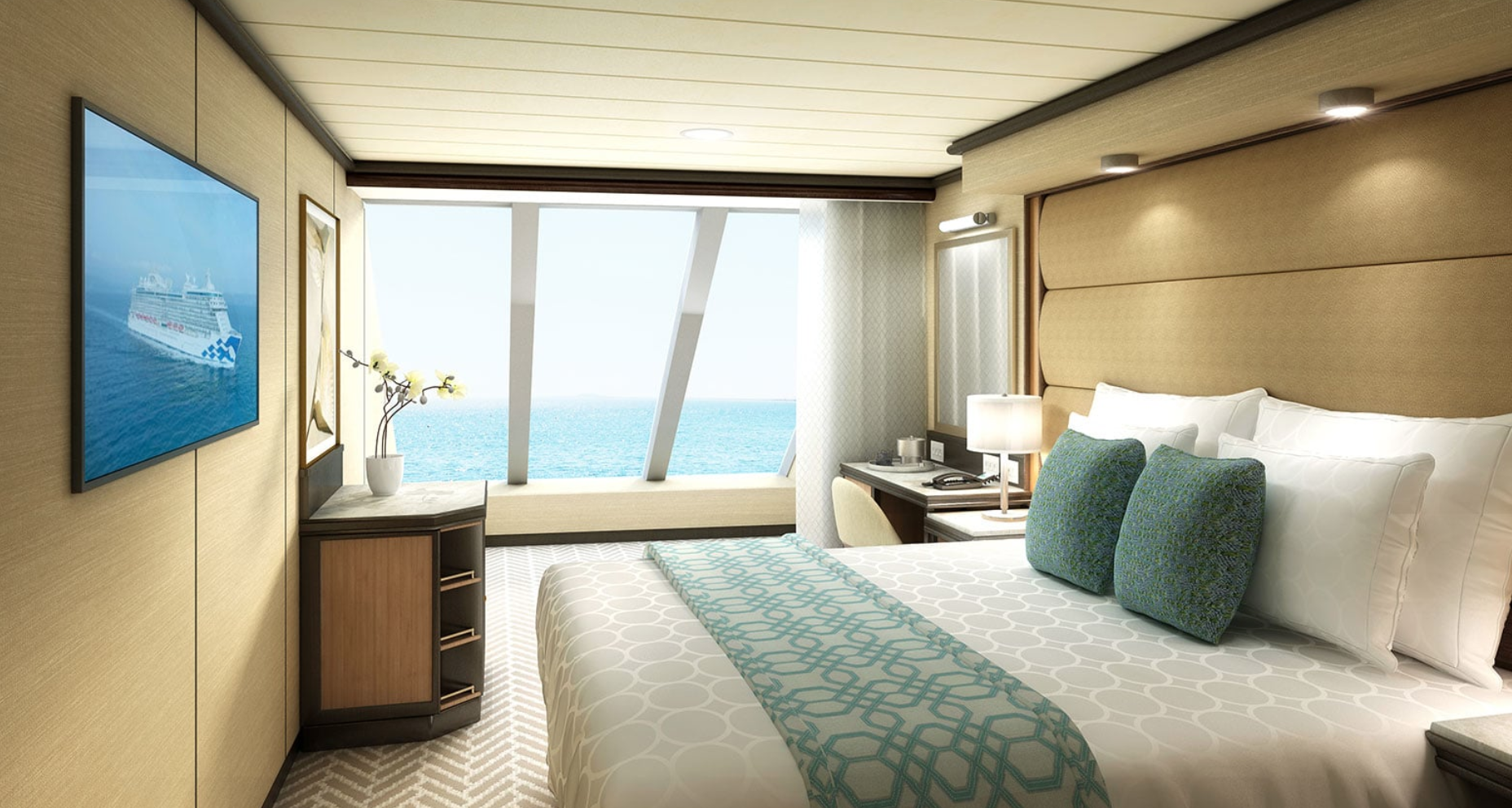 Choose a luxurious Mini-Suite if you're looking for a little more space and amenities. Most Mini-Suites have balconies, but some don't (they will be labeled "Mini-Suite No Balcony"). These staterooms have a separate sitting area with 2 TVs and come with a complimentary welcome glass of Champagne on embarkation day.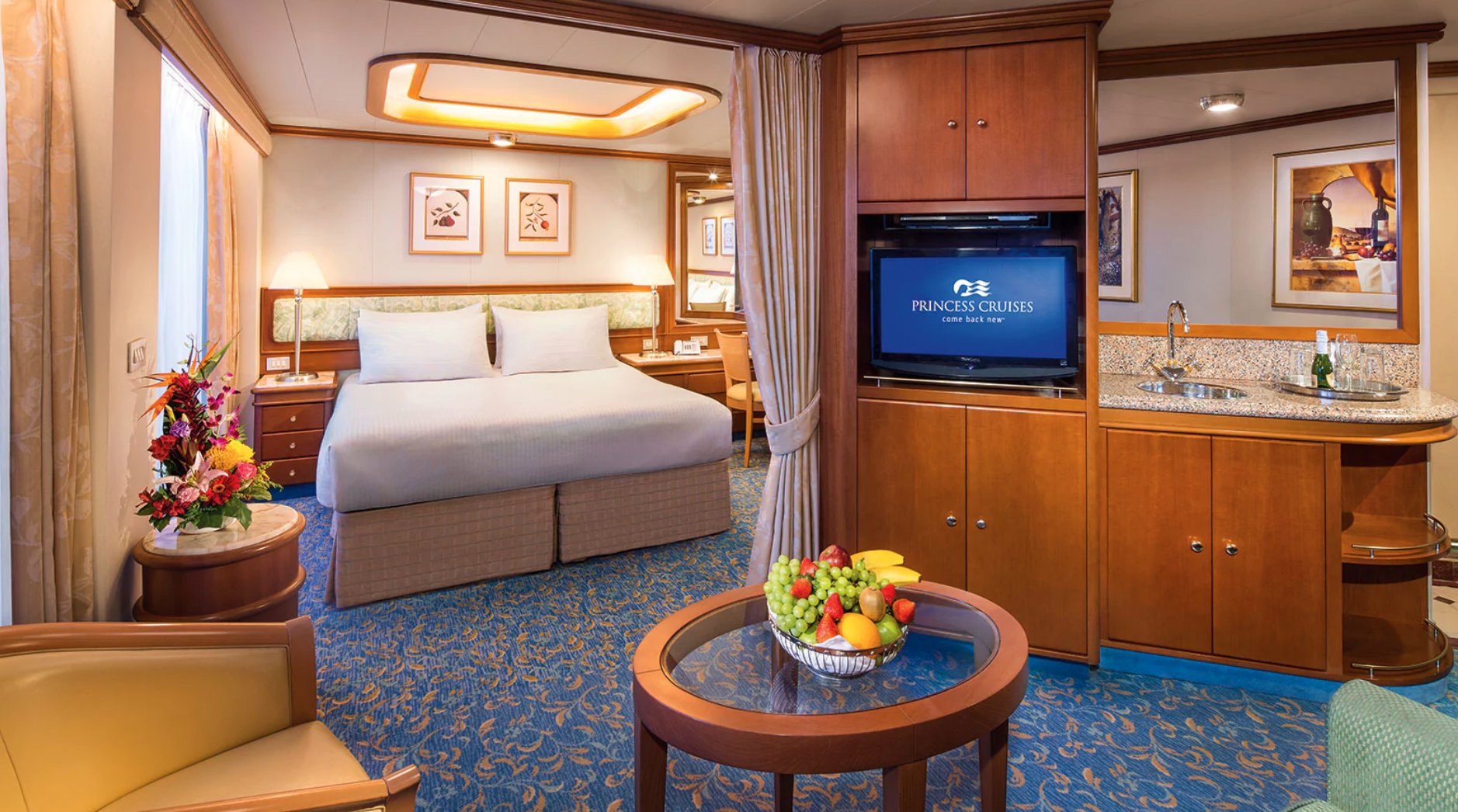 A 2 Bedroom Family Suite is perfect for larger families or groups. These rooms feature 2 bathrooms plus a large living room, and private balcony. 2 Bedroom Family Suites sleep 6-8 people, depending on the ship.
Sky Suites are the ultimate in cruise luxury. These amazing suites offer over 1,800 square feet of space including the largest balcony at sea. Each suite accommodates up to 5 guests in 2 bedrooms and 2 bathrooms. The amenities are plentiful and include:
Pre-Cruise shoreside concierge
Suite Experience Manager
Reserved Princess Theater seating
Complimentary access to The Enclave
Reserved Princess Cays bungalow
Premium Champagne upon arrival
Bar setup and mixers
Complimentary Maître d' wine tasting
Private Movies Under the Stars balcony viewing
Deluxe telescope for Discovery Stargazing at SEA
Ultimate Balcony Breakfast and Dinner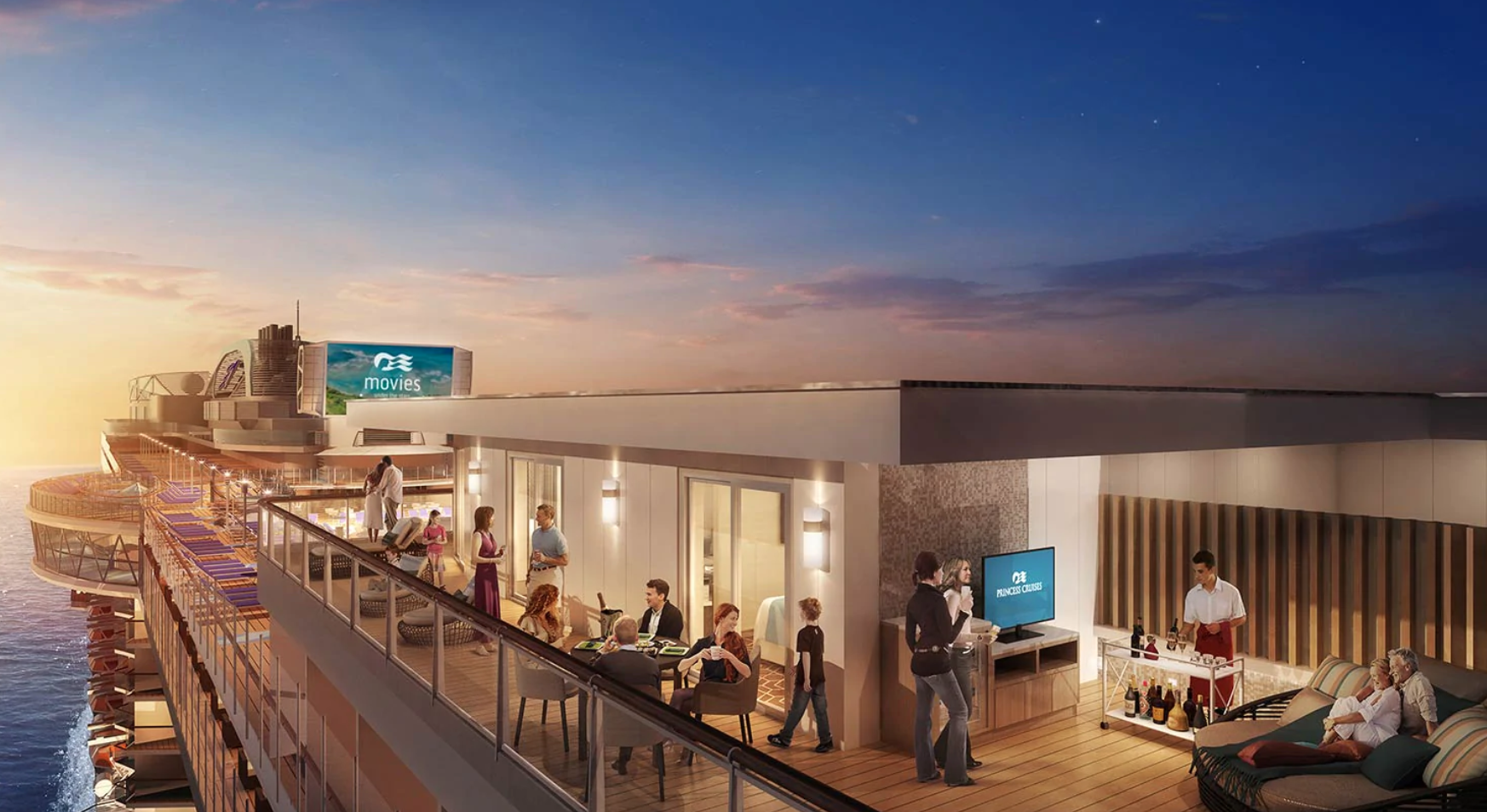 Hot Tip: Princess Cruises also offers a selection wheelchair-accessible staterooms that come with a roll-in shower with grab bars and a fold-down seat, an easy access closet, and an accessible writing desk.
Captain's Circle
Captain's Circle is Princess Cruises' loyalty program. It offers 4 distinct levels of status that can be earned based on the number of cruises you've taken or the total number of days at sea you've sailed with Princess.
You'll earn 1 cruise credit for each cruise you complete and your credits will be doubled if you book a full suite.
Gold
You'll earn Gold status after your first cruise with Princess. Here are just some of the benefits offered to Gold members:
Captain's Circle cruise discounts and reduced deposit
Members-only events onboard
Circle magazine
Gold member recognition pin
Ruby
You'll earn Ruby status from your fourth or fifth cruise credit or 31-50 cruise days. In addition to all of the Gold level benefits, you'll receive additional perks including:
An upgrade to Princess Platinum Vacation Protection when you purchase a Princess Vacation Protection package at the standard rate
10% discount off the Reflections DVD that's filmed during your cruise
Ruby member recognition pin
Platinum
Platinum status is earned from your sixth or fifteenth cruise credit or 51-150 cruise days. You'll receive the Gold and Ruby level benefits plus some extras including:
Priority check-in
Platinum disembarkation lounge
Complimentary internet package
Platinum member recognition pin
Elite
You'll earn the top tier Elite status from your sixteenth cruise credit or 151+ cruise days. This is the highest level of status offered by Princess Cruises and includes the following additional benefits:
Access to booking cruises before the general public
Priority tender at ports that require a water shuttle
Laundry and shoe polishing services
Complimentary minibar set up
Deluxe canapés on formal nights
Afternoon tea
Upgraded bathroom amenities
10% discount in onboard shops
Wine tasting
Elite member recognition pin
Bottom Line: When booking your cruise, make sure you're using the right credit card to maximize your benefits. See our guide to the best credit cards to book cruises for some guidance.
Final Thoughts
Cruising can be a great way to travel! On a cruise, you can visit multiple destinations while only having to unpack once.
Princess Cruises is one of the world's largest luxury cruise lines and sails to over 380 destinations worldwide on 14 ships across all 7 continents.
It offers some of the most unique experiences at sea including Discovery at SEA enrichment programs, Festivals of the World celebrations, Discovery and Animal Planet exclusive tours, Princess book club, and more!
On a Princess cruise, you can do everything or nothing at all — the choice is yours. Either way, you'll be able to visit fantastic destinations, enjoy great food, and relax in a comfortable stateroom.