Carnival Cruise Line Review — Ships, Destinations, Dining, and More
Carnival Cruise Line has been around since 1972. While it is mostly known for Caribbean cruises, it actually offers cruises to Mexico, Hawaii, and Europe, as well. Carnival Cruise Line Australia covers destinations like Australia, New Zealand, and the Pacific Islands.
Carnival ships, also known as "Fun Ships," have a reputation for lively atmospheres and numerous onboard activities. With 26 ships sailing across the U.S., the Caribbean, and Europe, there's something for everyone on a Carnival cruise.
Basic Information
Name: Carnival Cruise Line
Parent Company: Carnival Corporation (which also owns Carnival Australia, Princess Cruises, Holland America Line, Cunard Line, AIDA Cruises, Seabourn, Costa Cruises, and P&O Cruises)
Number of Ships: 22 (2 more debuting in 2020)
Loyalty Program: VIPF Club
Credit Card: Carnival® World Mastercard®
Ships
Carnival Cruise Line currently operates 22 ships, with 2 more coming by the end of 2021.
Carnival Breeze
Carnival Conquest
Carnival Dream
Carnival Ecstasy
Carnival Elation
Carnival Freedom
Carnival Glory
Carnival Horizon
Carnival Legend
Carnival Liberty
Carnival Magic
Carnival Miracle
Carnival Panorama
Carnival Paradise
Carnival Pride
Carnival Sensation
Carnival Spirit
Carnival Sunrise
Carnival Sunshine
Carnival Valor
Carnival Victory
Carnival Vista
Two additional ships, Carnival Mardi Gras and Carnival Radiance will debut in 2021. Carnival Celebration will debut in November 2022. Carnival Fascination and Carnival Imagination were put into long-term storage in 2020 with no timeline for return.
Departure Ports
Carnival Cruises sails to lots of destinations across North America, the Caribbean, and Europe from 26 departure ports.
Cruises to Australia, New Zealand, and South Pacific Islands can be found on Carnival Australia.
| | | | | |
| --- | --- | --- | --- | --- |
| | Departure Ports | | | |
| North America and The Caribbean | Baltimore, MD | Barbados | Charleston, SC | Fort Lauderdale, FL |
| | Galveston, TX | Honolulu, Hawaii | Jacksonville, FL | Los Angeles (Long Beach), CA |
| | Miami, FL | Mobile, AL | New Orleans, LA | New York, NY |
| | Norfolk, VA | Orlando (Port Canaveral), FL | San Diego, CA | San Francisco, CA |
| | San Juan, Puerto Rico | Seattle, WA | Tampa, FL | Vancouver, BC, Canada |
| Europe | Barcelona, Spain | Copenhagen, Denmark | London (Dover), England | Rome (Civitavecchia), Italy |
| | Southhampton, England | Venice, Italy | | |
Hot Tip: If you're looking for destinations in Asia, Australia, New Zealand, or the South Pacific, check out Carnival Australia. This is Carnival's sister company that offers different itineraries and ships.
Private Ports/Islands
While Carnival Cruise Line doesn't own any private ports, it does make use of 2 of the ports owned by other cruise lines.
Princess Cays is a private resort on the island of Eleuthera in the Bahamas that's owned by Princess Cruise Line. This destination offers everything you would expect — beaches, kayaking, sailing, a kid's area, an adults-only area, and more.
Half Moon Cay is another private destination located in the Bahamas. This island, also known as San Salvador Island, is owned by Holland America Cruise Line. You'll find everything you need for a relaxing day on the beach — swimming, snorkeling, sailing, horseback riding, a water park, and more!

Hot Tip: Be sure to get the most bang for your buck! Check out our guide to the best websites to book cruises at the cheapest prices.
Onboard Activities
These days cruise ships are full of things to do, and Carnival Cruises are no exception.
Carnival offers much of what you would expect to find on a cruise ship these days including pools, a casino, themed parties, Broadway-style shows, youth programs, and art auctions.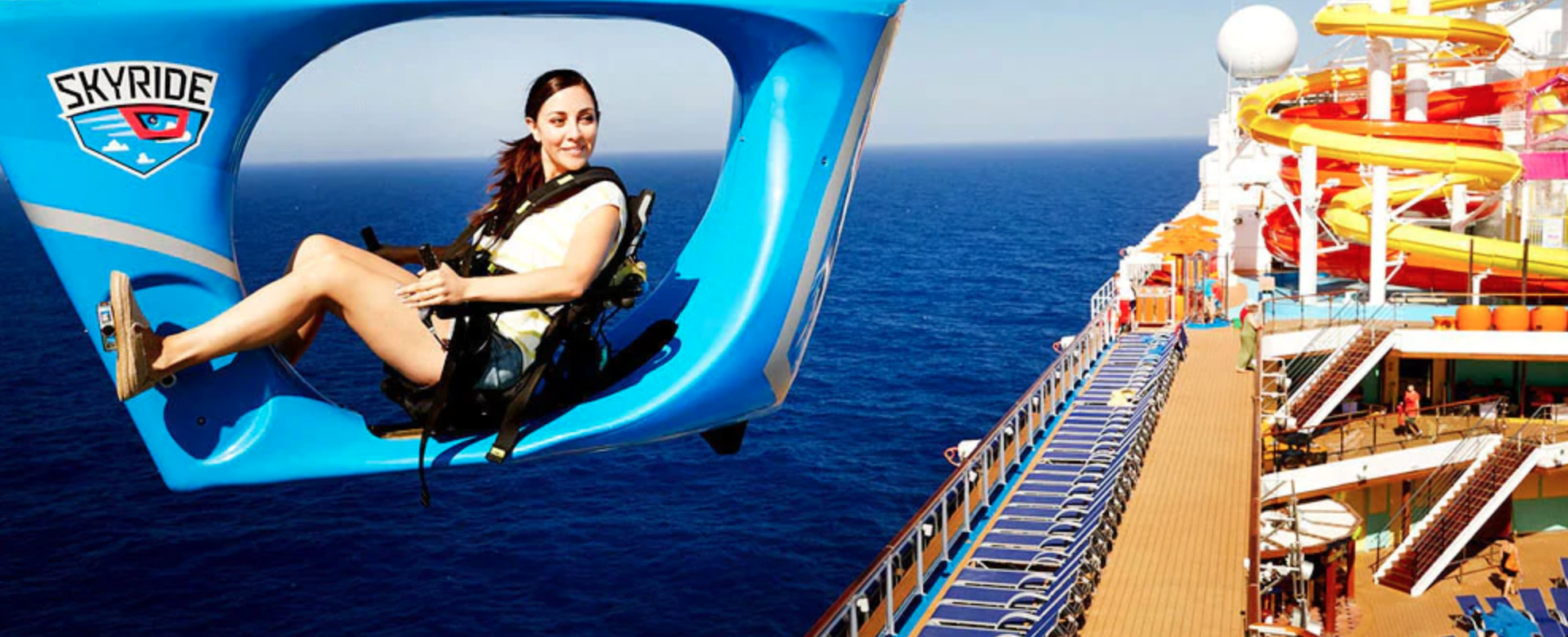 Lots of additional activities are offered to ensure you won't be bored at sea. Not all activities are available on every ship and activities marked with $ come with additional fees.
Basketball
Bingo ($)
Bolt Ultimate Sea Coaster ($)
Cherry on Top candy stores ($)
Cooking classes
Cooking demonstrations
Build-A-Bear Workshop ($)
Family Feud Live
IMAX Theater
Karaoke
Library
Lip Sync Battle
Make It With Michaels arts and crafts ($)
Martini tasting ($)
Mini Golf
Mixology competitions
Outdoor movies
Punchliner Comedy Club
SkyCourse
SkyRide
Sky Zone trampoline park and challenge zone ($)
SportSquare
Video arcade ($)
Volleyball
Waterslides: WaterWorks and Twister
Formal Nights
Formal nights (or Elegant nights) are those in which formal dress is encouraged. That means dress pants with a dress shirt and sport coat for men, and for women, this means cocktail dresses, a pantsuit, or a skirt. If you want to go all out with a tuxedo or evening gown, that's acceptable, too!
While formal dress is encouraged, it's not required throughout the ship. However, the main dining room will require formal attire on Elegant nights. On those nights, shorts, T-shirts, beach flip-flops, bathing suits, jeans, sleeveless shirts for men, sportswear, and baseball hats are not permitted in the dining rooms.
Hot Tip: Curious about award travel on cruises? Check out our ultimate guide to using miles and points to book a cruise.
Dining and Beverages
You don't have to worry about going hungry on a Carnival cruise. You'll find lots of complimentary choices as well as specialty restaurants that come with additional charges.
Complimentary Dining
You don't have to pay an extra dime to eat on your Carnival cruise if you don't want to. All of these options are included in the price of your cruise (however not all locations are offered on every ship).
Big Chicken
BlueIguana Cantina
Guy's Burger Joint
Guy's Pig & Anchor Bar-B-Que
Lido Marketplace
Lucky Bowl
Main dining room
Mongolian Wok
Pizza Pirate
Pizzaria del Capitano
RedFrog Pub & Brewery
Seaday Brunch
Street Eats
Swirls
The Captain's Pasta Bar
The Carnival Deli

Specialty Dining
Carnival also features many specialty dining options that aren't included in the price of your cruise.
Bonsai Sushi
Bonsai Sushi Express
Bonsai Teppanyaki
Coffee Bar
Cucina del Capitano
Emeril's Bistro 1396
Green Eggs and Ham Breakfast
Guy's Pig & Anchor Smokehouse | Brewhouse
JavaBlue Cafe
JiJi Asian Kitchen
Rudi's Seagrill
Seafood Shack
Steakhouse
The Chef's Table
Bars and Beverages
There is no shortage of bars available onboard a Carnival cruise ship. Most beverages including soda come with an extra charge, however, Carnival offers drink packages if you would prefer to pay for all of your drinks ahead of time.
Bottomless Bubbles is a drink package that included unlimited soda and juice and can be purchased on your ship. It must be purchased for the entire length of your cruise (meaning you can't just buy the drink package for a day or 2). The cost is $8.50 per day for adults and $5.95 per day for kids.
Cheers! is Carnival's prepaid bar package. With this package, you'll enjoy unlimited alcoholic drinks (with a few exceptions) for the entire length of your cruise. This package can be purchased ahead of time for $51.95 per person per day or, once you are aboard, for $56.95 per person per day.
Hot Tip: Cheers! and Bottomless Bubbles packages aren't available on European itineraries.
Here are some of the bars you might find on your Carnival Cruise:
Alchemy Bar
Beer Station
BlueIguana Tequila Bar
Casino Bar
Havana Bar
RedFrog Pub
RedFrog Rum Bar
SkyBox Sports Bar
Sports Bar
Hot Tip: The drinking age on all Carnival ships is 21+, regardless of the drinking age at any port.
Accommodations
There are different levels of staterooms you can choose on Carnival Cruise Line — interior, oceanview, balcony, or suite.
Regardless of what type of room you have, you'll enjoy the following amenities:
Dedicated room steward
Carnival Comfort Collection linens
Stateroom climate control
TV
In-room safe
Carnival also offers 4 unique room types to accommodate families or anyone looking for something a little special.
Family-Friendly Staterooms: These rooms will accommodate up to 5 people, and some even come with a second bathroom. Adjoining rooms are available if you need even more space.
Cloud 9 Spa Staterooms: This type of room is available for those looking for a little more relaxation. These rooms come with Elemis toiletries, plus bathrobes and slippers. You'll also get priority spa reservations, free fitness classes, access to thermal suites, and spa discounts on port days.

Havana Staterooms: These unique rooms are for guests 12 and older. They have an island vibe and come with unlimited access to the Havana Bar & Pool. If you upgrade to a Havana Cabana room, you'll get a larger balcony with a hammock chair. Upgrade to a Havana Cabana suite to indulge in a luxurious rain shower.
Family Harbor Staterooms: These family-friendly rooms are decked out in nautical decor and are located close to the Family Harbor Lounge which features food, games, and movies. Plus, when you're staying in a Family Harbor Stateroom, your kids will eat free in most of the specialty restaurants, and you'll enjoy 1 free night of Night Owls babysitting service.
Hot Tip: Make sure you don't forget anything — check out our printable cruise vacation packing list!
VIPF Club
The VIPF Club is Carnival's loyalty club. You can join at any time, even if you've never been on a Carnival cruise. You'll earn 1 point for each night you spend at sea.
There are 5 levels of membership in the VIPF Club:
Blue: first sailing
Red: second sailing — 24 points
Gold: 25-74 points
Platinum: 75-199 points
Diamond: 200+ points
The benefits you'll receive vary depending on your membership level. Every member will receive members-only offers and an e-newsletter. Other benefits you can earn include complimentary bottled water, priority check-in and boarding, free drinks, VIPF parties, collectible pins, complimentary dinner at a specialty restaurant, and more.
Hot Tip: Don't miss out on valuable points — check out our guide to the best credit cards to use to book your cruise.
Carnival Australia
Carnival Australia has an entirely different website and offers cruises to different destinations than Carnival, however, it's not really a different company.
Carnival Australia Ships: Carnival Spirit and Carnival Splendor
Carnival Australia Departure Ports:
Brisbane, Australia (beginning in 2020)
Honolulu, Hawaii
Melbourne, Australia
Singapore
Sydney, Australia
Carnival Australia Destinations:
Australia (including Tasmania, the Great Barrier Reef, Adelaide, and Moreton Island)
Hawaii
New Zealand
Pacific Islands (including Noumea, Mare, Lifou Isle, and more)
Papua New Guinea
Singapore
Final Thoughts
Carnival Cruise Line offers cruises to the U.S., Caribbean, and Europe on 26 different ships! Onboard, you'll find plenty of activities to keep you busy including waterslides, games, movies, shows, and even Build-A-Bear Workshops!
When it comes to dining, you won't go hungry. You'll have plenty of complimentary options to choose from or you can check out one of Carnival's specialty restaurants like Emeril's Bistro 1396 or Bonsai Sushi.
When it's time to settle in for the night, you'll be able to choose from lots of different types of staterooms including spa-themed rooms or family rooms with a second bathroom that accommodates up to 5 people.
Whether you're looking for an adventure-packed vacation or just want to relax on the sea, Carnival Cruise Line has something to offer.