How To Cancel a Hyatt Hotel Reservation [Points or Cash Booking]
It is no secret that, in life, things don't always go as planned. Circumstances can change with the seasons, and sometimes we have to make changes or cancellations to our travel plans. While this is always a bummer, knowing the ins and outs of a hotel's cancellation policies, before you need to cancel, can save you a lot of money in the event that your plans change.
So here is everything that you need to know about the cancellation policies with Hyatt, and how you can make any changes if need be.
Hyatt Cancellation Policy
Cancellation Policies Due to COVID-19
Due to COVID-19, any reservation booked before July 1, 2020, for arrival through July 31, 2021, can be changed or canceled at no charge up to 24 hours before your scheduled arrival, including Advance Purchase Rate reservations.
Reservations that are made after July 1, 2020, for any travel taking place by July 31, 2021, can be changed or canceled at no charge within 24 hours of scheduled arrival — again, this includes an Advanced Purchase Rate reservation.
Hot Tip: There are a handful of Hyatt properties that are excluded from these policies, namely those falling within the Destination Residence, Hyatt Residence Club, and Miraval brands. You can view the full list of excluded properties on Hyatt's website.

Reservations Made With Cash
If you've booked a Member Rate or Standard Rate, Hyatt will require that you cancel your reservation 48 hours prior to check-in in order to receive a refund. However, if it is less than 48 hours until your check-in time, you might still be eligible to receive a refund for the majority of your stay after paying a 1-night fee.
On the other hand, if you book a Members Advanced Purchase or Advance Purchase rate, you're required to submit a full prepayment for the stay, and there are no refunds or changes allowed to be made to your reservation. These terms are significantly more limited than Member Rates or Standard Rates, so why book them? Well, these options are usually cheaper or a per night/stay basis than others.
Either way, it is essential that you pay attention to the cancellation terms of your booking because once that booking is complete, you're locked into that cancellation policy. Ultimately, it really comes down to whether you'd prefer to book a cheaper rate and save some money or have added flexibility in case you need to cancel or change your stay.
Reservations Made With Points
If you've made, or are planning to make, a Hyatt reservation using World of Hyatt points, you'll be pleased to know that Hyatt allows you to cancel award stays up to 48 hours before your check-in time and receive a full refund. Naturally, your refund in this case will just be Hyatt redepositing your points back into your account. This policy also applies to Points + Cash bookings, except the cash portion of your booking will be refunded back to your payment method.
Similar to cash bookings at the Member Rate or Standard Rate, if there are less than 48 hours remaining until your check-in time, you can still cancel your booking, but you will be subject to a 1-night fee.
How To Cancel a Hyatt Reservation
Canceling a reservation with Hyatt is made very easy for you. Simply follow these steps:
Step 1
Head to the World of Hyatt website and sign in to your World of Hyatt account, then click on My Account.

Step 2
From there you'll see your dashboard that provides all of your account details. This includes the number of points you have available, your current elite level and progress for the year, and your upcoming reservations.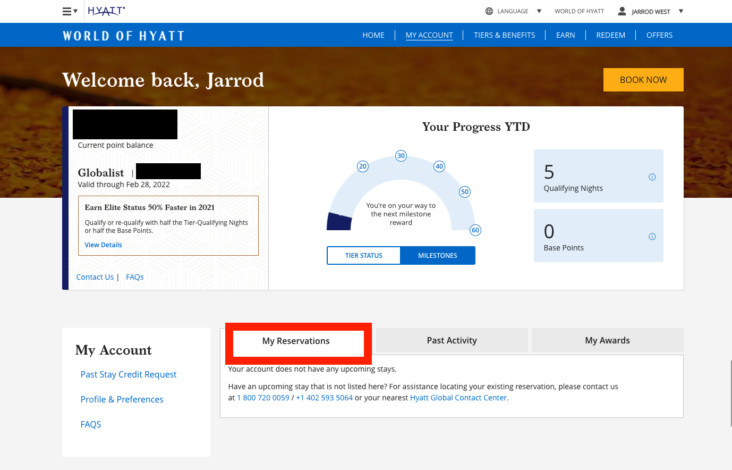 Step 3
Navigate through your upcoming stays in the My Reservations tab. When you find the stay you want to cancel, all you need to do is click Cancel, then Confirm, and boom — you're done! Your reservation will be canceled and you should receive an email shortly after confirming your cancellation.
Hot Tip: If, for whatever reason, you're having issues navigating the website, or your reservation is not showing under My Reservations, contact Hyatt customer support and they will resolve it for you. 
Changing the Reservation Dates
If you just need to make date change to your reservation, the process is nearly identical to what you'll go through when trying to cancel, except you'll hit Change, instead of Cancel, on your reservation. You can then select your new dates and, provided that those dates are available, your reservation change will be confirmed.
If you've booked a cash rate, and the new dates are more expensive than what you've previously booked, your previously assigned payment method will be charged for the difference.
Final Thoughts
As we all know, canceling a trip sucks. While Hyatt makes the experience of canceling or changing your booking pretty easy and seamless, it is important to know your rates cancellation policy prior to booking so that you don't end up on the hook for the entire stay.
If you value flexibility or think there is even a small chance that you might need to cancel or change the stay, it is definitely worth paying a little extra to book a rate with a more lenient cancellation policy. Fortunately, those booking award stays with Hyatt won't need to worry about it, as all award stays can be canceled for free up to 48 hours before check-in. This is just 1 more reason why points travel is the best travel!