The Talbott Hotel, a Hyatt Hotel in Chicago – Review
The Talbott Hotel, part of Hyatt's recently acquired JdV by Hyatt brand, is a trendy hotel located in the Gold Coast neighborhood of downtown Chicago. Featuring very reasonable rates, and being within walking distance to most of Chicago's popular attractions, it is a perfect hotel to stay at, especially for those who have status with the World of Hyatt loyalty program or those who have Hyatt points waiting to be redeemed.
This newly-renovated Hyatt property is steeped in history. The original structure was built in 1927, and even though several public areas were updated with modern design and amenities, much of the original historic charm shines through.
Joe de Vivre hotels tend to be smaller, boutique locations, each with charm and character representative of the local area, and that certainly comes through at Chicago's The Talbott Hotel. For World of Hyatt members, this is a great hotel to earn points and the elite status recognition is top-notch.
Hotel Location
The hotel is conveniently located right in the heart of the Gold Coast area, which is home to many of Chicago's higher-end shopping and dining establishments.
The hotel is walkable to the Magnificent Mile and is located 2 blocks away from the Red Line, which you can take to Chicago's O'Hare Airport (ORD) via a transfer to the Blue Line. If you're going to Chicago Midway (MDW), hop on the Red Line, and then transfer to the Orange Line — a fairly seamless ride.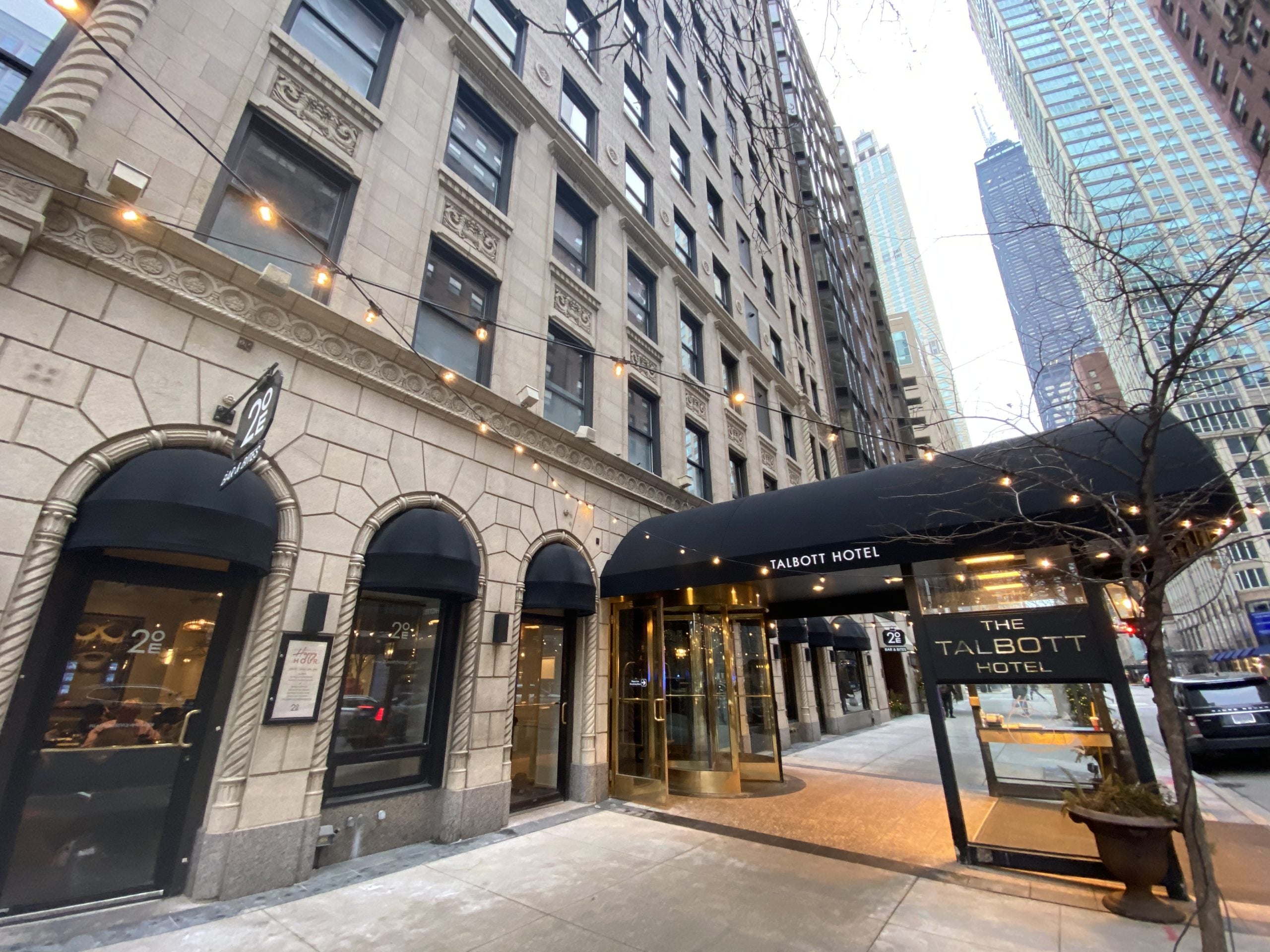 Booking
The Talbott Hotel is one of the most affordable Hyatt hotels in downtown Chicago, and off-season during the winter, you can see rates hovering around $77 a night, which is a downright steal. During the summer, rates hover around $300 a night, but still fairly consistently come in lower than other properties in the city.
During my stay in early January, the rate was around $70 a night, which was one of the cheapest hotel rates I've ever stayed under.
This hotel is a Category 3 hotel, which requires 12,000 World of Hyatt points a night. Because it is a Category 3, you can also use the complimentary Category 1-4 night certificate that is a benefit of The World of Hyatt Credit Card, though you'll definitely want to avoid using either points or a certificate during the winter when the rates are very cheap.
Checking In
As you walk into the lobby, you'll find that the hotel is relatively small, reminiscent of a boutique hotel. There are a few small sitting areas to the right, which are home to complimentary coffee in the morning. To the left is the hotel's restaurant, 20 East, which hosts breakfast, lunch, and dinner.
Straight ahead are the hotel's 2 elevators, which can be a bit slow, especially in the morning and evening as folks go in and out. Beyond the elevators is the Concierge desk, which is staffed all day — the team who man this desk are especially friendly, and it isn't uncommon to see travelers tip them after helpful suggestions.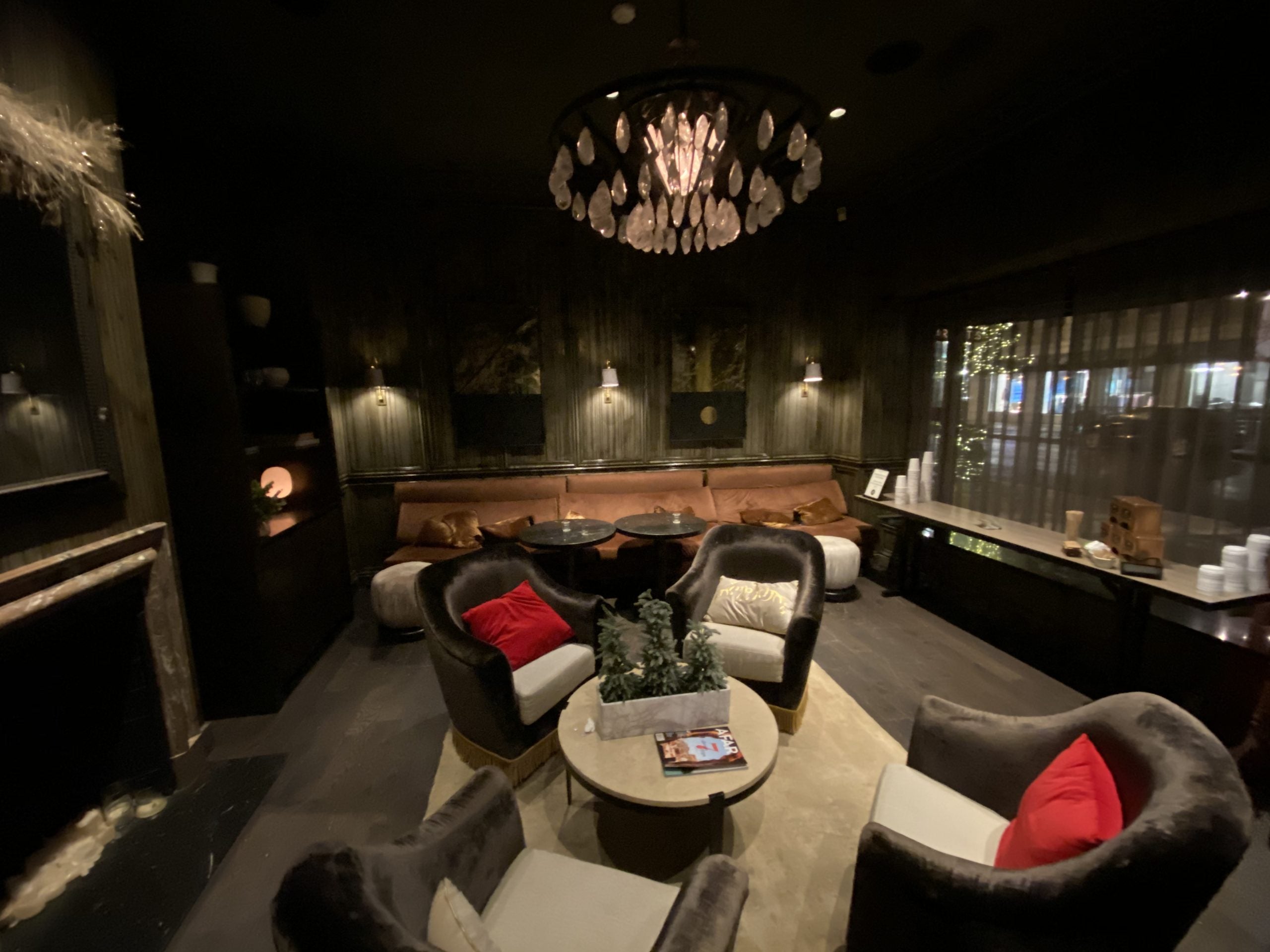 Just to the right of the Concierge desk is the front desk, staffed by 2 agents during busy periods.
I was checking in at approximately 9 p.m., well after the rush of normal travelers earlier in the day. The front desk agent who checked me in promptly acknowledged my Hyatt Globalist status, my upgrade, and the amenities of the hotel. I genuinely felt very welcomed, a good sign of things to come.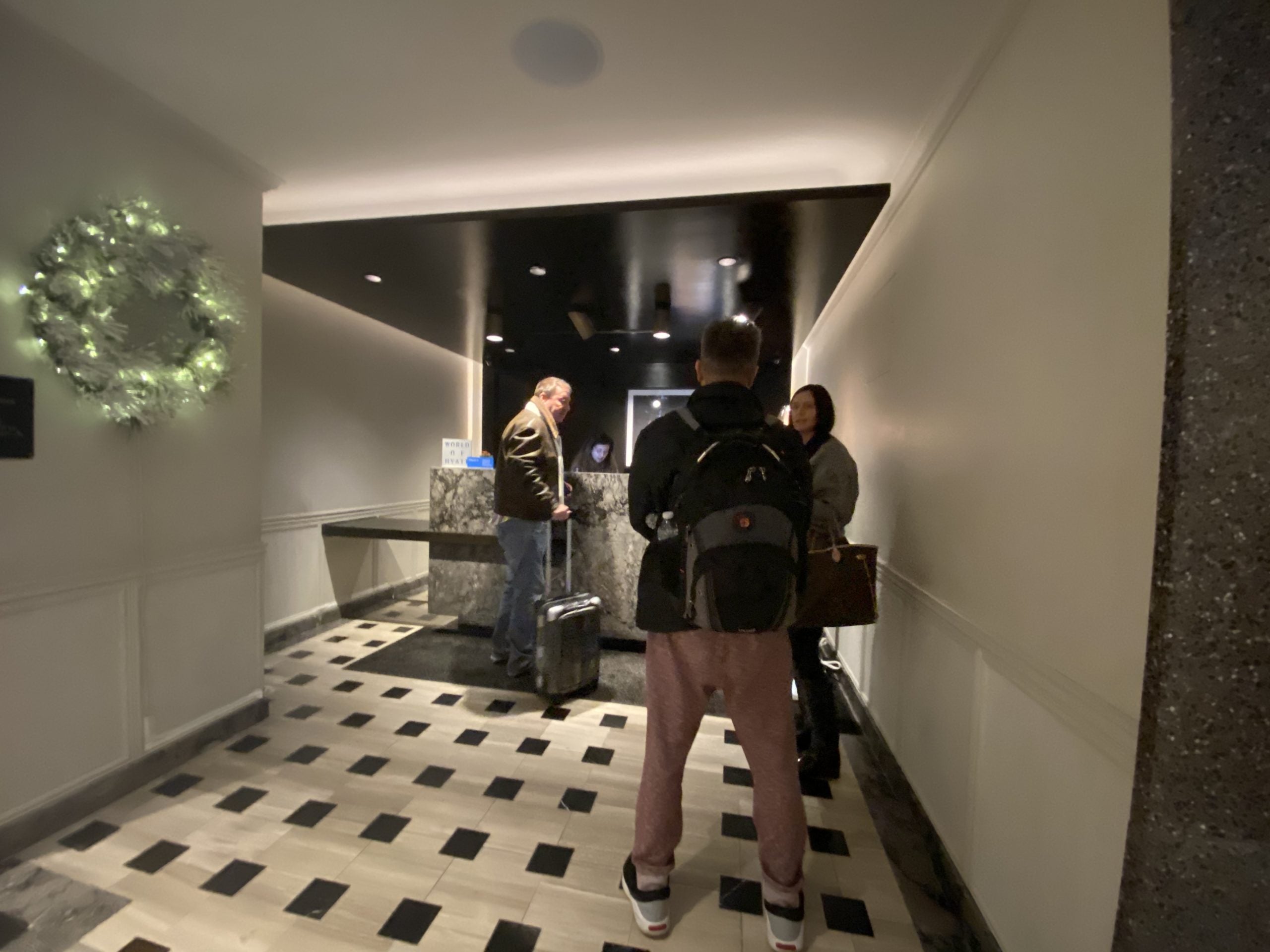 Elite Benefits
This hotel does a great job of honoring World of Hyatt elite benefits. As a Globalist, I was given a fruit and cheese welcome amenity, as well as a complimentary upgrade to one of their Junior Suites. In fact, several days prior, I received a text message confirming my upgrade, which I thought was very helpful.
While this hotel does offer the complimentary water for World of Hyatt guests, I found myself having to request it each day, though it was brought up without any issue. 
On-site Globalist benefits included:
A 4 p.m. late checkout, which was granted without any issue
Room upgrade, which was given without any additional request
Complimentary breakfast (there is no club lounge)
Complimentary water, which was restocked upon request
Complimentary parking on award nights
Complimentary premium internet, which was fast and very usable
A friend of mine was checking in at around the same time I was and was accidentally assigned the wrong room. Without hesitation, the front desk agent promptly gave him $50 in dining credits, which I thought was very generous. The service recovery was on-point.
The Talbott has a mandatory $17 (plus tax) Urban Amenity Fee. This is similar to a resort fee and includes a complimentary glass of wine or beer, coffee in the lobby, Wi-Fi, a fitness facility, digital access to the New York Times, complimentary local calls, and 25% off spa treatments.
For most, this fee is representative of things that are normally included in a hotel stay, though this property, like many others in Chicago, has now decided to charge a separate fee. The good news is the fee here is reasonable compared to other properties and Globalist members get this fee waived.
While this hotel does not participate in the American Express Fine Hotels Program, it is eligible for a complimentary fourth night when purchasing through Citi on select cards.
You can also book this hotel through Hyatt Prive, which is a travel-agent-only bookable process where you receive a guaranteed room upgrade, breakfast, and a $100 credit to use on-site.
Amenities
Parking at the hotel is $69 a night, which comes close to many of the hotel's lower rates depending on the season. The parking is done via valet.
Basic internet at the hotel is free, though you can upgrade to a more high-speed package for around $10 more a day. Even on the basic package, I found the Wi-Fi to be very fast and perfectly acceptable for most tasks, even streaming videos.
The hotel features a well-equipped fitness room and even has a Peloton bike and purified water refill station. The gym features all of the basic things you'd expect in such a facility — free weights, a treadmill, bike, and other odds and ends. 
The Room
For this stay, I was assigned a Junior Suite, the entry-level suite allowable for upgrades for World of Hyatt elites. The room wasn't large by suite standards but was definitely bigger than a standard room at this property.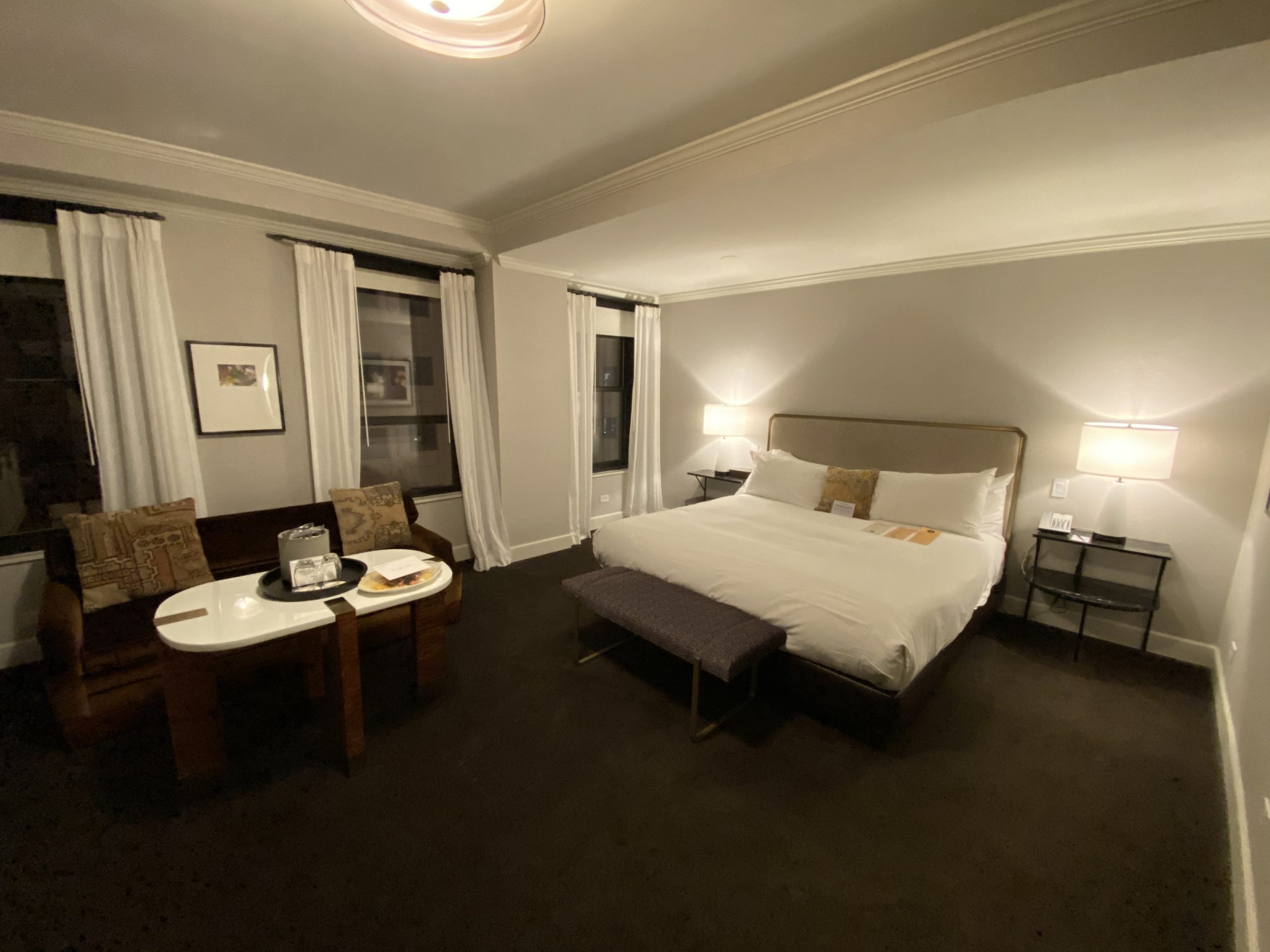 The hotel advertises that the following features are included in the room:
Individually controlled heating and air conditioning
Blackout curtains
Hairdryer
Jonathan Adler bath toiletries
Plush robes
Slippers upon request
Coffeemaker upon request
Mini-fridge upon request
Iron and ironing board
In-room safe
Rollaway upon request
As I entered the room, there was a small bench in the entry-way — a perfect place to put on shoes. As I walked in, the suite was basically 1 large room. There was a television on top of the dresser and refrigerator to the left, a desk, a table with 2 armchairs in the center, and a king bed to the right. 
The bed was quite comfortable, though electric outlets were located on the wall farthest from the side of the bed, so it's best to bring a cord that can reach if you want to have electronics handy nearby. I slept well and didn't find any noise outside to be bothersome (though, I am admittedly a deep sleeper).
Turning immediately right in the room I found the bathroom — enormous by most hotel standards. It featured 2 sinks, a bathtub, and a walk-in shower with a marble bench. This hotel features toiletries in bulk – so you won't find single-use plastics here. In the shower, there is conditioner, shampoo, and shower gel in large pump bottles, which helps cut down on the amount of waste in small containers.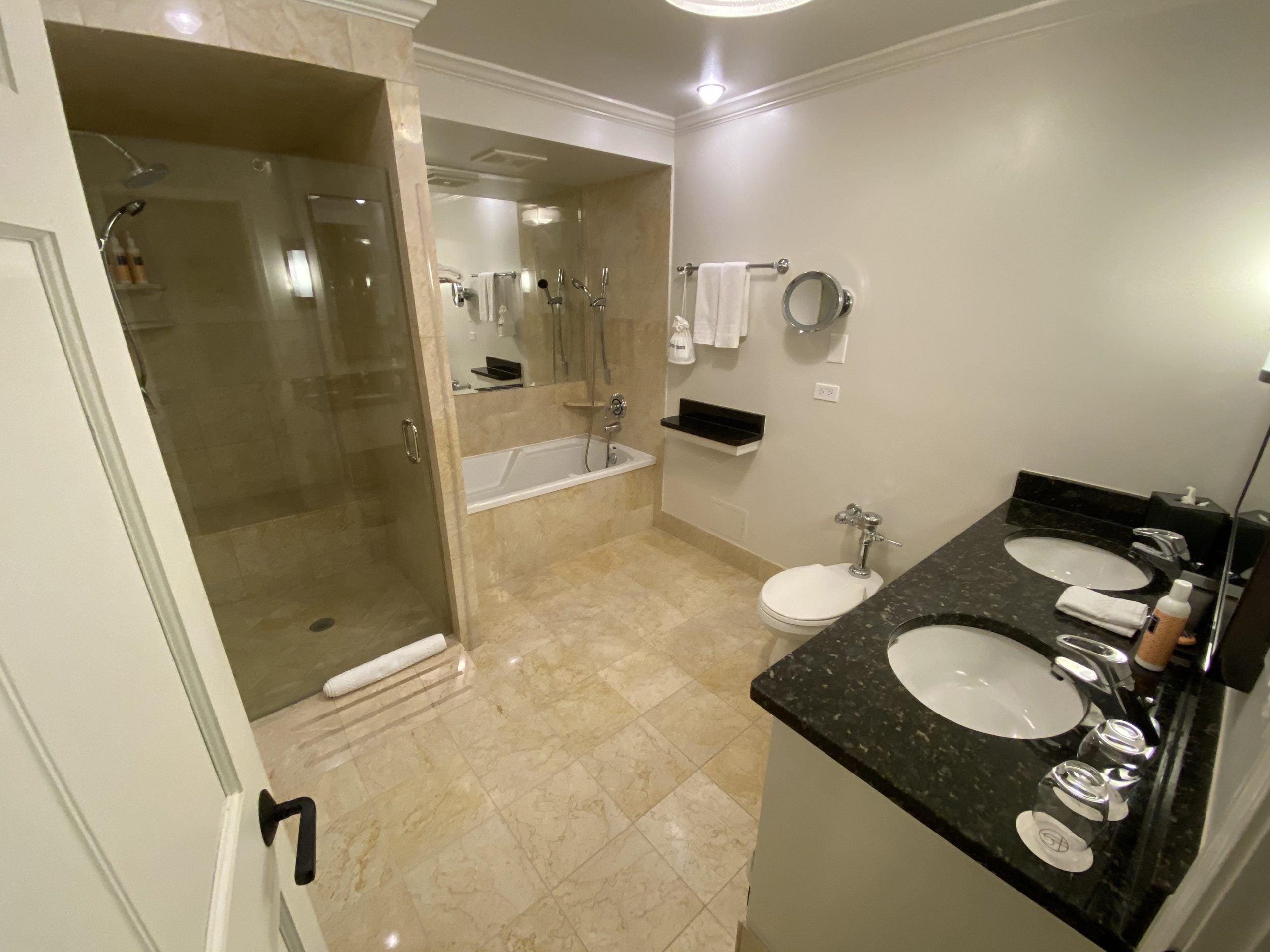 A walk-in closet featuring robes, extra blankets, and the ironing board was located just outside of the bathroom.
Given the freezing temperatures outside during the time I stayed, I was very comfortable with the temperature of the room — unlike some hotels in Chicago, The Talbott could keep up with the cold, and the heat was very comfortable.
Bottom Line: The room was quite comfortable but was a touch dated — a light refresh would do the room really well. The room overall (and the hotel, quite frankly) had a very Kimpton Hotel-like feel, with a modern, but funky style.
Food and Beverage
The hotel has 1 restaurant, 20 East, serving American style cuisine with modern touches.
The restaurant is open as follows:
Breakfast

Monday – Sunday: 7:00 a.m. – 11:00 a.m.

Lunch

Monday – Sunday: 11:00 a.m. – 5:00 p.m.

Dinner

Monday – Thursday: 5:00 p.m. – 10:00 p.m.
Friday – Saturday: 5:00 p.m. – 11:00 p.m.
Sunday: 5:00 p.m. – 9:00 p.m.
The hotel also features a 24/7 room service, which is welcome in a major city like Chicago when you can definitely stay out late or get up super early.
While I did not dine in the hotel, the restaurant was packed every evening and morning — a testament to its offerings.
Service
The service at this hotel was friendly and prompt. One of the great amenities the Talbott Hotel offered is a texting service for questions or needs. Several days before the stay, I received a welcome text asking if there was anything I needed, and then I received a follow-up text after I checked-in to ensure that my room was okay.
Throughout the stay, I texted the number back to request several things — one day I asked for more bottled water, and another day I asked for a specific time for housekeeping to service the room.
While some hotels use in-app chats for communication, having a number to text is incredibly easy and user-friendly and avoids the need to log in to a separate app and have to interact with a live chat.
With texting, you can reply when you're available and don't have to worry about "staying on the line" waiting for help. The service at this hotel was above-par and definitely representative of the Hyatt brand.
Final Thoughts
For the price, I was very impressed with the Talbott Hotel. The room was nicely sized, the service was friendly, and the stay went off without any hitches.
The location is absolutely wonderful, and within walking distance of most attractions, something that was very important to me. It's near public transit, and won't take long to get anywhere. Service was better than most Hyatt hotels I've stayed at, thanks to their new texting system.
I would definitely consider this my go-to Hyatt property in Chicago if the price was right.