Hyatt Centric Waikiki Beach in Honolulu – Review
The Hyatt Centric Waikiki Beach is one of 3 Hyatt hotels located in downtown Honolulu, right near the famous Waikiki Beach. This hotel is an affordable property and provides an upgraded stay experience, though it does have some drawbacks.
Hyatt brands its Hyatt Centric brand as a hip, modern-style hotel with upscale amenities, rooms, and experiences, though this particular Hyatt does fall a little bit short of that marketing.
That said, for World of Hyatt members, this property will be particularly beneficial, which we'll talk about more in the review.
Hotel Location
The Hyatt Centric Waikiki Beach is located about a 5-minute walk from the beach, and about 2 blocks to the nearest access point. The hotel is not beachfront and is set back off of the main shopping street. If you're looking for a property with direct beach access, this hotel won't be for you.
This hotel used to be an old office building that was renovated into a hotel several years ago. As such, it has the look and feel more so of an office building than a built-from-scratch hotel. Because this hotel was repurposed, it does not feature any lanais (balconies), which is one of the biggest drawbacks to staying here. If you're visiting Hawaii, you will more than likely want to experience the fresh air and amazing views, and this hotel really doesn't provide on that front.
That said, the hotel is in a great location for walking to nearby restaurants and the Waikiki area. If you're not a beach lover or don't care about every room having a balcony, certainly this hotel would be fine for your needs.
It is approximately 20 minutes from the Honolulu (HNL) airport, accessible by a local bus or rideshare services.
Hot Tip: Planning to explore Maui or Kauai? Check out our tips on the best things to do, see, and enjoy in our Ultimate Travel Guide to Hawaii.
Booking

 
For this particular stay, I booked under a Healthcare Heroes Friends & Family rate, which is an extraordinarily low rate offered to medical personnel and first responders. I was eligible thanks to my emergency medical services credentials.
Normal rates for my stay in January were in the $200 range, and my healthcare rate brought it down to $129 a night, which I thought was very reasonable.
This property is a Category 4 in the World of Hyatt loyalty program. It costs 15,000 World of Hyatt points to stay here, and you can also use The World of Hyatt Credit Card Category 1-4 certificate on any night where there are points available. Because you can use the credit card free night certificate here, this hotel is a fantastic deal, especially with its location just steps away from the beach, and in the heart of Honolulu.
Hot Tip: Looking for other options? Check out our guide to the best hotels in Hawaii to book with points.
Rates in Honolulu can vary wildly depending on the season, so being able to use a Category 1-4 certificate can definitely come in handy.
Bottom Line: This hotel is a Category 4 hotel costing just 15,000 points a night. You can also use a Category 1-4 certificate from your World of Hyatt card.
Elite Benefits
Guests at the Hyatt Centric Waikiki Beach receive all World of Hyatt benefits.
On account of my top-tier Globalist status, I received:
Complimentary high-speed internet
A room upgrade to a Mountain View Suite
Waived resort fee
Waived overnight parking fee (if I was using points)
Complimentary bottles of water
A waived resort fee that covers reusable water bottles, Wi-Fi, beach chairs, yoga classes, cabana rentals, and GoPro rentals.
Under normal circumstances, I'd also receive complimentary full breakfast in the hotel's restaurant, but because this facility was closed due to COVID-19, I was provided with 500 World of Hyatt points every night in place of having breakfast.
Amenities

 
Parking
The Hyatt Centric Waikiki Beach is attached to a garage that offers parking for $42 when self-parked, or $45 when using the valet. Parking for guests is on the fifth floor or above, and the garage is relatively tight, so keep this in mind if you're renting a car. I had a car with me during my stay and was fortunate to take advance of a promotion running for complimentary parking throughout the stay.
Hot Tip: The garage is very tight, so if you're renting a car, consider renting a smaller car so it is easier to maneuver throughout the garage.
Due to COVID-19, when entering the ground floor of the lobby on your arrival, you are asked to call the front desk so that they can let you up to the check-in area. This was done to prevent any stray visitors without reservations but did seem a little clunky in practice. I wish they had an attendant on-site in the lobby to direct guests to do this, but I didn't find out until I called the front desk itself.
Wi-Fi
Wi-Fi was free of charge (included in the resort fee) and there was no premium Wi-Fi option, even though that is a benefit for World of Hyatt elite members. I found the internet to be very usable throughout the stay, both for emails, web surfing, and videos.
Restaurant
The hotel does have a restaurant on the lobby level, but unfortunately, it was closed throughout my stay due to COVID-19. Because I had breakfast included with my status and the hotel wasn't able to honor this I was provided with 500 World of Hyatt points per night in compensation.
I've eaten in this restaurant before on previous stays and have always found the food tasty — while it's not my favorite hotel restaurant, it certainly gets the job done.
Pool and Sun Deck
Off of the lobby level was an ankle-deep pool, great for dipping your toes, but not usable for any swimming. If you're the type that likes to relax by the pool but not go in, this area will be great for you as there were plenty of recliner chairs and cabanas surrounding the area.
The cabanas are able to be rented for a small fee and are free for Globalist guests.
Off to one side was a small hot tub that I enjoyed during the evening.
During my visit, the pool was never crowded. I think I saw maybe 1 person relaxing in one of the pool chairs during my entire stay.
The hotel had plenty of hand sanitizer stations around the hotel, so there was no excuse to not ensure your hands were clean.
That said, I didn't appreciate that the hotel offered reusable water bottles (I didn't take them) and a refilling station — while certainly environmentally friendly, it would have been nice if they had proactively offered bottled water to everyone in order to limit touchpoints. Fortunately, they obliged without an issue when I asked for sealed bottles of water.
Hot Tip: Like most hotels in Waikiki, this hotel charges a resort fee of $33 a night, covering basic amenities such as Wi-Fi, fitness center usage, and beach chairs, among other things.
There really weren't a lot of noticeable changes due to COVID-19. While the gym capacity was capped and the restaurant was closed, by and large, the hotel was operating as normal.
Room
I was given a Mountain View Suite 1 King Bed for my stay. When I booked my room, I used one of my Globalist suite upgrade certificates to upgrade the entire stay, and the hotel was nice enough to further upgrade me to the Mountain View Suite, slightly larger than the standard suite.
Bedroom
The room was plenty big, featuring a large closet as you walk in, a king bed, an armchair, and a desk against the wall.
Living Room
In the back was a separate room with a television and sleeper sofa, which was a great area to work and have some privacy with a sliding door. If you're staying with someone else and are an early riser, or need some privacy for a phone call, this is a perfect suite to upgrade to because of this side room.
Bathroom
The bathroom was rather large, featuring a toilet, a single sink, and a walk-in shower, with the controls appropriately by the door and not under the showerhead where you were likely to get wet while turning on the shower.
Views
The room featured views of the city and surrounding mountainside, which was definitely quite breathtaking, especially after the morning sunrise. Unfortunately, there was no ocean view.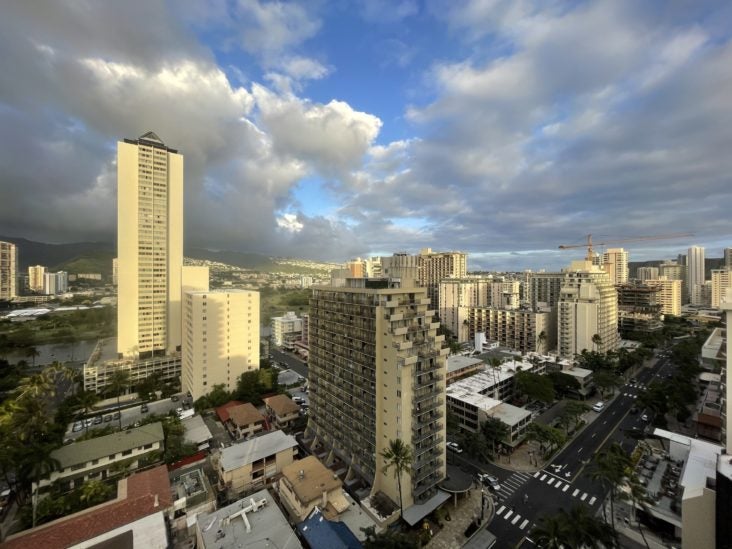 Hot Tip: As mentioned before, but worth repeating, this hotel does not have any balconies on any rooms, so if you want any fresh air, you need to completely walk outside of the hotel. This is a major downside and a reason that you may not want to stay at this property. 
COVID-19 Precautions
There were no COVID-19-specific precautions in the room itself — toiletries were placed out as usual, no items were sealed or wrapped throughout the room, and there was no seal on the door. Had there not been a pandemic, you would not have noticed anything different about this room.
Food and Beverage

 
Unfortunately, this was one of the downfalls of this property — there were no food or beverage outlets open due to COVID-19.
That said, there are plenty of nearby restaurants and markets, so you certainly won't go hungry — just don't visit anticipating any food on-site.
Service
I found the front desk personnel incredibly friendly and helpful. I was checked-in with ease, and for the several requests I had throughout my stay, they were honored quite quickly.
I also appreciate the fact that I was allowed to stay in my suite for the eighth night of my stay — technically this was beyond the use of the suite upgrade certificate I had used, but the hotel was nice enough to let me stay without moving rooms.
All this said, there was 1 major issue, and unfortunately, it occurred after I had checked out. I was charged both a resort fee (which I shouldn't have been) and for parking (which should have been free). It took multiple calls to the front desk to have this rectified, and at 1 point I was told that a "case" would be started, but I only received a new invoice proving the refund and the error from the hotel once I contacted a manager. Unfortunately, this left a sour taste in my mouth and could have easily been rectified had the hotel appropriately reviewed the bill to ensure the erroneous items shouldn't have been charged.
Final Thoughts
The Hyatt Centric Waikiki Beach is a well-located hotel in Waikiki, very walkable to most restaurants, the beach, and nearby hotels.
While the hotel does not offer any outdoor spaces in the rooms, this property can be a great value when using World of Hyatt points or certificates and is certainly a great Hyatt option on the island of Oahu.