Mar Monte Hotel in Santa Barbara – Detailed Review
The Mar Monte Hotel, formerly known as the Hyatt Santa Barbara, is Hyatt's upper-end hotel located along the beautiful Pacific Coast Highway in Santa Barbara, California.
There are 2 Hyatt properties in Santa Barbara — the other being the Hyatt Place Santa Barbara — but the Mar Monte Hotel is the definite winner of the 2, with its prime location along the ocean, its Spanish charm, and walkability into the downtown area.
This property is part of The Unbound Collection by Hyatt, offering an upscale property with a local vibe. The Mar Monte Hotel doesn't disappoint in this regard and is definitely one of my favorite Hyatt hotels for a stay in California.
Hotel Location
If you're visiting Santa Barbara, you're probably visiting for the coastal vibe of this town, and there's no better place to be situated than along the Pacific Ocean. The Mar Monte Hotel is located at the far end of the strip of hotels on East Cabrillo Boulevard, almost at the end of town.
For some people, the hotel's location can be a drawback. It's an approximately 2-mile walk into the heart of Santa Barbara on State Street, where most of the restaurants and shops are located. While the walk along the water is beautiful (and flat), it can be quite tiresome to walk back and forth, especially if you're looking to eat out multiple times a day. On the flip side, the hotel is situated right along the water, making for some fantastic views.
There are some nearby restaurants, though if you're looking for the true downtown area, you'll need to either walk, take a city bus, or, new to Santa Barbara, ride an electric bike, located at several charging stations throughout the city.
This hotel does not feature a beach belonging to the hotel itself, and the hotel is separated from the city-owned beach by East Cabrillo Boulevard, a somewhat busy road during the peak times of the day. While there's not a lot of annoyance with traffic or vehicle noise, it's something to keep in mind if you're looking for a property that has unobstructed access to the water.
Hot Tip: The hotel is an approximately 25-minute drive from Santa Barbara Airport (SBA) and an approximate 5-minute drive to the Amtrak station. If you're headed to the airport, your best options for transit are rideshare, and for the train station, you could either rideshare or walk, depending on how much luggage you have with you.
A quick jaunt across East Cabrillo Boulevard brings you directly to East Beach.
From the property, you can take the 4.5-mile long Cabrillo Boulevard Bike Path east to Leadbetter Beach and Shoreline Park or west to Butterfly Beach in Montecito. View the City of Santa Barbara official bike map for a full detailing of area options.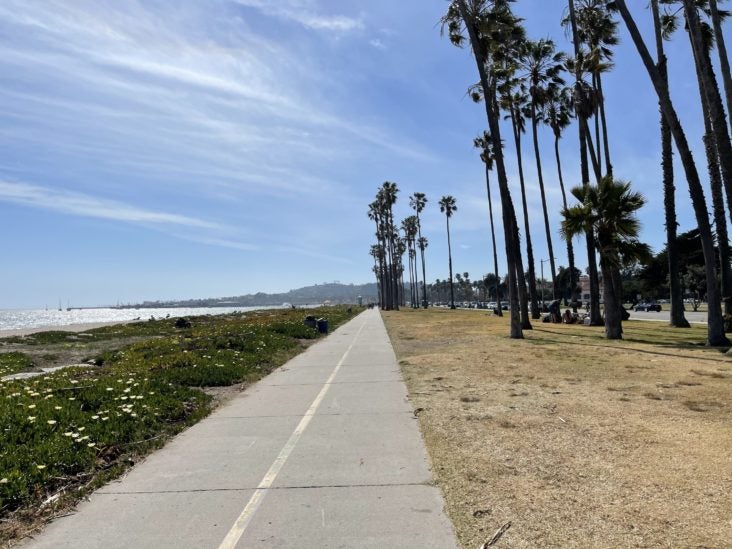 Booking
I booked this hotel with a Healthcare Heroes Friends & Family rate (that I am eligible to use) at $129 nightly. This hotel typically costs well over $200 a night, with most weekend nights averaging well north of $300 a night.
This hotel is currently a Category 5 hotel, requiring 20,000 World of Hyatt points nightly.
Hotels in Santa Barbara tend to be quite expensive, and rates really vary wildly depending on the day and the property.
There are basically 3 sets of hotels in the area:
Outside of the downtown area (such as the Hyatt Place Santa Barbara)
Within the downtown area, walkable to State Street (the main drag through town)
Oceanfront (such as the Mar Monte Hotel)
The most expensive properties actually are usually the ones located right in town since these are walkable to most of the entertainment options, restaurants, and shops.
Elite Benefits
This hotel provides a selection of elite benefits that I was able to take advantage of as a top-tier World of Hyatt Globalist member.
As I checked in, I was able to avail myself of the following:
Guaranteed late 4 p.m. checkout
Complimentary breakfast in Café Lido
Complimentary premium internet
Waived resort fee (for Globalists or those on award stays)
Complimentary upgrade
Complimentary in-room bottles of water
For this stay, I didn't need the 4 p.m. late checkout so I advised the check-in clerk of this. Breakfast was provided each morning and will be touched on in the later Food & Beverage section. For internet, the hotel appears to only have 1 internet option that all devices connect to, and it was very fast throughout my stay so I didn't have any issues connecting.
On this occasion, I wasn't upgraded because I had already used a Globalist suite upgrade. These coupons are given to Globalists upon achieving status and allows them to secure a suite if a standard suite is available. At this hotel, the standard suite is the Santa Maria Suite.
Amenities
If you're not a Globalist, you'll have to pay the $30 resort fee that includes the following:
2-hour bicycle rental
Saturday beach yoga
Lobby wine tastings
Bocce ball court
Resort games
In-room bottled water
In-room coffee and tea
Welcome gift (PPE kit, which have not received after multiple stays at this hotel)
Tesla and standard EV car chargers
Local/800 calls
While Globalists don't pay the resort fee, they're still entitled to all of the amenities included, though it's really worth noting that the yoga classes and wine tastings have been suspended due to COVID-19. I did not receive a welcome gift (in this case, a PPE kit).
Outside of this resort fee, there are a few amenities throughout the property.
Pool
Located directly next to Café Lido is a pool surrounded by deck chairs and tables. This pool enough is small enough to relax in but isn't really large enough to exercise in or do any proper laps.
Wi-Fi
Wi-Fi throughout the property is completely free, and no matter where you are, you can simply connect to the network without any issue.
Hot Tip: There is no basic vs. premium internet package and all guests are simply given a premium package that I never had any issues using.
Complimentary Bike Rentals
The hotel offers complimentary bike rentals, which are first-come-first-served. They ask you only rent these for an hour at a time to allow other guests to use them, and from other online reviews, it does seem that you need to rent them early to be able to get one as a waitlist builds throughout the day.
Bocce Court
Near the Santa Maria building is a bocce court, and to use it you'll need to see the front desk for your equipment. This area also is a nice lounging spot with couches and chairs where you can bask in the sun.
Parking
If you're looking to park your car, only self-parking is offered, and the spots are located right alongside all the rooms so it is a very short walk from your car to your room. There's also an underground garage if things get busy, but I never saw anyone drive down below.
Parking is $20 a night, payable on your final folio. You're given a parking pass to display in your dash to verify that your car is allowed in the lot.
Room — 1 King Ocean View Suite
For this review, I'm going to look at 2 different room types since I stayed in this hotel twice within a month, each with different room categories.
The 1 King Ocean View Suite was the entry-level suite at this hotel and is the suite one would receive as a complimentary upgrade as a Globalist, or when using a Globalist suite upgrade. For my stay, since it was 6 nights, I used a Globalist suite upgrade to ensure I was in this larger room.
This King Ocean View Suite was located in the Santa Maria building of the hotel. Interestingly, this hotel has 3 main buildings along the water, and then a separate building 2 blocks away called the Palmoro House. The Santa Maria building was the closest building to the downtown of Santa Barbara and was about a 1-minute walk across the small parking lot from the front desk.
If you like to be in the main building of the hotel, where most of the amenities are, this building won't be for you, though the plus side is that it feels a bit more secluded and private since there are fewer rooms on each floor.
The suite was located on the top floor of the building. It's located directly off of the elevator, though I didn't notice any noise that was bothersome.
Once you entered the room, there were 3 distinct sections to the suite: the bathroom, a living room, and the bedroom.
Bathroom
Starting off to the left was the bathroom, which was really generously sized.
Inside was a double vanity sink, soaking tub, stand-up shower, and toilet. There's a lot of room to move around, and it's certainly nice to be able to spread out in such a large bathroom.
That said, there were a few noticeable complaints.
Firstly, the shower door, when swung out, hit the floor (it appears either the floor wasn't level or the shower door wasn't cut properly). It's a big annoyance when entering the shower.
Secondly, the wooden blinds above the tub didn't close properly, no matter how carefully you tried to close them. It's hard to get privacy in a bathroom when it's possible for folks on the outside to peer in and see.
Lastly, the toilet didn't seem to flush properly throughout the stay — another annoyance.
Living Room
In the living room, there was a desk with a refrigerator built-in, 2 armchairs, a couch, coffee table, and television. It was a comfortable area to sit and relax, and admittedly I did take a few naps on the couch.
While the area was certainly usable throughout the stay, I couldn't help but think that the look and feel of the suite was a tad dated. The hotel had undergone a renovation several years prior and it just seemed like the renovations in this room were done on the cheap side.
Bedroom
In the bedroom, there was a large king bed, 2 nightstands, a television, and a sitting chair. The bed was quite comfortable for me, and it was nice to close off the living room with a sliding door. My 1 complaint about the bedroom is that there were 4 window shades that needed to be closed before going to bed in order to blackout the light.
There were several cords for each shade, and 2 of the windows were behind the television, making them difficult to close. It was a nightly ritual having to figure out which cord to pull to close which shade, and I wish the hotel could have simplified things a bit.
Room — 1 King Corner Premium View
On a stay a month earlier, I was upgraded to the King Corner Premium View room complimentary as a Globalist member. I enjoyed this room so much that I actually requested it to be added to my Hyatt profile as my favorite requested room in this hotel.
The room was located on the second floor of the main building of the hotel, directly on top of Café Lido, and a short walk down the hall from the lobby. Being within the main building is nice since you can have access to all of the amenities all in 1 place.
Bathroom
Walking into the room, there was a small foyer with the bathroom off to the left. The bathroom was enormous, disproportionately sized to this room, but well-appreciated. There was a sink with a vanity, a toilet, and a stand-up shower. In the shower, one of the nicest features of this bathroom, the controls were located toward the entrance, allowing you to turn on the shower without getting wet, a feature that most hotels don't have.
One issue I did notice in the bathroom was a lack of ventilation. With the shower being so hot, there wasn't an adequate system in place to get rid of the steam, so I found myself often opening the window above the toilet to try and not make the bathroom a sauna.
This bathroom had a stand-up shower and a soaking tub.
Bedroom
In the main area of the room was a sofa, desk with a built-in refrigerator, and television. There was plenty of space to walk around between each of the pieces of furniture and I didn't find it tight at all. On the bed stands were built-in outlets for charging your devices, which was nice.
Balcony
By far the greatest part of this room was the walk-out balcony, which was almost as big as the bedroom itself. There were 2 chairs and a table on this balcony, yet plenty of room leftover to walk around and look down on the pool below and the ocean just across the road.
The balcony was a great place to be in the evening to watch a gorgeous Santa Barbara sunset, and throughout the day I left the doors open for a nice breeze. It was my favorite part of this room.
Food & Beverage
During my stay, only Café Lido was open for breakfast and lunch dining (it is typically open to 8 p.m. on weekdays and 9 p.m. on weekends). Café Lido was located directly poolside, and there were a number of tables under an awning or scattered beside the pool to sit at.
I always found the service here to be great, and there was never a time where I was without a drink refill. For breakfast, there were all of the basic entrees — eggs, bacon, French toast, breakfast sandwiches, and more. The portions were generous, and everything tasted fresh.
For Globalists, there does appear to be confusion over what was included in the breakfast here, which is supposed to be complimentary. While the Hyatt terms and conditions provide for an entrée, coffee, and juice, this hotel has initiated an arbitrary $24 limit, which in many cases is not enough for these same items combined. I have reached out to Hyatt to inform them of this discrepancy, but you'll want to keep this in mind when visiting.
Hot Tip: Check out Café Lido's all-day dining menu featuring items like a California cheese board, salmon niçoise salad, and braised short rib ragu. A kid's menu and drinks menu are also available online.
Costa Kitchen and Bar is the other restaurant on-site and will offer a combination of Italian food mixed with California flare. The restaurant is reopening in Spring 2021 after a lengthy closure. This is the type of full-service restaurant you'll want to go to for a nice meal, whereas Café Lido offers more casual options in a poolside atmosphere.
Service
The service at this hotel was very friendly and certainly welcoming. One of the great features I enjoyed about this hotel is a text request service where you can message the front desk with any requests. I used this a few times throughout my stay to request housekeeping services, and they responded fairly quickly.
Unfortunately, due to COVID-19 precautions, housekeeping was not automatically provided daily, but I requested service a few times and it was provided without any issue.
I found the staff at Café Lido to be incredibly friendly, and I've found that always to be the case on every previous visit I've had as well. They're just so attentive and really want to provide a great breakfast experience.
COVID-19 Precautions
The hotel was doing a number of things to help slow the spread:
Plexiglass shields at the front desk to separate guests from staff
Reduced housekeeping services
Some breakfast items are provided in disposable containers, where possible.
Signs encouraging social distancing and mask usage throughout the property
I didn't really notice any hand sanitizer pumps throughout the hotel, so I think there definitely could have been more stations offered. Mask usage seemed to be compliant throughout my stay, both from a staff and fellow guest perspective — I didn't notice any issues.
One of the things that I think encouraged mask-wearing on-site is the fact that the hotel is located in a very temperate climate, allowing the hotels to keep doors and windows open throughout the hotel. With the great climate, it seemed like folks were more compliant.
Final Thoughts
The Mar Monte Hotel is definitely one of my go-to hotels in the Santa Barbara area. It's really well-located, especially for beach lovers, and provides relatively large rooms for guests to stay in. Breakfast is hearty and filling, and the staff is friendly and accommodating of any requests.
Be warned that this property can get expensive depending on the season; Santa Barbara is in high demand with tourists, so you'll want to book your room early to ensure you have a place to stay! If you're looking for a hotel with a beach vibe, this is definitely the hotel for you!