NoMad London Hotel Review – Covent Garden [Detailed]
If you know The NoMad Hotel brand, you'll understand how excited I was to find out that the small, extremely luxury, boutique brand would be opening its first international property in NoMad London.
After the sad and permanent closure of its original Broadway property in New York, London joins Las Vegas and Los Angeles to make a trio of dreams.
With the hotel's official opening back in May 2021, I was invited to take a tour of the property. I immediately understood why there was so much hype around the hotel's opening. I was blown away.
Since my first visit, I had been dying to return and experience NoMad London as a guest. So, when the opportunity arose on a recent trip to London, I seized it with both hands and made the most of every second.
NoMad properties don't belong to any hotel chain and the brand doesn't have a points system of its own. That meant the only way to pay was using cash — though I did manage to use an Amex Offer, too.
Hotel Location
The 91-room property is located directly opposite London's Royal Opera House on Bow Street — quite literally the perfect place to stay after attending one of its events.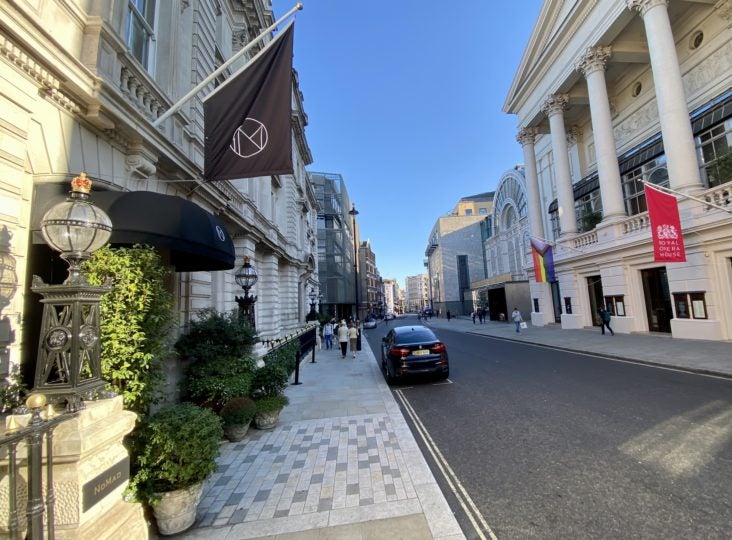 The nearest Tube station, at around a 5-minute walk away, is Covent Garden on the Piccadilly Line. If you're flying into Heathrow before your stay, I'd recommend getting on the Piccadilly Line direct to Covent Garden. It will definitely save you money, and probably time, too.
The Covent Garden area is about as close to the hustle and bustle of central London as you can get. In the heart of the West End, the hotel is within walking distance from theatres, shops, restaurants, bars, and clubs. In fact, you'd have no reason to take a cab or public transport anywhere during your stay.
Hot Tip: Check out our Ultimate Travel Guide to London, featuring the best things to do, see, and much more! We also have a guide to the best tours and activities in London.
Booking
As previously noted, it's not possible to redeem points for stays at NoMad properties.
It would be great if the contrary were true as the Classic Room started at £455 (~$625) per night and was the lowest rate available.
It just so happens that as I was doing my daily scan of Amex Offers, I noticed a "Spend £500, get £100 off" offer for NoMad London. How's that for perfect timing?
Thanks to the Amex Offer, and the fact it was the start of my birthday trip, I thought I'd treat myself to a Grande Room — 2 room categories above the Classic. The rate at the time of booking was £625 (~$859) per night, meaning with my Amex Offer I'd pay £525 (~$721). It was also a flexible rate, allowing me to pay on checkout rather than upfront.
While writing this review, I managed to find a flexible rate for the same room for slightly less at £615 (~$845)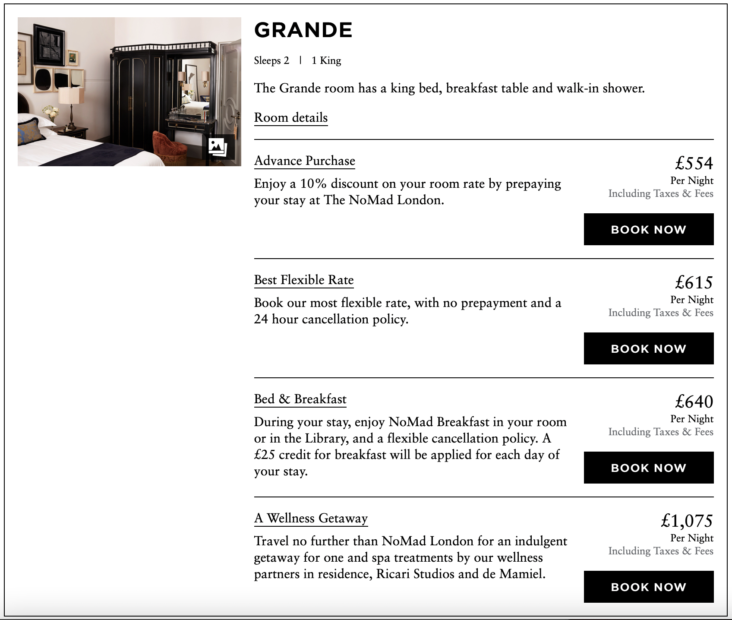 I lucked out even further as the hotel was offering a "London Calling" offer on its website. The benefits included 15% off of the room rate, late checkout, a complimentary upgrade when available, and a £50 (~$69) dining credit to use during my stay.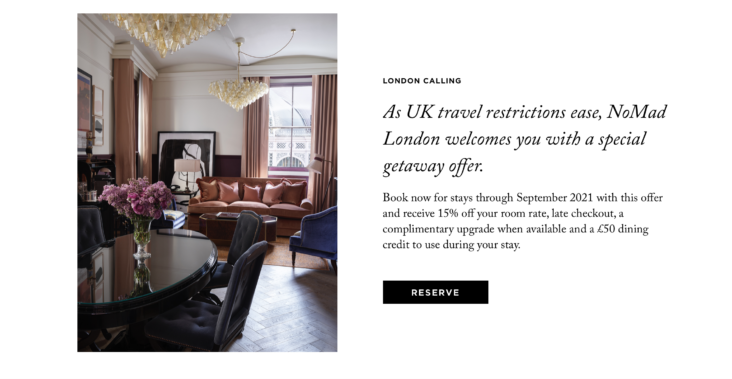 More about these benefits later on.
Checking In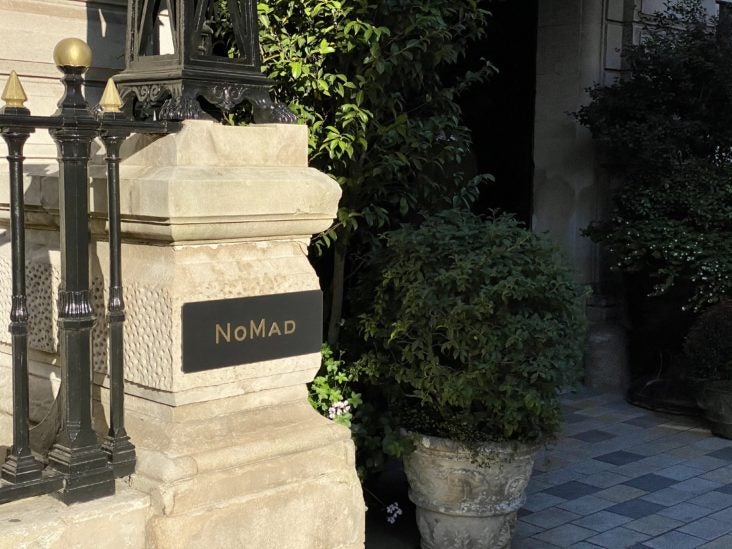 Upon arrival at the regal-looking entranceway, I was asked if I was staying at the hotel and my case was whisked away upon confirmation that indeed I was.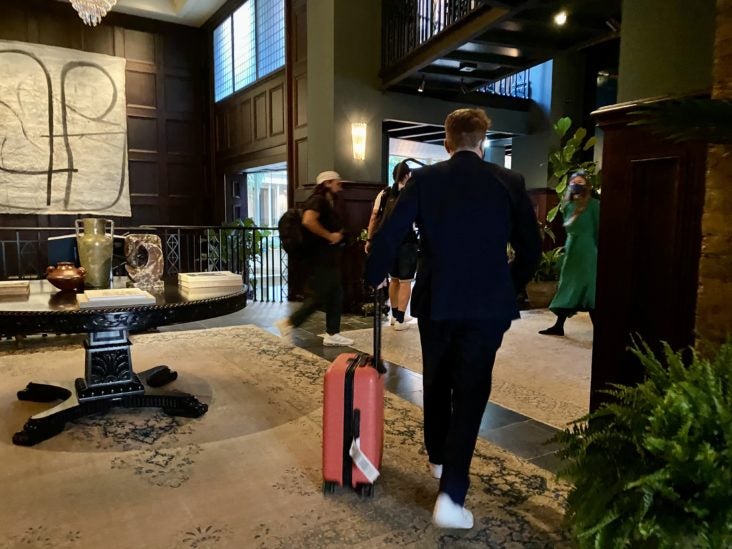 Immediately noticeable is the contrast of the darker of the interior to the bright, off-white building façade.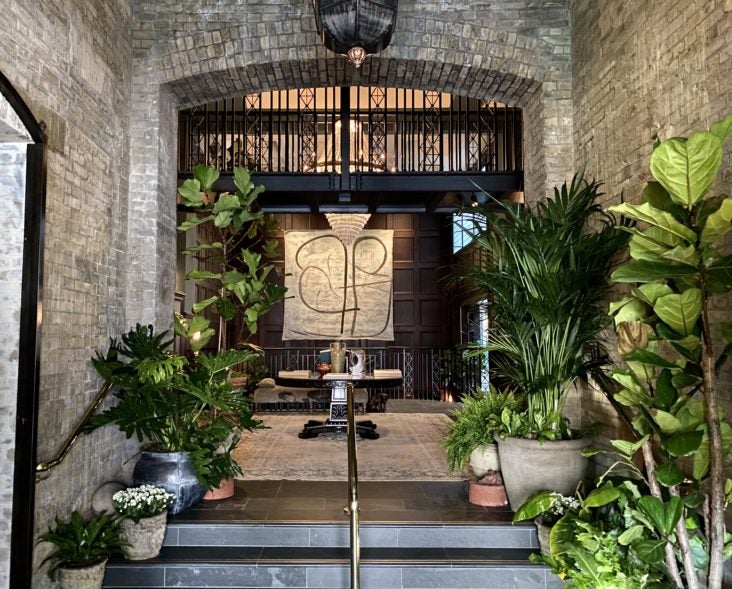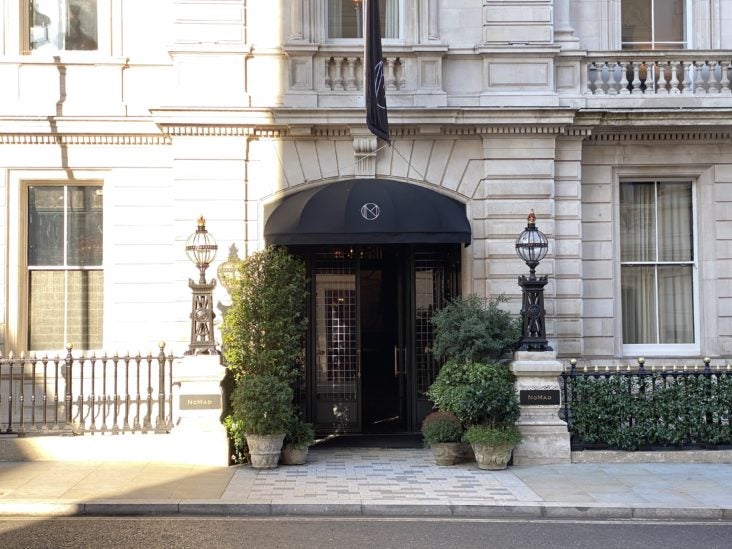 The contrast of lighter-colored soft furnishings and plants against the dark wood and paneling was a strong statement, making for a luxuriously cozy, yet sophisticated, first impression.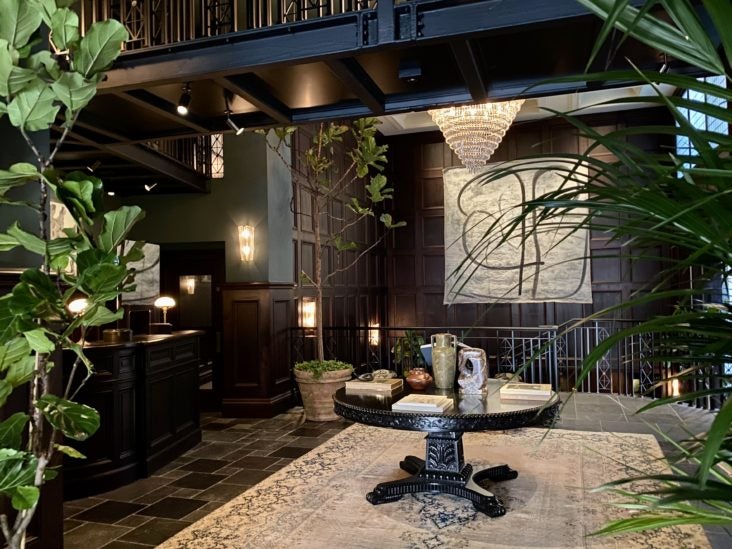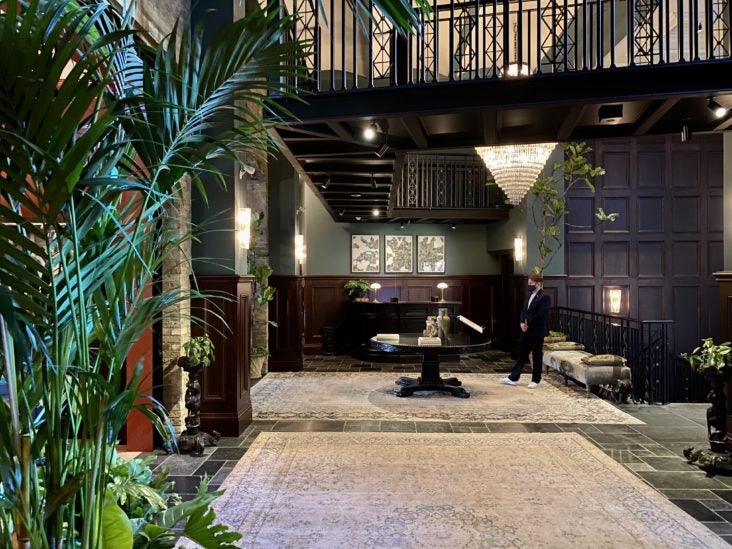 The reception desk was to the right at the top of the first small set of stairs. I was greeted by the lovely Eva who guided me seamlessly through my check-in process.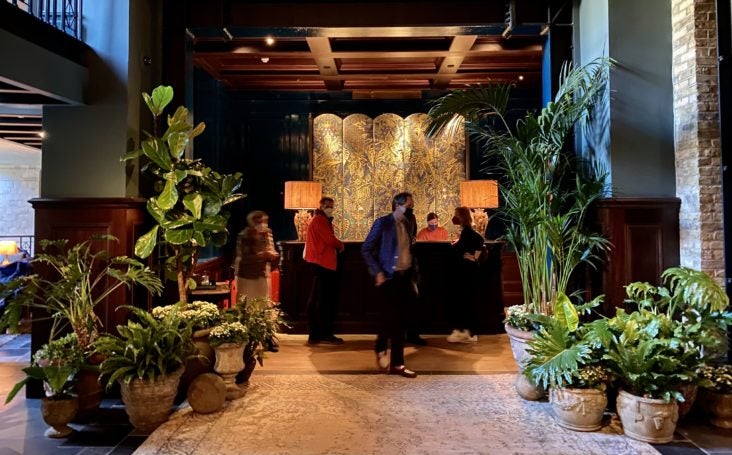 She informed me that the hotel was sold out — great news for business, but not for my "on availability" upgrade.
Eva then proceeded to escort me to my room.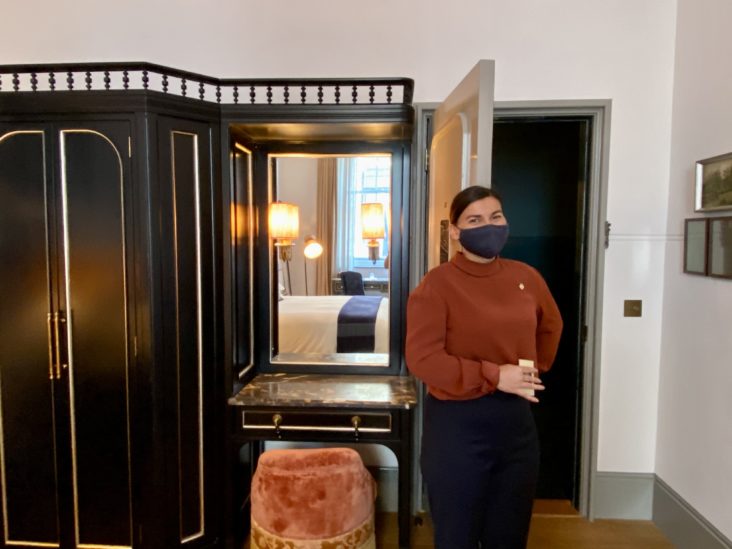 I was assigned room 214 — right at the front of the property, with views directly onto the Royal Opera House.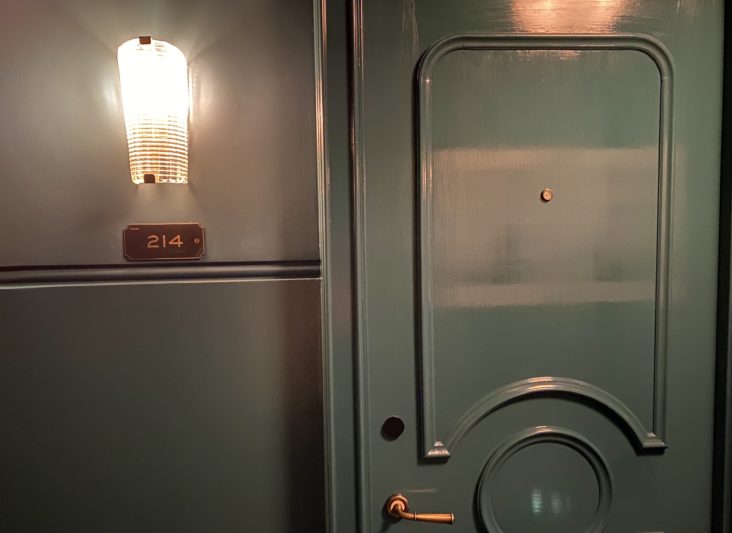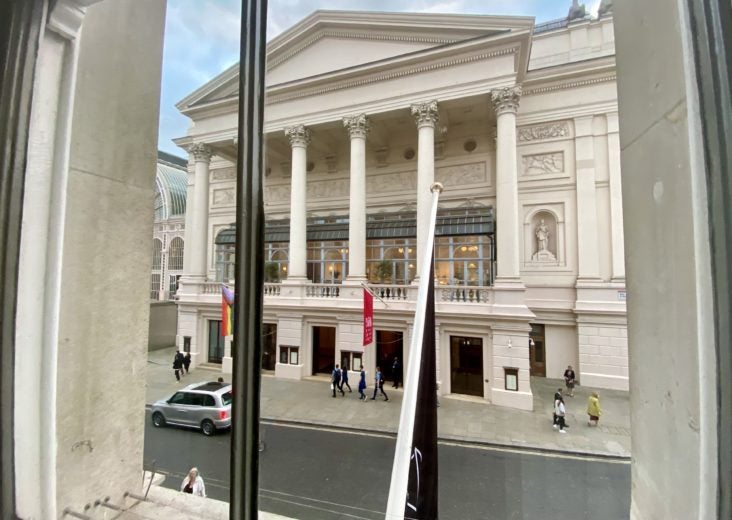 I'd already forgotten about not getting my upgrade.
Welcome Amenity
I was pleasantly surprised with a beautiful hand-written note welcoming me to the property. It was accompanied with NoMad-branded biscuits which had an addictive sweet and salty flavor.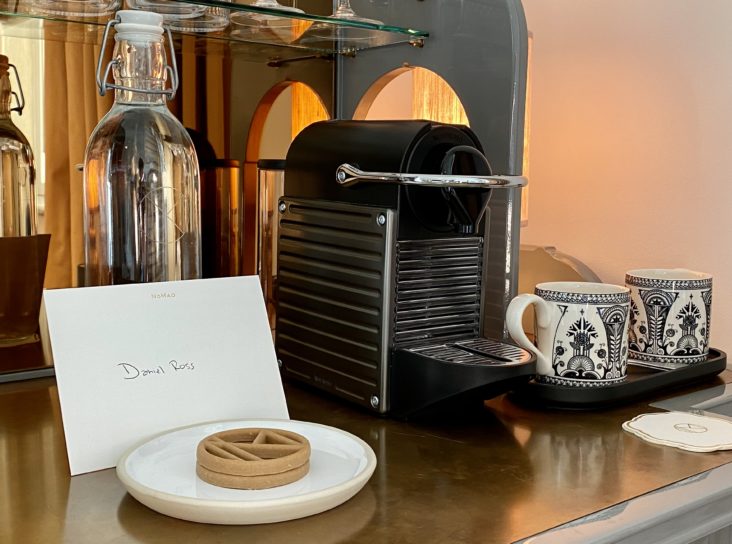 Late Checkout
While late checkout was included in my rate, I had to leave around 11 a.m. the next morning, so I didn't get to appreciate the extra time to enjoy the room and heavenly bed.
Amenities
Gym
Hotel fitness centers are oftentimes a let down for regular gym-goers. That was certainly not the case for the gym at NoMad London.
Fresh towels and water were available to help yourself.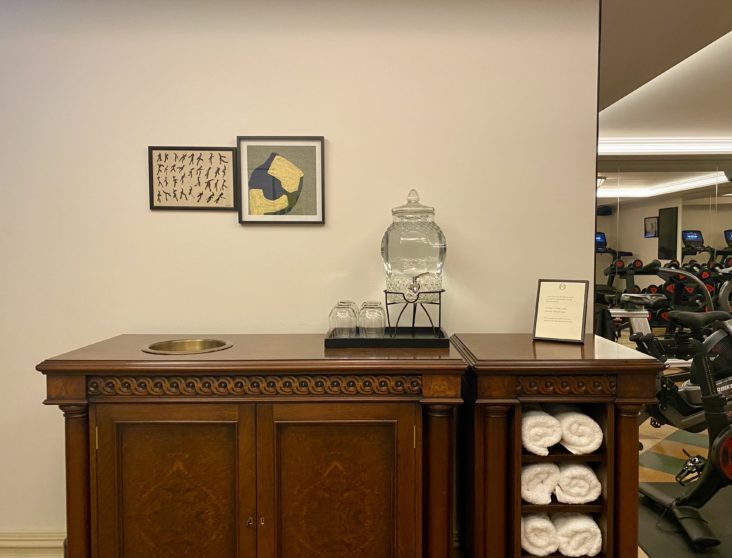 The highlight was the cable machine. I always find these provide the best workouts when traveling, given their versatility.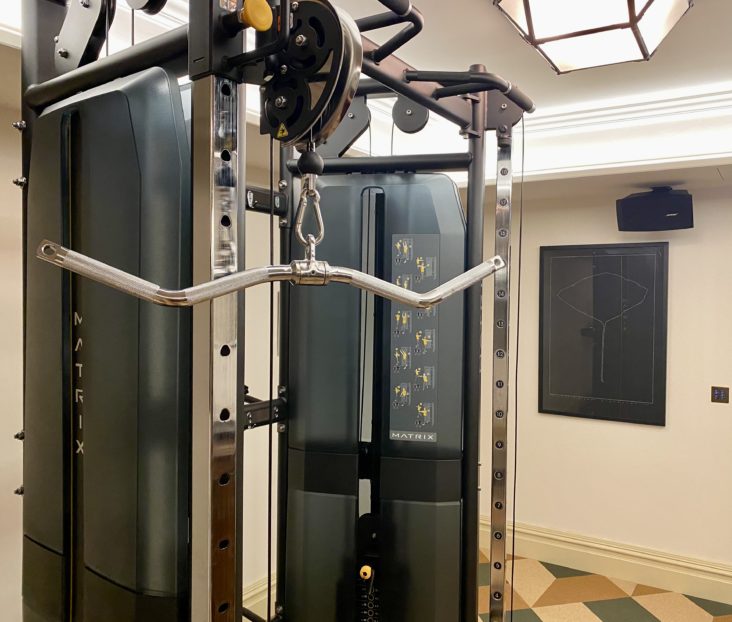 In addition, there was a weight rack with barbells up to 20 kilograms (44 pounds) each. I recently found out that this is about where hotel weight racks top out because the hotel would need to pay a higher insurance premium for heavier weights.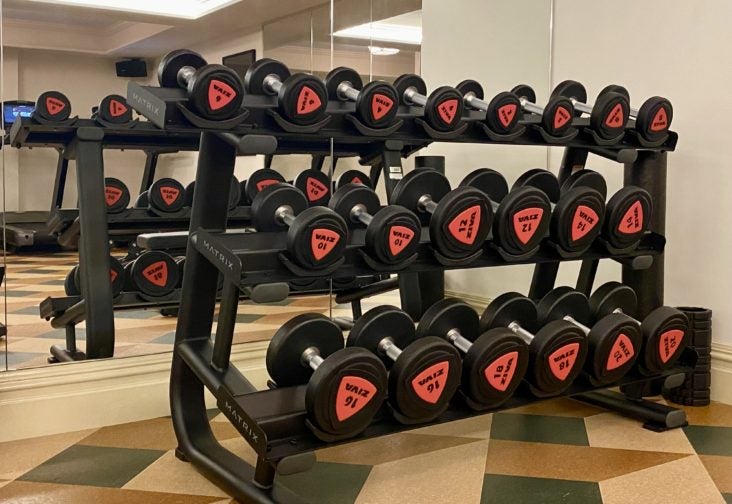 If you're a Peloton lover, then you'll also be a fan of NoMad London's gym.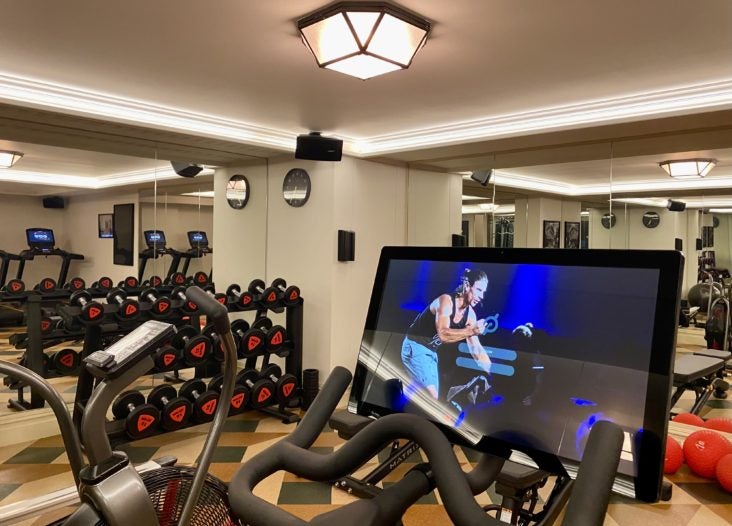 Even if you've never used Peloton and don't have an account, NoMad London kindly provides you with a username and password so that you can get on the hype, too.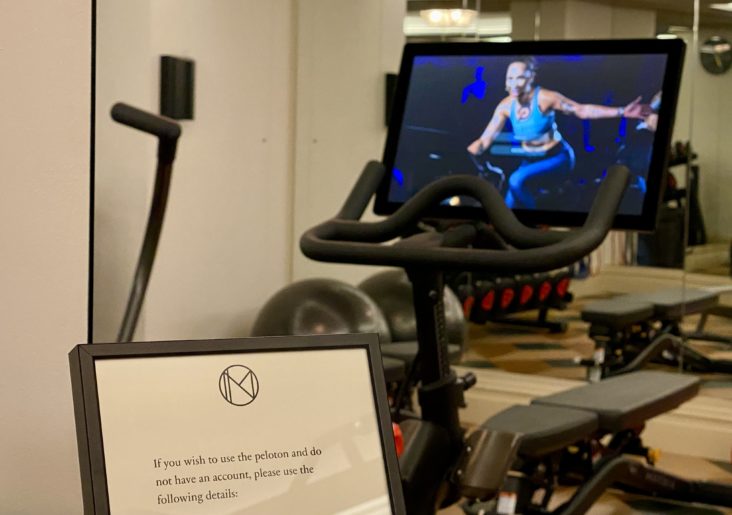 The space itself was clean, tidy, and, best of all, I was the only person using it.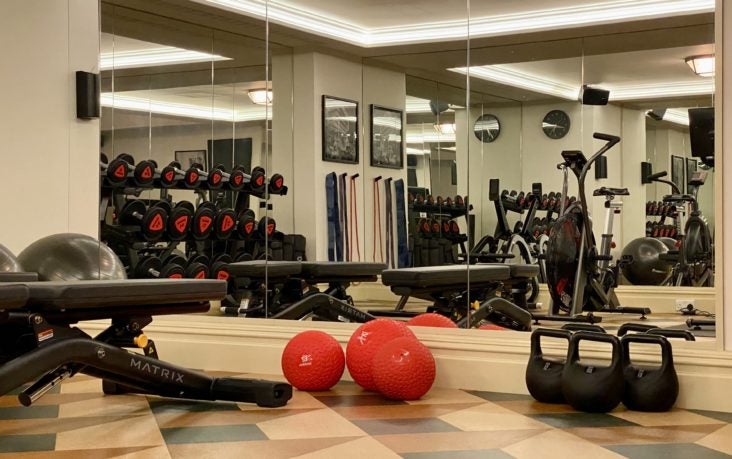 There were resistance bands, benches, and kettlebells, as well as all sorts of other pieces of equipment.
Spa
For those who like to indulge in full relaxation mode, NoMad London offers 2 spa treatment rooms. One is run by Ricari Studios and the other by de Mamiel. Treatments are available for both guests and non-guests.
COVID-19 Protocols
COVID-19 is taken very seriously at NoMad London. Despite mask-wearing no longer being a legal requirement in the U.K., staff members wore masks at all times. Hand sanitizer was present in all public spaces and was given as a bathroom amenity so that you could carry some around with you.
Contact was reduced where possible and QR codes replaced handheld menus when preferred.
I felt very COVID-19-safe during my stay.
The Room
I felt like I was staying in a modernized version of a "Downtown Abbey" set. If you're not sure what "Downton Abbey" is, have a quick Google and you'll see what I mean.
Bedroom
The size of the bedroom made it feel like more of a suite than just a "bedroom."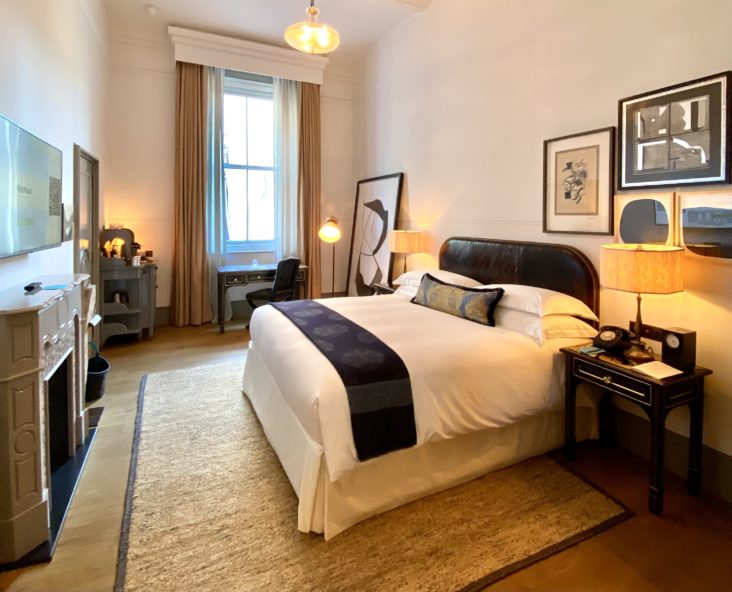 The sense of size was accentuated by the palatially high ceilings.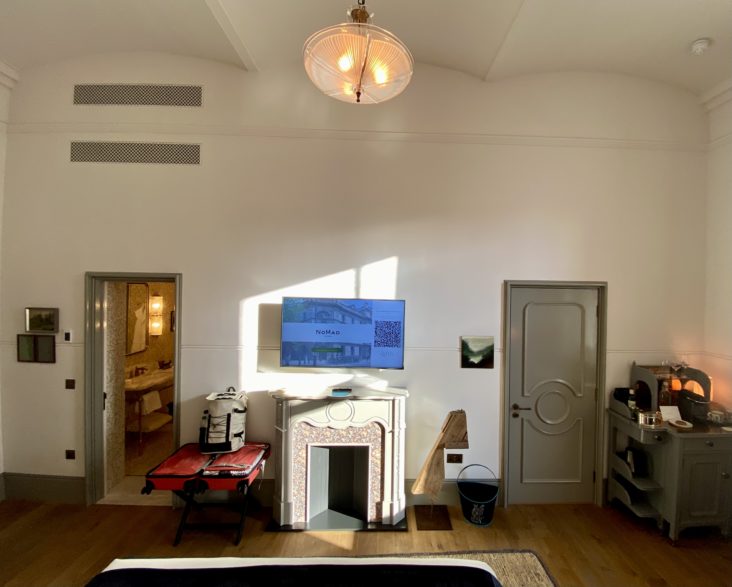 To the right upon entering was a vanity table and chair alongside a double wardrobe.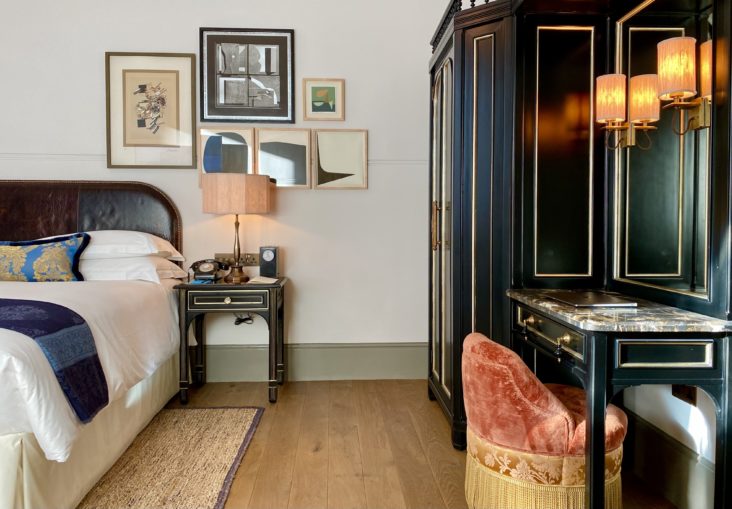 There was enough space in the wardrobe to hang a suitcase worth of items. I also found the usual amenities you'd expect like a hair dryer, slippers, and a safe.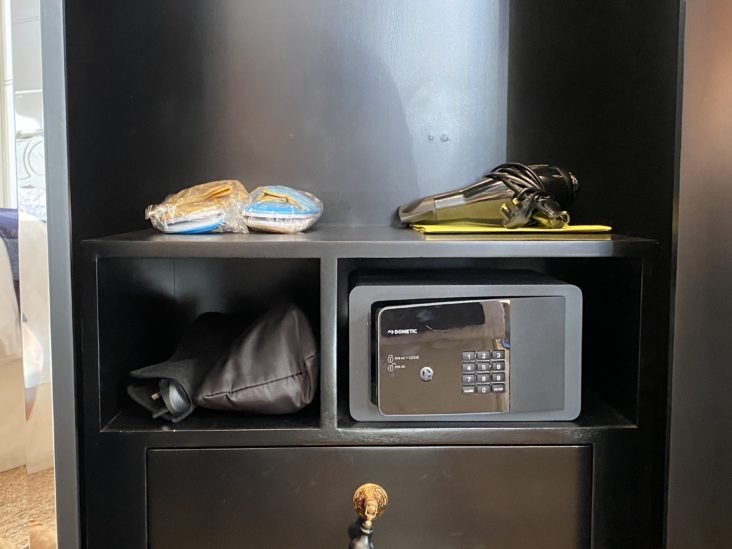 I was pleasantly surprised to see a good-quality hair straightener. While I used to use one daily in my early 20s (when poker-straight bangs were "a thing"), I thought it was worth a mention so that you have 1 less thing to pack.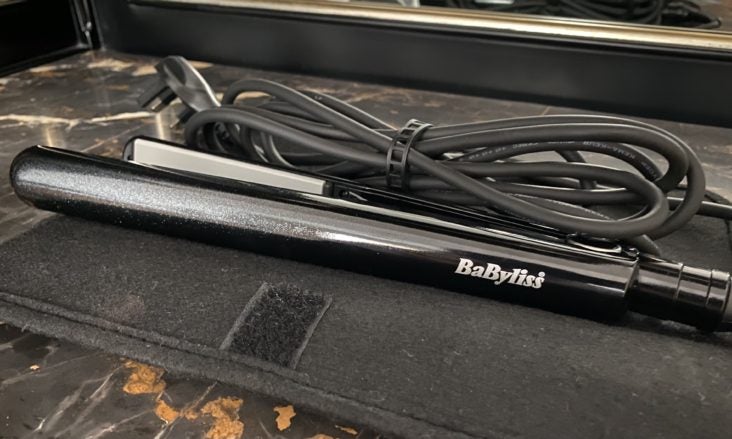 In the center of the room was one of the comfiest, cloud-like beds I've ever had the pleasure of sleeping in.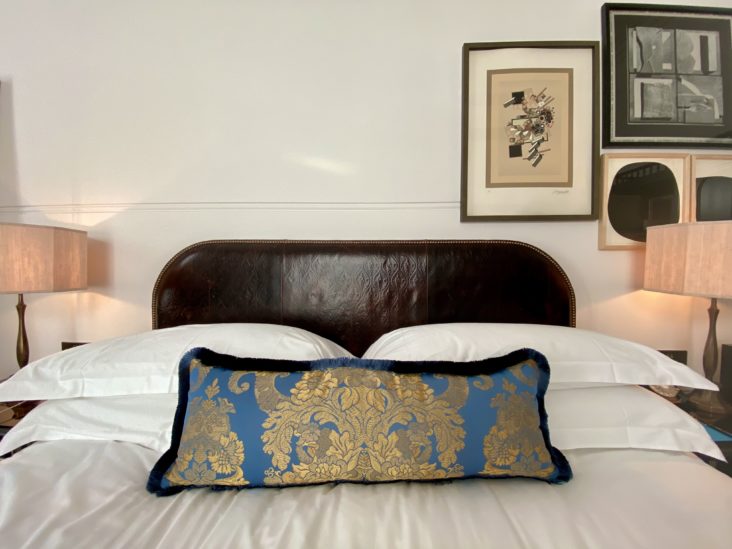 The linens were beautifully crisp and crease-free.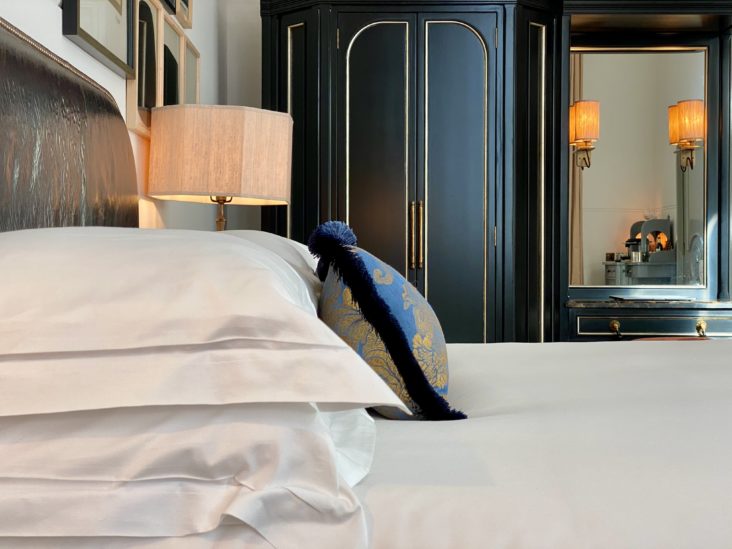 Atop the nightstand to the right of the bed was an old-school phone, notepad and pen, and an Oliver Hemming Songbird Bluetooth Speaker. I'd never heard of the brand before but I loved it so much that I've added one to my Christmas list.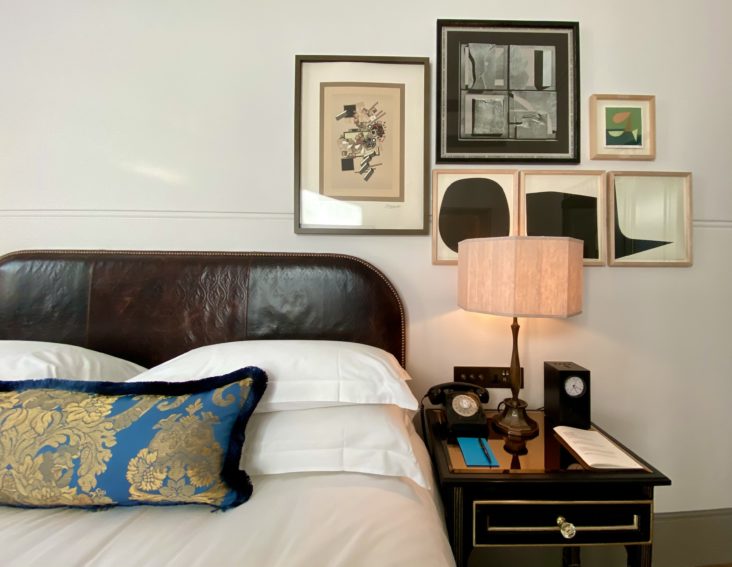 There was also a pamphlet with all the information a guest could need regarding room service, restaurant opening times, etc.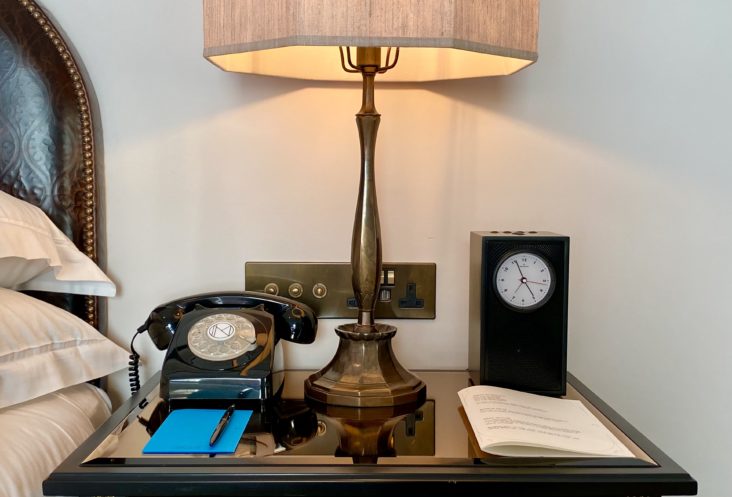 I liked that The NoMad Hotels' subtly sleek branding was to be found in places you'd least expect, like the chocolate biscuit welcome gift. It even found its way onto the dial ring of the rotary phone.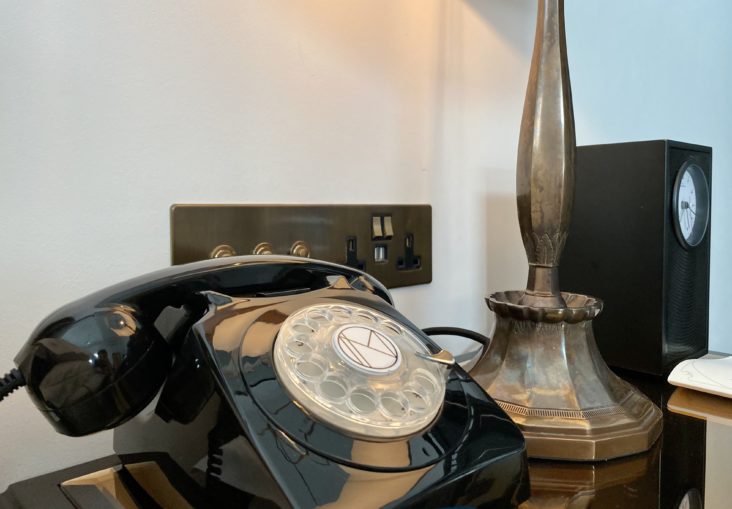 There were plenty of power outlets around the room. In perhaps the most important spot — both sides of the bed — there were U.K. and USB ports, as well as light switches.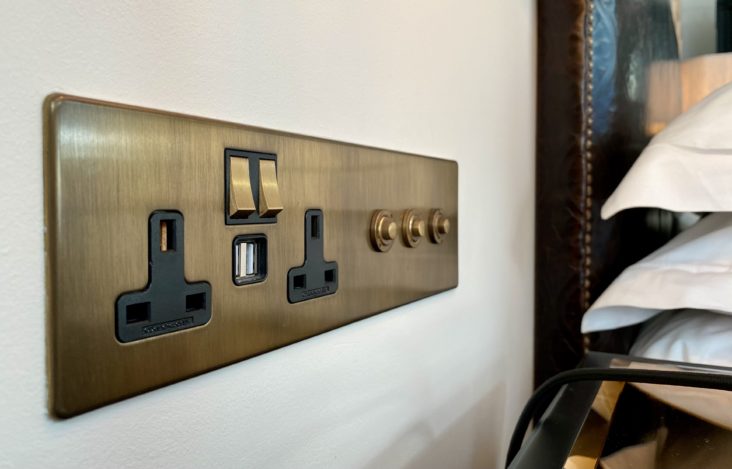 Mounted on the wall at the foot of the bed was an ultra-sleek, smart TV that could be connected to my phone by scanning the QR code.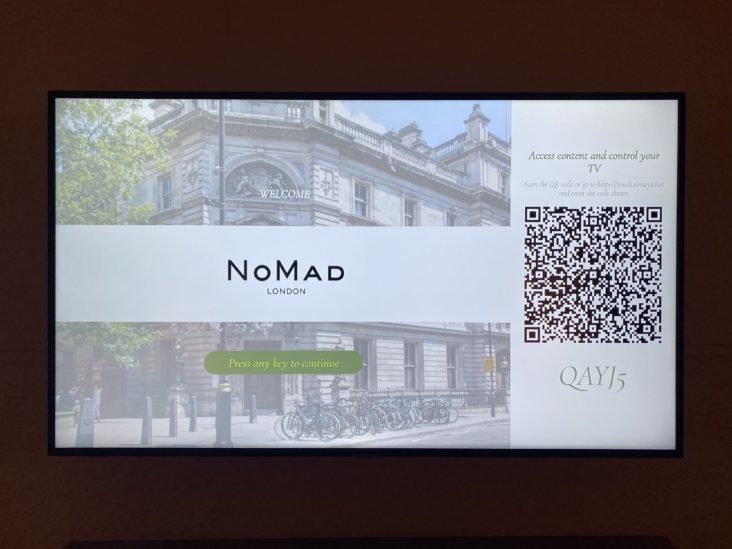 To the left of the bed in a prime location, tucked under the window facing the Royal Opera House, was a desk and chair.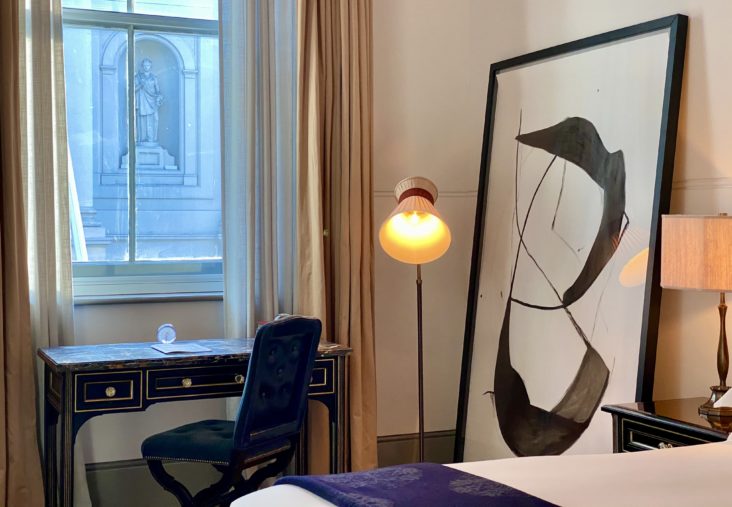 The minibar was very well-stocked, as you might expect, with only the finest of products. The glass bottle of water, as well as the tea and coffee facilities, were complimentary. The rest of the goodies, unfortunately, were not. The minibar items weren't cheap, but that's to be expected in a place like the NoMad.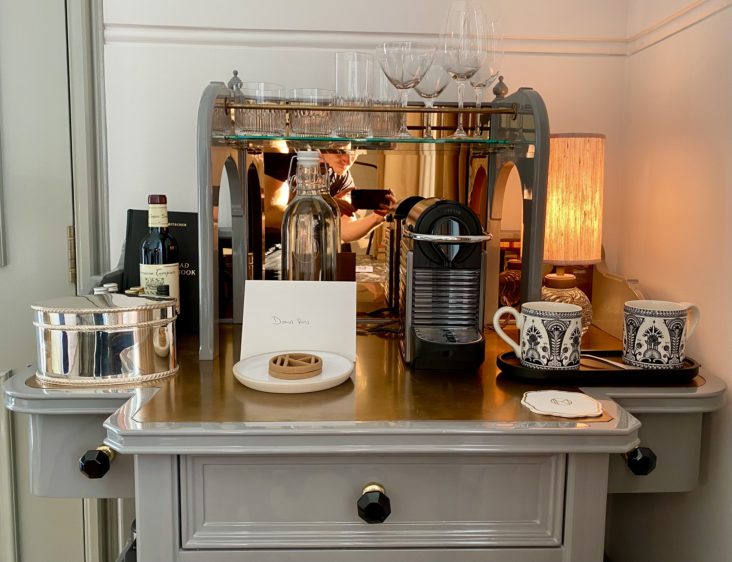 Ready for the taking was a three-quarter-sized bottle of Domaine Tempier Bandol.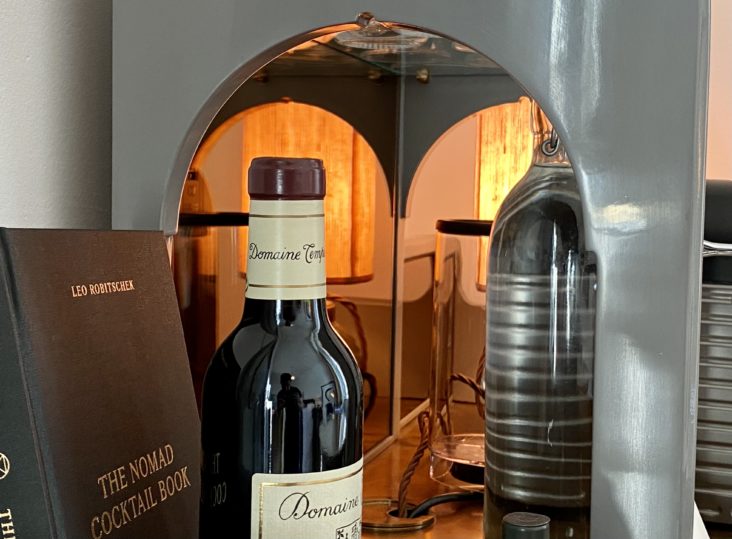 And for something a little harder, there were miniature bottles of Absolut Vodka, Plymouth Gin, and Diplomático rum.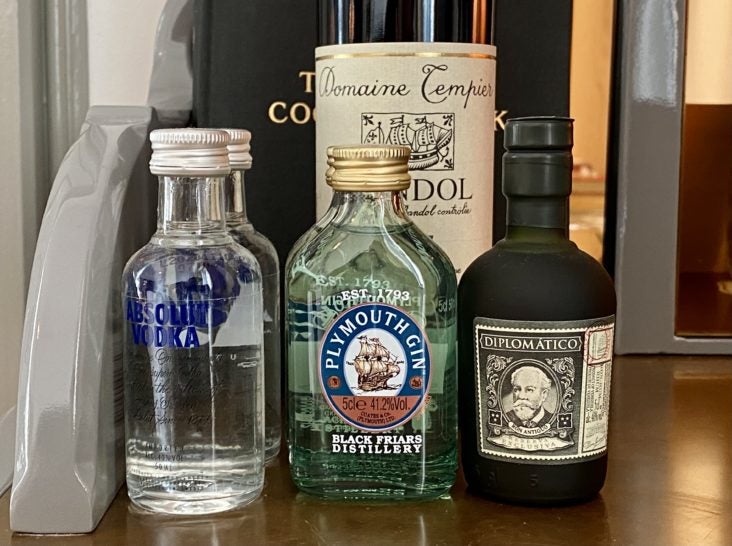 From fresh whole milk and San Pellegrino cans to ready-made Negronis in a bottle…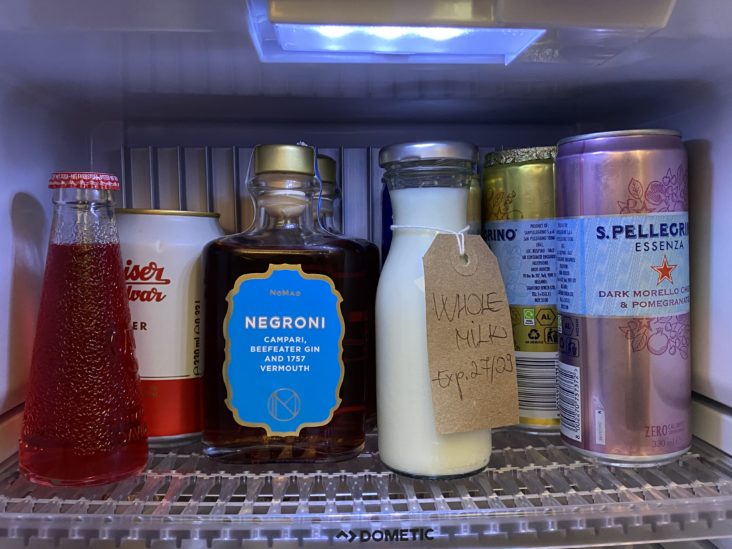 …to Perrier-Jouet, Sancerre, and bottles of soft drinks, the fridge was more than well-stocked.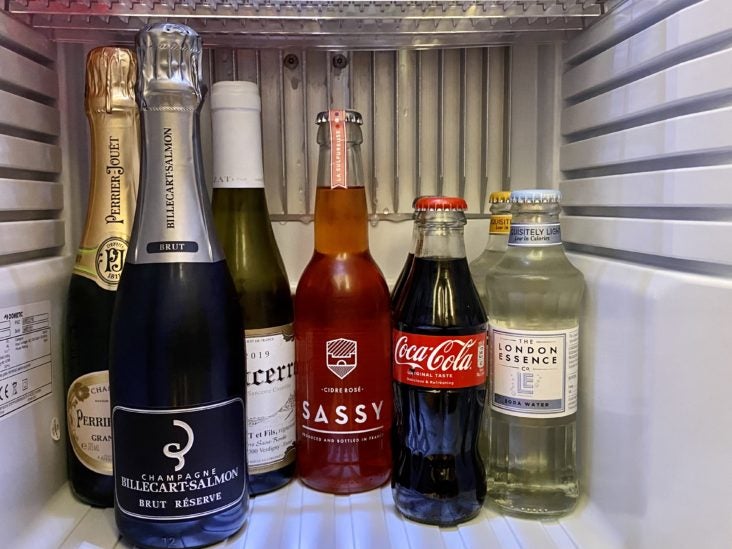 In the main drawer of the unit, there were all sorts of sweet and savory snacks.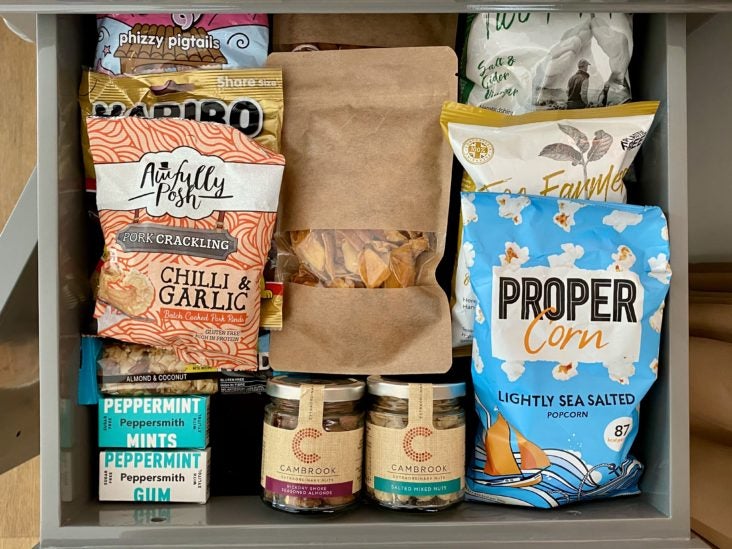 As for the all-important morning hot beverages, both tea and coffee lovers would be pleased. As a self-confessed coffee "snob," I can confirm the coffee from these biodegradable and compostable pods was great.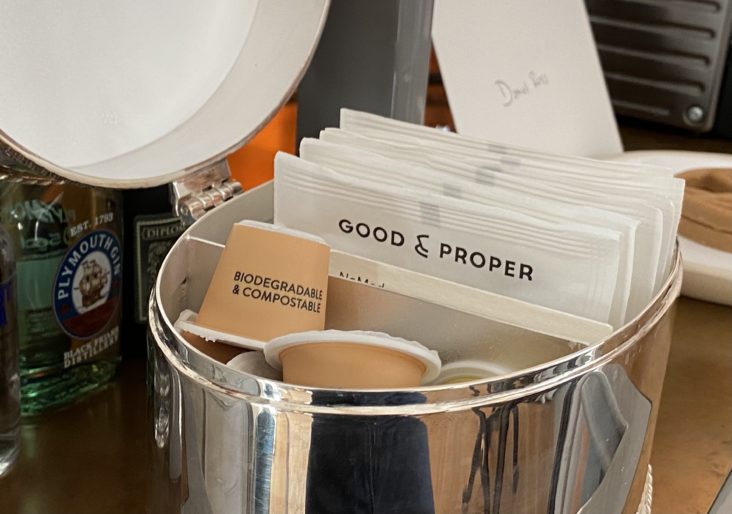 I loved the detail and finish of the room. From the quirky art wall arrangements…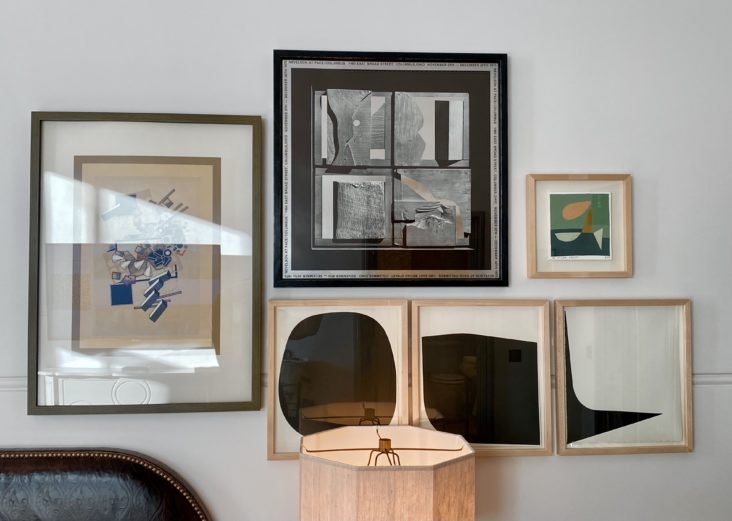 …to the psychedelic paperweight…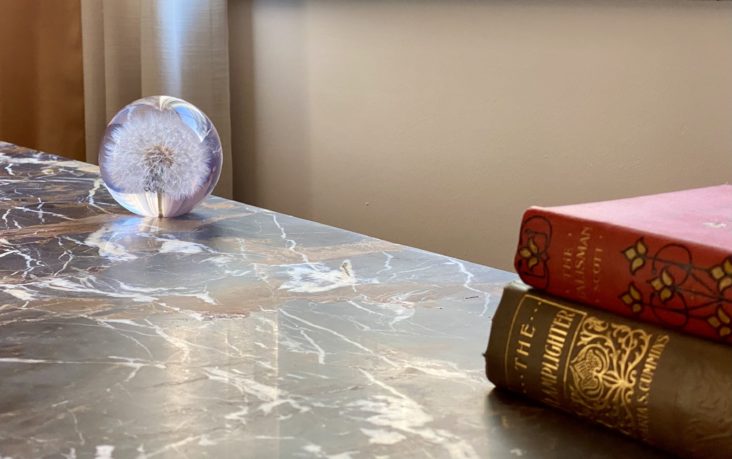 …it was clear a lot of time (and money) was spent when designing this room.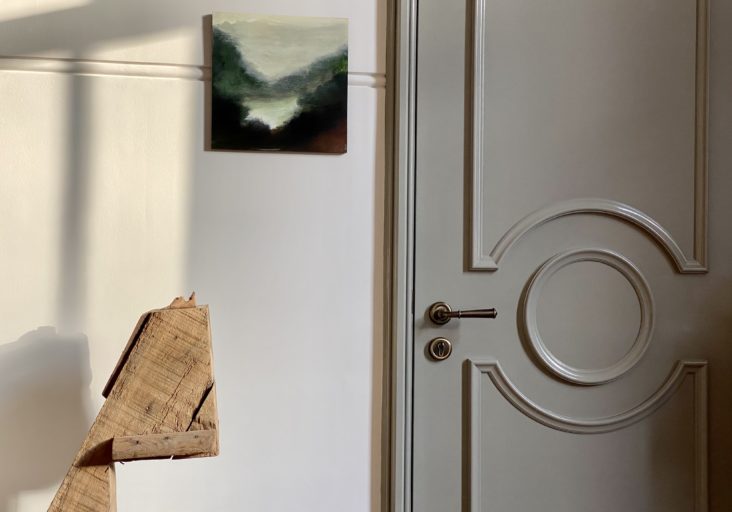 Overall, I was very impressed with my Grande Room. It was more than spacious enough for 1 person, super-bright, and had everything one could ask for to feel completely lost in luxury.
Bathroom
The bathroom was an overall great place to spend time. No, really.
That's mainly down to the delightful underfloor heating.
Access to the bathroom was just left after entering the room.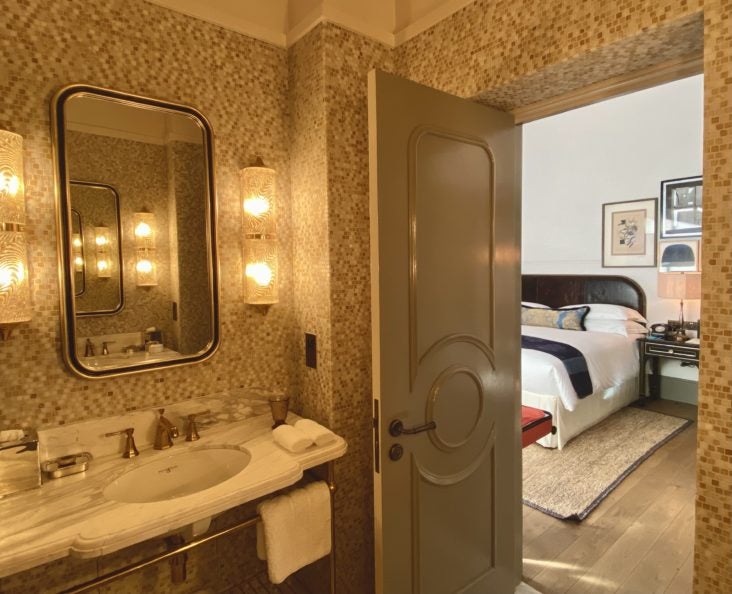 It had 2 separate sinks, each complete with its own sets of towels. I'd assume that toiletry amenities were only supplied on one of the sinks as there was only 1 person on the booking.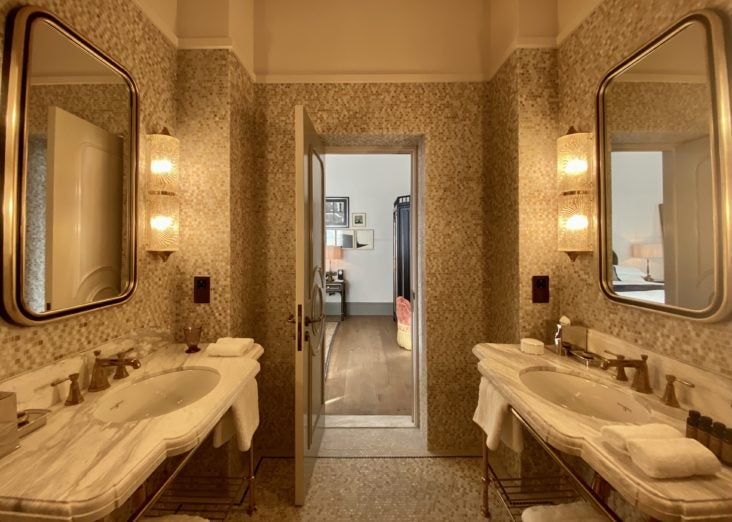 The amenities included miniature shower gel, shampoo, hair conditioner, and body lotion by Argan Oil, as well as NoMad-branded hand sanitizer. In recent times, I've noticed some hotels opting for more environmentally-friendly, refillable bottles instead. However, for the more luxurious hotel — like NoMad London — I've noticed that the miniatures remain.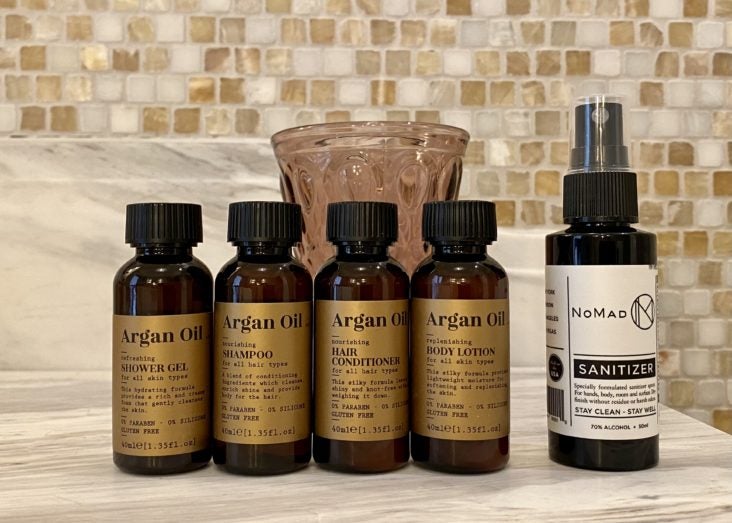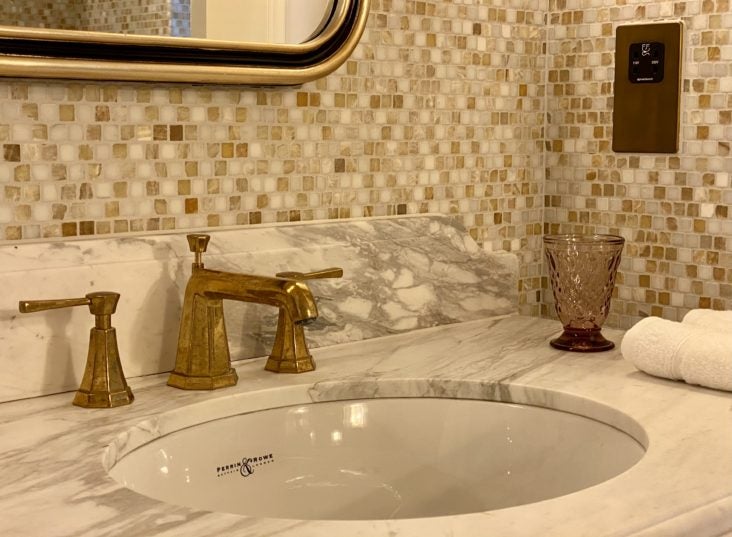 Next to the sink was a small bar of soap and a circular white pot with personal beauty and hygiene items like earbuds, cotton face pads, and a nail file. Unfortunately, these were all unnecessarily wrapped in plastic.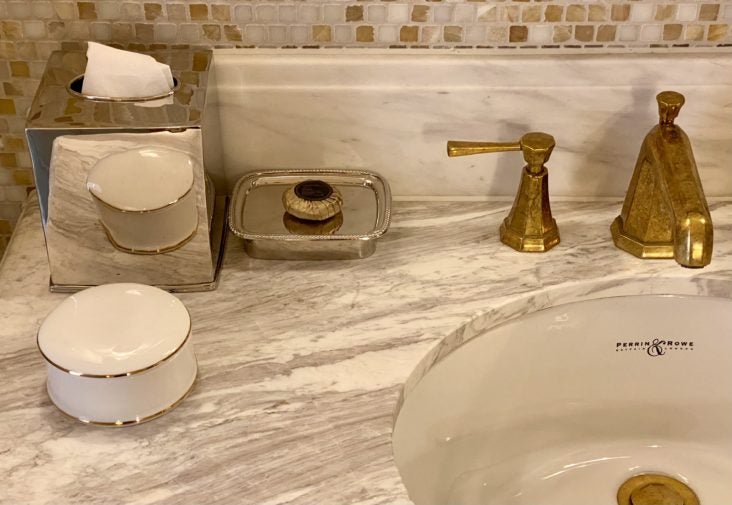 At a time when the environment is at the forefront of our minds, replacing plastic with more environmentally-friendly materials such as cardboard would be more favorable.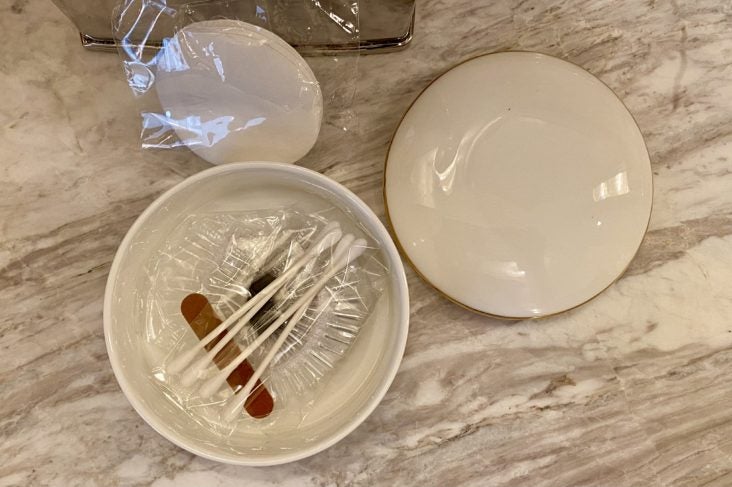 A set of bathrobes were hung pristinely and symmetrically next to the huge shower.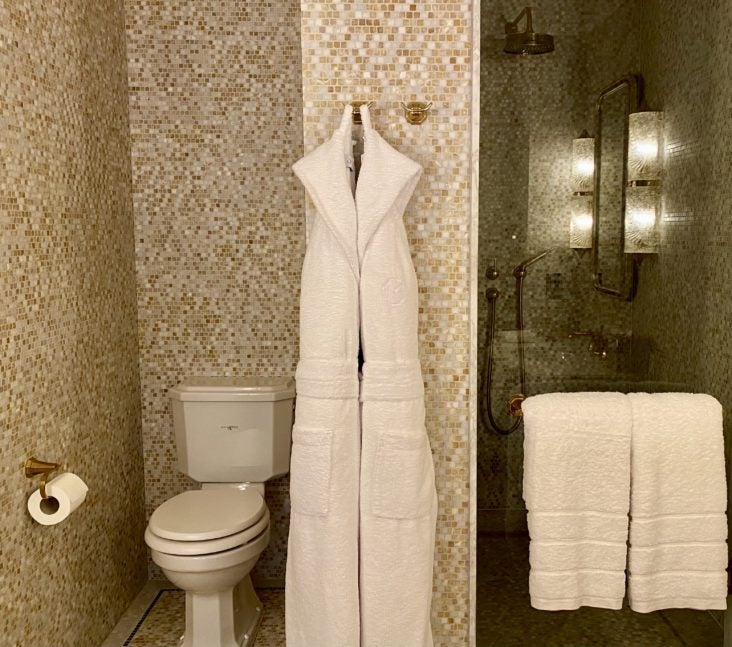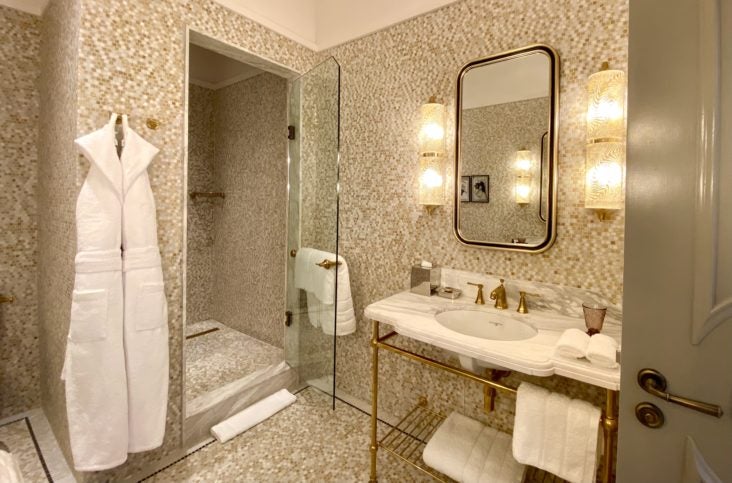 I could have stayed in the shower for hours. The power and temperature were just perfect.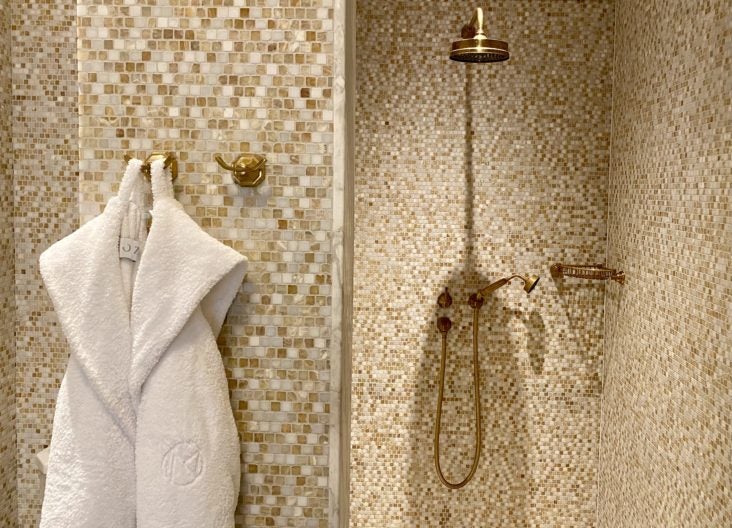 I'm not usually a fan of gold, but these gold fixtures and fittings were perfect for the style of bathroom you'd expect from The NoMad Hotels.
Cleanliness
Now, more than ever given the current pandemic era, I meticulously inspect the room as soon as I've checked in to make sure the cleaning standards are up to scratch. I can safely say that my room at NoMad London was so spotless that it felt like I was the first person ever to stay in the room.
Food and Beverage
NoMad London is definitely one for the foodies out there. Rather than heading out to eat at one of my favorite London spots, I decided to make the most of my short-and-sweet NoMad London experience and dine at the hotel's main restaurant housed in the stunning atrium.
More on that later.
The Library
The library was a cozy, informal, yet sophisticated area to the right of reception.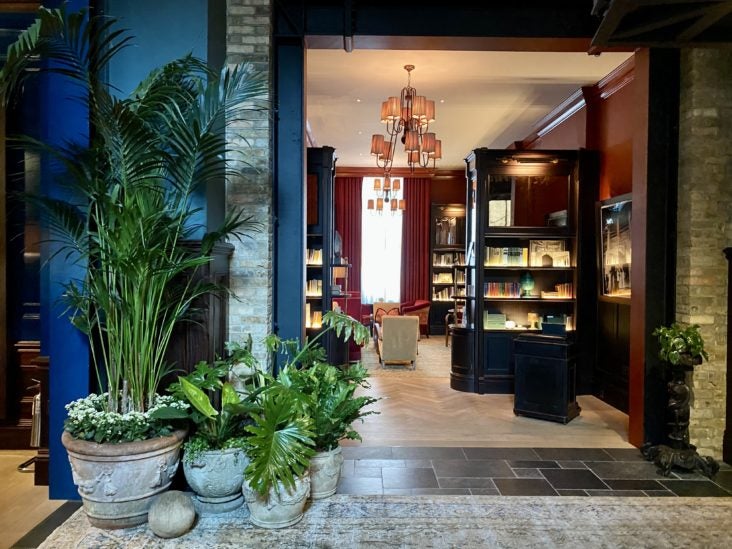 I hung out for a couple of hours to do some work while others came and went. Some for a late afternoon coffee and snack — others for a pre-dinner glass of wine.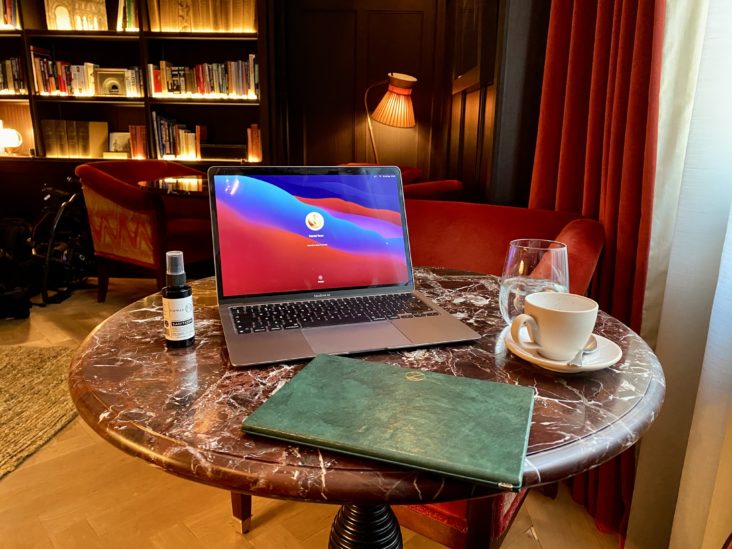 The Library's snack and drinks menu was far from cheap. In fact, I'd say the £6 (~$8) that I paid for a double espresso was extortionate. Thankfully, the coffee itself was very good.
Snacks on offer from The Library's all-day menu include fried chicken with miso and daikon for £19 (~$26) and a portion of chips (fries) for £8 (~$11).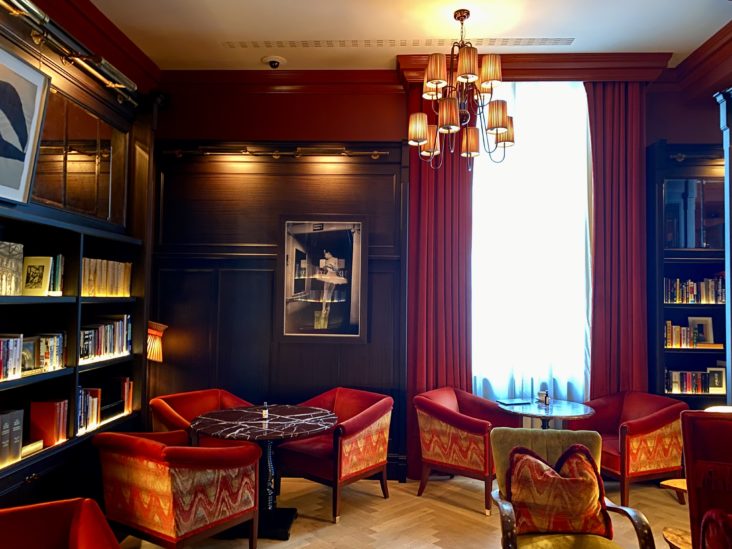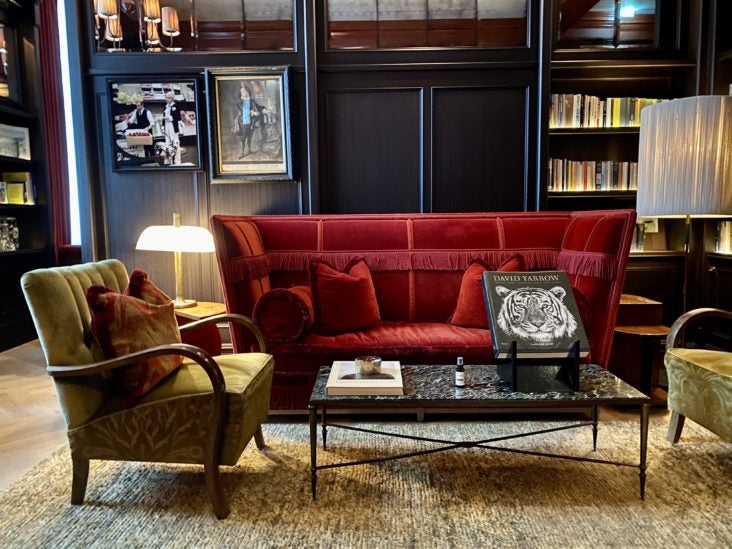 Side Hustle
Continuing through from The Library is NoMad London's main bar — Side Hustle. It gave me major New York vibes and made me nostalgic about the many weeks I had spent in the city prior to the pandemic.
I popped in for a peek before it opened its doors at 5 p.m.
The bar is open to both guests and non-guests and has its own on-street entrance.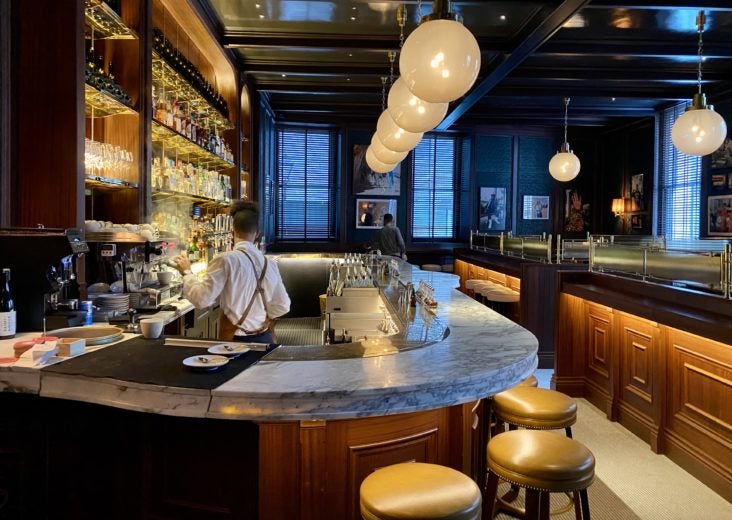 The main bar area is lined with leather-clad stools — perfect for a quick pre-dinner drink or a catch-up with a friend before a show.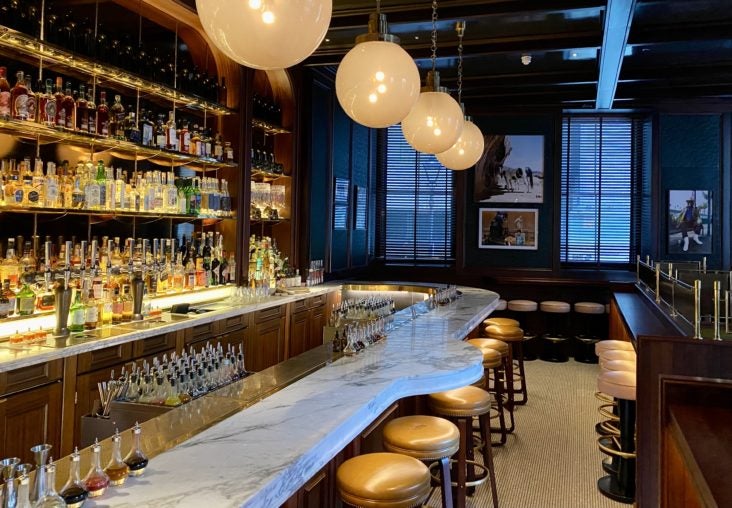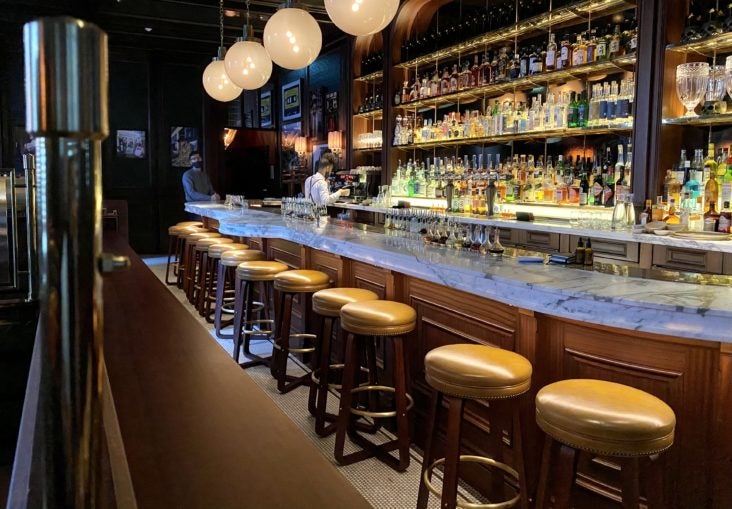 I didn't get to sample Side Hustle's menu as I had dinner reservations in the main restaurant. I'll be sure to head back soon and get comfy in one of the diner-style booths to experience the South American-themed menu. There's everything from guacamole to oysters, and ceviche to crispy pork belly.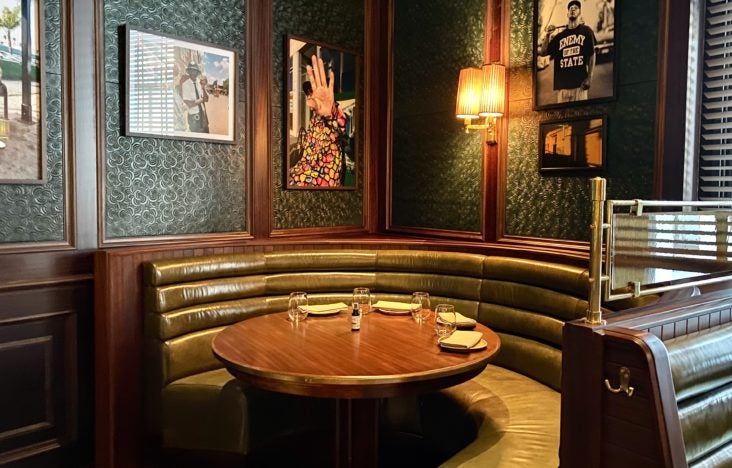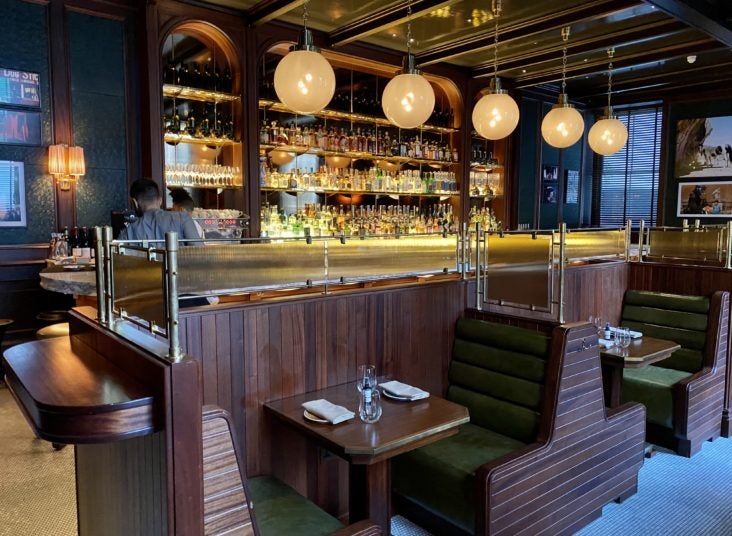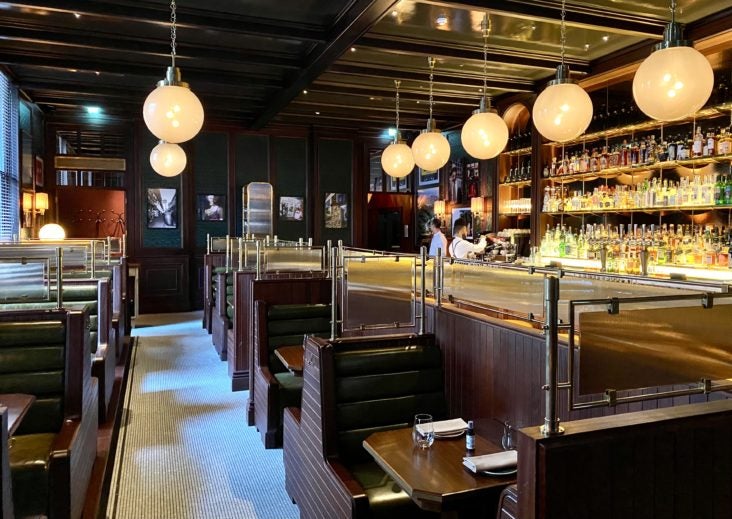 I did, however, manage to squeeze in a pre-dinner espresso martini. It was the perfect start to an incredible evening of wining and dining.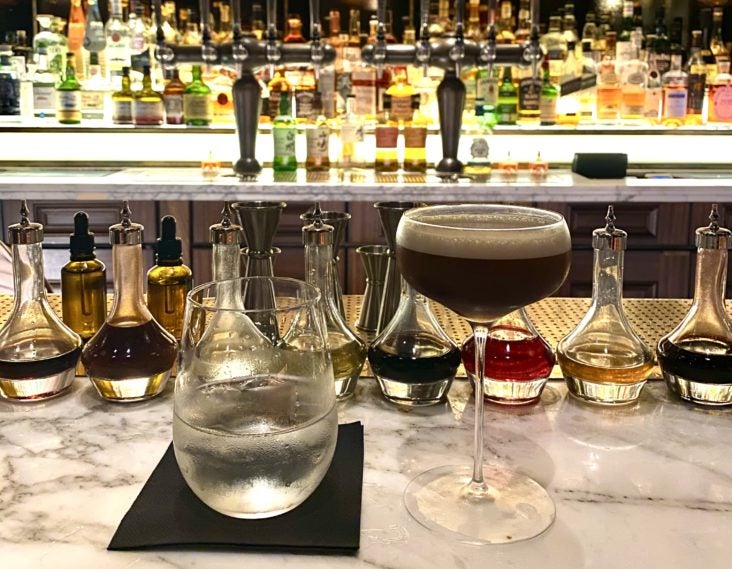 If you do head to the bar for a drink, make sure you ask for Jason.
The NoMad Restaurant a.k.a The Atrium
The hotel's main restaurant is located in the most stunning part of the hotel — the atrium.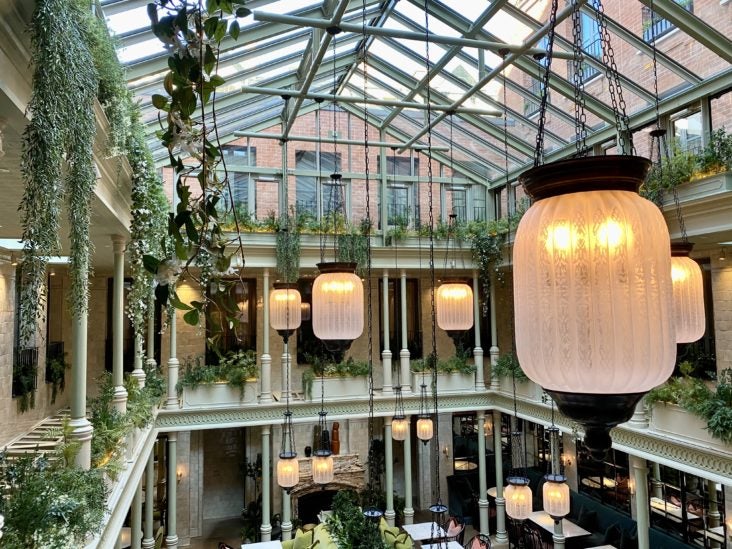 By day, the bright and airy space feels almost like you've sat outside in a continental courtyard.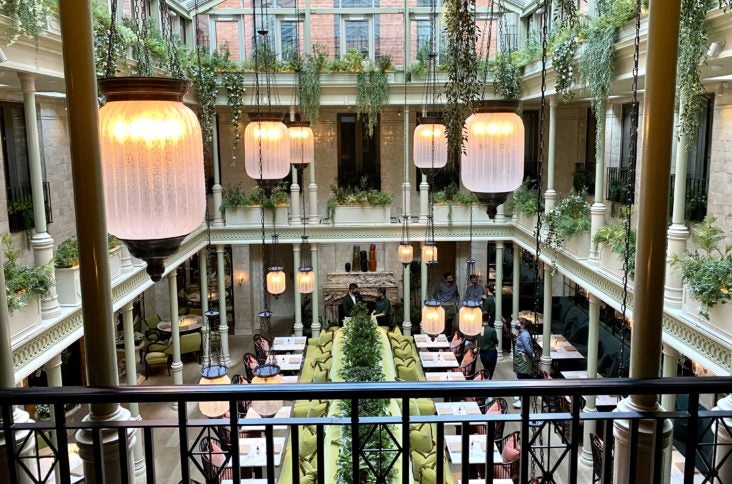 By night, it transforms completely into a dimly lit, romantic, and atmospheric dining venue.
The mezzanine to the left of reception was a great vantage point to get a feel of the size and space of The Atrium.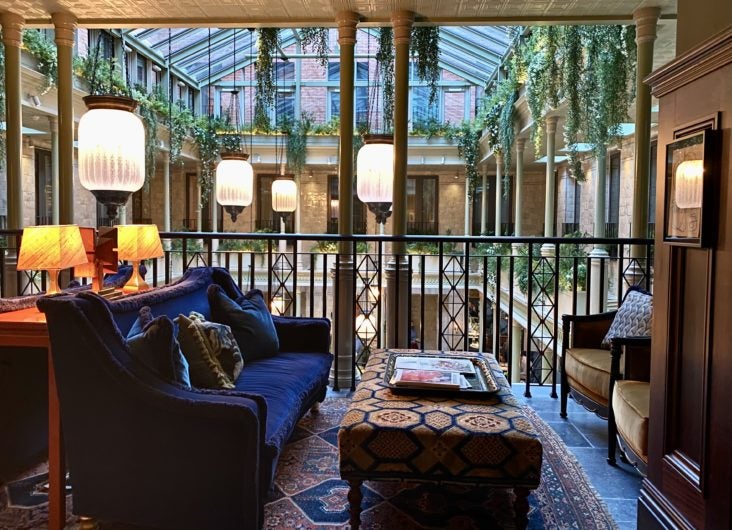 To get to the restaurant, you'll take the striking staircase leading from the main reception area.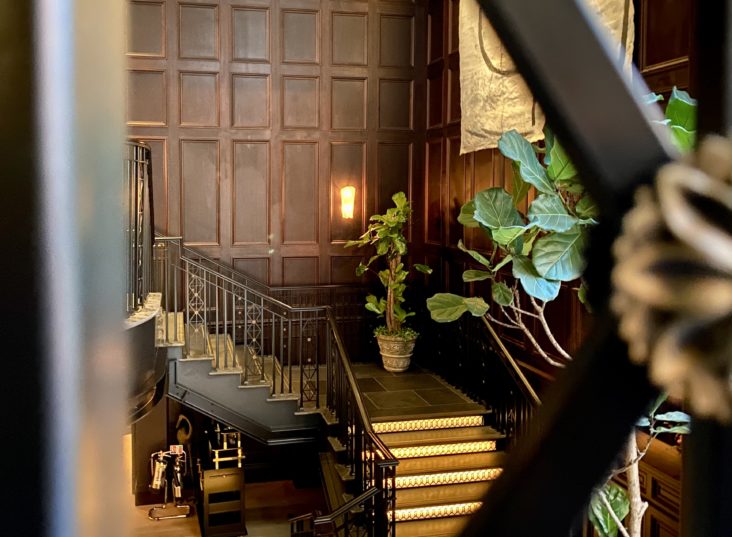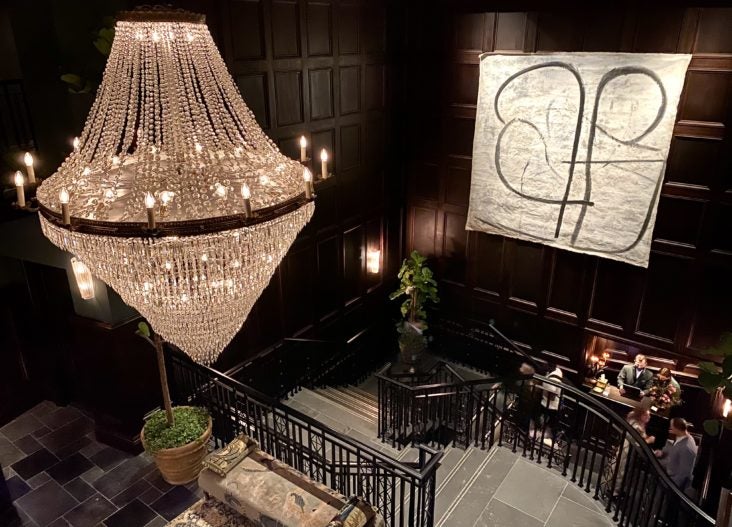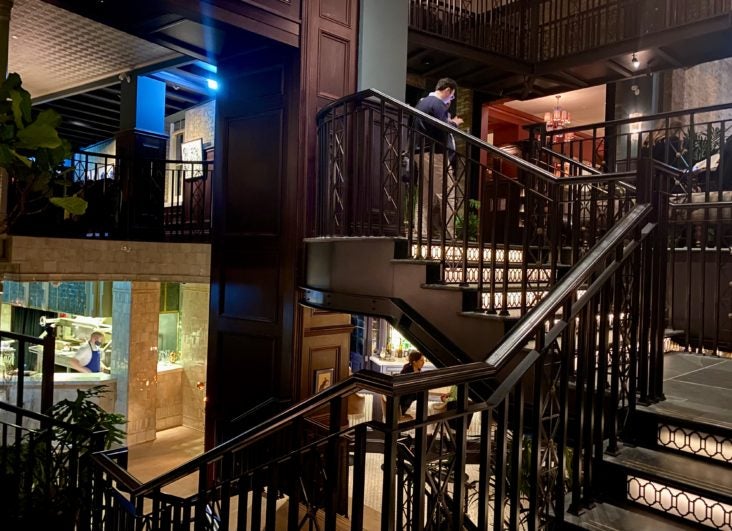 Tucked away under the staircase is The Atrium Bar where you could have a pre-dinner drink while you're waiting for your table.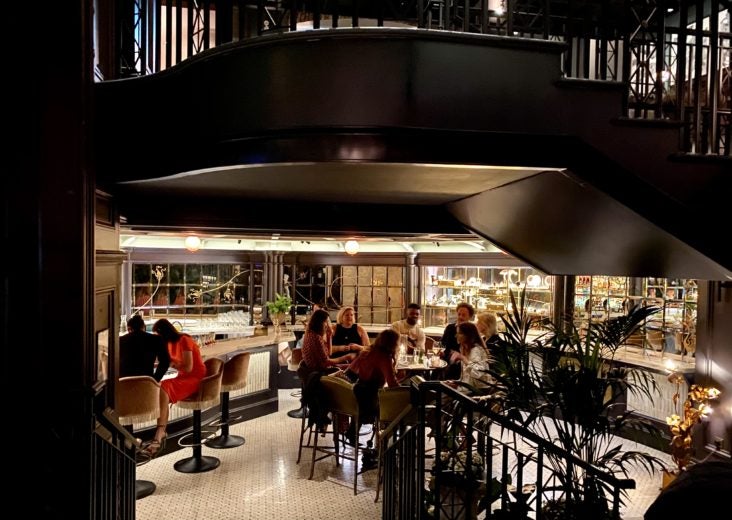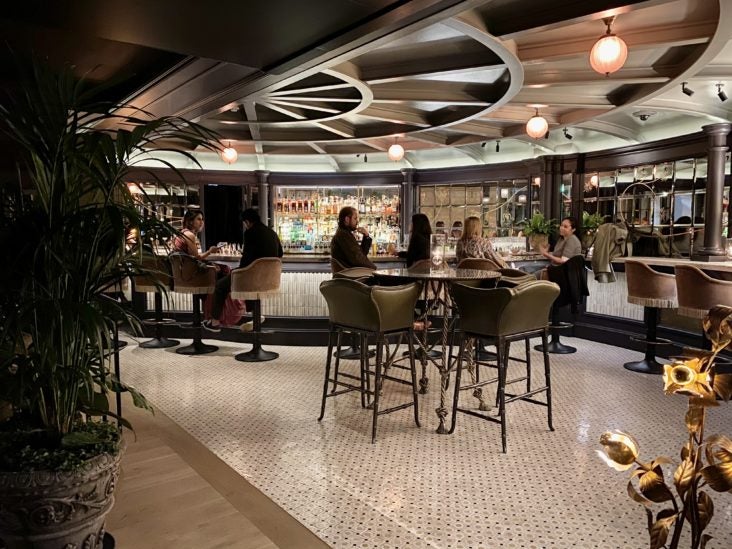 The restaurant is mainly made up of tables of 2 which are located rather intimately next to each other. It's probably not the best setting if you want to have an evening of private conversations or whispering sweet nothings into the ear of your significant other.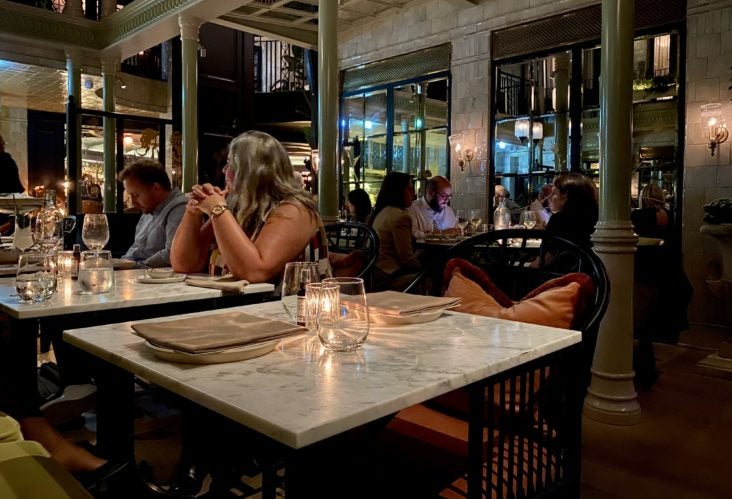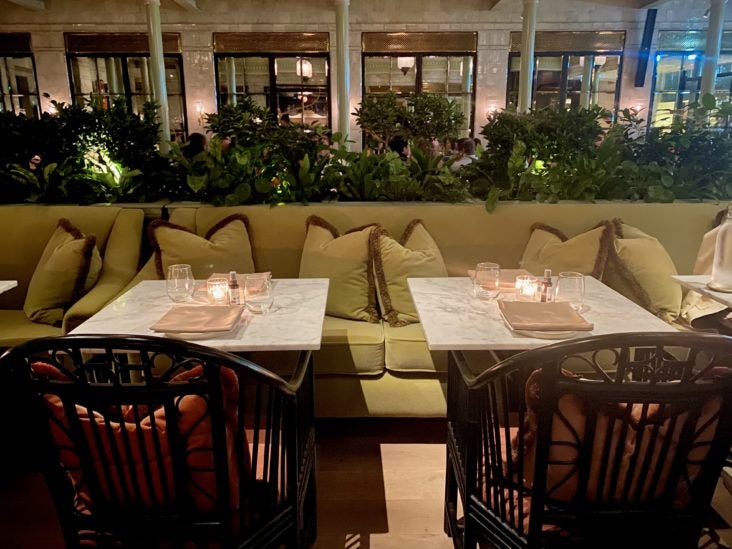 Through a curtain, there's a separate dining area with several booths and a central, larger table for 6.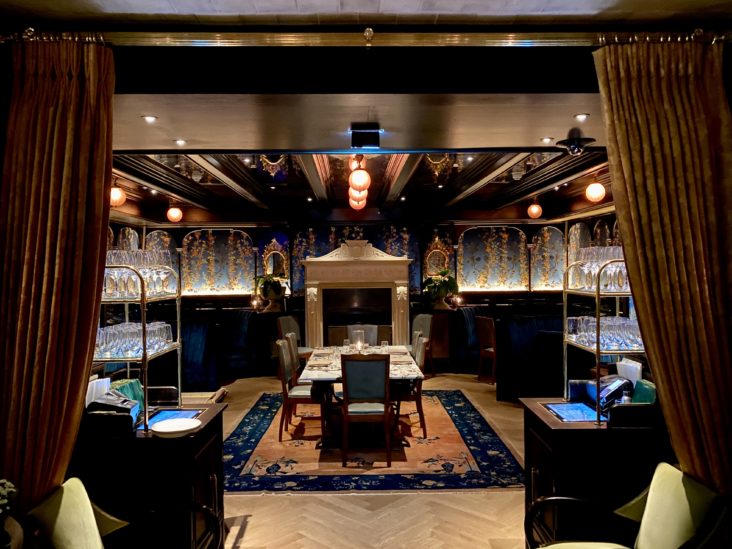 This area would definitely be better for larger groups or those wishing for more privacy.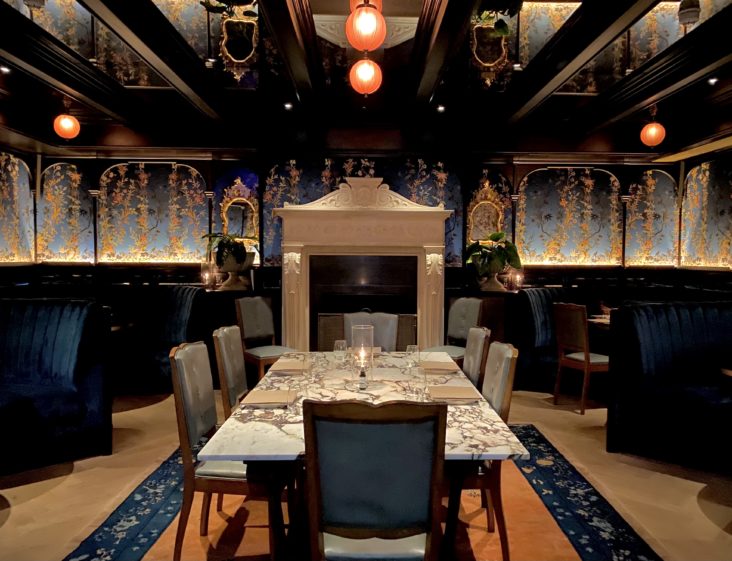 Dinner
Dinner in the restaurant was nothing short of a delight.
My friend and I decided we'd make the most of the experience by sharing a few dishes.
We started with a large portion of the king crab, Meyer lemon, and black pepper tagliatelle. The pasta was melt-in-the-mouth and the flavors were exquisite.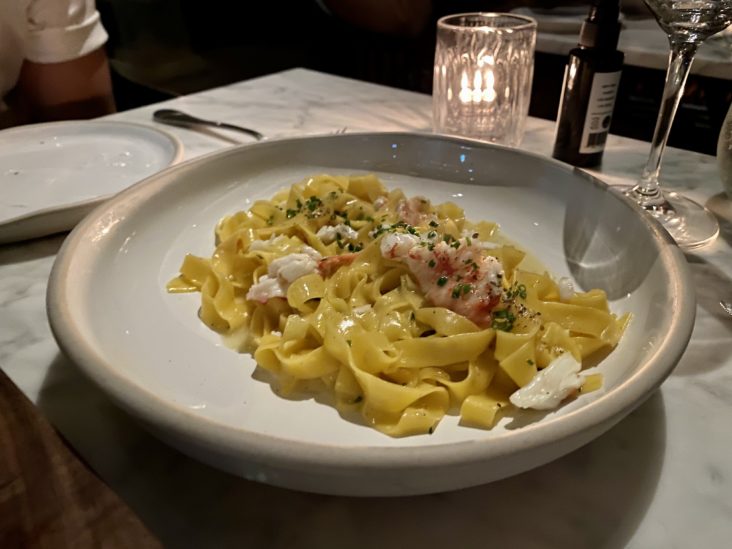 Next up we shared a portion of the suckling pig. Despite this being on the "large plates" section of the menu, we should have probably ordered a portion each.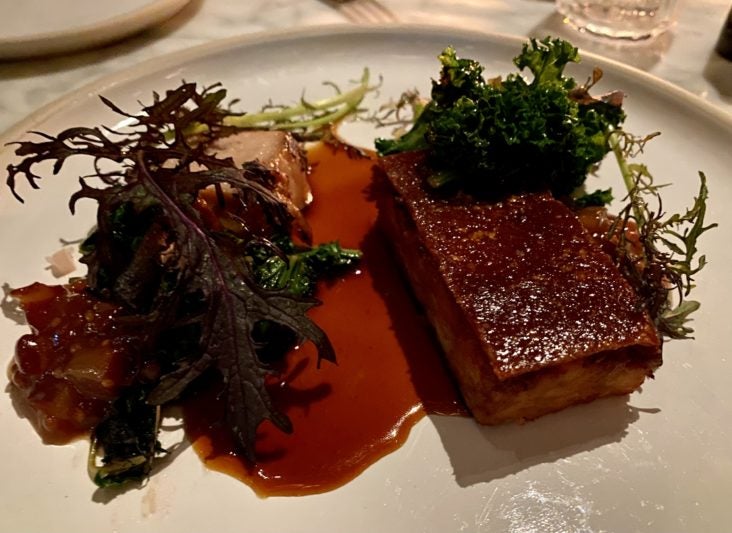 To accompany our pork, we ordered a side of the Korean yam with an incredible smoked butter and salsa verde.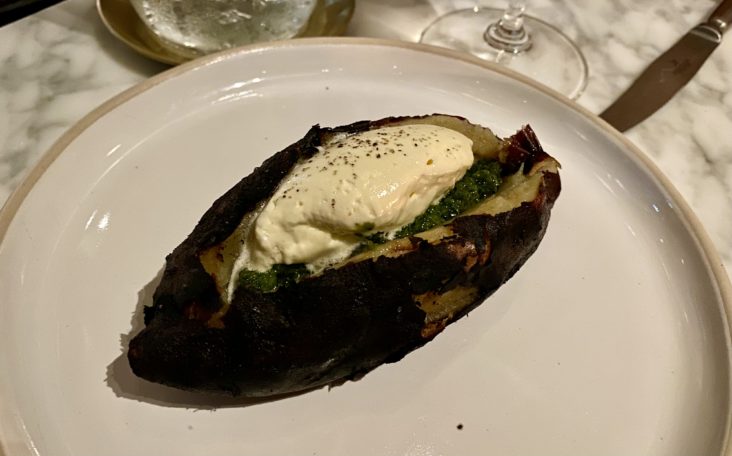 We kept ourselves fully hydrated throughout, of course, with a bottle of water each and the odd glass or 2 of good old English sparkling wine (the drinks menu is available online). We tried both the Chalklands Classic Cuvée and the Blanc de Blancs and preferred the slightly more expensive latter. I liked that our glasses were filled at the table even when ordering by the glass.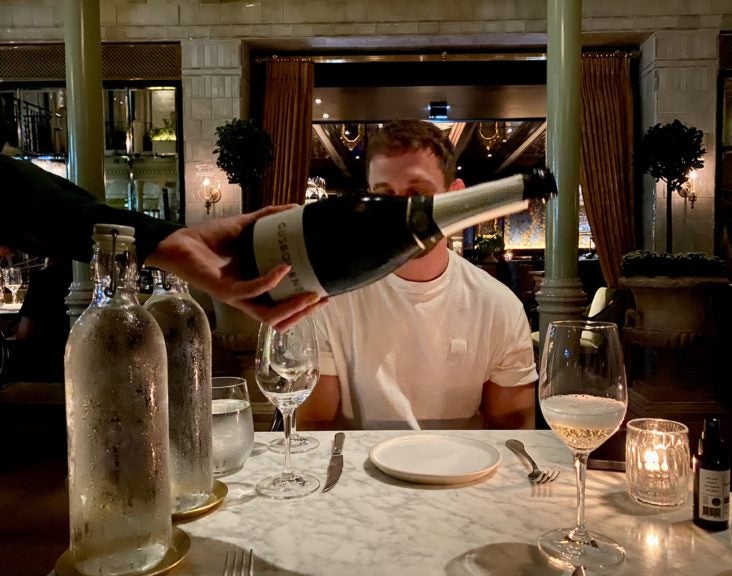 We were very impressed by the dining experience at The NoMad Restaurant. The atmosphere was excellent given that it's a relatively new establishment and the staff were incredibly attentive and knowledgeable about the menu and the food. I cannot wait to go back for round 2 ASAP.
Breakfast in Bed
I thought I'd treat myself to a lazy Saturday morning breakfast in bed with the £50 (~$69) room credit that I was awarded with my room rate.
I called room service just after 9:30 a.m. to place my order and it was with me just before 10 a.m., well within the 30-minute limit I was told by the staff member who took my order. I was also asked if I had any allergies.
My breakfast burrito was delivered with the paper I'd preordered and, most importantly, a smile.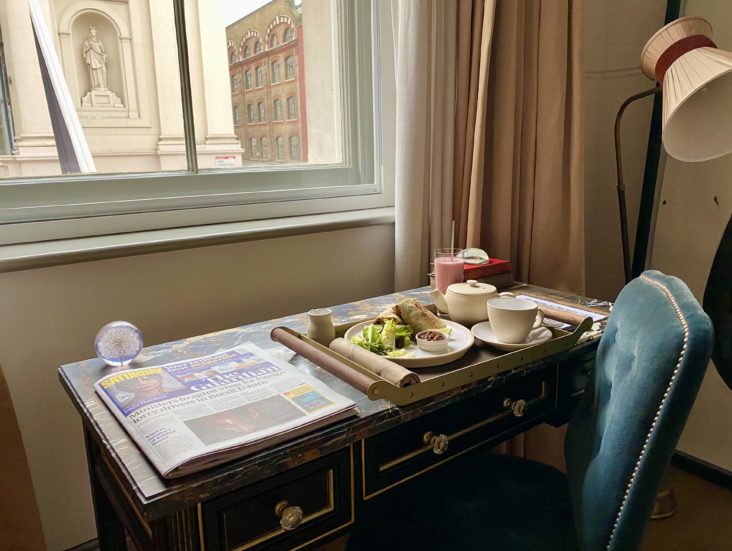 I left it on the desk for a few seconds while I snapped some pics.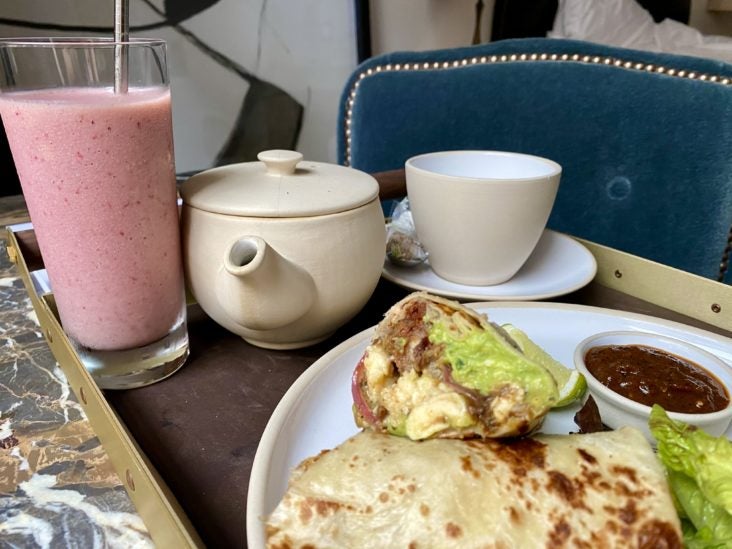 Then headed straight into bed to enjoy. The smoothie was the burst of health and freshness needed after a few drinks around Soho the night before.
My best friend and I would make breakfast burritos most weekends when living in London, so we're quite good at them. NoMad London's version knocked ours out the park — I would happily eat that every single morning.
Oh, and the Brazilian coffee was spot-on.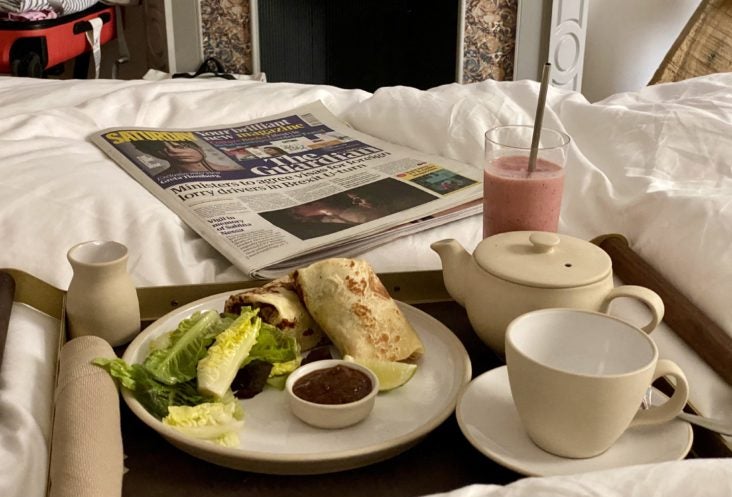 Service
I have to commend the entire NoMad London staff. From the moment I stepped into the building, to the second I left, every single interaction was friendly, professional, and above all, authentic. I find some hotel staff can be a little too overbearing and stuffy, which has a tendency to make interactions feel fake and strained.
The team at NoMad London were far from that.
Eva at the front desk made me feel like I had arrived at home from the second we started speaking.
Tayia's Northern charm and personality had me entertained during my time working in The Library. I watched how she tailored her service style to the individual clients she was serving — that's a great skill to have.
And as for our evening dinner, it was a pleasure to be served by Anastasia — another Northern gem.
Whether it's a flight, a lounge visit, or a hotel stay, service can make or break an experience. NoMad London couldn't have done a better job if it tried.
Final Thoughts
Staying at NoMad London leaves you feeling like a member of the royal family that you could have been in another life.
There's no hiding the fact that a stay here isn't cheap, especially considering there's no redemption option. However, I'm all about value for money and NoMad London proves its worth from start to finish.
I would highly recommend booking yourself in if you're considering a trip to London. Considering the newness of the hotel, its soul is a refreshing star in a city whose hotels can often feel dull and outdated.