VRBO vs. Airbnb for Guests & Hosts [Comparing Fees, Listings, Cancellation Policies]
There are so many vacation rental websites out there, but 2 of the biggest players that you'll be familiar with are Airbnb and VRBO. Both are peer-to-peer rental sites that allow private and commercial accommodation owners to rent their places out.
When it comes to booking a rental for your next trip, you'll want to know which website offers the greatest choice of accommodation, has the most fuss-free booking process, and has the cheapest fees. If you're an owner looking to list your property for rent, the commission rate will be important to you, as will the options you have for your cancellation policy.
We've taken a deep dive into these 2 popular accommodation rental sites to help guide you as to which is more suitable for your requirements, whether you're an owner or a guest.
VRBO vs. Airbnb — Differences at a Glance
VRBO
Airbnb
For Guests

Booking fees: Varies between 6% to 15% of the subtotal
Smaller network of properties
Entire properties only
Monthly payment plan with Affirm
Damage deposit may be charged at the time of booking
Trip Board with the ability to add notes for travel companions

For Hosts

Host commission rate: 5% + 3% credit card processing fee
Alternative annual subscription ($499) available for unlimited bookings

For Guests

Booking fees: Typically under 14% of the subtotal but we found fees as high as 20%
Larger network of properties
Ability to filter your search by unique properties
Shared accommodation and entire properties
Damage deposit held 2 days before rental
Book experiences as well as accommodation

For Hosts

Host commission rate: Typically 3% but can be higher for hosts in Italy and hosts with super strict cancellation policies. Hotels and some other hosts may pay a commission of 10% to 16% if they work on a host-only fee basis.
Superhost status
Automatic smart pricing based on demand
VRBO vs. Airbnb for Guests
Variety of Accommodation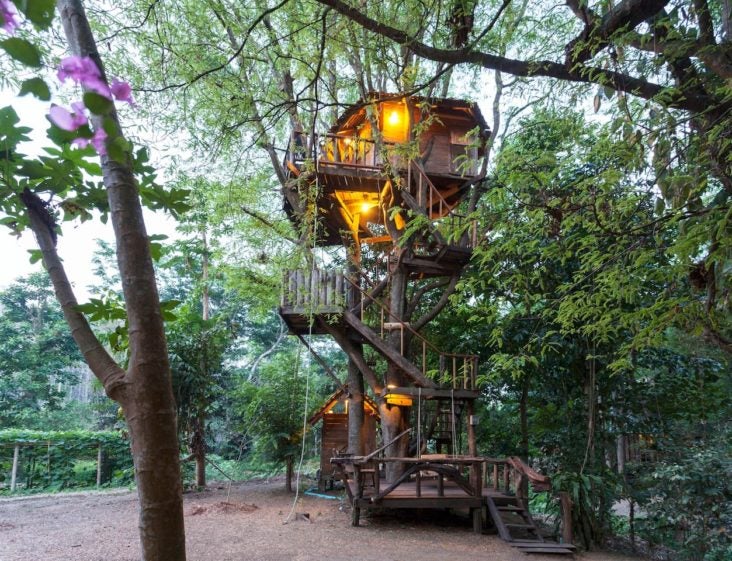 VRBO has 2 million properties in 190 countries and Airbnb has 7 million places to rent across 191 countries. Although Airbnb offers double the number of available rental spaces, VRBO offers entire properties only, and Airbnb features a combination of entire properties and private rooms.
Both Airbnb and VRBO feature a whole host of unique properties to rent, from castles to caves and igloos to treehouses. Airbnb allows you to filter your accommodation results by "Unique Stays" if you're looking for something extra special. While you can filter by property type with VRBO, the options are far more standard types of accommodation rather than unique stays.
Website
Airbnb and VRBO's websites are very similar, with the ability to search by your destination, stay dates, and the number of guests. Both websites display results initially in a split list and map format and you can filter your results by property amenities, neighborhood, host language, house rules, and more.
With Airbnb, you can minimize the map if you would rather browse solely from a more extensive list view. When browsing via the map, price markers display the nightly rate for accommodation, which can help compare the affordability of specific areas at a glance.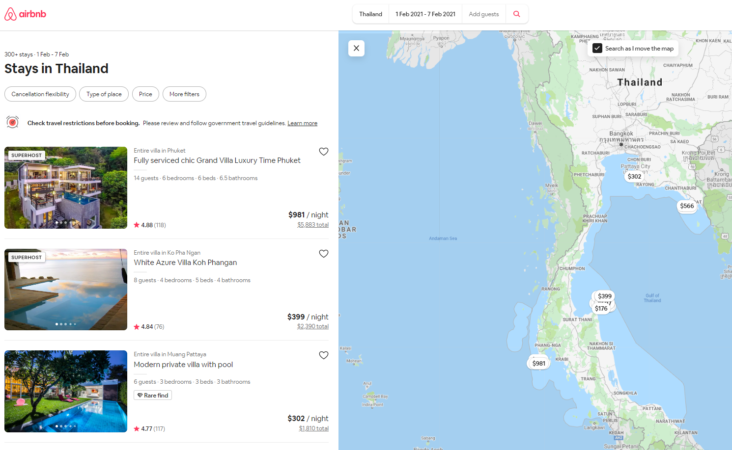 When browsing the map with VRBO, you must click a blank marker to view the nightly rate, increasing the amount of time required for browsing.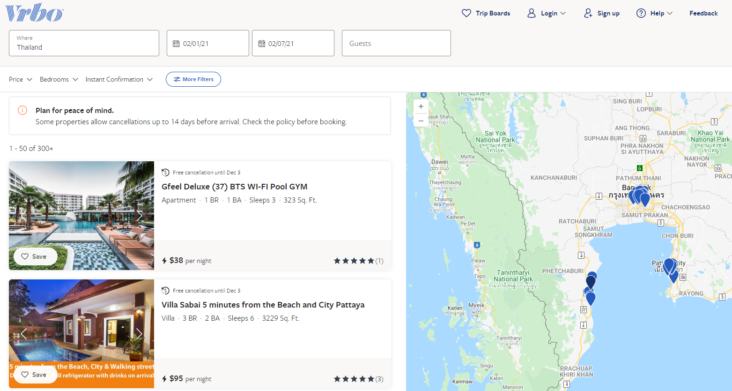 The property pages are also very similar, featuring an image gallery, property specification, and availability calendar (where instant booking is possible). VRBO has the edge on Airbnb, as the availability calendars display the nightly rate, so you can quickly identify if an alternative date is cheaper.
VRBO also displays the size of the property. You can't actually filter by property size, but it's still useful to know which place is more spacious if you're stuck deciding between 2 properties.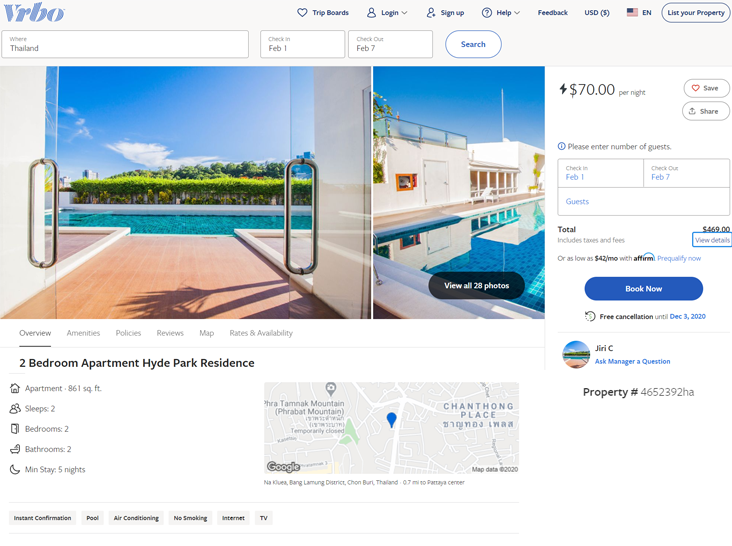 Airbnb does not feature a property's size, which has been a bone of contention with accommodation owners for years, as comparing prices based on the number of bedrooms, locations, and facilities may not be a true reflection of the value of the accommodation.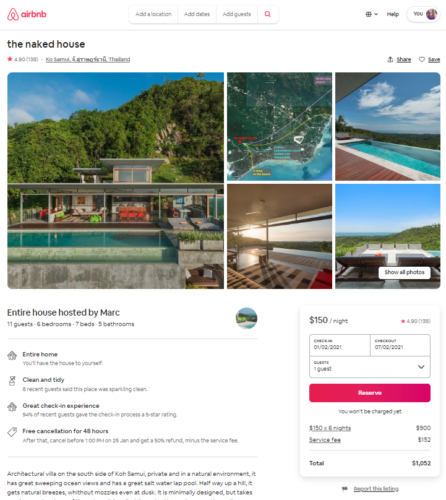 Payment Plans
Once you've decided on the perfect rental, you can click the Book Now or Reserve buttons to complete your booking. Both VRBO and Airbnb allow a partial payment on booking with the remainder payable at a later date. VRBO also enables monthly payments for those that qualify for Affirm, whereas this is not an option with Airbnb.
Booking Fees
Airbnb charges guest service fees of 5% to 20% of the subtotal, including the nightly rate, cleaning fee, and additional guests. Airbnb states that fees are typically under 14.2%, but when searching for properties, we found consistent service fees of around 16%. There are no guest service fees for experiences. Booking with VRBO, guests are charged a 6% to 15% service fee of the subtotal (minus taxes), so this can be cheaper than Airbnb in some circumstances.
Cleaning Fees
Accommodation owners determine the cleaning fees for both Airbnb and VRBO.
Pricing
When searching on Airbnb, the nightly rate that is displayed on the map or results list also includes the cleaning and service fees. This makes it easier to find accommodation that fits your specific budget.
VRBO's nightly rate excludes cleaning and service fees, and these are only displayed after you click Book Now. This can make budgeting tricky as you cannot filter by service or cleaning fee amounts.
Damage Deposits
At the time of booking, VRBO hosts may require a refundable damage deposit, a credit card to be held on file in the event that a claim is required, or for you to purchase property damage protection.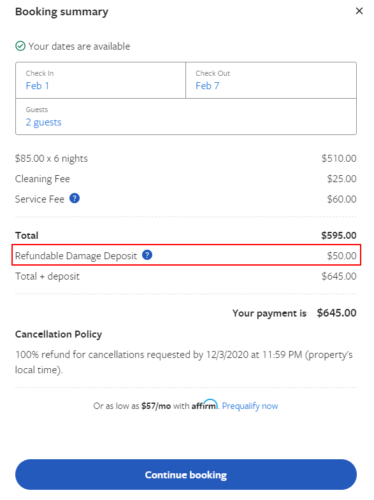 Airbnb does not charge a damage deposit, but they hold funds 2 days before the start of your stay, which is released after you check out if no disputes are raised.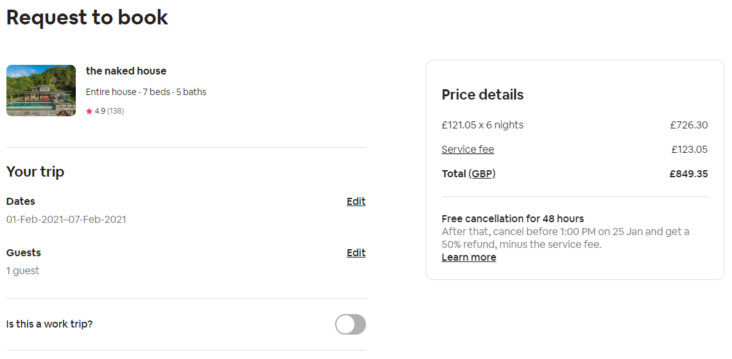 Although you do need available funds in both instances, Airbnb's process of holding the funds means that you don't need to part ways with your deposit on the day of booking.
Instant Book
It can be frustrating when you think you've found the perfect rental property, only to have your request rejected by the host. Instant Book listings are available on both Airbnb and VRBO and enable guests to book a property without requiring approval. You can filter your search results to display Instant Book properties only if that's important to you.
Contacting a Host
Both VRBO and Airbnb allow guests to message the host directly, with neither permitting contact by telephone until a booking has been made. Airbnb displays some useful information, including the host's response rate and average response time, so you have some indication of how long you might need to wait for a reply.
Cancellations
Cancellation policies can be found on the property pages for both Airbnb and VRBO. Airbnb has 6 cancellation categories that hosts can choose from, and VRBO has 5, ranging from flexible to strict. VRBO has a no refund option, with all of Airbnb's policies allowing at least a partial refund within the parameters.
VRBO Cancellation Policies
Airbnb Cancellation Policies

No Refund: Booking is non-refundable under any circumstances.
Strict: Cancellations made up to 60 days before the start of the stay are fully refundable.
Firm: Cancellations made up to 60 days before the start of the stay are fully refundable. Cancellations made up to 30 days before the start of the stay will receive a 50% refund.
Moderate: Cancellations made up to 30 days before the start of the stay are fully refundable. Cancellations made up to 14 days before the start of the stay will receive a 50% refund
Relaxed: Cancellations made up to 14 days before the start of the stay are fully refundable. Cancellations made up to 7 days before the start of the stay will receive a 50% refund.

Super Strict 60 Days: Cancellations made up to 60 days before the start of the stay will receive a 50% refund of the nightly rate and cleaning fee.
Super Strict 30 Days: Cancellations made up to 30 days before the start of the stay will receive a 50% refund of the nightly rate and cleaning fee.
Long Term (Bookings Exceeding 27 Nights): Cancellations are permitted for 48 hours after the booking, providing the cancellation occurs at least 28 days before check-in.

Cancellations can be made before check-in and guests will receive a refund, minus the first 30 days.

Strict: Free cancellations are permitted for 48 hours after the booking, providing the cancellation occurs at least 14 days before check-in.

Cancellations made up to 7 days before the start of the stay will receive a 50% refund of the nightly rate and cleaning fee.

Moderate: Free cancellations are permitted up to 5 days before the start of the stay. Cancellations less than 5 days before the start of a stay will receive a 50% refund.
Flexible: Free cancellations can be made up to 24 before the start of the stay. Cancellations made less than 24 hours before the start of the stay will receive a refund minus the first night.
Guest Reviews
Both websites feature an overall satisfaction rating, guest reviews, and the host's response. Whereas VRBO has just 1 satisfaction rating, Airbnb breaks down the score into different categories, so that you can see the individual scores for aspects such as cleanliness, communication, and location. The only other difference is that Airbnb includes profile pictures of guest reviewers (where available), which can add a bit of credibility to the review.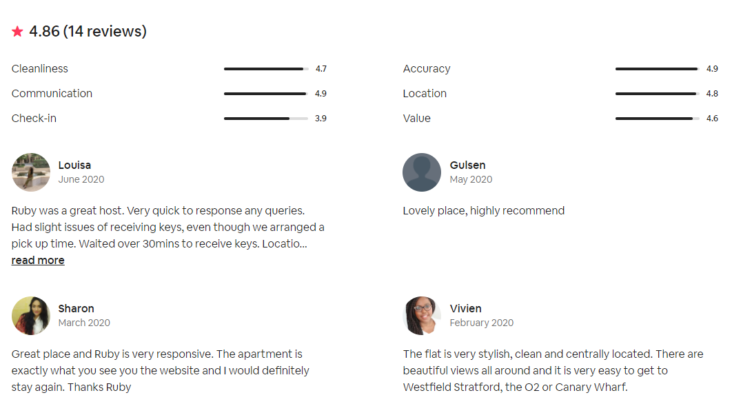 Interesting Features
Airbnb offers more than just accommodations — there are Airbnb Experiences, too. You can sign-up for an in-person or virtual cooking class, visit historic sights on a walking tour, or arrange a photoshoot, and it's all provided by locals.
Although the concept of saving and sharing properties online with family and friends is nothing new, VRBO has a handy feature where you can save and annotate specific properties. Add your travel companion to your Trip Board and you both can note down what you love about the property or the 1 thing that it's missing.
Bottom Line: Overall, the online experience is slightly better with Airbnb, with a greater choice of accommodation and the ability to view map pricing at a glance to speed up browsing. If the price is an important factor over convenience, VRBO's service fees can be up to 8% cheaper when comparing those top-end properties. Price-conscious travelers will also be drawn to Airbnb due to its availability of private rooms within houses that tend to offer much cheaper rates than entire properties.
VRBO vs. Airbnb for Hosts
Booking Fees/Commission
With VRBO, property owners can choose to advertise with a flat annual fee or through a pay-per-rental commission. The annual fee of $499 allows unlimited bookings, whereas the commission-based structure charges 5% per rental plus a 3% credit card processing fee.
The Airbnb fee for hosts is 3% of the booking subtotal (10% for hosts in mainland China and potentially higher for Airbnb Plus hosts).
Search Rankings
With hundreds, if not thousands, of properties available in some areas, it's important to get your property to rank as high up the list as possible in the search results. Both websites take into consideration a combination of factors — some of which are within your control and some that are not.
Ensuring that your listing has a detailed description and lots of good quality photos will help drive booking requests, and the higher the conversion rate on your listing, the better your search ranking can be. Airbnb and VRBO also consider factors such as allowing Instant Book on your property, how quickly you respond to inquiries, and whether you've had no or a low number of rejected or canceled bookings.
Airbnb Superhost Status
Airbnb rewards its hosts with Superhost status when they have kept their accounts in good standing. These are the minimum requirements to become a Superhost:
Completed 3 reservations that total at least 100 nights, or at least 10 trips
Maintained at least a 90% response rate within 24 hours
Maintained a 1% percent cancellation rate or lower
Maintained a 4.8 guest rating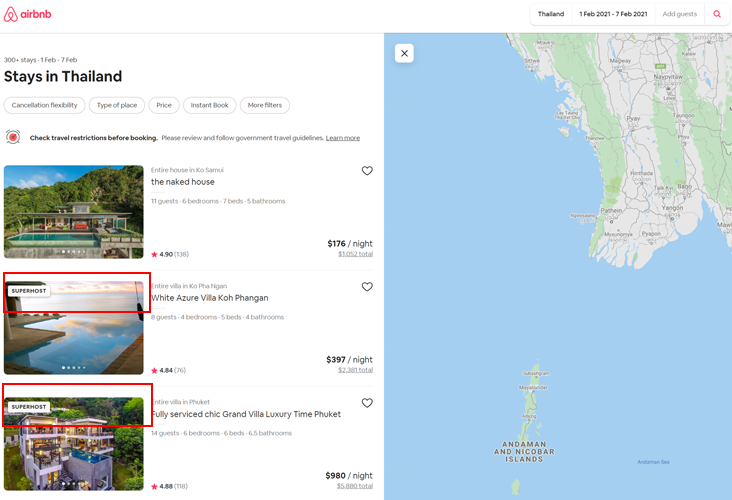 The Superhost profile badge features on the property listing and can reassure guests that you're a reliable host.
Listing Management
It's really easy to register your property on Airbnb. You're guided through a step-by-step process, which includes selecting your property's facilities, uploading photos, and defining the rental rules for your guests.
If you're signing up to VRBO and have a listing on another travel site such as Airbnb, you need to call the listing team to get started. If you're not listed elsewhere, you can set up your listing online and the process is as simple as Airbnb.
Booking Calendars and Instant Book
Whether you allow Instant Book or not, it's important to keep your booking calendar updated so that guests can check availability and avoid double booking.
With Airbnb and VRBO, you can sync your calendar with other rental sites to ensure you don't have to reject or cancel a booking, which can lead to host penalties. Airbnb also enables you to sync calendars between multiple listings, for example, if you rent an entire place and the rooms separately.
Smart Pricing
With Airbnb, you can activate Smart Pricing that automatically adjusts your nightly rate in response to demand. Rates can be affected by seasonality, local events, and midweek vs. weekend dates, and Airbnb will increase or decrease your rates to attract more guests.
Bottom Line: For hosting, there's very little difference between Airbnb and VRBO with the online experience when it comes to listing your property. Both offer intuitive admin areas and provide tips and guidance for suggested nightly rates based on the property's location and facilities. The Airbnb Superhost status can add credibility to a host profile and is something to work towards to ensure best practices. If the commission is the deciding factor, Airbnb will be a host's top choice charging a flat 3% compared to VRBO's pay as you go 5% plus the 3% credit card processing fee. 
Final Thoughts
So, which accommodation rental site should you book or host with? That depends on your circumstances. If you're looking for a budget option of renting a room within a property, Airbnb is the website for you as VRBO only offers entire properties. If you're looking for accommodation that is out of the ordinary, Airbnb makes it easier to find these hidden gems with a filter specifically for unique stays.
From a usability point of view, Airbnb has the edge on VRBO, as they've considered small touches that allow you to select properties that offer greater reassurances in host reliability. Superhost status and timeframes showing a host's typical response rate can indicate how dedicated a host is in maintaining their listing.
When choosing which website to rent on, it's likely going to come down to commission, as you're renting your place to make money, right? Airbnb's 3% is less than VRBO's 5%, but if your property is a full-time rental, you might want to consider VRBO's annual subscription that allows unlimited bookings for a fee.