How to Use the ANA Global Mileage Mall to Earn More Miles
If you fly frequently with All Nippon Airways (ANA), then you'll be pleased to know you can earn more ANA Mileage Club Miles with just a click before shopping online.
Read on to find out how to earn these extra miles using the ANA Global Mileage Mall.
When you first visit the shopping mall, you can choose your location to customize the offers you see so they're more relevant to you.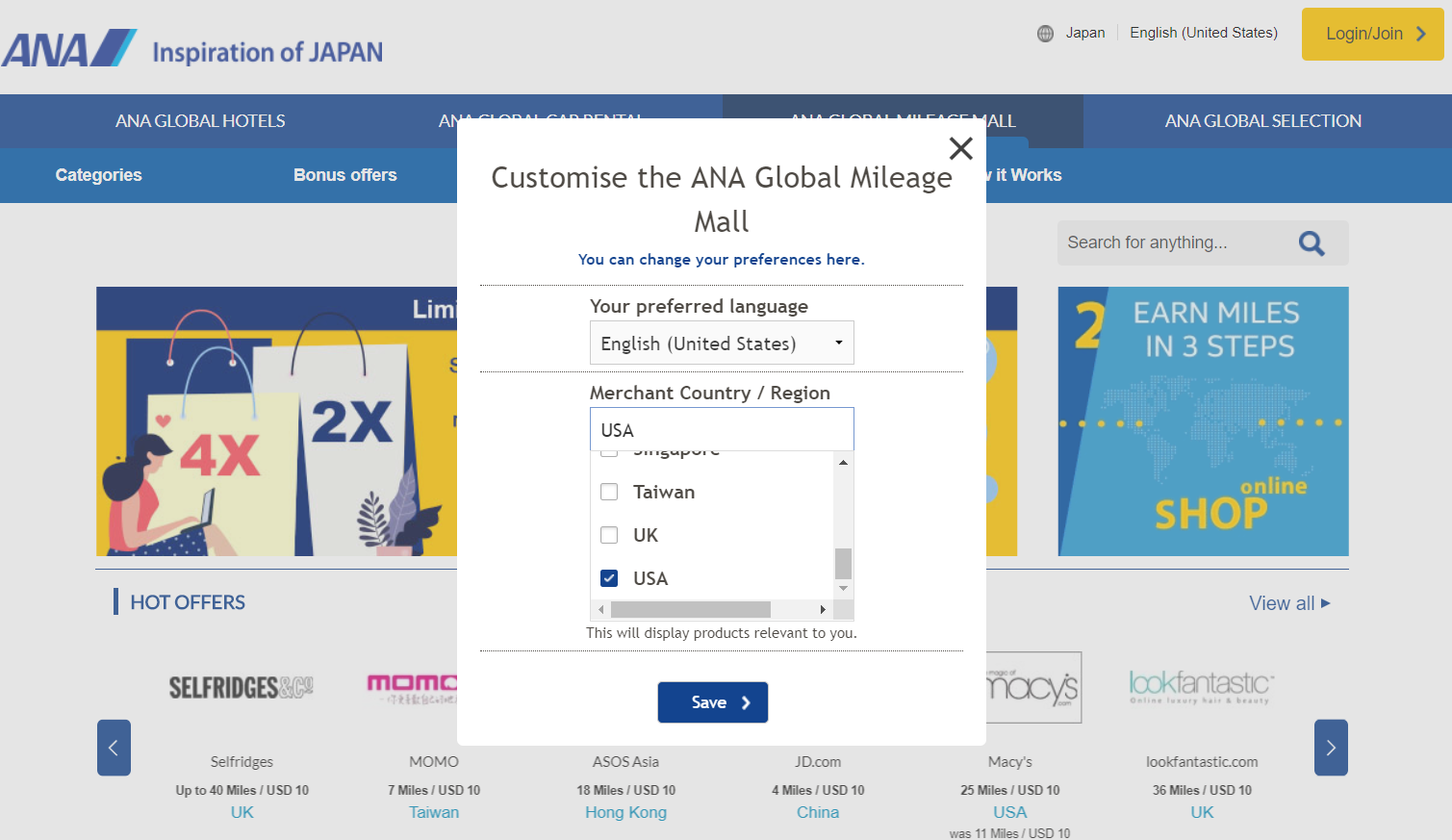 How to Log In
To take advantage of the bonus miles, you'll need to log in to your account using your ANA Mileage Club membership details. If you are not yet a member, then you'll need to sign up here.
If you're already a Mileage Club member, you don't need to create a separate login to access the shopping portal — you just need to input your account number and password into the login box and click "Go to website."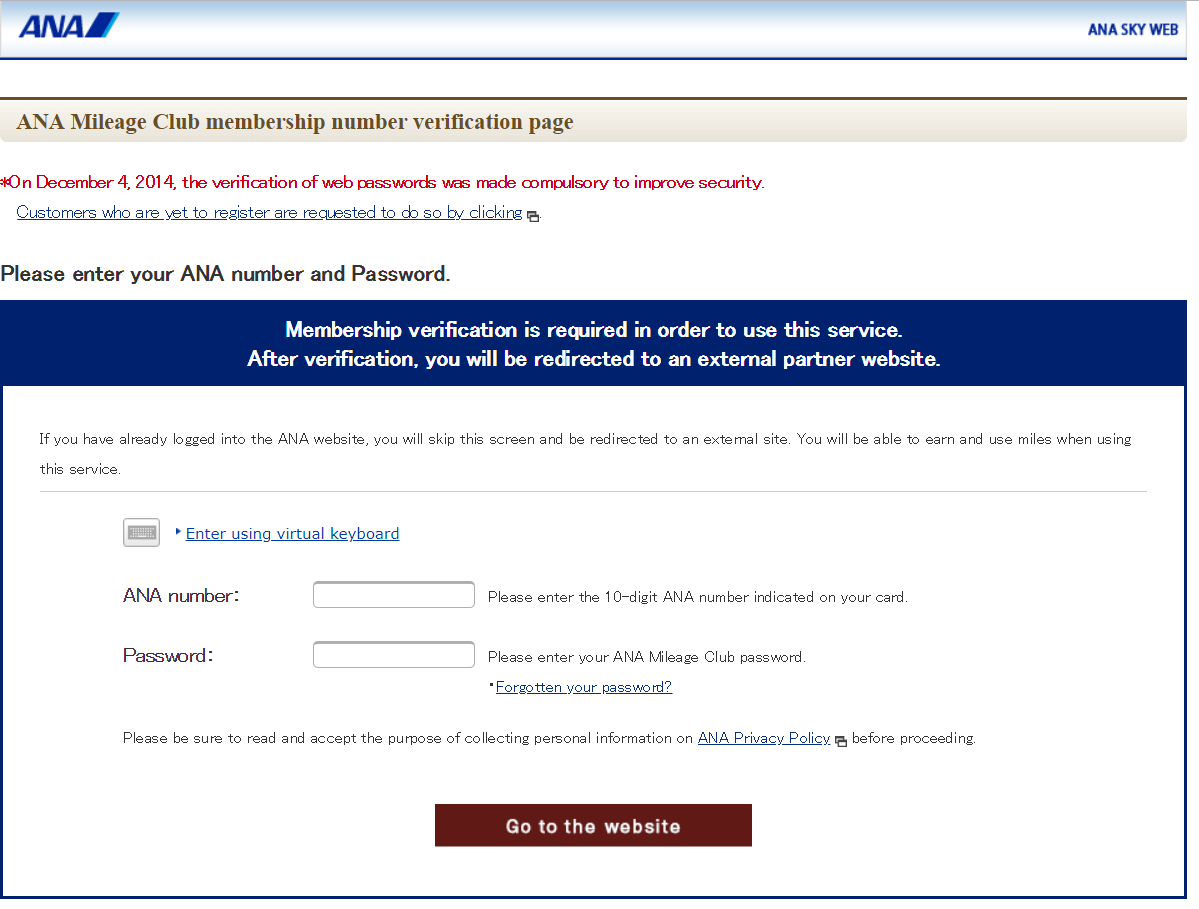 Basics of Using the ANA Portal
Once you are logged in, you can browse retailers and special offers. There are tabs at the top of the Mileage Mall homepage for easy navigation.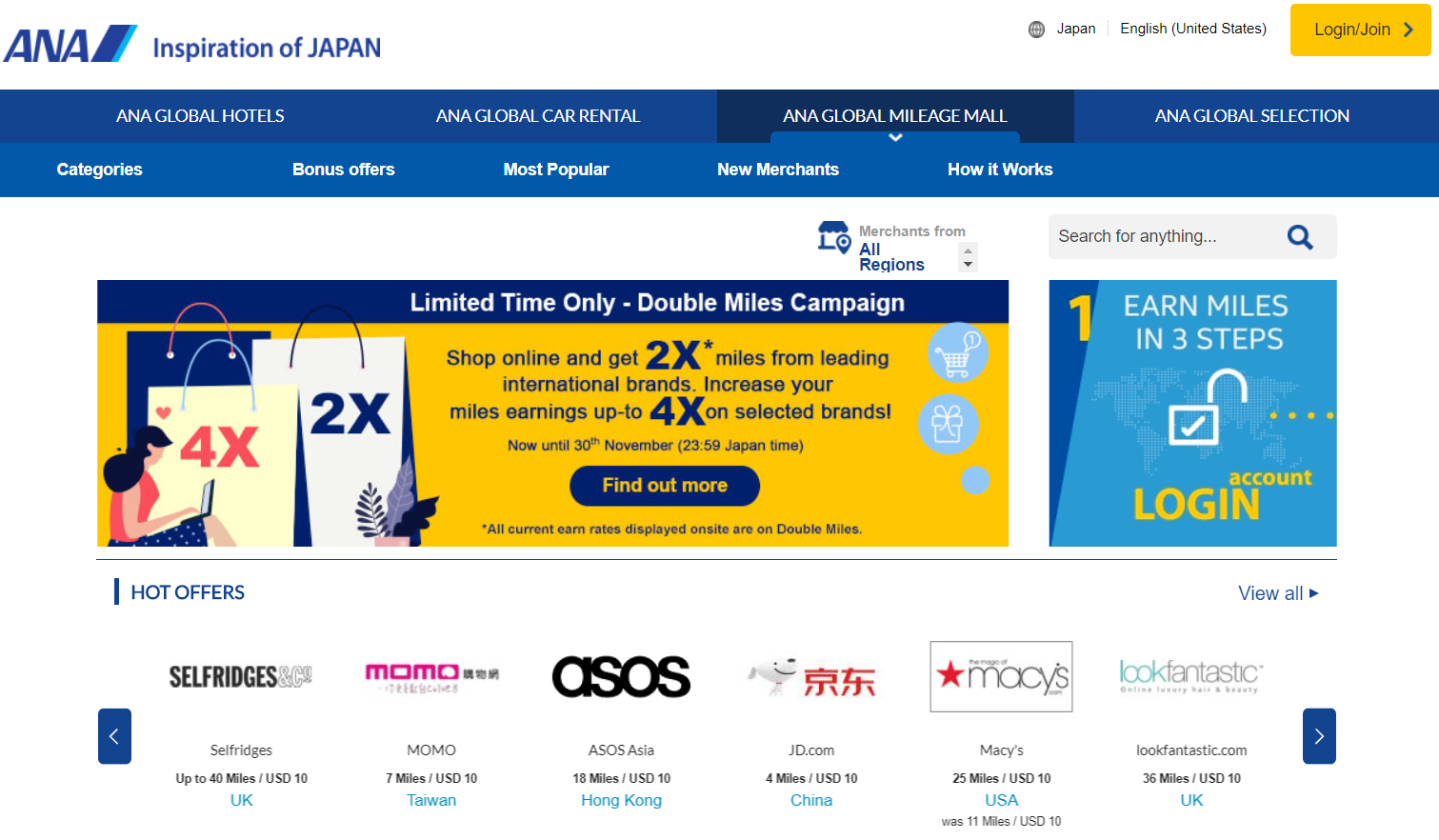 On the homepage, there will be a selection of retailers under the Hot Offers section that you can navigate to quickly, or you can search for a particular retailer using the search box at the top right.
If you know what you're in the market for, you can browse by category by using the Categories drop-down.
When you click on a retailer, you will be directed to a dedicated page where you can view current offers, live e-vouchers, company information, and purchase terms.
To start shopping, click "Shop now" or "Login to start shopping" (if you haven't logged in yet).
Hot Tip: Though you can browse retailers without logging in, be sure to do so before you make a purchase so all your miles will be counted!
Once you click through, you'll be directed to the retailer's website. Here, you can browse and shop as normal  — all purchases will be tracked and recorded to your Global Mileage account through the use of cookies.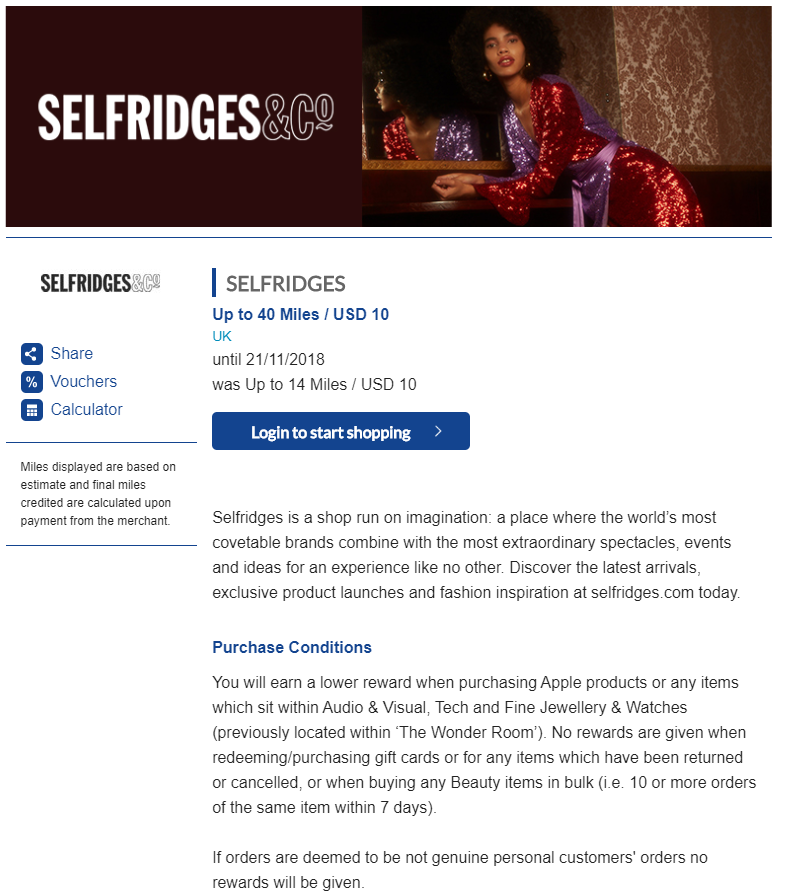 Once you make a qualifying purchase, ANA will show the points as pending within 5 days. When the purchase has been validated, the points will be credited to your account (usually within 90 days).
You must always click through from the Global Mileage Mall before making a purchase; it's not possible to retroactively apply points if you forget!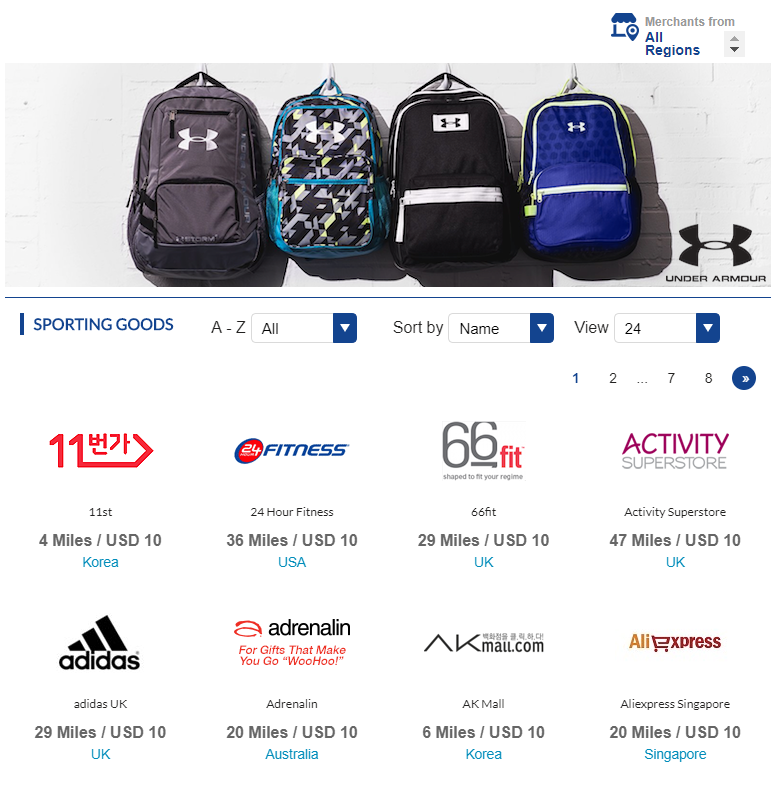 Once you have selected a category, you can sort your retailer results alphabetically, by highest point earning, or most popular.
Hot Tip: If you would like to see what deals other shopping portals are offering at a particular store, use CashBack Monitor to easily see a store's offers at 45 different shopping portals.
Special Offers
Occasionally, the ANA Global Mileage Mall will run special offers that help you earn bonus miles.
For example, in fall 2018, ANA gave members the chance to earn 2x or 4x the usual number of miles with specific retailers.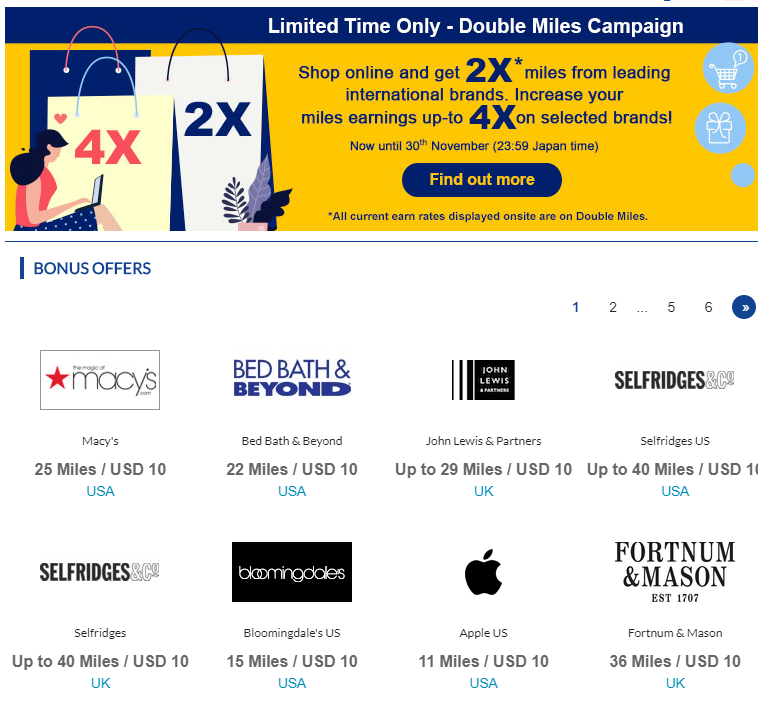 Hot Tip: You can use all your extra miles to book a first class flight on ANA's A380 aircraft.
Example Retailers
There are currently over 1,000 retailers to choose from when shopping through the ANA Global Mileage Mall, including global and Japanese brands.
Miles are calculated against a $10 spend — so although they may appear high vs. other airline shopping portals, they are actually fairly similar (if not slightly lower).
At the time of this writing, these were some of the better earning rates being offered:
Macy's: 25X miles per $10
Clarins: 22X miles per $10
American Eagle: 15X miles per $10
Microsoft: 10X miles per $10
Saks Fifth Avenue: 29X miles per $10
…and more!
Vouchers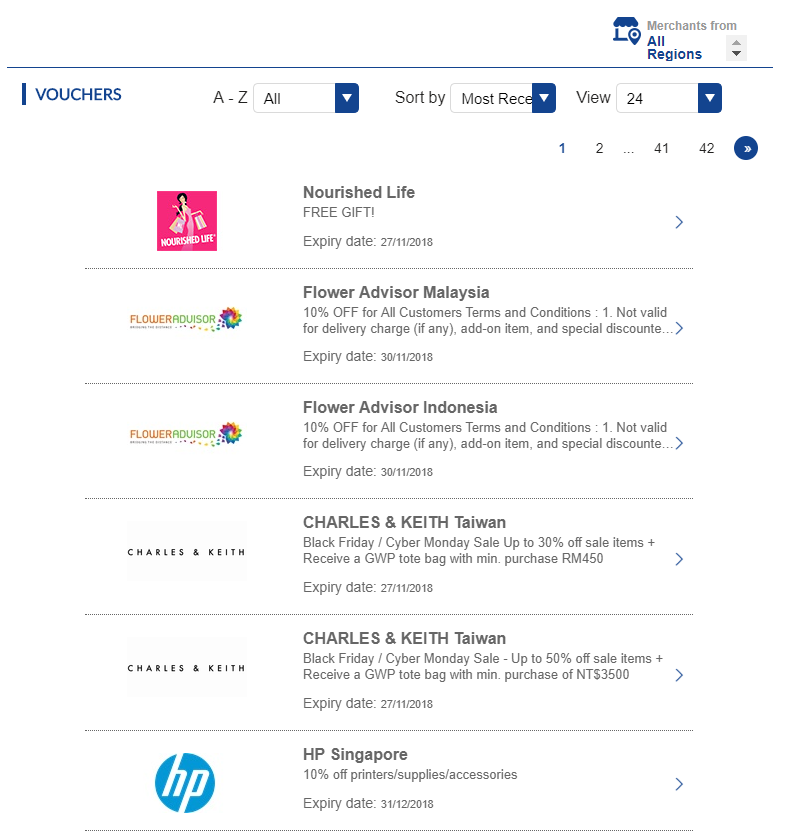 Another benefit of being an ANA Global Mileage Mall member is that you have access to voucher promotions from lots of retailers. So it's not just the extra bonus points you'll receive!
Here are some example offers at the time of writing this article:
Timberland — take an additional 15% off
All Saints — 30% off everything
Lenovo — save an extra 5% on any PC, plus free shipping
Hot Tip: You can use all of the extra miles you earn to treat yourself to a business class flight on ANA!
Using Credit Cards to Earn Extra ANA Miles
To further boost your ANA miles, use a rewards card that'll earn "flexible" points which can then be transferred directly to your ANA Mileage account, as well as many other airline and hotel partners.
In this case, Amex Membership Rewards and Marriott Points can be transferred directly to ANA!
Our personal preference is to earn Amex Membership Rewards because they're easy to accrue, and they're extremely valuable.
Recommended Amex Cards (Personal)
The Platinum Card® from American Express - There's currently a new welcome bonus offer of 60,000 75,000 Membership Rewards Points after spending $5,000 on purchases in your first 6 months of Card Membership. Plus, earn 10x points in the first 6 months on eligible purchases at U.S. Gas Stations and U.S. Supermarkets (on up to $15,000 in combined purchases).

This is our #1 card for accessing 1,300+ airport lounges worldwide (including Priority Pass). We leverage ~$3,000+ in benefits and perks from the card every year. Terms Apply. For rates and fees of the Amex Platinum Card, click here.

American Express® Gold Card - This card has a new welcome bonus of 35,000 60,000 Membership Rewards points after spending $4,000 on purchases in your first 6 months of Card Membership.

We love using this card as it earns 4x points at Restaurants worldwide, including takeout and delivery, plus, earn 4X points for Uber Eats purchases too, and 4x points at U.S. supermarkets (up to $25,000 per calendar year; then 1x. Terms Apply).

There's no better card in our opinion if you eat out and/or shop at supermarkets regularly; and you'll have access to many benefits and perks. For rates and fees of the Amex Gold, click here.
Recommended Amex Cards (Business)
The Business Platinum Card® from American Express - Right now, there's a new welcome bonus of 75,000 85,000 Membership Rewards points after spending $15,000 on eligible purchases, plus earn 5x points on eligible purchases in 5 select business categories, up to 80,000 bonus points per category, all within the first 3 months of Card Membership. Terms apply.

See how we get $4,000+ in value per year by leveraging many of the benefits & perks, including access to 1,300+ airport lounges worldwide. For rates & fees of the Business Platinum, click here.
American Express® Business Gold Card - one of our favorite Amex business cards because we earn 4x points across the top 2 select categories that we spend the most money in each month, such as Facebook or Google ads. The 4x points applies to the first $150,000 in combined purchases from these 2 categories each calendar year. After that, you earn 1x. Terms Apply.

The current welcome bonus is 70,000 Membership Rewards points after spending $10,000 on eligible purchases within the first 3 months of Card Membership. You can also earn up to $300 in statement credits on eligible U.S. advertising and U.S. shipping purchases. Terms and cap apply. For rates and fees of the Business Gold Card, click here.
The Blue Business® Plus Credit Card from American Express - A super simple, no annual fee card that earns you 2x points on everyday business purchase, up to $50,000 annually. After that, then 1x. That makes for an easy 100,000 points per year. For rates and fees of the Blue Business Plus, click here.
Final Thoughts
If you're an All Nippon Airways fan who collects Mileage Club miles, using the shopping portal is an easy way to bump up your account — especially if you get lucky and shop during a special bonus offer period!