CashBack Monitor – Maximizing Your Points From Shopping Online [Review]
Let me guess, you're interested in earning lots of points and miles, but you aren't quite sure how to earn enough without spending a lot.
That's a common concern and one that we hear often. The good news is that there are ways to easily make the most of each dollar you spend.
One of the ways to do this is shopping portals. Shopping portals allow you to earn extra points for your online purchases just by clicking through a specified portal.
The trick is knowing which portal is offering the best deal. Thankfully, this part is easy because of CashBack Monitor. This site lists the bonuses for lots of stores in over 40 different shopping portals. They do all the work; all you have to do is click through.
In this post, I'll show you how to use this site to find the best bonus for your next online purchase. Plus we'll take a look at a few of the advanced features that CashBack Monitor offers.
How Do Shopping Portals Work?
Shopping portals are a great way to supercharge your points-earning potential! These sites offer cash back or bonus points for clicking through their website before making a purchase.
Here's how it typically works. If you click through a shopping portal to make a purchase, that shopping portal will earn an affiliate commission on your purchase and then pass some of that commission back to you in the form of a cash back rebate, points, or miles.
What Is CashBack Monitor?
Shopping portals are great, but it could be a full-time job keeping track of who has the best bonus for the store you want to make a purchase from.
That's where CashBack Monitor comes in to play. This website collects and organizes data from cash back sites and travel shopping portals to help you easily find the best opportunity.
With just a few clicks, you can find the best cash back rate or the portal offering the most bonus points.
How To Use CashBack Monitor
CashBack Monitor is very easy to use. All you need to do is enter the store you're shopping at into the Search Store Here box.
Then you'll see all of the cash back and bonus points options available for that store.
Each store will have different columns displaying different cash back or travel points options. The highest bonuses will be at the top of the list.
You can click through directly to the store, however, that's not required. You do need to click through from the shopping portal to the store, but you don't need to click through from CashBack Monitor to the shopping portal.
View Best Rate History
If you want to see the history of the offers for a particular store, click on View Best Rate History underneath the store name.
This will bring up 4 different best rate history graphs:
Cash back
Travel miles/points
Credit card points
Other rewards points
These graphs will show the bonuses that were available over the previous 15 months. You can hover over the graph to see a pop up of which portal offered the bonus and the dates on which that rate was offered.

How To Find the Best Deals
If you're interested in knowing what the best cash back or bonus points offers are, look no further than the home page of CashBack Monitor.
Here you'll see a list of the best offers available at that time. You can customize this list by clicking on Customize Your Own sort to see the best deals among select stores.
You can filter the list using the options at the top. Choose the type of portal you want to view and the reward type (percentage or fixed). Click Sort to make your chosen adjustments.
Assign Cash Value to Miles and Points
This is where CashBack Monitor gets super cool (at least for those of us who are points and miles fanatics!) Since not all points are created equal, you can actually go in and adjust the value given to the points and miles on CashBack Monitor.
For example, you might search for a store and see that it's offering 1 extra Ultimate Rewards point, but 2 Hilton Honors points. At first glance, it might seem like the Hilton bonus is better. But Hilton points are generally valued around .5 cents each whereas Chase Ultimate Rewards points can be worth 1.5 cents each or more! So, 1 Chase Ultimate Rewards point is worth much more than 2 Hilton Honors points.
To get started assigning a cash value to your points or miles, create an account and click on your profile in the upper right-hand corner.
Then click on Assign Value to Miles. Now you will be able to see all of the values you can adjust.
Just enter what you think the value is in cents. For example, let's say you value Southwest Rapid Rewards points at 1.5 cents each, just enter 1.5 in the box next to Southwest. Don't forget to click Save at the bottom of the page.
Once you've adjusted a value, you'll see that in your searches. The default setting changes to a percentage return, and the percentage will reflect your adjusted values.
Hot Tip: If you aren't quite sure what different miles and points are actually worth, check out our guide to travel points and miles valuations.
CashBack Monitor Bookmarklet
CashBack Monitor's Bookmarklet feature lets you quickly jump to CashBack Monitor from the store you are visiting to make it even easier to earn cash back or extra travel rewards points.
To use the Bookmarklet feature, click on Bookmarklet on the home page.
You'll get a link to drag and drop to your browser's bookmark toolbar. Then, when you're shopping, you can click on the CashBack Monitor Bookmarklet to take you directly to that store's page on CashBack Monitor.
CashBack Monitor — My Monitor
To use the My Monitor section of the website, you need to sign in via Facebook, Twitter, or Google.
Next, you'll need to set up My Monitor to suit your preferences. Click on your profile in the upper right-hand corner. Then select Config My Monitor.
From here, select your favorite shopping portals (up to 8). Then scroll down a bit and select up to 20 stores to monitor. If you don't want to select any stores you can leave this area blank.
Click on the green Save Configuration when you're done.
Now when you go to the My Monitor tab, you'll only see the shopping portals and stores you selected. This chart will show you the best rate available for each store plus the rates from each portal you selected.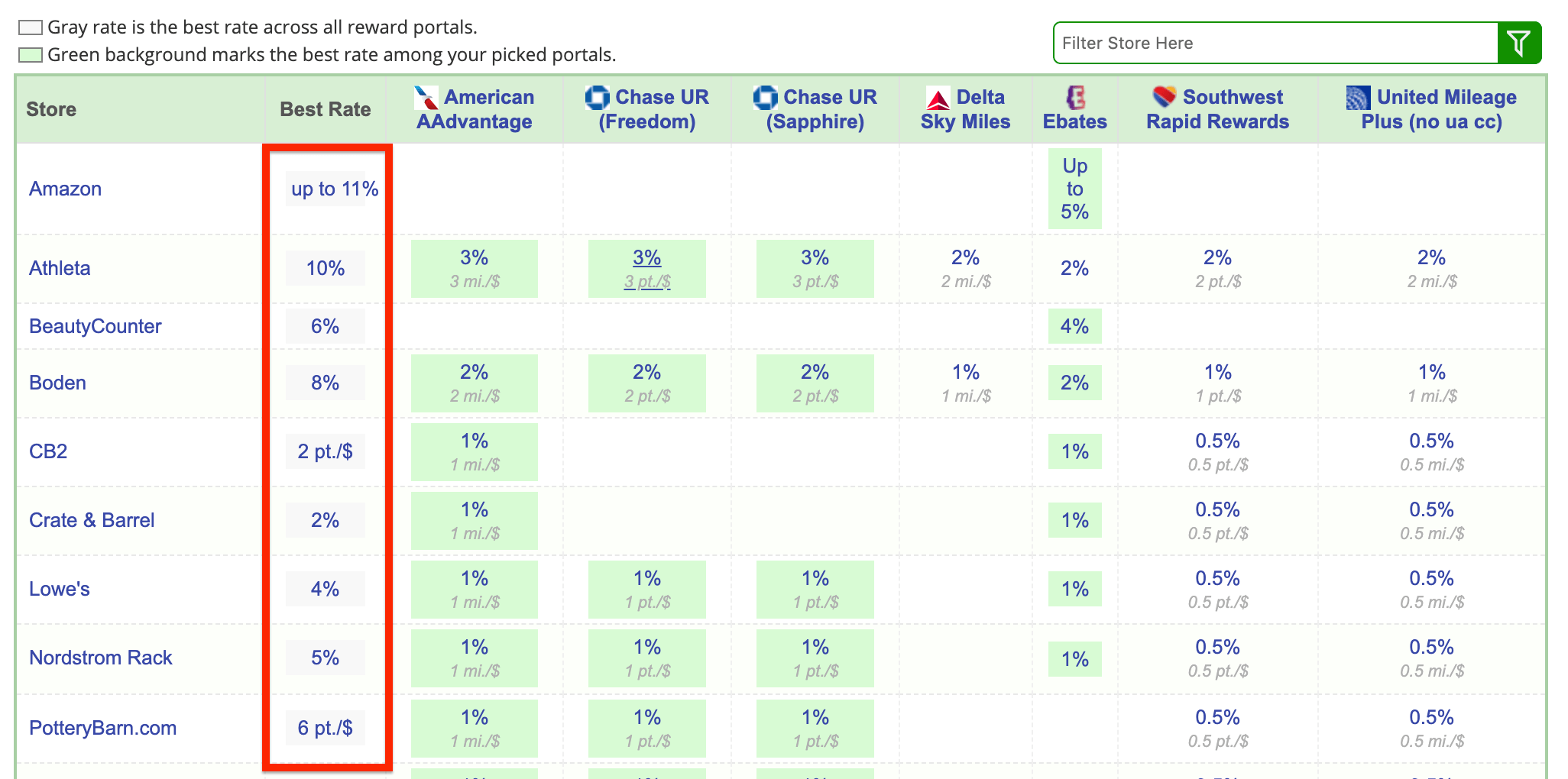 Bottom Line: CashBack Monitor offers a simple interface to find the cash back rates and bonus points and miles for the store you're shopping at. They also offer advanced features to customize your experience, including My Monitor, the CashBack Monitor Bookmarklet, and the ability to assign value to different types of points and miles.
What Shopping Portals Are Included on CashBack Monitor?
CashBackMonitor keeps tabs on 45 different shopping portals including cash back portals, travel miles and points portals, credit card points portals, and a few others that don't fit into any category.
Travel Points and Miles Shopping Portals
Amtrak Guest Rewards
British Airways Mall (US)
Spirit Online Mall
United Mileage Plus Shopping Portal (no UA credit card)
United Mileage Plus (UA credit card)
Credit Card Points Shopping Portals
BarclayCard RewardsBoost
Chase Ultimate Rewards Shopping Portal (Ink Business Preferred® Card)
Chase Ultimate Rewards Shopping Portal (Chase Sapphire® Credit Cards)
Wells Fargo Rewards
Cash Back Shopping Portals
Active Junky
BeFrugal
Citi Bonus Cash Center
Coupon Cactus
Dollar Dig
ExtraBux
Giving Assistant
Glamour Rewards
GoCashBack
Green Back Street
Hoopla Doopla
iConsumer
Kindly
Lemoney
Mr. Rebates
RebatesMe
Shop At Home
Simply Best Coupons
Sunshine Rewards
Top Cashback
UPromise
UseJewel
Other Rewards Points Portals
Feature Points
iConsumer
MyPoints
Swagbucks
Final Thoughts
Shopping portals are a great way to earn extra points for each dollar you spend. CashBack Monitor makes it easy to keep track of which shopping portal is the best choice for your purchase.
All you need to do is click through the portal to make your purchase, and you'll be rewarded with a cashback bonus or bonus points or miles. It's an easy way to supercharge your points-earning potential!