The 12 Best Delsey Luggage for Travelers in 2020 [Hardside, Softside, Travel Bags]
Delsey is one of the most instantly recognizable and well-respected luggage brands in the world, offering luggage solutions synonymous with style and durability for discerning travelers. Its luggage is not just a practical item but a fashion accessory to complement any look.
Why Buy Delsey Luggage?
The Delsey brand has been designing and manufacturing first-class luggage since the 1970s. Offering a distinctive Parisian flair, its cases, carry bags, garment carriers, backpacks, and duffels are all built using the highest quality materials while offering a certain European "je ne sais quoi."
From its humble beginnings as a purveyor of leather camera cases and protective boxes for typewriters and phonographs, Delsey has always had a sharp eye for design and a refusal to compromise on quality. It now creates innovative, modern, and practical luggage ranges that offer the flexibility to suit every type of traveler.
By closely scrutinizing the performance of the materials it uses in its designs, the Delsey brand can offer pieces that are designed to last. In fact, all items in its collections come with a Worldwide Limited 2-, 5- or 10-Year Warranty, or a Lifetime Warranty, depending on the individual item.
Modern-day travelers need modern-day security solutions to navigate the increased security levels at international airports, and the Delsey Securitech zips are 3 times more resistant to break-ins than traditional zips or closures.
On top of this, its TSA-approved locks mean that security agents can access your belongings quickly and easily should they need to, without running any risk of damaging your suitcase in the process.
Bottom Line: Offering high quality, beautifully designed, and incredibly durable luggage collections, the Delsey brand remains one of the most popular available today.
The Best Delsey Luggage
Delsey offers a wide range of bags and suitcases to suit every kind of traveler. Here are some of its very best.
Hardside Delsey Luggage
Strong and Lightweight, Perfect for Longer Journeys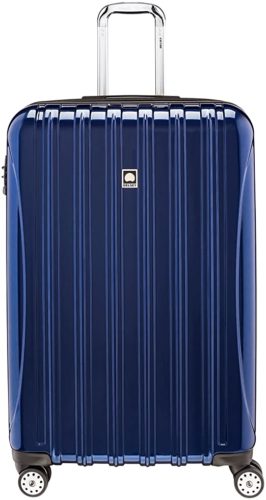 External Dimensions: 31.75 x 20.75 x 12.75 inches
Linear Dimensions: 65.25 inches
Weight: 12.5 pounds
This stylish, hard-sided suitcase is made from 100% polycarbonate — a lightweight and durable material that will last you for many years to come. With a stunning deep metallic finish, and the ability to remain resilient to cracking or breaking no matter how often you use it, the Helium Aero expandable spinner suitcase is a great choice for longer journeys.
On the inside, the case offers 2 good-sized, fully-lined compartments that come complete with multiple pockets to keep your belongings well-organized while you travel. There are also web straps and a zippered divider to ensure that your clothes remain wrinkle-free and in place during transit. The useful packing compartment in the lid with a zippered compartment also provides extra space for smaller items.
The high-spec double spinner wheels help the case to move with ease, and the adjustable pull-along handle makes it easy to find the perfect position to suit your height. There are also soft-touch handles for lifting the case, and a TSA-approved lock, meaning your case can be easily accessed without damage should it be singled out for security checks during your journey.
Hot Tip: The Helium collection is also available in 19-, 21-, and 25-inch sizes, in a range of color options, and 2- and 3-piece luggage sets.
A Great Suitcase for Stylish Travelers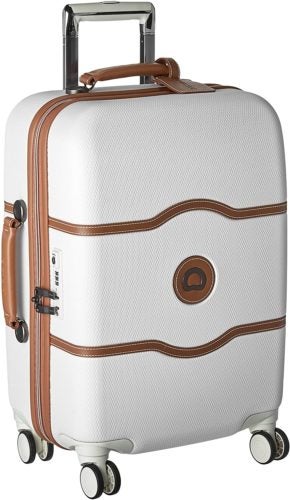 External Dimensions: 22.5 x 15.25 x 10 inches
Linear Dimensions: 47.75 inches
Weight: 7.9 pounds
Taking its name from an upmarket neighborhood in Paris, this timeless and elegant spinner suitcase is designed with both style and practicality in mind.
Made from virgin polycarbonate that has been formulated to offer exceptional durability and strength, this case remains lightweight while being able to offer resistance against extreme temperature and harsh impacts. The Chatelet range is also available in checked 24- and 28-inch options, as well as carry-on bags and a duffel.
This case is as gorgeous on the inside as it is on the outside, with a wealth of useful features to help keep your belongings wrinkle-free and well organized when you travel. The removable hanger makes for easy transfer from suitcase to wardrobe, and the 2 lined compartment with webbed straps will help you to pack more in. There is also a separate laundry bag for keeping dirty clothes away from clean ones and separate shoe bags.
TSA-approved locks and tamper-proof zippers mean that this case can only be opened when you want it to, and the suitcase also comes with an award-winning brake system that prevents it from rolling away from you on an adverse camber.
You can pull your case along next to you using the smooth spinning wheels, and the 1-button locking handle makes it super easy to find the most comfortable handle height for you.
Leather handles and accents add style, and in case you are worried that someone will steal your beautiful new suitcase, there is even a tracking device embedded in the case to ensure that you never have to go anywhere without it.
For Those Who Need a Matching Set
External Dimensions
21-Inch Spinner — 21.25 x 14 x 9 inches
25-Inch Spinner — 27.25 x 18 x 11.75 inches
Linear Dimensions
21-Inch Spinner —  44.25 inches
25-Inch Spinner — 57 inches
Weight
21-Inch Spinner — 7.9 pounds
25-Inch Spinner — 10.1 pounds
This 2-piece luggage set comprises a 21-inch carry-on case and a 25-inch check-in suitcase, offering all the luggage capacity you need for a trip away. Both cases are made from 100% high-strength polycarbonate, and the deep metallic scratch-resistant matte finish will look and perform like new for many years to come.
Both cases feature a 50/50 opening with 2 separate compartments offering lots of usable storage space. Both cases also offer tie-down straps to keep your belongings in place during transit, as well as 2 extra inches of expandable space, giving you even more room for your belongings.
To make it easier to travel with this suitcase set, both cases come with smooth spinner wheels that sit just off center of the case, offering a wider and more stable base, keeping your cases upright no matter how much you fill them with. The integrated handle systems offer 2 lockable positions, and there are also gel-like soft-touch top and side carry handles for further comfort and flexibility.
Bottom Line: This is a great travel combo for couples and singles looking to maximize luggage space without sacrificing on style.
Lightweight Yet Incredibly Durable Choice for Frequent Flyers
External Dimensions: 31.25 x 19.75 x 12.25 inches
Linear Dimensions: 63.25 inches
Weight: 10.2 pounds
The Cruise Lite range is available in a carry-on bag and a 25-inch checked bag, but this 29-inch version is the largest and most practical for longer trips away. Made from a tough yet lightweight Plenium composite, this case offers a grained texture to help resist the scratches and scuffs you expect from air travel.
On the inside, the unique Maxpack top-lid opening allows you to pack more in a large main compartment. There are also elastic tie-down straps to keep your belongings secure, as well as zipped pockets and a water-resistant pocket for keeping damp or dirty items. This case can also expand an additional 2 inches to allow you to pack even more for your next adventure.
The dual-density, silent-core double spinner wheels offer a quiet and smooth-rolling ride, while the ergonomic, rubberized, non-slip grip on the adjustable trolley handle makes for maximum comfort. There is also a TSA-approved lock to keep your belongings safe and offer easy access to TSA agents should they need to access your case while you travel.
Fashionable Hardside Case for Those Who Like to Travel Light
External Dimensions: 20.75 x 13.5 x 10 inches
Linear Dimensions: 44.25 inches

Weight: 6.2 pounds
Made from lightweight yet durable polycarbonate materials, this carry-on case offers all the space you need for a short trip away. Available in a choice of navy, black, burgundy, and silver, the fashionable textured look is designed to be scratch-resistant and built to last.
On the inside, the case offers a main compartment that expands to help you maximize your luggage space and increase its flexibility. There are also tie-down straps to help prevent your belongings from shifting during transit, and the zippered mesh divider provides 2 separate packing compartments.
The 4 double spinner wheels offer a smooth, quiet ride, and the TSA-approved locks offer maximum security as well as easy access to TSA agents should they require it. The Alexis range is also available in 23- and 27-inch sizes should you wish to complete the set.
Elegant Case for the Week-Long Getaway
External Dimensions: 27.25 x 16.75 x 11.5 inches
Linear Dimensions: 55.5 inches
Weight: 8.2 pounds
This elegant and lightweight soft-sided suitcase is the perfect size for week-long vacations or short business trips. With stunning gold metal accents and vegan leather trim, this is a great looking suitcase that exudes quality both inside and out. The Montrouge range also offers a cabin size suitcase, a duffel, a vanity case, and a matching backpack, all equally as stylish and designed to work well together.
On the inside, the 2 full-size compartments with separated lined dividers offer perfectly defined storage spaces to keep your clothes neat and well-organized in transit. The stunning patterned lining can also be removed for washing, and the main compartment also expands by 2 inches, giving you extra space when you need it the most.
This case offers exceptional security and protection with an integrated TSA lock and the patented SECURITECH 2 zip technology. The multi-position handle extends and retracts in seconds, and the silent-running, double spinner wheels offer superior maneuverability on virtually any surface.
Delsey's Lightest Hardside Suitcase
External Dimensions: 27.5 x 18.5 x 11.5 inches
Linear Dimensions: 57.5 inches
Weight: 7.3 pounds
Offering a heady blend of handsome good looks and incredible space and practicality, this hardside suitcase is made from durable, yet lightweight, 100 percent virgin polycarbonate. Available in 2 stunning colors and a larger 30-inch option, this an exceptionally well-crafted suitcase designed to meet the needs of frequent flyers and discerning travelers.
With a fully lined interior, the sizable packing compartment comes with 2 separate zipped dividers to create 2 practical and secure storage areas. This case also comes with 2 useful soft-touch packing bags that can be used for keeping your shoes or dirty laundry separate from the rest of your belongings.
Featuring the patented SECURITECH 2 zip system, you can prevent unwanted access to your case in transit, while the recessed TSA-accepted combination lock allows agents to check your baggage without damaging it. The double spinner wheels offer effortless maneuverability, and the retractable handle slides in and out in seconds when you need to roll and go.
Softside Delsey Luggage
Carry Your Laptop in Style
External Dimensions: 16.25 x 12.5 x 7 inches
Linear Dimensions: 35.75 inches
Weight: 2.2 pounds
This stylish backpack is made using the finest vegan leather trim, with designer retro looks on the outside and modern-day practicality on the inside. Big enough to carry everything you need for a short business trip, the Delsey Chatelet range also offers a carry-on bag, 24-, and 28-inch suitcases as well as shoulder and duffel bags if you want to collect the full set.
On the inside, your laptop or tablet (up to 15.6 inches) can slip into either of the 2 padded sleeves to help keep them well-protected while you travel. The soft-touch polyester lining adds to the deluxe feel of this backpack, while the removable sleeve, hidden zippered pockets, and 2 further side pockets offer plenty of well-organized storage space for your essential belongings.
2 adjustable, soft-touch straps make this a delight to carry around with you, and there is also a smart band on the back of the backpack that slides over the handle of your wheeled luggage to keep it safe and in sight on the go. Chevron fabric, gorgeous vegan leather accents, and plenty of practical storage space make this a brilliant alternative to plain and boring laptop carriers.
Add Extra Inches With an Expandable Suitcase
External Dimensions: 27.75 x 17.5 x 12 inches
Linear Dimensions: 57.25 inches
Weight: 8 pounds
This lightweight, durable, medium-sized suitcase is made from durable MicroBallistec material, ensuring that it remains rip-proof and hardwearing for many years to come. Corner protectors and skid bars also help make this an easy-to-use, yet incredibly tough bit of kit.
Inside, there is a good-sized main compartment that is deep enough to hold many of your belongings for vacations and trips away. There is also a mesh pocket and wet pocket housed in the lid, as well as tie-down straps and shoe pocket in the main compartment. The large back pocket is the perfect place for your newspaper, magazines, or jacket.
The cushioned neoprene top is easy to wipe clean, and the side carry handles and easy-to-grab bottom handle make this a practical choice for all modes of travel. The integrated dual-position handle system means that you can choose to use this suitcase in 2- or 4-wheel mode, and the adjustable handle and super smooth wheels make light work of traversing the suitcase alongside you.
Hot Tip: The Paris Sky Max range also offers a carry-on bag and 21- and 29-inch cases to complete the set.
Delsey Travel Bags
A Spacious Weekend Bag for Short Trips Away
External Dimensions: 14.25 x 21.25 x 9.75 inches
Linear Dimensions: 45.25 inches
Weight: 2.8 pounds
With chic retro looks and a stunning red-lined interior, this duffel bag is perfect for weekends away. Vegan leather trims and soft-touch materials give this duffel an upmarket look and feel, while still being practical enough to carry everything you need for your next adventure.
On the inside, there is a large central compartment and a wide zip opening, making it easy to pack and unpack your belongings. There is also a large exterior pocket and 2 side pockets for keeping essential items close at hand while you travel.
The removable pouch is useful for carrying smaller items, and the bag comes complete with a toiletry bag to help keep your belongings separate and well organized.
Carry your duffel using the soft-touch adjustable carry handles, or sling it over your shoulder with the padded shoulder straps to keep your hands free on the go. If you want to add the range's matching carry-on bag or 24- and 28-inch suitcases, the smart band on the back of the duffel, will slide easily over the pull handle to keep all of your luggage safe and together in a single place when you travel.
Tuck Your Stuff Under Your Seat
External Dimensions: 15 x 14.75 x 9 inches
Linear Dimensions: 38.75 inches
Weight: 5.6 pounds
This stylish travel bag offers the spacious interior of a cabin-size carry-on with the practicality of a rolling suitcase. With a chic quilted exterior and bright fuchsia accents, this bag can fit in most airline overhead compartments as well as under the seat. This bag is also available in a range of other colors, including blue, purple, violet, burgundy, and teal.
On the inside, the main compartment has plenty of room to hold a change of clothing and an extra pair of shoes, as well as other everyday essentials. There is an easily accessible front organizer for tickets, passports, and other must-have items, and the side waterproof, and mesh pockets are perfect for holding a water bottle or magazines.
The recessed locking handle makes it easy to utilize the wheels for pulling the tote along behind you through the airport, and the wheels have been designed to offer a super smooth ride. There is also a convenient tote band to attach securely to a larger wheeled bag should you wish to.
A Super Stylish Travel Bag on Super Smooth Wheels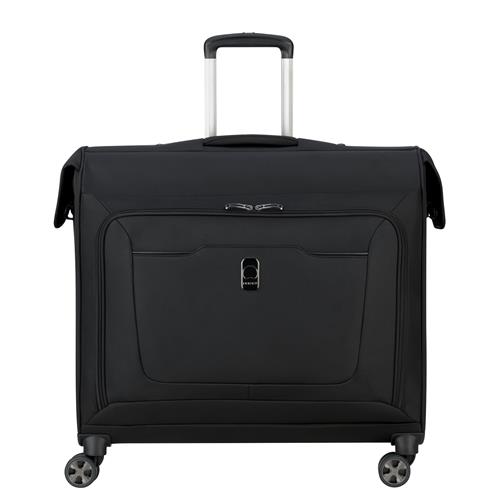 External Dimensions: 22.75 x 23.5 x 11.5 inches
Linear Dimensions: 57.75 inches
Weight: 10.8 pounds
If arriving in style is paramount for your next trip, this luxury garment bag will keep you looking crisp from the moment you unpack. Perfect for business trips and special occasions, this bag will keep your clothing wrinkle-free and perfectly organized.
Made from durable and easy to clean materials, this garment carry-on bag has been beautifully designed to maximize space and increase user comfort. Opening up into 2 flat sections, the carrier features a universal clamping system that can be used to hold hangers while tie-down straps keep items secure, and the extender panel has enough room to accommodate longer garments.
The patented Hyperglide, dual-density, silent-core double spinner wheels ensure the smoothest of rides at all times, and the rubberized non-slip grip on the adjustable handle makes it super easy to find the right position to suit your height. Practical and stylish, a garment carrier is a perfect alternative to a traditional suitcase when you need to look your very best.
Final Thoughts
Delsey makes reliable and stylish suitcases and travel bags that are perfect for those who like to travel regularly. This mid-range brand offers many of the features usually found in high-end suitcases, while still managing to retain an affordable price tag. You will enjoy using your Delsey luggage for many years to come.