The Best Ways to Use 10,000 (or Fewer) American Express Membership Rewards
American Express Membership Rewards® points are super versatile.
Currently, you can transfer them to a variety of different airlines and a few hotel chains, giving you a ton of flexibility in how you spend your points. In fact, you can use Membership Rewards points to fly on Singapore Suites, take advantage of excellent Etihad award deals, and even book transcontinental tickets in business class on the cheap.
But what if you only have 10,000 or less Membership Rewards points? Well, you're not out of luck. Because even with a small amount of Membership Rewards points, you can book free airfare and hotel rooms; you just need to know where to transfer your points.
So in this article, here are the best ways to use 10,000 or fewer American Express Membership Rewards points focusing on the best values for your points, ensuring that you get the best value for even the smallest amount of points.
Transfer to British Airways or Qantas for Short- and Medium-Haul Award Tickets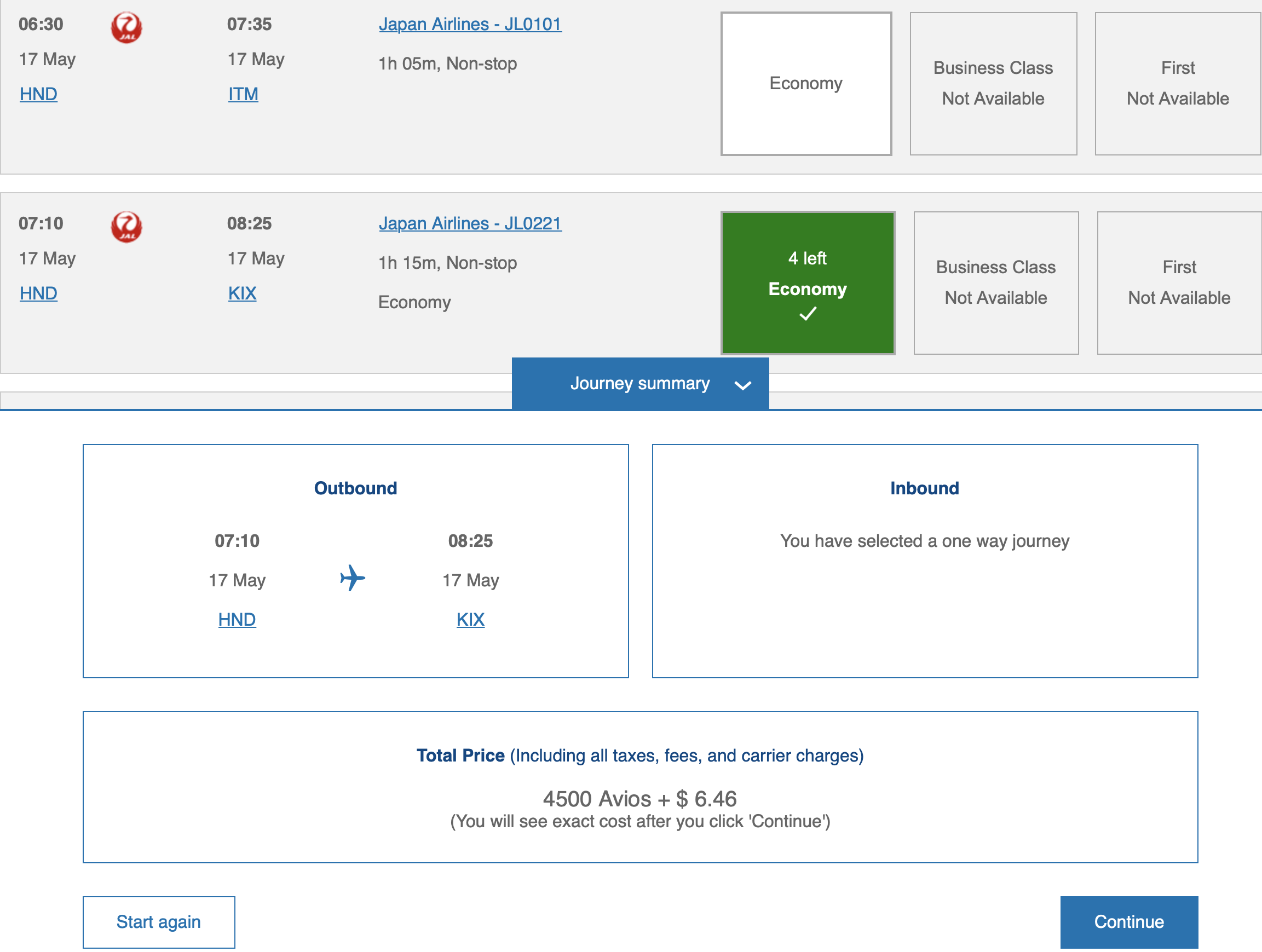 British Airways Executive Club is well-known for low cost short-haul tickets. Outside of North America, you can redeem just 6,000 Avios for a flight 650 miles or less, making it super useful for short-haul flights around Asia, Europe, and South America.
For example, you can book a flight from Tokyo International Aiport (HND) to Kansai International Airport (KIX) for just 6,000 Avios and $6.46 one-way. Booking 2 weeks out, this same flight on Japan Airlines would cost $115, giving you a cent per point value of 2.45 cents. This is a great value for a small amount of Membership Rewards points.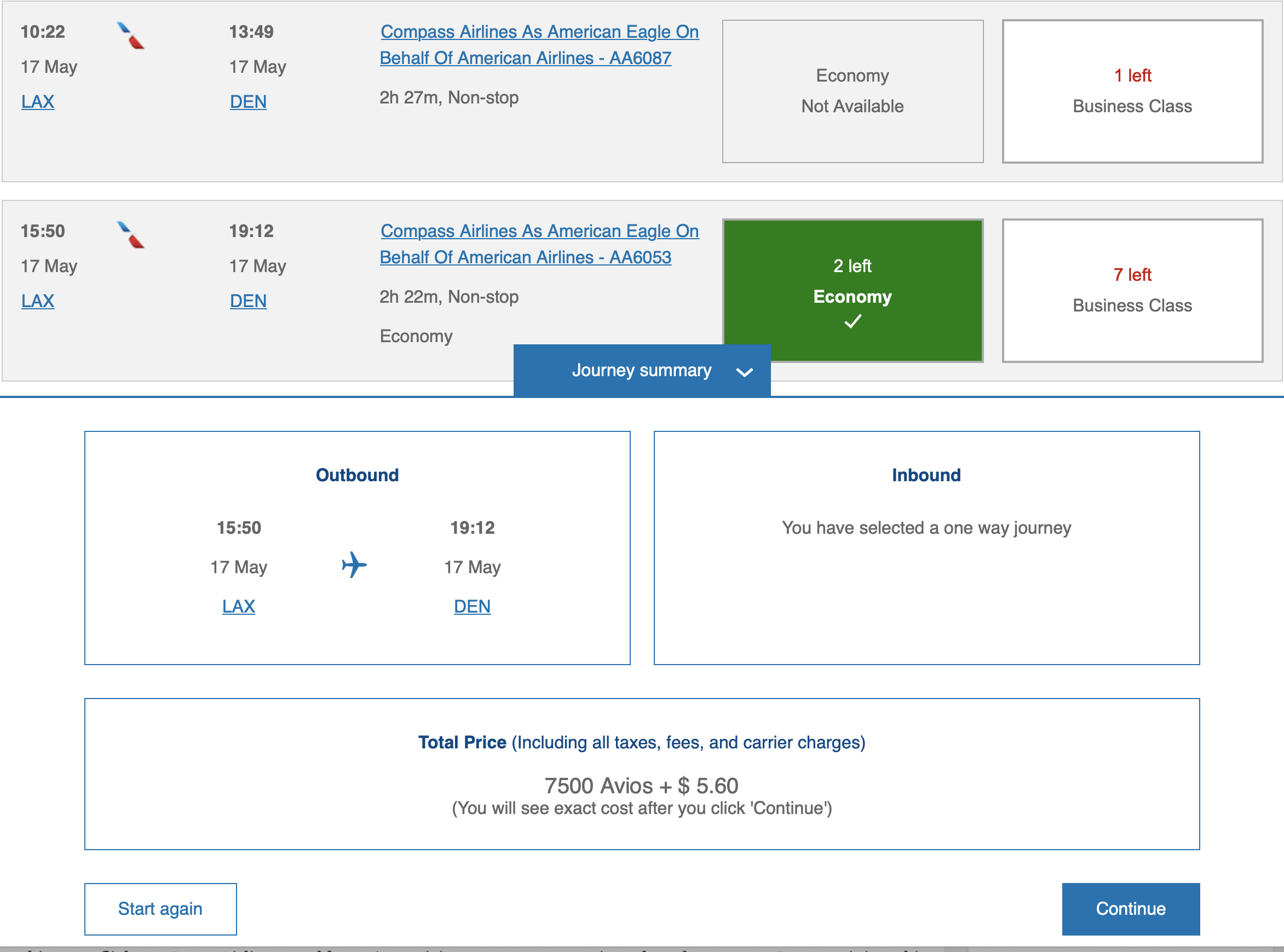 Within North America, all flights 1,151 miles or less cost 7,500 miles as the 650-mile tier excludes the continent. However, there are still some amazing deals to be had.
For example, you can book a flight from Los Angeles International Airport (LAX) to Denver International Airport (DEN) for just 7,500 Avios and $5.60 one-way.
If you prefer flying in business class, short-haul awards start at just 9,000 Avios outside of North America. While these may not be worthwhile when flying intra-Europe business class, they may be more attractive when flying on Oneworld partners Japan Airlines and Cathay Pacific around Asia in a wide-body jet.
Take Advantage of Low Cost Delta Award Tickets
One of the few benefits of Delta Air Lines' dynamic SkyMiles award pricing is that the airline often offers super discounted award tickets.
You can often seen domestic award flights start at just 5,000 SkyMiles one-way.
This is a killer deal when you consider that domestic award tickets often start at 7,000 miles on United Airlines and 7,500 miles on American Airlines.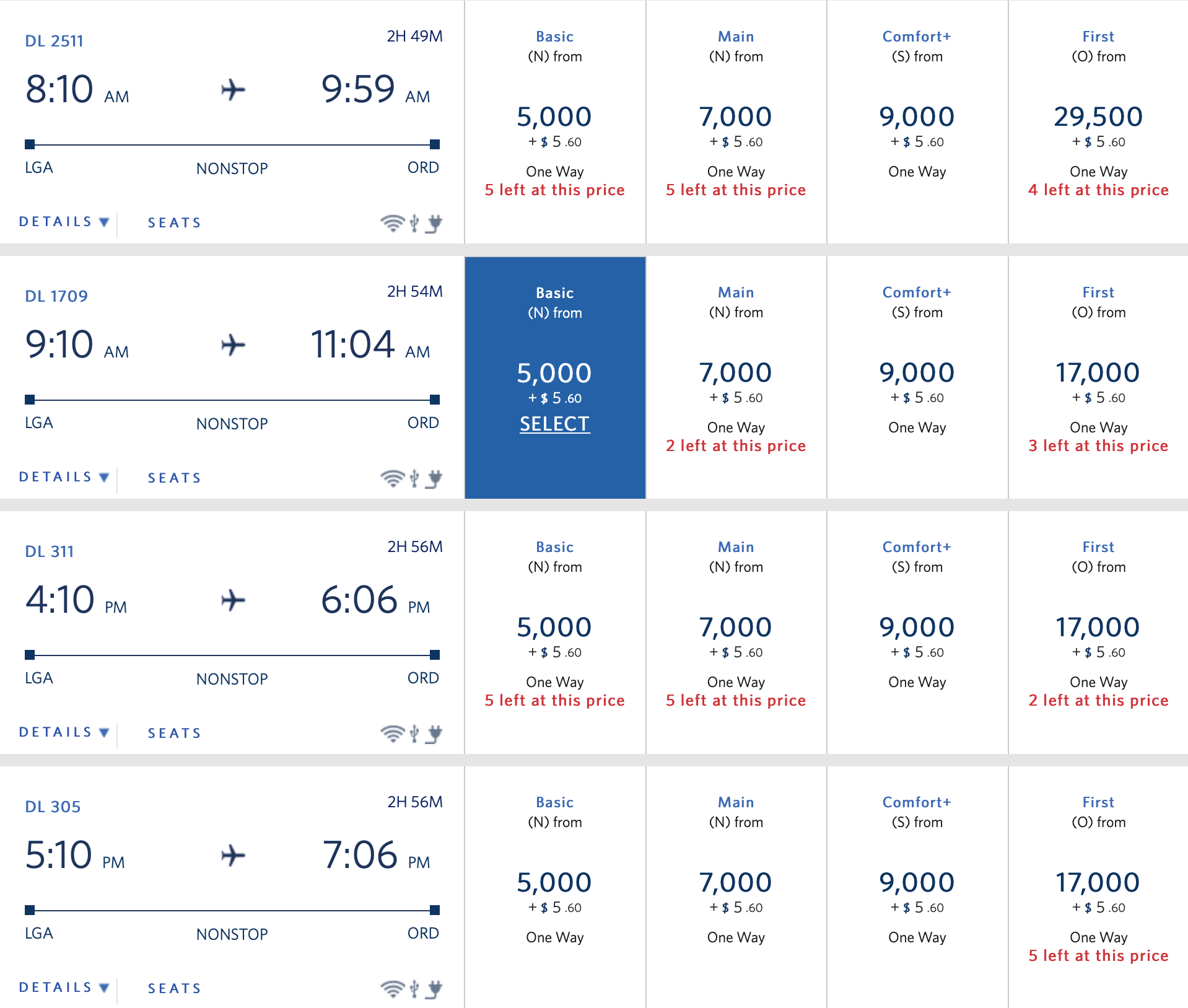 These deals aren't hard to find either. Looking just 20 days out, research showed award tickets between LaGuardia Airport (LGA) and Chicago O'Hare International Airport (ORD) for just 5,000 miles one-way. This same award would cost 7,500 British Airways Avios or 12,500 United MileagePlus miles, so you're getting a great deal by transferring to Delta.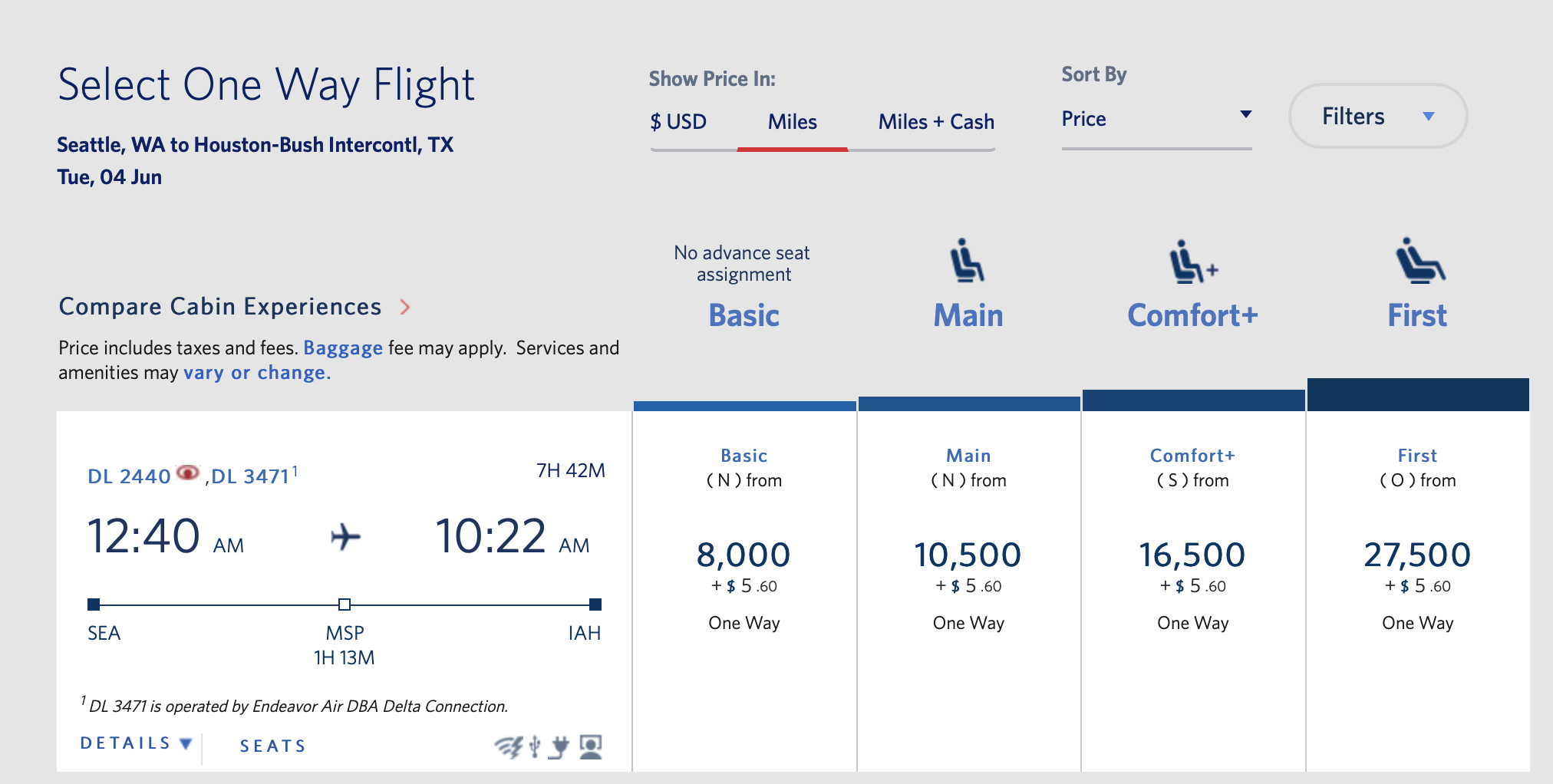 There are many flights to be had for less than 10,000 miles. For example, Seattle-Tacoma International Airport (SEA) to George Bus Intercontinental Airport (IAH) is just 8,000 SkyMiles when booking a month in advance. So if you're flexible with your dates, there is some serious value to be had by transferring Membership Rewards points to Delta SkyMiles.
Use Points on Flying Blue Promo Rewards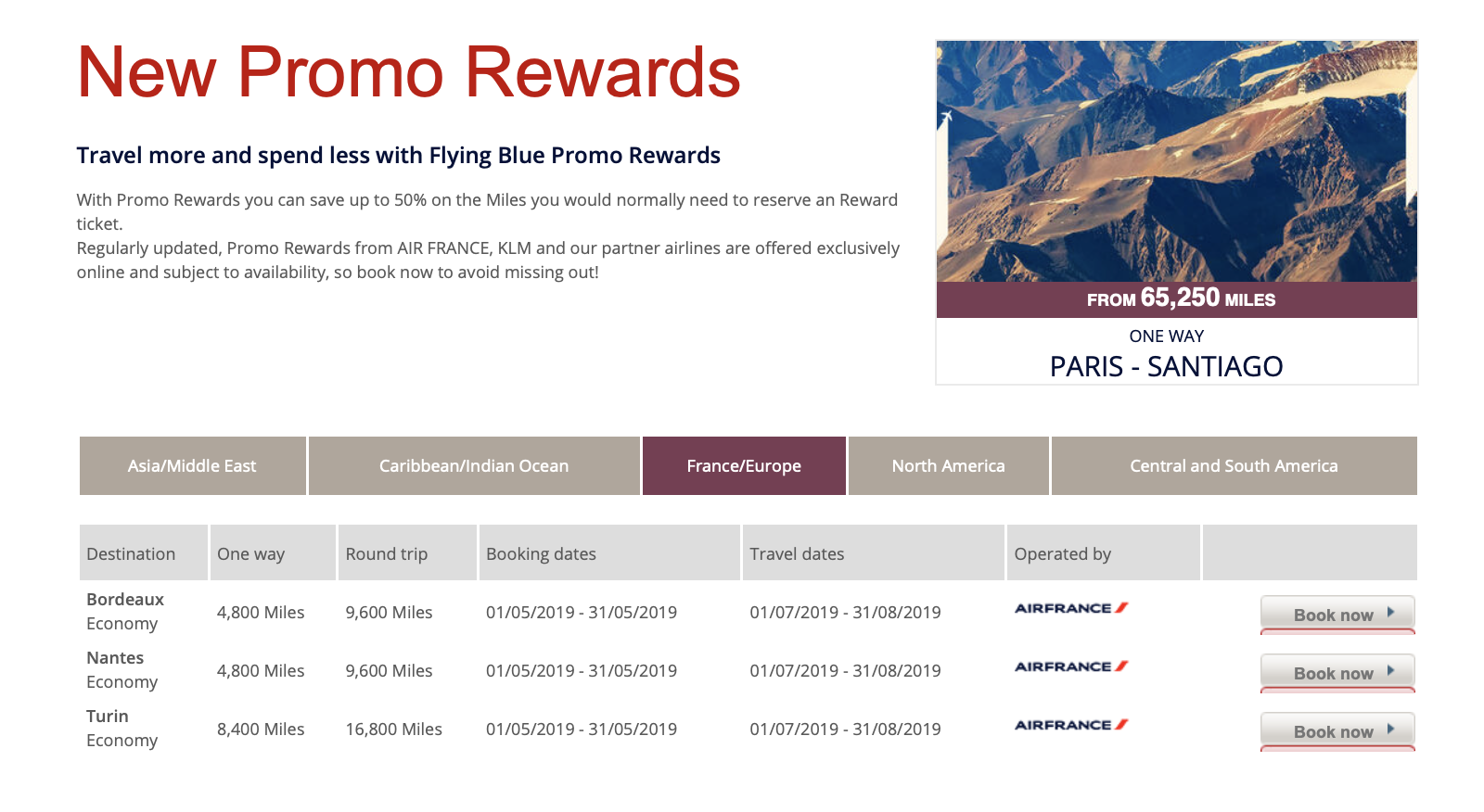 Flying Blue is Air France and KLM Royal Dutch Airlines's joint loyalty program. While the program is most useful for long-haul business class flights, it frequently runs short-haul Promo Rewards that can provide excellent value when booking intra-Europe.
For example, flights from European cities to Nantes Atlantique Airport (NTE) are just 4,800 Flying Blue miles one-way when booked during the month of May.
Do note that Promo Rewards change monthly, so if you see something you like, you need to book it quickly. You can view the updated list of Promo Rewards on Flying Blue's website.
These are rarely useful for flights in North America, but may be useful if you live in Europe or are planning a European adventure. Historically, you'll mostly see French cities on the list of intra-Europe Promo Rewards, but there are often good deals to Amsterdam Airport Schiphol (AMS) and other European hubs in the Air France-KLM network.
Book Short-Haul United Flights with Avianca LifeMiles
American Express also boasts Avianca LifeMiles as a transfer partner. This Star Alliance partner has a region based award chart within the U.S., meaning that flights within the northeast, midwest, west coast, etc are priced lower than a flight that goes from one region to another. While no official award chart is published, you'll find that some intra-region flights start at just 8,000 miles one-way.
Hot Tip: United Premier elite members can take advantage of elite benefits like upgrades and preferred seating when flying on an Avianca ticketed United award ticket. Just add your MileagePlus number to the ticket after booking.
For example, you can fly on a United Airlines flight from ORD to Detroit Metropolitan Wayne County Airport (DTW) for just 8,000 miles. This is 500 miles more than booking an American flight through British Airways Executive Club, but may be worthwhile if there's better availability on United.
Redeem for Low-Tier Choice Hotels in Europe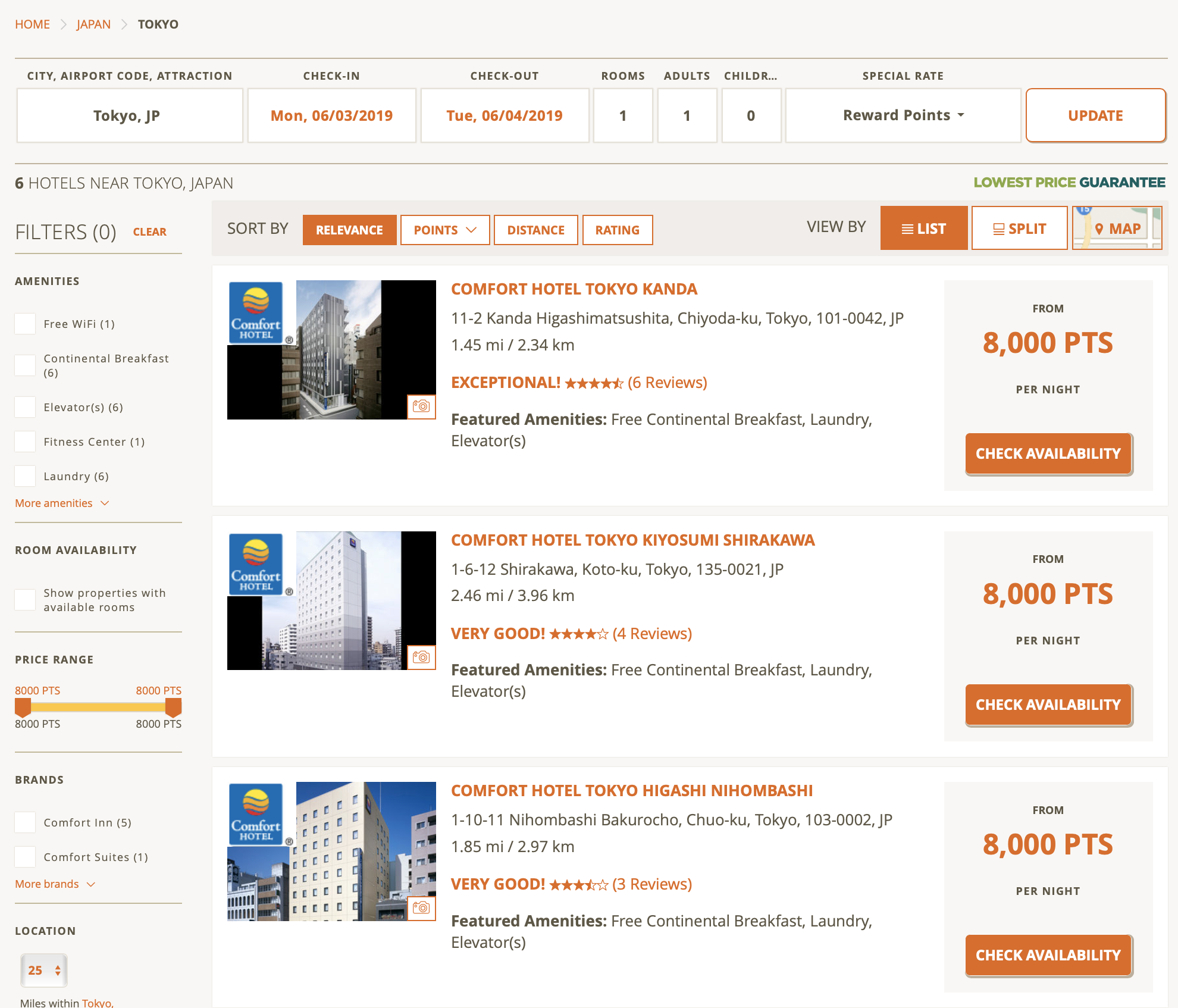 Generally, stick to airfare redemptions when transferring Membership Rewards points, but there's one exception: Choice Hotels in Europe, Asia, and parts of South America. Points transfer 1:1 from American Express Membership Rewards to Choice Hotels, and hotel redemptions start at just 6,000 points per night.
Like many hotel chains, Choice Hotels prices hotel by category, with higher-end hotels in upscale cities getting higher category placement.
Tokyo offers some favorite Choice Hotel redemptions. There are 5 Comfort Hotels in Tokyo, each costing just 8,000 Choice Hotel points per night. The most expensive hotel for 1 night in May is the Comfort Hotel Tokyo Kanda. When booked 2 weeks out, it's priced at $103.12 per night, giving you a cent per point value of 1.28 cents.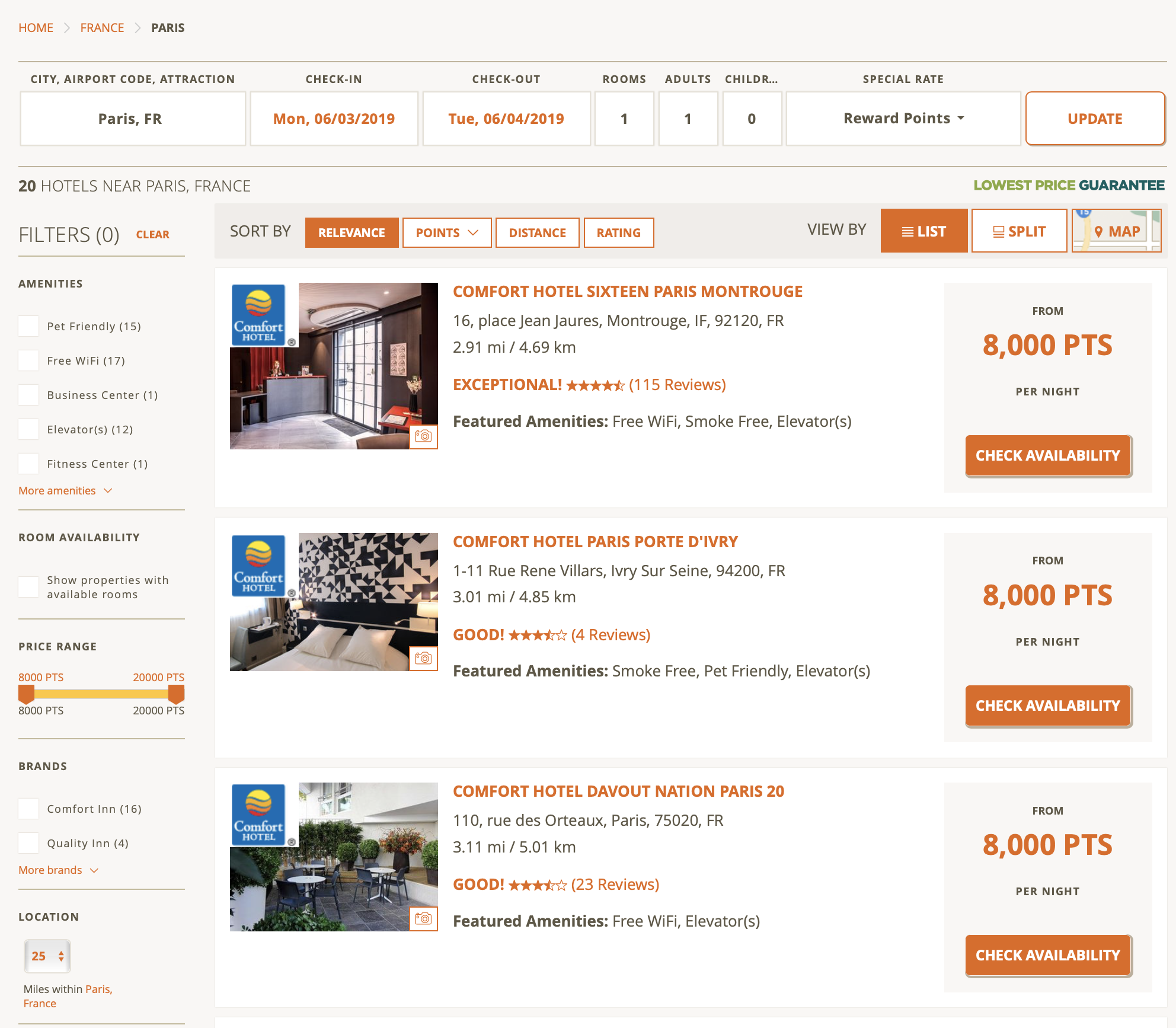 Are you heading to Europe instead? Paris has a number of Choice Hotels options throughout the city, and most of these options cost just 8,000 points per night. When booking a month out, the Comfort Hotel Sixteen Paris Montrouge costs $168.44 per night. This gives you an exceptional value of 2.1 cents per point, making it a worthwhile Membership Rewards transfer option.
Do note that, while Choice Hotels redemptions may be useful, you'll likely get more value by transferring to an airline partner. Remember, 7,500 points books a short- or medium-haul trip within the U.S. when transferred to British Airways Executive Club often giving you a better value than if you booked an 8,000 point Choice Hotel.
Final Thoughts
And there you have it: all the best ways to use 10,000 or fewer American Express Membership Rewards points. Each of these redemptions can provide massive value for a small number of points, so don't overlook your options if you're booking a weekend vacation or are trying to use up Membership Rewards before closing an account.
Remember though, even with just a few thousand more American Express Membership Rewards points, you can redeem your points for more luxurious and exciting rewards, like lie-flat seats across the Pacific, luxury hotel stays, and more. If you need extra points to top off your balance, check out this article on earning lots of Membership Rewards points!
---
Feature image credit: Flickr