PayPal's Debit and Prepaid Cards – Everything You Need to Know
PayPal is a commonly used option for quickly and efficiently transferring money online, and is increasingly replacing paper options such as checks and money orders.
But despite the popularity of PayPal, Venmo, and mobile wallets, there's a well-established form of payment that's still widely used today: plastic, in the form of debit and credit cards. PayPal has branded options for both credit and debit cards that can offer benefits for cardholders.
This in-depth review of PayPal's prepaid and debit cards — PayPal Prepaid Mastercard® and PayPal Cash Mastercard — explains the benefits, fees, drawbacks, and differences between these card options.
PayPal Prepaid and Debit Cards at a Glance
PayPal Prepaid Card

PayPal Cash Card

Benefits

Move money from your PayPal Account.
Take advantage of PayPal Payback Rewards and earn on qualifying purchases from select merchants.
With Direct Deposit, you can get paid faster than a paper check.
Card issued by The Bancorp Bank, Member FDIC. Card may be used everywhere Debit Mastercard is accepted.
Click PayPal Prepaid Mastercard® for additional features & program details, and to request a Card.

Access funds directly from your PayPal balance when making a purchase
Direct deposit at no extra cost (to fund your PayPal balance)
Option for cash withdrawal at ATMs worldwide (including free withdrawals at 25k+ MoneyPass locations)

Monthly Fee 
$4.95
None
Minimum Balance
None
None
APR 
None
None
Late Fee 
None
None
Bottom Line: PayPal cards are debit cards, NOT credit cards! We explain the differences in our article Debit Cards vs. Credit Cards: What's the Difference and Which Is Best?
Both PayPal Mastercards are issued by The Bancorp Bank and can be used anywhere Debit Mastercard is accepted.
There is no credit check for either card because they are not credit cards.
Cardholders must link their cards to their PayPal Cash Plus account to use these cards and their benefits.
PayPal Prepaid and Debit Card Differences
PayPal Prepaid Card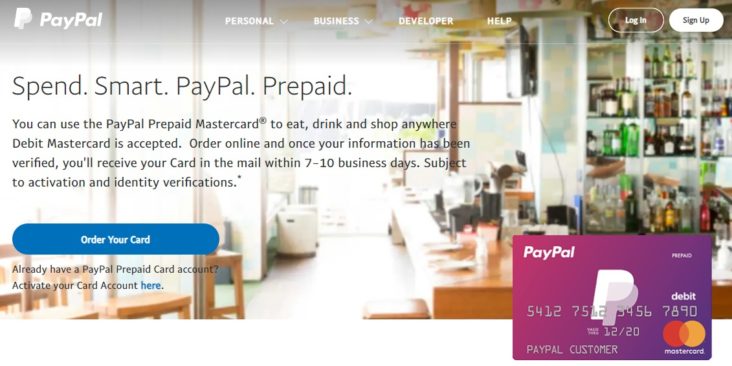 Funds used for the PayPal Prepaid card account are held in an FDIC-insured account with The Bancorp Bank. Funds need to be loaded onto the prepaid card to utilize the card. The PayPal Prepaid card does not pull funds directly from your PayPal account.
This card comes with a $4.95 monthly plan fee. If you order the card online, the first $4.95 fee (the purchase fee) is waived, but the monthly fees still apply. This fee adds up to $59.40 per year.
Loading Funds Onto Your Card
Cardholders can load funds onto the card in a number of ways:
PayPal Account Transfers
Any transfer made from a cardholder's PayPal account is limited to the amount of money available in that account. For example, if you only have $150 in the account, you can't transfer more than that.
Additionally, funds transferred from a PayPal account may not exceed $300 a day and $2,000 per rolling 30 days.
Netspend Reload Network Locations
Netspend provides more than 130,000 nationwide locations where cardholders may add funds to their account. However, a fee (specific to each location) is usually associated with this option.
The minimum amount a cardholder can load is $10 or $20 depending on the location. You can load a maximum of $500.
Special Offers
With the PayPal Prepaid card, PayPal may send cardholders rewards offers. Offers are based on your shopping habits, but PayPal won't share your personal information with the merchants that sponsor these offers.
Cardholders must review and activate the offer, then make the purchase with the PayPal Prepaid card. The cash-back rewards are credited to the card account.
5% APY Option
Cardholders are given the option to open a tiered-rate savings account through The Bancorp Bank, and along with it, the ability to earn up to 5.00% APY (Annual Percentage Yield) for balances up to $1,000.
You must link your card to your PayPal account to open this savings account.
Interest is calculated on the average daily balance of the savings account with quarterly payments.
Additional details can be found here.
Cash Withdrawals and Cash-Back
You can use PayPal's Prepaid Mastercard for cash withdrawals.
Cardholders can utilize any ATM with a Mastercard, Cirrus, or PULSE acceptance mark for a fee of $1.95 plus any surcharge fee from the ATM owner or bank. There is no owner surcharge fee if you use a MoneyPass Network ATM for a withdrawal.
Hot Tip: You can withdraw cash at checkout when you make a purchase with merchants who accept Mastercard debit cards, such as grocery stores.
Purchase Cushion
Overdrafts are not an option with this card. If you attempt a purchase in excess of your account balance, it will generally be declined at the point of sale.
However, PayPal may authorize a purchase cushion for some cardholders who have completed a direct deposit transaction. This purchase cushion can create (up to) a $10 negative balance in your account that you will have 30 days to cover. There are no fees associated with this purchase cushion.
Refer-A-Friend Program
The PayPal Prepaid card has a Refer-A-Friend program that allows cardholders to earn $20 for every friend that they refer.
Your friend must sign up, activate their card, and load $40 onto the card for the program to payout. Once they've done so, you will both earn $20.
PayPal Cash Card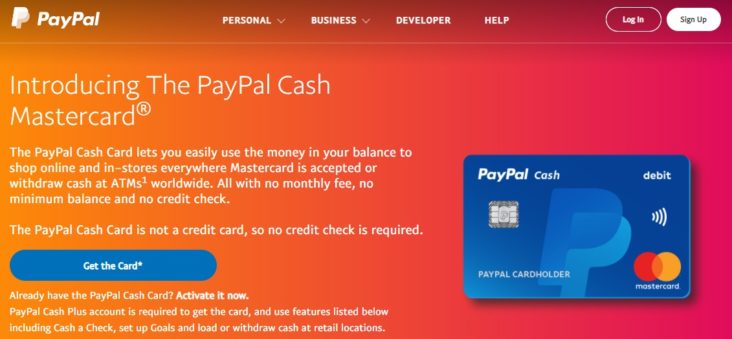 The PayPal Cash card is automatically linked directly to your PayPal Cash Plus account. When you use the card to make purchases, it pulls directly from the available balance in your PayPal account.
While you don't have to load funds onto the card, you still need to be sure there is money in your PayPal account for the card to work.
Adding Funds to Your PayPal Account
Cardholders can add funds to their PayPal account in a few ways:
Direct deposit
Bank transfer
Cashing a check (with the app)
Loading cash at an approved location
Hot Tip: PayPal Cash cardholders can also utilize funds that other PayPal users have transferred to their account.
Direct Deposit
With direct deposit, cardholders can have all or part of their paycheck or government payment (including tax refunds and Social Security) transferred directly into their PayPal account by an employer or government entity.
These funds are generally available the same day the transfer is received, and there are no fees associated with this option.
Cashing a Check
PayPal gives users the option of cashing checks directly within the PayPal app.
PayPal uses a third party for this service, so there can be fees. You have the option of Money in Days or Money in Minutes.
There is no fee for the Money in Days option and funds will credit within 10 days. The Money in Minutes option is quicker than Money in Days, but it will cost you from 1% to 5% (with a minimum fee of $5) depending on the type of check, as this is considered expedited funding.
The minimum check amount is $5 and the maximum is $5,000. The daily limit is $5,000 per day, and the monthly limit is $15,000.
Loading Cash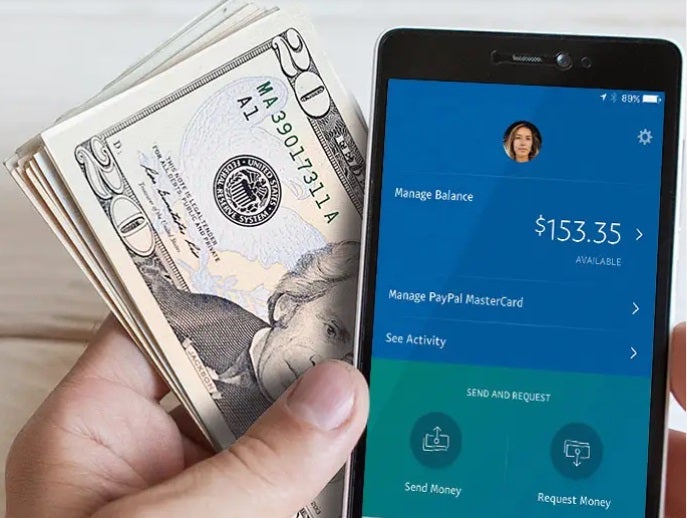 The locations for loading cash into your PayPal account are not necessarily the same as the location options for the PayPal Prepaid card.
Cash loading is available at thousands of CVS, 7-Eleven, and Rite Aid locations nationwide. You must either generate a barcode within your PayPal account and print it, or do so within the smartphone app to load cash ($20 to $500 per transaction) into your account. You'll show the barcode at the register with the cash you wish to deposit.
There is a $3.95 service fee associated with this option.
Cash Withdrawal
PayPal Cash card cardholders can withdraw cash at ATMs and participating locations nationwide.
There are no service fees associated with a cash withdrawal from a MoneyPass ATM. There are more than 32,000 MoneyPass ATMs nationwide.
If you use a different ATM (which must have a Mastercard, Cirrus, or PULSE acceptance mark), the withdrawal fee is $2.50 (both domestically and internationally), plus any amounts charged by the ATM owner.
Cash-back withdrawals at a checkout counter may require a $3 fee.
Automatic Top Up
Technically, this card does not allow for overdrafts. However, users can enroll in Automatic Top Ups to ensure their balance is sufficient to cover their transactions.
With this option, PayPal will automatically add funds to your PayPal balance whenever your available balance is less than the transaction amount. The top up is done by automatically transferring funds from your linked bank account or debit card.
PayPal usually offers cardholders the ability to select from a default amount such $20, $50, or $100, or a custom amount. This top up amount transfers each time it is required by the user to pay the full purchase amount.
If the top up amount selected is transferred and still does not cover the cost of the purchase, multiple top ups transfer automatically. For example, you're making a purchase for $100 and only have $60 in your PayPal account. You've enrolled in Automatic Top Ups with a top up amount of $20. PayPal will automatically top up your account twice to allow for the completion of the purchase.
Save and Invest
PayPal promotes its Goals and Acorns programs through this card. However, these programs can be utilized with any PayPal Cash or PayPal Cash Plus account and do not exclusively require a PayPal Cash card.
PayPal Prepaid and Debit Card Fees and Drawbacks
These are not credit cards, so they don't come with the standard fees we usually see on cards, such as APR, cash advance APR, cash advance fees, and late fees.
These are the fees associated with PayPal debit cards:
| | | |
| --- | --- | --- |
| | PayPal Prepaid card | PayPal Cash card |
| Monthly plan fee | $4.95 | none |
| ATM withdrawal fee | $1.95 | $2.50 |
| ATM transaction decline fee | $1 | undisclosed |
| ATM balance inquiry | $0.50 | undisclosed |
| Over-the-counter cash withdrawals* (financial institution) | $2.50 | $3.00 |
| Foreign transaction fee | 4% of the purchase amount | 2.5% of the purchase amount |
| Replacement card  | $5.95 | undisclosed |
| Additional statement mailing fee | none | undisclosed |
*Cash withdrawals at retailers such as grocery stores are free when you select the debit option and enter your PIN. Generally, you can expect a fee if a signature is required to obtain cash.
Additional Drawbacks
One of the drawbacks of these cards is that they're not credit cards (although this could be a perk for some). Since they are not credit cards, they can't be used to build your credit.
These aren't the cards for you if you want to earn points or travel rewards from credit cards. While cardholders may be offered cash-back opportunities with the PayPal Prepaid card, the card doesn't provide everyday rewards or bonuses for purchases in select categories (like some other credit cards do).
You must have an active PayPal Cash or PayPal Cash Plus account in good standing to take full advantage of all the benefits these debit cards have to offer.
Obtaining Your PayPal Debit or Prepaid Card
Get Your PayPal Prepaid Card
You can obtain a PayPal Prepaid card in 1 of 2 ways:
Purchase at a retail location
If you order the card online, PayPal waives the purchase fee of $4.95. Once the card is ordered, you should receive it in the mail within 7 to 10 business days.
If you purchase your PayPal Prepaid card at a retail location, you can load money onto the card immediately. However, this is a temporary card.
After purchase, the card still needs to be activated, which requires identity verification. Otherwise, you won't get your real card or be able to add any more money to the account or use the card's features.
You must activate the card within 120 days or the card will become invalid.
Get Your PayPal Cash Card
You can obtain a PayPal Cash card by requesting one online. Once you successfully order your card, it should arrive within 7 to 10 business days.
Final Thoughts
The PayPal Cash card and PayPal Prepaid card are the debit and prepaid card options provided by PayPal, but are they worth it? If you're already an active PayPal user, maybe. If you're not, it's unlikely either card will benefit you all that much.
For current, active PayPal users, the best thing about these cards is that they link to your PayPal account. If you have a PayPal account where you regularly keep funds, they can be convenient. However, PayPal offers an option to transfer your balance into your bank account, which may be more convenient for some users than a card that pulls from your PayPal account.
Most banks won't charge you a monthly or yearly fee for a debit card, but the PayPal Prepaid card has a $4.95 monthly fee. Yes, monthly. And there are quite a few other fees you could incur with either card.
If you want to earn rewards on everyday spending or earn points and miles, neither of these cards will help you out.