Netspend Visa Prepaid Card — Is It Really Worth It?
With over 10 million customers, Netspend is one of the leading providers of prepaid debit cards. They offer financial solutions for underbanked individuals who may not otherwise benefit from traditional financial services or simply choose to not have a bank account.
The Netspend® Visa® Prepaid Card is a simple option for enabling transaction payments without requiring a bank account. Card accounts can be opened with a quick and easy sign-up form, and the vetting process does not perform a credit check on the individual.
The prepaid card utilizes funds that the cardholder has, so it does not involve any extended credit and therefore does not impact the cardholder's credit score in any way.
This article outlines the pros and cons of the Netspend Visa Prepaid Card, to help decide if it's the card for you.
The Netspend Prepaid Visa Card at a Glance
Credit Card
Benefits & Info
Netspend® Visa® Prepaid Card

$0 card purchase fee if signing up online. Up to $9.95 if purchased at a retail location.
No minimum balance, no activation fee, no credit check, no interest rate, no cash advance fee, and no late payment fee
Pay a flat $1.50 on purchases if on the Pay-As-You-Go Plan; $0 for Monthly/Reduced Monthly Plans
Foreign Transaction Rate: 4%
Monthly Fee/: $0 on the Pay-As-You-Go Plan, or $5 or $9.95 monthly (depending on monthly deposit amount)
Applying for the Netspend Prepaid Visa Card
It's straightforward to apply for the Netspend Prepaid Visa card online. During the application, you'll need to complete your name, address, date of birth, and your government ID number. No credit checks are required, and you'll receive your card in the mail within 10 business days (unless you opt for a fast-tracked service).
Once you receive your card, you will need to verify your identity to activate it. You can do this online or by calling 877-973-1223.
Netspend Prepaid Visa cards are also available to purchase from the likes of Walmart and CVS Pharmacy, where the retailer charges a fee (usually between $3.95-$9.95).
How to Load Money to the Netspend Prepaid Visa Card
Direct Deposits
Arranging a direct deposit is a quick and convenient way to load funds onto your prepaid card and can be used to receive funds such as paychecks or government benefits.
Once you have received and activated your card, direct deposits are set up in the same way as you would for transfers into a bank account. Where prompted for payment details, simply input your Netspend Prepaid Visa card account number and routing number.
Accepted deposits include:
Work paychecks
Tax refunds
Social Security benefits
Defense Finance and Accounting Service payments (DFAS)
Government disability benefits-SSDI or workers compensation (varies by state)
Pensions
Veteran benefits
Railroad Retirement Benefits (RRB)
SSI (Supplemental Security Income)
State unemployment benefits (varies by state)
Arranging direct deposits can save time and effort, cashing a check, and can avoid the risk of losing a check completely — everyone's worst nightmare. Netspend also states that direct deposits can mean that your money is available up to 2 days quicker than standard transfers, and most definitely quicker than waiting to receive a check in the mail.
Mobile Check Load
When you receive a check, this can be loaded to your prepaid card through the Netspend mobile app. From the Move Money menu, select Mobile Check Load, and you can take a photo of your check to upload and follow the on-screen instructions. There's a choice of approval timeframes, with the option to have your check approved in minutes.
Reload Locations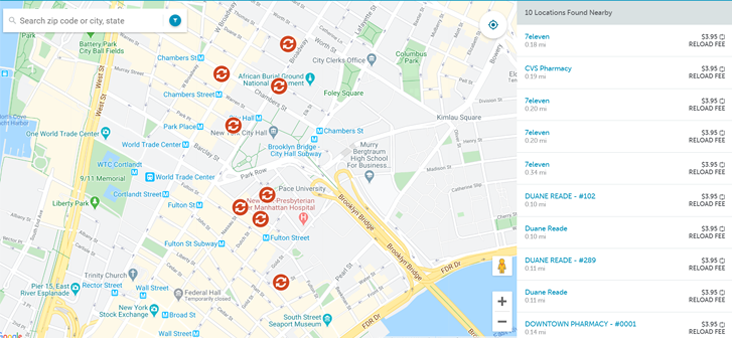 There are over 130,000 locations across the U.S., from convenience stores to gas stations, that customers can visit to load money onto their Netspend Prepaid Visa card. Customers can use the online location finder to identify their nearest outlet, while also being presented with the applicable reload fee for that location.
Money Transfers
Netspend customers may transfer and receive money to other Netspend cardholders and ACE Elite, Control, and Purpose cardholders. Transfers can be made for free online with the recipient's name and FlashPay ID.
Managing Money With the Netspend Prepaid Visa Card
Customers can manage their money via the Netspend mobile app (iOS or Android) or in the online account center, including access to the following services:
Viewing balances and recent transactions
Load and transfer funds
Find Netspend reload locations
Load checks
With Netspend's anytime alerts, customers can find out the moment a check has been approved into their account or when they're near a reload location. Users can customize alerts, so they are only notified about specific occurrences as often or as little as they like.
Netspend gives customers a $10 purchase cushion in case customers unexpectedly fall into the negative. This is repaid when funds are loaded back onto the card.
Netspend Prepaid Visa Card Fees
Netspend Prepaid Visa cards are available on a pay-as-you-go plan, where every purchase will incur a transaction fee. This would benefit customers that don't plan to use their card for every single purchase they make, as those $1.50 transaction fees would add up.
Alternatively, customers that are planning to use the card regularly (for at least 7 purchases or more per month) would benefit from the monthly plan where no transaction fees are incurred when making purchases. However, fees would still apply for ATM withdrawals, cash reloading, and balance inquiries  .
Summary of Main Fees
Fee Type
Pay-As-You-Go Plan
Monthly Plan
Card Purchase Fee

$0 when signing up at Netspend.com
Up to $9.95 if purchased at a retail location

Plan Fee
$0

$9.95
$5 – reduced monthly plan for accounts that have received $500 in direct deposits from payroll/benefits in a calendar month

Purchase Transaction Fee
$1.50 for PIN and signature transactions
$0
ATM Withdrawal
$2.50
$2.50
Cash Reload
$3.95

(this fee may be lower depending on where and how the card is reloaded)

ATM Balance Inquiry
$0.50
Card Inactivity (90+ days with no transaction)
$5.95 per month
Other Fees
Fee Type
Monthly Plan
Over-the-counter withdrawal fee at a financial institution
$3
Over-the-counter withdrawal fee at a Netspend reload network location
2.75% of the withdrawal amount or $4.00 (whichever is greater)
Expedited mobile check load fee (government and payroll checks with a pre-printed signature)
2% of check amount or $5 (whichever is greater)
Expedited mobile check load fee (all other check types)
5% of check amount or $5 (whichever is greater)
Account-to-account transfer fee via website
$0
Account-to-account transfer fee via customer service agent
$4.95
Foreign transaction fee
4%
ATM transaction declined
$1
Payment transaction declined
$1
Replacement card fee
$9.95
Custom card fee
$4.95
Fast-track card delivery fee
3 business days — $20
1-2 business days — $25
Check request fee
$5.95
Netspend Premier
Netspend Premier customers benefit from nearly 50% off their monthly plan ($5 instead of $9.95). To qualify, customers must enroll in direct deposits and receive at least $500 per calendar month in payroll or government deposits.
Netspend Premier customers also receive a free customized card.
Netspend Prepaid Visa Card Payback Rewards
With payback rewards, Netspend customers can earn cash-back on everyday purchases. Cardholders are automatically enrolled in the rewards program, with opt-out possible within the online account center.
Reward offers are tailored to your shopping habits, and the more you shop reward offers, the more offers you will see within your account. To take advantage of an offer, just click the promotion and ensure you use your Netspend Prepaid Visa card for the purchase.
Cash-back from reward offers is credited to your Netspend account at the end of the following month.
Other Netspend Prepaid Visa Card Benefits
Refer a Friend Program
Share the good news about your Netspend Prepaid Visa card and you can add a bit of extra cash to your balance. When you introduce a friend to a Netspend Prepaid Visa card, you'll both receive $20 credit after they load $40 onto their card. There's no limit to the number of friends you can refer and it's all managed from the online account center.
Prescription Savings
Netspend cardholders are eligible to save up to 50% on prescriptions by claiming their free Pharmacy Savings Card. Once cardholders have applied for their card, they may use this at SingleCare partner pharmacies.
Savings Account
Netspend cardholders have the option to open a savings account to earn interest on their money. Transferring money between the card and savings account is easy and can be done up to 6 times per calendar month. An automated transfer can be scheduled after funds have been loaded for customers to take advantage of the high yield account.
Balances of $1,000 or less will receive interest rates of 4.91% with an annual percentage yield (APY) of 5%. Any funds exceeding $1,000 will receive 0.49% with an APY of 0.50%.
Netspend Prepaid Visa Card Identity Protection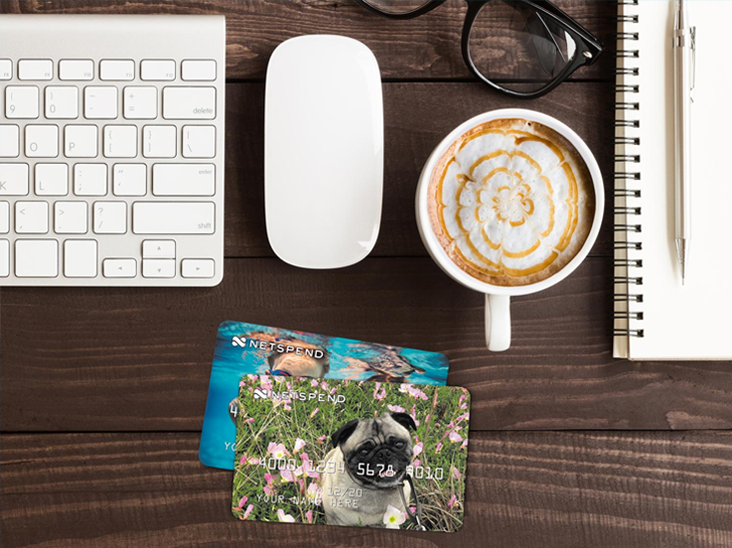 Customize Your Card
Netspend Prepaid Visa cardholders may customize their card with their choice of photo. Not just a personal and fun touch, this customization actually doubles-up as a security precaution as customers may use a photo of themselves, allowing merchants to query the user's identity if they don't look like the photo.
Virtual Card Numbers
Netspend has a handy option for customers that worry about purchasing items from unfamiliar online sites. Customers can create up to 6 virtual card numbers that can be used in place of their permanent card number. This creates a virtual account that is charged at the same rate as a regular account, and customers can cancel their virtual accounts at any time.
Other Reward-Based Cards (Our Recommendations)
Another great prepaid card that offers rewards is the American Express Serve Cash Back® card. The card earns an unlimited 1% cash-back, and your cash rewards are added to your card right after you earn them and can be redeemed at any time. The card also offers direct deposits for no additional fee, free in-network ATM withdrawals, fraud protection, and 90-day purchase protection on purchases up to $1,000.
If you're a frequent Walmart shopper, then you should consider the Walmart MoneyCard® Prepaid Visa® Card. You'll earn 3% cash-back at Walmart.com, 1% cash-back at Walmart stores, plus 2% cash-back on purchases at Walmart fuel stations. The card also offers free direct deposit, mobile check deposit, and online bill pay.
Additional Netspend Prepaid Card Options
Netspend offers a variety of prepaid cards including a Mastercard option. All features and fees are the same as the Visa card and with both accepted widely throughout the U.S. and internationally, the choice really is down to personal preference.
In addition to these prepaid cards, Netspend also offers an "all-access" card:
Hot Tip: If you're looking for a credit card versus a prepaid card for your small business, explore our best credit cards for small businesses as well as our guide on how to apply for a small business credit card. 
Netspend Prepaid Visa Card vs. Other Prepaid Cards
Many other prepaid debit card providers, such as the Chase Liquid® Prepaid Card or the PayPal Prepaid Mastercard®, charge a flat monthly fee (usually $4.95) but don't offer the option of a monthly plan or a pay-as-you-go plan. That's where Netspend provides flexibility to the cardholder, depending on what their intentions are for the card.
These alternative debit card providers charge $4.95 without the requirement for a minimum deposit amount. So Netspend cardholders will only benefit from this reduced monthly rate if they receive direct deposits of $500 or more every month.
For cardholders on a pay-as-you-go plan, the payment transaction fee is pretty consistent with other prepaid cards at $1.50 for PIN and signature transactions.
ATM withdrawal fees are on the expensive side at $2.50 per transaction, and the Chase Liquid Prepaid card has the upper hand again offering free cash withdrawals from one of its 16,000 Chase ATMs across the United States.
Final Thoughts
The Netspend Prepaid Visa card is a good option for individuals that need to manage their money, but perhaps have damaged credit scores or simply prefer to not have a bank account. It's also a way to get around expensive fees for cashing checks, where the costs can eat into that monthly paycheck.
With the Netspend Prepaid Visa card, you can do mostly everything that you can with a bank account, from checking account balances to transferring payments, and cashing checks to paying for everyday items. Cardholders even have access to a high yield savings account, offering favorable interest rates of up to 4.91%.
Just keep an eye on those individual fees that could really rack up, especially when on the pay-as-you-go plan. Try to load money to your card via direct deposits and checks rather than cash loading, which can cost up to $3.95 per reloading fee.
As with any prepaid card, this will not count against your credit rating, so if you're looking to build credit, you would need to consider a secured credit card such as the First Progress Platinum Prestige Mastercard® Secured Credit Card
---
The information regarding the American Express Serve Cash Back® card was independently collected by Upgraded Points and not provided nor reviewed by the issuer.