The Plenti® Credit Card from American Express (Discontinued) — Full Review
"The Only Credit Card To Earn Plenti Points!"
Earn points at U.S. supermarkets and at U.S. restaurants. Redeem your Plenti points with many different partners, and transfer from Membership Rewards!
Update: this card was discontinued in February 2018. The Plenti program ended on July 10, 2018.
You picked up a few last-minute items at Rite Aid and hit the Mobil station to fill your tank for the week. When you get home, you pay your Nationwide and AT&T bills online.
Then it's time to catch up on your favorite shows on Hulu, knowing your errands are finished and you managed to earn a ton of Plenti® points! That's because those retailers (and more) are all Plenti® partners!
Plenti® Credit Card from Amex — Snapshot
Welcome Bonus & Info

(Partner Content)

Earn 5,000 Plenti points after spending $250 in purchases on your card in the first 3 months.
Introductory 0% APR on purchases for the first 12 months.
Earn 3x points with U.S. Supermarkets on the first $6,000 per year (then earn 1x points), 2x points at U.S. Restaurants, and 1x points for everything else.
Transfer points from American Express Membership Rewards to Plenti at a 1:1 ratio.

Card Categories:

Rewards Center

Customer Service Number

1-855-753-6841

Login Link
The Ideal Cardholder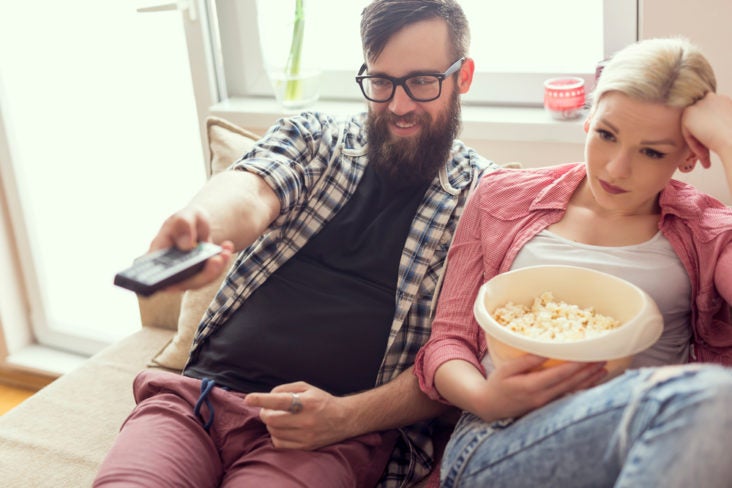 Sign-Up Bonus and Earning Points
For a card with no annual fee, The Plenti Credit Card has a pretty decent earning structure. Earn 3 Plenti® points per $1 spent at U.S. supermarkets (up to $6,000) and 2 Plenti points per $1 at U.S. restaurants.
Other purchases will get you 1 Plenti point per $1 spent.
The card also comes with a sign-up bonus (see the table above for details) to get you started on the right foot.
Plenti points can be redeemed toward purchases or as credit toward bills from specific Plenti partner retailers. The full list of 16 partner retailers is below.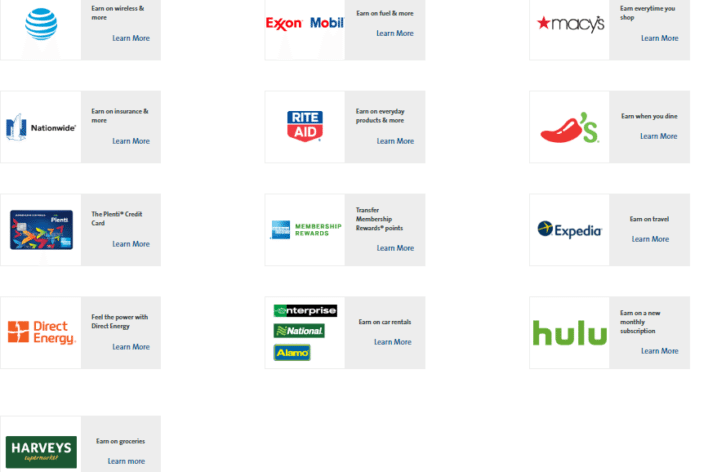 Of course, you don't need to have a credit card to earn Plenti points, but using the credit card is a great way to maximize the amount of Plenti points you earn.
Bottom Line: You can earn Plenti points with or without The Plenti Credit Card from Amex, but using the card enhances your ability to earn points if you shop at U.S. supermarkets and restaurants!
Using The Plenti Program
Plenti is a free loyalty program with a variety of partners all under one "umbrella," which eliminates the need to keep up with tons of separate loyalty programs.
Each partner determines its own structure for earning and redeeming points. See the chart below for earning ratios.
You can't get The Plenti Credit Card without being a Plenti member, but it's easy to sign up when applying for the card.
Visit Plenti online or access the mobile app, available from Google Play and the Apple Store.
Already signed up?
You may have already started the sign-up process with one of the Plenti partners, such as while checking out at a Rite Aid store or online with another retailer. However, you must finish the sign-up process online to get access to all of the rewards.
Once you finish the process, you just have to link your accounts (we will explain this process shortly) and provide your Plenti membership card (or phone number) to get your base points.
This next point is very important: Using The Plenti Credit Card from Amex earns you Plenti points on top of regular membership points. But, you still have to show the Plenti membership card when you shop, even though it may seem like an extra step.
The only exception is Macy's: once you link your Macy's credit card to your Plenti account, you don't need to show your Plenti card at the store again.
Bottom Line: You must show the Plenti membership card even when paying with The Plenti Credit Card from Amex in order to earn both Plenti® membership and Plenti® credit card points.
The Plenti Credit Card from Amex Benefits and Perks
The credit card typically comes with an introductory APR; see the card summary table for the current offer.
After that, the APR is set at a variable rate (see card summary table). Whether you want to carry a balance (and pay interest) or pay in full each month is up to you.
Because it is an American Express card, it comes with a variety of travel and shopping benefits such as roadside assistance, purchase protection, and entertainment access.
We will discuss these benefits in the Unique Features section below.
Bottom Line: Pay 0% interest during the first 12 months of owning The Plenti Credit Card.
Drawbacks of the Card
There are a couple of things to consider before choosing The Plenti Credit Card.
The Plenti program's only travel partners are Alamo, Enterprise, and National. Besides these 3 car rental agencies, there are 2 gas station partners: Exxon and Mobil. But that's about it for travel except for Expedia.
You can earn Plenti points with Expedia, but only by activating offers. We'll explain how this works in another section.
There also aren't many options for redeeming your points, since points can only be used directly with the short list of partners.
Combine With Other Rewards Cards
A great way to maximize the points you earn with The Plenti Credit Card is to use a credit card combination strategy.
Chase Freedom® earns a whopping 5% on purchases made in bonus categories (up to $1,500 per quarter). You can redeem that cash-back in the Chase Ultimate Rewards portal.
For example, you could use the Chase Freedom card during the quarters that supermarkets and restaurants are bonus categories and earn the 5%.
Once you max out those categories, you can switch back to The Plenti Credit Card from Amex for the 2-3 pts/$1.
Another option is to use the Barclaycard CashForward™ World MasterCard to earn 1.5% for all purchases that would only earn 1 point per $1 with the Plenti® credit card.
With this card, not only is there no limit to how much you earn at the 1.5% rate, you also receive a 5% cash-back bonus when making a cash rewards redemption!
Because you can transfer American Express Membership Rewards to Plenti® points, you may want to combine use of this card with The Amex EveryDay® Preferred Credit Card from American Express or the American Express Gold® Card.
Not concerned about earning Plenti points at all? Then The Plenti Credit Card from Amex probably isn't the right card for you. In that case, you might want to try a different Amex credit card.
For instance, the Blue Cash Everyday® Card from American Express doesn't rotate categories. With it, you earn 3% at U.S. supermarkets (up to $6,000 per year), 2% at U.S. gas stations, and 1% for everything else in the form of reward dollars good for statement credit.
Bottom Line: Combine cards to get cash-back in non-bonus categories or boost your Membership Rewards account. If you don't care about accumulating Plenti points, there are other American Express cards available for cash-back.
Great Card If
You have a Plenti membership
You will link your membership to several Plenti partners
You will use the credit card at U.S. supermarkets and restaurants for bonus points
Don't Get If
You don't care about earning Plenti points
You prefer to redeem credit card points for travel
You want more redemption options
You will carry a high balance
The Plenti® Credit Card — Fees
Annual Fee

Foreign Transaction Fees

2.7% of each transaction after conversion to U.S. dollars

Interest Rates

?

Late fees

?

Balance Transfers

Cash Advance APR
Best Way To Maximize Amex Points
Here are some tips to help you earn as many points as possible with The Plenti® Credit Card from Amex and (if applicable) the Plenti® membership card:
Tip #1: Put all your U.S. supermarket and gas purchases on the card to earn the maximum 2-3 Plenti® points per $1. (Supermarket purchases earn 3x points up to a maximum of $6,000, then 1 point per $1.)
Tip #2: Remember to scan your membership card at Plenti® partner retailers even when you pay with the credit card to earn the most points possible.
Some retailers will pull up your membership number with your phone number, but it may be easier to keep your membership on your key ring or stored on your phone in the Plenti® app.
Tip #3: Get authorized cards for your family members. It's free and will help you earn Plenti® points faster. The minimum age to open a Plenti® account is 13.
Tip #4: American Express Membership Rewards is a Plenti® partner, so you can transfer Membership Rewards points to your Plenti® account at a 1:1 ratio.
Points must be transferred in increments of 500 (a $5.00 value).
Just a note: Plenti points are only valid for 2 years, but Membership Rewards points never expire. The Membership Rewards program also provides more ways to redeem, so you shouldn't transfer points if you won't use them.
Tip #5: Are there any Plenti partners you aren't utilizing? Link your Plenti account to as many partner programs as possible to get all the points you deserve.
For example, do you watch a lot of television? You may want to sign up for Hulu.
Looking for car insurance? Consider Nationwide.
Tip #6: Start shopping at Rite Aid, even if you don't fill prescriptions at the store (which can be a terrific way to earn tons of points by the way!).
Rite Aid runs point specials for double points or more for purchasing certain items. Plus, you'll still get 1 point per $1 for paying with The Plenti Credit Card.
Tip #7: In addition to earning Plenti points based on your AT&T bill, you can earn 50 points per month for each eligible wireless line (6 maximum), 100 points per month for high-speed internet, and 100 points per month for DIRECTV or U-Verse subscriptions.
Tip #8: While earning 1 point per gallon of fuel at Exxon and Mobil is great, don't forget about the points you can earn for non-fuel purchases. Earn 2 points per dollar for purchases you make inside the convenience stores!
Tip #9: Shop at Macy's to earn Plenti points! Get 1 pt/$1 when you pay with your Macy's credit card, although you won't earn the points possible for using the credit card.
Use another payment method, including the Amex, to earn 1 pt/$10, and 2 pts/$10 spent on beauty and fragrances.
Tip #10: Shop the Plenti Online Marketplace, which provides lots of opportunities to build up your Plenti points balance.
Find hundreds of online retailers to shop with directly from the Online Marketplace site, many with special savings in addition to points offers.
You must follow the Online Marketplace link to the retailer's site to earn points for your purchases.
It typically takes 3-5 days for points to post to your Plenti account after placing an order. Points will then remain pending for 45 days. Hotel, airline, and other travel purchases may take longer.
Hot Tip: To ensure you receive points for each purchase, make sure not to block cookies from the merchant's website. Also, keep your browser open when making a purchase until the transaction is completed.
Tip #11: Check out Plenti Offers! There are 2 different types: Activated Offers and Automatic Offers.
Plenti Activated Offers
Plenti offers are available at Plenti.com and in the mobile app. You'll find them on your account dashboard, so you must be logged in to see them.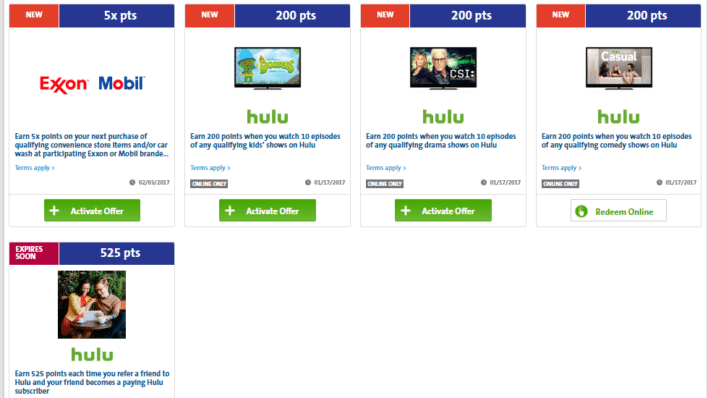 Simply activate an offer by clicking the green "Activate Offer" button, and you will be directed to the partner's website to redeem it online.
Plenti Automatic Offers
Automatic offers are different from activated offers in that you don't have to opt-in to take advantage of them.
For instance, Rite Aid might advertise an automatic offer to earn extra points by making a specific purchase. Just show your Plenti membership card at the register, and you'll automatically earn the points if you qualify.
You may also have heard mention of "household offers." As of January 24, 2017, these will no longer be available.
Best Way To Redeem Amex Points
Redeeming Plenti points is so simple!
Redeem them at checkout with the following retailers once you reach a balance of at least 200 points (even if you earned them from a different retailer):
AT&T company-owned stores
Macy's
Rite Aid
Harvey's
Participating Exxon and Mobil stations
To redeem, scan your Plenti rewards card or enter your phone number and PIN at checkout. Every 1,000 points equals at least $10 in savings!
You can also redeem Plenti points online at Rite Aid and Macy's during checkout.
Exxon and Mobil allow a maximum of 2,500 points per redemption.
Car Rental Partners: Alamo, National, Enterprise
Fuel Station Partners: Exxon, Mobil
Other Partners: American Express Membership Rewards, AT&T, Chili's, Direct Energy, Expedia, Harvey's, Hulu, Macy's, Nationwide, Rite Aid
The Gritty Details: Everything Else You Need To Know
Just as with any credit card, there are terms and conditions associated with the card.
For instance, certain items do not count toward qualification for the sign-up bonus points offer, such as cash advances, balance transfers, and the purchase of traveler's checks.
You can expect Plenti points to be credited to your account 6 to 8 weeks after making the transaction.
In addition, the Plenti program has exclusions, which they cover here. You can also find terms and conditions for each partner under Plenti FAQs.
Not all partner locations participate in the Plenti program, so look for the Plenti sticker or search for participating retailers at the Plenti website.
Other Unique Features
The Plenti Credit Card comes with fringe benefits, including the following:
Travel Benefits
Roadside assistance hotline – Get services including towing, change of a flat tire, and a battery boost in the U.S., Canada, Puerto Rico, and U.S. Virgin Islands.
Global assist hotline – Travel more than 100 miles from home and receive 24/7 access to the coordination of emergency services (legal, financial, and medical). Members are responsible for costs from third-party providers.
Car rental insurance – Reserve and pay for a car rental with the card and decline the collision damage waiver, and you may be covered if the car is damaged or stolen.
Travel accident insurance – Get coverage for accidental death/dismemberment when traveling a common carrier and charging your entire fare to the card.
Shopping Benefits
Extended warranty – This benefit matches a warranty up to 1 additional year when you pay with the card if the original U.S. manufacturer's warranty is 5 years or less. Coverage is up to $10,000 per item and $50,000 per year.
Return protection –  If you attempt to return eligible items within 90 days from the date of purchase and the merchant won't take them back, you may receive a refund of $300 per item and $1,000 per calendar year in the U.S. and its territories.
Purchase protection – Theft and accidental damage may be covered up to 90 days and $1,000 per occurrence for a total of $50,000 per year.
Entertainment Benefits
Entertainment access – Exclusive access to ticket presales and cardmember-only events. These include Broadway shows, concert tours, family and sporting events, and more.
Other Benefits
Fraud protection – Members are not responsible for fraudulent charges. Call the number on the back of your card, and there will be no deductible.
Year-end summary of charges – Receive a year-end summary of charges to review your annual spending.
Travel prices are about to surge from pent-up demand.
Use this points strategy to lock in pennies-on-the-dollar pricing in 2021, all without being a frequent flyer...
How do I only pay $30 to go to Hawaii, $200 for business class to Asia or just $150 to Europe?
Discover the real-life strategies that anyone can use to enjoy limitless travel (even on a limited budget!)
Just sign up below and I'll send you the Limitless Travel Playbook instantly:
We respect your privacy. Please view our privacy policy here.