WeWork & The Amex Business Platinum – Get Free Membership For 1 Year [$2,700 Value]
Update: Some offers mentioned below are no longer available. View the current offers here – The Business Platinum Card® from American Express

If you're a freelancer, remote worker, or are self-employed, you know the struggle of working from home. Your house can be a surprisingly distracting place to work, and coffee shops can only act as offices if you're buying coffee and pastries every single day. Thankfully, there's a better alternative: coworking spaces.
Coworking spaces are basically shared offices where remote workers can set up shop. Generally, these spaces have amenities like free coffee, standing desks, and 24-hour access. And while there are tons of different coworking spaces in big cities like Chicago, New York, and Boston, there's one chain that reigns supreme: WeWork.
WeWork is a coworking chain with hundreds of locations worldwide. A subscription can be expensive, but if you're armed with the right business rewards card, you can actually become a member for free for a year and here's how.
What Is WeWork?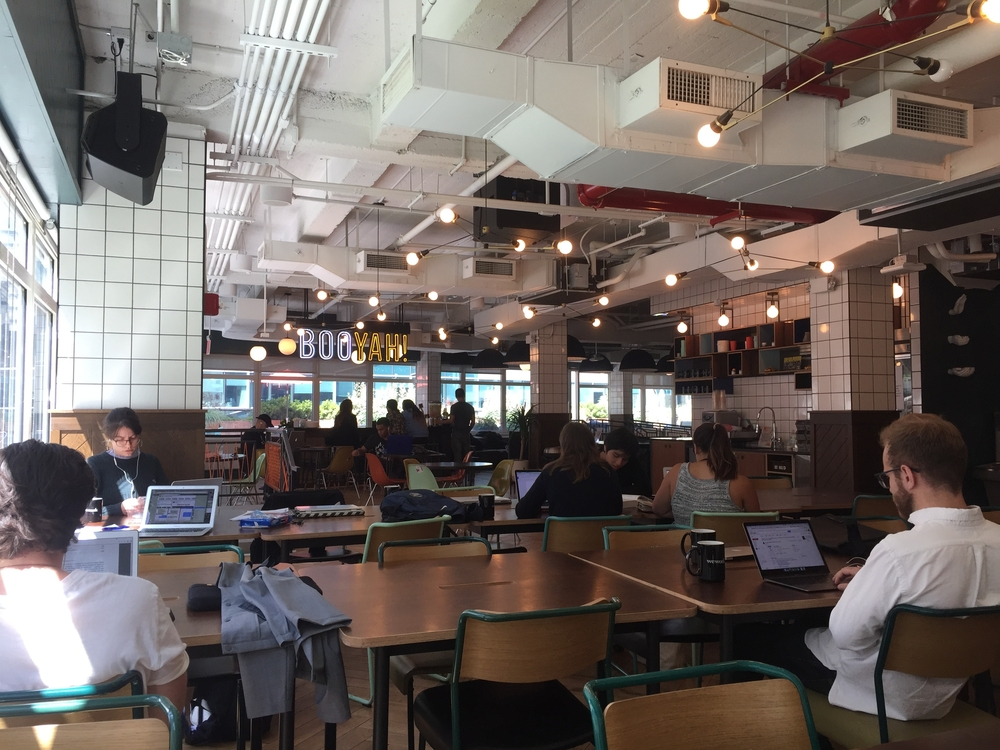 With 720+ coworking spaces worldwide, WeWork offices are generally occupied by freelancers, early-stage startups, self-employed people, and even some larger companies opening satellite offices. All of these spaces are open seating and collaborative, so you never know who you'll be working with.
At each space, WeWork members can use an unassigned hot desk to work. These are generally equipped with power outlets, and can act as an alternative to coffee shops and cafes where remote workers might find themselves posting up.
WeWork plans aren't cheap though. In most cities, a monthly hot desk membership is roughly $225 (or $2,700 per year), but it can go higher than $350 per month if your primary workspace is in New York City or another more expensive location. Note that these plans only include access to a single WeWork location.
Why WeWork Is Useful for Businesses
At WeWork coworking spaces, you can take advantage of amenities like free coffee, desks, meeting rooms, printing, phone booths, and more. This gives business owners a place to host meetings, take calls, and get work done somewhere outside of their home. And unlike coffee shops, you can always count on WeWorks being quiet and having plenty of outlets.
How to Get Your Membership for Free
Getting a free, year-long WeWork hot desk membership is easy: just open a Business Platinum Card® from American Express. This card comes with a free year-long subscription to all of WeWork's coworking space in its network of 720+ locations across 120+ cities in the Americas, Asia, Europe, Africa, the Middle East, and Australia.
Conference room hours are not included with your American Express WeWork subscription, though you can easily purchase conference room hours at any WeWork location. Rates vary, so be sure to check with the front desk of your local WeWork for more info.
Also, it's important to note that American Express WeWork members have restricted hours at WeWork spaces. Currently, American Express members can access WeWork locations between 9 am and 6 pm Monday to Friday — after hours and weekend coworking is not included with this plan.
The American Express WeWork plan is comparable to WeWork's Global Access subscription which gives members access to all WeWork locations worldwide. However, pricing for this plan isn't publicly available, so you'll have to request a quote
How to Enroll in Your Free WeWork Membership
Before you can visit a WeWork location, you need to enroll your Business Platinum Card with WeWork. To do this, after signing up to the Business Platinum Card just visit WeWork's Amex Business Platinum Card enrollment page and enter your details before 12/31/19.
Rest assured that WeWork won't charge your card for entering the card number on this page.
After 3-5 days, you'll receive an email asking you to set up your free WeWork account. Once that's set up, just show up to any WeWork during normal business hours and present your Amex Business Platinum card and photo ID at the front desk. Then, you have free rein to use the shared co-working space to get your work done!
Other Benefits of the Amex Business Platinum Card
Of course, a free WeWork subscription isn't the only benefit of the Amex Business Platinum card. Other perks include access to thousands of airport lounges worldwide. American Express operates its own network of Centurion Lounges around the U.S. and Hong Kong, and your card will also give you access to Delta Sky Clubs (when flying Delta), Priority Pass, and AirSpace lounges across the globe.
Further, the card includes a $200 airline incidental fee credit for a single airline. You can use this credit to cover things like seat assignments, flight changes, upgrades, and lounge access.
You'll also be given a $200 annual credit to the Dell online store. This credit is dispersed in 2 $100 increments twice per year: one you can use January to June, and one you can use July to December. You're not limited to Dell computers with this credit either — the store is stocked with products from third parties like Microsoft, Sony, and even Nintendo.
As far as points earning goes, the card earns 5x points on flights and hotels booked through amextravel.com, 1.5x on purchases over $5,000, and 1x on all other purchases. Additionally, the card has varying welcome bonuses that can give you a massive points boost when you first open an account and meet the spending requirements.
Final Thoughts
This WeWork benefit is a great value for anyone who works remotely. As noted earlier, an equivalent subscription would cost nearly $2,700 annually, meaning that taking advantage of this benefit will easily offset the Amex Business Platinum's annual fee.