What Is a Line of Credit and How Is It Different Than a Credit Limit?
A line of credit is a type of bank loan. You or your business can withdraw up to an agreed-upon amount as many times as you want, as long as you repay what you owe each time. This can be great when you don't know exactly how much money you might need to complete a home renovation or pay for inventory for your business.
In this article, we'll break down the different types of lines of credit that are available and tell you how each differs from debt instruments you might be more familiar with, like loans or credit cards.
What Is a Line of Credit?
When you take out a line of credit, which we'll refer to as a "LOC" moving forward, you only pay interest when you borrow money against this line. Once you pay back those borrowed funds, you will have access to the entire credit line again. One of the biggest advantages of a line of credit is getting funds quickly and repeatedly.
There are several reasons why a LOC might be preferred over more traditional methods like a loan or credit card. With a traditional loan, you get a chunk of money and start paying the loan back immediately, regardless of when you use the money. A credit card functions in much the same way as a LOC, but it has a much higher interest rate than a LOC.
Bottom Line: If your line of credit is $25,000 and you don't withdraw any money, you won't have to pay any interest. The entire $25,000 balance is available for qualified purchases at any time, but you only make payments on money you actually withdraw.
Personal and business credit lines do not typically have a date when they expire. However, most lenders monitor your credit report regularly to determine your current creditworthiness; they also look at how often you are accessing your credit line. Based on this, credit lines can be reduced or closed at any time.
No matter the type of LOC you have, you will receive a monthly statement showing your balance, your minimum payment due, and a summary of interest and fees. As long as you're using the funds, you'll be required to repay the money each month, as agreed upon with your financial institution. You may also have to pay an annual fee, regardless of whether you use the available funds.
Secured vs. Unsecured Lines of Credit
Personal and business lines of credit can be unsecured or secured. A secured loan requires you to use an asset as collateral. If it's attached to your personal property, the interest and fees will be quite a bit lower since the lender can take ownership of your goods in the case of default.
For example, your home is the collateral for a Home Equity Line of Credit (or HELOC) and your inventory and office furniture might be collateral for a secured business line of credit.
Unsecured lines of credit are not backed by collateral, so you'll pay a higher interest rate to account for the greater risk to the lender. Unsecured personal and business lines of credit are harder to apply for and are only an option if you have good credit and/or request a smaller LOC.
3 Primary Types of Lines of Credit
Let's review the main 3 lines of credit that are available and how each type can be used.
1. Personal Line of Credit
Personal lines of credit are commonly offered by banks like Chase and Citibank. These banks usually require that you have a checking account open before you can apply for a personal LOC. This allows you to make regular transfers into your account or even write checks for purchases directly from the LOC.
There aren't typically any restrictions on what a personal LOC can be used for — whether it is to consolidate credit card debt, cover the cost of tuition, or even pay for a wedding. To use your LOC, you simply borrow as needed, periodically repay what you owe, and borrow again for as long as the line remains open.
Hot Tip: Since the assets in your bank account can be held as collateral, the money may be seized in the event you can't pay off the balance in time.
Lenders determine how much you can borrow by evaluating your credit, current income, and existing debt. Every institution will have its own rates and guidelines, but if you have good or excellent credit (690 or higher on the FICO scale), you have better chances of getting approved at the lowest rates available. Interest rates are usually variable, not fixed like with a credit card, so they can fluctuate based on the prime rate.
2. Business Line of Credit
A business LOC is designed to fund short-term financing needs, like purchasing inventory, paying operating expenses, or buying new equipment. If your business is just starting, you may want to use a business LOC to create consistent cash flow for your business. You can keep reusing and repaying the LOC as often as you'd like, as long as you make payments on time and don't exceed your credit limit.
In principle, business lines of credit do not differ much from personal lines of credit, especially if your LOC is unsecured. However, for a larger credit line, a lender may choose to secure the business LOC by your business' assets. These assets might be business real estate, company vehicles, or inventory.
The amount you are eligible to receive and the interest rate you are offered depends on factors like your company's revenue and how long you have been in business. Most lenders allow you to repay your full balance early to save on interest costs.
3. Home Equity Line of Credit
The most commonly-used LOC is the home equity line of credit, also known as a HELOC. A HELOC allows you access to the funds for home improvement projects, home repairs, or emergency fixes. Since a HELOC is backed by your home's value, they generally have low risk to the lender, meaning you'll be offered a low interest rate.
Bottom Line: A HELOC is a second mortgage; the amount you can borrow is determined by the equity in your home, your debt-to-income ratio, and your credit score.
When you get a HELOC from a financial institution, you have a set time during which you can draw on it. This period is known as the draw term. Draw terms are usually long-term agreements lasting around 10 years. During this term, you use checks or a special credit card to use the money in your LOC.
During the draw term, interest will accrue at a rate determined by the LOC's interest rate. Most LOCs have a variable interest rate based on the prime rate plus a margin. Basically, when the prime rate changes, so does your interest rate.
Bottom Line: As an example, you might see a HELOC offered at "the prime rate plus percent or 2 points." This is a variable rate that means that your interest rate for the LOC will always be 2 percent above the prime rate. 
How you make payments on your HELOC depends on the terms you receive from your financial institution. On one hand, your lender might set up a repayment plan so that you can make monthly installments that go toward paying off both interest and principal. On the other hand, you might make payments only on the interest.
Regardless of how it is set up, at the end of the draw term, you would have to pay back the total amount you borrowed.
Hot Tip: The interest you pay on the HELOC may be tax-deductible.
Something important to note is that if you do change your mind after applying for a HELOC, the Federal Truth in Lending Act legally gives you 3 days to change your mind after you set it up.
When To Use a Line of Credit
Once you get a line of credit, you want to make the most of it while also minimizing fees. If you plan ahead, you won't risk going over budget and having to borrow more or pay unnecessary interest fees.
Here are some tips for how to use a line of credit:
If you need the money for a household project, education costs, or other major expense, a line of credit may be a good idea as long as you know you'll have the money needed to repay your debt.
An unsecured personal line of credit may help you consolidate several small debts you're paying off into a single payment with a lower APR.
Know the terms of your agreement. For example, many loans have windows of time where you have open access to funds and can make interest-only payments, called draw periods.
Make early payments if you can. This can cut down on future interest payments.
When Not To Use a Line of Credit
If you handle your line of credit responsibly, it can be a really great tool, but the opposite can happen if you aren't careful.
Here are some things to be careful of when you use a LOC:
Don't use a line of credit to pay for smaller items that you can pay off immediately. Those small purchases can add up and you'll end up owing interest on things you could have just purchased outright.
If you know you can't afford payments or your income is unstable, a line of credit might not be a good choice. If you default on payments, your credit will most likely suffer. What's more, on a secured line of credit, the lender may take possession of the collateral.
Don't use your LOC for basic needs, vacations, or as your personal emergency fund. This is a major red flag that you're struggling financially and you should not take out additional debt.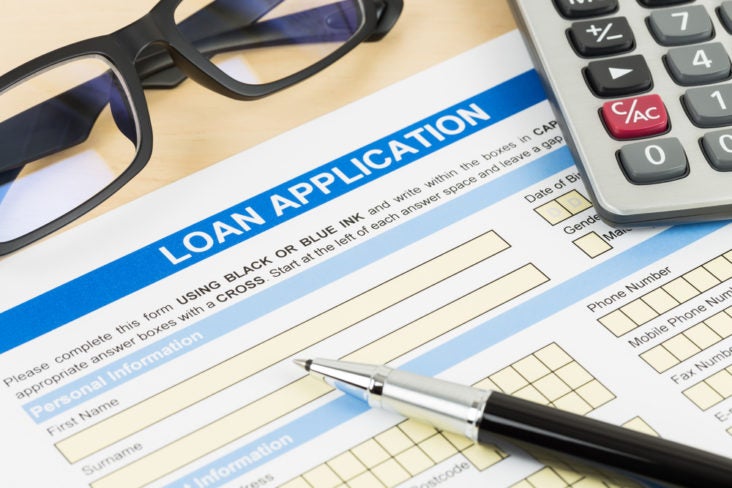 Alternatives to a Line of Credit
Loans, credit cards, and lines of credit allow consumers and businesses to borrow money to pay for purchases or expenses.
Here are a few alternatives and when they might be a better option than a line of credit:
Loan
Most people will take out some type of loan throughout their lifetime. In general, loans are better for large, 1-time investments or purchases. Common types of loans include mortgages, auto loans, student loans, and small business loans. Lines of credit, on the other hand, are better for ongoing, small, or unanticipated expenses — or to even out income and cash flow.
Loans usually have fixed interest rates. This means that if you take out a loan with a 5% interest rate, that rate will not change during the life of the loan. On the other hand, many lines of credit have variable rates (like we discussed above).
Many loans are amortized, which means that each payment will be the same amount until it is fully repaid. For example, let's say you take out a $20,000 3-year auto loan with a 5% interest rate. If the loan is amortized, you will repay $599.42 each month until the loan is repaid (although you can usually make extra payments in order to repay a loan early).
Bottom Line: If you're confident you'll use the full amount you're planning to borrow, a personal loan may be a better option than a line of credit.
Credit Card
A LOC works in a similar way to a credit card, in that you have the freedom to use the funds when it best suits you, up to the specified limit (also known as a credit limit). The main advantage of a LOC versus a credit card is that the interest rate is usually considerably lower.
A LOC also usually comes with a much higher account limit for spending, whereas a credit card's limit is much lower.
Bottom Line: While a credit limit sounds very similar to a LOC, it is different. A credit limit is the maximum amount of credit that a financial institution or lender will extend on a particular line of credit. You will see this most commonly on a credit card.
Balance Transfers
If you're using a line of credit to pay off credit card debt, a balance transfer credit card may be a better option. If you have a great or excellent credit score, you will most likely qualify for a 0% annual percentage rate introductory offer on a balance transfer credit card.
This means that you can knock off your debt and pay 0% interest during the introductory period, which usually lasts between 12 to 21 months.
Bottom Line: You will want to make sure you can afford to pay back the entire balance you charge during your card's 0% APR offer. If you don't, any remaining balance at the end of the offer will begin incurring the standard credit card interest rate, which could be very high.
How To Apply for a Line of Credit
When applying for any type of line of credit, lenders will look at your credit score. Your credit score shows your lender your ability to repay the loan. If you have a good credit score, your interest rate will be much lower, and your borrowing limit can be much higher.
Here are all of the steps you should take before you apply for your LOC:
Review Your Credit Report
You should be checking your credit score periodically to check for accuracy, forgotten accounts, and even potential fraud. Before heading to your bank, you need to know what your overall credit history looks like so you can be prepared.
You'll want to check your credit report with all 3 of the most popular credit bureaus when possible (since you don't know which one a particular bank will be looking at): Experian, TransUnion, and Equifax.
You are entitled to access your credit information for free at least once annually. Simply go to annualcreditreport.com and input your information. You'll want to print this report to take along with you when applying for a line of credit.
Hot Tip: It's also important to know the credit requirements of any LOC that you might be interested in applying for.
Gather Your Financial Records
Financial institutions will likely look at your personal information, including current income, where you live, what type of job you have, and any other payment history (for your mortgage, bills, taxes, etc.) that could help or prevent you from being approved for the loan.
To do this, you'll need to provide the company with copies of things like past tax returns, employer information, investments, and bank statements. Making sure that you have all of your financial paperwork in order will help you speed up the application process.
Compare Terms and Rates With Other Lenders
Check the rates and terms with multiple lenders so that you make sure that you're getting the best deal possible.
Other important terms to look for include:
Will your loan have a fixed or variable interest rate?
What are the payment schedules, and what kind of fees are attached?
Can you get approved for a higher LOC balance at your local bank, versus going to a new one?
Understand Impact on Your Credit Score
Typically when you borrow money in your name, even if your home or business is collateral, the impact on your credit score is significantly related to your repayment of that debt. Missed payments are among the biggest factors in a drop in your credit score, so no matter the kind of credit line you're considering, borrow only if you have a plan to pay it back.
On the positive side, opening a LOC and making regular payments combined will both help increase your credit utilization, payment history, and even your credit mix! A LOC can be a powerful tool to significantly increase your credit score.
How To Responsibly Manage Your Line of Credit
Our tips to manage your line of credit are extremely similar to those of managing payments on your credit card:
Making payments on time. Demonstrating that you can responsibly pay your debt is the number 1 behavior that will impact your standing with the lender, as well as your credit score.
Pay down high balances to improve credit card utilization. This will show that you can responsibly manage your credit limit. Additionally, better credit utilization will help boost your credit score.
Maintain activity on your credit line. By accessing funds on your LOC and by promptly paying on them, you can help avoid the cancellation of the LOC for lack of activity.
Avoid fees through responsible spending habits. We touched on this a bit earlier, but by missing or being late on a payment, you will incur fees, potentially increase your interest rate, and lower your overall credit score. Pay on time to avoid all of these!
Final Thoughts
We hope that we've shown you why taking out a line of credit can be a smart move to recover from financial hardship, to get a business up and running, or to invest in an upcoming opportunity. When opening any new credit lines, it's a good idea to have all the facts and understand the risks before applying for one.