How to Find the 140k Bonus Offer for the IHG Rewards Club Premier Credit Card [2021]
The IHG® Rewards Club Premier Credit Card is a must-have for IHG loyalists and even those who stay at IHG Hotels & Resorts a handful of nights a year. This is due to all of the great benefits packed into the card, and how rewarding the card is when used at IHG hotels.
If you're not sure if the IHG Premier card is a good fit for your travel needs, or you'd like to learn strategies on how to find the best bonus possible, you've come to the right place.
Benefits of the IHG Premier Card
Before discussing your options for how to find the best bonus offer possible on the IHG Premier card, let's breakdown the top benefits of the card to see if it makes sense for your travel needs.
CREDIT CARD
CARD INFO
IHG® Rewards Club Premier Credit Card


Apply Now

(at Chase's secure site)

Earn 140,000 bonus points after spending $3,000 on purchases in the first 3 months from account opening
Earn up to 25 points total per $1 spent when you stay at an IHG hotel
Earn 2x points on purchases at gas stations, grocery stores, and restaurants; then 1 point per $1 on all other purchases.
Annual Fee: $89
Key Benefits
Free Anniversary Night: Each year, on your account anniversary, you'll receive a free night certificate that can be used at any IHG hotel that costs up to 40,000 points per night.
Fourth Night Free: IHG Premier cardholders get their fourth night free on all award stays.
IHG Platinum Elite Status: IHG Platinum Elite status includes benefits like complimentary room upgrades, 50% bonus points, priority check-in, and extended check-out.
20% Discount on Purchased Points: Save 20% when you purchase IHG Rewards points with your IHG Premier card.
Global Entry/TSA PreCheck Credit: $100 credit every 4 years as a reimbursement for the application fee.
Purchase Protection: Purchases made with the card are covered for up to 120 days against damage or theft, up to $500 per claim and $50,000 per account.
Trip Cancellation/Interruption Insurance: If your trip is canceled or cut short due to a covered issue (like severe weather or an illness), you're eligible for up to $5,000 of coverage for prepaid, nonrefundable travel expenses.
Baggage Delay Insurance: If your checked baggage is delayed more than 6 hours, you'll receive $100 in reimbursements for essential items per day for up to 3 days.
How to Find the 140,000 IHG Premier Card Bonus Offer
Part of the game of credit card rewards is to always try to get the best bonus offer possible when applying for a new credit card. With that said, what are the best ways to track down the best offer possible on the IHG Premier card?
Increased Public Welcome Offer to 140,000 Points – Easiest Way
Occasionally, banks run limited-time increased bonus offers on their credit cards — making it so you don't have to do much work to track down the best offer.
Fortunately, that time is now for those who are interested in the IHG Premier card, as Chase is now running a limited-time bonus offer of 140,000 IHG Rewards points!
140,000 IHG Rewards points are enough to get you 2 free nights in the very best hotels in the IHG portfolio, or 4 free nights in a property costing up to 45,000 points per night — thanks to the fourth night free on award stays benefit from your new card!
Hot Tip: Curious about other great ways to redeem IHG Rewards points? Check out our guide on the best ways to redeem IHG Rewards points for maximum value!
CardMatch
If you're not already familiar, CardMatch is a free tool offered by CreditCards.com that allows users to check for targeted bonus offers from all CreditCard.com partners. What does this mean? Large U.S. credit card issuers, like Chase and American Express, publish these targeted offers to CardMatch who then reveals targeted offers to select users that use the CardMatch tool.
CardMatch doesn't just offer the opportunity to check for targeted bonus offers — users can also check to see if they're pre-approved for a card. That said, you should know that being pre-approved for a card does not guarantee you'll be approved should you choose to submit an application — just that the odds of your approval are increased.
Either way, to check for targeted bonus offers or pre-approvals on CardMatch, you'll need to provide the following details:
Full name
Address
Last 4 digits of your Social Security number
If you're concerned about providing these personal details, you might feel better knowing that the entire website is a PCI Level 1 Compliant organization — the same level of security offered by a bank.
All in all, we think it makes a lot of sense to periodically check CardMatch for targeted offers because the service is free, secure, and does not perform a hard pull on your credit report.
Hot Tip: Check out our detailed guide on how you can get personalized offers through the CardMatch tool.
Targeted Mailings From Chase
If you haven't already, you should strongly consider opting into targeted mailings from Chase. Why? Because Chase will occasionally send out increased bonus offers that can be better than publicly available offers — but they're only able to send them to you if you opt-in first.
To do so, simply go log into your Chase account, click Profile, then Settings. Once you're on the Settings page you'll want to click Marketing Preferences, and then click Yes to receive special offers from Chase.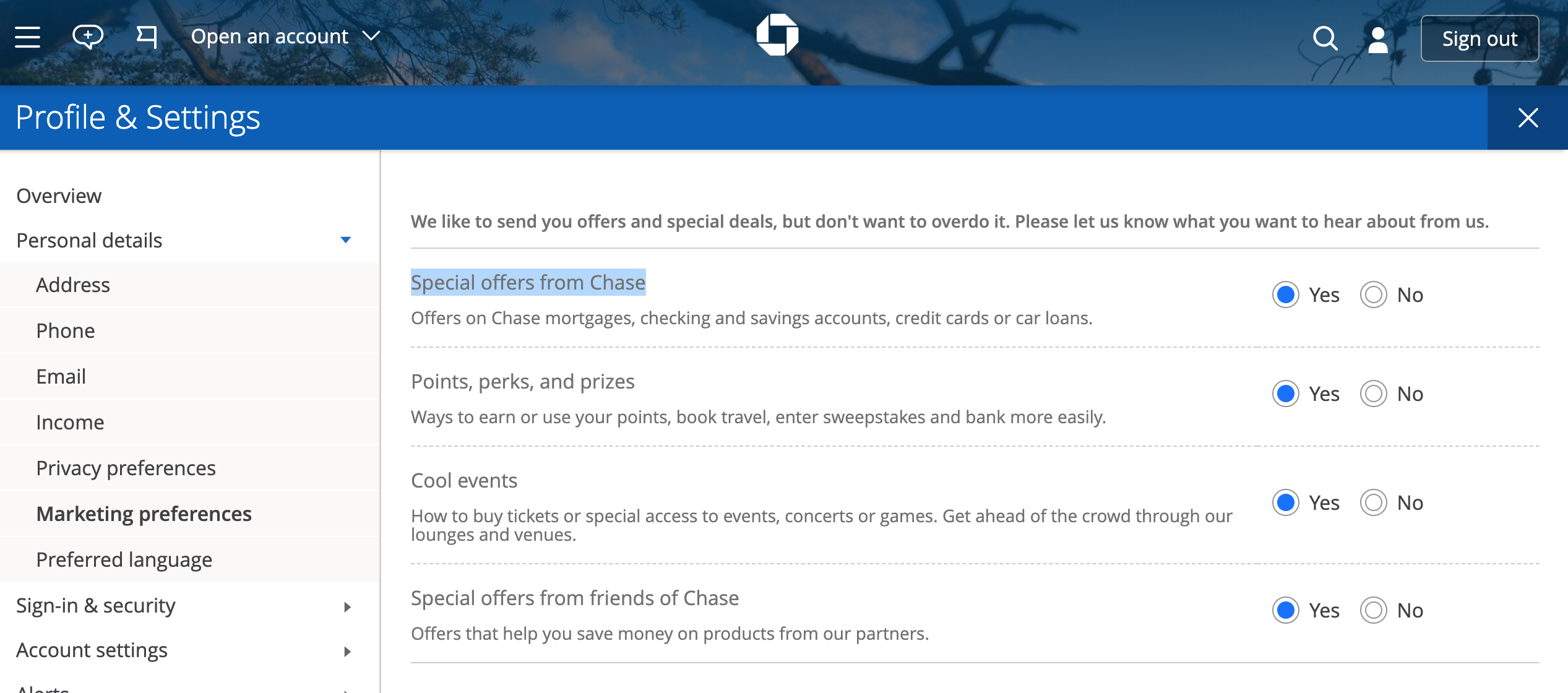 Reasons You May Not Be Able to Get a Higher Welcome Offer
Chase's 5/24 Rule
Like most Chase credit cards, the IHG Premier card is subject to Chase's 5/24 rule. Due to this rule, if you've opened more than 5 new credit cards in the last 24 months, you will likely be denied for the IHG Premier card.
You should know that the Chase 5/24 rule predominately applies to new personal credit cards, so most business credit cards, auto loans, or installment loans are not counted towards your 5/24 total.
You've Opted Out of Marketing Offers
Put simply, if you don't opt-in to receiving marketing offers, Chase is prohibited from sending them to you. As we outlined above, opting-in to marketing offers with Chase is incredibly easy to do, so don't let this be the reason that you don't get targeted for an increased bonus offer.
Low Credit Score
This should come as no surprise, but if you currently have a low credit score then it is unlikely that you would be approved for the IHG Premier card.
Instead, you should opt to focus on ways that you can improve your credit score before considering applying for travel rewards credit cards.
Final Thoughts
All things considered, the IHG Premier card is a fantastic hotel rewards cards thanks to benefits like an annual free night certificate, fourth night free on award stays, and complimentary IHG Rewards Platinum Elite status.
So if you feel that the card is a great fit for your travel patterns and goals, make sure to exercise all of your options to get the highest bonus offer you possibly can — because more points equals more travel!