Oman Air Plans To Join Oneworld Alliance, Enlists Help From Qatar Airways
The news of a potential new airline addition to the Oneworld alliance is currently making waves, and we're excited about it already.
Oman Air is not just any old airline — it's a "boutique" airline that really stands out from the crowd in the ways you'd expect from a Middle Eastern airline.
Here's what we know so far.
The Plan
Don't get excited just yet. At the present time, Oman Air's entrance into the alliance is yet to be confirmed.
The airline is currently in talks with Doha-based airline (and direct competitor) Qatar Airways about helping it with its application into the alliance.
Oman Air has approached Akbar Al Baker, CEO of Qatar Airways and chairman of the Oneworld alliance, for guidance throughout the application process. As codeshare partners, Oman Air and Qatar Airways are already closely linked, so strengthening their bond by both being members of Oneworld is a logical progression.
When appointed as Governing Board Chairman for Oneworld in May 2021, Al Baker said he was looking forward to "working with our alliance partners, Oneworld CEO Rob Gurney and the Oneworld team to provide more connectivity, a seamless travel experience and more valuable loyalty offerings for our passengers." The introduction of Oman Air into the alliance would certainly fit in with these plans.
While the talks are still in their early stages, the recent successful additions of Alaska Airlines and Royal Air Maroc to the alliance could be a good indication of Oman Air's plans to join going ahead.
"As the industry recovers from COVID, airline alliances are going to be more important than ever," an Oman Air spokesperson told Reuters.
A Welcome Addition to Oneworld
If all goes to plan, Oman Air would bring the total of airlines in the alliance to 15.
While the Oneworld alliance already has a strong presence in the Middle East with carriers such as Qatar Airways and Royal Jordanian, Oman's strong route network in India would add a bunch of new destinations to Oneworld's already long list.
The Omani carrier doesn't offer any direct flights to North America, which means most Americans will likely have yet to experience its wonderful business class. The carrier's business class Apex Suites onboard its 9 Boeing 787 Dreamliners boast "incredible space, privacy, [a] comfy flatbed, and decent storage," according to Upgraded Points writer Greg Stone.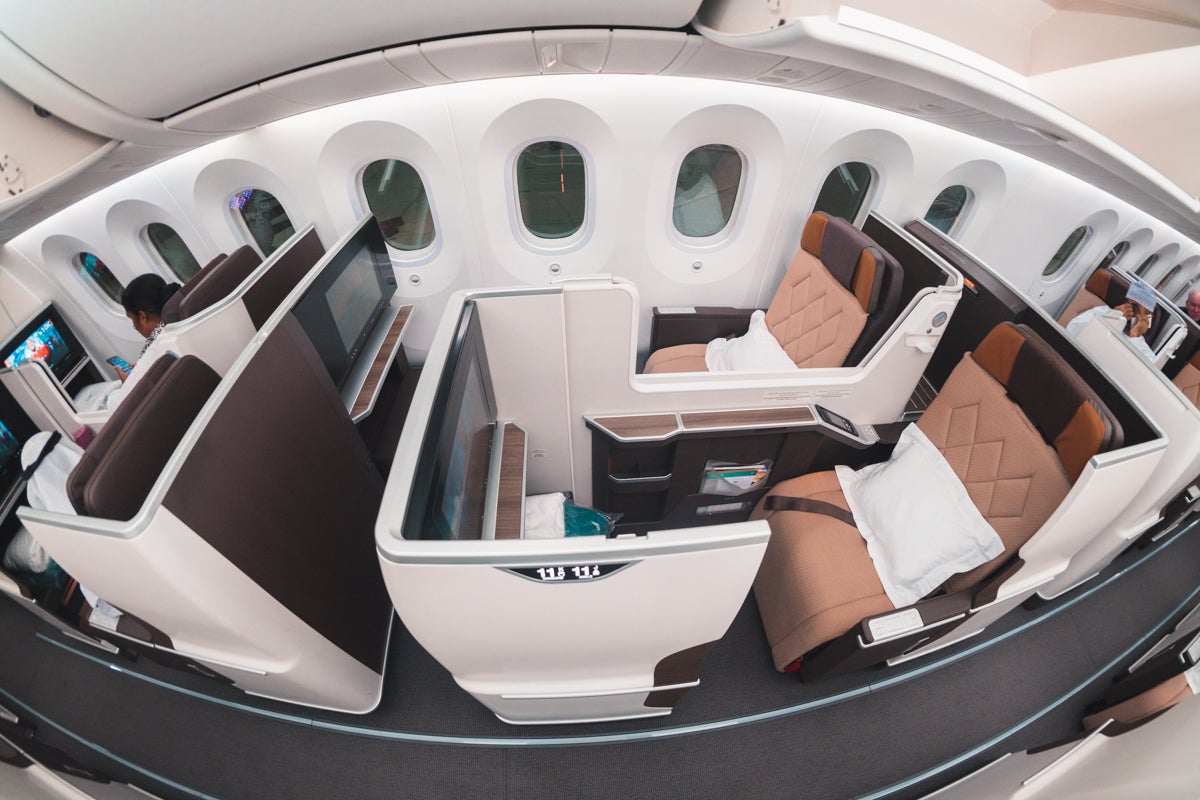 The aircraft currently operates from Muscat (MCT) to Bangkok (BKK), London (LHR), Manchester (MAN), and Paris (CDG). This means travelers wishing to travel from the U.S. to Oman and beyond would be able to fly American Airlines to London or Paris and connect seamlessly onto an Oman Air flight to Muscat.
Joining the alliance would likely make it possible to earn and redeem American Airlines AAdvantage miles when flying Oman Air. The same can be said for Avios, as British Airways Executive Club's Avios are another principal mileage currency used by the Oneworld alliance.
Hot Tip: Learn everything you need to know about the Oneworld alliance, including partners and status levels and benefits.
Final Thoughts
It's no doubt that the joining of Oman Air to the Oneworld alliance would be welcomed by many, including us here at Upgraded Points.
For now, we will keep a close eye on the negotiations as we wait in hope of a positive outcome of the airline's application in the not-too-distance future.