[Expired] Promo for 2-Month Southwest Companion Pass
The Southwest Companion Pass is one of the most lucrative perks in the world of points and miles. If you're not already familiar with it, the Companion Pass allows you to bring a companion on all of your Southwest flights, on both cash and award tickets, for nearly free — you just have to pay the taxes and fees.
Now with Southwest's newest promotion, you can earn almost 2 months' worth of the Companion Pass after taking just 2 flights. Here are the details.
Companion Pass Promotion
Earning the Companion Pass in this promotion is simple and requires just 2 steps:
Register for the promotion and purchase 1 round trip flight or 2 one-way flights by September 9, 2021.
Complete the flight(s) you purchased by November 18, 2021.
Once you've done that, you're all set and you'll have earned a Companion Pass that is valid from January 6, 2022, to February 28, 2022.
Keep in mind that promotion registration must be completed prior to booking your travel, and a qualifying one-way flight for this promotion is a one-way revenue flight, so award tickets are not permitted.
Where To Use Your Companion Pass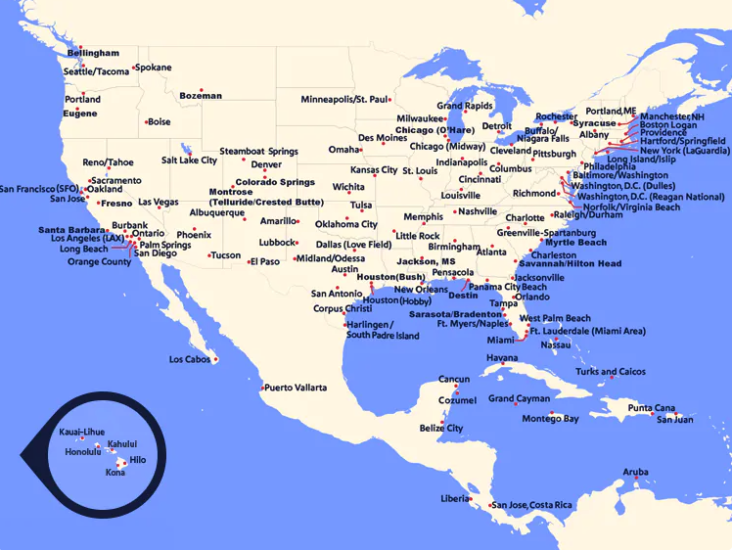 Looking for ways to take advantage of your new Companion Pass? While Southwest's route map isn't quite as extensive as other airlines, Southwest does serve most of the U.S., including Hawaii, along with awesome international vacation destinations like Mexico, Belize, Costa Rica, Jamaica, the Bahamas, Cuba, the Dominican Republic, Grand Cayman, Turks and Caicos, Puerto Rico, and Aruba!
Hot Tip: Visit our detailed guide to the best ways to redeem the Companion Pass with Rapid Rewards points for maximum value.
How To Extend Your Companion Pass
Usually, you need to either complete 100 qualifying one-way flights with Southwest or earn 125,000 qualifying points in a calendar year.
Fortunately, you can fast-track your way to earning 125,000 qualifying points by applying for Southwest Airlines co-branded credit cards. When you earn the welcome bonus on a Southwest credit card, whether it be 40,000 points, 60,000 points, 80,000 points, etc., those points count as qualifying points towards the Companion Pass.
Now before you go crazy applying for Southwest credit cards, you should know that Chase will only allow you to hold 1 personal Southwest credit card at a time. Although, if you are eligible to apply for business credit cards, you can apply for, and earn the welcome bonus, from both Southwest business credit cards if you'd like — which likely would leave you with enough points to qualify for the Companion Pass!
Final Thoughts
Without a doubt, this is an awesome promotion and has the potential to offer quite a bit of value to you for those who are able to take advantage of it. Given that you only need to book 1 round-trip ticket to score what is effectively buy 1, get 1 Southwest flights for over 7 weeks, this promotion is practically a no-brainer if you live near an airport serviced by Southwest and frequently travel with another person.