Delta Air Lines Airbus A220 First Class Review [DFW to JFK]
Airline: Delta Air Lines (DL)
Aircraft: Airbus A220-100 (N112DU)
Flight #: DL1197
Route: Dallas-Fort Worth (DFW) > New York-John F. Kennedy International Airport (JFK)
Date: October 25, 2019
Duration: 3hrs 25min
Cabin & Layout: First Class, 12-seats, 2-2 config
Seat(s): 3A
Miles Used: None
Typical Retail Cost: $282.30 per person one-way
Introduction
This review follows on from my Delta A220 Economy Class review from New York-LaGuardia (LGA) > Dallas-Fort Worth International (DFW).
I decided to fly back to New York in first class on the new A220 so that I could experience both cabins.
Booking Delta Air Lines First Class
I booked this fare using dollars instead of miles.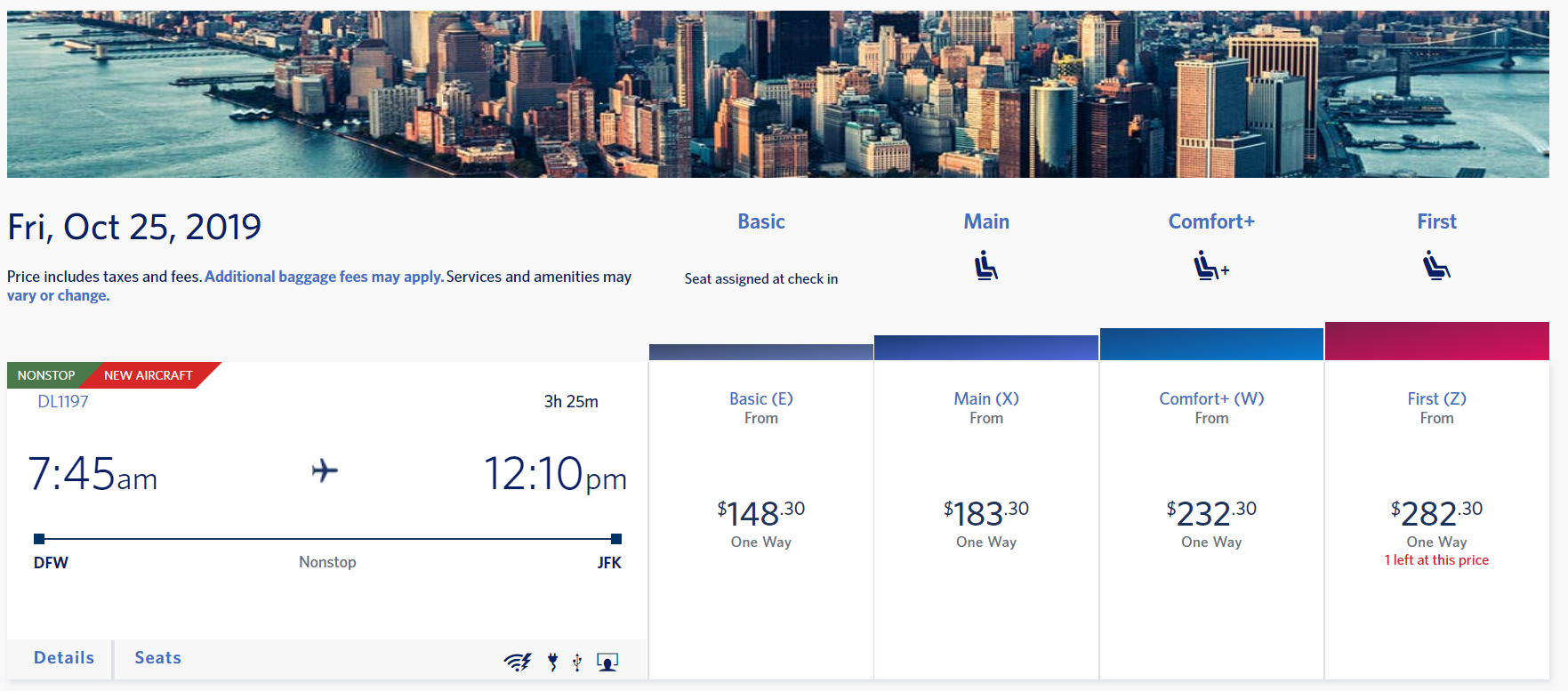 I credited the flight to my Virgin Australia account, which earned me 2,782 points, plus 1,043 points for my status bonus and 60 status credits.
Booking This Flight With Miles
Since the cash price for the ticket was quite low, I chose to pay for the ticket and save my miles to cover a more expensive fare.
Of course, the most common way to book a ticket with Delta is using Delta's own SkyMiles to book. Just note that Delta prices its award tickets dynamically, so the cost of your ticket depends on factors like passenger demand, the cost of a paid ticket, and more. This means that you may be able to score a great or terrible deal depending on your date of travel.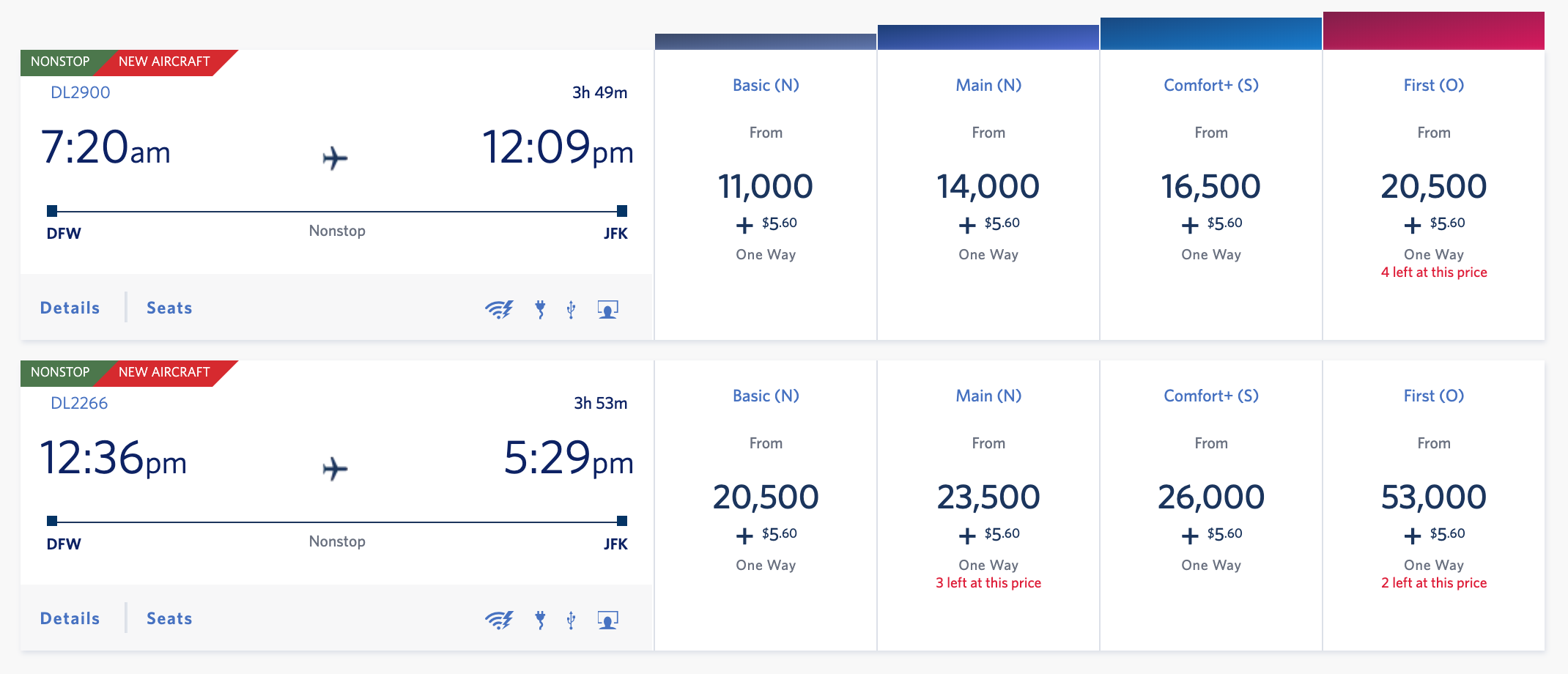 Upon a quick search for a flight from DFW to JFK departing 2 months from the date of booking, flights operated by the new A220 ranged from 11,000 to 20,500 SkyMiles in basic economy and 20,500 to 53,000 in first class. Obviously this is quite a large spread, and those wanting to leave later in the day are being charged a premium.
Remember, though, this pricing differs from day to day, so make sure to check the cash price of a ticket before you book. You may get a better deal by booking cheap tickets through the Chase Travel Portal if you have a Chase Sapphire Preferred® card or Chase Sapphire Reserve® card that can redeem for paid flights at 1.25 cents per point or 1.5 cents per point respectively.
You can earn Delta SkyMiles by crediting SkyTeam flights to the airline, transferring points from Amex Membership Rewards, or another one of these various mileage earning methods.
Likewise, you can use 22,500 Virgin Points to book the same ticket in first class — just search for the flights on Virgin Atlantic's website. You can transfer miles to Virgin Atlantic from Amex Membership Rewards, Chase Ultimate Rewards, Citi ThankYou, and Marriott Bonvoy at varying rates.
Before Departure
I received an email a couple of days before departure allowing me to pre-select my breakfast option, so I went with the hot option, the scrambled egg sandwich.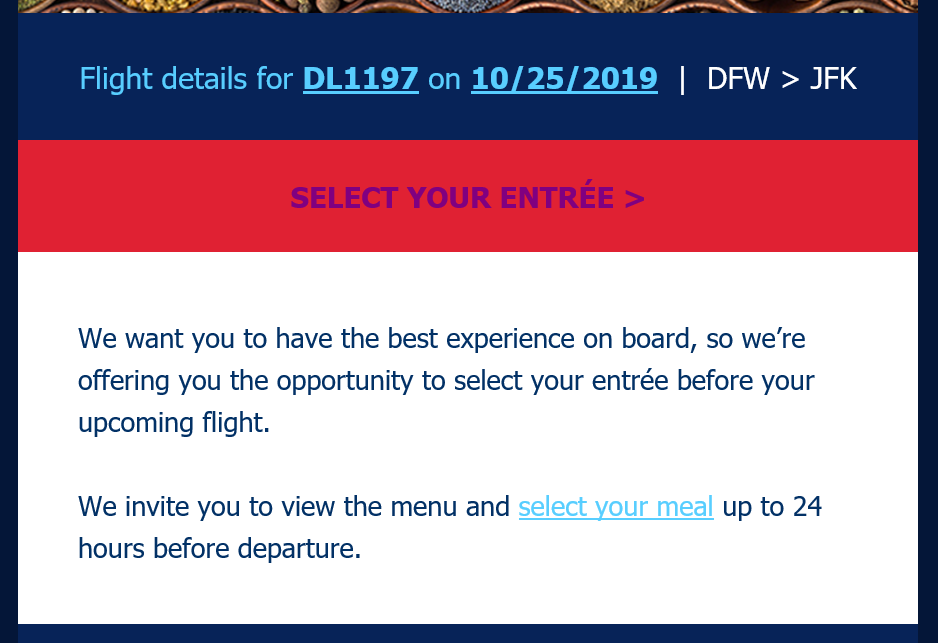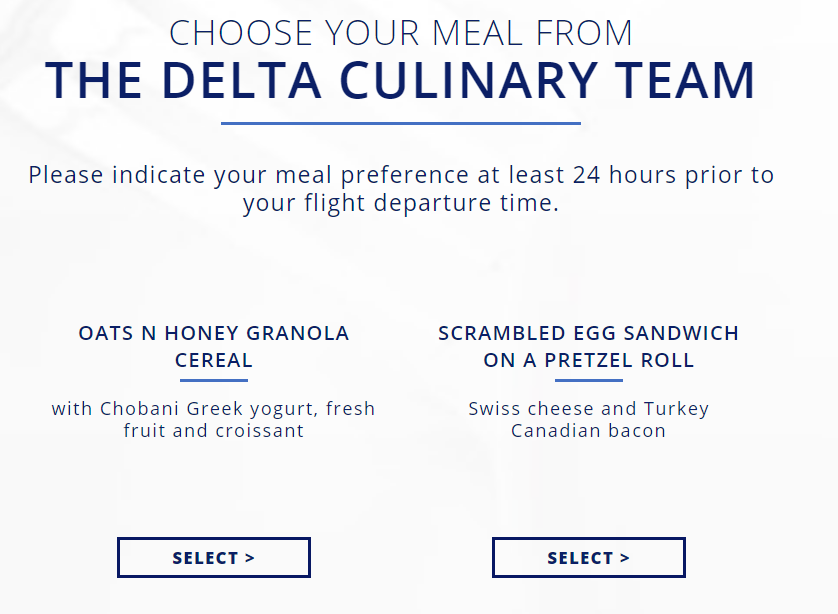 At Dallas-Fort Worth Airport (DFW)
With a 7:45 a.m. scheduled departure, I had another early start. I arrived at DFW airport at 6:35 a.m. and jumped into the long priority queue.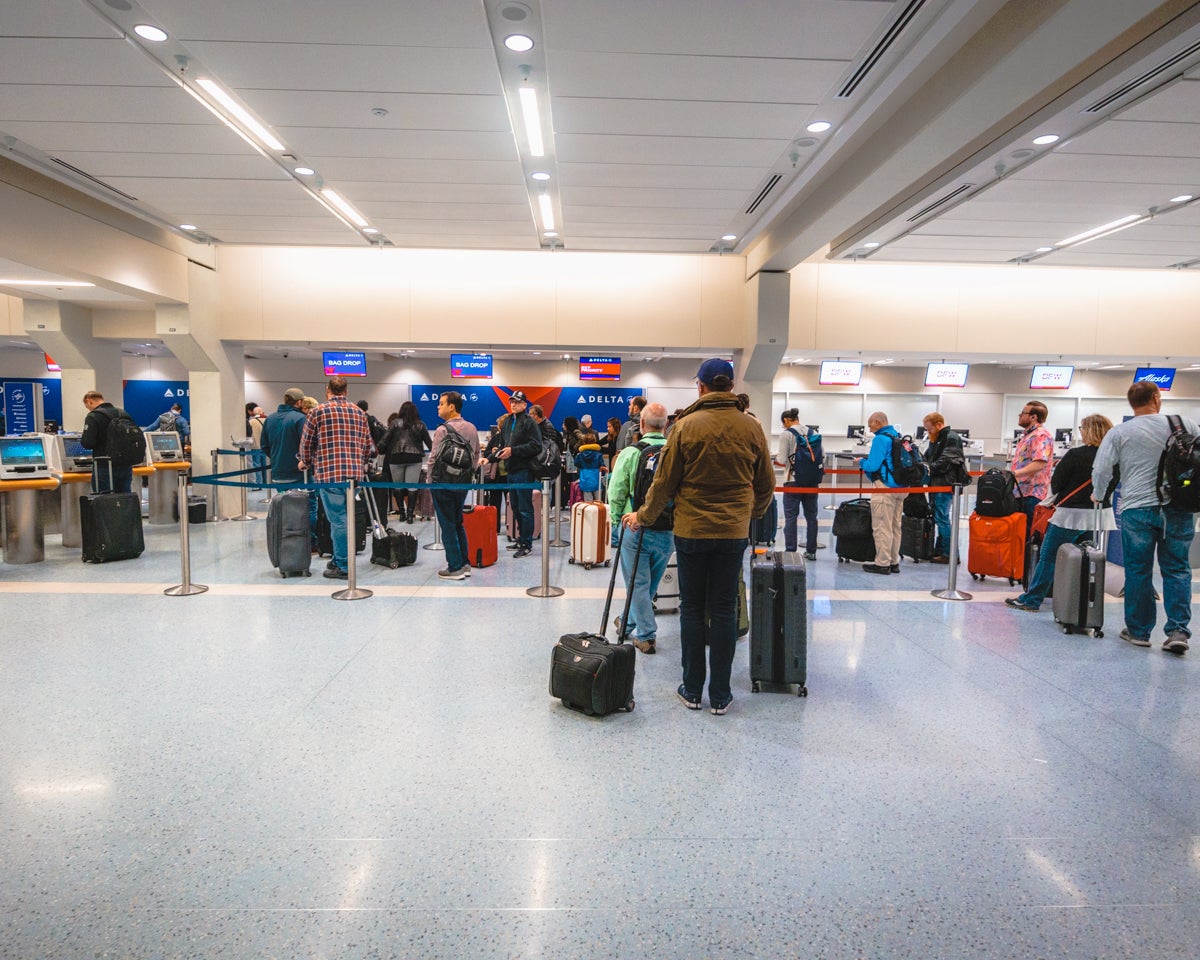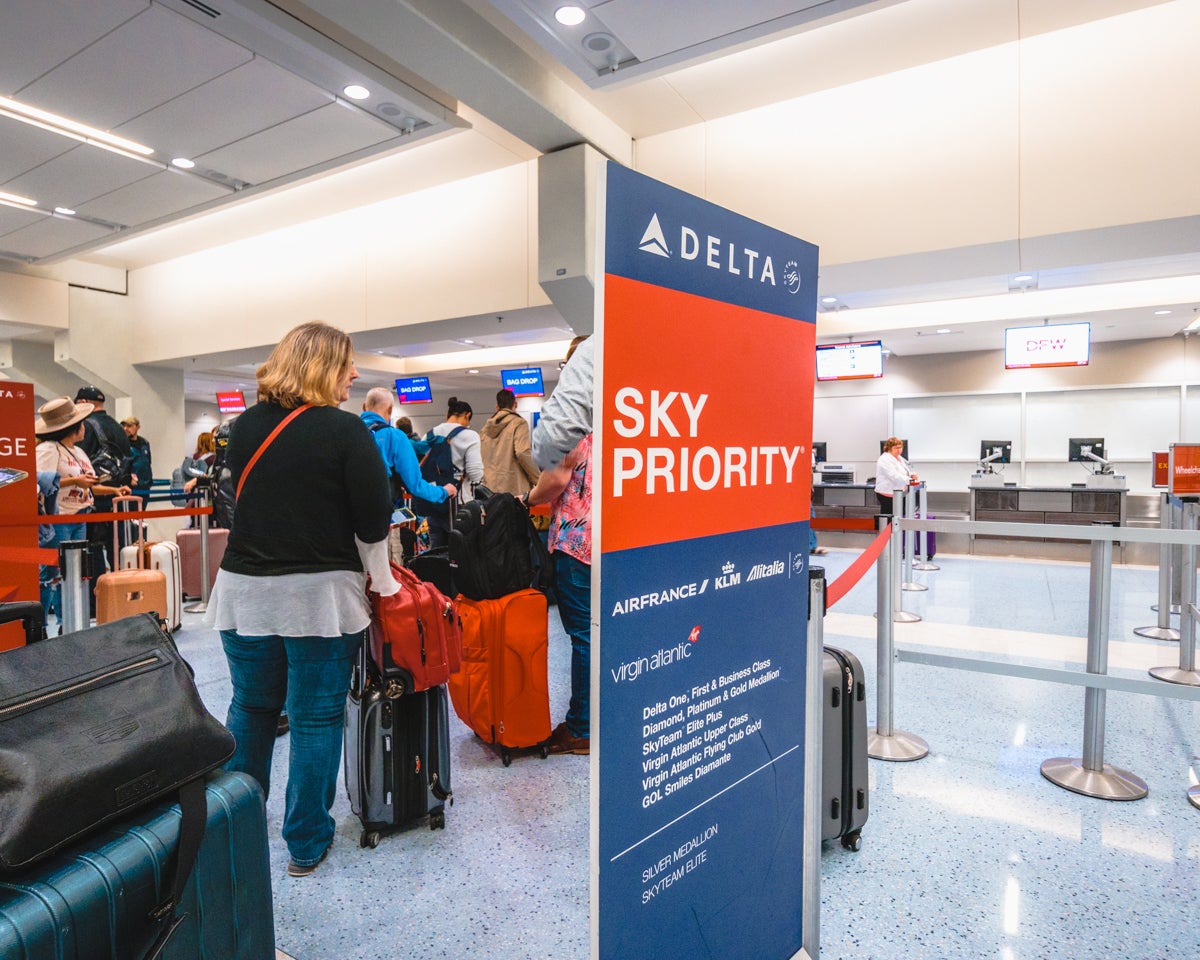 Although check-in took some time, security screening was surprisingly quick and I was into the terminal by 6:58 a.m.
I walked into the Delta Sky Club, but unfortunately, there was a large queue there also.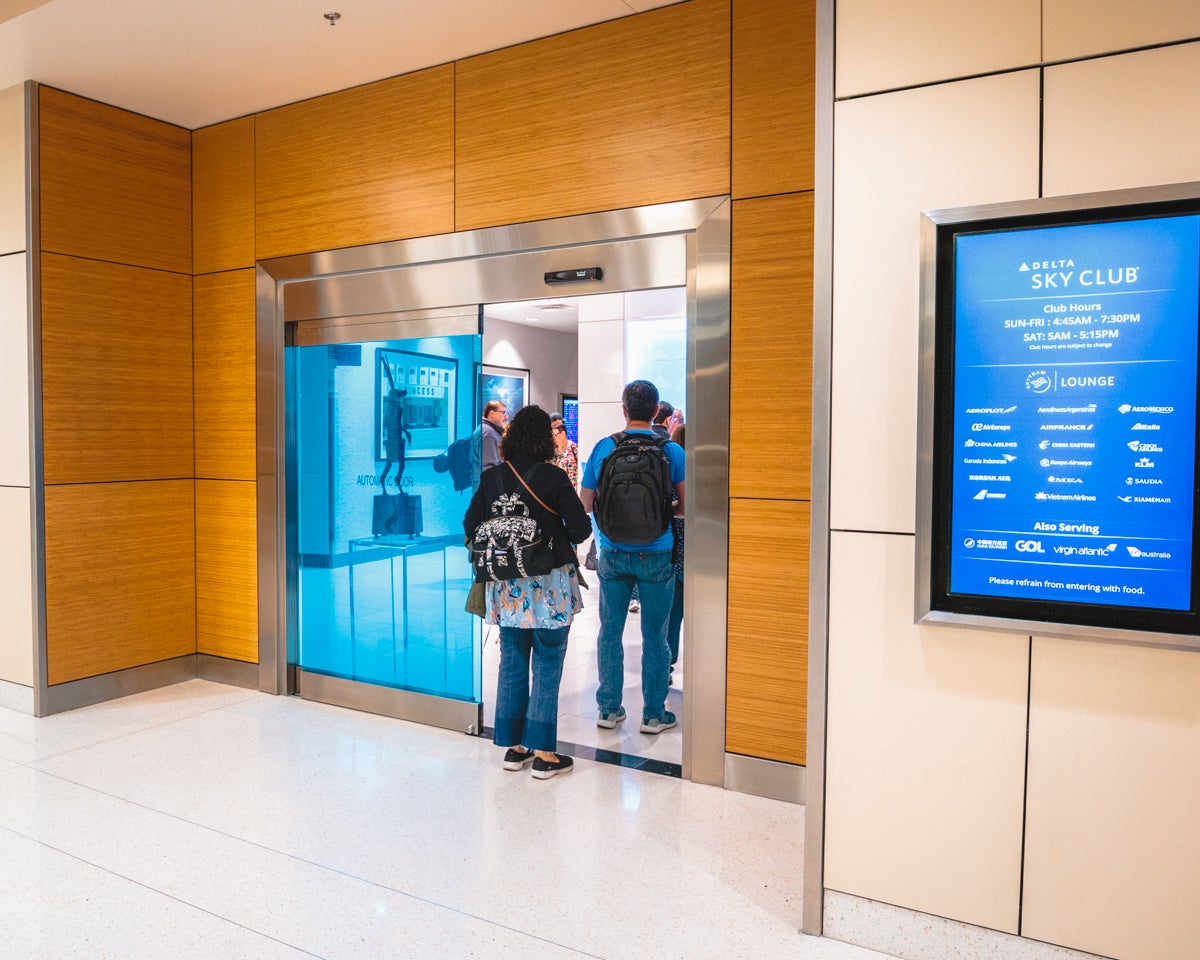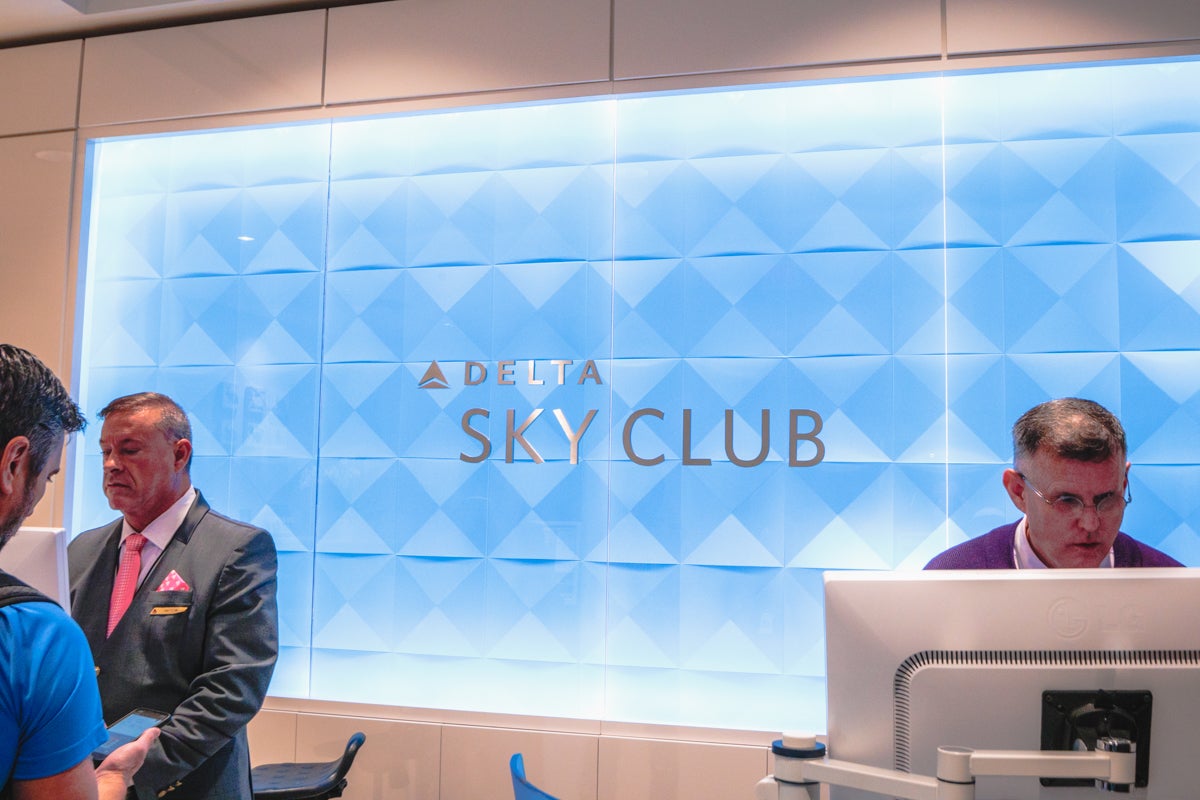 My boarding pass was showing boarding was due to commence in 6 minutes, so I decided to head straight to the gate instead.
But the plane wasn't at the gate yet, and boarding would only commence 45 minutes later, at our scheduled departure time of 7:45 a.m.
Flight
Aircraft
DL1004 is operated by a new Airbus A220.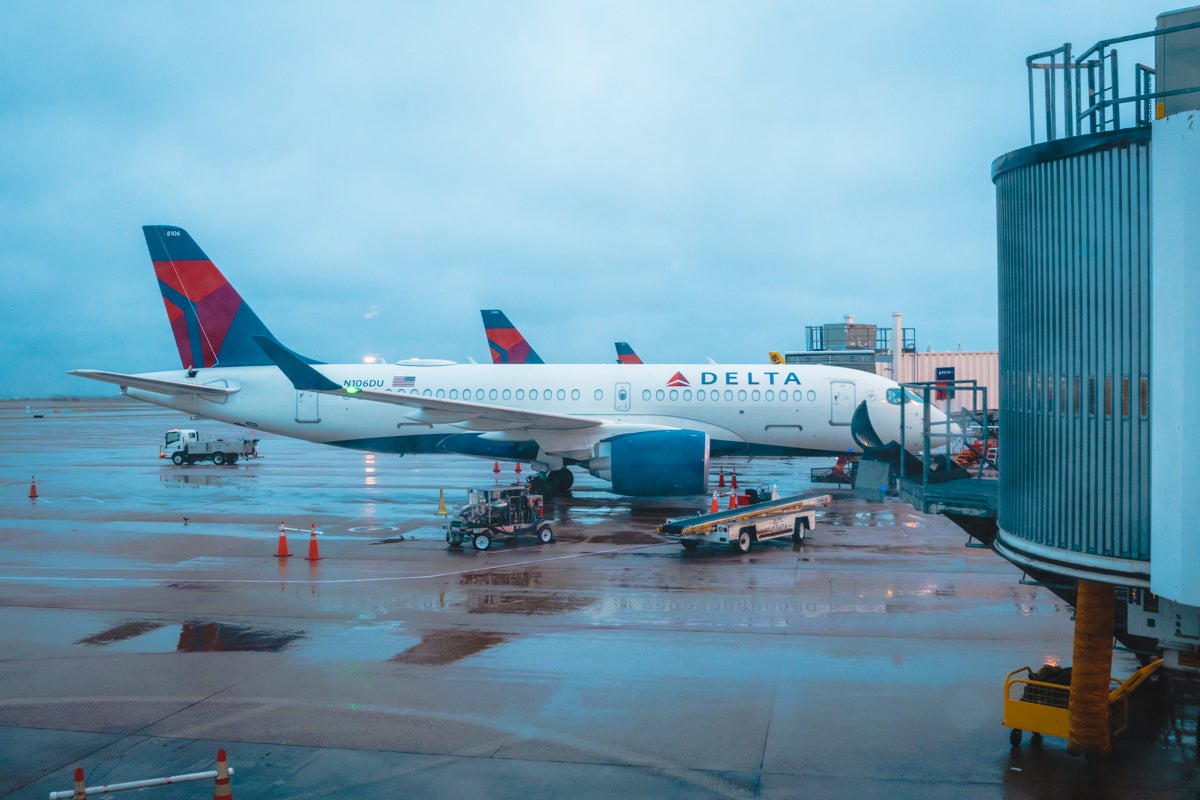 Formally the Bombardier C Series, evidence of this is printed at the aircraft door.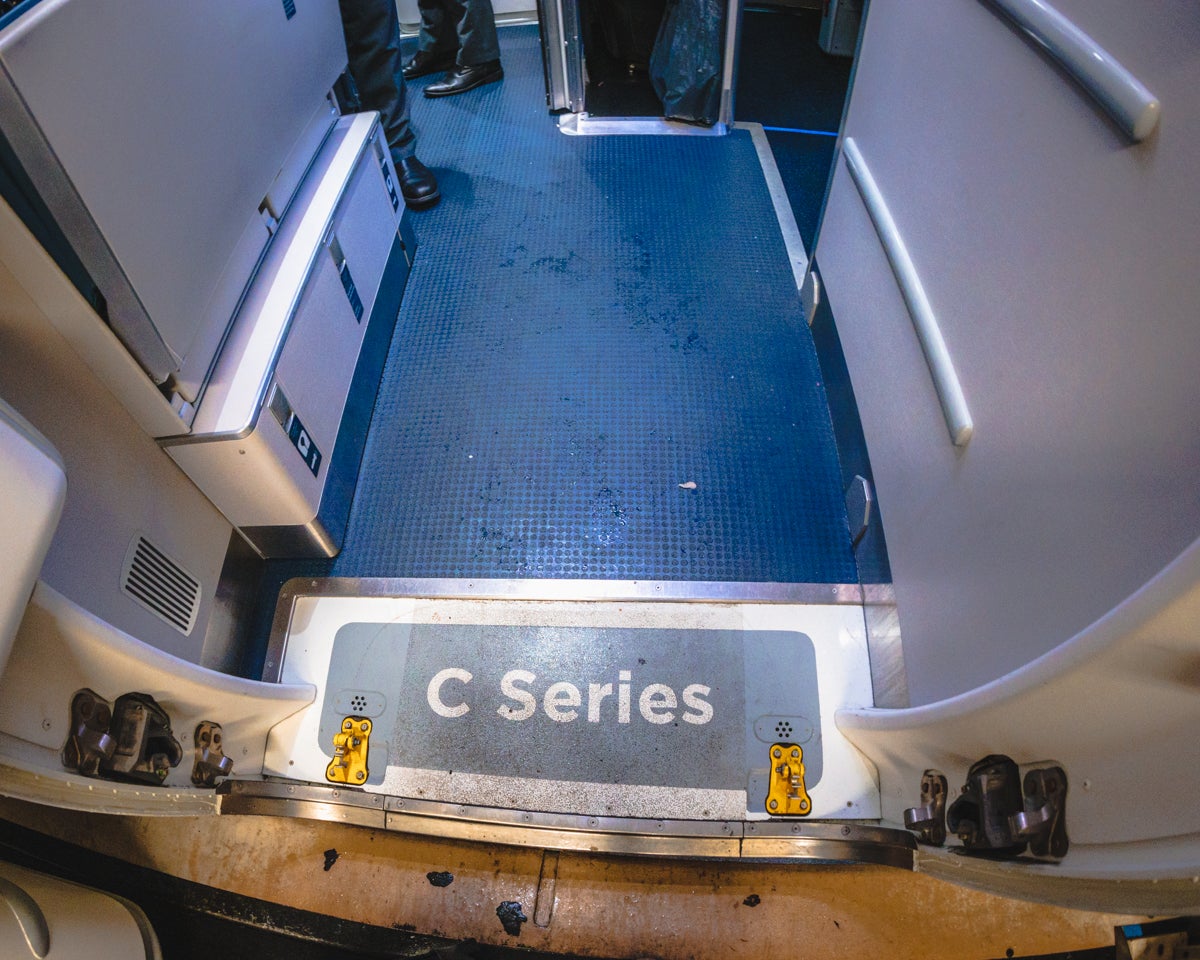 Delta Air Lines currently has a fleet of 29 Airbus A220. My aircraft was delivered 6 months earlier in April 2019.
The aircraft is configured with 12 first class seats up the front and 97 economy class seats in a 2-3 configuration — 15 of these in the first 3 rows are labeled Comfort+ and have an additional 4 inches of legroom.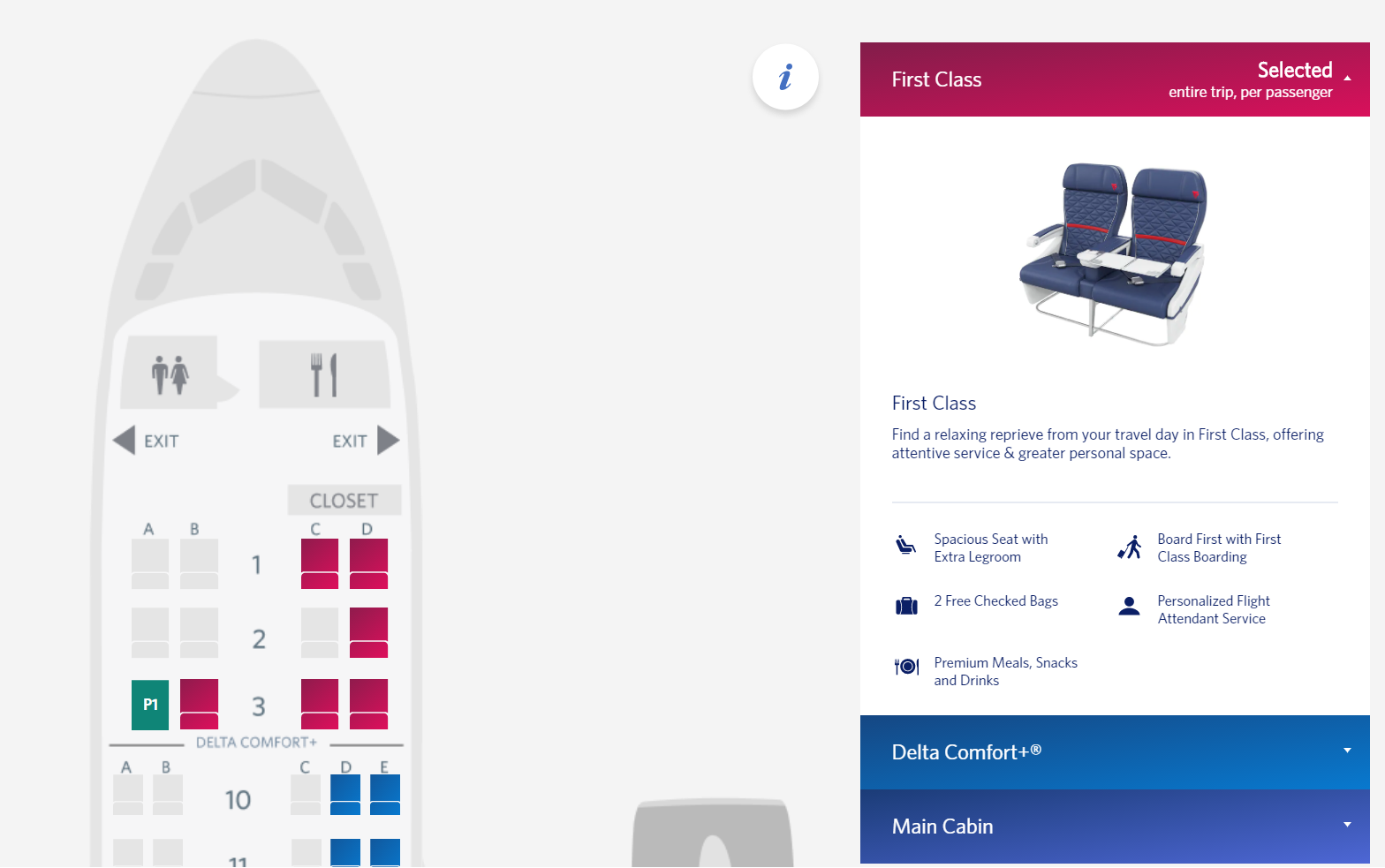 First Class
Delta has fitted recliner seats with a 21-inch width and 36-inch pitch into the first class cabin.
In my opinion, the interior looks great, with blue leather seats in both cabins providing a premium feeling. The cabin looks fresh against the white cabin walls and overhead blue lighting.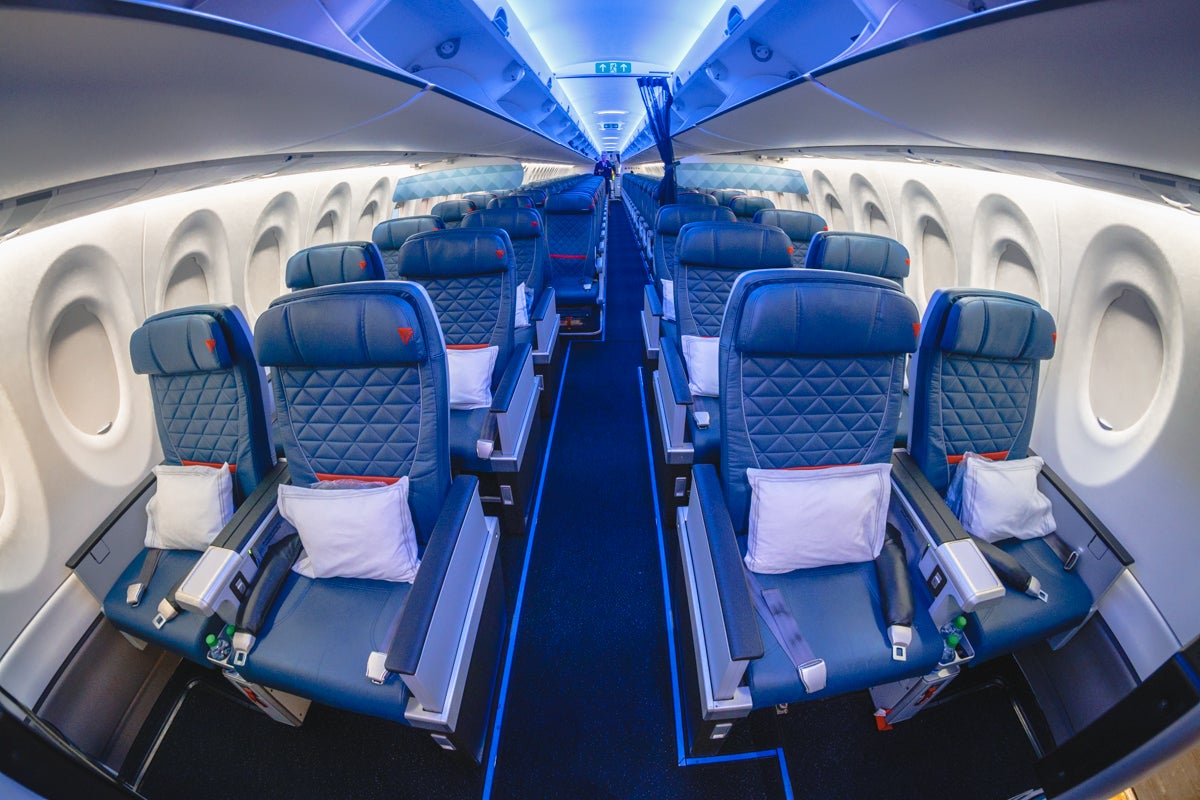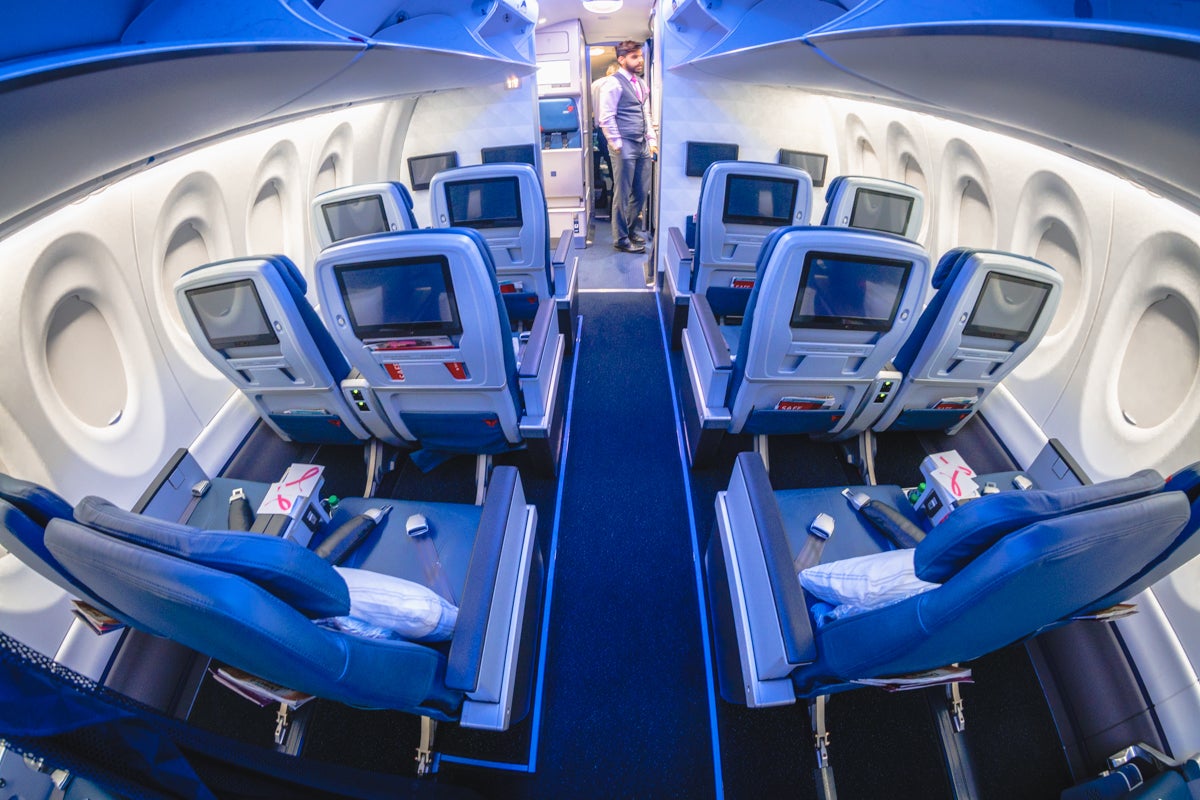 There is a small divider between cabins, instead of a full bulkhead, and a mesh curtain.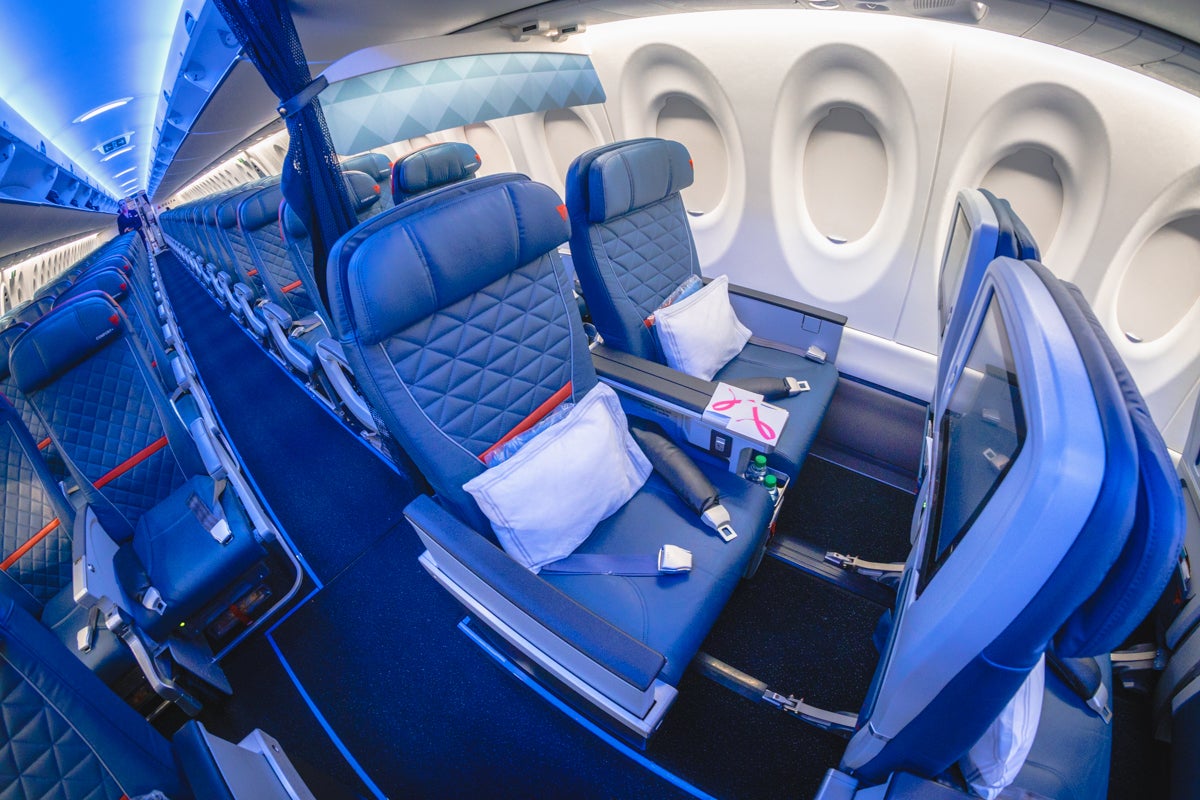 I selected the last row of the cabin so I could store my camera bag under the seat in front, which you can't do in row 1 thanks to the bulkhead. I also find you usually get more feet room in non-bulkhead seats.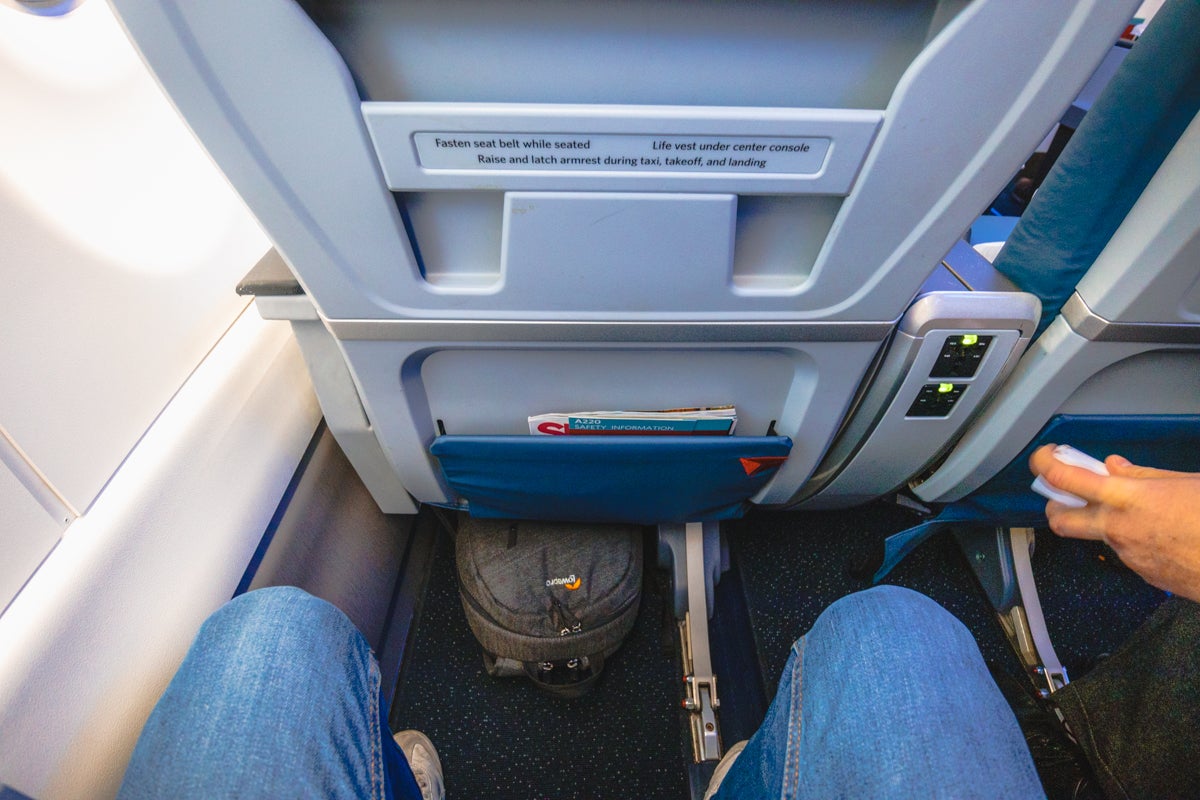 An airbag is installed into the seat belt, which adds some bulk to it.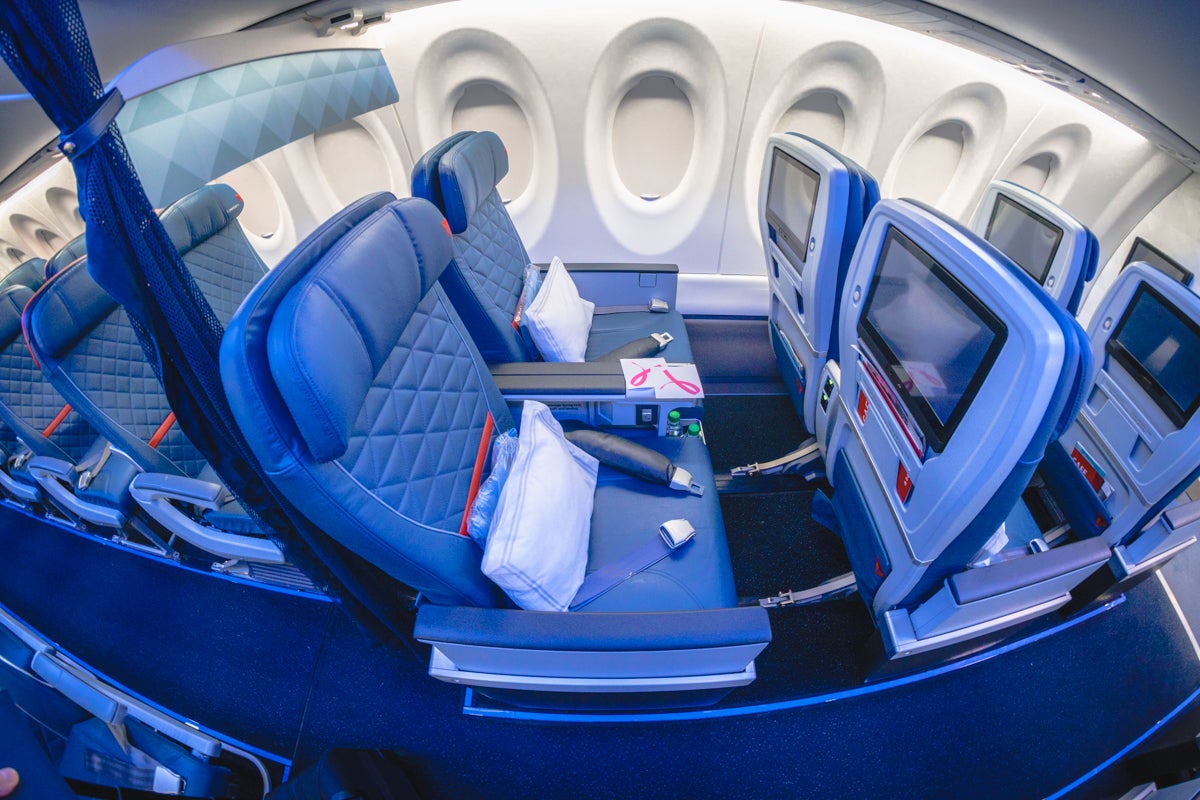 On the seat in front is the 13.3-inch IFE screen with a USB socket underneath, next to the headphone jack. Off to the right is a coat hook.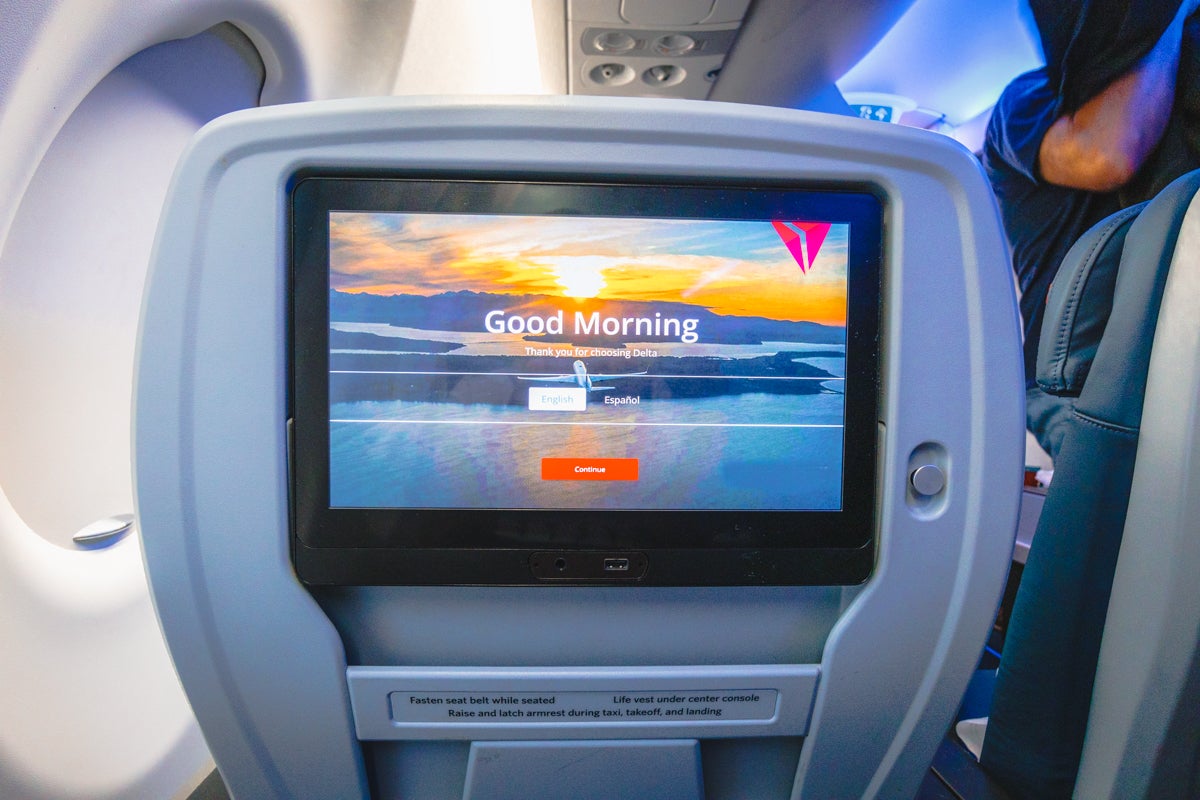 Between the seats in front are power adapters, one for each passenger.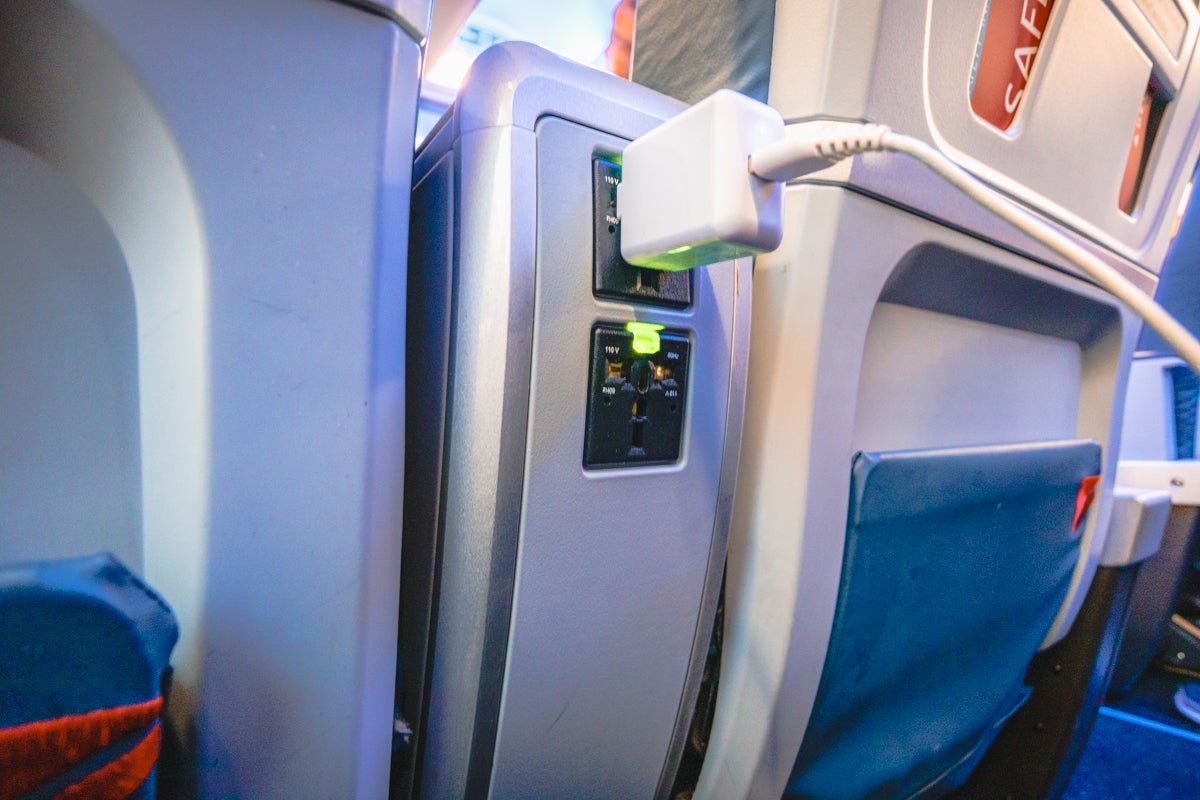 I was concerned that for takeoff and landing, the crew allowed my seatmate to have his device plugged in, causing a serious trip hazard for me in case of an emergency.
On the inside of the armrest is the backrest adjustment.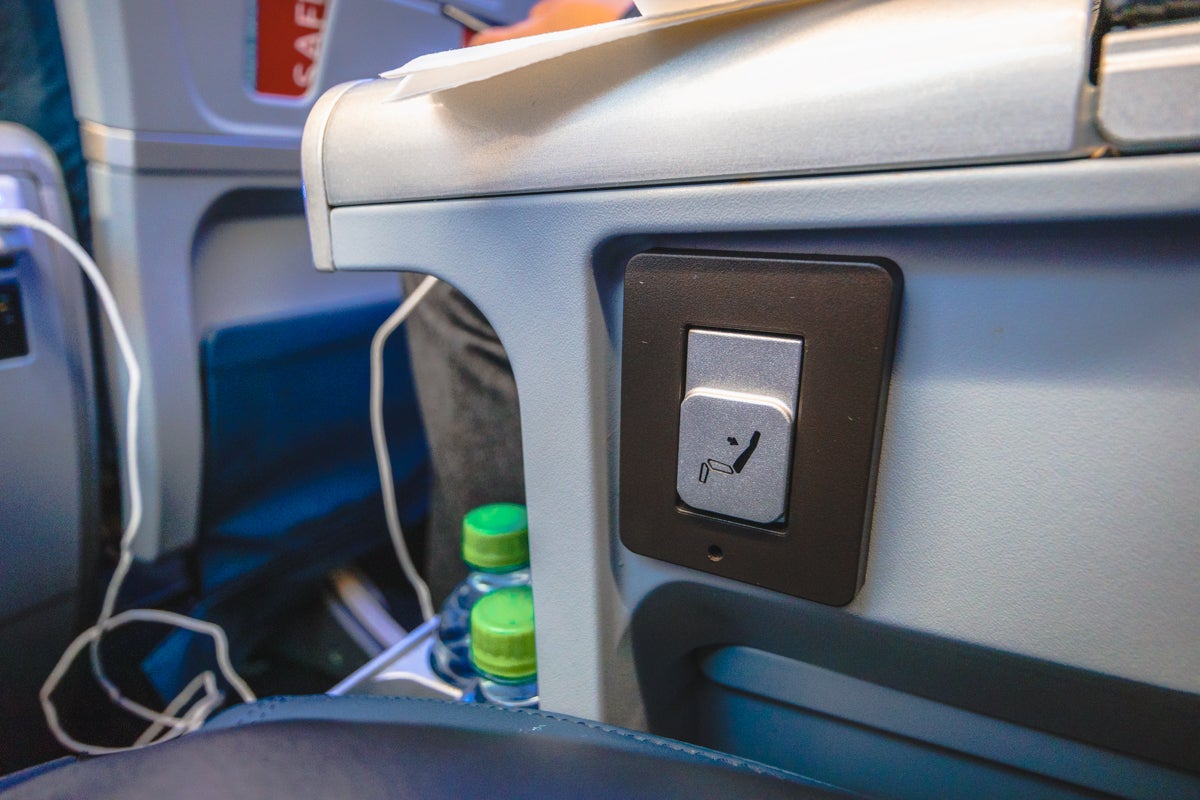 And a small storage pocket.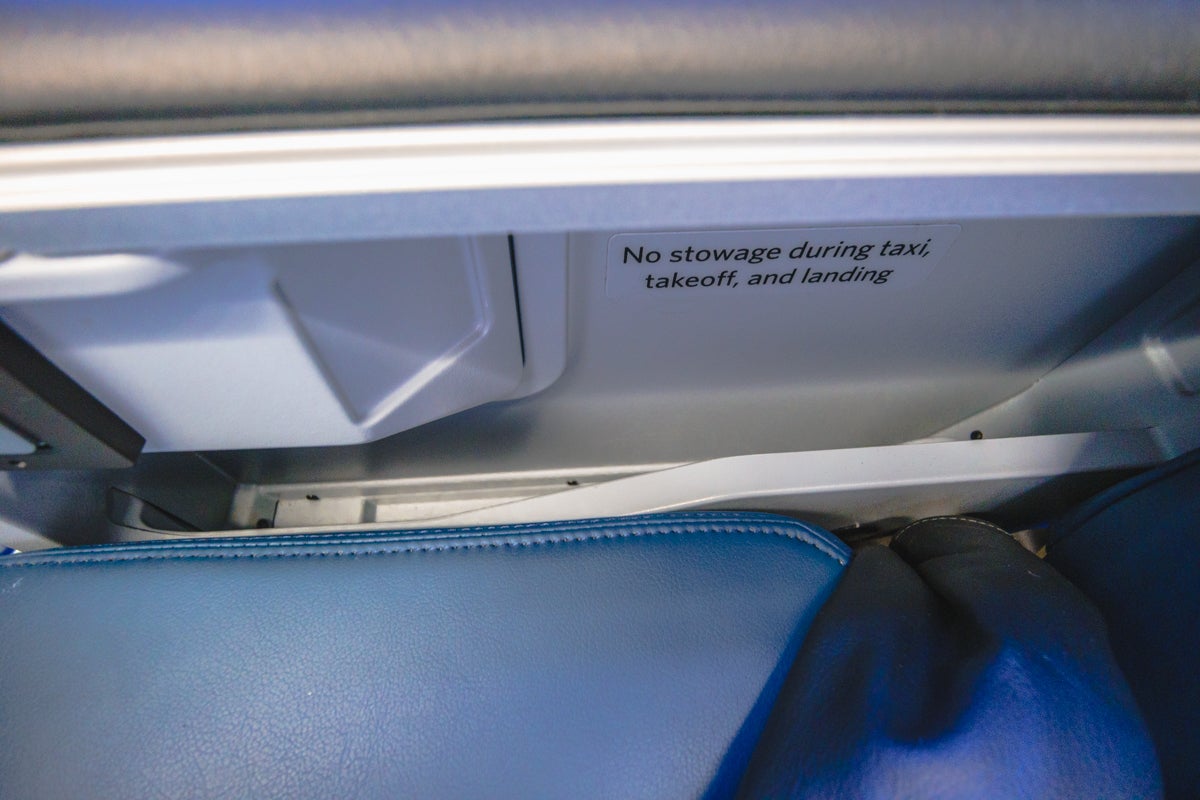 Bottle holders are located on the front face of the armrest.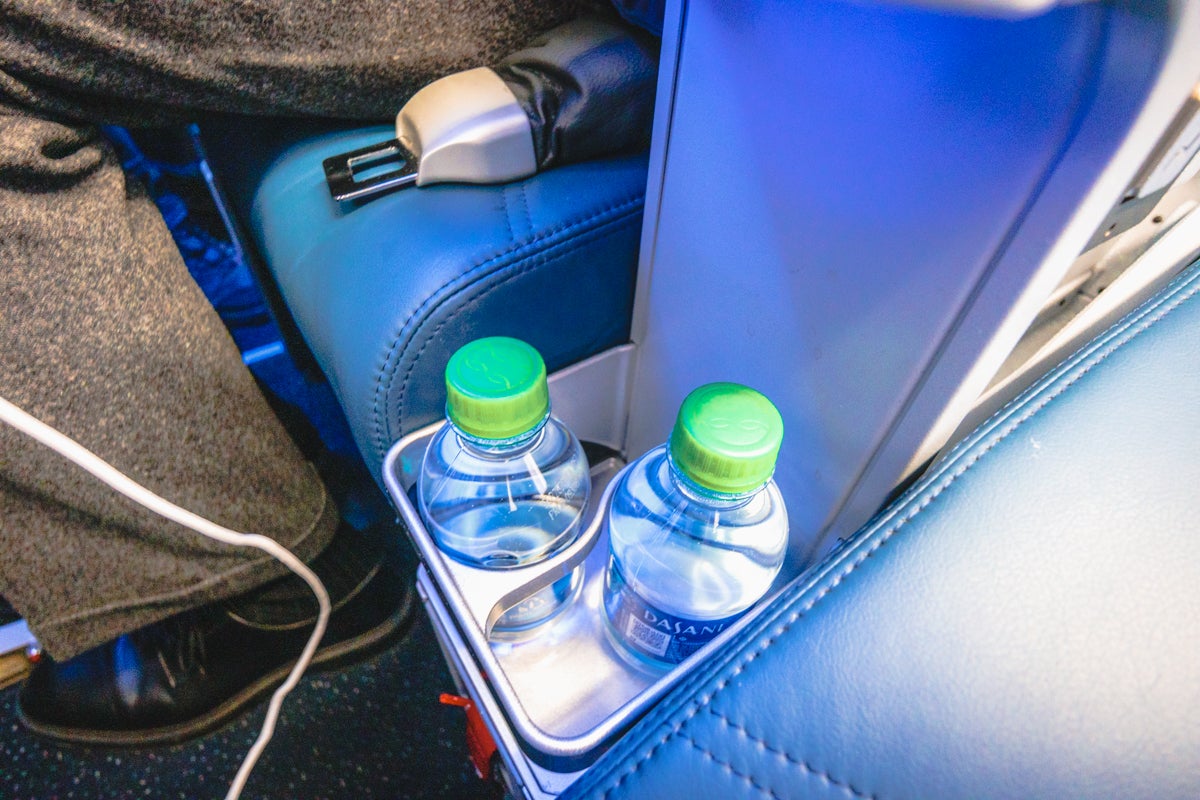 The tray table extends out from the opposite armrest, folded in half and flips open to full size. The tray table also glides effortlessly forward and backward.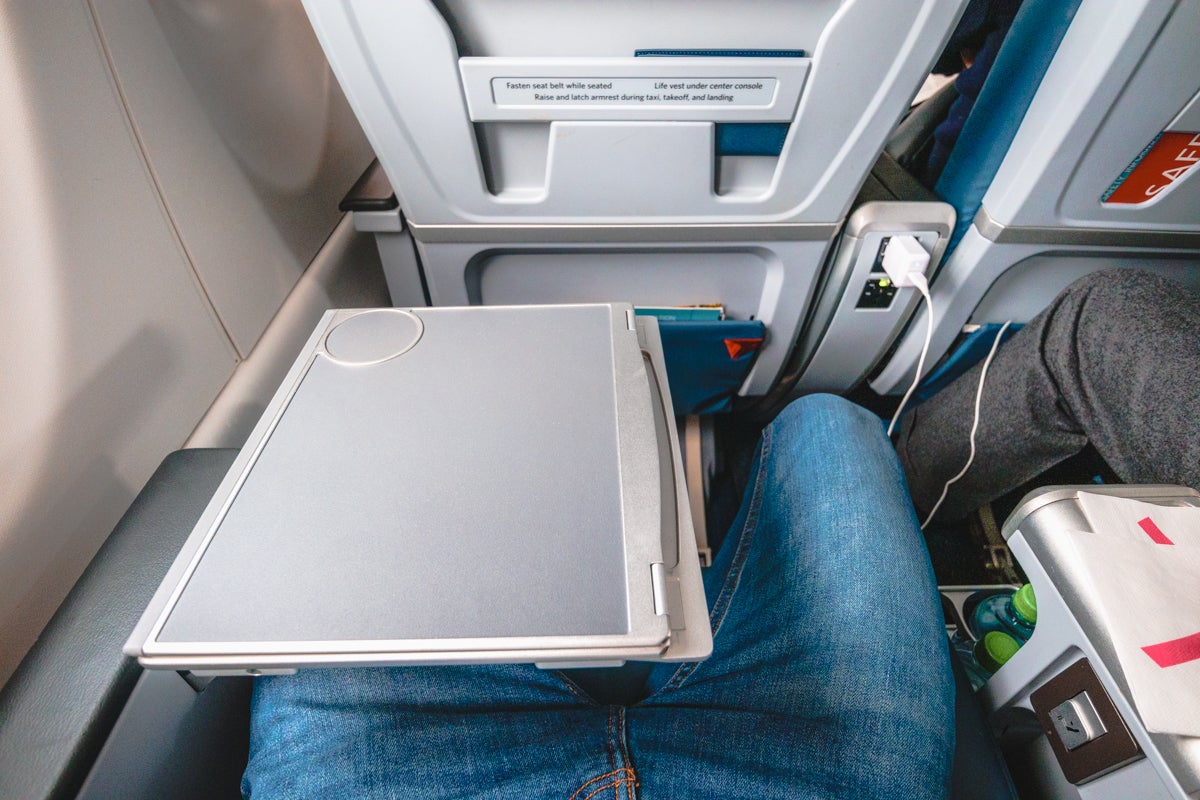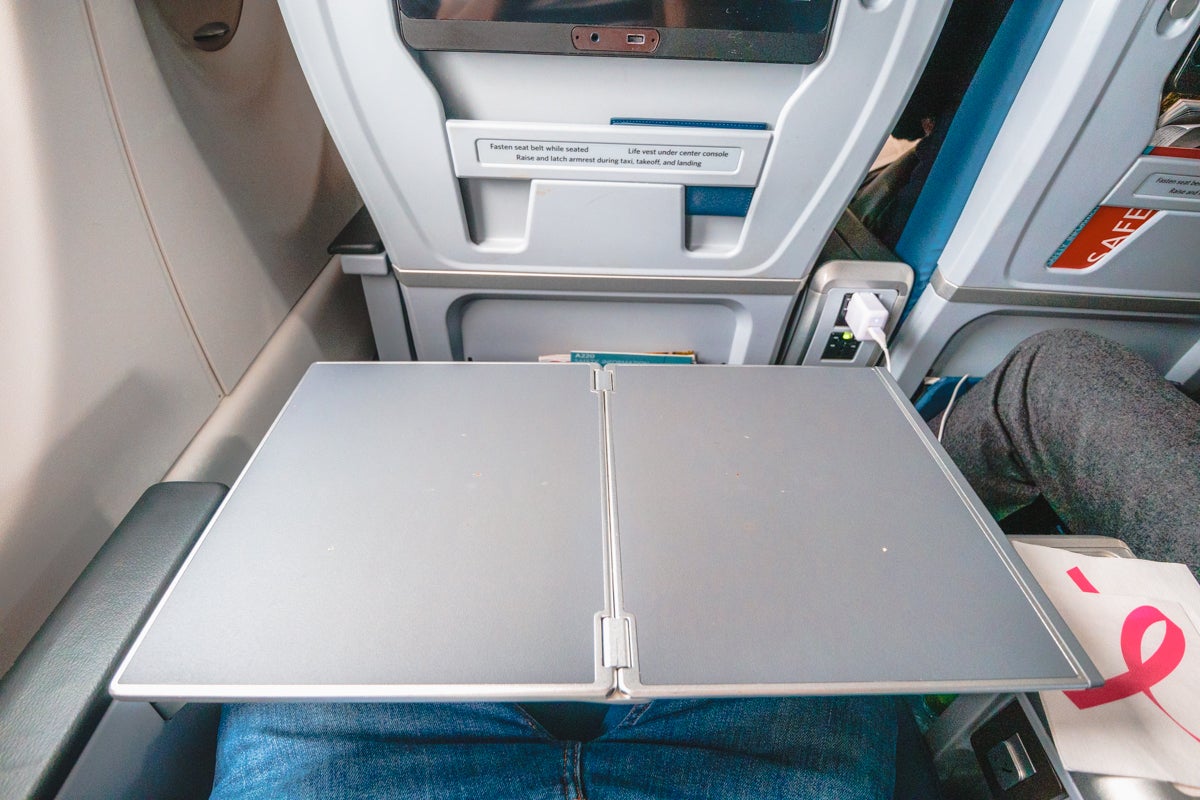 A small but nice feature was that the armrest lid stays open when you're trying to remove the tray table instead of trying to slam shut.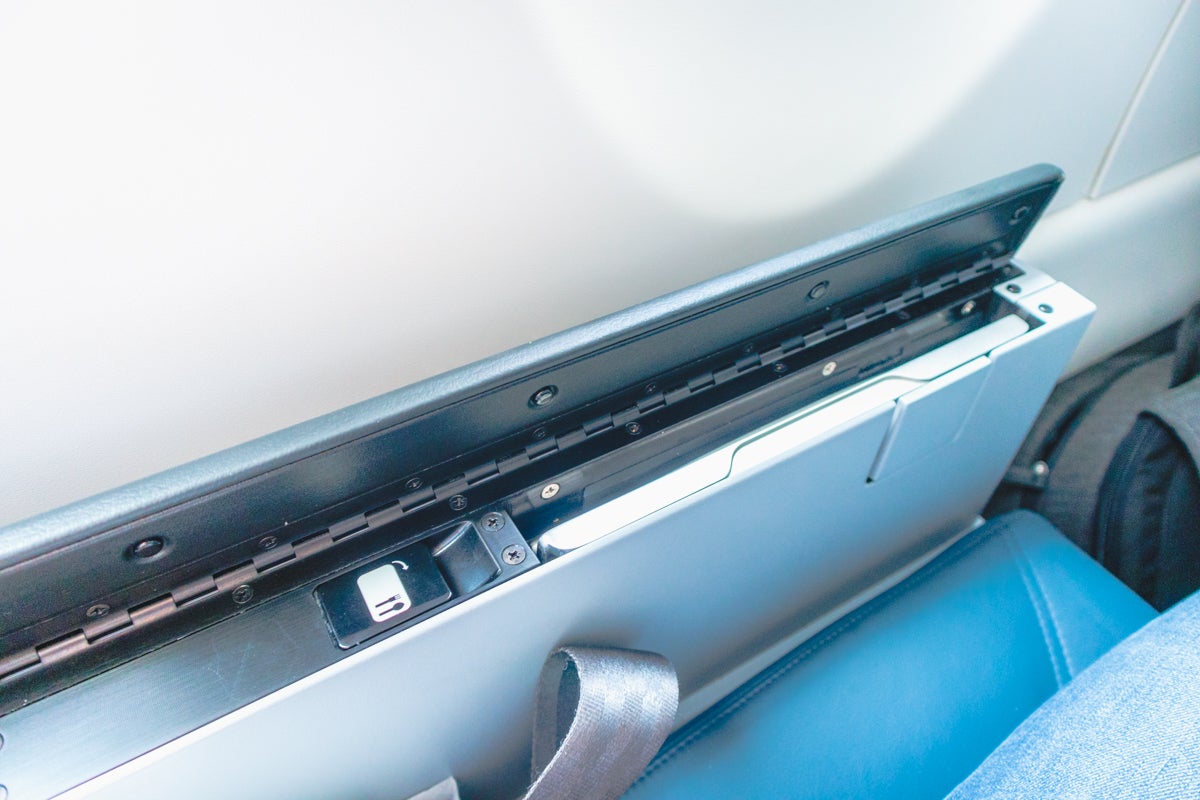 On top of the armrest is a very compact cocktail table that only just squeezes in 2 cups — there is a chance that cup edges could touch so I used the tray table instead to hold my cup.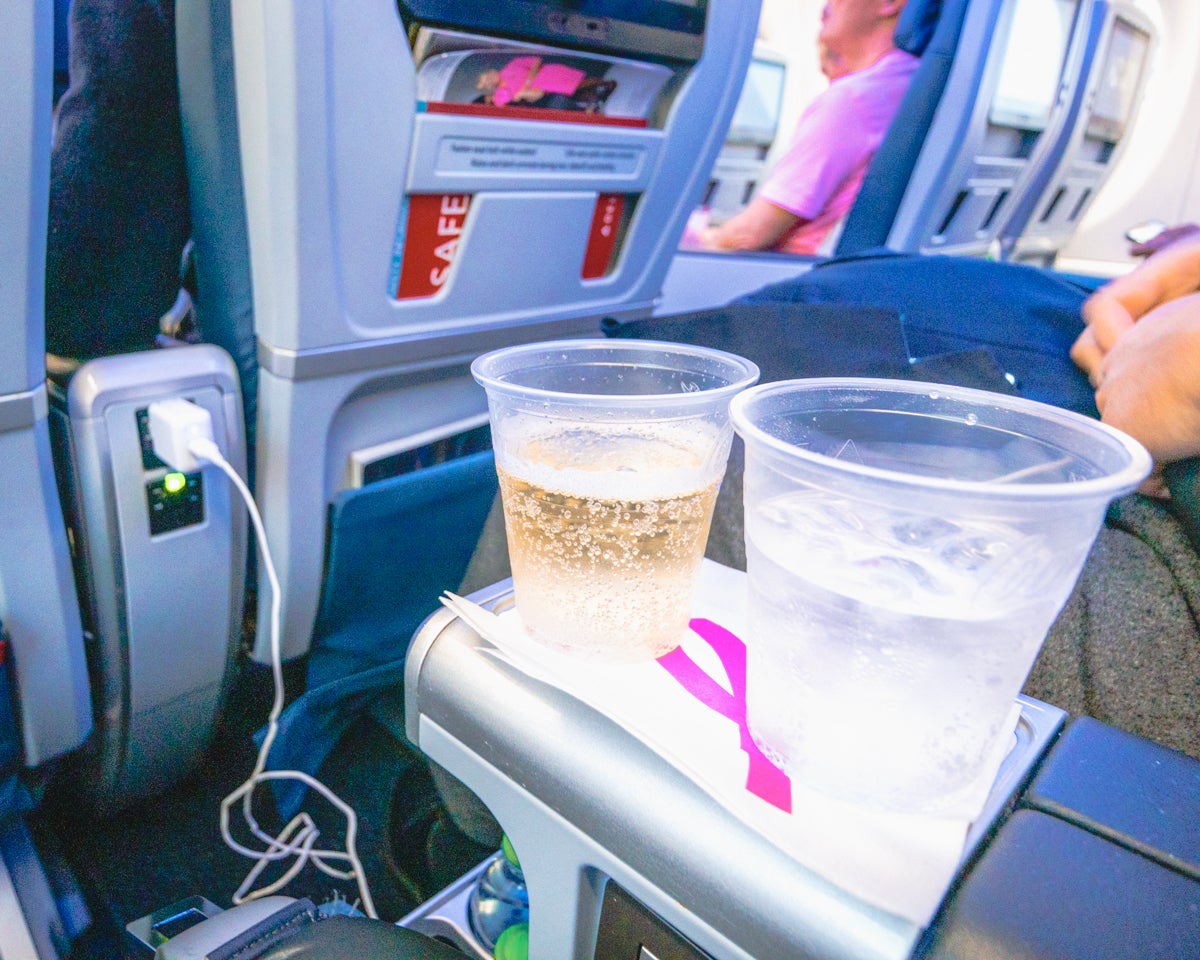 Overhead, individual reading lights and adjustable air nozzles are available for every passenger.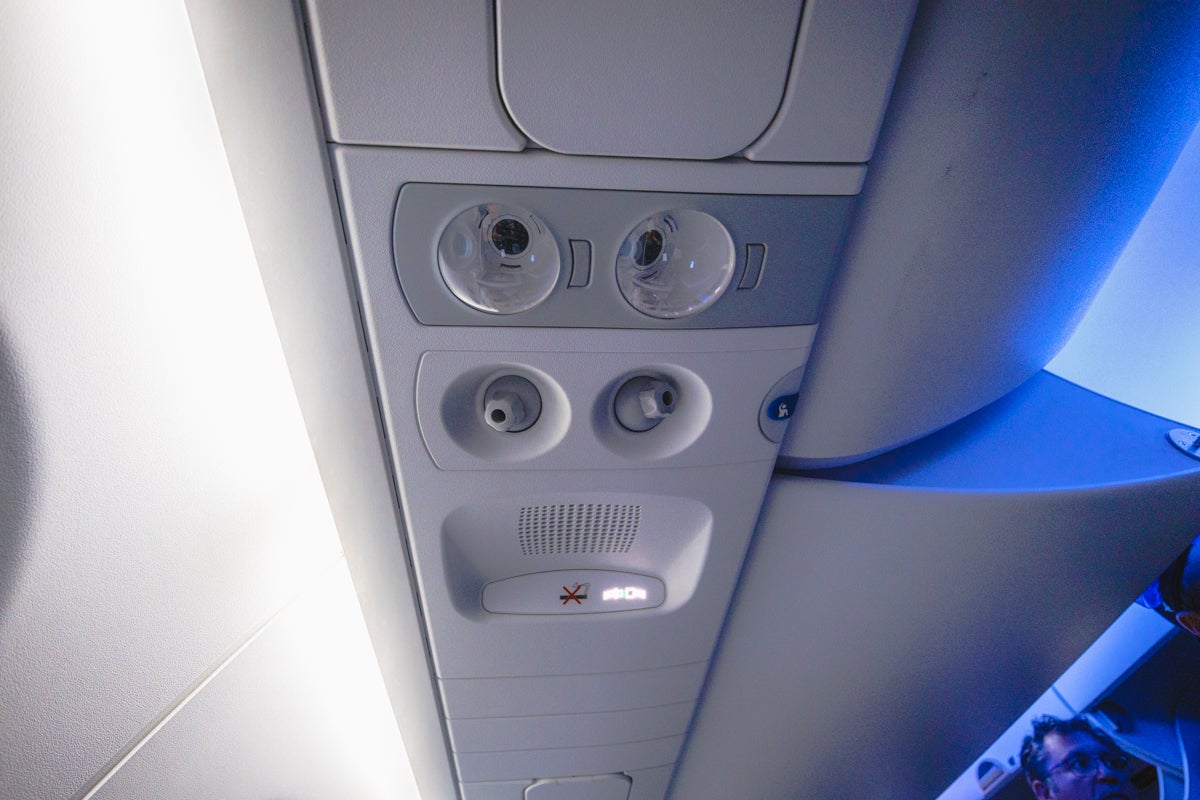 Generous overhead bins accommodate the largest of carry-on luggage.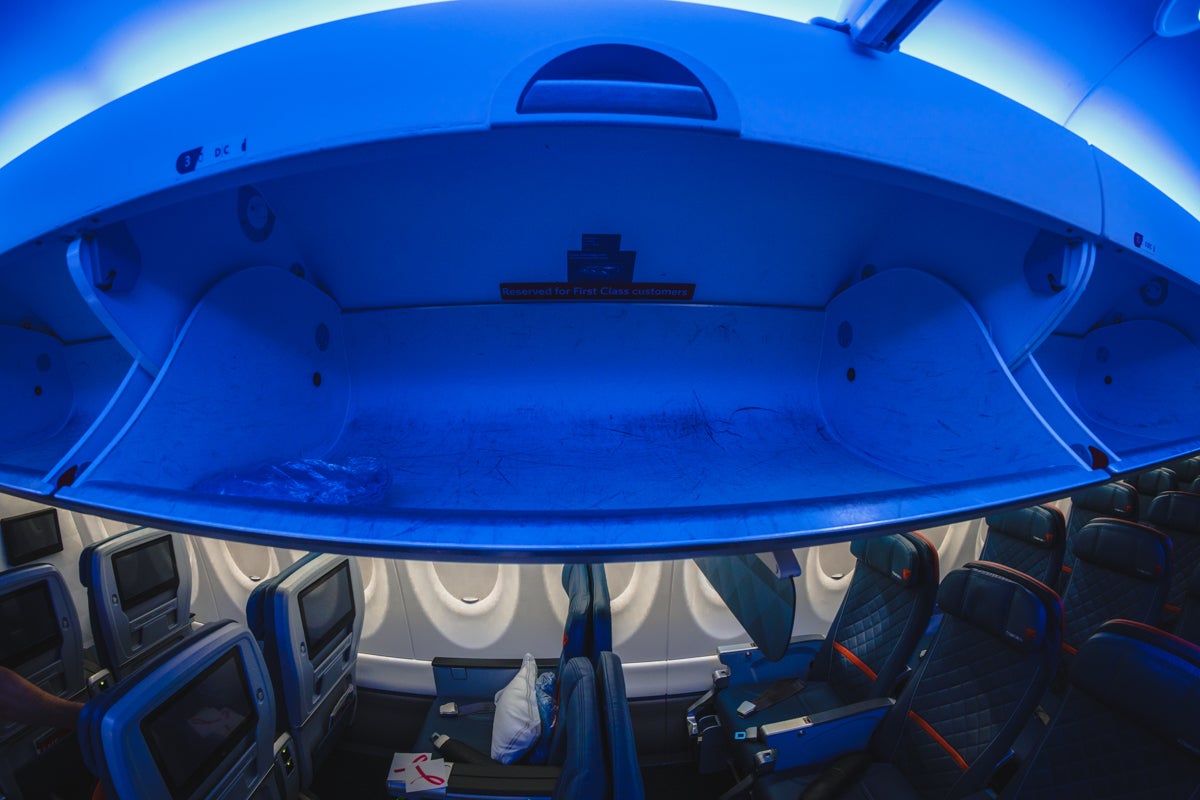 There is a single lavatory up front for the 12 first class passengers. It is stocked with Marlin + Goetz products.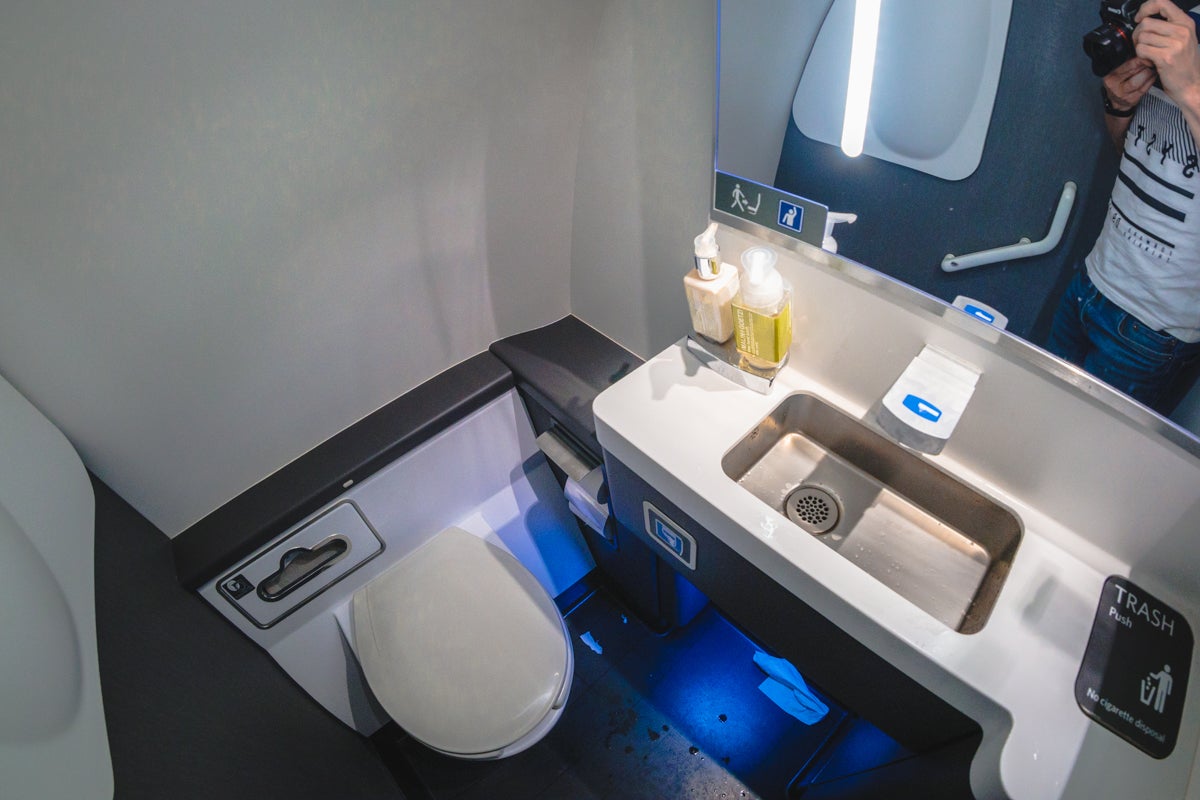 Amenities
First class passengers have a pillow and blanket on the seat upon boarding.
Entertainment
Going against the trend, Delta is ordering new short-haul aircraft with built-in IFE for all passengers.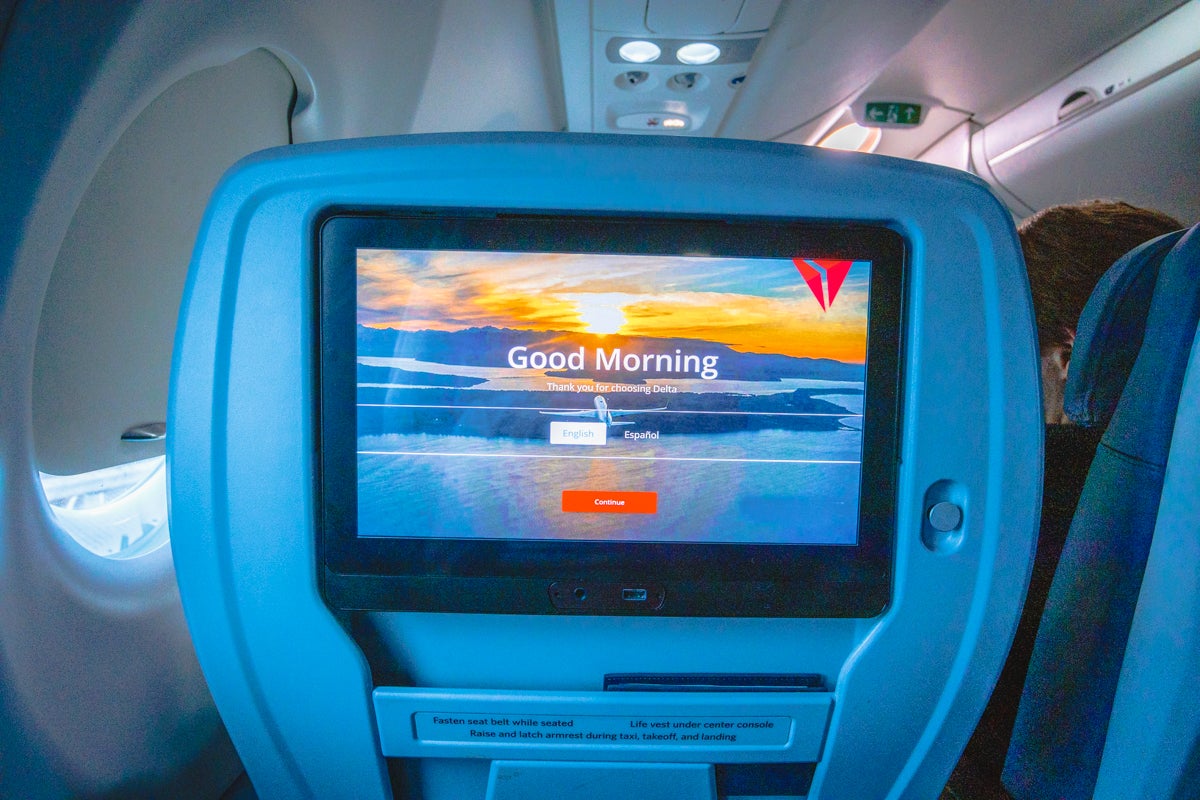 In first class, the screens measure 13.3 inches and are responsive to touch. There are hundreds of free movies and TV shows, but I decided to work on my laptop instead.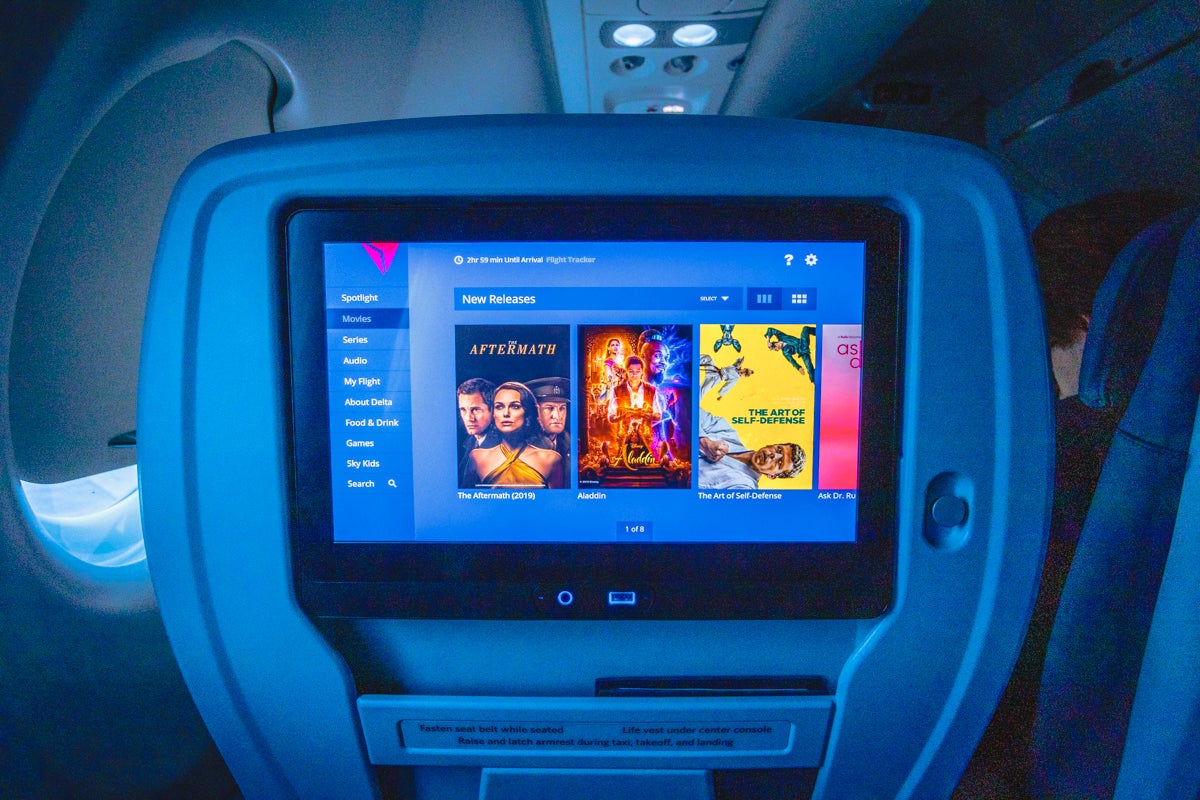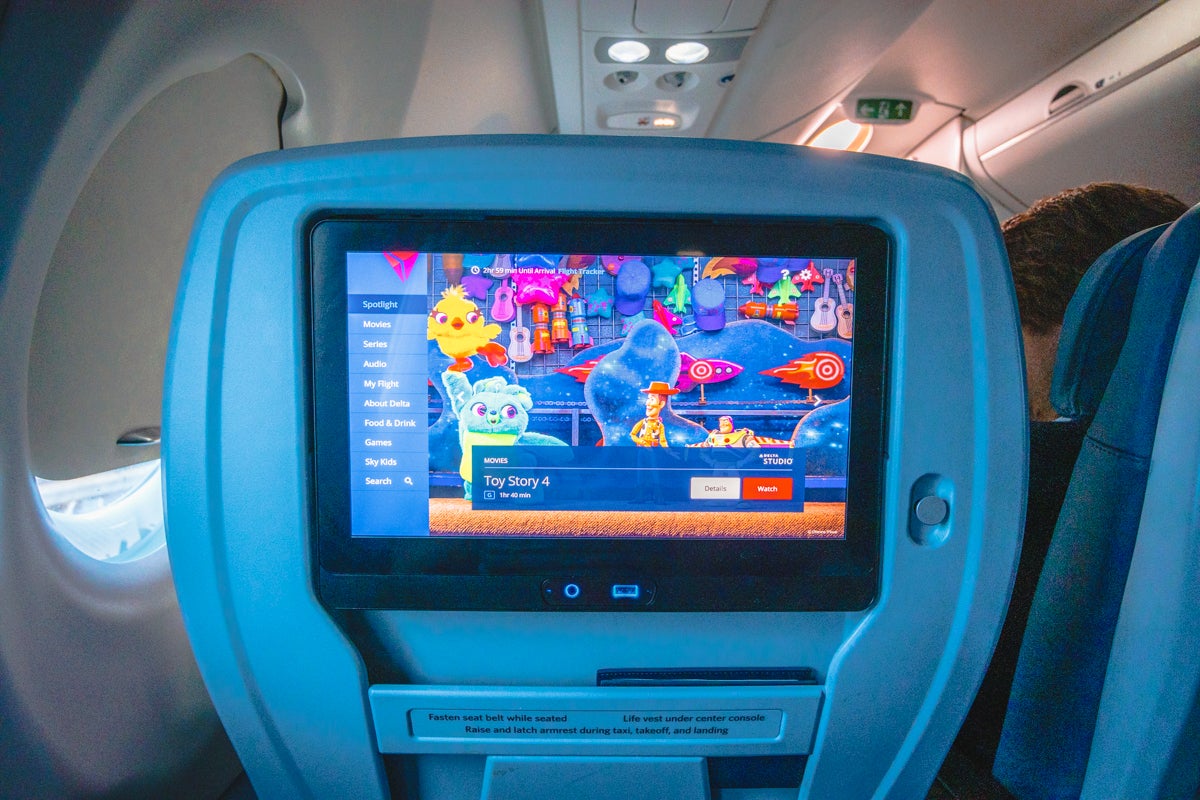 The angle is adjustable.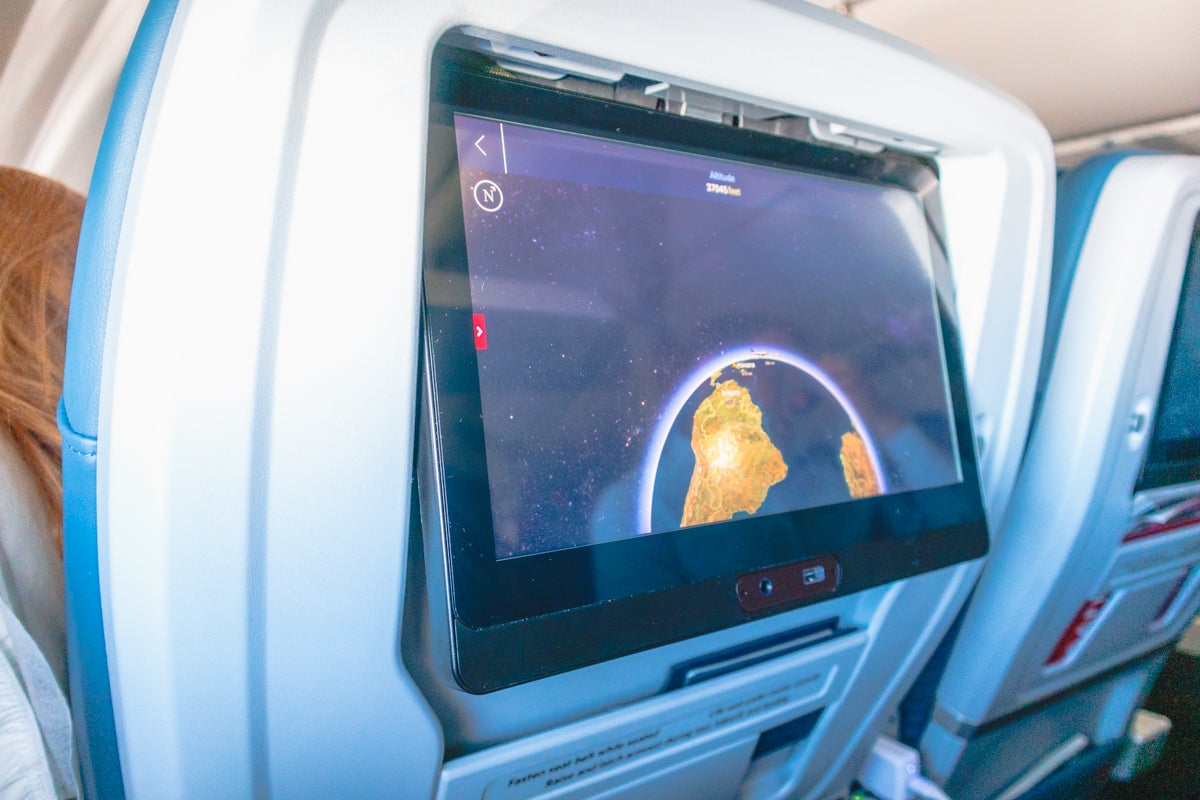 There's an interactive map.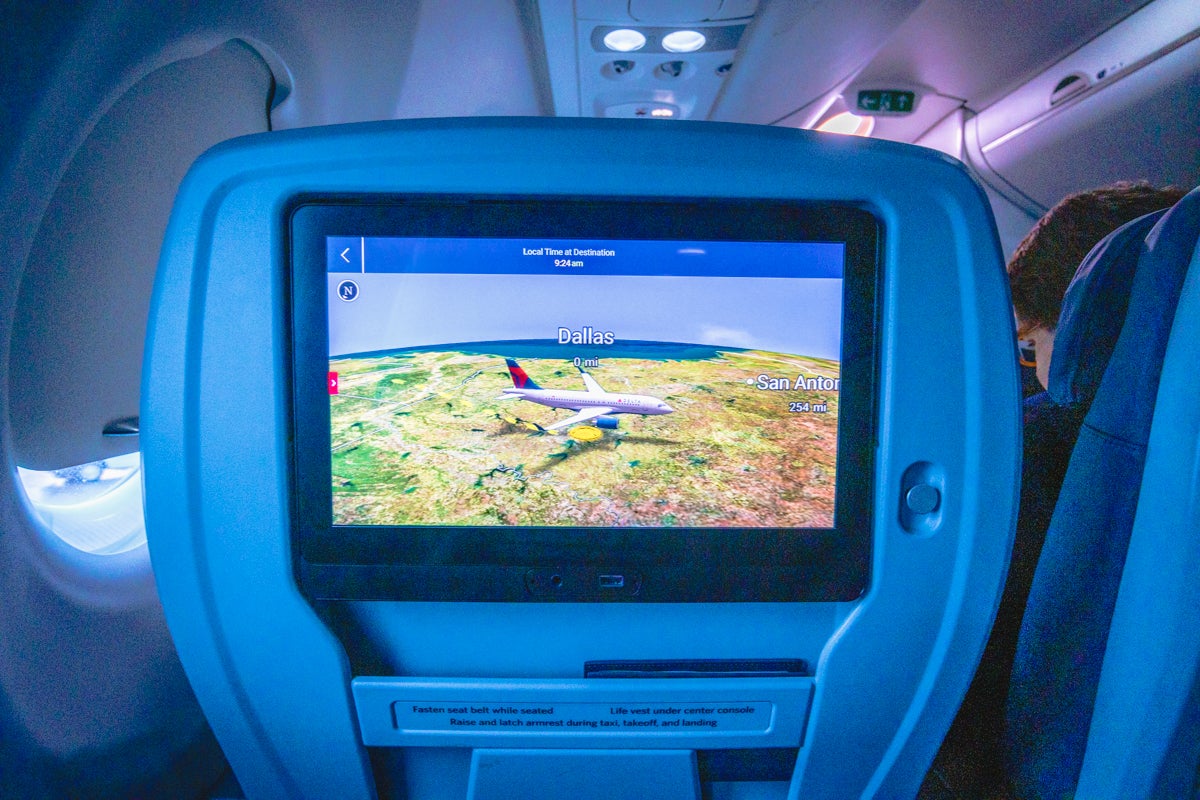 And you can also review the menu items.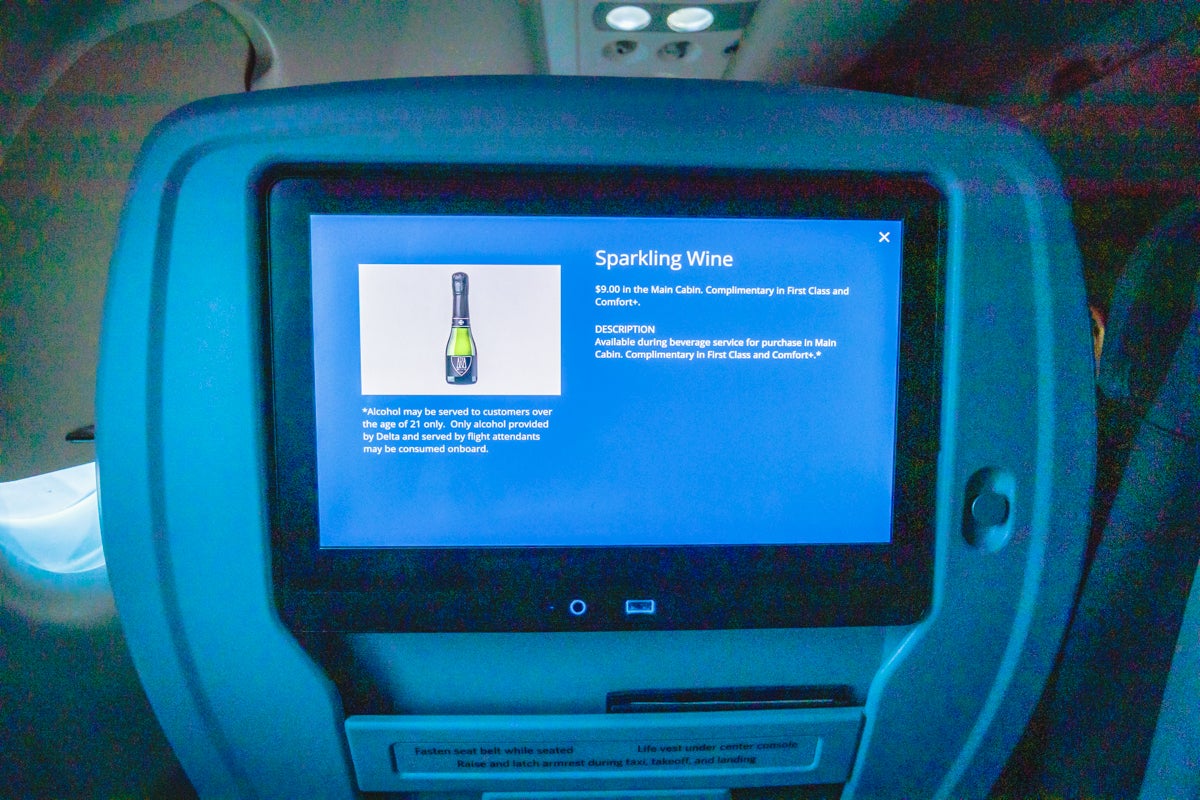 Delta provides all passengers with free Wi-Fi for messaging on iMessage and Facebook Messenger, however, I paid for the Stream Flight Pass for $25 for the duration of the flight.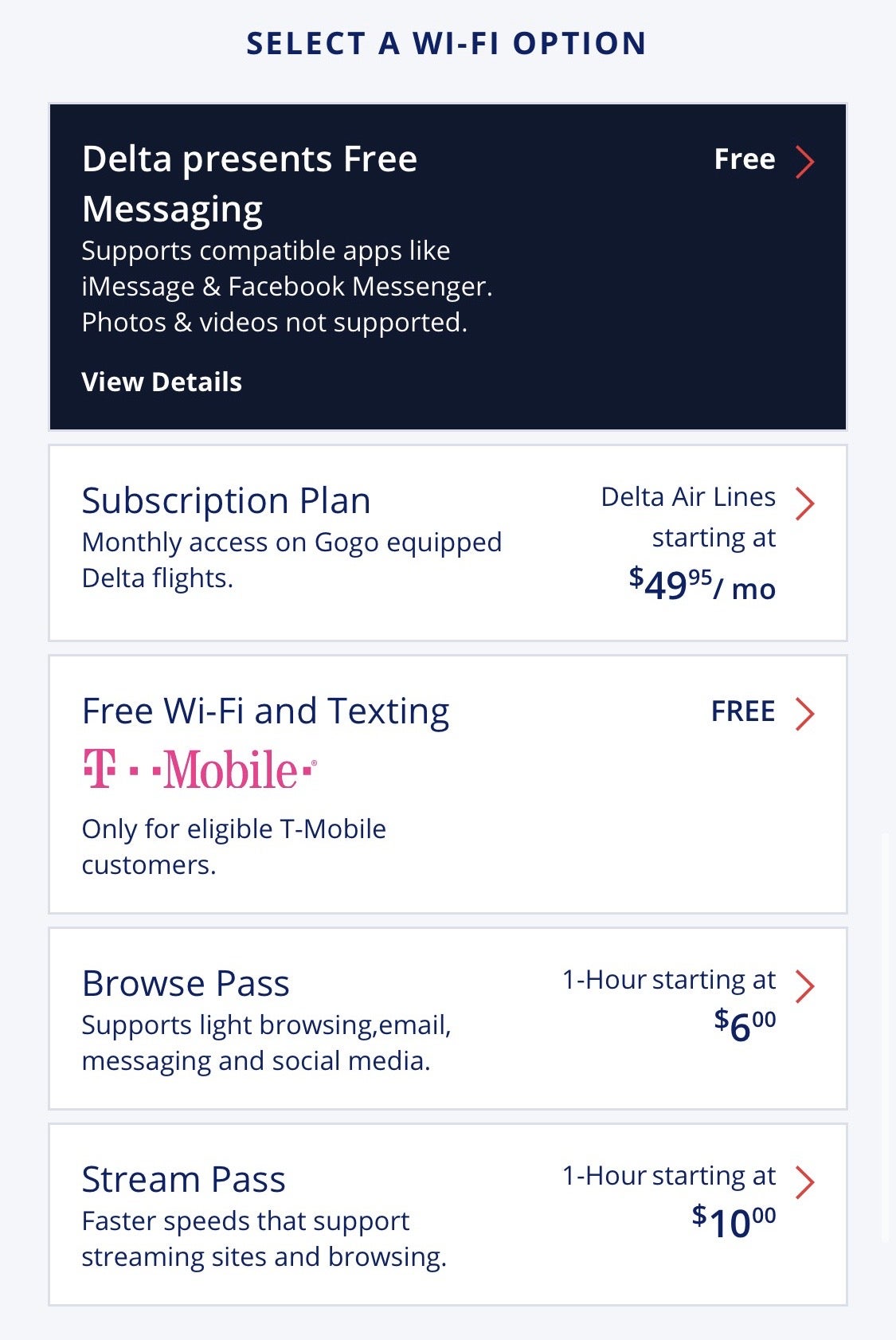 I wish I pre-purchased a day pass online as I saw it for $16 instead.

The speed was impressive for inflight Wi-Fi, as I found on my previous flight, yet it was not as reliable on this leg. It dropped out a few times and had sporadic page errors.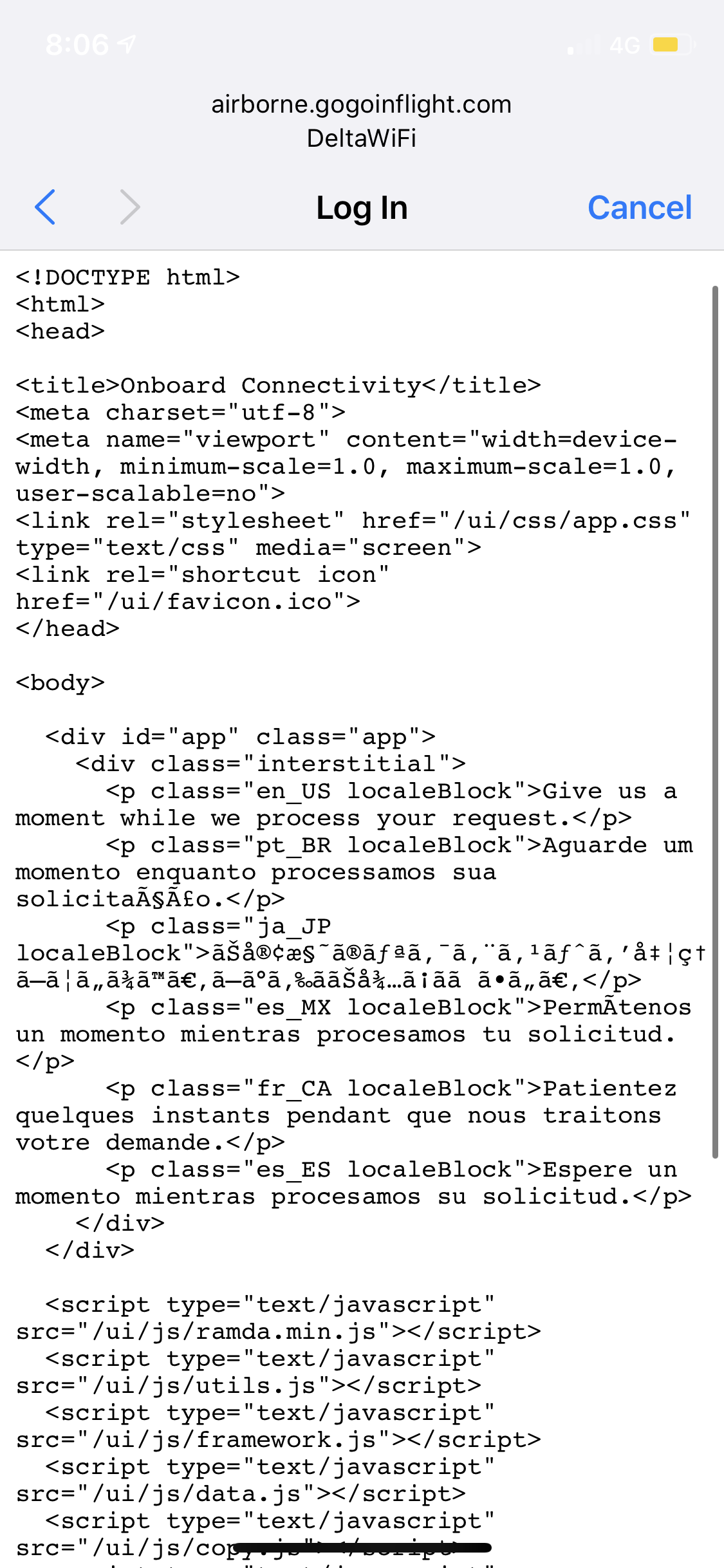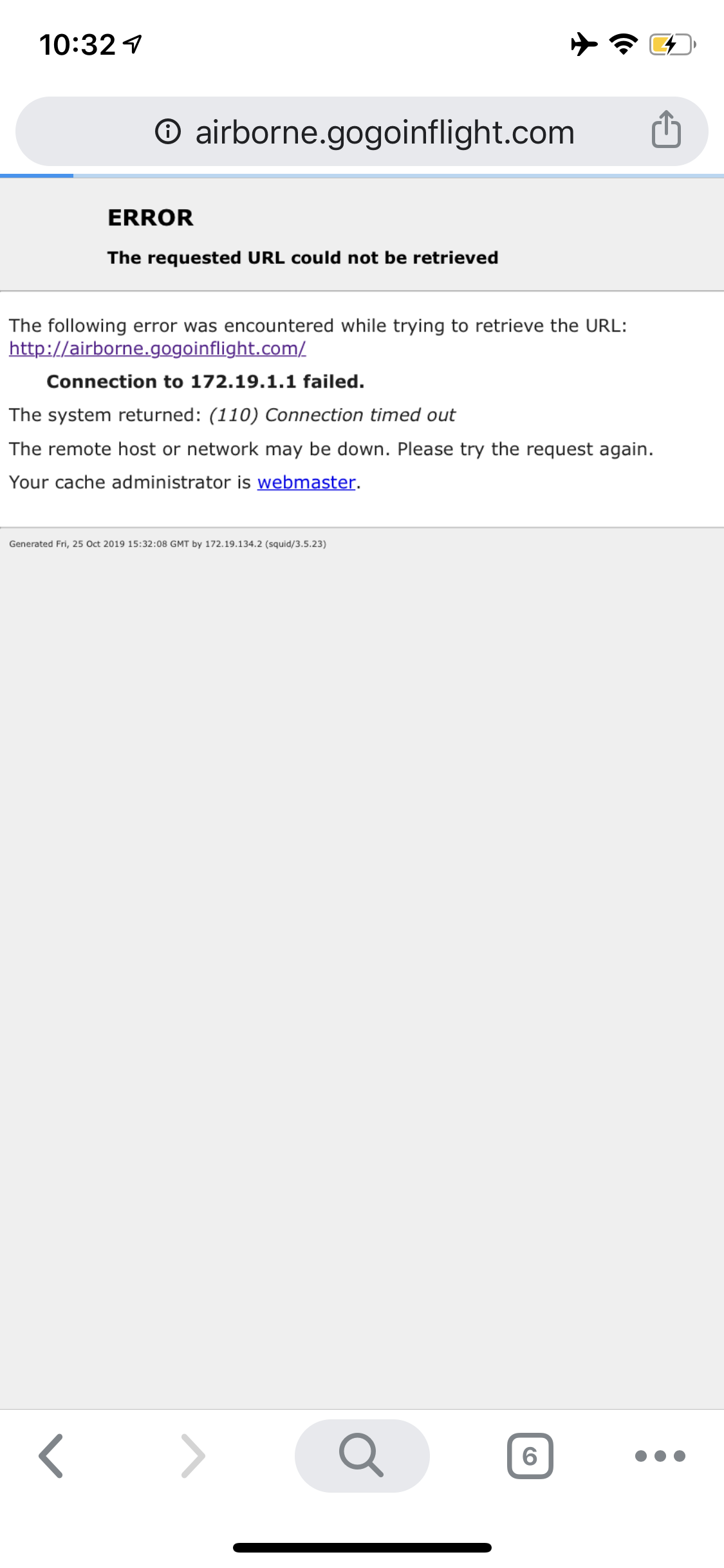 Meal and Service
Upon boarding I was offered a pre-departure beverage and I opted for the sparkling wine (which tasted pretty awful).
Before we pushed back from the gate, post-take off beverage orders were taken so I asked for my drink to be a mimosa instead.
Headphones were also offered, but I had my own noise-canceling ones instead.
Anthony, the cabin crew member looking after the first class cabin, addressed the entire cabin and advised us the flight time, meal options, and how many were loaded of each option. I found this worked well for the full cabin as on other domestic business/first class flights when crew recites the same message to each seat pair in the cabin, you end up hearing it multiple times anyway.
About an hour after take-off, a snack basket came around.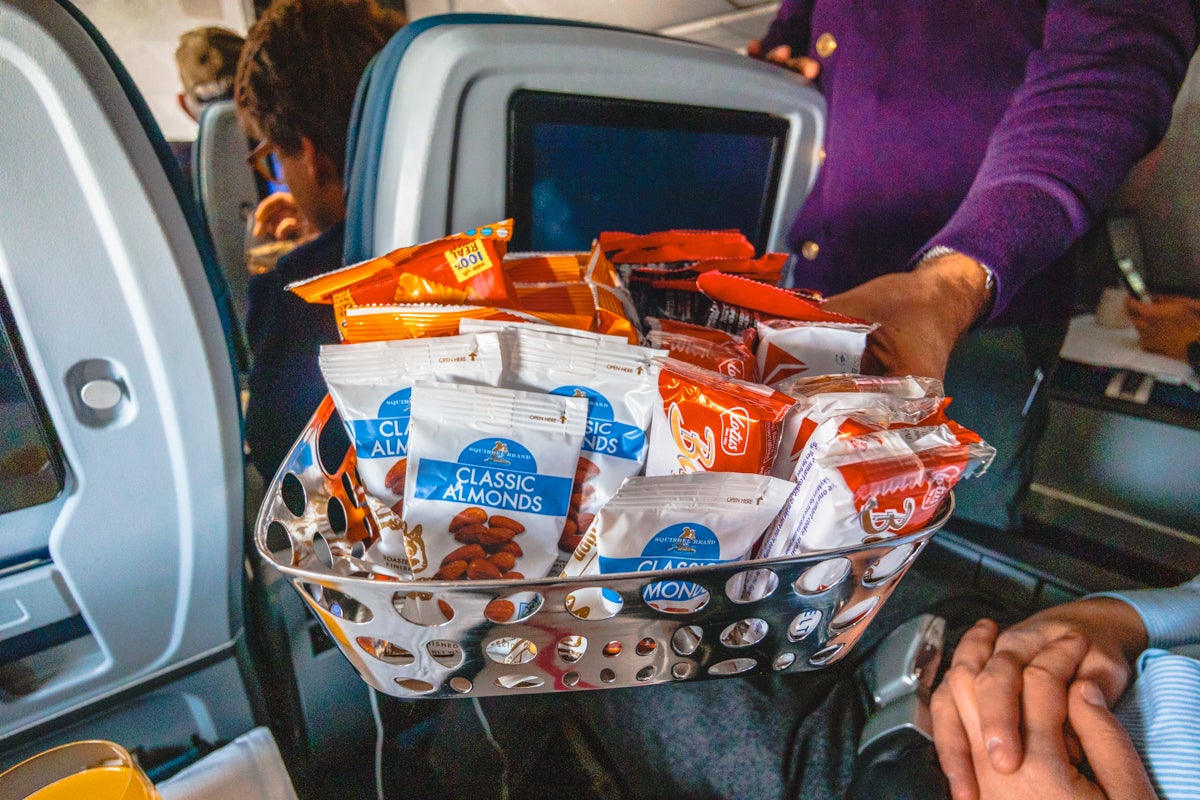 With my mimosa soon after. The orange juice helped mask the average sparkling wine.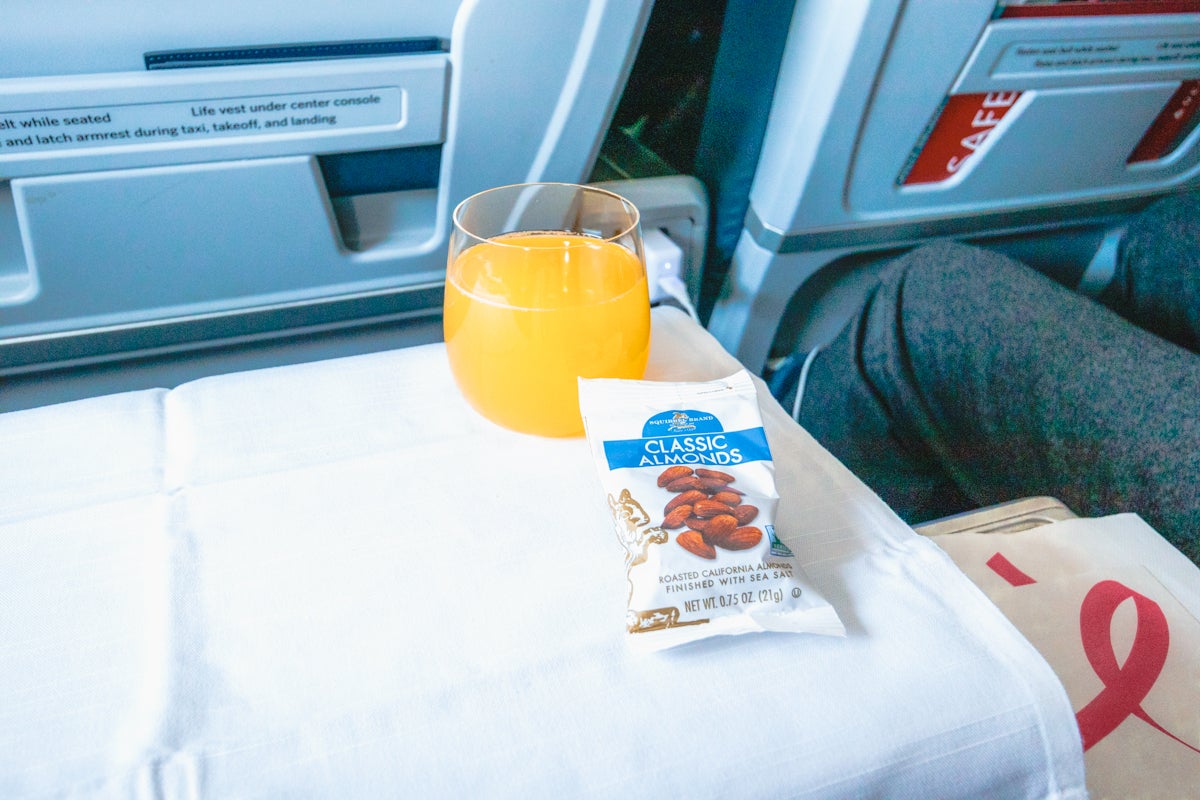 7 minutes later, my pre-selected breakfast was served around 9:30 a.m. Dallas time.
The scrambled egg sandwich on a pretzel roll was served with a side of fruit and yogurt.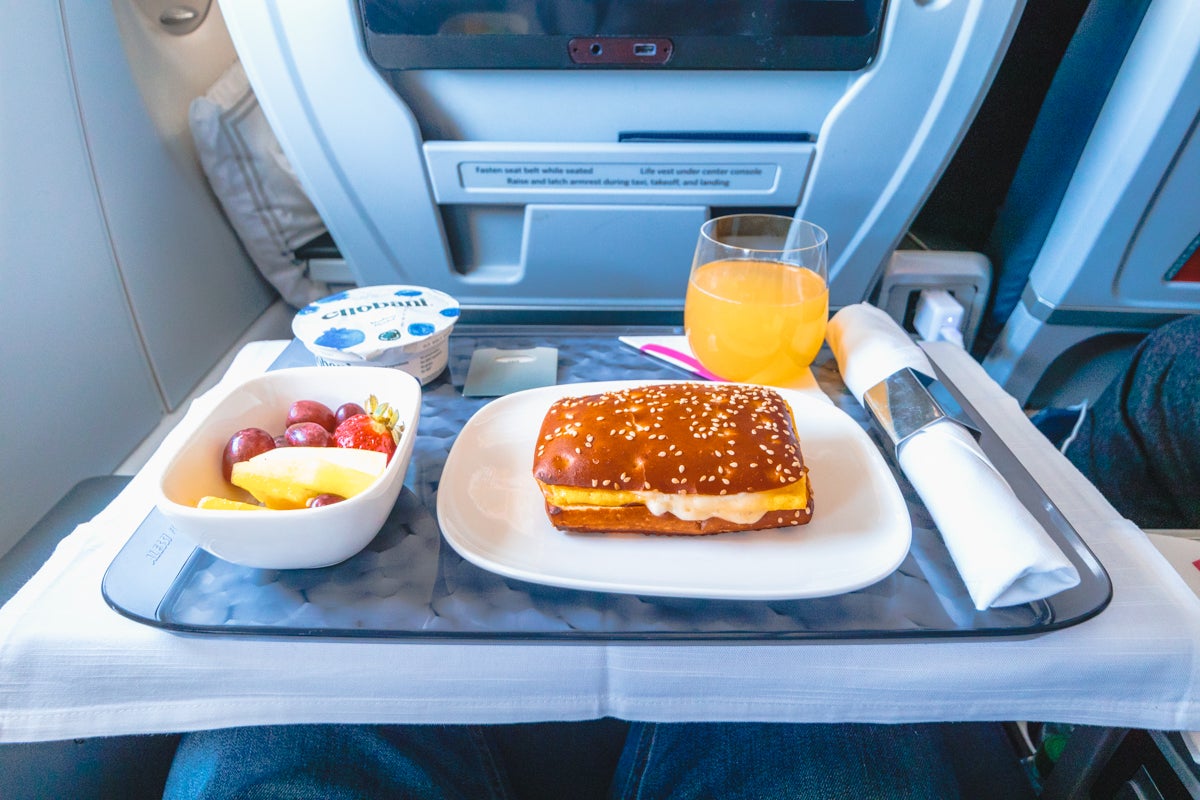 The sandwich tasted nice, it just had a bit too much cheese for my liking.
Throughout the rest of the flight, beverage refills and snacks were pro-actively offered. I never had to use the call button, but my seatmate did, and it took 2 minutes before a crew member answered the call.
Overall, the service was great. I found Anthony provided genuine, friendly service and saw him casually chatting with all the passengers at times during the flight. He was asking about the photos I was taking and, similar to the crew member on the inbound flight, suggested I visit the "loo with a view" down the back as it seems to be quite popular with AvGeeks.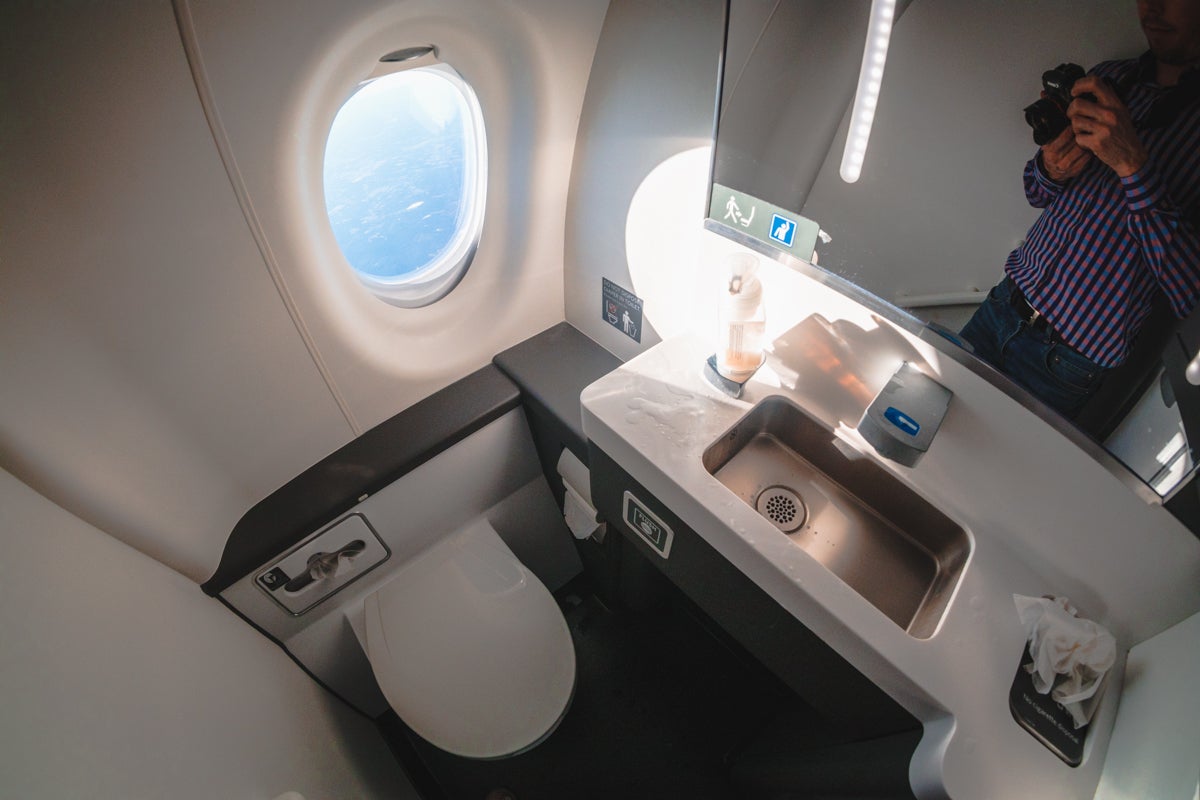 In the end, the flight arrived 29 minutes later than scheduled, due to the 38 minute delayed departure. But thankfully Blade was aware of the delay and it didn't impact my helicopter transfer to New York City.
Final Thoughts
The Delta Airbus A220 is a delight to fly in both first class and economy.
The same comforts in the main cabin like the large windows, access to power, fast Wi-Fi (just questionable reliability this flight) and individual nozzles apply in first class as well, but with the added width and pitch of the more comfortable recliner seat and improved meal service.
I would absolutely love to fly on a Delta A220 again.