Delta Air Lines Airbus A220 Economy Class Review [LGA to DFW]
Airline: Delta Air Lines (DL)
Aircraft: Airbus A220-100 (N119DU)
Flight #: DL1004
Route: New York-LaGuardia (LGA) > Dallas-Fort Worth International (DFW)
Date: October 23, 2019
Duration: 3hrs 52min
Cabin & Layout: Economy Class, 97-seats, 2-3 config
Seat(s): 18A
Miles Used: None
Typical Retail Cost: $183 per person one-way
Introduction
During a recent trip to the U.S., my itinerary required me to fly between New York and Dallas for a work conference.
I saw that Delta had scheduled its new Airbus A220-100 (formerly known as the Bombardier CS100), which I was eager to try.
Booking Delta Air Lines Economy Class
With domestic flights relatively inexpensive, I didn't consider using miles but instead purchased a standard economy class airfare for $183 for the one-way flight.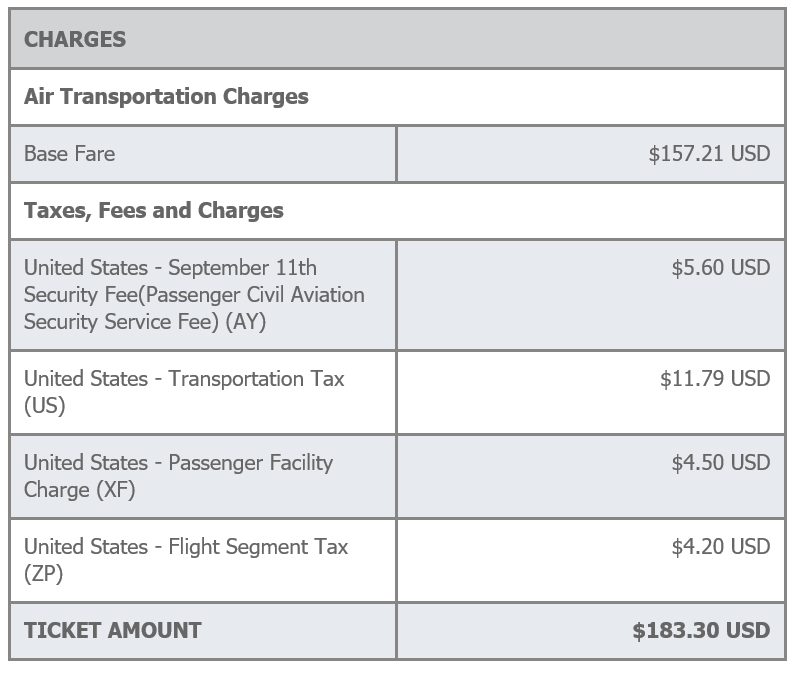 I also booked a return flight to JFK in first class so I could experience both new cabins.
I credited the flight to my Virgin Australia account, which earned me 694 points, plus 1,041 points for my status bonus and 15 status credits.
Booking This Flight With Miles
While I wouldn't recommend using miles to cover a cheap fare like this, you may want to use miles when booking at the last minute or during special events, holidays, and other times when airfare is expensive.
An obvious choice for using miles to cover this ticket is using Delta's own SkyMiles to book. Just note that Delta prices its award tickets dynamically, so the cost of your ticket depends on factors like passenger demand, the cost of a paid ticket, and more. This means that you may be able to score a great or terrible deal depending on your date of travel.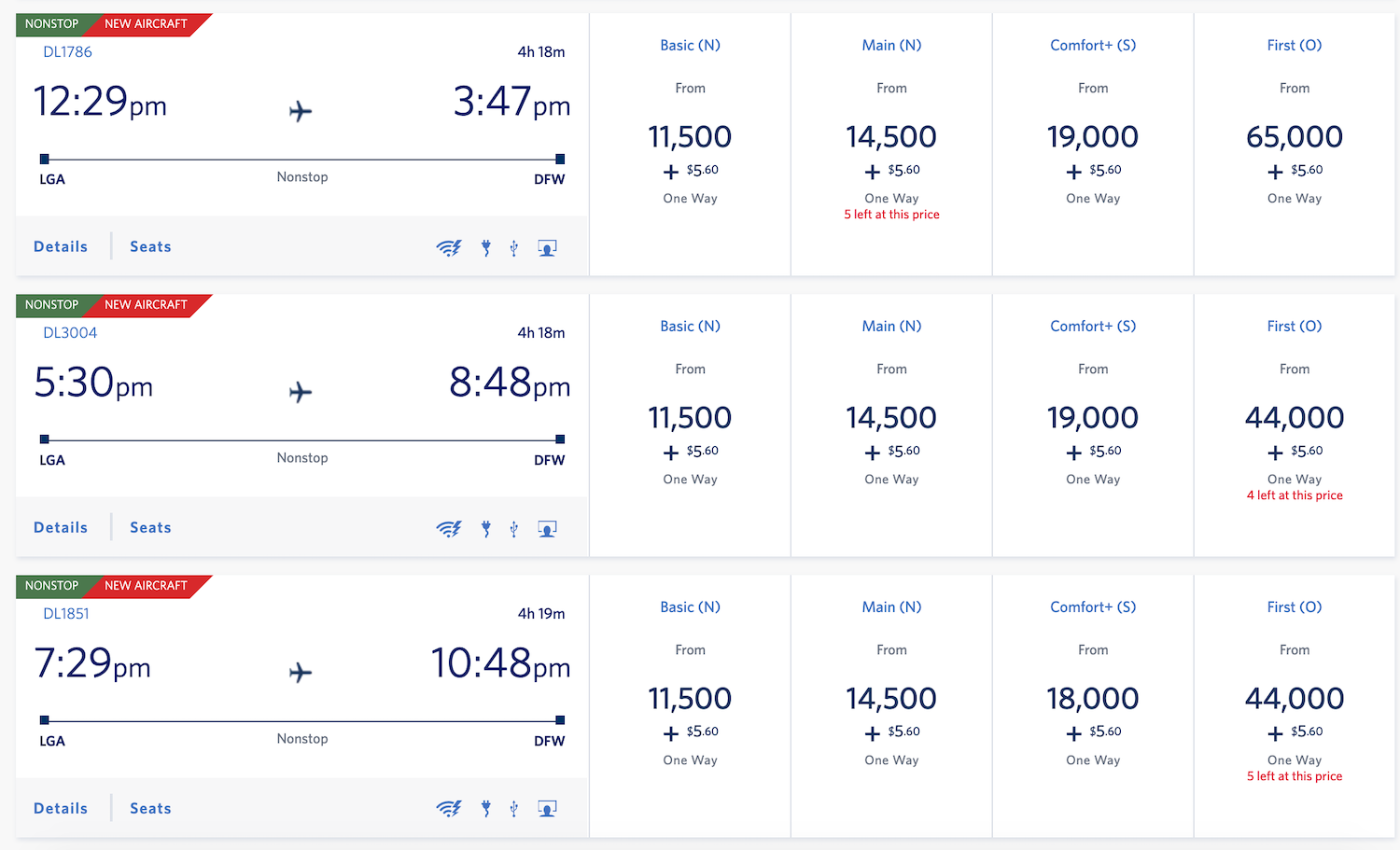 Upon a quick search for a flight from LGA to DFW departing 2 months from the date of booking, flights operated by the new A220 ranged from 11,500 SkyMiles miles in basic economy to 65,000 in first class. A standard economy ticket was 14,500 miles — I think the extra 3,000 miles is worth it for seat selection and a better boarding group.
Remember, though, this pricing differs from day to day, so make sure to check the cash price of a ticket before you book. You may get a better deal by booking cheap tickets through the Chase Travel Portal if you have a Chase Sapphire Preferred® card or Chase Sapphire Reserve® card that can redeem for paid flights at 1.25 cents per point or 1.5 cents per point respectively.
You can earn Delta SkyMiles by crediting SkyTeam flights to the airline, transferring points from Amex Membership Rewards, or another one of these various mileage earning methods.
Likewise, you can use 12,500 Virgin Points to book the same ticket in standard economy class — just search for the flights on Virgin Atlantic's website. You can transfer miles to Virgin Atlantic from American Express Membership Rewards, Chase Ultimate Rewards, Citi ThankYou, and Marriott Bonvoy at varying rates.
At LaGuardia Airport
As I had arrived from Hong Kong (HKG) at 8 p.m. the previous night, and previously connected from Hanoi (HAN) and Singapore (SIN) from Sydney (SYD) the day before that. I wanted to maximize my sleep, so I arrived at New York's LaGuardia (LGA) airport at the very latest time possible and basically walked straight to the gate for my 5:55 a.m. boarding.
Hot Tip: Have time to spare at LGA? The LaGuardia Centurion Lounge is located on the third floor of Terminal C at LGA. It features a full buffet, plentiful seating, and a premium bar.
Flight
Aircraft
DL1004 is operated by a new Airbus A220.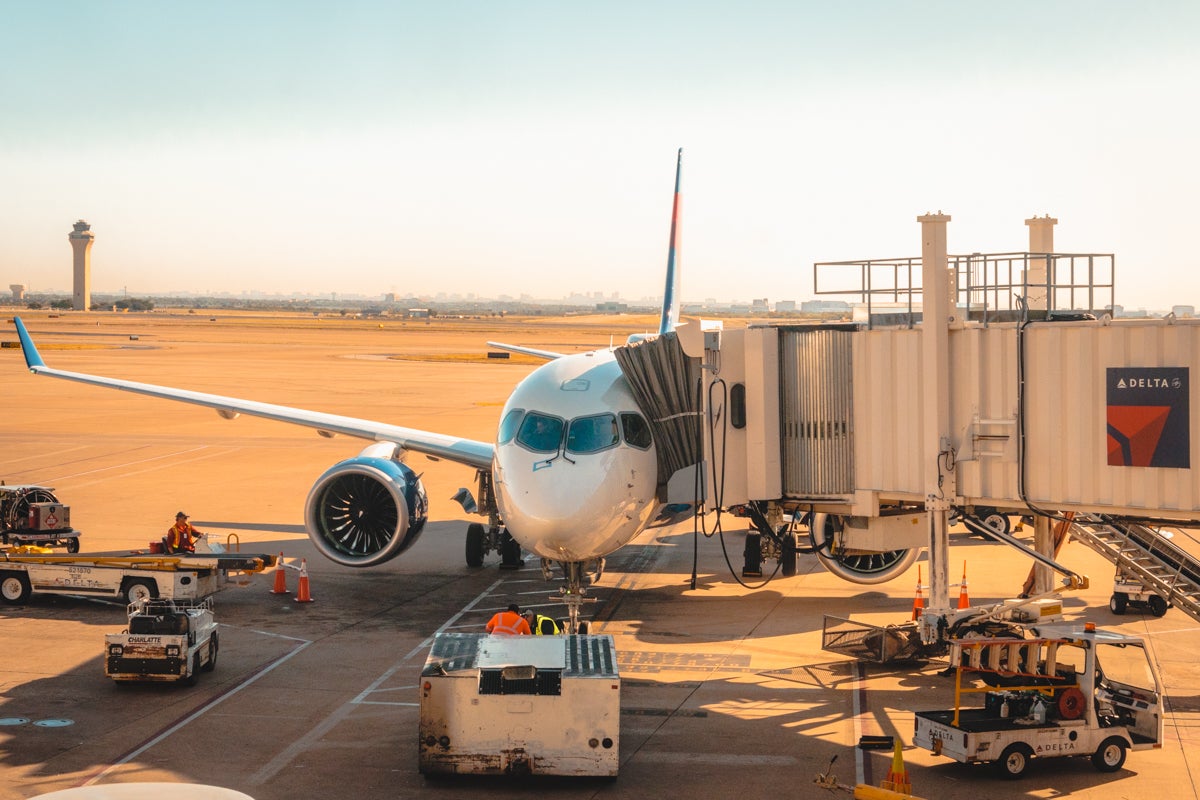 Delta Air Lines currently has a fleet of 29 Airbus A220s.My aircraft was delivered just 3 months earlier in July 2019.
The aircraft is configured with 12 first class seats up front and 97 economy class seats in a 2-3 configuration. 15 of these in the first 3 rows are labeled Comfort+ and have an additional 4 inches of legroom.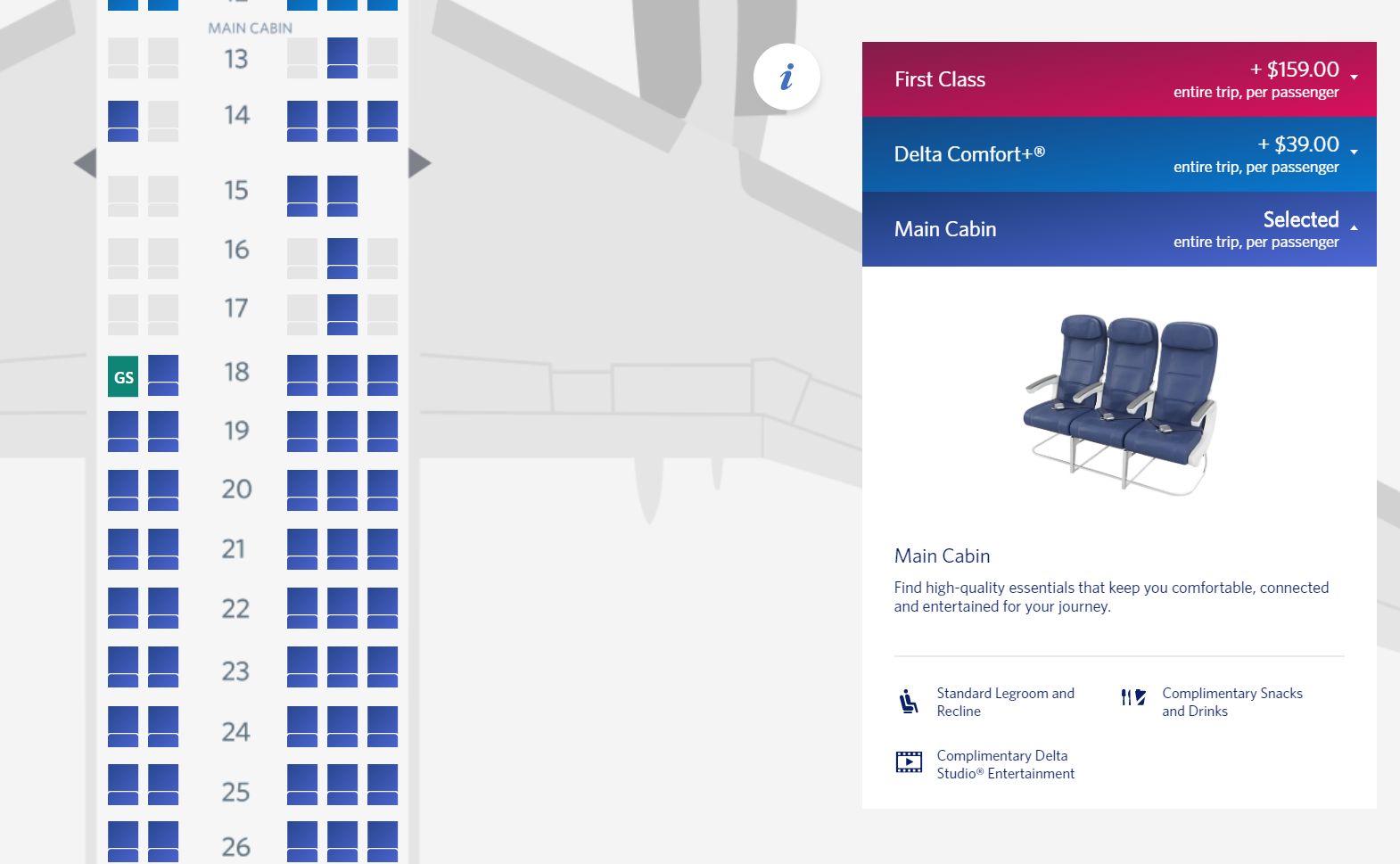 Economy Class
With a 2-3 configuration, I naturally opted for a window seat on the left side of the aircraft to reduce the possible number of other passengers I would have to climb over during the flight.
But thankfully, this early morning flight had a light load that left me with an empty seat next to me.
The main cabin seats are 18.6-inches wide, which is wider than you'll find on most Boeing 787 economy seats (around 17.2 inches).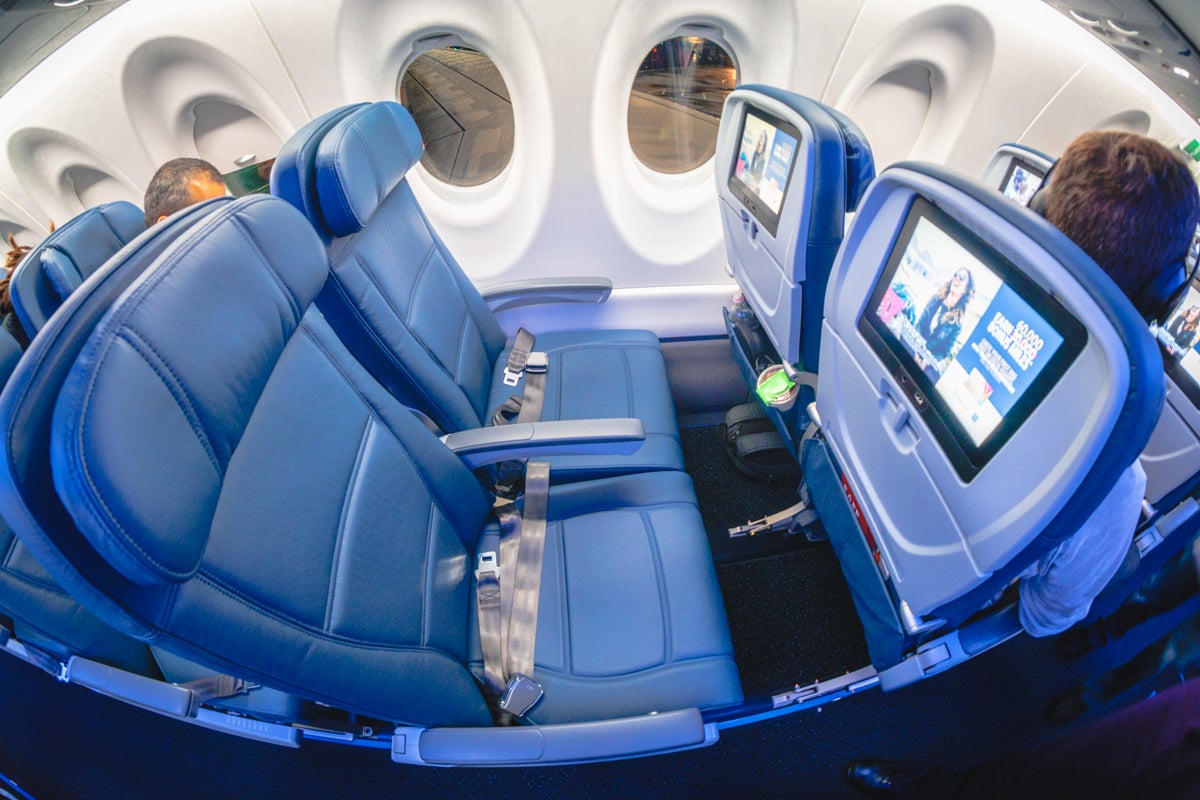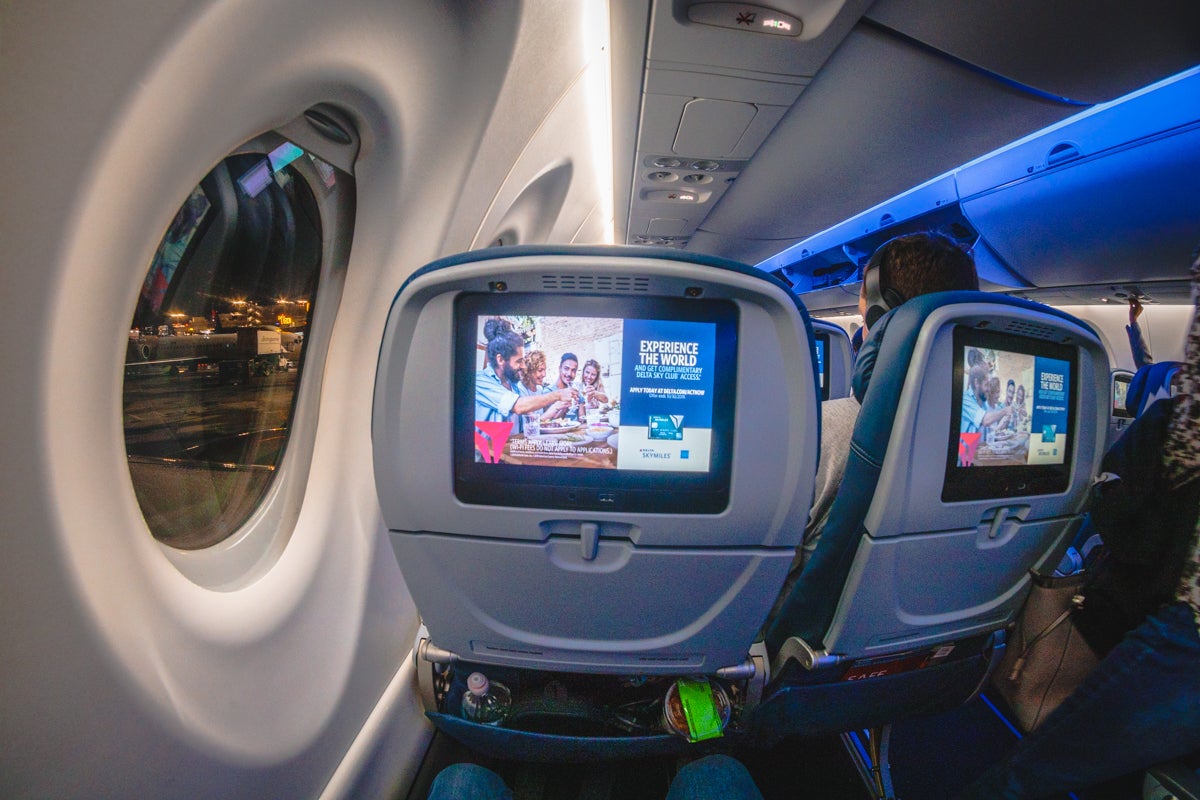 Between the seats in front are power adapters. This was fantastic as I forgot to charge my laptop overnight in the hotel — I could still work uninterrupted during this flight.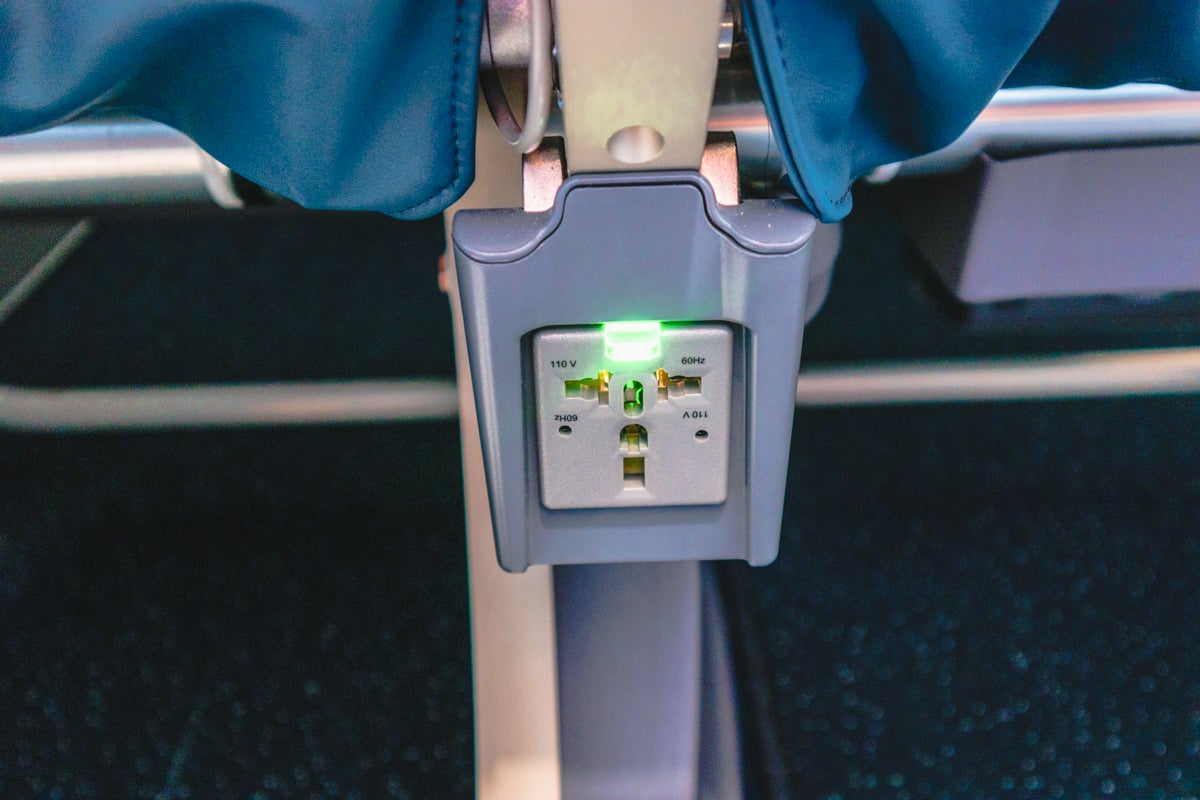 My 13.5″ laptop didn't fully fit on the compact tray table, yet I had no issues working on it.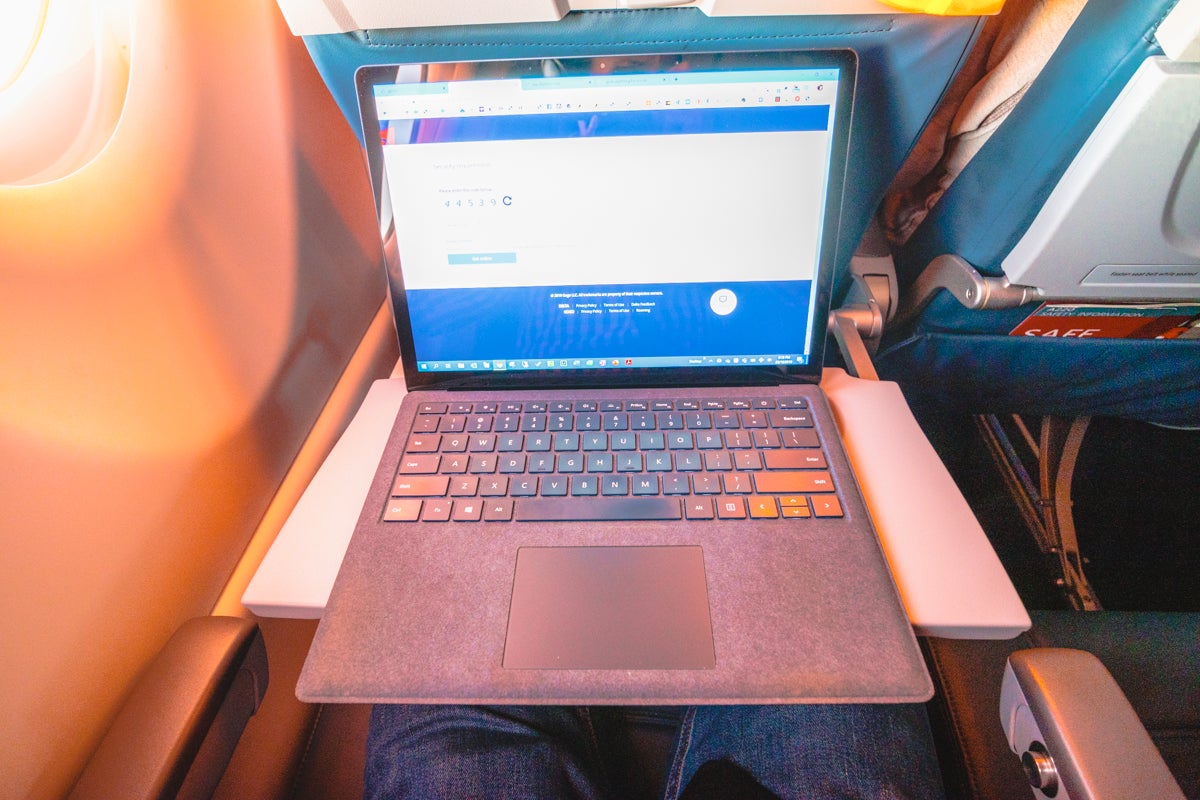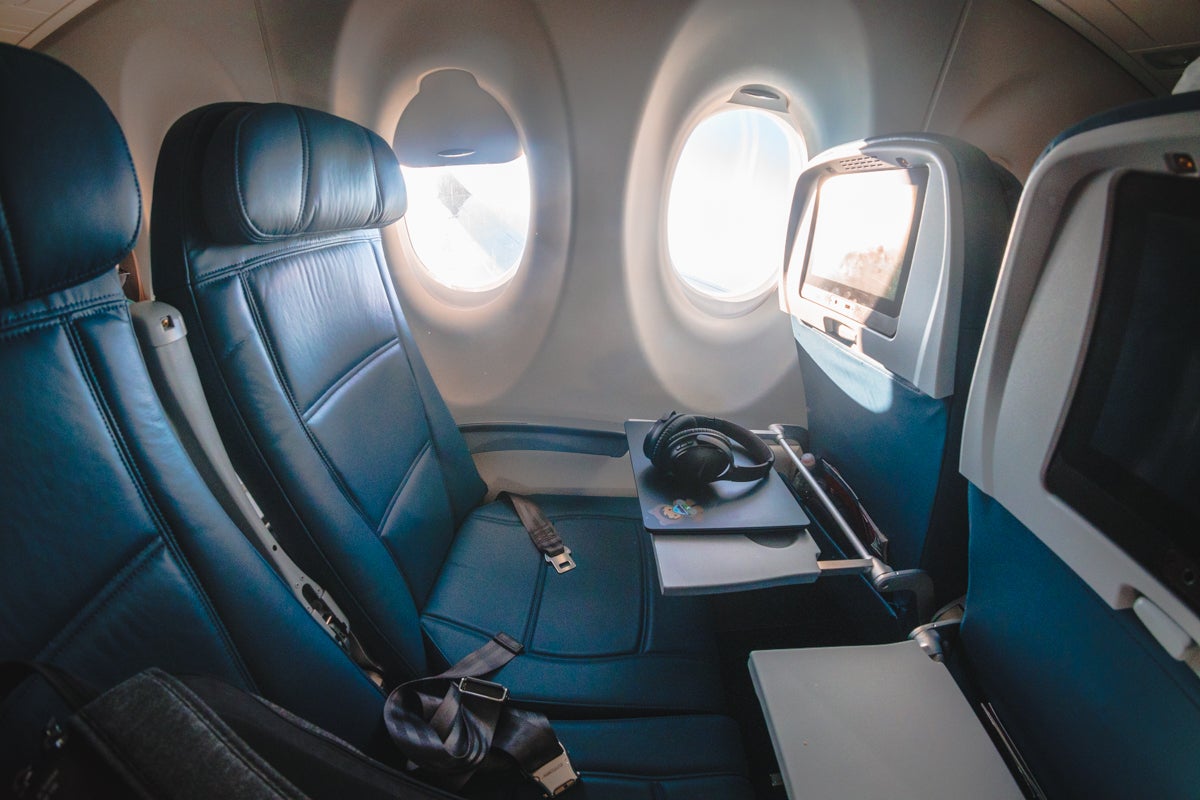 Overhead, individual reading lights and adjustable air nozzles are available for every passenger.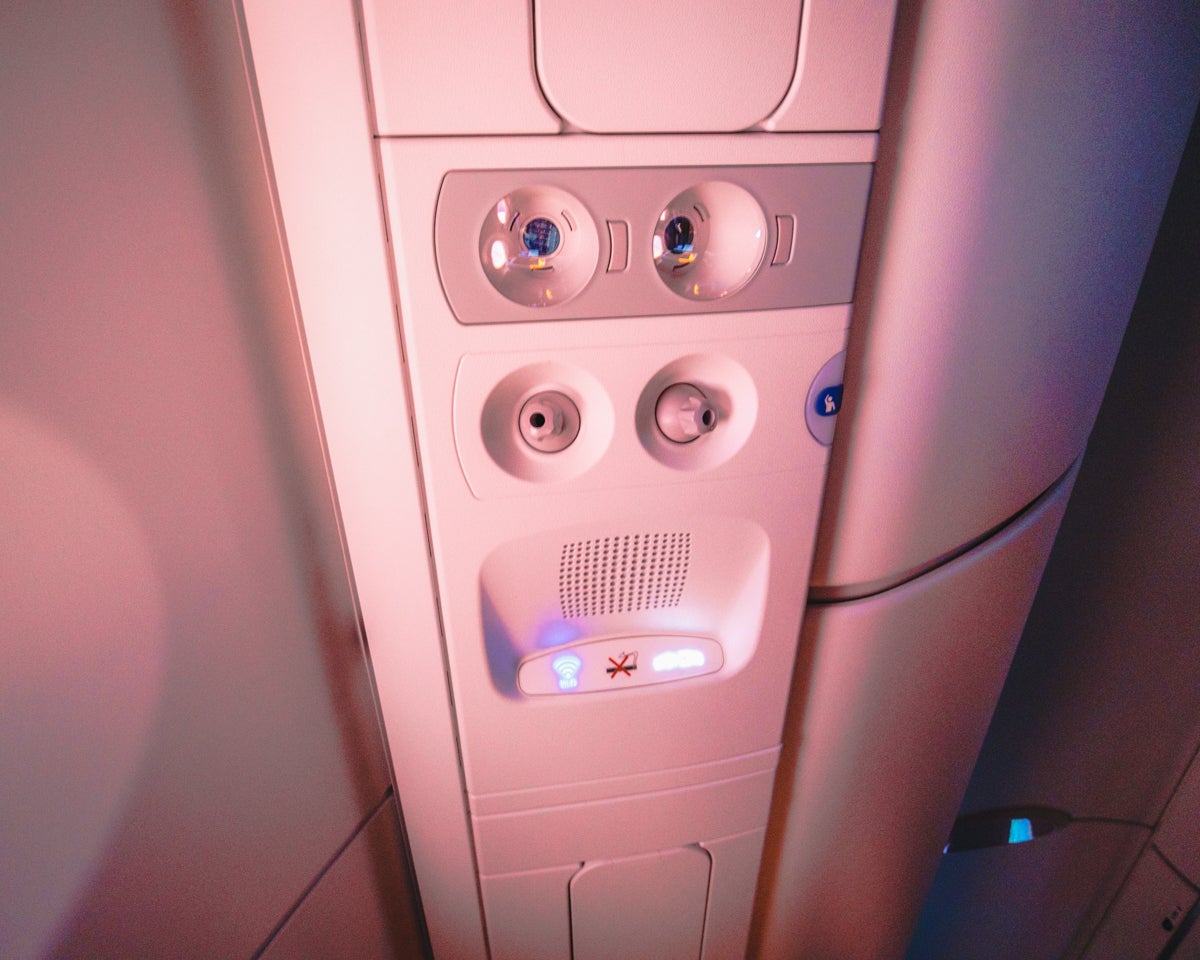 There are 2 lavatories down the back of the aircraft for the 97 main cabin passengers, yet one was out of order on this flight.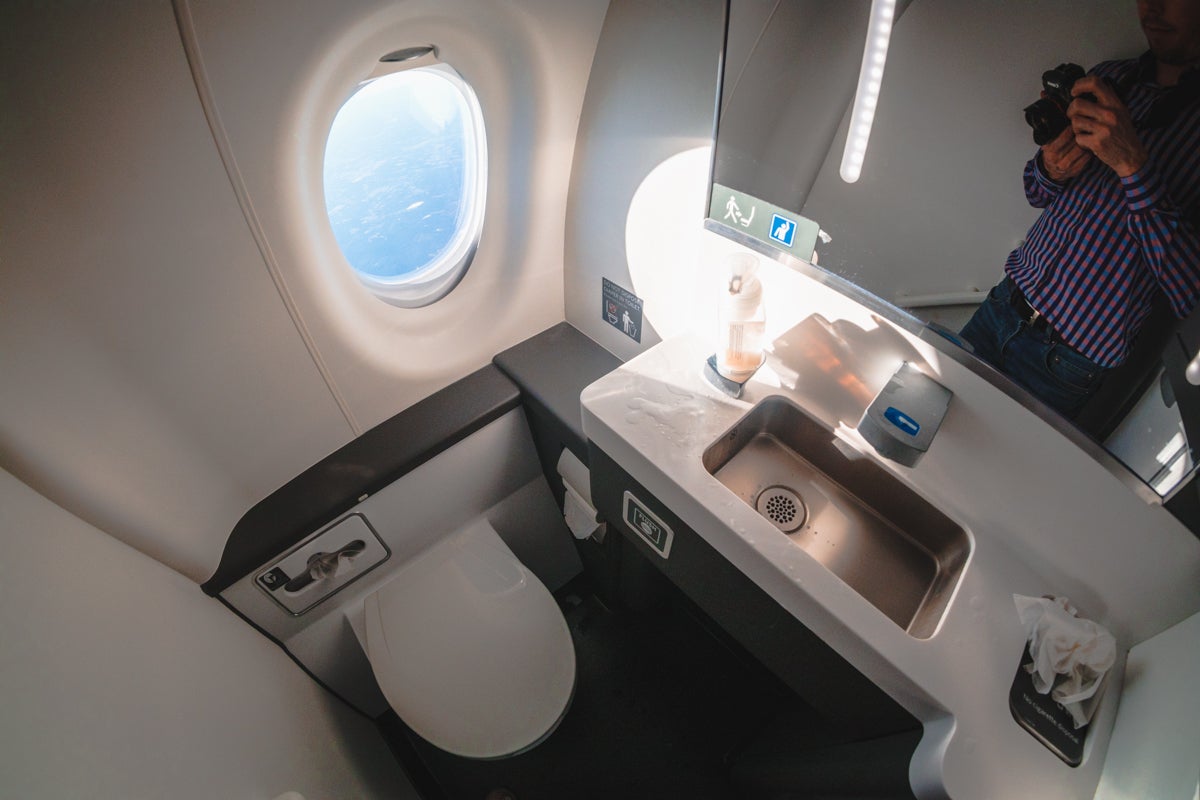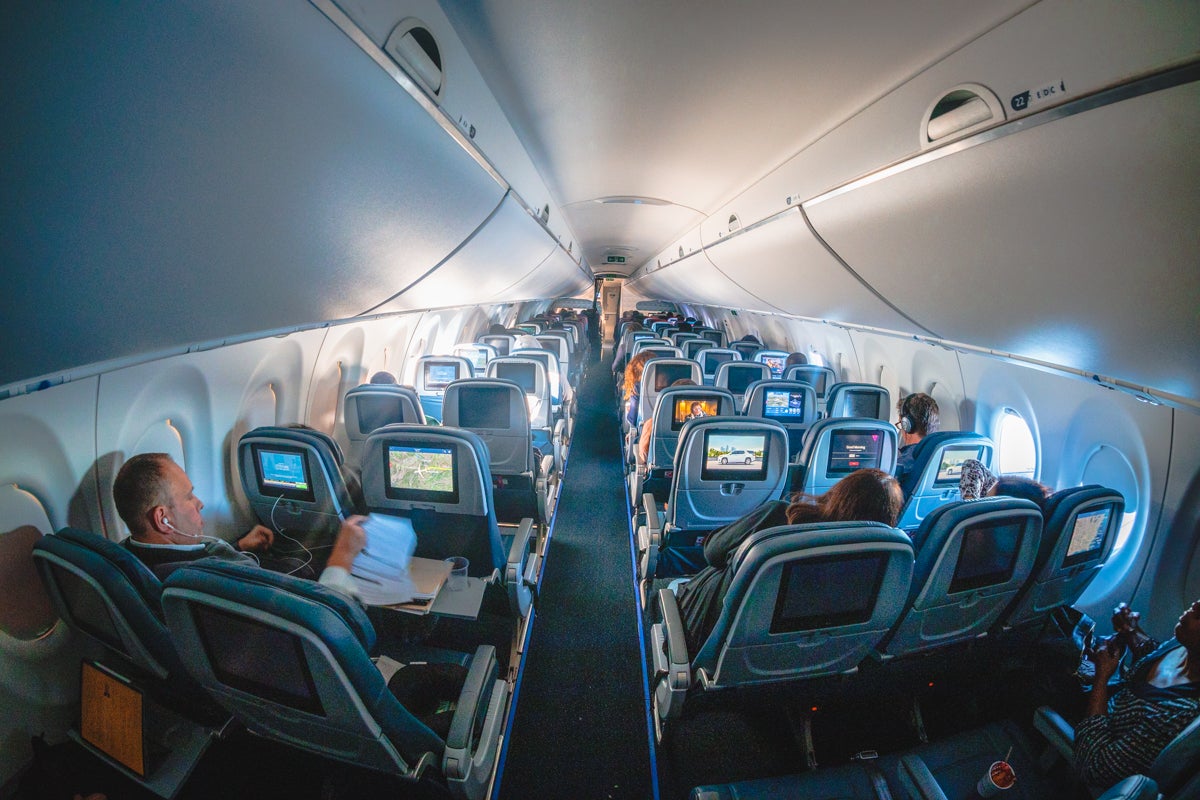 Amenities
Economy passengers receive no amenities.
Entertainment
Going against the trend, Delta is ordering new short-haul aircraft with built-in IFE for all passengers.
In economy, the screens measure 10.1 inches and are responsive to touch. There are hundreds of free movies and TV shows, yet on this flight I decided to catch up on some work using the onboard Wi-Fi instead.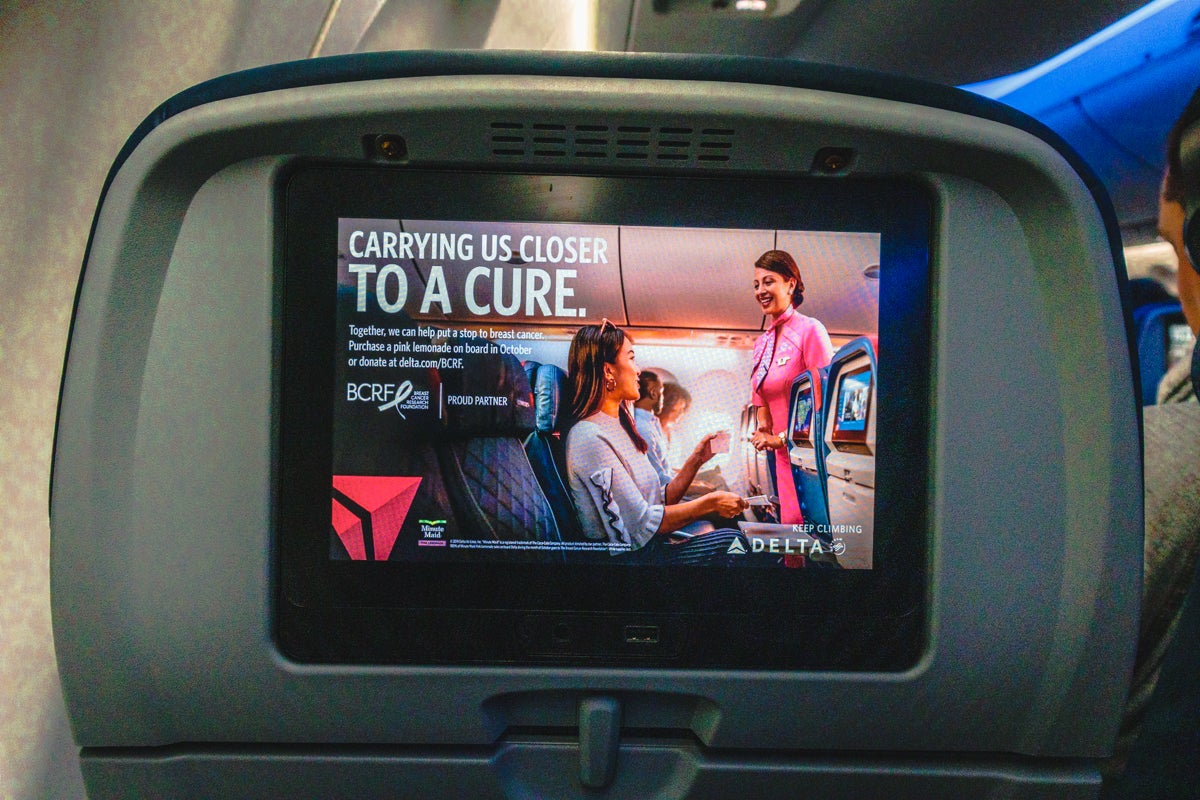 Delta provides all passengers with free Wi-Fi for messaging on iMessage and Facebook Messenger, however, I paid for the Stream Flight Pass for $25 for the duration of the flight.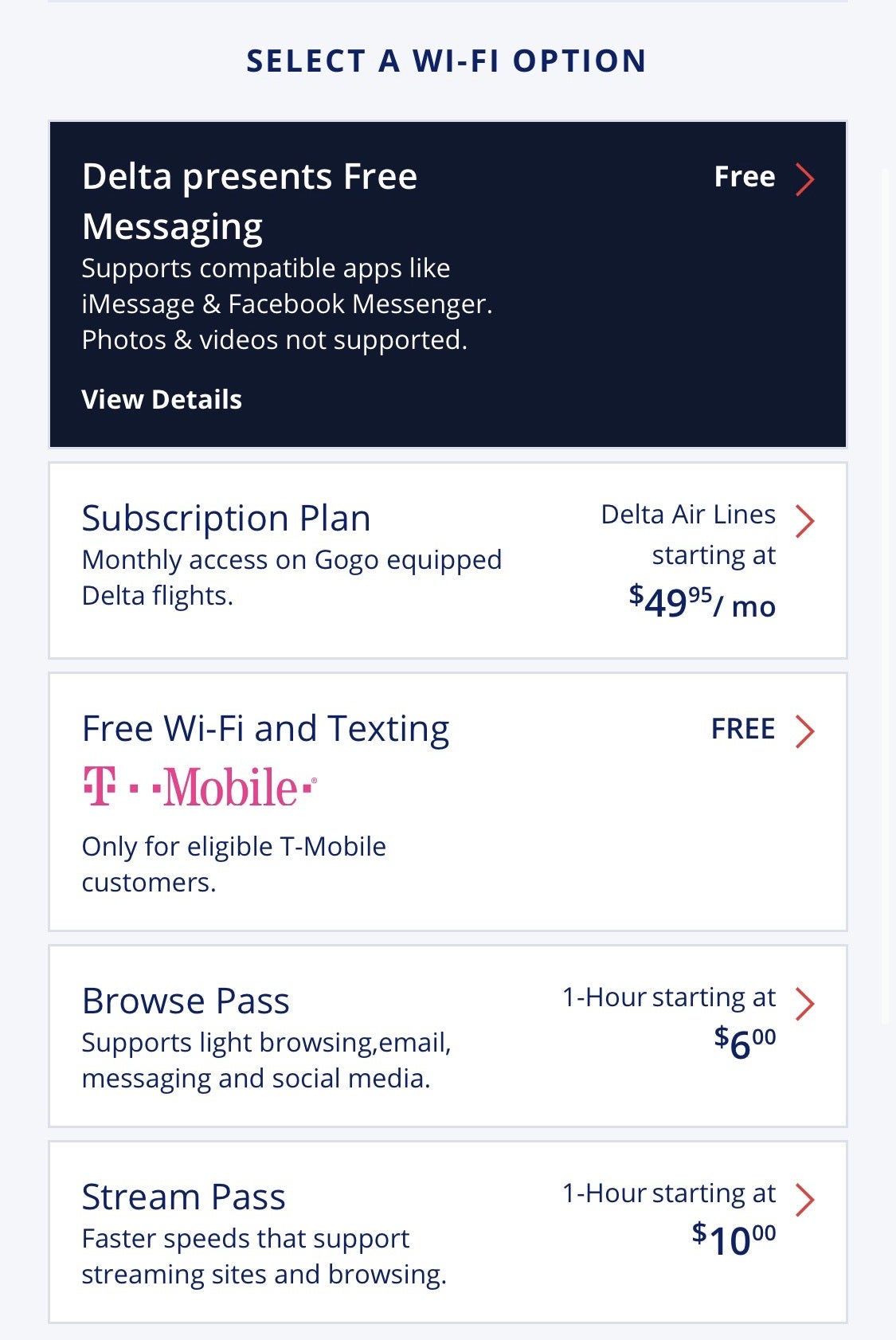 The speed was impressive for inflight Wi-Fi.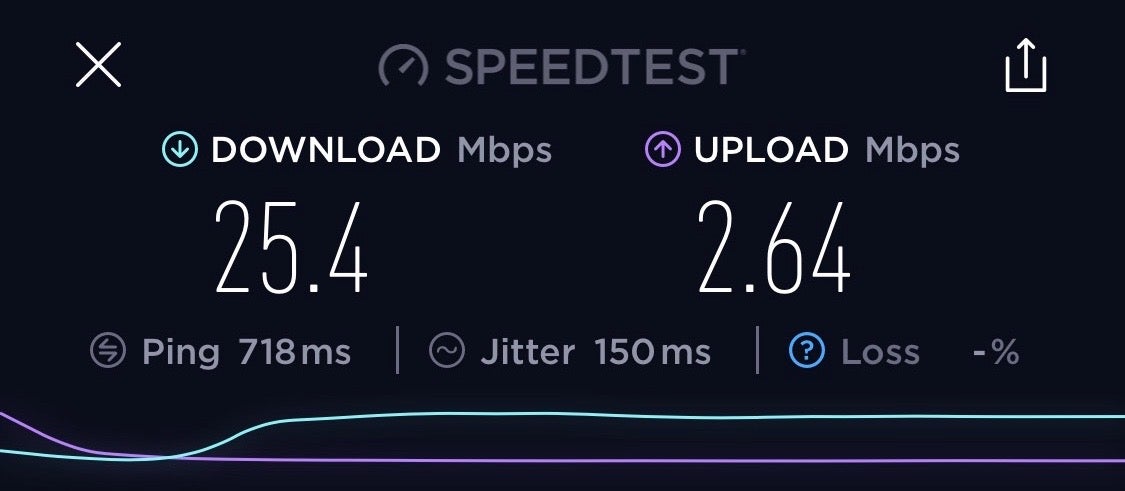 Meal and Service
Around an hour after departure, the cabin crew came through to offer beverages along with a snack from the basket.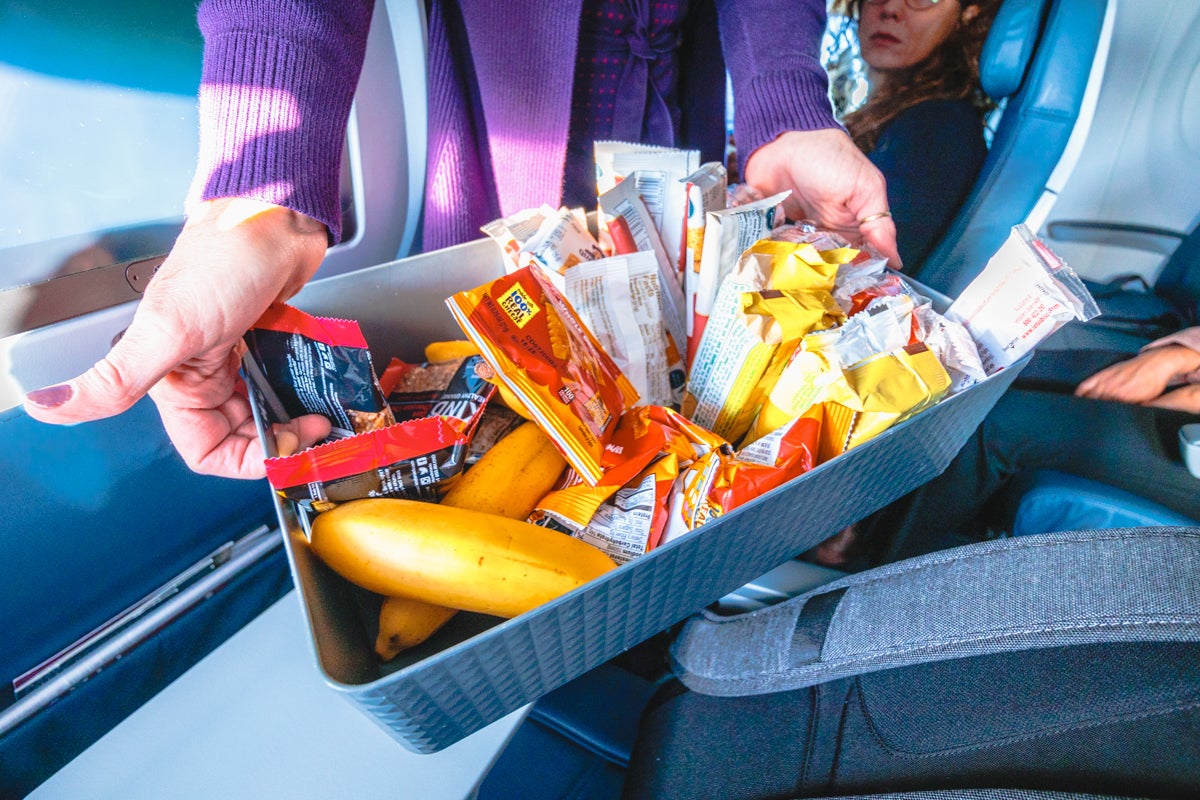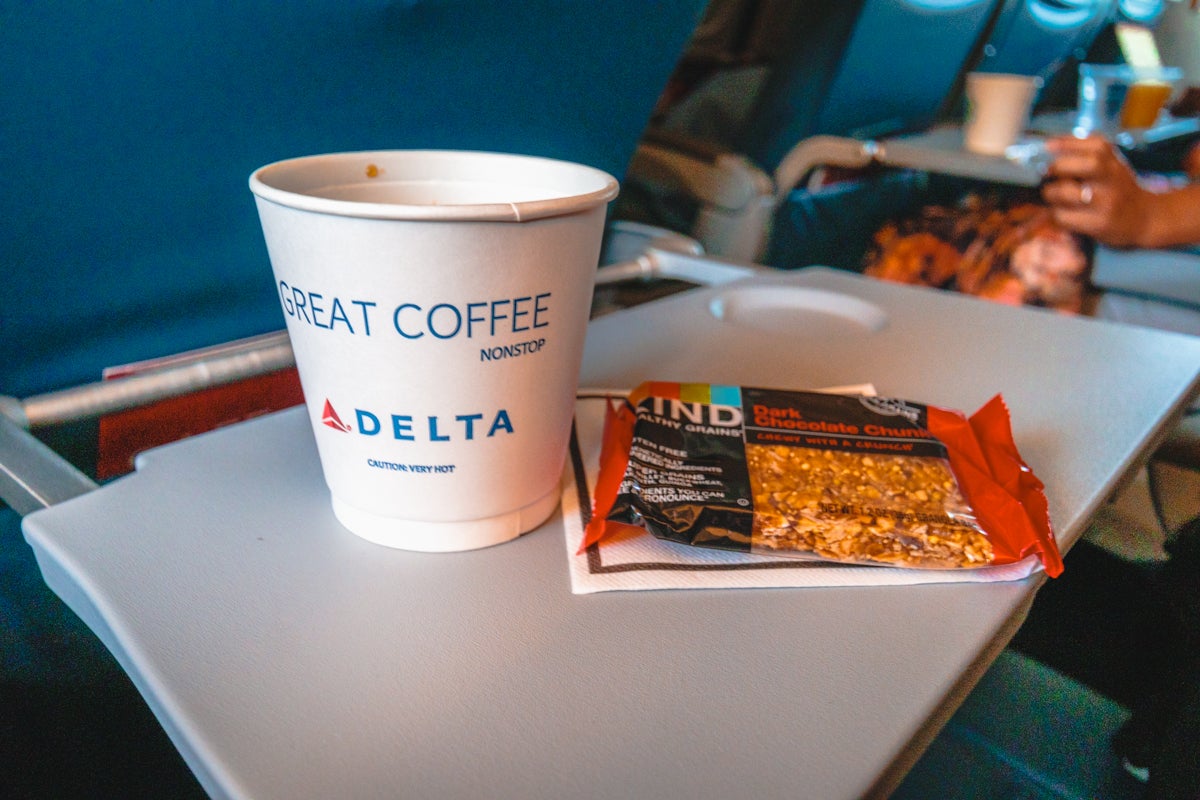 Economy class passengers can also order something more substantial from the Flight Fuel menu (click any image to enlarge).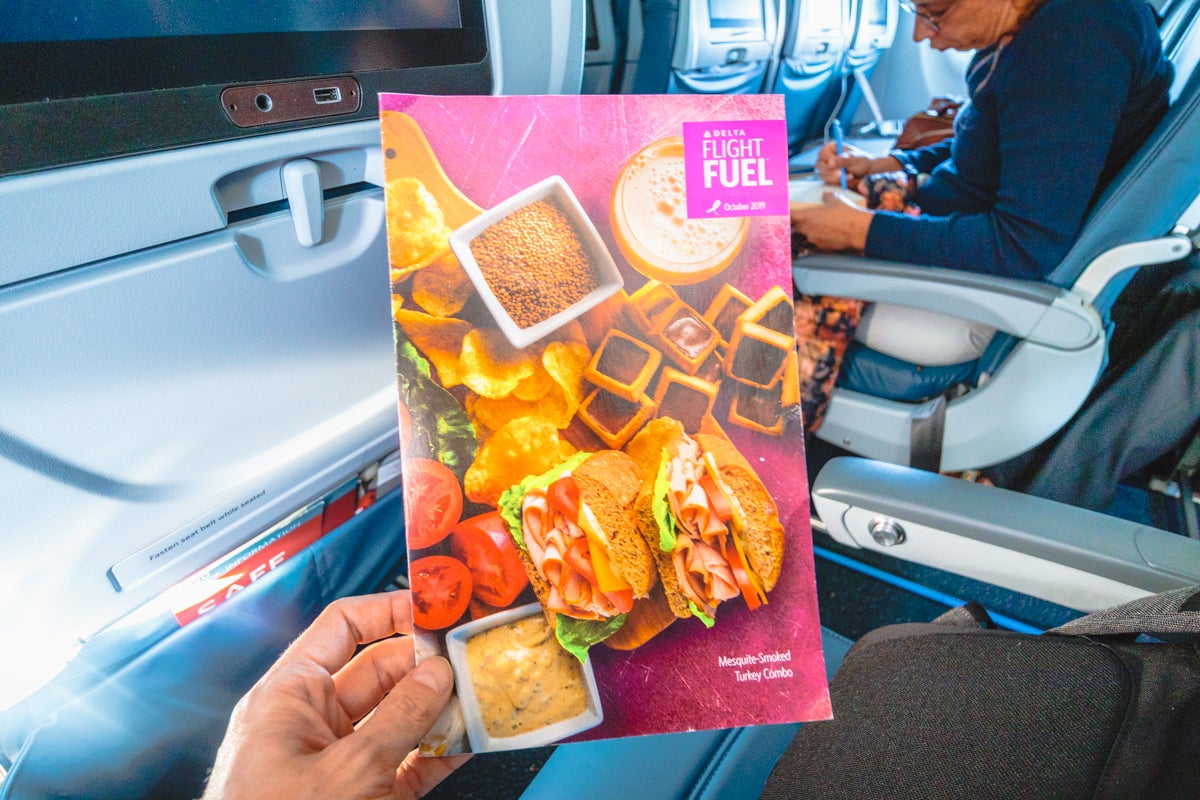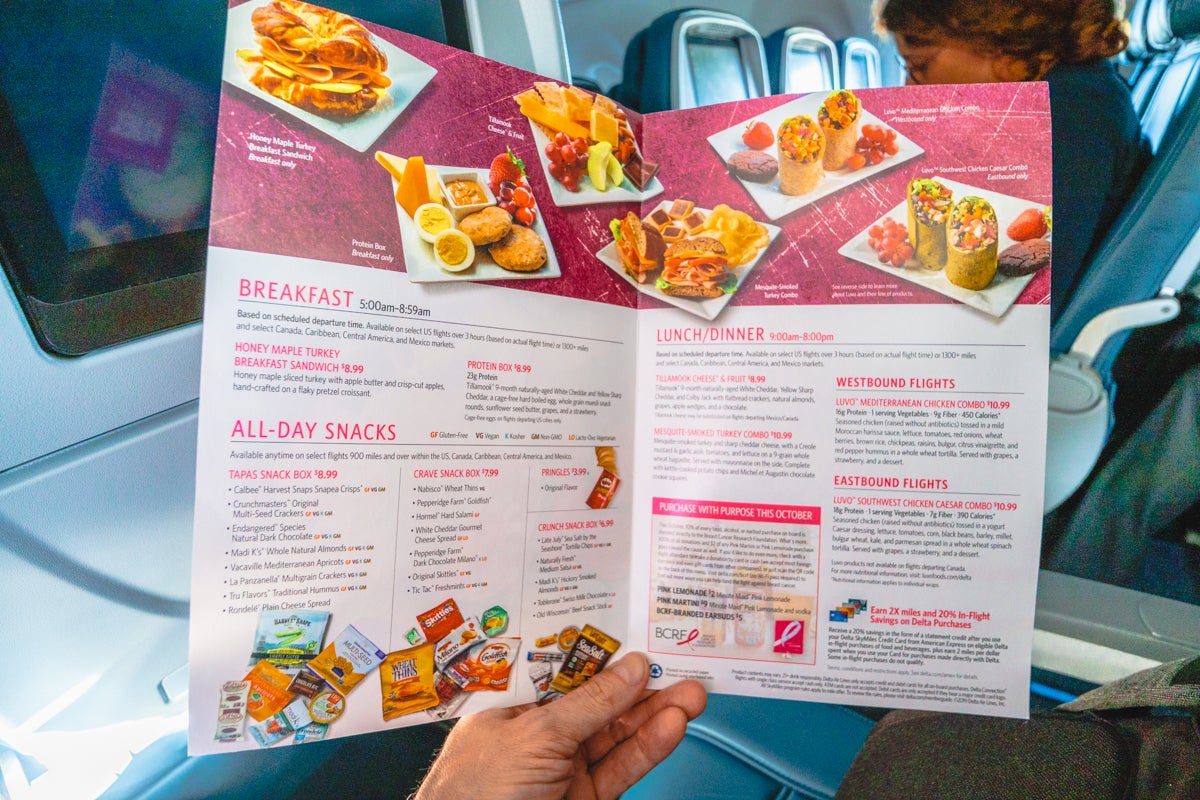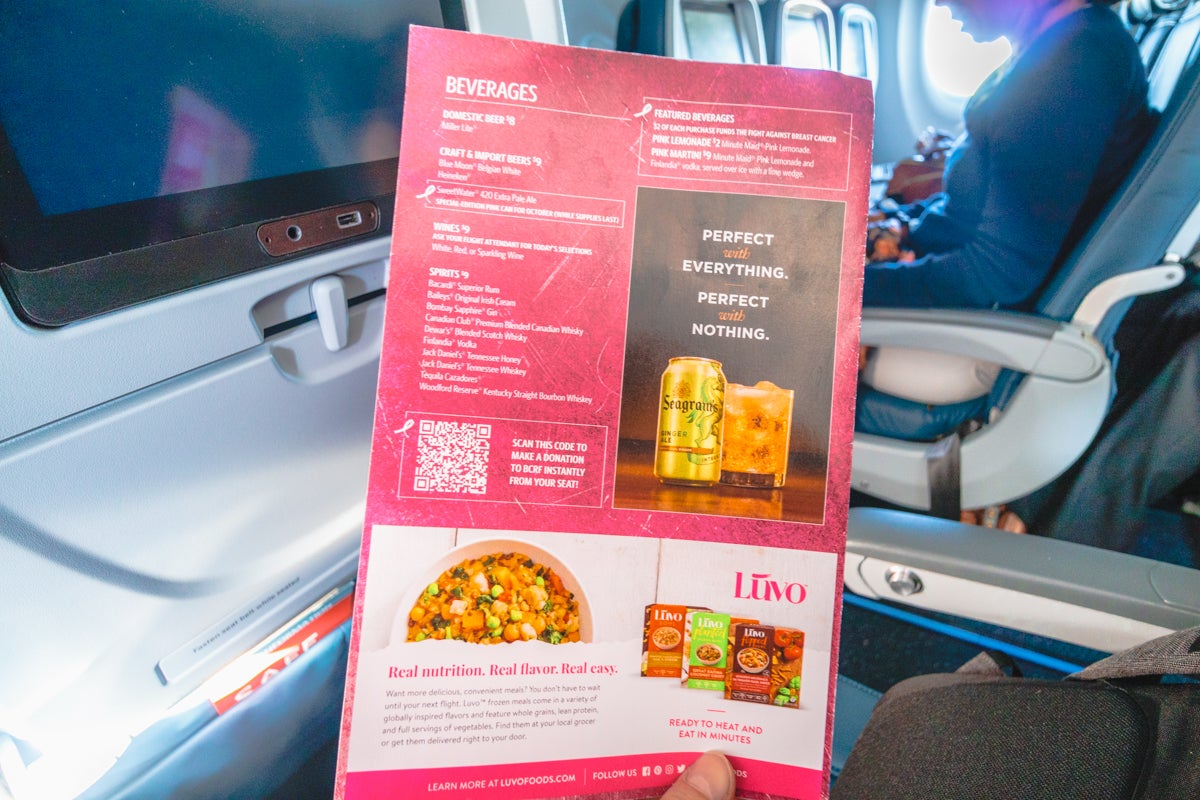 I had purchased a tub of yogurt with muesli from the airport on my way to the gate, yet I stupidly forgot to grab a spoon!
During the service, I asked one of the cabin crew members, Kimberly, if she had a spoon, but she apologized and said they don't have any cutlery as the flight was just a snack service. I said that it was fine and my own fault and joked saying I'll just attempt to eat it with my fingers.
Within a couple of minutes, Kimberly arrived back at my seat holding a wrapped napkin. She said she went looking for me and found a cutlery set up in first class and just couldn't have me eating it with my fingers.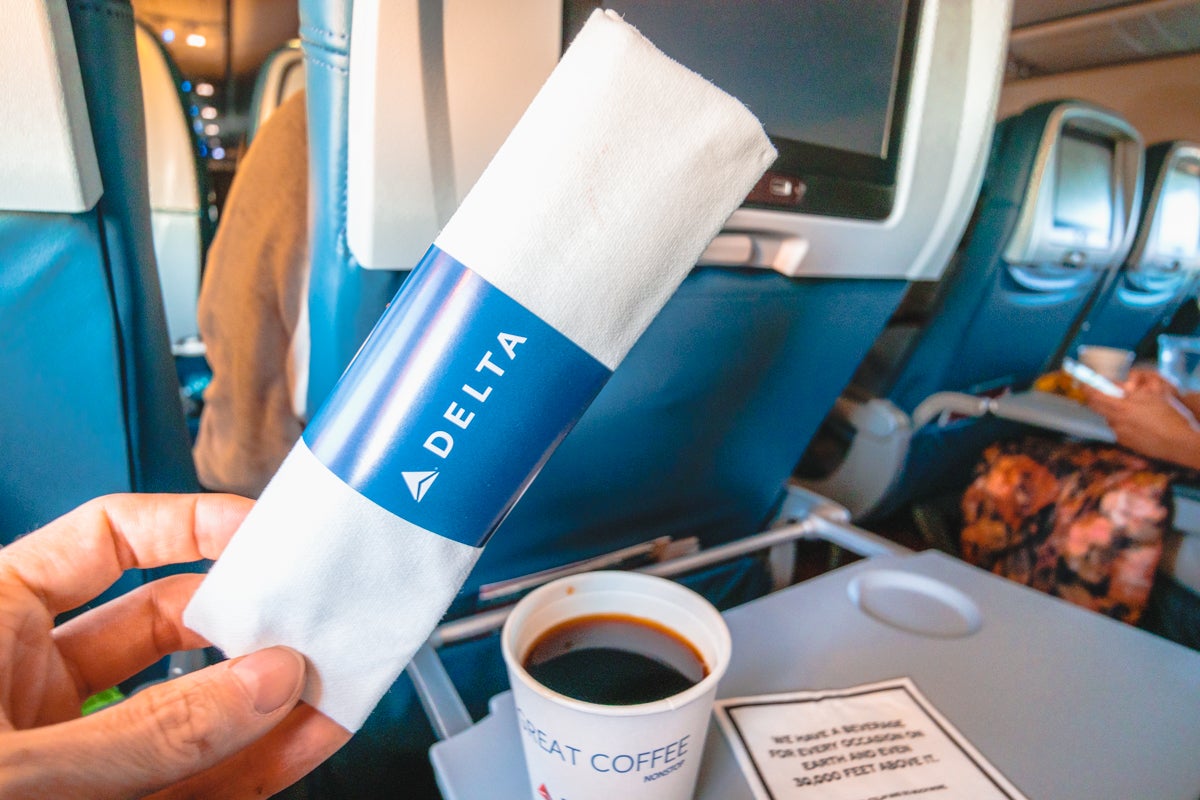 Another round of snacks was offered during the second hour of this nearly 4-hour flight. At this time, Kimberly asked about the photos I was taking and I told her I was an AvGeek and loved flying on new aircraft. She said it was her very first flight on the A220 and she was already loving it. She asked if I had snapped a photo of the toilet as it had a window.
She also offered to show me around the galley and the built-in charging station for the crew's smart devices.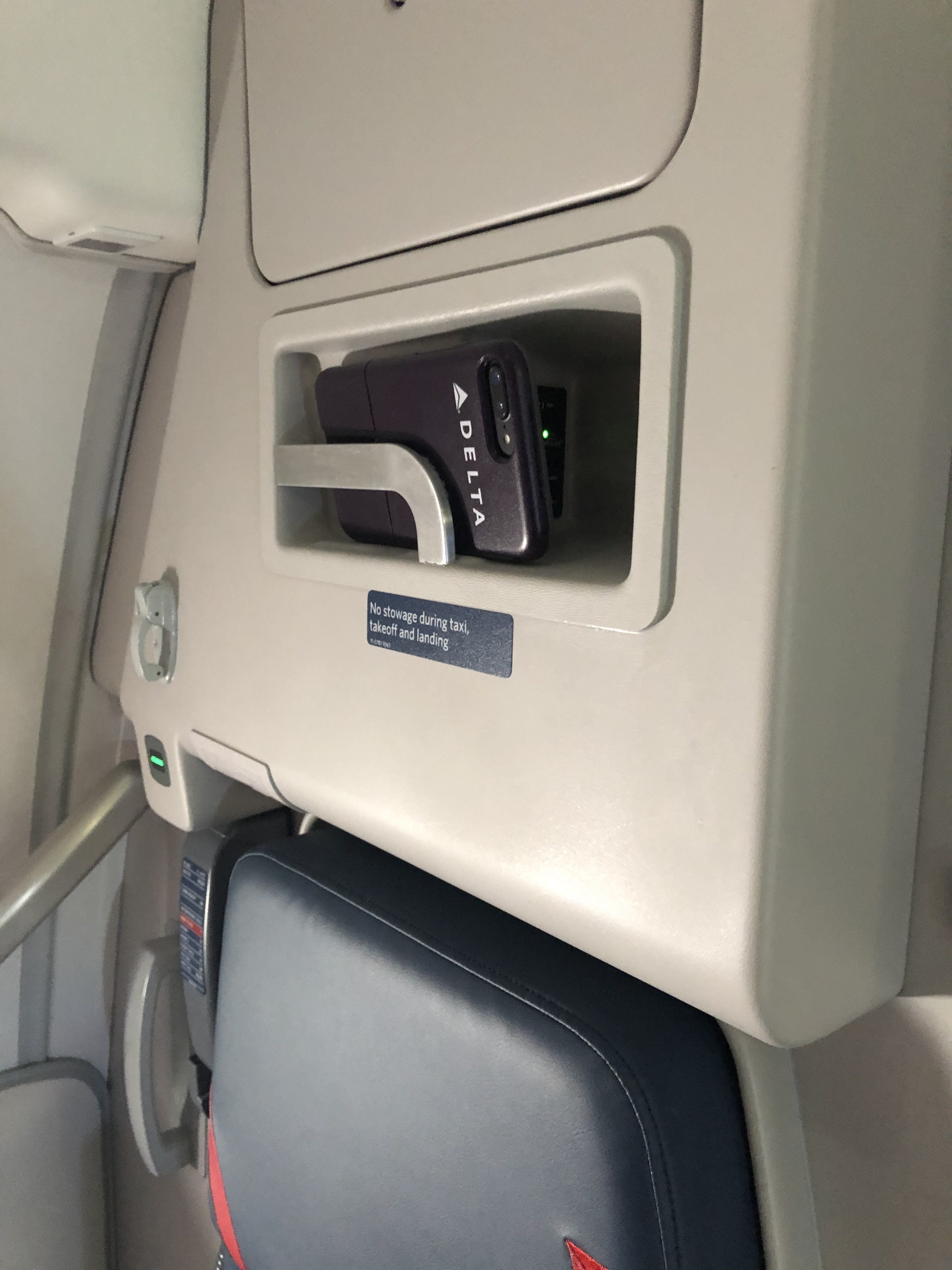 She then started to explain all the technology Delta has introduced to help the crew provide the very best service to passengers.
On her smartphone, she demonstrated some of the apps the crew use, including internal messaging service that automatically notifies them when they can board the aircraft and updates them on the various stages of passenger boarding (50%, 75%, 100% complete).
Kimberly then flicked over to another app that showed a seat map with various colored seats representing different passengers and said, "this color code means something important to me, yet I can't tell you what it is,  sorry," which I respected.
I asked her to click on my seat and she said it would be the only screen I could take a photo of. As a status-nobody on Delta, it didn't reveal too much about me. Strangely, it didn't list my status with Virgin Australia that had been linked at the time of booking.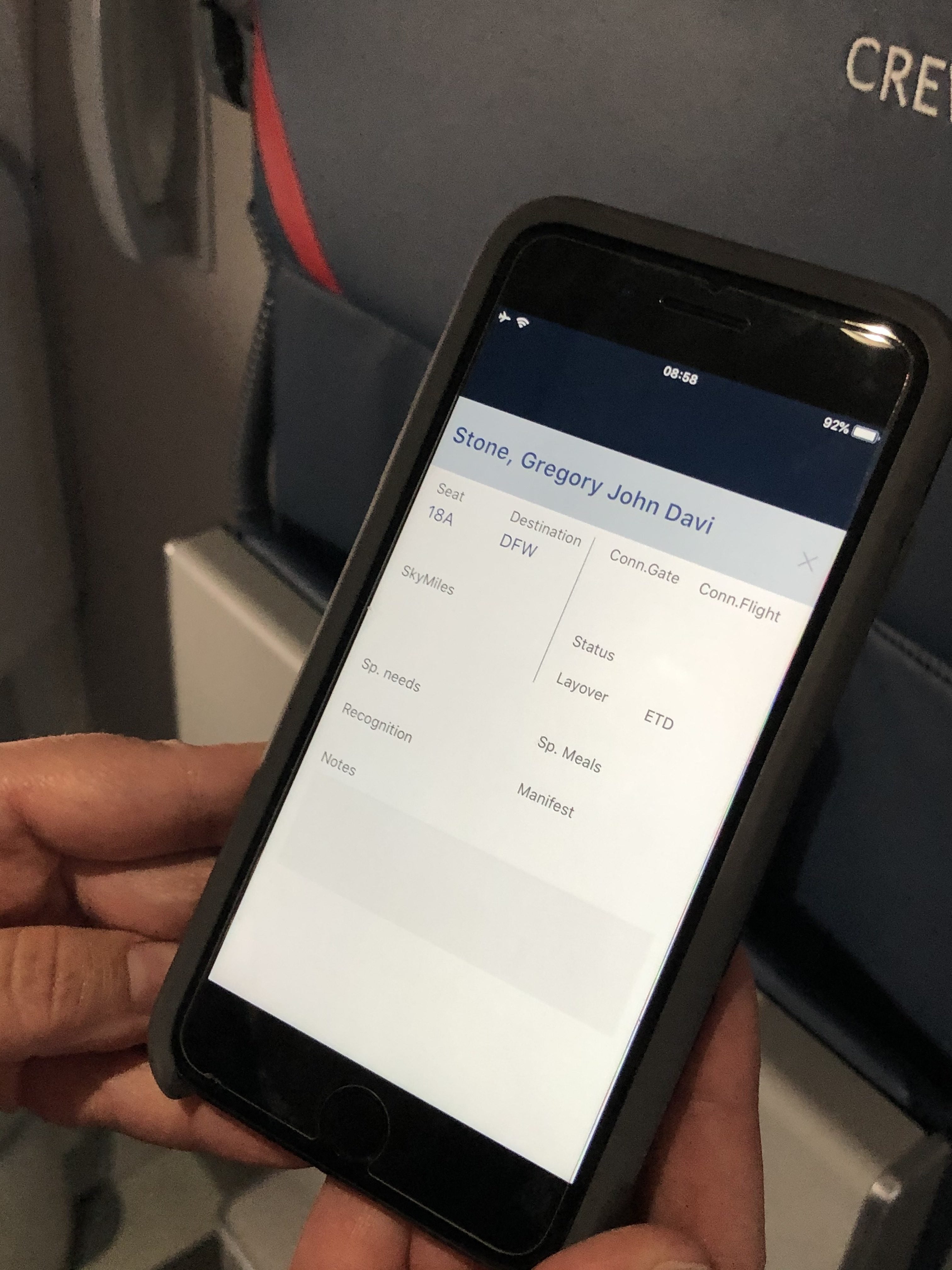 Kimberly went on to explain the best part are the proactive alerts for potential issues with connecting passengers. Thanks to the dedicated crew internet across the Wi-Fi, they can plan to re-route affected passengers and advise them on the solution all before they touch down, avoiding any unnecessary stress.
She also expressed how much she loved working for Delta and how the airline was very responsive to crew feedback. The apps were updated frequently based on their recommendations.
Final Thoughts
The Delta Airbus A220 is a delight to fly in economy with its 2-3 configuration, large windows, and wide seats.
Add in the power sockets, individual air nozzles, IFE for all passengers, and fast Wi-Fi, and it is one of the best domestic economy cabins I have flown.
But it was crew member Kimberly whose wonderful service and interesting insight into the aircraft and Delta technology made this flight truly memorable.